&nbsp
Villa Nestled In Goa Designed With Stillness & Tranquility | Vivant Design Studio
Celebration Villa is a luxury contemporary six-bedroom bungalow nestled in the backwaters of Baga; just a kilometer away from popular Baga Beach. The locality boasts of stillness & tranquility despite being a few minutes away from many of Goa's major attractions like Saturday night Market & Goa party hotspots & various beaches.
Visit: Vivant Design Studio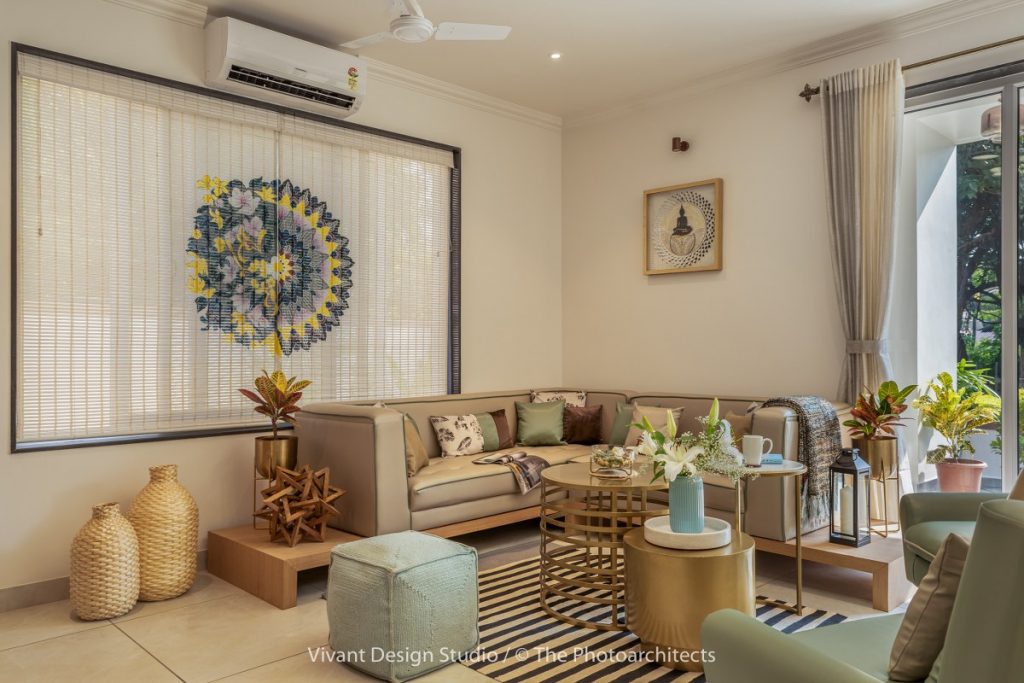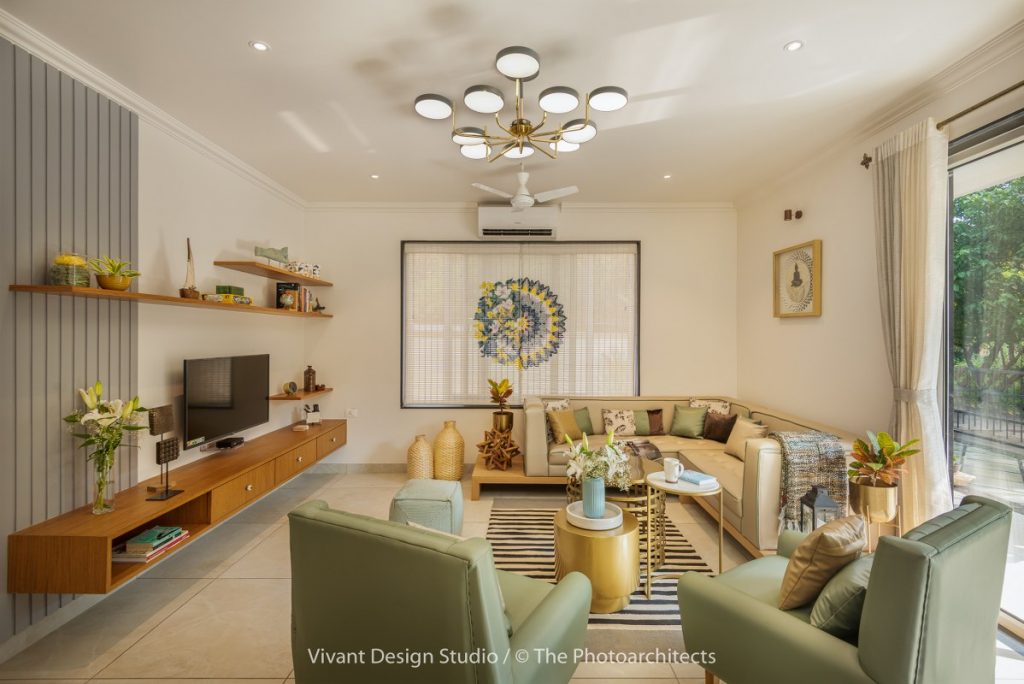 Client Celebration Homes, a name in North Goa hospitality receives guests from across the world, Design Input was to create an oasis of calm, simplicity, and beauty amongst the commotion and exhilaration of the Goan tourist scene. As guests indulge in the beaches, nightlife and excitement outside, they expect to return to the serene, quiet, and private spaces & feel at home. Since it's a big group of family or friends visiting either to celebrate an occasion or holidaying together, Spaces were designed keeping in mind various group activities. A paid chef & a masseur are also arranged on request to ensure total holiday experience.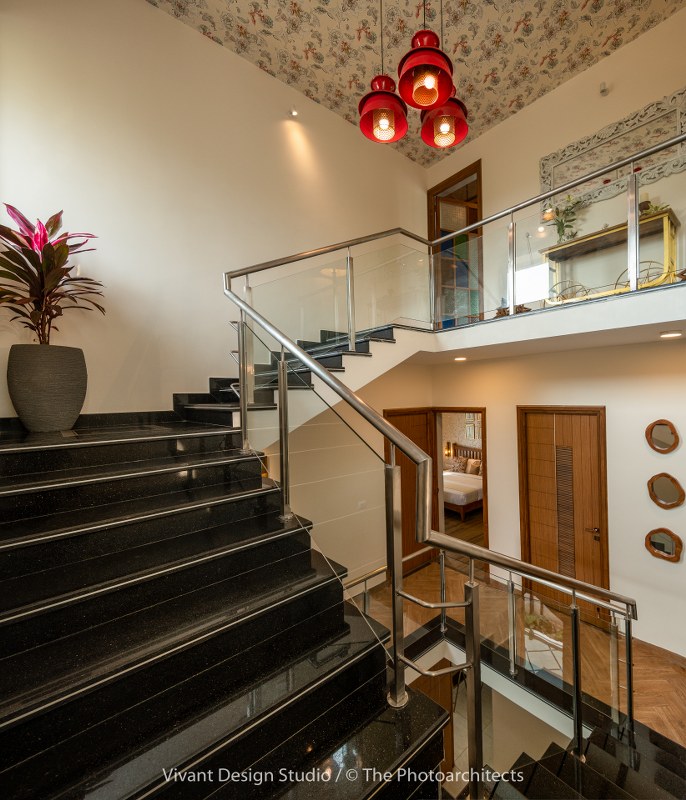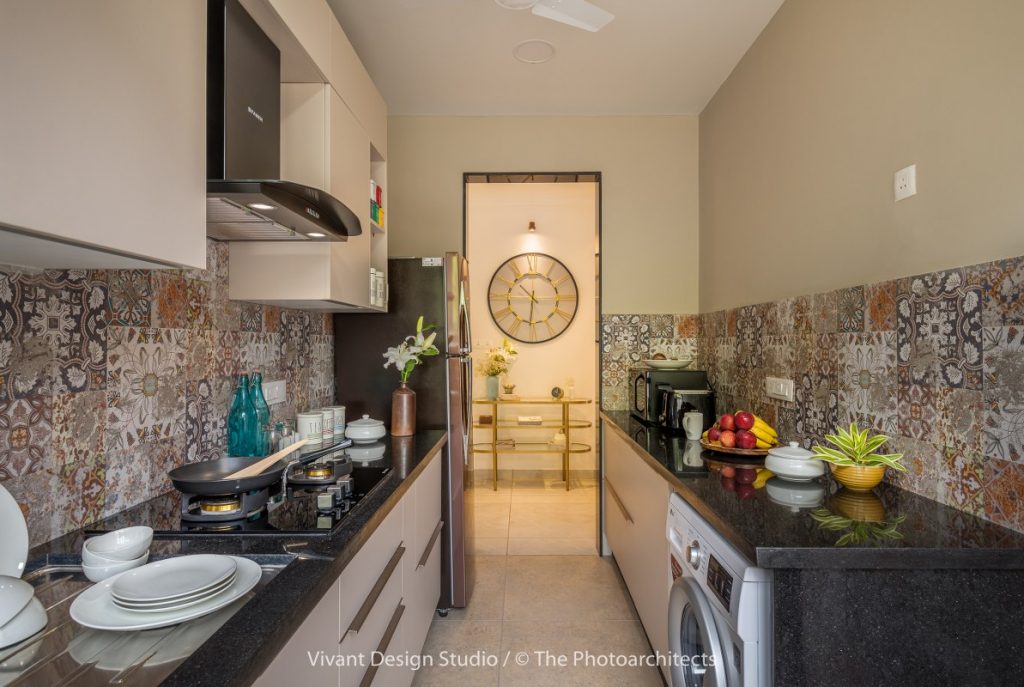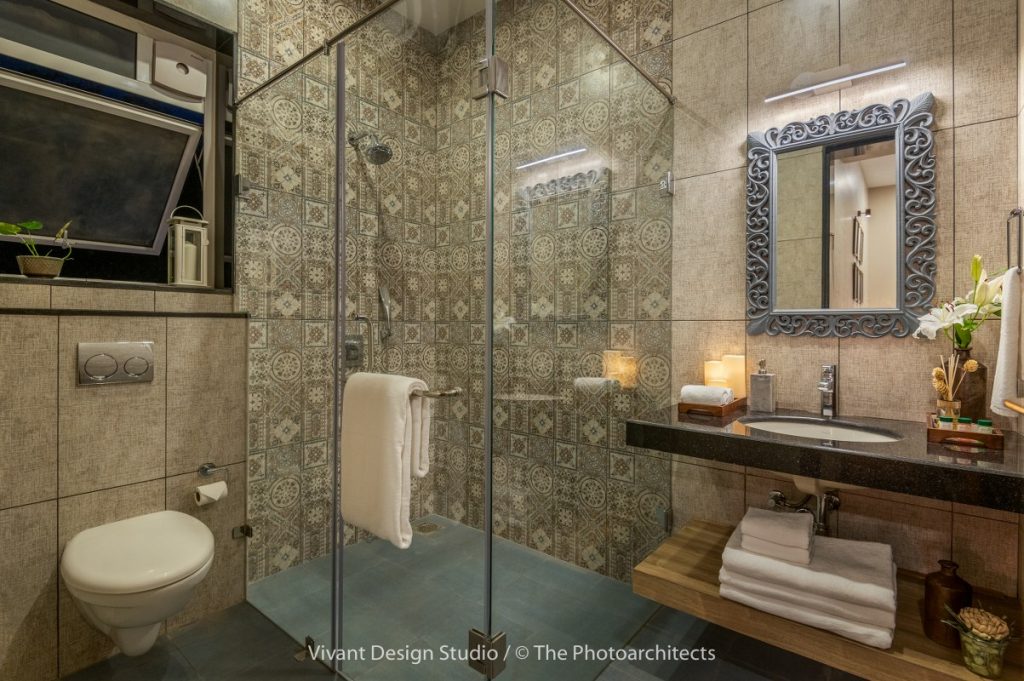 This serene bungalow consists of Ground + two floors. One enters into the Living room. A large Mandala is painted on the roller blinds emits the relaxed vibes of the property. A fully equipped kitchen and a formal dining space opening to the pool are also designed on the ground floor along with 2 bedrooms surrounded by local flora & fauna.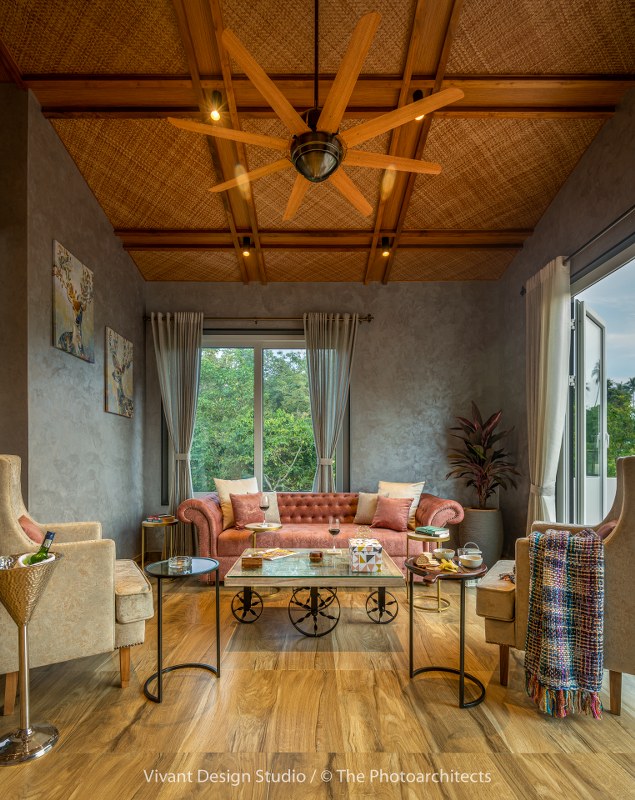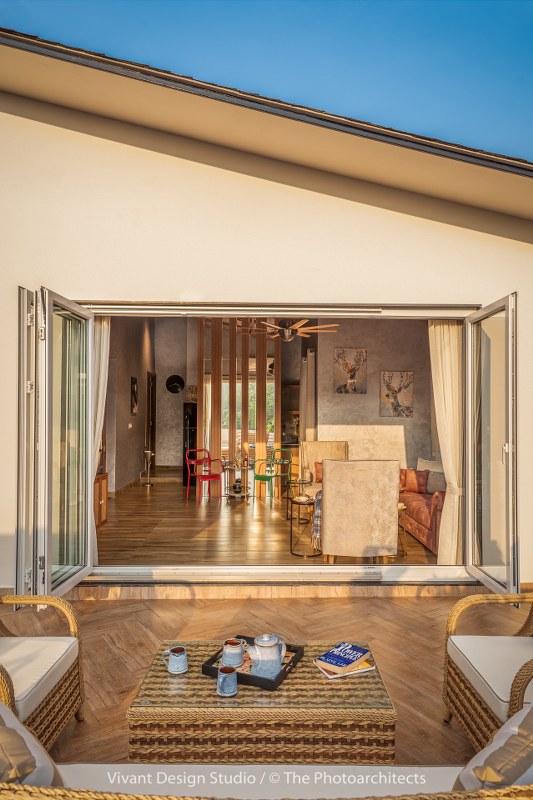 The property consists of a spacious rooftop Bar & Lounge area opening to outdoor seating on the terrace area. A Jacuzzi Spa room with a massage table overlooking the lush mango tree is designed on the 2 nd floor is among the favorite spaces of the property for guests. 6 beautiful bedrooms & bathrooms with custom made furniture built on-site with art pieces revived as timeless bed backdrops.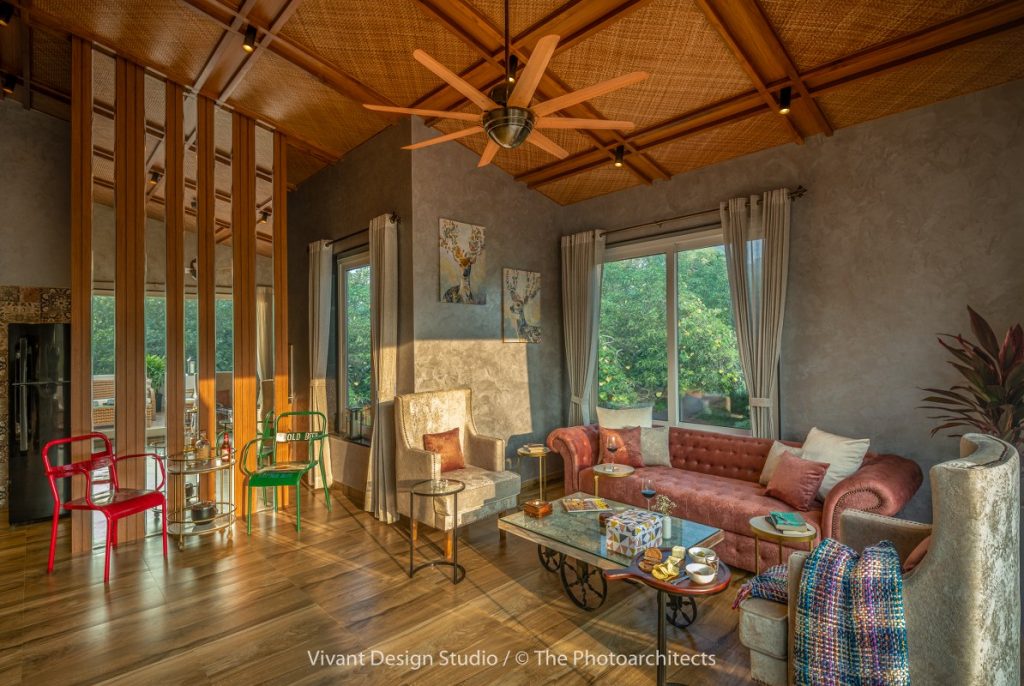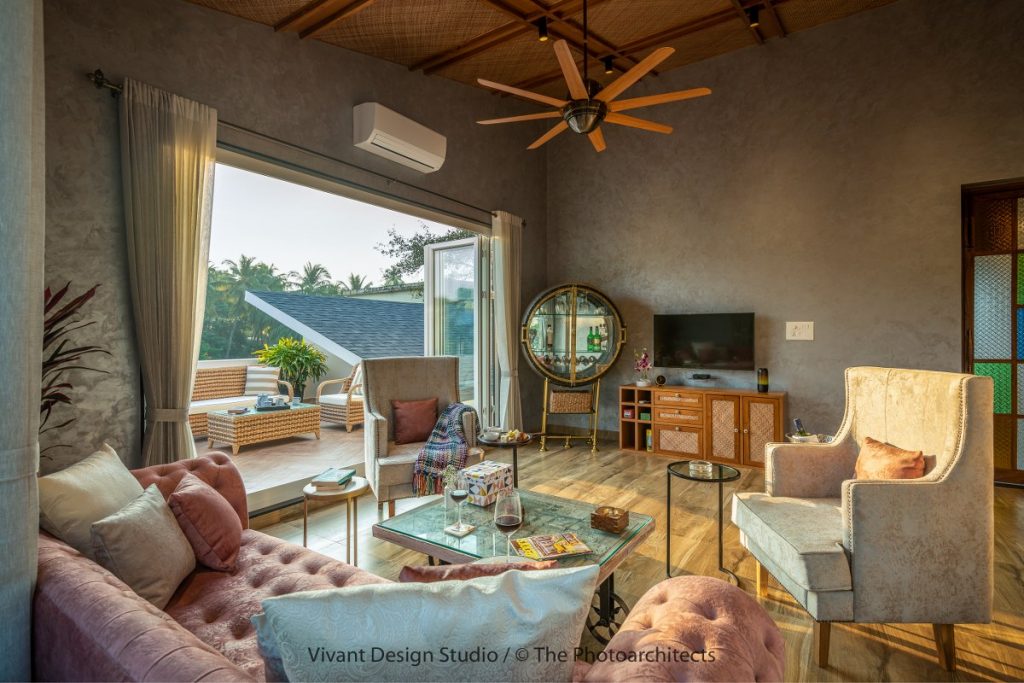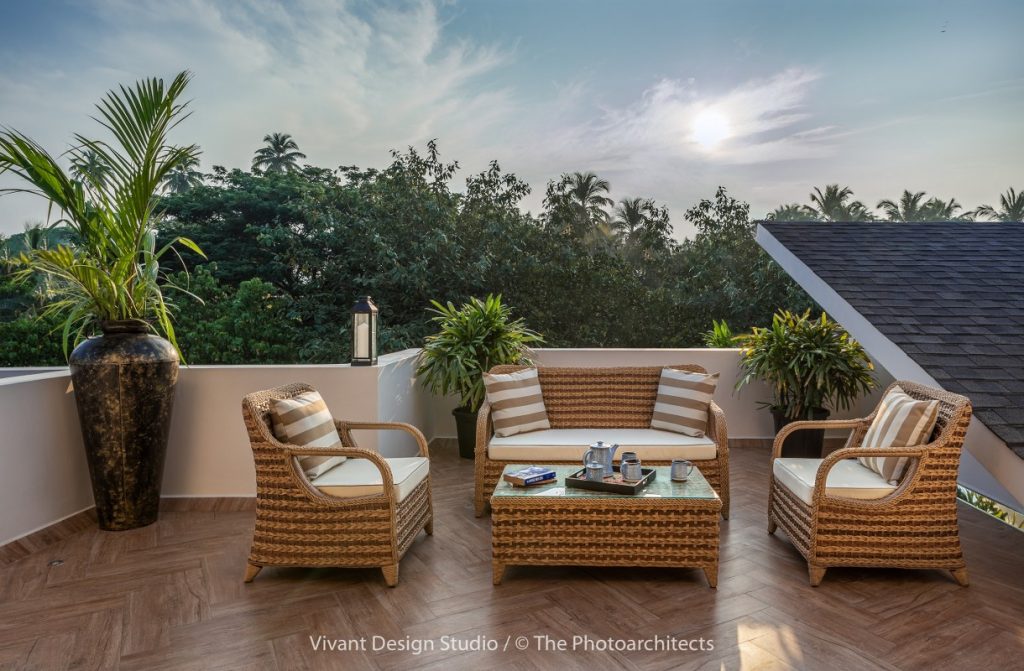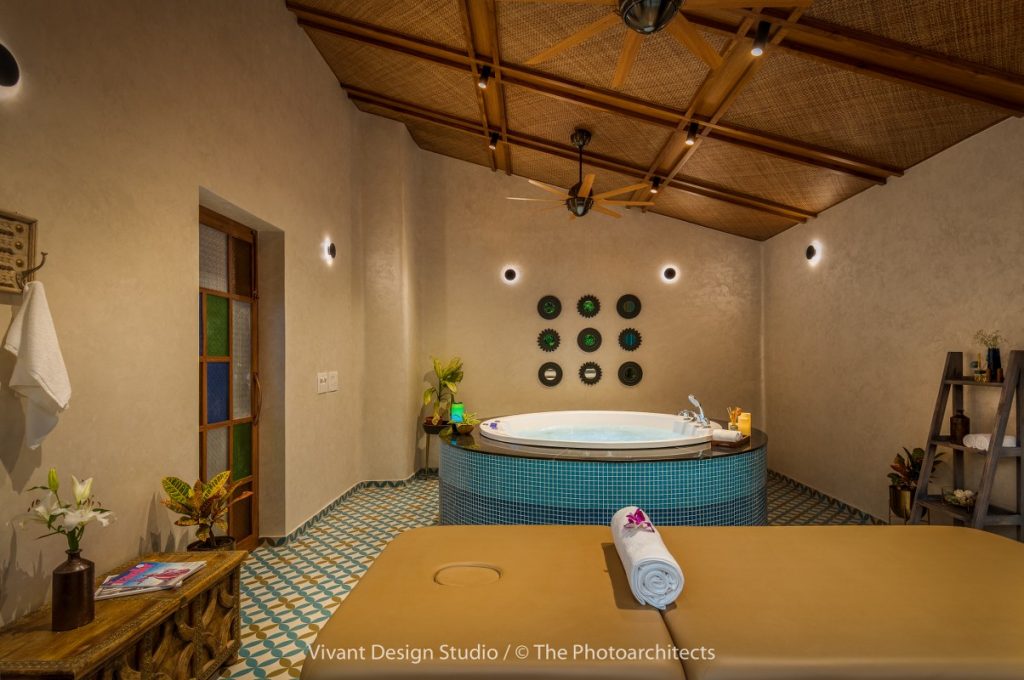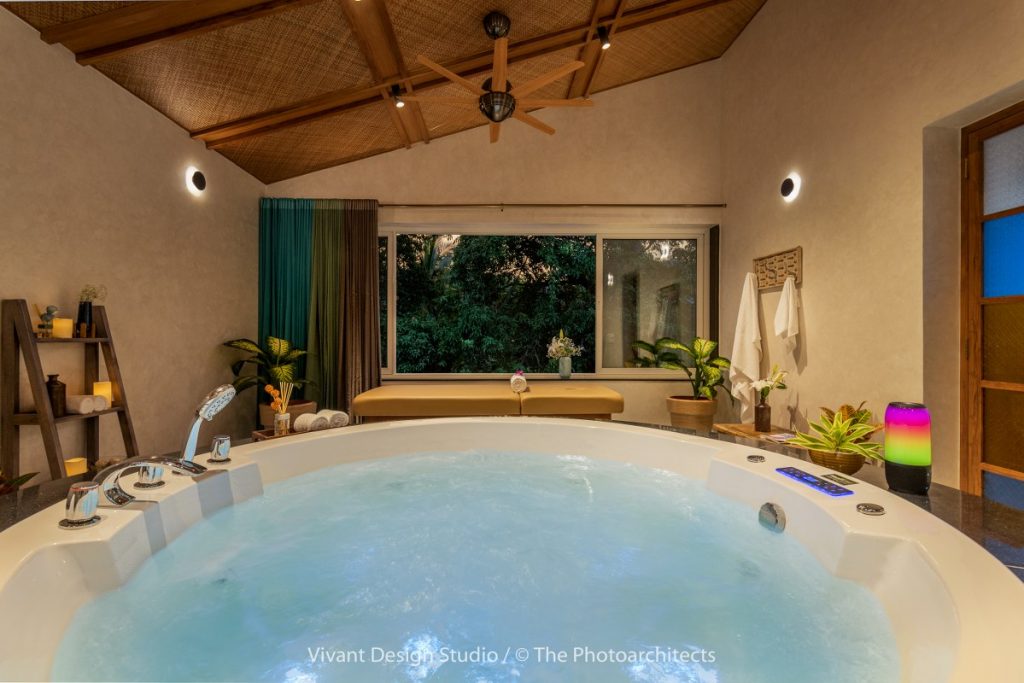 The property includes a sculpted garden and private swimming pool; combining local tropical flora with modern aesthetics. The property features a variety of products sourced from across various parts of India. In this passionately built property, one can see various wooden carved frames & paintings that were converted to Dining table & center tables. The cane used extensively for Lounge & Spa area ceiling engaging the local team to execute the project.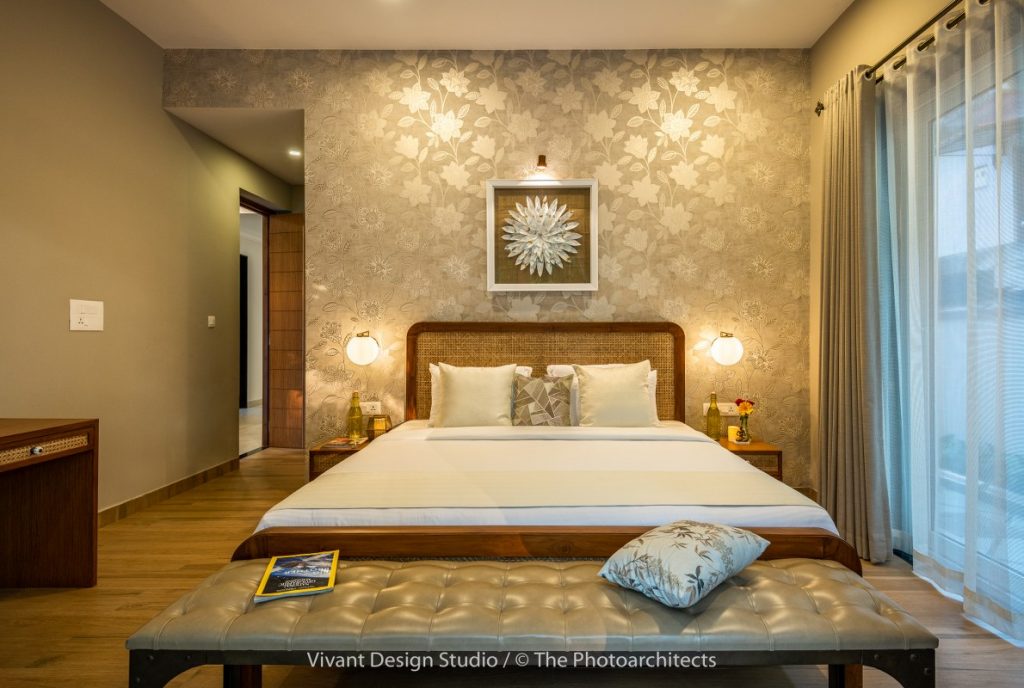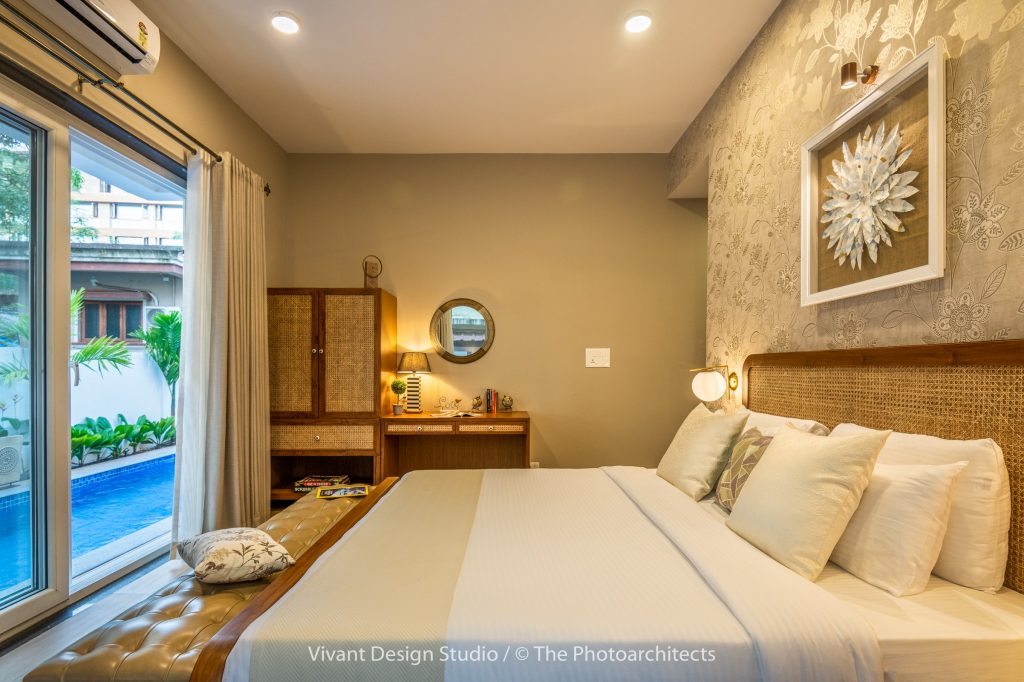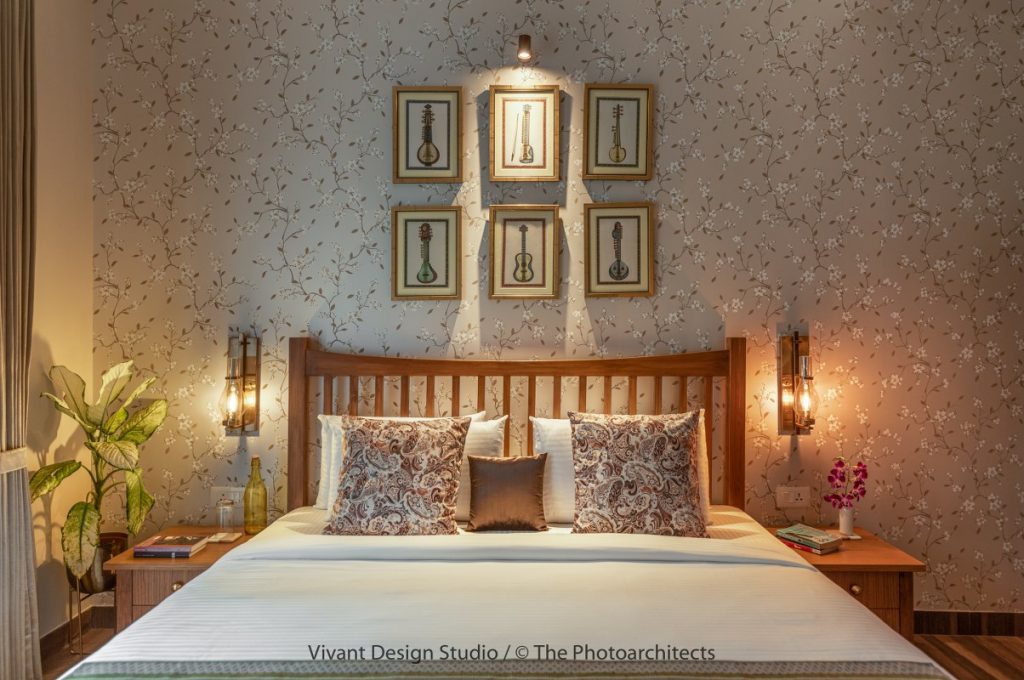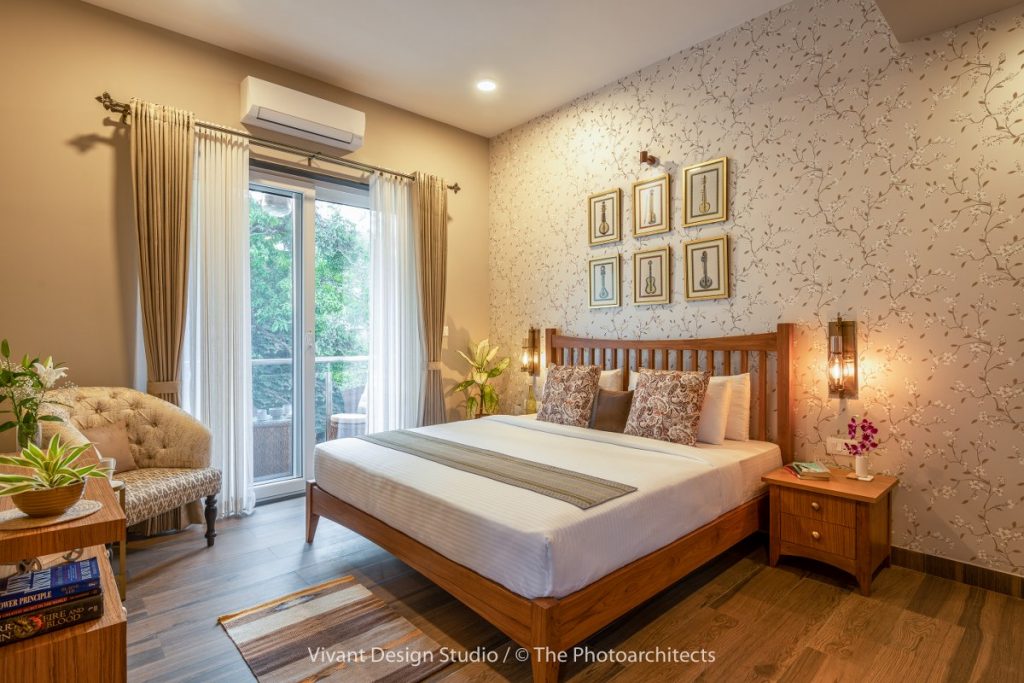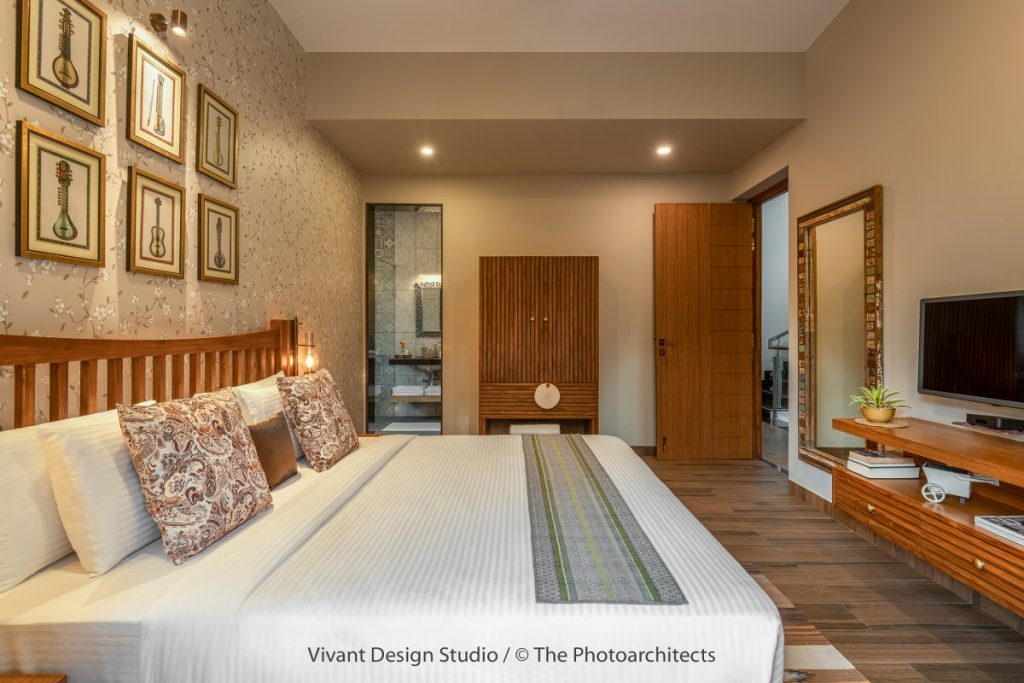 Our overall effort was to achieve the perfect marriage of practicality and richness of experience. We have utilized the space to maximize individual bedrooms as well as creating multi-purpose collective spaces. Staying true to our love for simplicity with soothing tones of textures & materials. It boasts simplicity and elegance of timeless quality.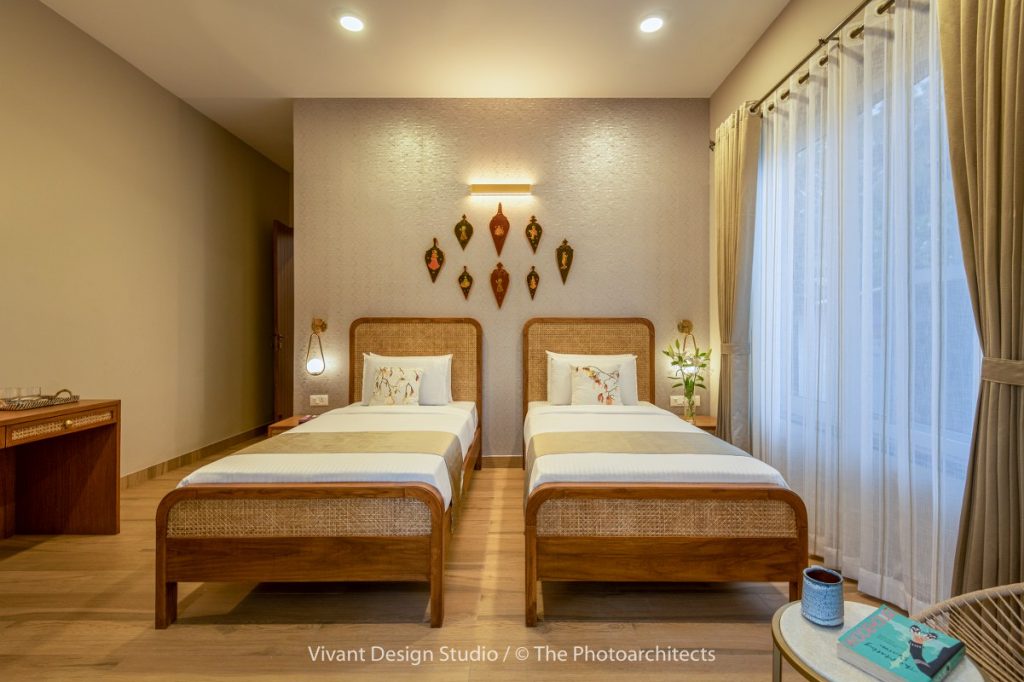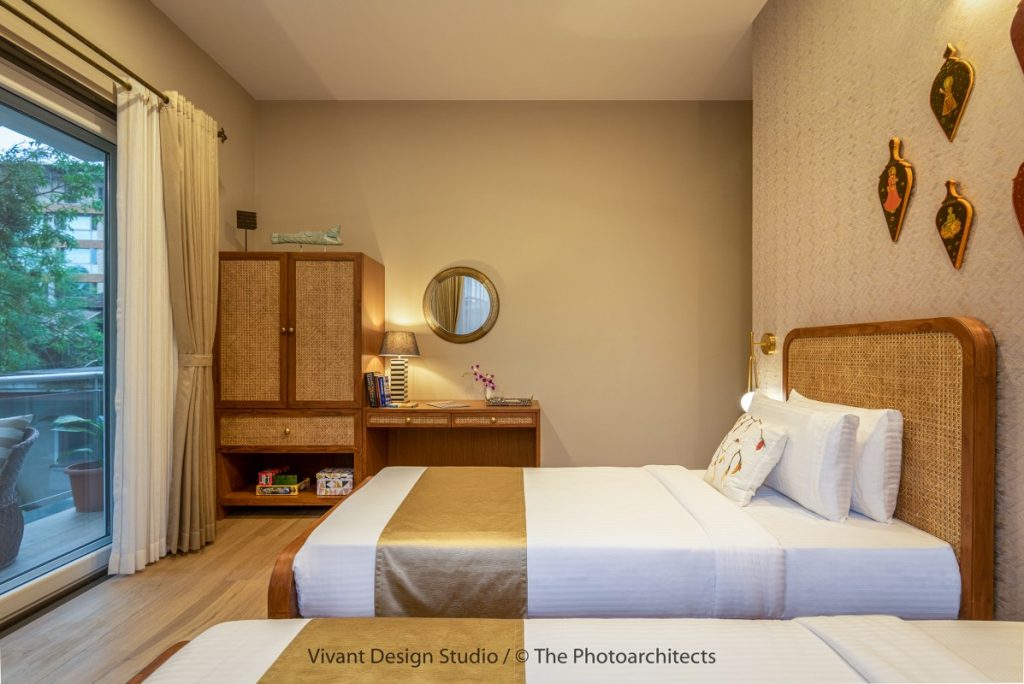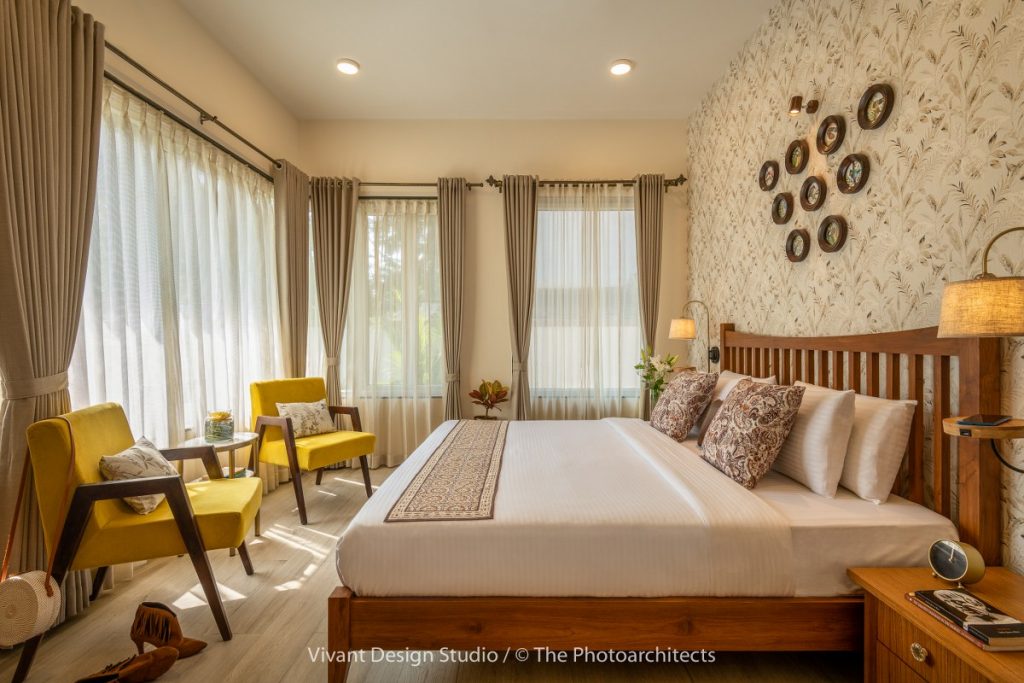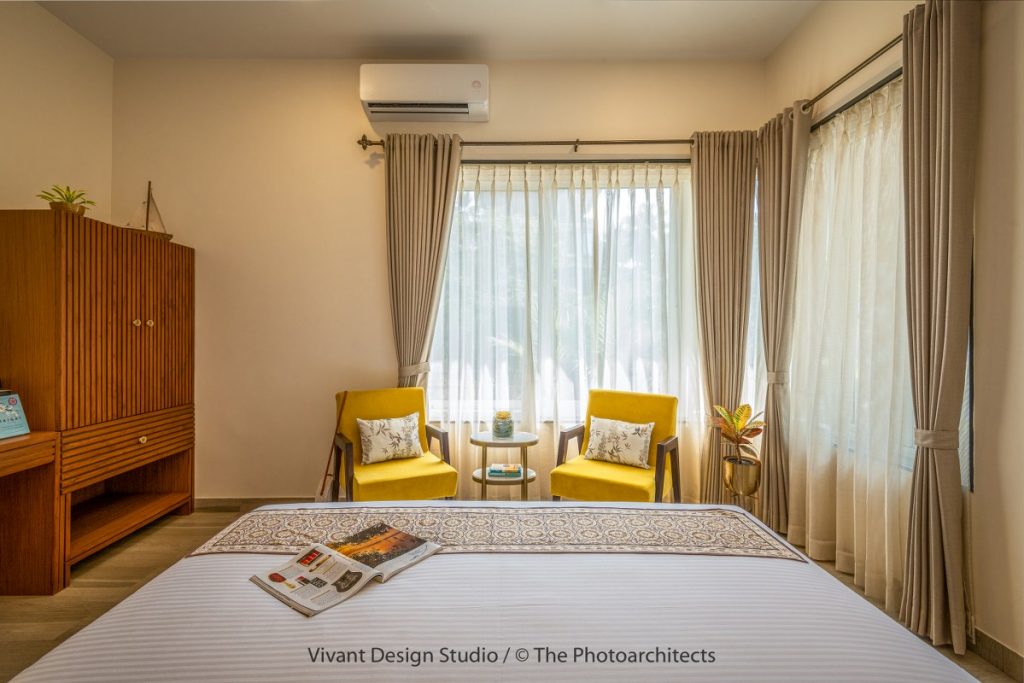 We consider the villa to be a canvas upon which our guests can create their own holiday, in the way they would like. There is relaxation & celebration in the space just like Goa. We often receive feedback from the guests that the villa exudes an ambience & feeling of being at home, tranquility, and luxury. A space to unwind and rejuvenate & celebrate life too!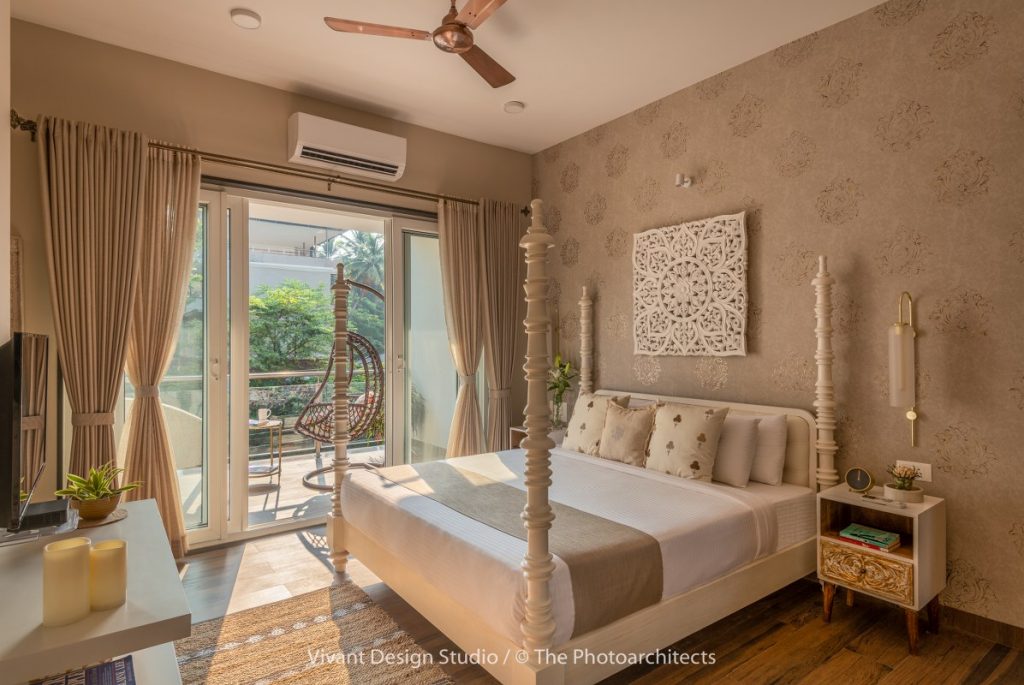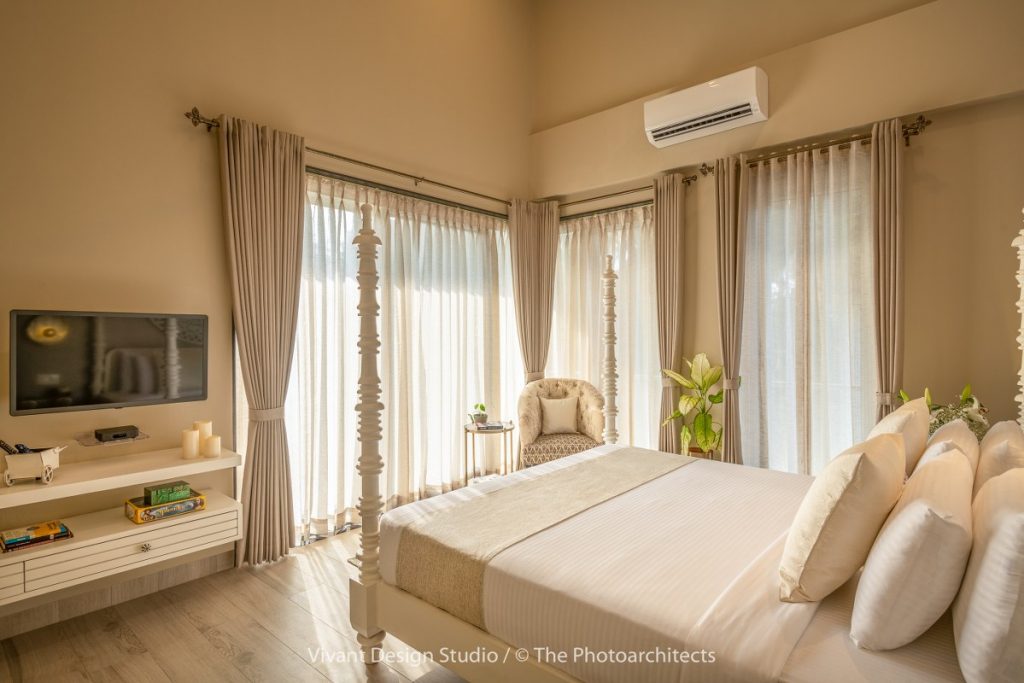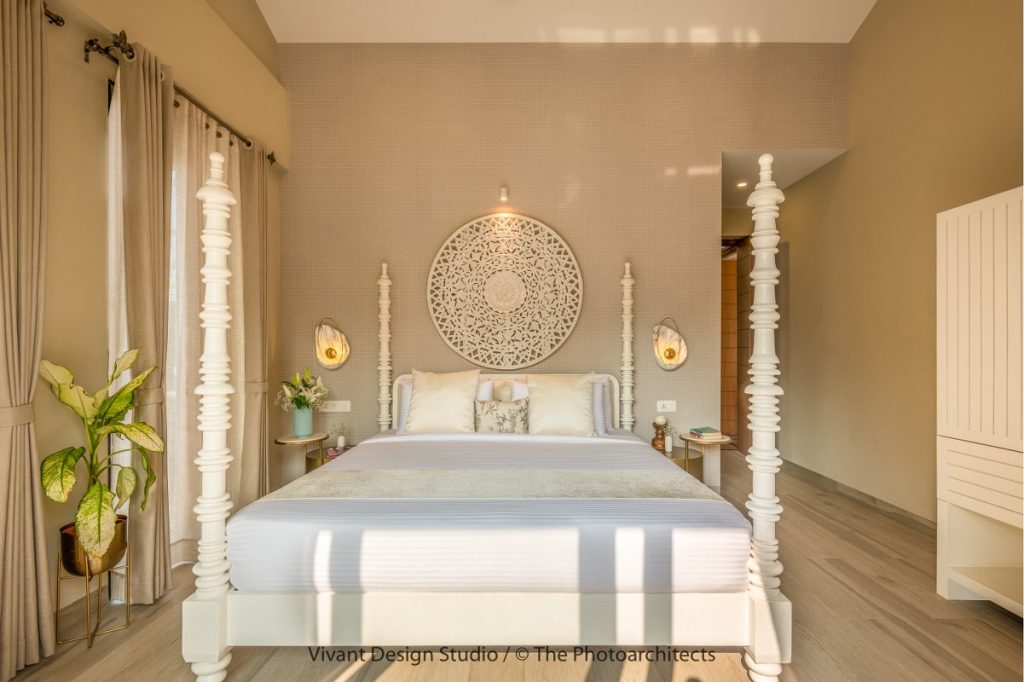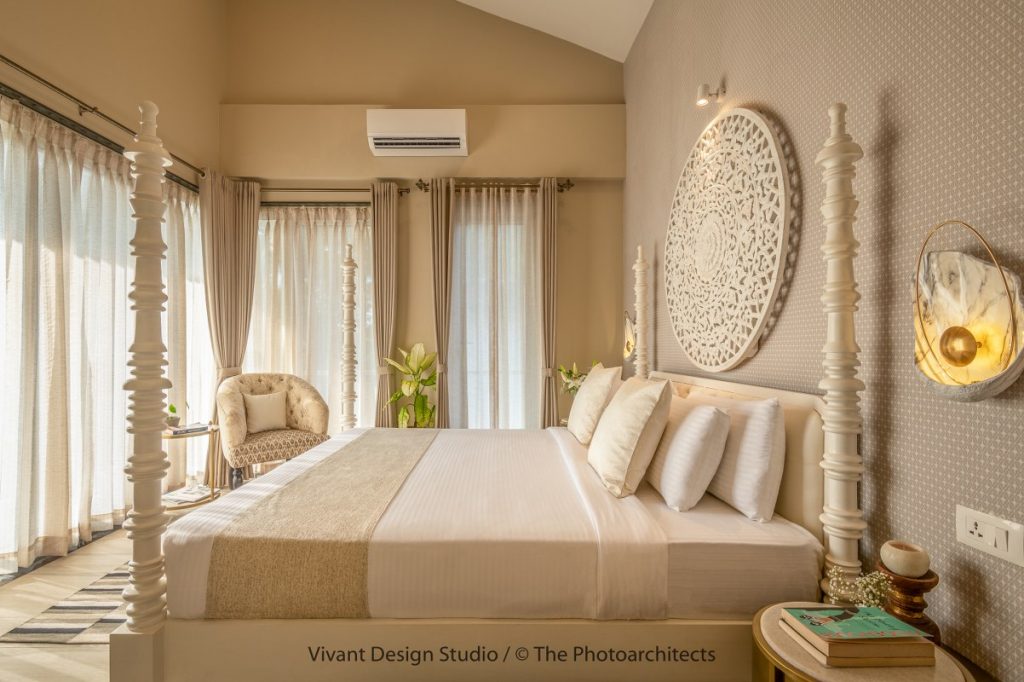 FACT FILE:
Firm: Vivant Design Studio
Client: Celebration homes
Year: 2019
Area: 5400 Sqft
Principal Designer: Jayashree Jain
Design Team: Shashi Bushan, Manvendra Dwivedi
Location: Arpora, Goa
Photograph: Photoarchitects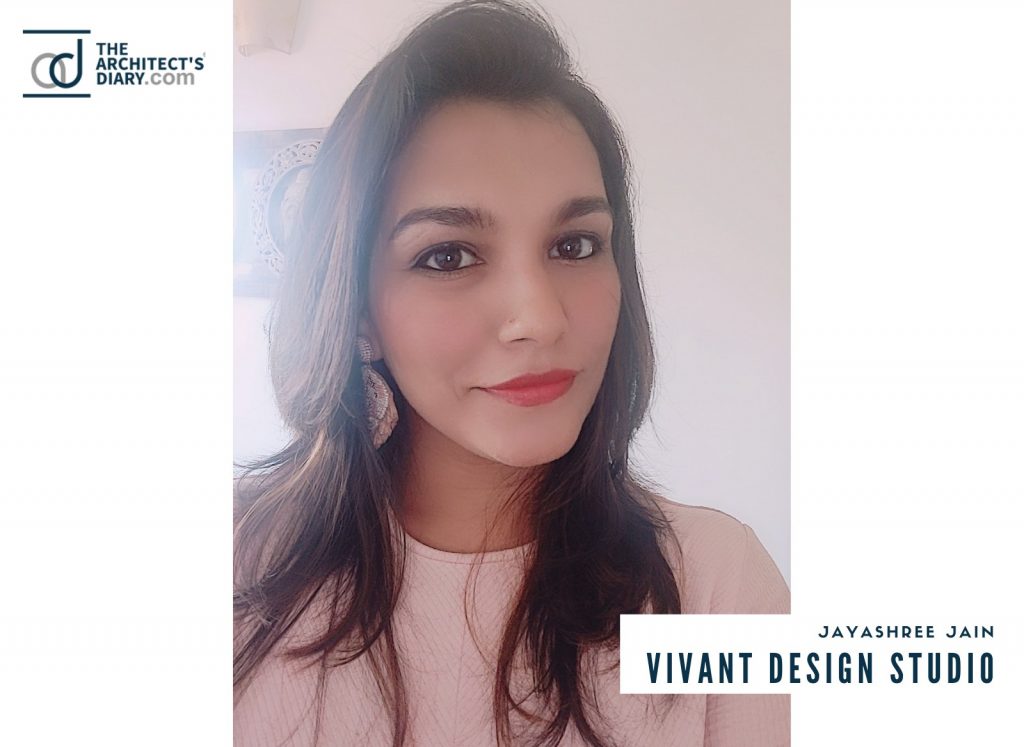 ABOUT FIRM:
With over 15 years of experience working with various award-winning firms in Bangalore & Pune, Jayashree Jain founded Vivant design Studio in 2016 in Goa. and has designed various projects in Residential, hospitality, Holiday homes, Cafes, Artist residency, Offices & show villas for builders. We are always looking for design-centric projects. It's our passion to express clients' stories as interiors. which allows us to make it personal & passionate interiors involving them.
Website: https://www.vivantdesignstudio.com/
Instagram: https://www.instagram.com/vivantdesignstudio/