Umami Restaurant Design, Ahmedabad | PDC Architects
Restaurant Interior sets the stage for a customer's dining experience.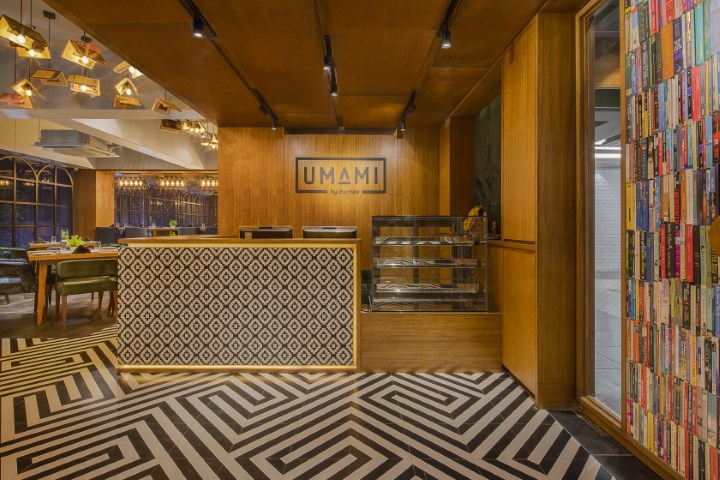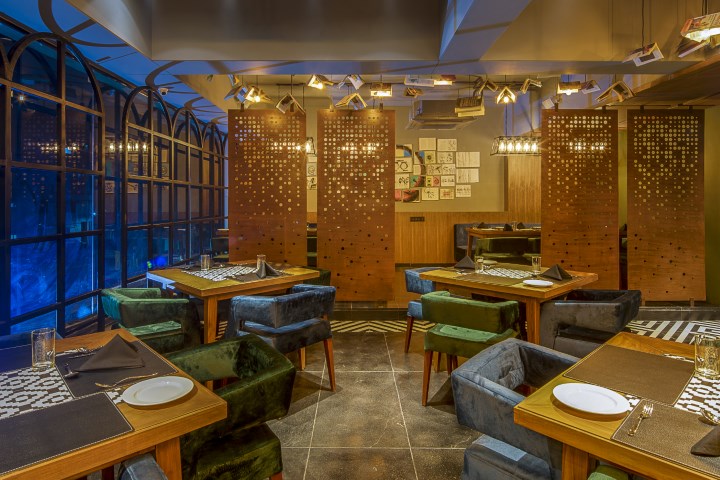 While restaurants, cafes and every other establishment in the F&B industry compete with each other using location, prices, and promotions, very little take the win from the margin of their interior design. The design follows the ideology of how restaurant interior design impacts customer psychology, prompts them to order more or less, and even impacts the duration of their stay in the restaurant. Seating options, light, music, and architecture, all constitute a restaurant's interior design.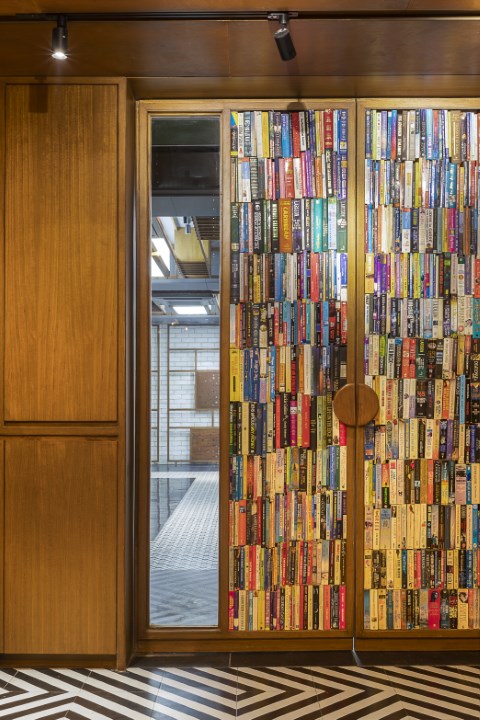 FACT FILE
Architectural Firm: PDC Architects
Project: Restaurant
Location: Ahmedabad, Gujarat
Designer's Name: Mr. Prashant Paradava, Ms. Shweta Rathod, Mr. Hir Soni
Area:  4480 sq.ft.
Project Completion date: October 2018
Photograph Courtesy: Mr. Umang Shah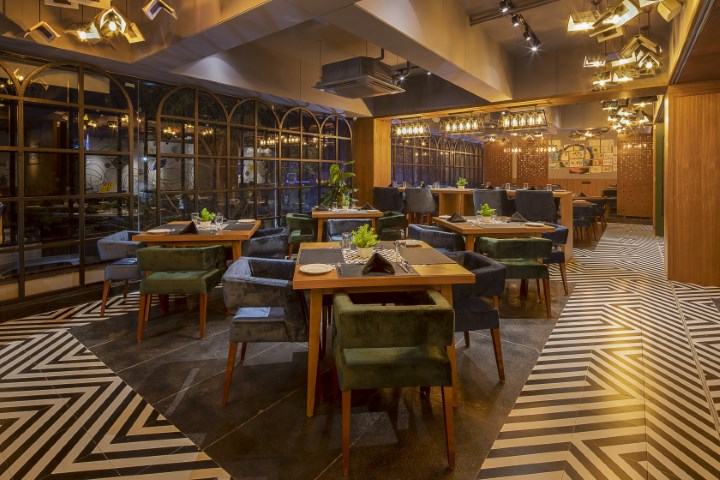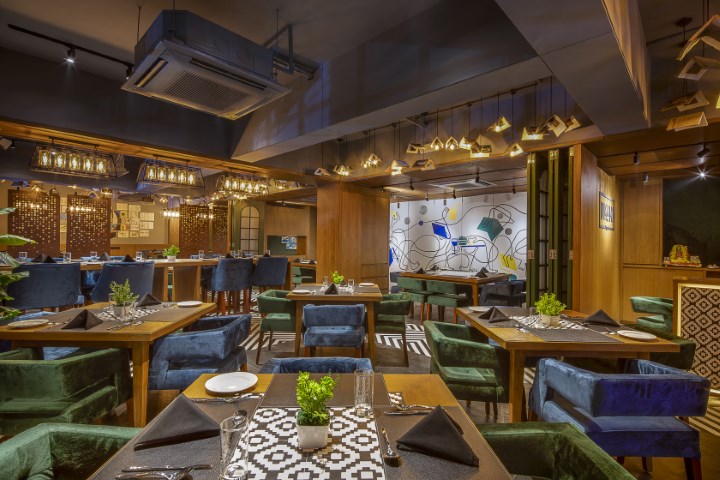 Located at Ahmedabad, Umami Restaurant was designed to give the user a mixed feel of a retro Industrial look. The clients approached the Architects with an objective to design this restaurant as an all-day diner.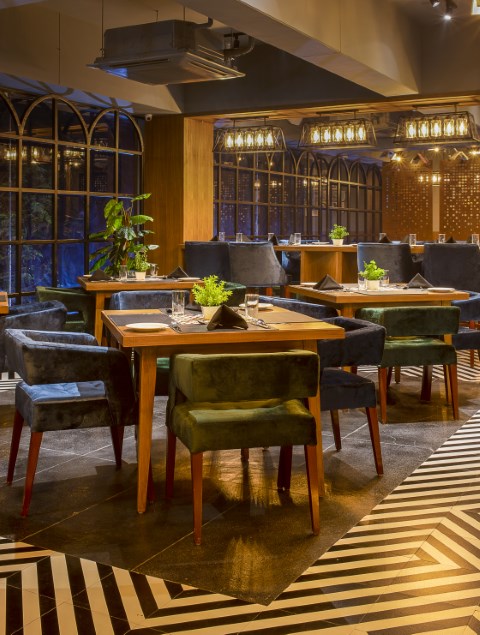 The design consists of Arched glass walls, framing the views to the outside while the customers enjoy their meal. The dining area consists of wooden tables and cushioned chairs finished in Blue and Green colour in contrast to the dark colour palette around. The flooring beneath the main dining has been kept slightly dark with black stone for flooring. Introduction of stripped tiles break the monotony of black flooring and introduces an element of playfulness.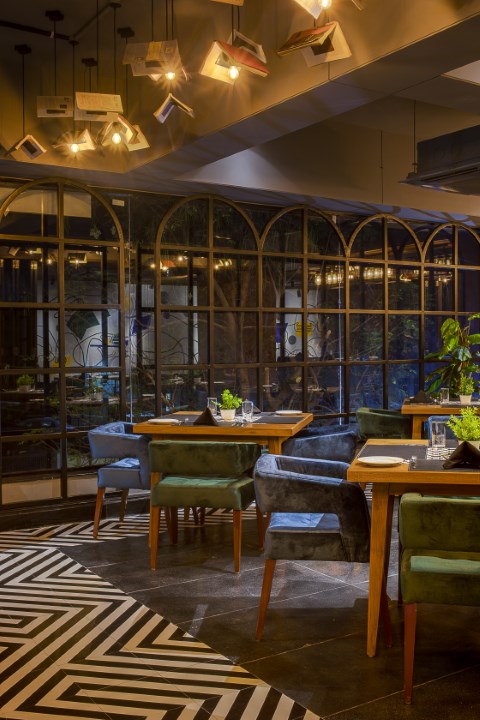 Natural tones of wood teak finish in the furniture allude to the luxurious ambiance which is further accentuated by Arched walls.
The ceiling is exposed in grey, following the overall dark palette in the design. Ambient lighting has been used in the design to define the overall look and feel of the restaurant. With the use of dim lighting, a relaxing mood and aura are created. The lighting fixtures are hung through books from the ceiling.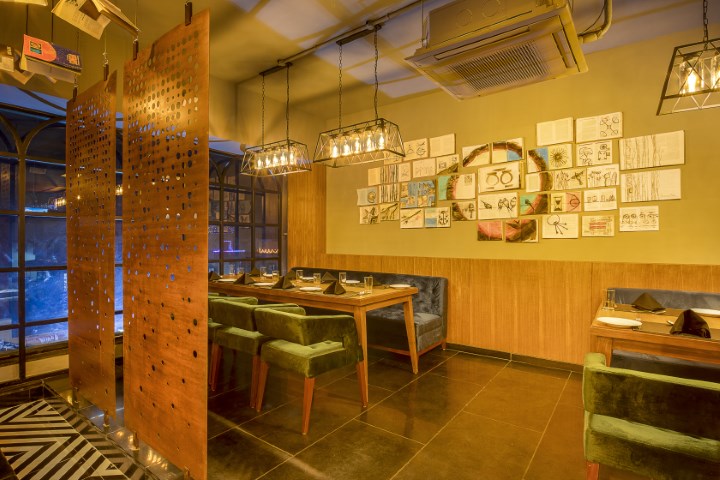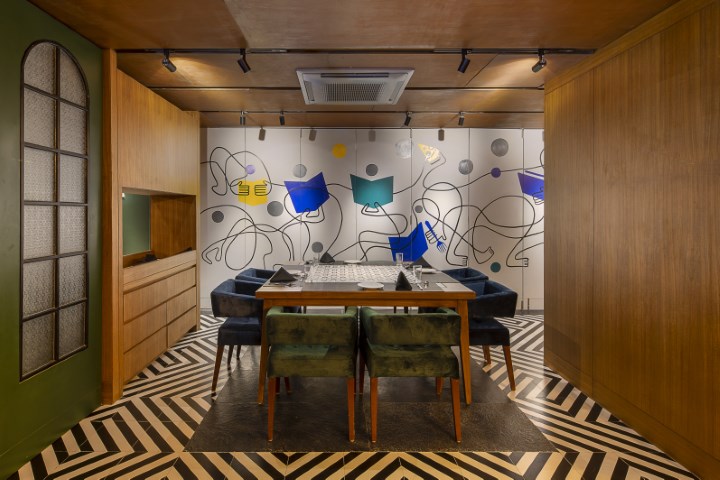 Rusted iron sheets have been used as screening which consists of perforations. An artwork is formed on the wall using a combination of books where each book forms an arc painted on it's a page to form a complete circle while the other books have various drawings on the pages.
The door shutters to the banquet have been designed as a bookshelf to create an interesting element. Painted green shutters with tinted glass, wall murals and paintings and funky light elements and door design make the entire space vibrant and playful. The same element continues in the design of the furniture as well.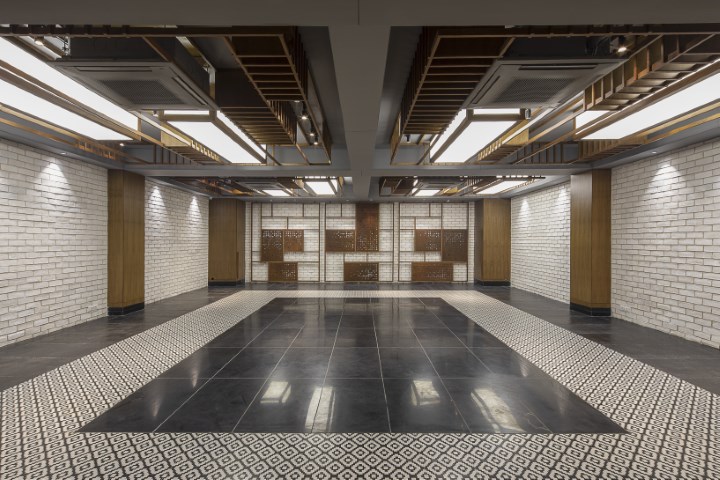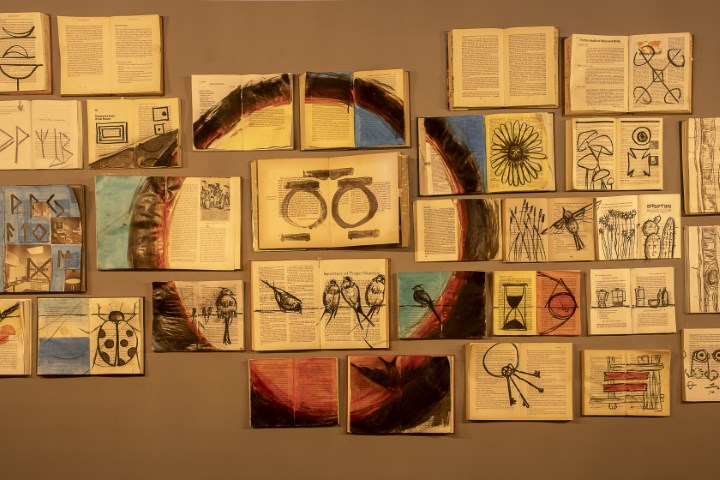 MATERIALS
WALLS: Paint, Corten steel panel screening, Tinted glass
FLOOR: Striped Tiles, leather finish Kadappa stone
CEILING: Corten steel
FURNITURE: Veneer finish, velvet upholstered chairs, Duco finish shutters and MS Frames