Every home surely has a bathroom, but as time goes on, some things in those bathrooms may be outdated, such as the Jacuzzi or probably you may want to change the look of your bathroom. Remodeling your bathroom is no doubt important, and it usually takes its toll on homeowners in terms of misery in the process There is no doubt thatthey may feel reluctant to do it if they consider the cost they want to go through. One of the things that you need to pay attention to is your bathroom sliding shower doors. We want to explain steps you can take to have a low-cost and lean bathroom remodel. Not only will you have a clean and functional bathroom, but also you will also be happy to have saved a lot of costs and still arrive at a beautiful budget-friendly bathroom.
Use low-cost lookalike materials.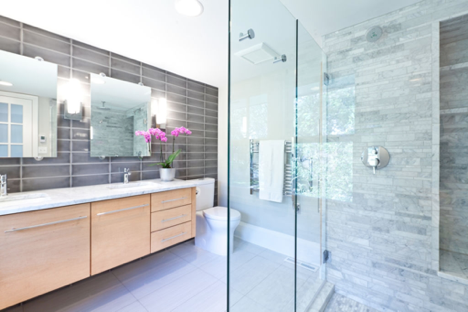 There are possibilities that you may not be able to pay for new pieces of equipment in your bathroom, but if those equipment that you would like to change are in situations where you can refurbish them, why not do it. It's the right way of saving money, or you replace it with similar materials of lesser cost. For example, in a case where you have wood plank flooring, you can use luxury vinyl flooring as an alternative. Why we are advising that you should do that is because the kind of vinyl flooring that is in town presently is of modern design when compared to the wood plank flooring. This idea is good as it can easily deceive eyesight with its look.
Wooden floor painting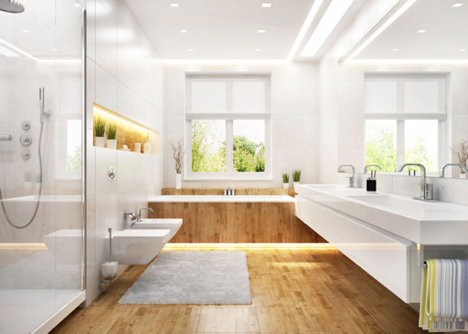 Depending on what you used in designing your bathroom floor, if the ground of your bathroom has a wooden design, this kind of design is easy to rip off and replace with a more moisture-hardy one, such as tiles. However, in case you don't have enough money to spend on repairing your wooden bathroom floor, you can alternatively paint your old wood floor with protective enamel most especially if you realize that replacing the wooden floor with tiles can easily fall you down in the bathroom. Take note that using a wood floor in the bathroom is not usually the best option, but if you have it already and feel you can't afford to spend big on tiles, then you can add the protective enamel just to while away time.
Repair your tub instead of replacing it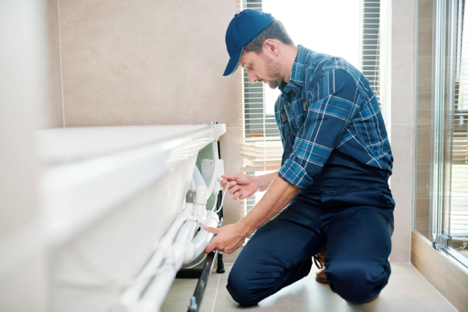 For every problem, there is a solution. If your tub is leaking or outdated, it is better that you refinish it by calling on engineers to help you repaint it and, at the same time, fix whatever problem it has. Doing this is one of the best ways to put you tubbing in good condition.
Install a new sink faucet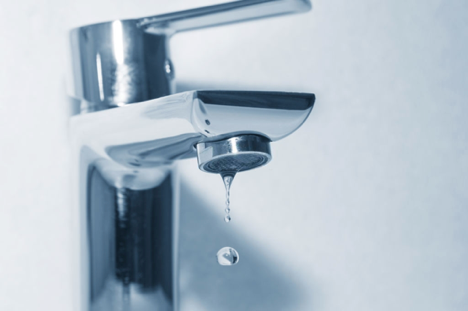 Buying a new bathroom cabinet is expensive. Not everybody can afford it, most notably in a situation when you have a budget. The best way to bring your bathroom back to life is to strip out the old hardware and replace it with new ones. In order not to go through a lot of stress, when buying a new appliance, make sure its screw alignment matches up with the holes on your existing cabinet—doing this will save you the pressure of drilling new holes.
Sliding shower doors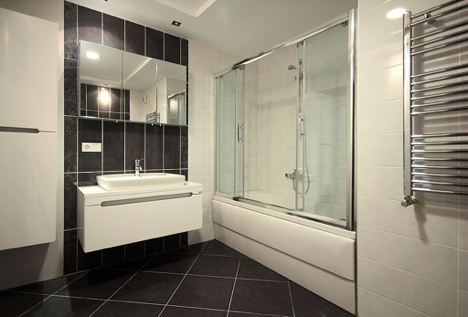 One of the tools that make a bathroom look beautiful is the shower glass. It serves as the centerpiece of your bathroom in case you don't know. Just as we know that there are possibilities that you may want to replace your drab shower with curtain and a glass shower, we would like to take part of your time to explain to you the hottest Sliding shower doors in the market right now.
If you can take your time to follow all the processes explained in this guide, there is no doubt that you will, in no time, change the look of your bathroom to a more beautiful and attractive environment.
Frameless shower doors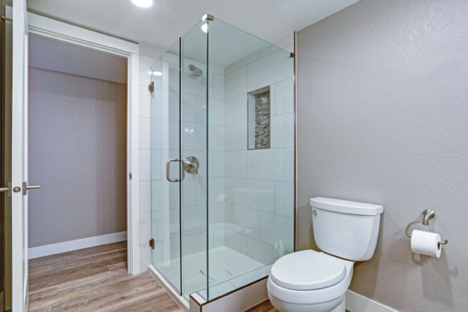 The usual way that glass sliding doors are hung is with the use of aluminum or vinyl frames. All these processes are outdated and go as far as making a bathroom look old fashioned. If you take a critical look at how five-star hotels design their bathrooms, you will realize that they have stepped up to a better kind of bathroom doors. Such as Frameless sliding shower doors. It is an excellent way to eliminate borders around each panel of the door and give your shower a seamless, cohesive aesthetic.
Transparent shower doors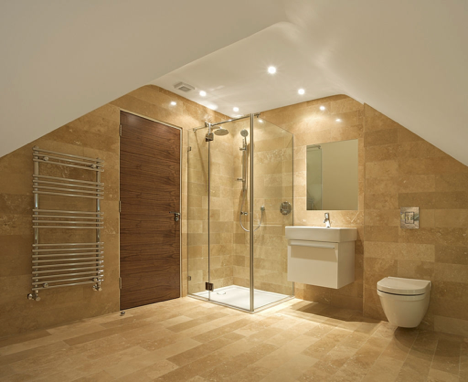 If we look back at the way bathroom shower doors of the 1990s are designed, we will realize that they tend to have an opaque glass. There is no doubt it is suitable for privacy, but the reality is that it looks dingy. Nowadays, modern glass is entirely different and more reasonable when compared to the old fashion ways of installing a bathroom sliding shower glass. Today's design provides a sleeker, brighter, more spacious appearance allowing you to show off your custom shower tile.
Custom shower door designs with glass: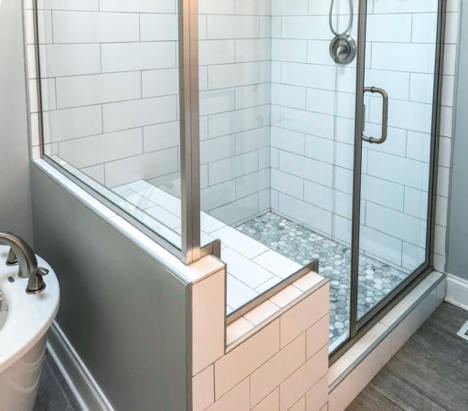 There is no doubt that good things deserve good money spent. If you want to have an excellent decorative glass, you have to consider purchasing a custom decorative etched dichroic glass from artglasssupplies.com. Since it's a custom glass, you are free to create the design of your choice ranging from geometric squares and stripes to mountain scenery to ocean waves. With this kind of design, your bathroom will automatically become a piece of art, and you will appreciate the money you have spent to make it look, your taste. 
With these best 5 budget-friendly bathroom renovations ideas, your bathroom can look beautiful again without spending too much money. You must make a lot of the saving for yourself, even as you may not be the one that will do all the installations, after all, you are not a plumber. Although there is nothing unusual in doing it yourself, at times, it is better to delegate jobs to professionals than doing it yourself.
HOW TO CLEAN AND MAINTAIN GLASS SHOWER DOORS?
Constant exposure to moisture necessitates that you keep your glass shower door clean regularly to prevent a scaly and foggy look as well as grime buildup. Unlike other materials that cost an arm and leg to clean and maintain, your shower doors can be kept clean with items that you have lying around in the home.
Let's take a look at some of them.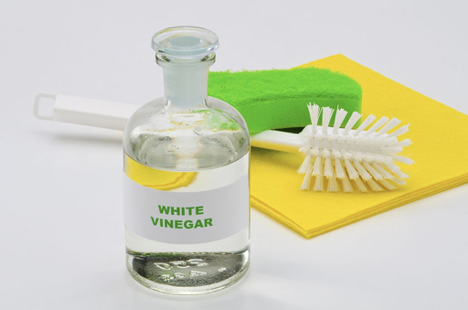 For a homemade cleaning solution for your shower glass door, mix vinegar with dishwashing liquid or dishwashing detergent, in equal measurements. Put the vinegar solution into a spray bottle.
Spray the solution on the surface of your glass door, front and back. Leave the solution on the surface for about thirty minutes. Wash off the solution using clean water and a clean sponge. Rinse off thoroughly with clean water and dry the glass off with a clean microfiber cloth.
The vinegar solution is a good solution that is efficient at keeping almost all types of shower glass doors clean. Although it is an excellent homemade cleaning solution, you should use it with caution on your shower door's surface.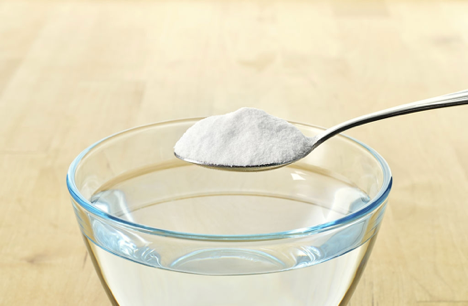 An alternative to vinegar is to use baking soda to get rid of soap scum, grime, and mildew on your shower glass door's surface. Mix liquid soap or dishwashing soap with baking soda till you attain a frosting consistency.
Apply to the surface of your glass showerdoor and leave for some minutes if there are some tough stains on the glass surface or till you can clean the grime easily.Scrub with a non-abrasive sponge to get rid of stains and rinse with clean water. Clean off the surface with a clean lint-free or microfiber cloth.
Baking soda is a safer alternative when it comes to glass doors. It is eco-friendly and does not pose any danger to glass surfaces.