&nbsp
Contemporary Apartment with Timeless Design | The Yellow Grid
A modern contemporary home that reflected personality of the client. Every corner in this apartment has been meticulously thought of, to render a unique persona to each space
Home is where the Heart is – The client's brief was explicit, to design a modern contemporary home that reflected their personality. Since their sons live abroad, they desired a feel of western home to their living space.
Visit : The Yellow Grid
LIVING ROOM –
Considering the prerequisite, we introduced classic mouldings to the sofa wall which has proven to be timeless over the years. The stone wall behind the dining area with the correct amount of rustic essence worked beautifully with the surrounding elements. Blue as an accent colour was introduced to the otherwise neutral palette that instantly enlivened the space.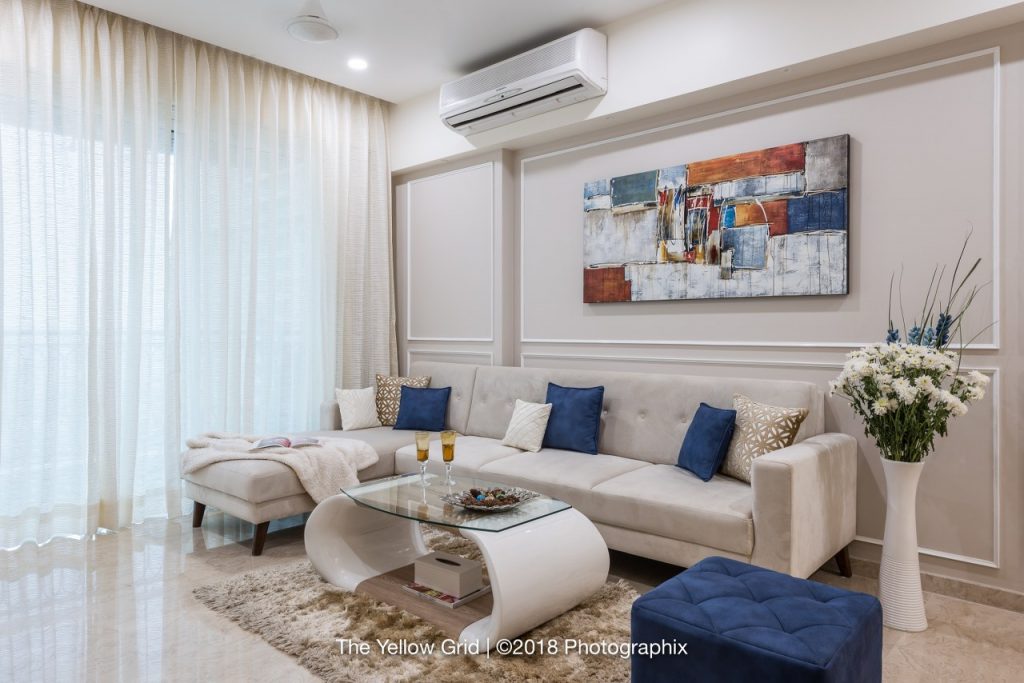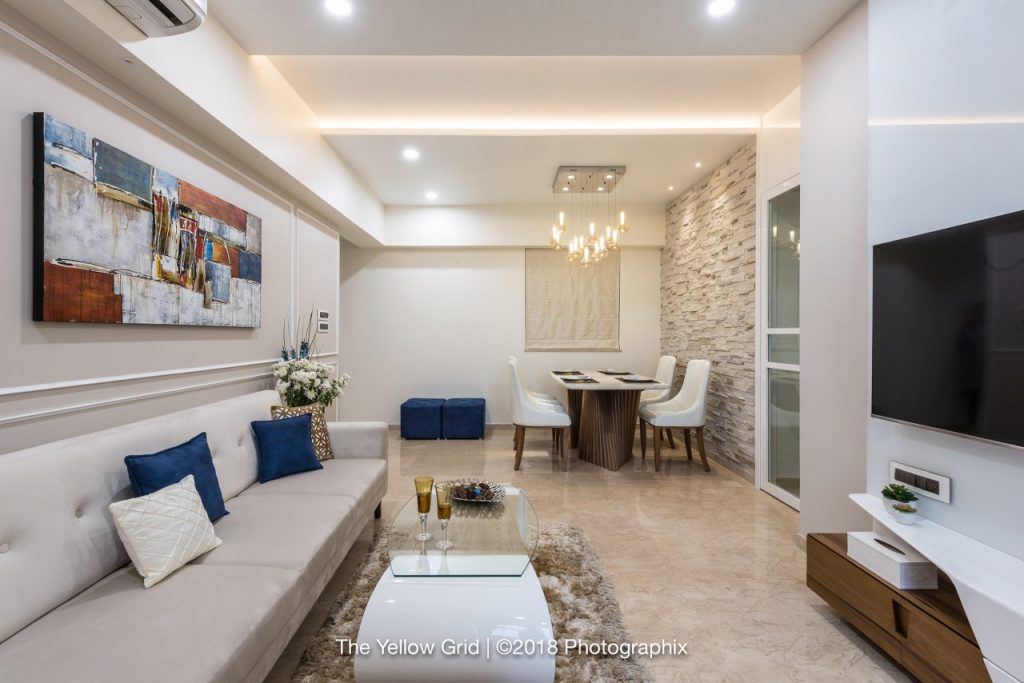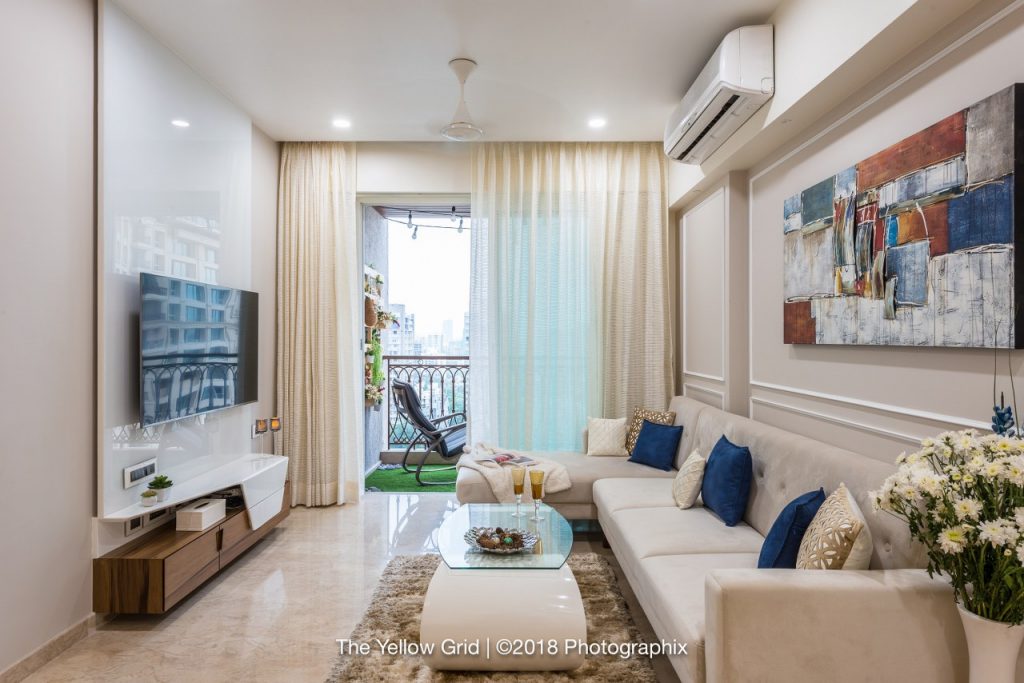 Blessed with ample daylight, we decided to use the floor to ceiling sheer curtains that helped to accentuate the height of the space. The use of patio lights and the grass carpet in the adjoining balcony creates a beautiful setup in the evenings to enjoy the calm amidst the busy city life.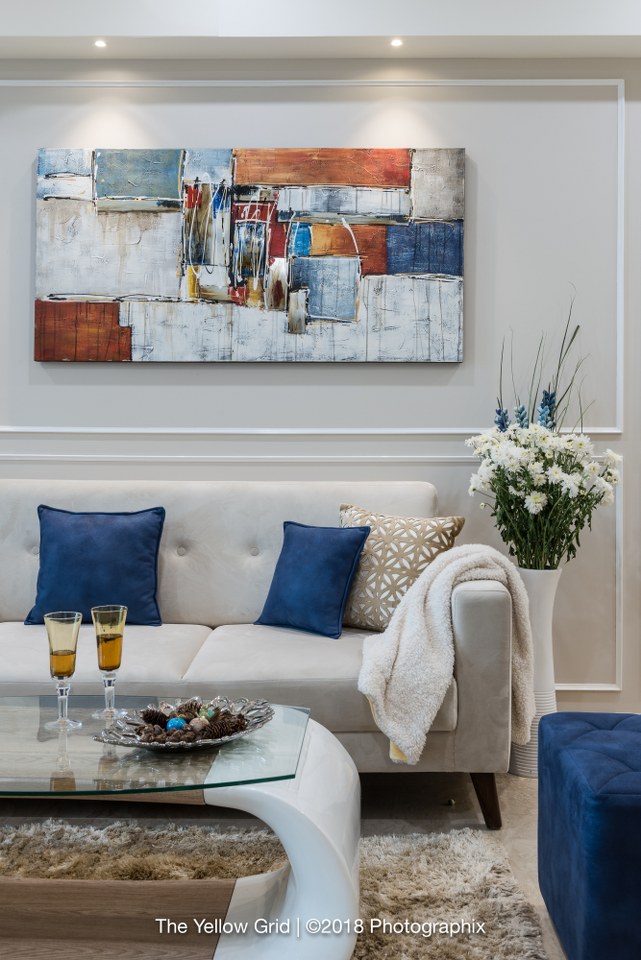 KITCHEN –
The Rustic element was flown into the kitchen by using a backsplash of brick tiles with pastel hues to the all-white kitchen. The kitchen has been designed in a sober simplistic manner by using white stone for the counter and a combination of white laminate and back painted glass for the storage unit.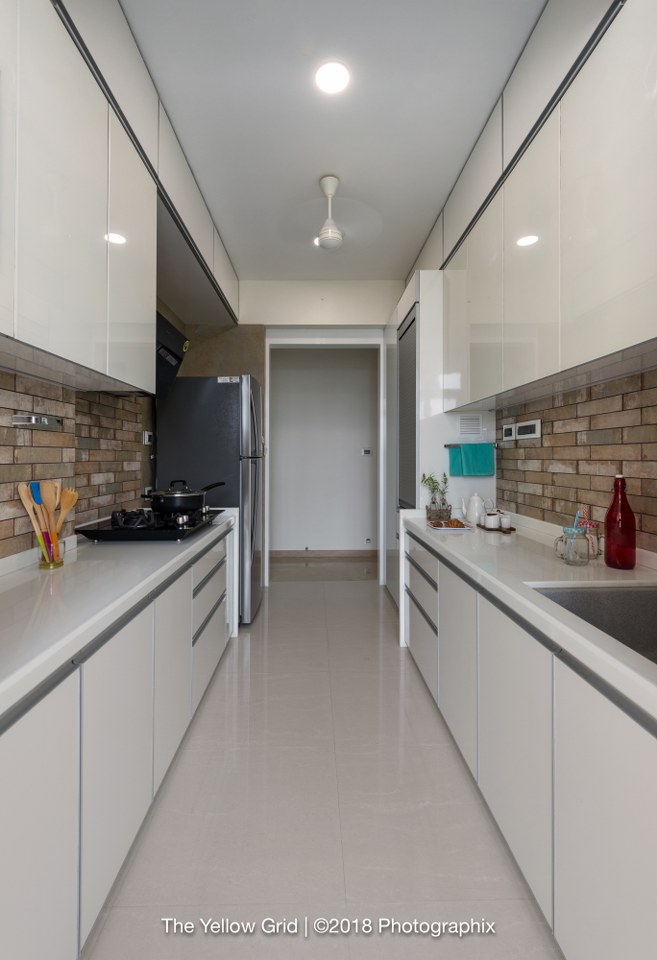 MASTER BEDROOM –
Simplicity and sophistication were of prime importance to the client when it came to the aesthetics of their master bedroom. This was achieved using a neutral palette where everything was cohesive with one another, nothing overpowering the eyes. A combination of veneer and white PU has been used for the bedroom furniture. The half canopy with soft flowy drape provides a subtle grandeur and dresses up the bed.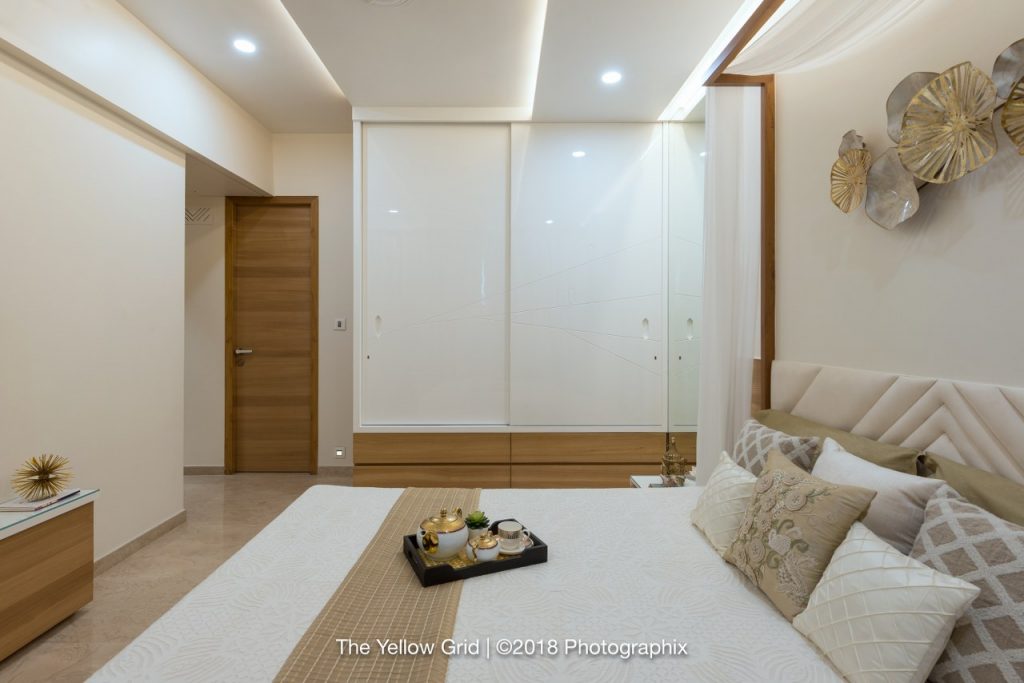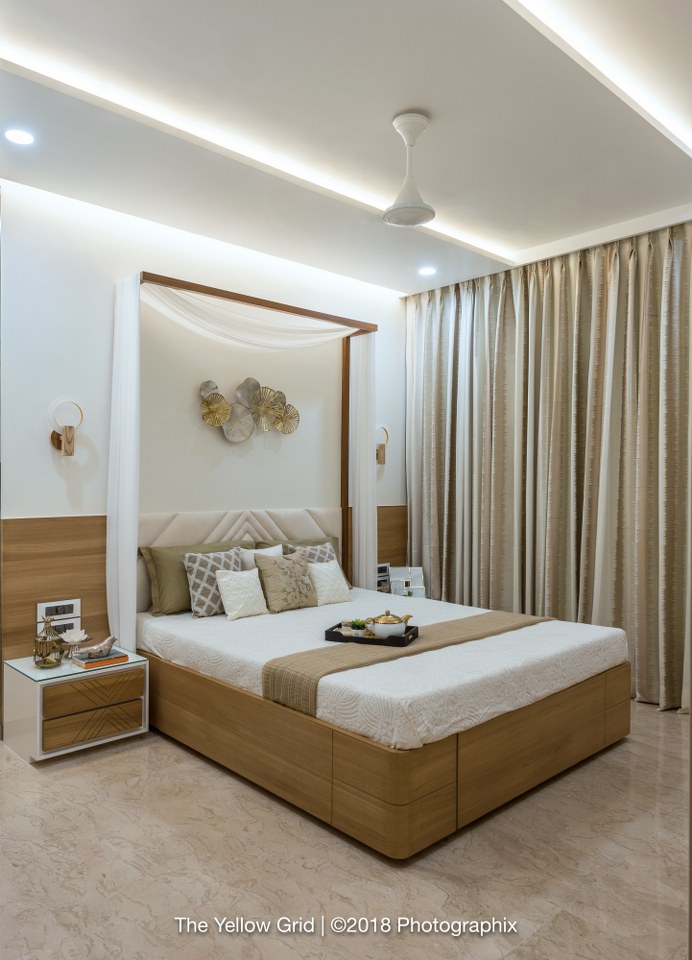 BEDROOM 2 –
This was a smaller compact bedroom compared to the other bedrooms of the apartment. To give an illusion of depth and to make the room look larger, we used mirror panelling on the headboard wall. Mirrors reflect both natural and artificial light to make the room look brighter during the day and night. The design, colour and the proportion of the headboard adds a luxury quotient and becomes the focal element of the space. The folding work desk was tailored to fit the narrow aisle and was designed keeping in mind the multi-functional use of a console, media unit and storage with a work desk.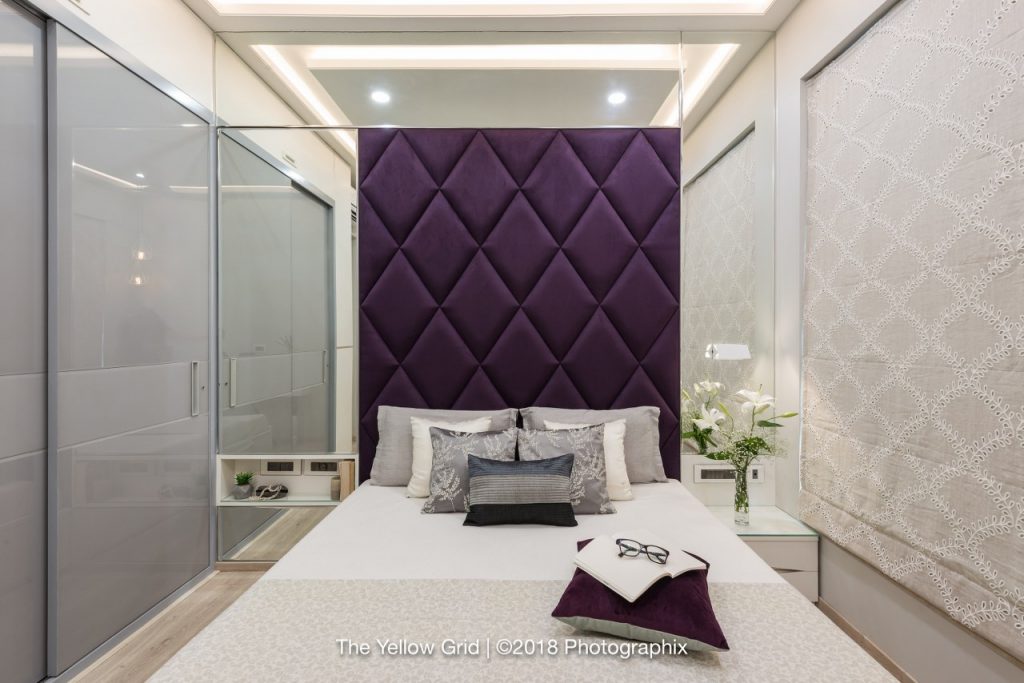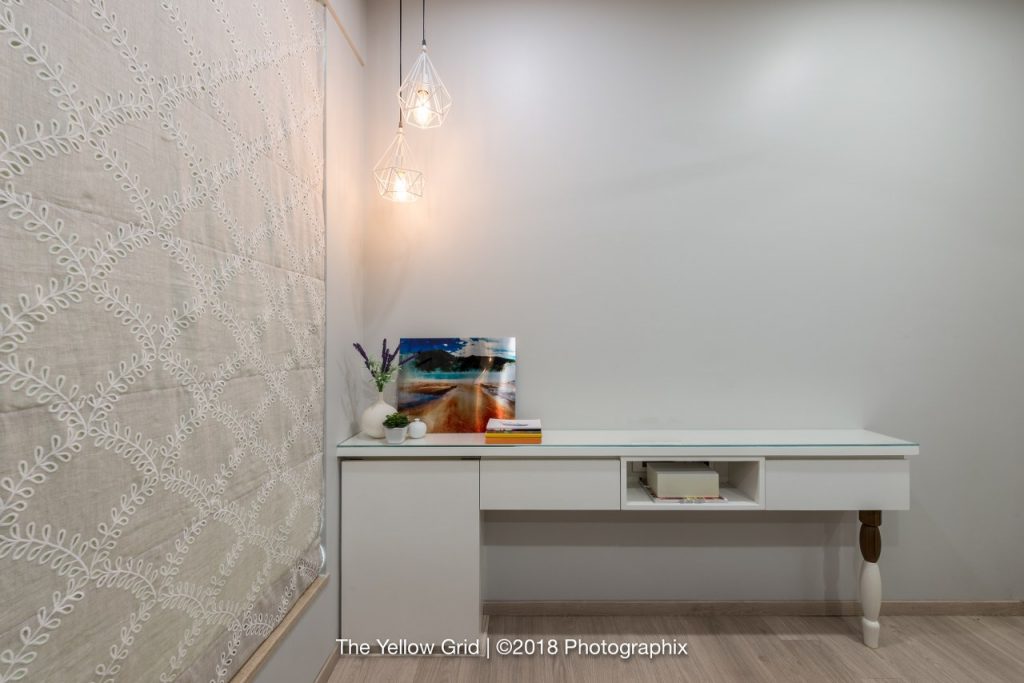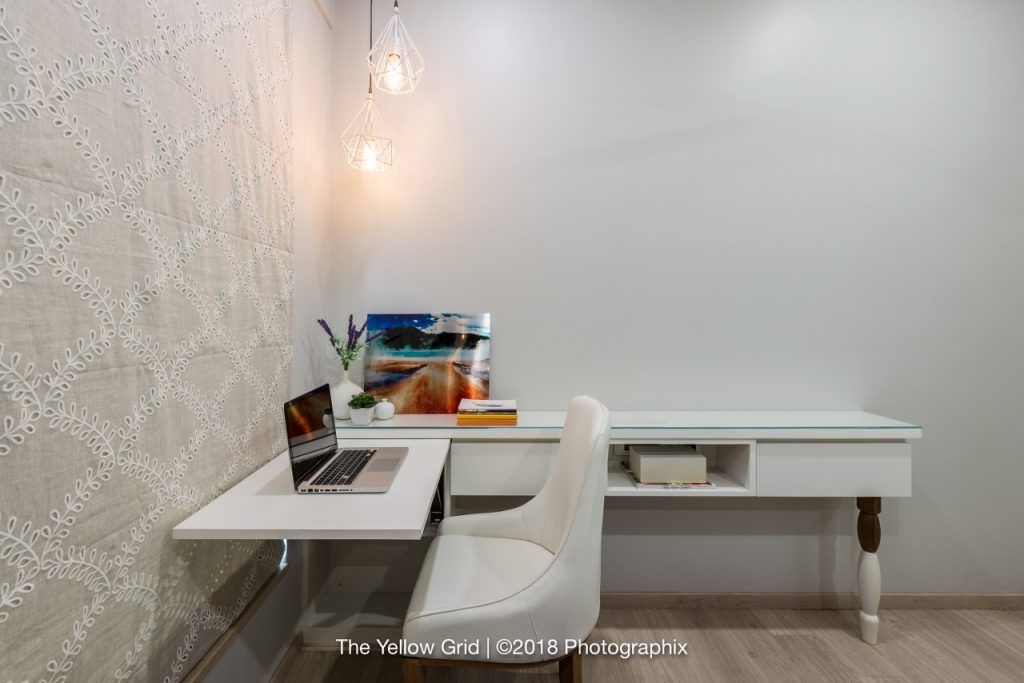 BEDROOM 3 –
The carefully selected dark veneer, wooden mosaic headboard, quirky pendant light and the textured wallpaper, each element imparting a distinct character to make this bedroom stand out from the rest. Overall, this room gives a warm vibe and makes one feel at home & comfortable.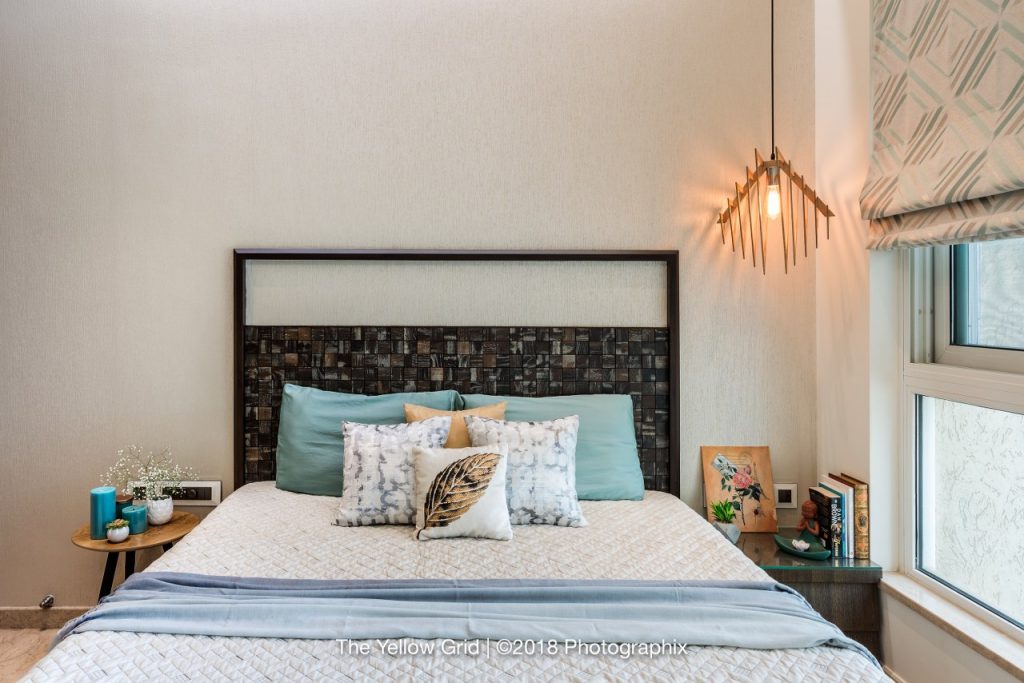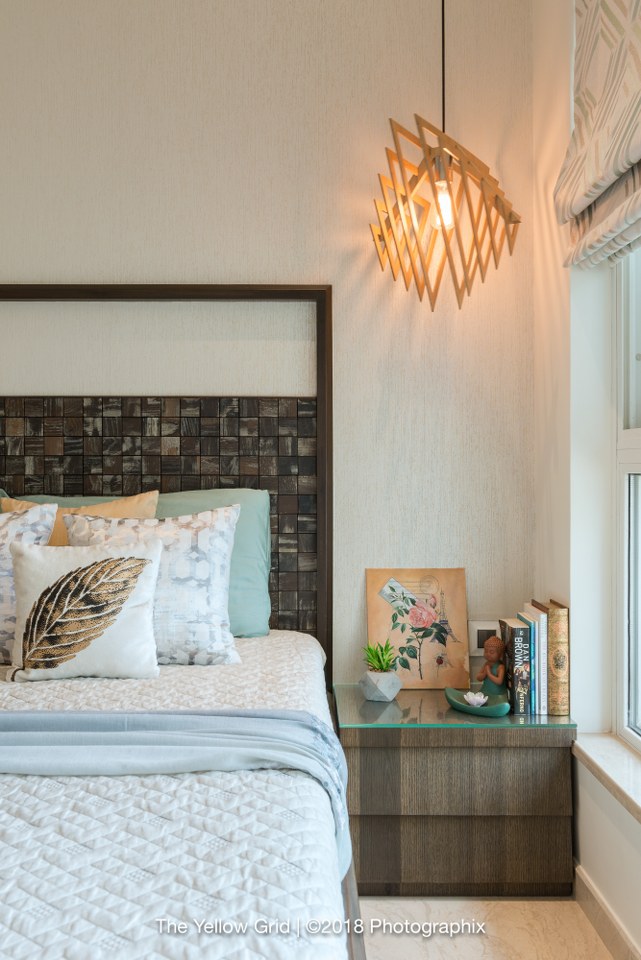 Every corner in this apartment has been meticulously thought of, to render a unique persona to each space. Conscious efforts have been made to make this a humble abode to the dwellers of this residence. A happy & content client at the end of the day is what makes us love what we do.
Fact File –
Firm – The Yellow Grid
Principal Designer – Brinda Shah and Nida Chowdhry
Project Name – Sanghavi Residence
Location – Hiranandani Heritage, Kandivali (W), Mumbai
Area – 1100 sq.ft
Type of Project – Residential Design
Photo Courtesy – Photographix | Ira Gosalia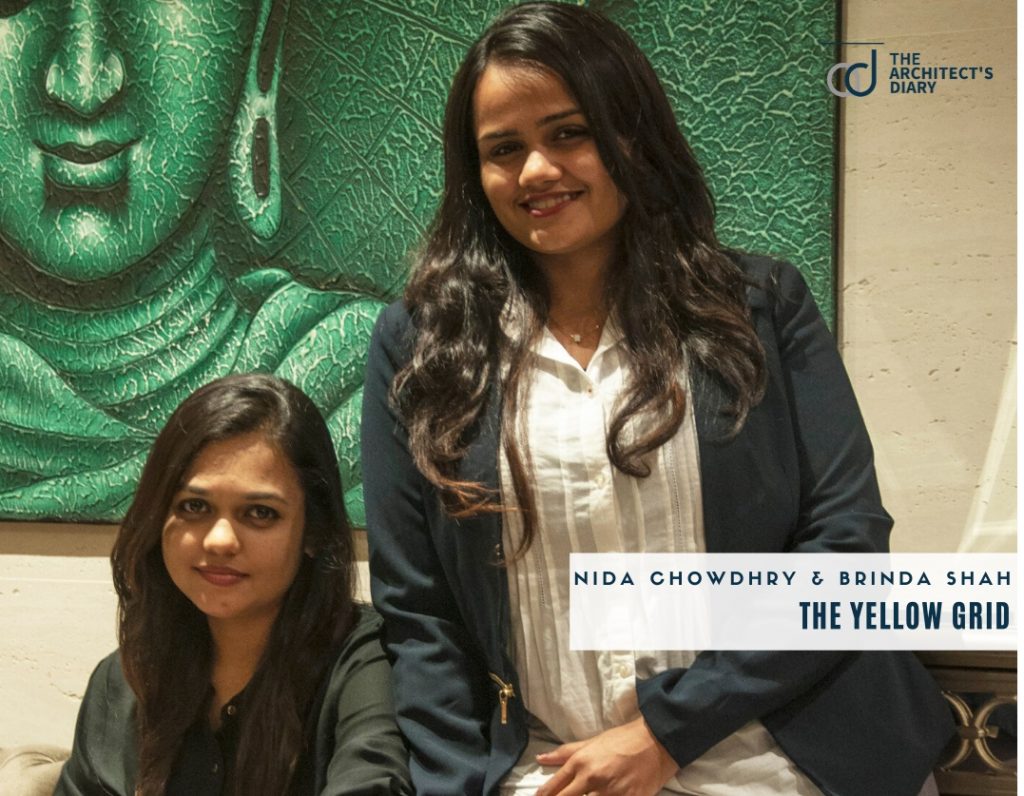 Facebook – https://www.facebook.com/theyellowgrid/
Instagram – https://www.instagram.com/theyellowgrid/