&nbsp
A façade refers to one side, usually the front, of a building. It is an integral piece to the overall design of a building. It provides the opportunity to create a personality and character to a building. Facades can come in many shapes and sizes, and it is really a chance for the architect to showcase their talent by bringing a building to life.
Here is our pick for TOP 20 Facade Design In India.
1 (1).
CLOAKED RESIDENCE A DWELLING UNIT DESIGNED WITH LARGE CORTON STEEL FACADE | CADENCE ARCHITECTS
'Cloaked' is an abode design intervention, monolithically pitched into a tightly knit urban setting By CADENCE ARCHITECTS.
It is enclosed on all sides by an overpowering city fabric. The design was incorporated into a challenging triangular site profile with acute angles at two of its corners.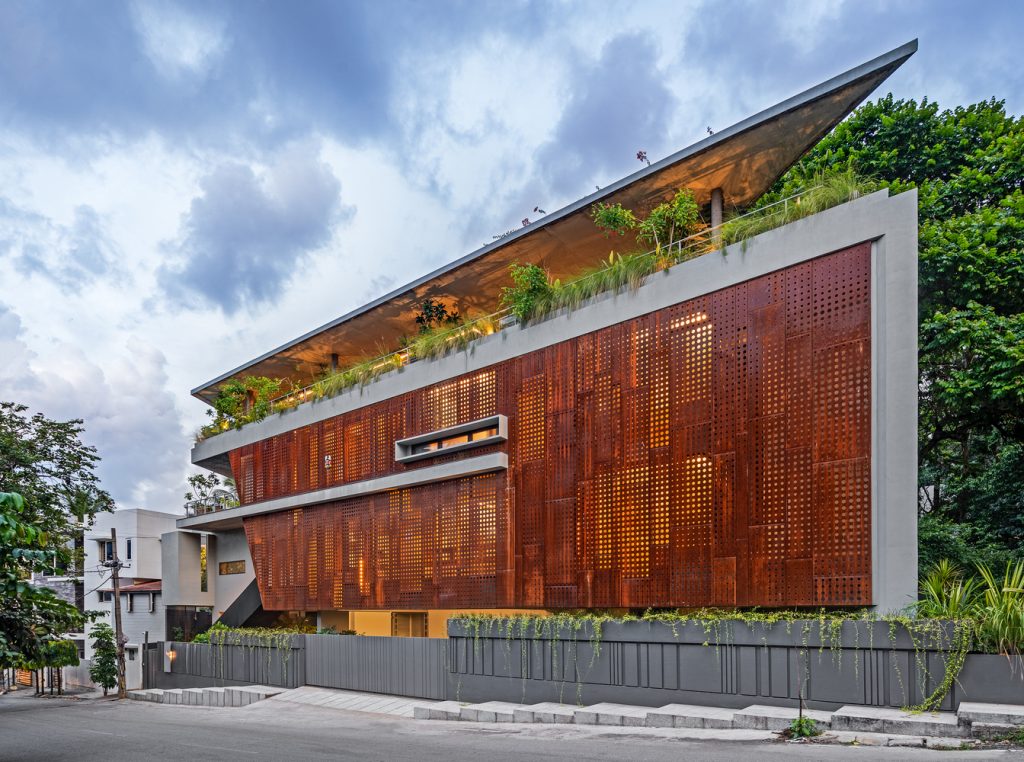 PHOTOGRAPHY BY: Shamanth Patil J
1 (2).
Splice | Cadence
A commercial complex designed by Cadence.
The commercial complex was to sit on a tight corner site measuring 25'x 100'. Typically the commercial complex as a 'type' is conceived as a generic glass box or clad with standard materials like ACP, the consequence of such surface articulation results in clichéd products.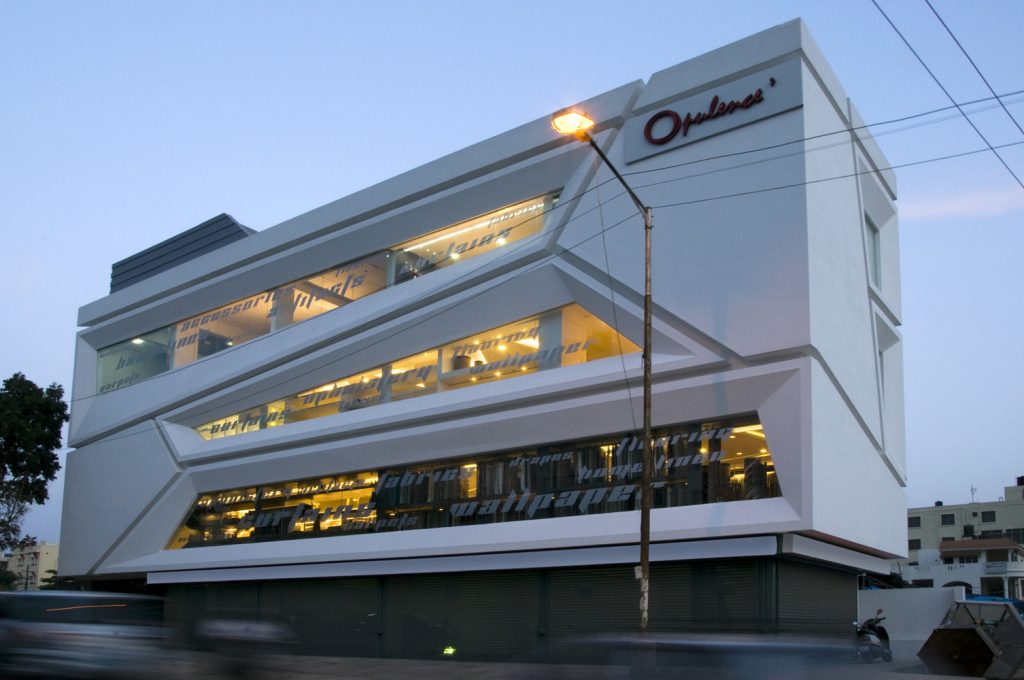 PHOTOGRAPHY BY: Claire Arni
2.
THIS NEXT-GEN SOLAR SENSOR-BASED FACADE, IS BRILLIANT EXAMPLE OF ART AND ENGINEERING | OPEN IDEAS
Hive is conceived and designed as an intelligent, adaptable and sustainable family home at Surat, Gujarat By OPEN IDEAS .
The form of the house is seeded in the profession of the client Kamalbhai Mistry — who is part of an extremely successful company engaged in making machines for the diamond industry.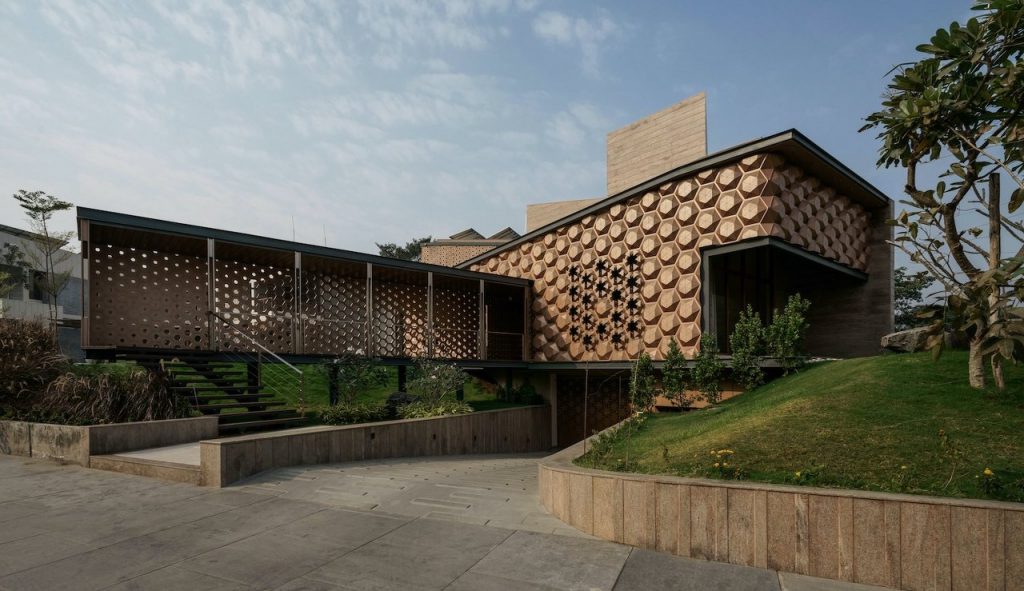 PHOTOGRAPHY BY: Fabien Charuau & Panchkon
3.
Visage Beauty & Health Care Pvt Ltd |GroupDCA
he corporate office project for Visage Beauty and health Care Products Pvt. Ltd. in Noida is designed by Group DCA .
Design intervention is enabled amidst the previously-flat floor plates to make the interiors more dynamic while optimizing workplace efficiency and well-being. The design revolves around transforming this space into a powerful and memorable insertion in the surroundings.
PHOTOGRAPHY BY: Suryan // Dang
4.
PAVILION STRUCTURE TRANSFORMS ITSELF INTO A DYNAMIC GEOMETRY | THE BAD STUDIO
Designed by The Bad Studio this pavillion was designed for developer's multiple projects in the outskirts of Bharuch City.
Located in the outskirts of Bharuch city, Wrapped Volumes caters as sales pavilion for developer's multiple projects. The site lacks specific context, at the same time the abutting road chops the site into a trapezoidal shape.
PHOTOGRAPHY BY: Panchkon, Boney Keriwala
5.
Institute of Engineering and Technology – Ahmedabad University | vir.mueller architects
The architectural design for the Institute of Engineering and Technology at Ahmedabad by vir.mueller architects.
University exemplifies the typology of an academic quadrangle – a central courtyard garden, flanked by student and faculty rooms.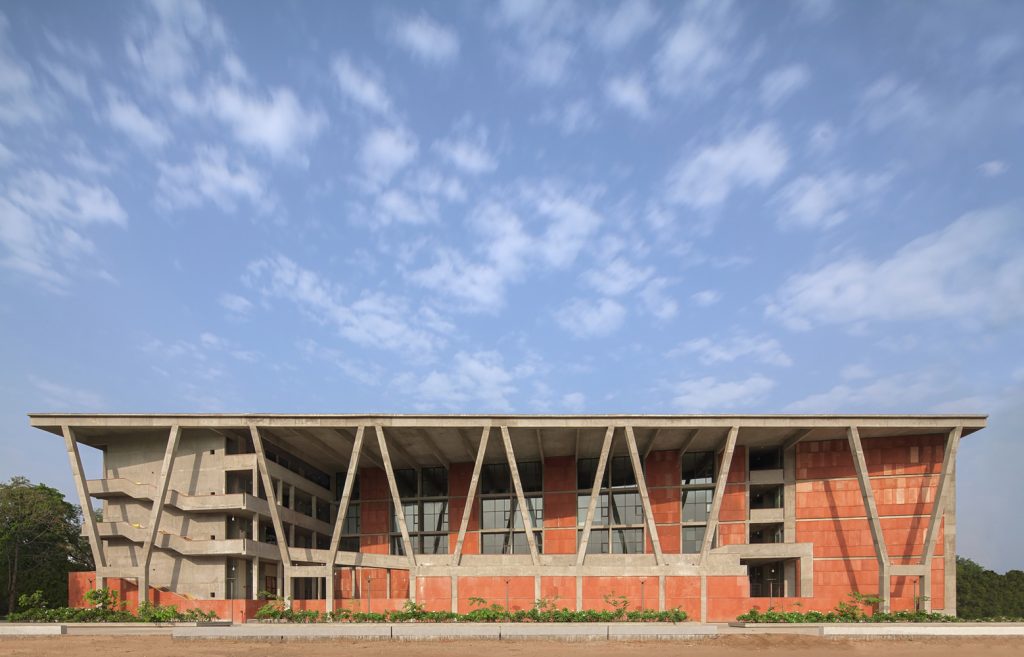 PHOTOGRAPHY BY: Andre J. Fanthome
6.
RANE VIDYALAYA SCHOOL | SHANMUGAM ASSOCIATES
An educational campus designed for K12 and a CSR by Shanmugam Associates.
Rane Vidyalaya CBSE school is an educational campus for K12 and a CSR initiative by Rane Foundation India Pvt. Ltd, a leading industrial conglomerate. Theerampalayam, the rural region where the school is located, has no proper educational institutions that offer quality learning. The closest city, Tiruchirapalli which is a Tier-II city in the state of Tamil Nadu, India, is 20 kms away.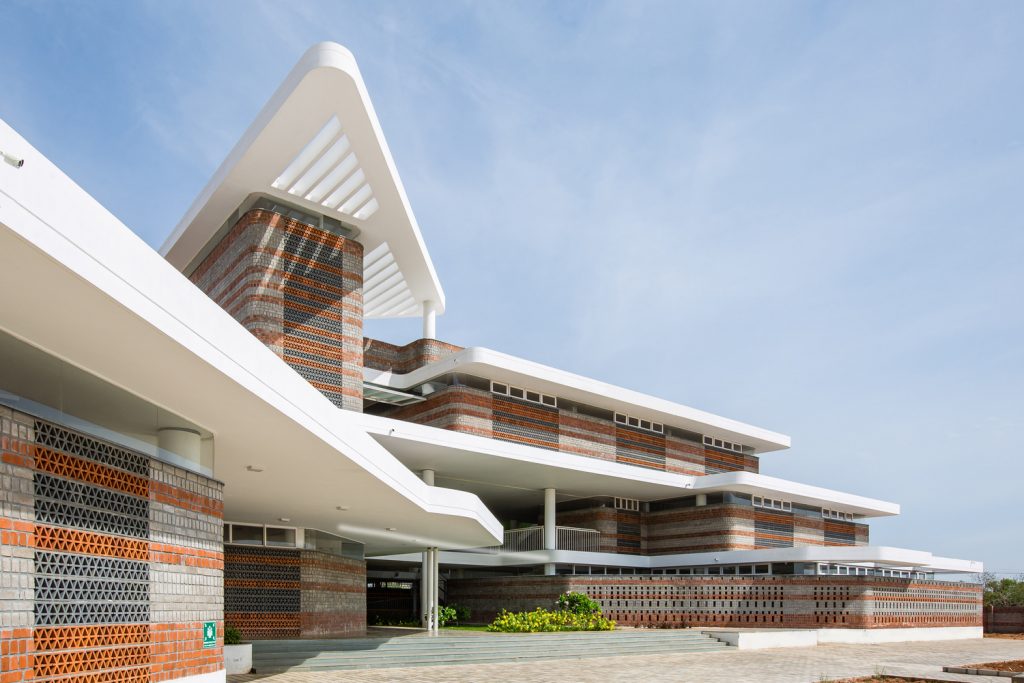 PHOTOGRAPHY BY: LINK studio
7.
PERFORATED SCREENING HOUSE | SPACEFICTION STUDIO
A residence designed by Spacefiction Studio.
The idea since inception has always been to keep the connection between the generations alive now and in future. The general notion of an apartment is to allow privacy between its units.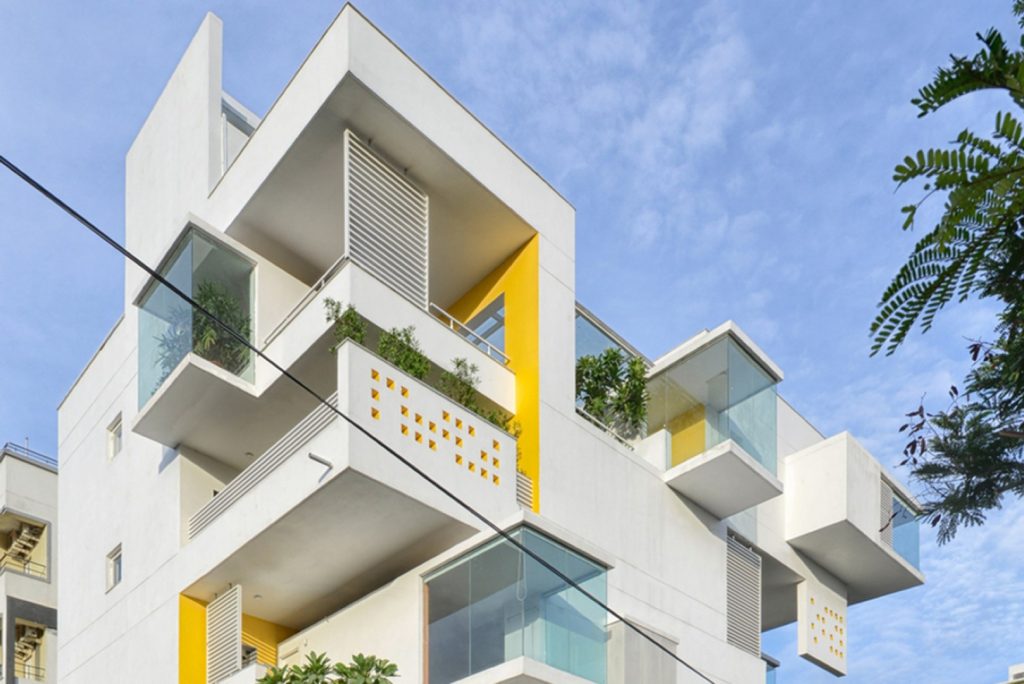 PHOTOGRAPHY BY: Monika Sathe Photography
8.
The Park Hotel | SOM
Skidmore, Owings and Merrill LLP (SOM), the New York-based architectural firm, has recently completed The Park Hotel Hyderabad, the flagship hotel for The Park Hotel Group.
This 531,550-square-foot, 270-room hotel infuses a modern, sustainable design with the local craft traditions, and is influenced by the region's reputation as a center for the design and production of gemstones and textiles.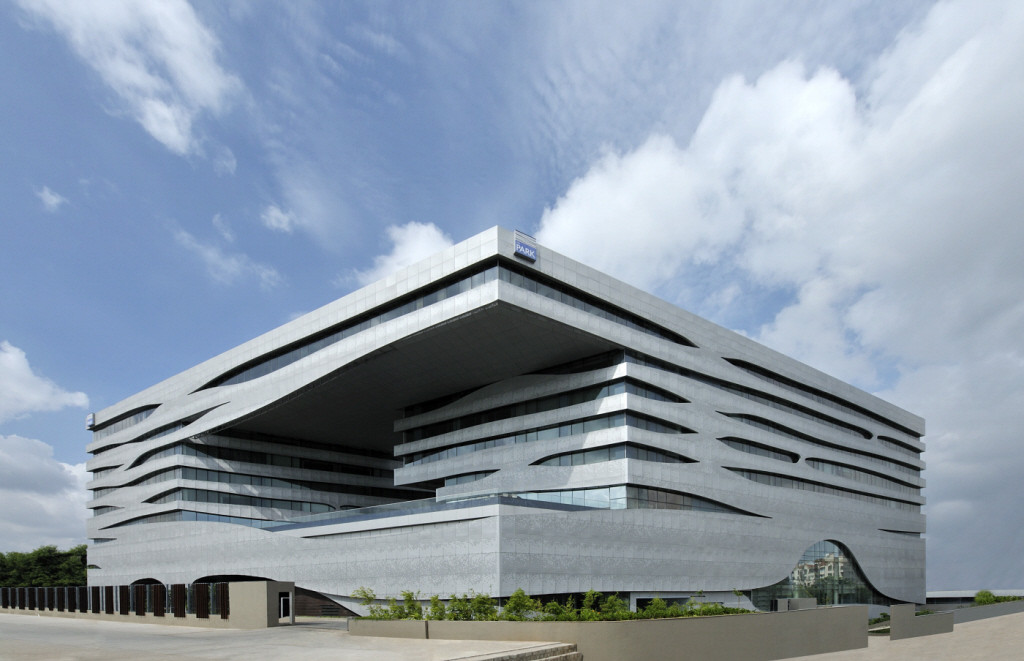 PHOTOGRAPHY BY: Bharath Ramamrutham, Pallon Daruwala, Robert Polidori .
9.
APARTMENT EXTERIOR USES ALUMINUM HORIZONTAL FACADE | PLAN LOCI
An apartment exterior designed by Plan Loci
The sinuous grey metal on the outside celebrates the industrial horizontal aluminum facade, while not betraying the inner layer of timber-framed fenestrations which make its occupants feel the intimacy and warmth of a home.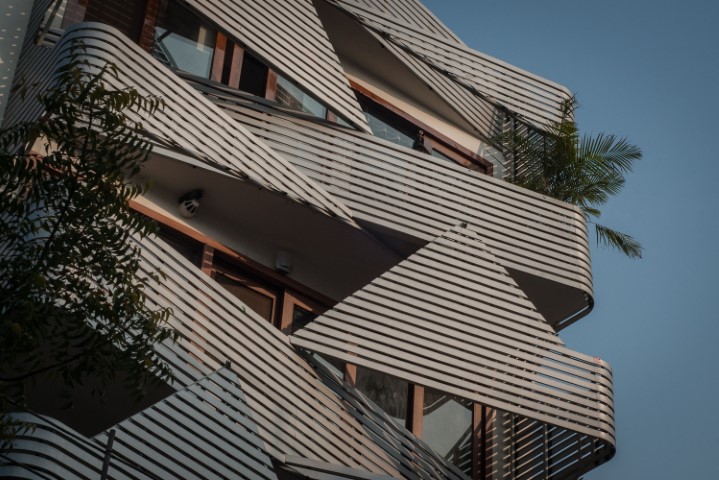 PHOTOGRAPHY BY: Saptarshi Sanyal
10.
Halcyon Complex | VSDP
Commercial complex designed by VSDP .
The project was conceived to be an iconic customized design that engenders a critical insight to the potential of abstracted geometric compositions meant to alter the conventional notion of a façade system.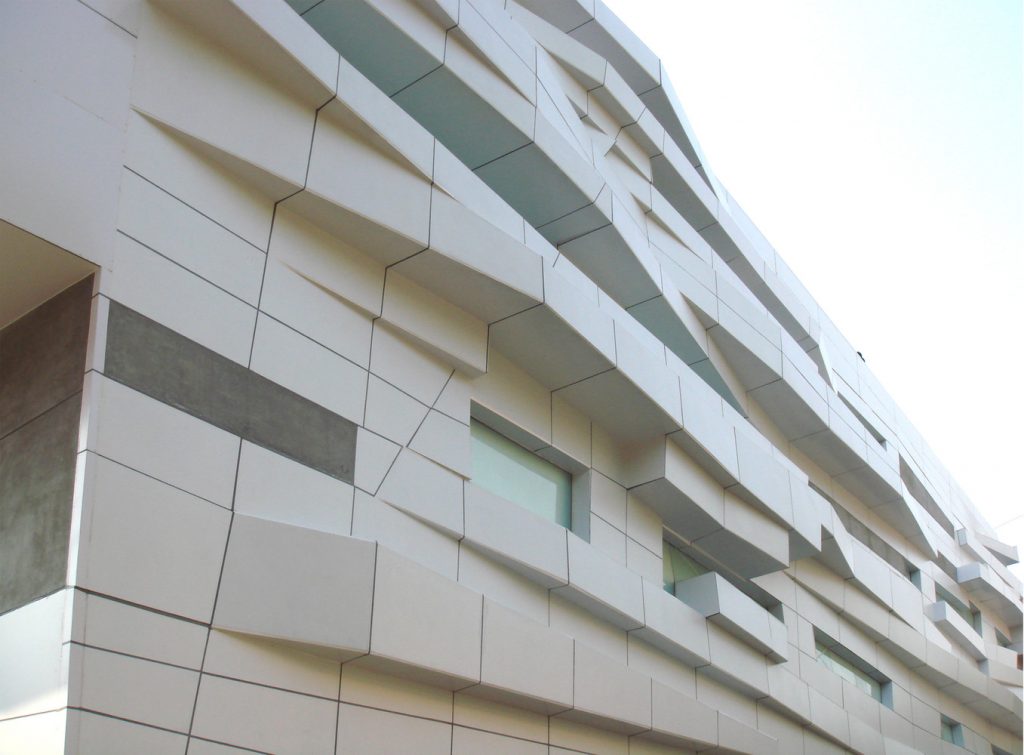 PHOTOGRAPHY BY: Pallon Daruwala
11.
Mondeal Square in Ahmedabad | Blocher Blocher India Pvt. Ltd.
Architectural and design office Blocher Blocher India Pvt. Ltd. has planned and implemented the multi-functional building complex, Mondeal Square
To shape the face of a city and present a point of orientation for resident and visitor. Two characteristics, which Mondeal Square satisfied already soon after its opening.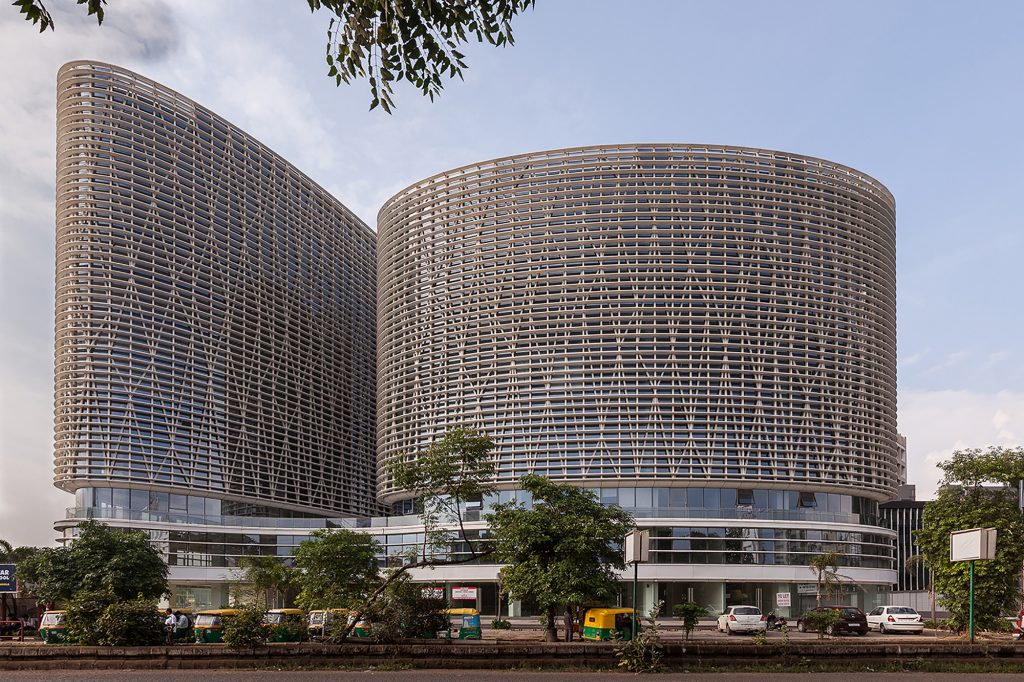 PHOTOGRAPHY BY: provided by architects.
12.
Pearl Academy of Fashion | Morphogenesis
Institute of fashion at jaipur designed by Morphogenesis.
The Pearl Academy of Fashion, Jaipur is a campus which by virtue of its design is geared towards creating an environmentally responsive passive habitat. The institute creates interactive spaces for a highly creative student body to work in multifunctional zones which blend the indoors with the outdoors seamlessly.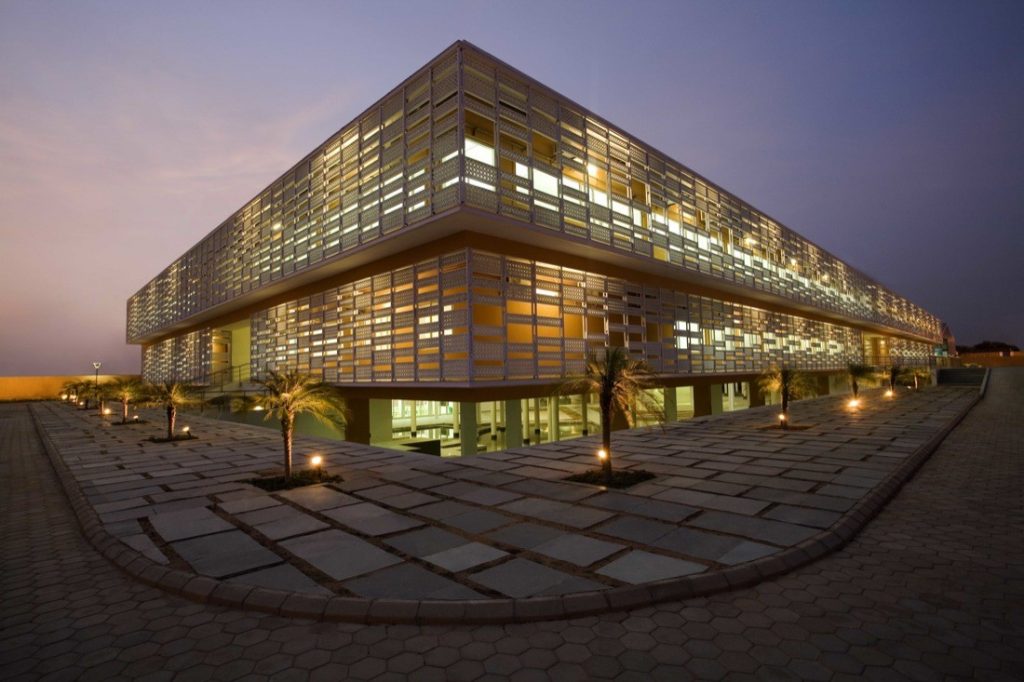 PHOTOGRAPHY BY: provided by an architect
13.(1)
IMI International Management Institute Kolkata | Abin Design Studio.
Facade of an institute designed by Abin Design Studio.
Nature in its various forms has always been a constant source of inspiration to man. The sky with its various states and ever changing colors is one of the most dynamic elements of nature and is what has inspired the built form façade.
SEE FULL PROJECT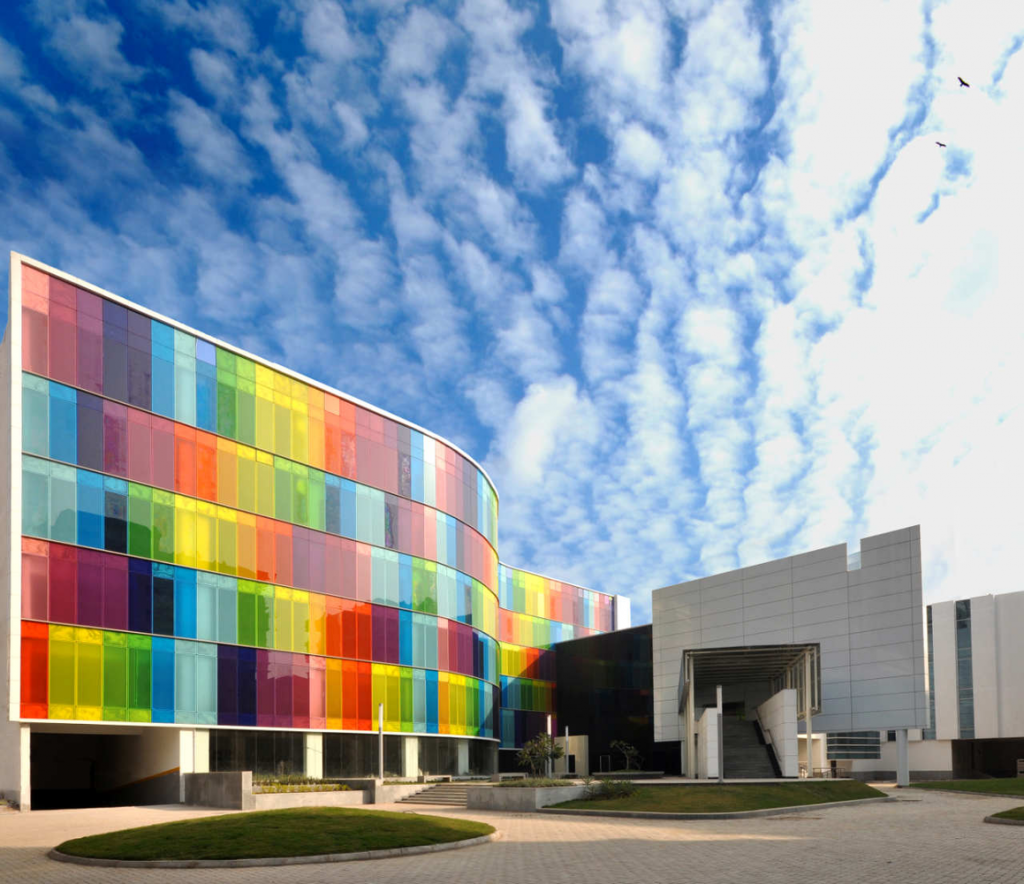 PHOTOGRAPHY BY: Pradip Sen
13(2)
Wall House | Abin Design Studio
House with corten steel facade designed by Abin Design Studio.
The main requirement of the client was for a secure and noise-free home. After due analysis of the corner plot for Wall House, it was observed that Building a wall along the junction's corner posed as an obstruction towards perceiving oncoming traffic on either of the roads and would prove disastrous for this collision-prone junction.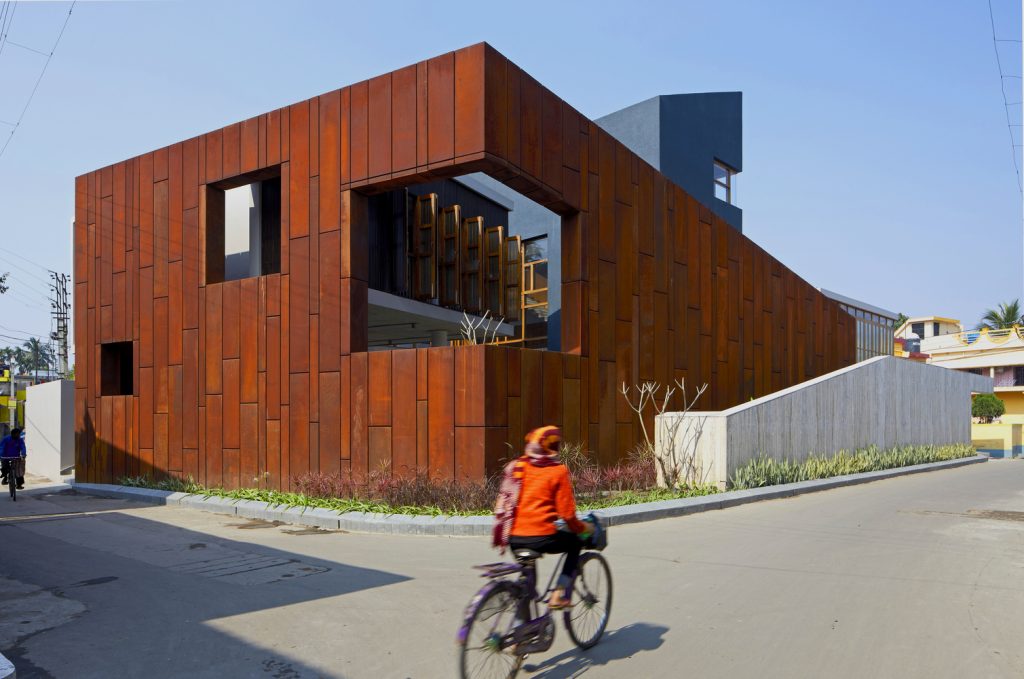 PHOTOGRAPHY BY: Edmund Sumner | Suryan // Dang | Abin Chaudhuri
14. (1)
Hexalace | Studio Ardete
Hexalace is an open-plan commercial building made primarily for leasing purposes designed by Studio Ardete.
In a tight commercial plot with challenging building norms, it became perceptible from the beginning that the concept would have to be manifested from the facade. Considering the arduous climatic conditions involving extreme heat, and the building front facing west, the façade emerged as a buffer of stratifying elements.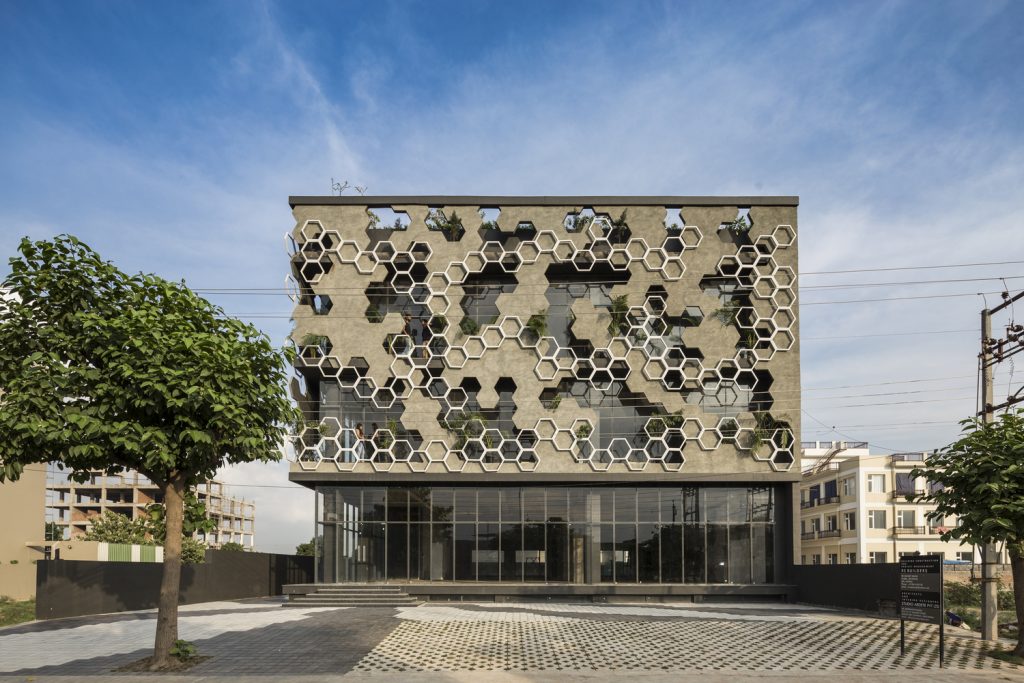 PHOTOGRAPHY BY: Purnesh Dev Nikhanj
14. (2)
Martin's Factory Renovation | Studio Ardete
Martin's factory renovation done by Studio Ardete.
The project, located on an industrial site in Panchkula, India, presents a unique problem for the architects, necessitating them to come up with an unusual solution. A Furniture factory exhibition hall and an adjacent building, both owned by the client needed to be visually connected so as to give them a common facia.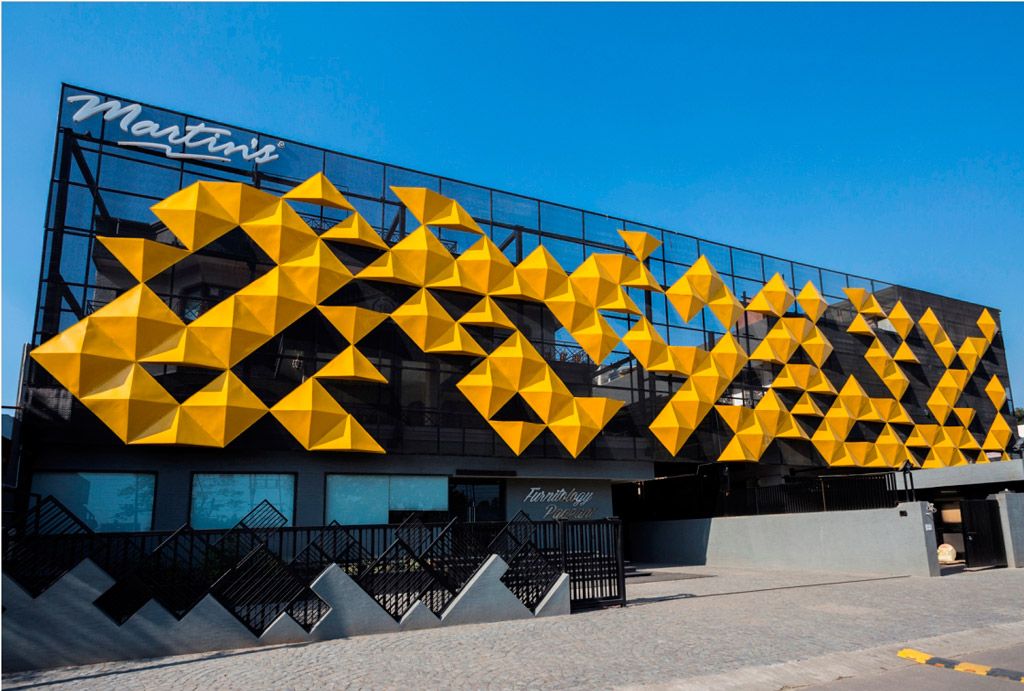 PHOTOGRAPHY BY: Purnesh Dev Nikhanj
15.
Tri-Tessellate | AKDA
Tri-Tessellate designed by AKDA.
The persistence of zoned industrial areas surrounding growing cities is a vestige of Ebenezer Howard's conceptualization of an ideal city. Howard understood that the production of goods was vital to the economy but couldn't bring himself to harmonize the idea that manufacturing could exist within the city.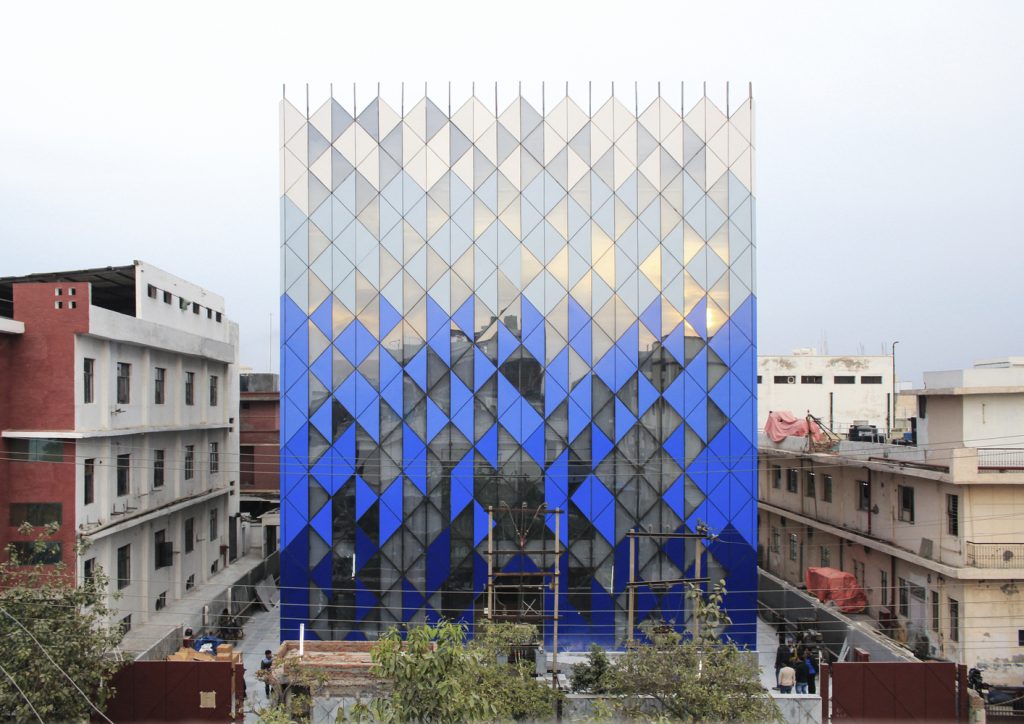 PHOTOGRAPHY BY: provided by an architect.
16.
The Bad Cafe | Nudes
The Facade Of bad Cafe situated in Mumbai was Designed by NUDES design studio with 25,992 recycled PVC electrical conduits creating a wave-like structure.
The human skin is an anatomical barrier in bodily defense from pathogens and damage between the internal and external environment. It also contains nerve endings that react to touch, pressure, vibration, tissue injury, heat and cold.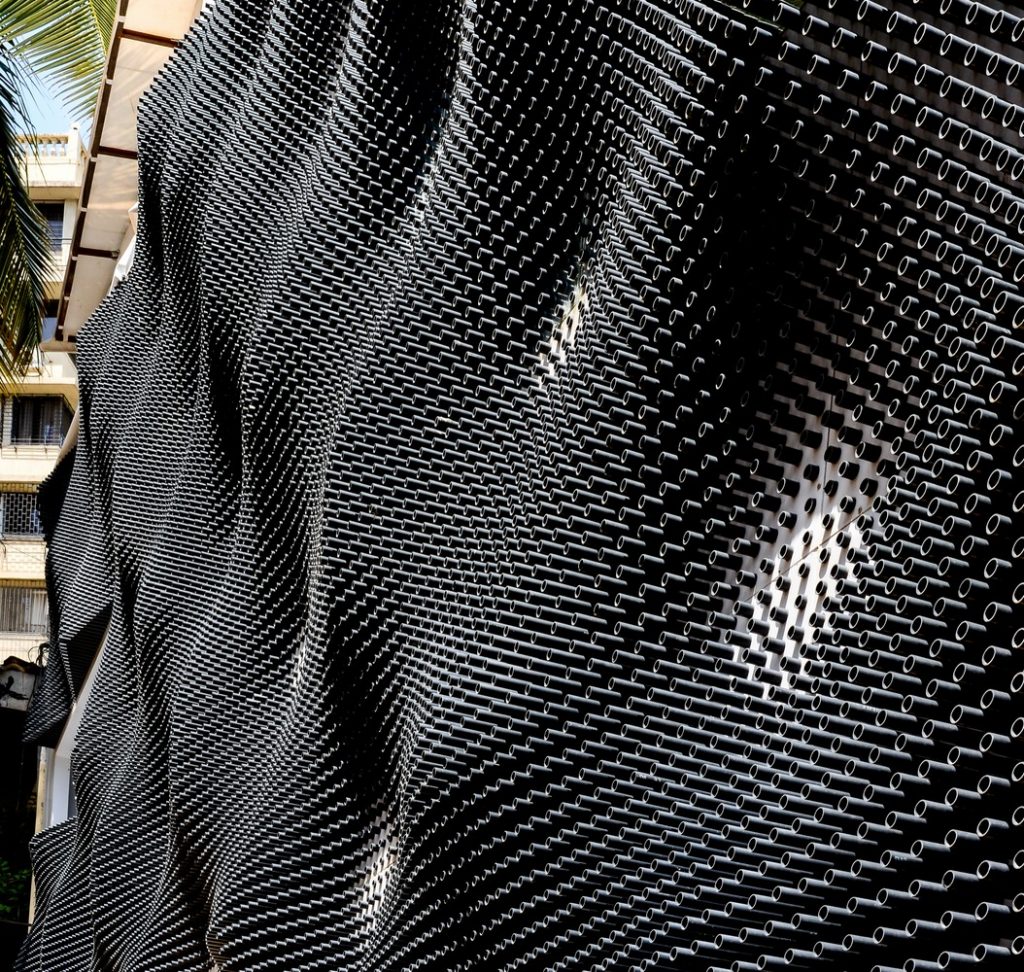 PHOTOGRAPHY BY: provided by an architect.
17.
Punjab Kesari Headquarters | Studio Symbiosis
Punjab Kesari Headquarters by Studio Symbiosis in India won the WA Award Cycle 23. Please find below the WA Award poster for this project.
Punjab Kesari Headquarters is designed as Fusion of traditional Indian architecture and contemporary office space, the main objective is to reduce heat gain and optimize façade opening ratio, ensuring no artificial lighting is required on a typical day. An animated façade is designed as an outcome of different façade opening ratio depending on the orientation.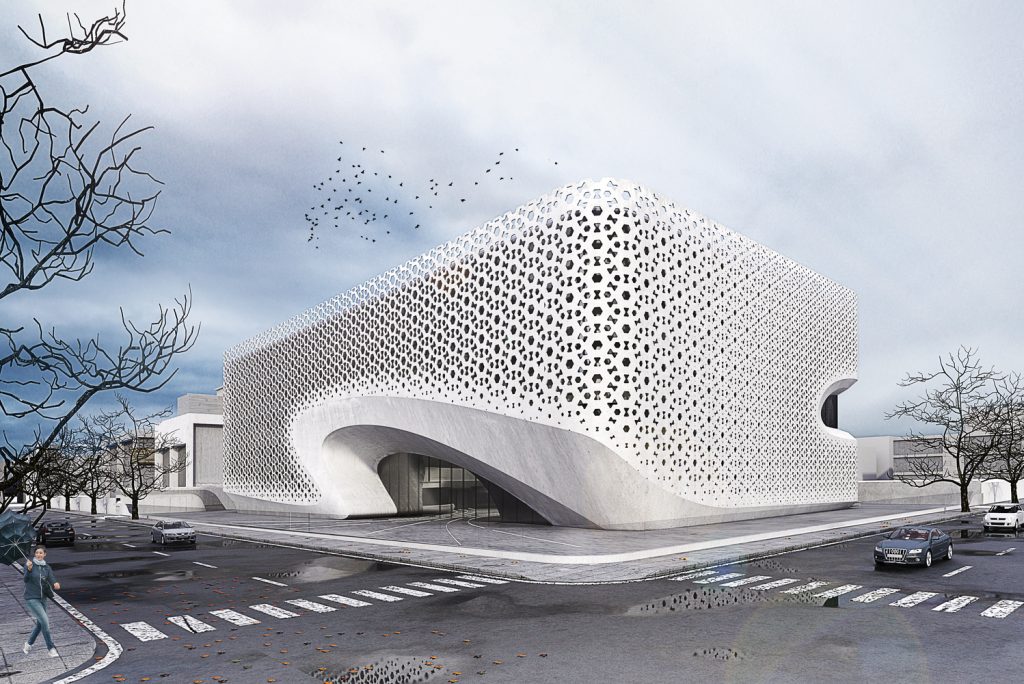 PHOTOGRAPHY BY: provided by an architect.