&nbsp
TIMELESS TREASURE | The Interior WORKSHOP
Designing this Retail shop TIMELESS TREASURE, the shop dealing with the All kind of Natural Stones and Products by Arch TEJAS MISTRY and by the entire team of THE INTERIOR WORKSHOP, Here unique aspect of this project is that mostly we have used their Natural Stone In the Whole Designing and Also designed in such way that their Each and every variety of Natural stones and products are seen and displayed very well. Each floor signifying its own beauty and creating an artistic display of each stone and product.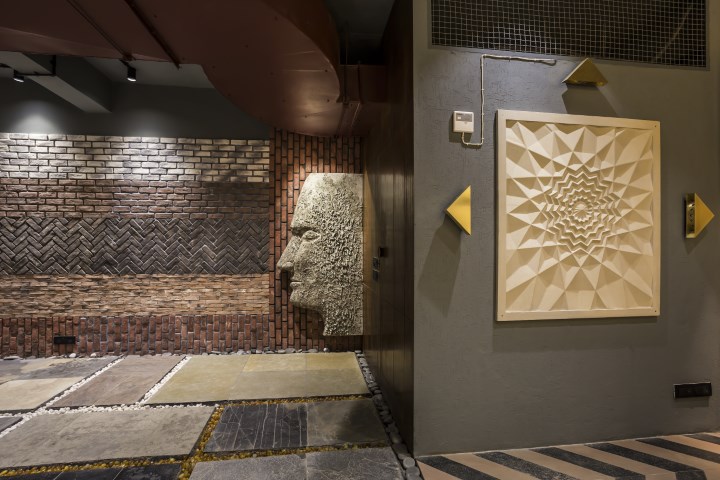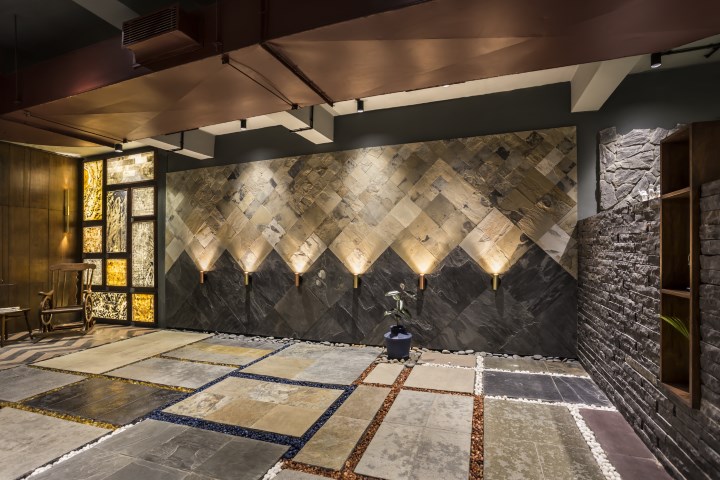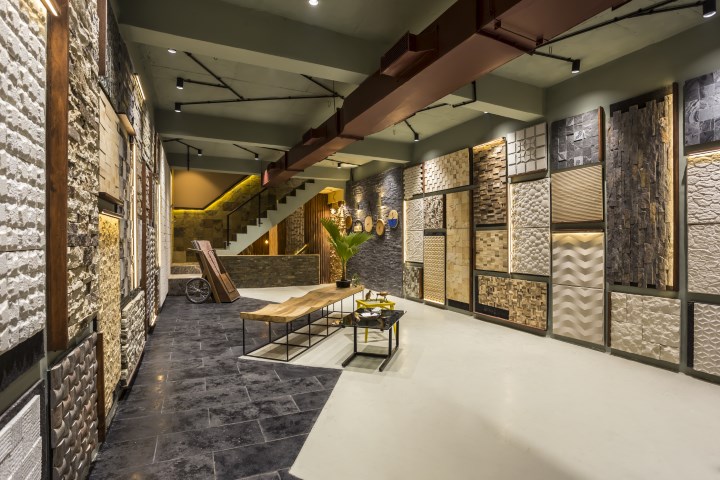 FACT FILES
PROJECT NAME: Shop name – TIMELESS TREASURE
CHEIF/PRINCIPLE DESIGNER: Tejas Mistry
FIRM NAME: The Interior WORKSHOP
TEAM MEMBERS: Kalpesh Chotaliya, Piyush Mevada
TYPOLOGY: Commercial / Retail Shop
PROJECT LOCATION: Surat, Gujarat, India
PROJECT COMPLETION YEAR: 2018
PHOTO CREDIT: Kamal Bengali
TEXT CREDIT: Nafisa Rangwala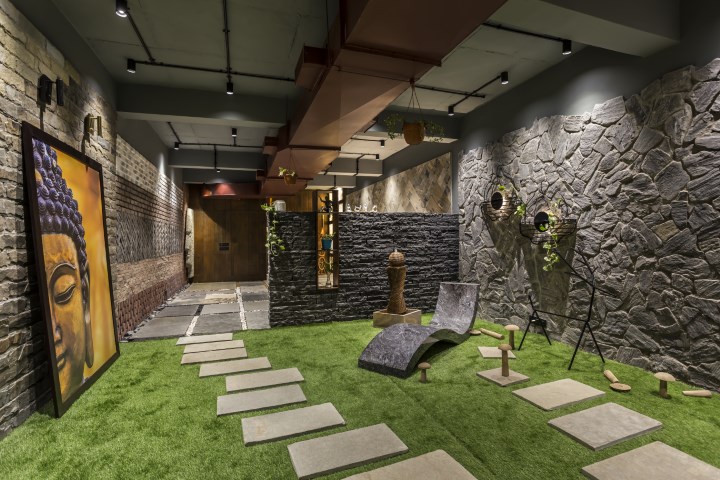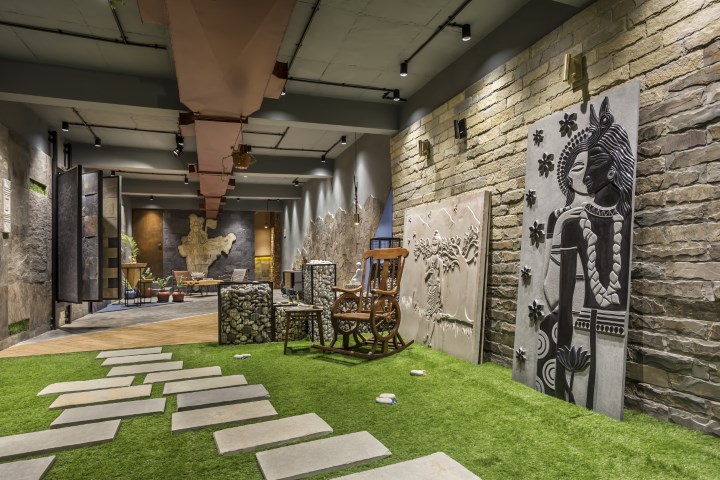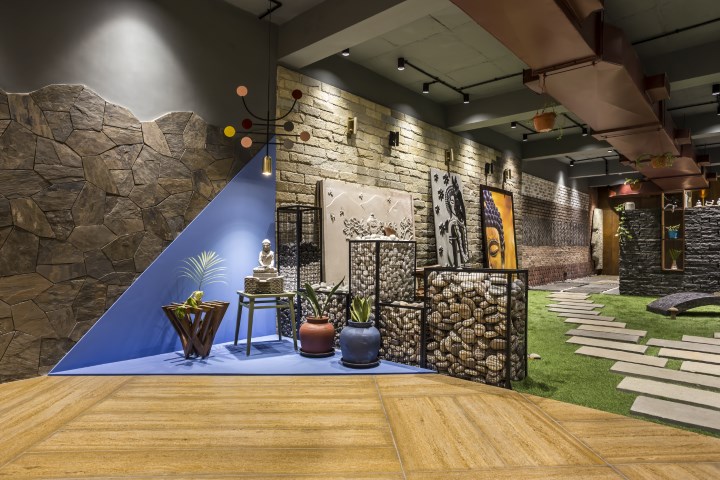 Here while designing this retail shop we have a subtle emphasis on spatial flow both internally and externally to each wall and have provided unexpected and eye mesmerizing view and design detail and technique to each wall along with the proper display of each and every material they have and serve to their valuable customers.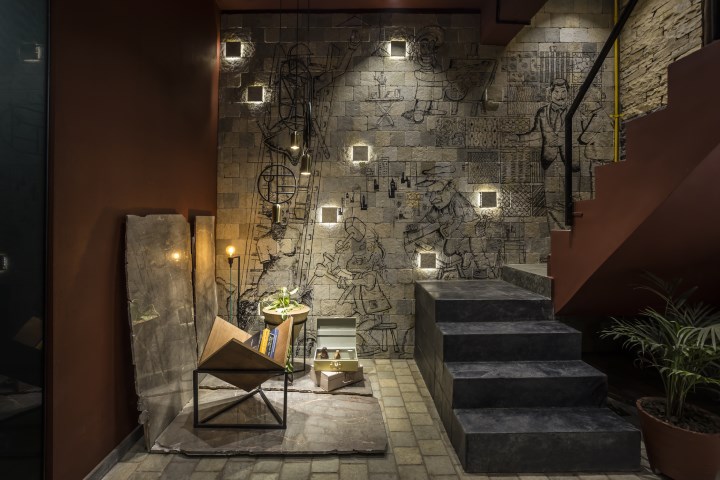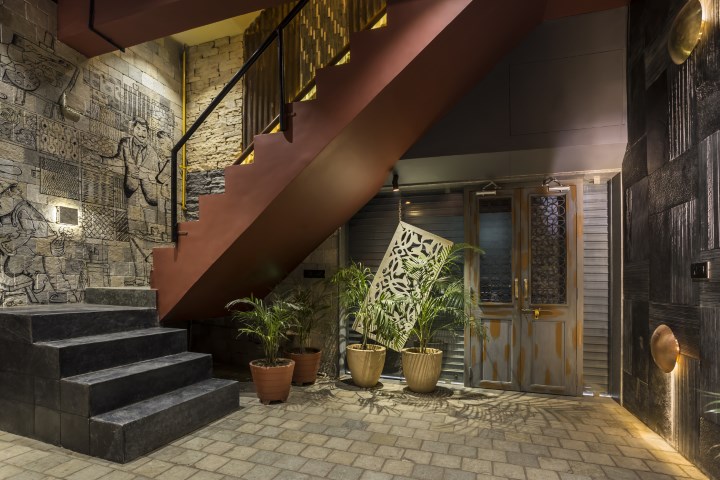 Space and display planning of each and every artistic stones and product is done in a very simple and functional way. Blend of Exotic Art and Natural Stones, tiles display and Antique yet stylish customized product are seen all over. Lights and other décor stuff giving a unique identity to each display area and to justify the beauty of each and every corner of area and walls.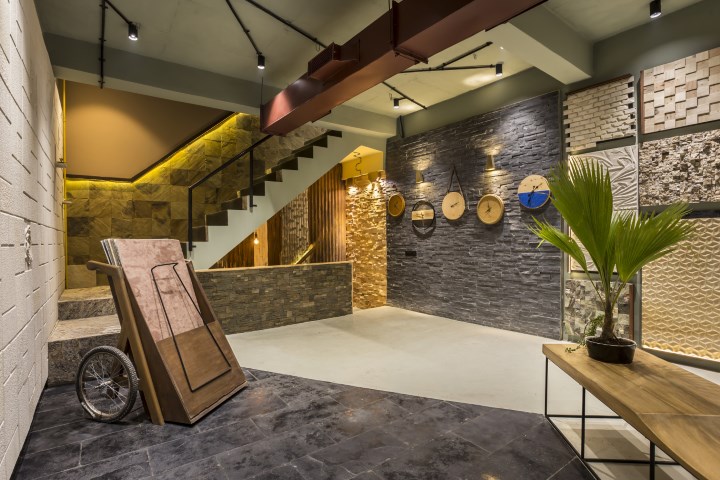 The entrance and Entryway is made up of a wooden door in very classic and industrial old theme and highlighted with the stone Jali hanging through MS Chain which is Enhancing the entire look of Exterior View and Main Entry. Walls is designed in Black calibration Stone and popped up with the artwork of their receptive work in a very inspiring way along with the light in it. The One side corner of the area is designed up with the display of the Products and tile and focusing through the Round Fancy Hanging Light done in a very clean and simple way
Furthermore, the display facility needed to symbolize the athletic dynamism. It, therefore, to the Frist Floor, the floor is Staring up the display and showcasing of the various Natural stones and Products which they Sell and provide on Cassette display  and going further we have designed a Natural Stone Bed and plantation on it and with the stunning Natural yellow stone and wooden ledge with the lighting in it on the bed back side wall and ceiling has been designed and made up of corrugated sheet in very Industrial style combining and gives mesmerizing look to that corner.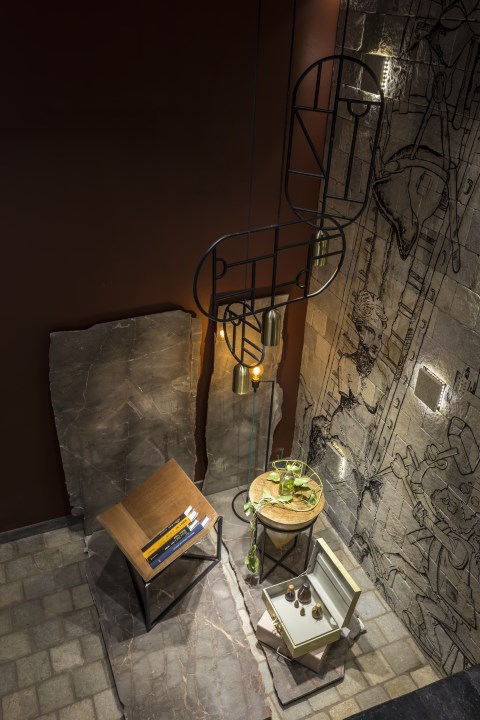 The Main cabin in another Corner as a personal spaces is detailed with delicate opulence laid into the decided colour palette and simple design level table made up with the wooden top PU finish and MS legs and back side wall the wire pattern is created which is connected to the hanging Light on the table giving the stylish look to the main cabin. Ceiling All-over is done in a very calm dramatic way and embellishing way yet keeping in exposed style and AC duct also reveling and uncovered. With COB surface lights fixtures along with the branch style pattern, on the base of green paint.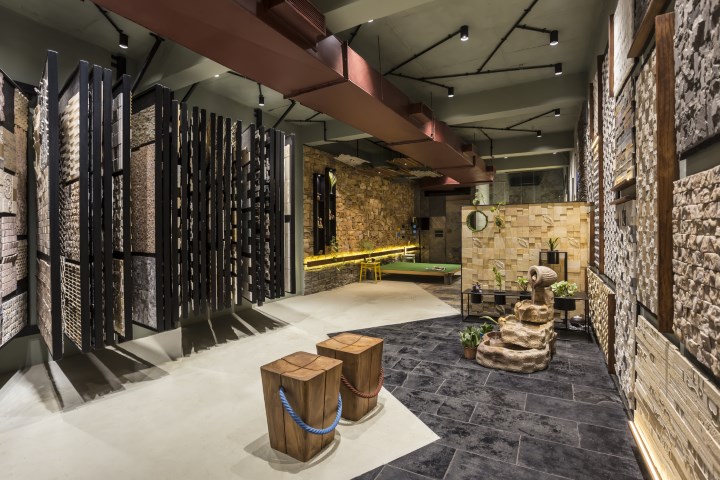 The Column which is seen and enveloped opposite to every landing of a stair is designed up in Rustic style and made of rough wooden small squares in 3D style wrapping up amazingly. And the wall connecting to the stair is also designed and made up very uniquely with the usage of many different industrial materials.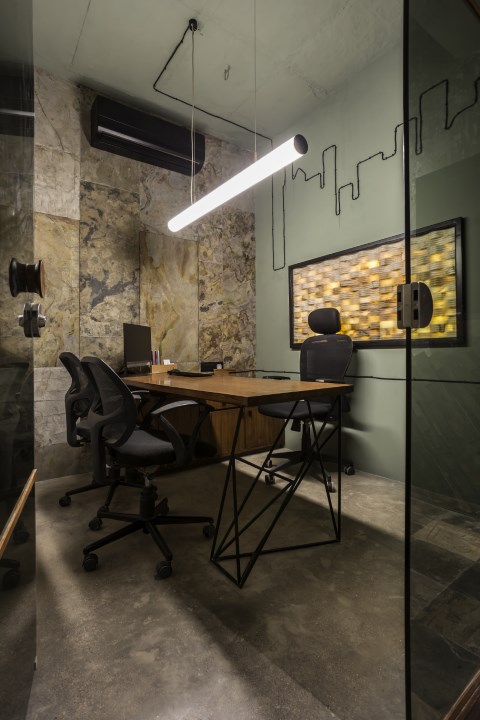 Climbing out to the last floor designer have to wing his imagination to another level of creativity in one of the most Stunning way. Flooring in this shop is designed in a very uncommon way like each corner of the shop had different flooring material combing up according to that area and enhancing the entire look of the area. On this floor, the unique artwork is seen which is the texture work of Indian map is done in slat stone, in a very unusual way giving a clam look to the eye and to that area. Brick cladding work is seen on the wall along with another material such as stone panel, Bunching stone, sandstone, stone arts, sandstone, rough stone etc.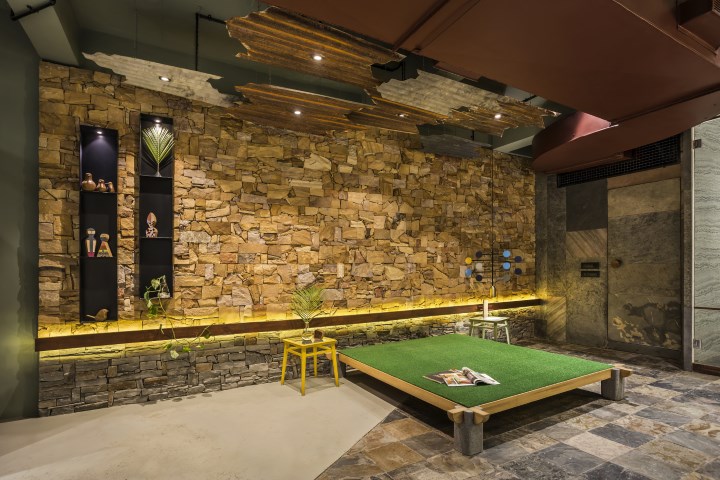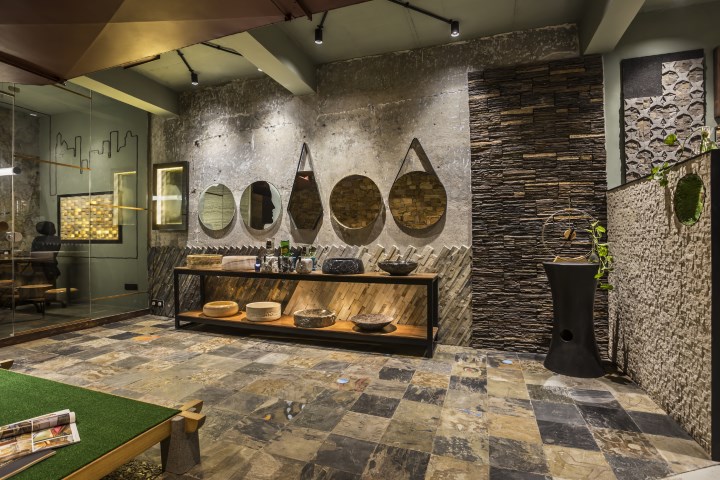 The partition on that floor is made up of Slate Cladding culture natural slate stone. Another one in start centre point made up of Metal Jali Pattern powder coated along with that it's filled with pebbles in it to give an industrial look. Here on this floor, we have displayed the Natural stone such as natural stacking stone, stacking stone, flooring of Castile stone, tandoor stone, creek natural stone etc.