Finding the right tree company can be a big hassle, especially when you have no clue about how to choose the right person for the job. Thankfully, you have the internet at your disposal that you can use to conduct some research. If you're in Australia and Sydney in particular, you will at some point need the help of a good Sydney tree company, and that is when the following tips will help you move in the right direction:
Read Their Reviews
In your research for a good tree contractor, you will want to know how the person or company has performed in their previous jobs before getting your own work done. Check online reviews, go around the areas if they are nearby to check how the previous works have been done. Ask people about their experiences with different vendors for their community. Check with everyone who you think may have some idea about this.
A tree company that has done the outstanding job will be known to the residents and builders for their good work and will have a good reputation for years. Try to hire a known person for the job rather than experimenting with a relatively new or unknown person with average or no reviews.
If you are looking for specific services, then look for reviews for that too. For example, a person who has done tree removals nicely may not necessarily be good at more complex services like pruning. If pruning and beautification are what your requirement is, check for tree services companies that have earned fame with these services.
Check TheEquipment
In most cases, two methods are used to perform tree works. These are either the use of an aerial lift or climbing the tree using harnesses and ropes. Which of the two is a preferred method depends on certain situations and specific requirements? Any which way, there are certain advantages and disadvantages of each method.
AERIAL LIFTS
Aerial lifts are a great option when trees have to be removed near the roads having easy access. Where bucket trucks don't fit, spider lifts can be used as a quicker and smaller option. Aerial lifts can work on the tree, without many dependencies on the tree for cover. If the tree is not robust structurally or has weak branches or limbs, or poses a safety threat to the climber for any reason, this option is the best way to go.
The problem with aerial lifts is that they are difficult to deploy and operate if the tree crown is thick. The equipment is bulky,and it can get tough to perform some pruning techniques.
CLIMBING ARBORISTS
With this method, no heavy equipment is required. This is the perfect choice for backyards and other areas which have otherwise limited access or may get damaged due to heavy equipment. Underground systems like a septic tank, borewell or drainage bed are examples for such sensitive areas.
The arborist may climb up to fix a particular issue, but it is possible that once he is up, he finds other issues too. They can spot more defects if any, with a closer view of the tree crown when they are up. This is a great advantage of work being done by human over a machine.
Even during pruning, a climbing arborist can access places that are otherwise difficult to access through a bucket. This is good for shaping the tree as the arborist can then have a look at even inner areas and do detailed and meticulous work with perfection. In certain cases, pruning cuts are better done manually than through bucket truck.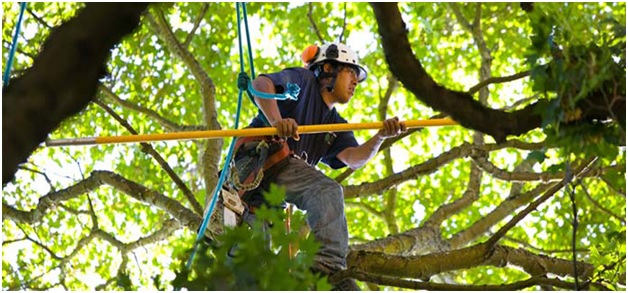 USAGE OF LADDERS
Ladders are another method other than these two for accessing a tree. However, using a ladder should be done with a lot of caution and care. Orchard ladders are one of the safest ladders for pruning trees, but only for smaller trees. If a tree service uses ladders and extensions as the primary method for tree access, then this may be a setback.
Clean Up Procedures
Before entering into the final agreement, make sure the company provides the post tree work clean up. Sometimes the workers just do the basic work and leave out the cleaning and removal of equipment and other dirt like twigs, dust, leaves. They do not restore the site to how it was before doing the work. This is not a neat job. The company should also provide and follow proper clean up procedure before they do the final touches.
Some companies provide cleanup but charge extra for the same. The more efficient the work is and a greater number of resources involved, the more the cost. If it is going over your budget, you might want to get it done yourself through local workers. Save some extra bucks by keeping the wood and brush and deal with those on your own.
Visit : set an appointment with professional tree service in Lexington