Love the look of your fifty-inch television…at least when it's on? Yes, most of us enjoy our large, flat panel televisions as long as our favorite show is streaming across the screen. Yet, when you turn the TV off the blank, a black screen can be an eyesore and totally throw off your living room design scheme.
Fortunately, there are several things you can do to mask the presence of a huge LCD screen. Camouflaging, a flat screen television in a way that is aesthetically pleasing. In fact, you can even improve the overall look of a room by using these methods.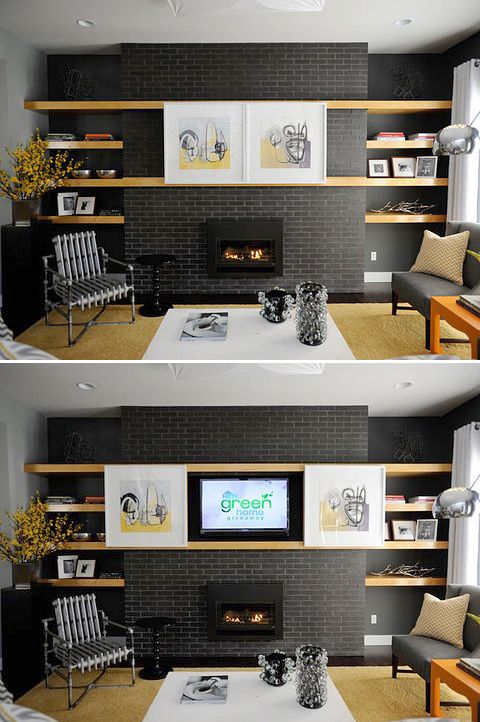 Create A Gallery Wall
Adding a framed gallery around your television set is a great way to camouflage a television set when it's off. Hanging and arranging several framed photographs around the television makes for an attractive distraction. You don't have to mount the television on the wall instead you can rest it on a console.
When creating your gallery wall you can use whatever frames that you have on hand or you can go out and purchase new ones.  You can select from abstract pictures, images of animals or whatever your heart desires. When you arrange the photos on the wall, you can go rogue and hang them randomly without planning it out or they can be arranged in precise sections. Avoid spacing the framed photos to far apart.
For a more eclectic mix, use frames that feature different sizes and shapes. On the other hand, if you desire a uniformed look opt for frames that are identical.
Mount Television Above the Fireplace
A fireplace and mantle are natural areas of interest in a home. Therefore, mounting your television over the fireplace especially if it is the exact length of it is an easy way to ensure that they don't compete with each other. In fact, more attention will be drawn to the fireplace.
If you have a fireplace that no longer works you can set the TV up inside the fireplace opening. Although the television won't be concealed it will be out of sight lines and it's a creative way to display it. Even mounting the television on the mantel can work for some spaces especially if it's done right. In fact, you can organize with accessories like vases, framed pictures or a mirror. The ideas are limitless.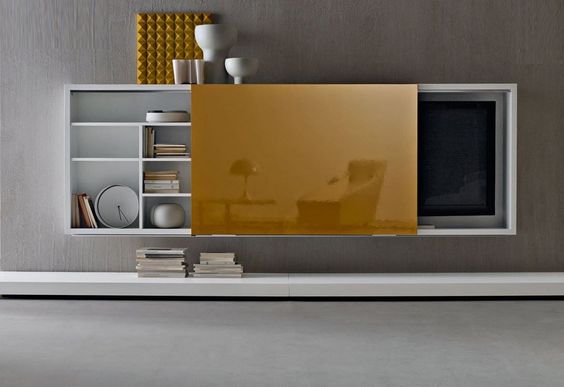 TV Mirror Kit
A TV mirror kit is a great way to conceal an unsightly television.  A TV mirror kit is a frame that fools viewers into thinking that they're looking into a mirror but it's actually a flat screen television. Frames are available in a variety of artful style, some of which look like a replica antique mirror or a contemporary art design. A TV mirror kit is a perfect solution in homes where there is a desire for large flat screen television but you don't want it to disrupt the flow of the space.
The best thing about purchasing a TV mirror kit is that you have the option of creating a custom frame. Or you can choose from hundreds of ready-made styles. When the television is turned off it will simply look like there is a decorative mirror on the wall. However, when it's on, the mirror gets clear allowing for optimum viewing.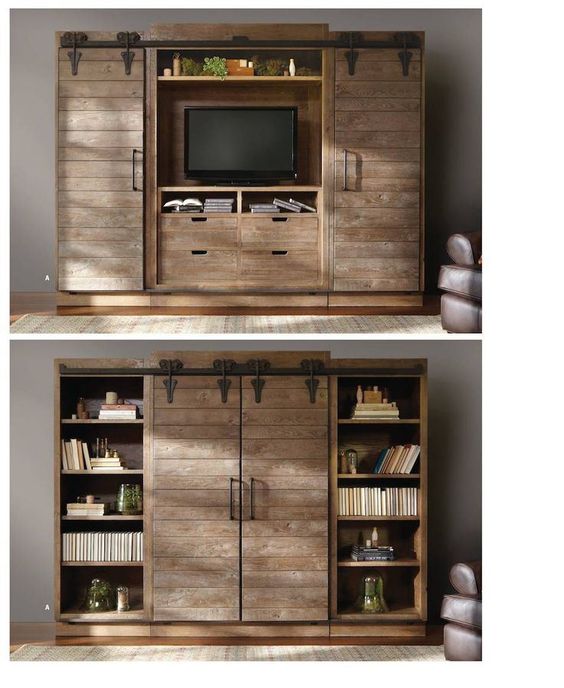 Install Curtains on the Wall or Sliding Doors
Another clever way to mask a television is to hang curtains on the wall. Be sure to select beautiful curtains that you don't mind taking front and center stage. When the TV is not in use you can draw the curtains close.
If you're not canny on the whole curtains on the wall thing that you can opt for sliding doors. In fact, sliding doors can cover the television completely in an instant. Covering the television is bound to get give the room a different vibe. It can take the space from chill to sophisticate.
Use An Accent Color
Want to make your T.V less of an eyesore? Try experimenting with color and make an accent wall. An accent wall can feature a bold and vibrant hue that's guaranteed to capture the eye. Yes, the accent wall can be such a standout feature that the TV unit will be the last thing you notice.
When creating an accent wall where your television is mounted you should opt to go dark. Colors like charcoal, dark blue is ideal since it creates no contrast with the TV. It'll seem as the television is melting or disappearing into the wall.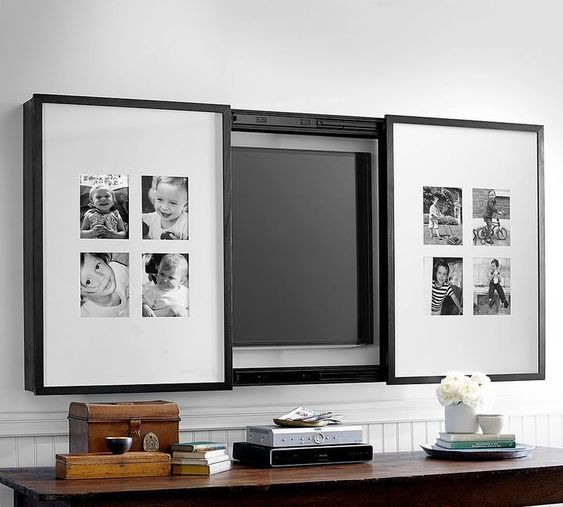 Mask with Artwork
When your television is not in use you can cover it with a stunning piece of artwork. You can achieve this look using a couple of methods. One way is to install a piece of artwork that will span the length of the TV. However, you have the option of having it lifts up when you want it to or a flat canvas that retracts when it's in use. Either way, you'll have beautiful artwork gracing your walls and the television will be simply waiting for you to put it to use.
How about installing a life-size abstract artwork behind your television? While this doesn't take away from the flat screen television, it gives the eyes something pretty too and on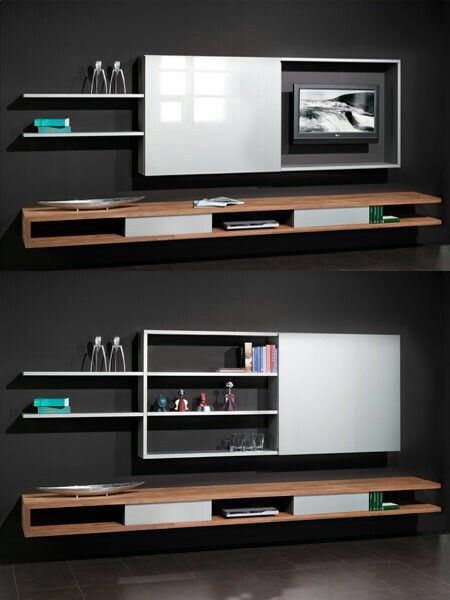 Cabinet or Media Console
Consider sneaking your television into an open cabinet set. You can substitute this idea with a media console or armoire. You can find a media console or an amorie in a variety of materials, hues, and designs. You'll want to select something that has adjustable shelves which will allow you to be able to place nearly any sized TV inside. The great thing about using a media console or armoire is that you can further enhance the look by arranging books, plants, pictures or your favorite knick-knacks.
Yes, the idea of discreet TV placement has become popular in interior design. From a TV mirror kit, creative artwork and sliding doors there are so many attractive ways you can mask your television.