&nbsp
The Curvilinear Spine- An Office Space | KAAS Design Studio
Conceptual Note
Being an advertising office, our clients were envisioned about having their workplace on creative and open lines. Having bought an office space on the top floor of a busy yet green street, our vision as architects was to perpetuate the offered greenery which nestled around our office space.
Visit: KAAS Design Studio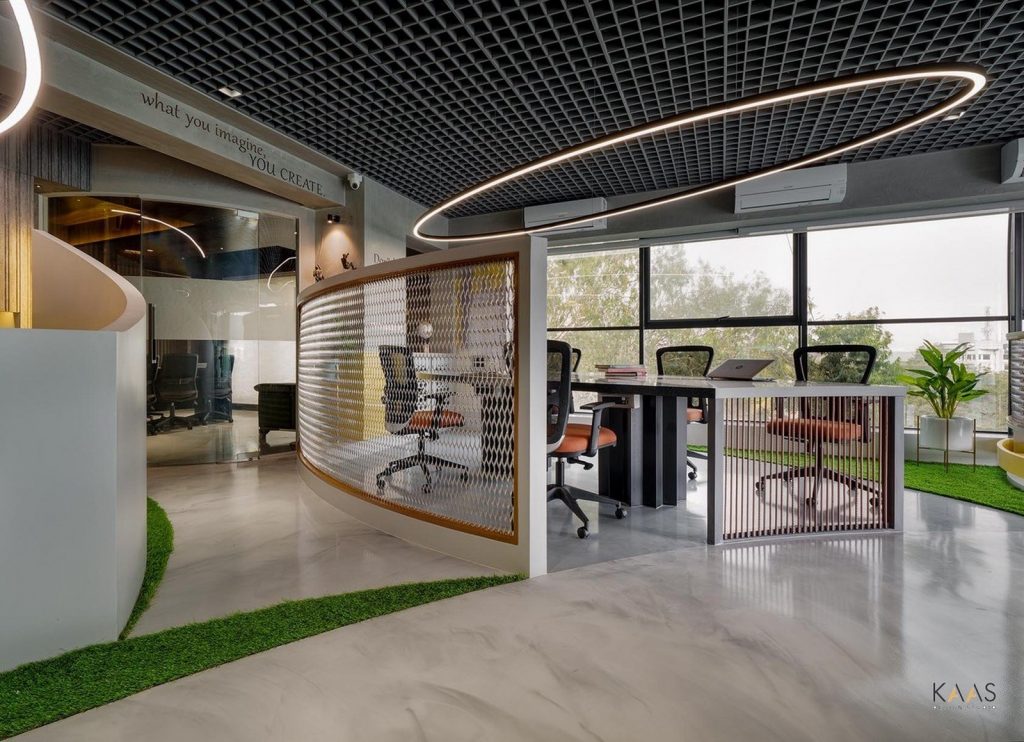 The design has been matured in an artistic yet simplistic way thus allowing the spaces to flow gracefully into one another, yet defining each space distinctively. The design has been matured keeping a simple idea of empowering the landscape to float above the commercial interiors and drawing transparency between the lush green outdoor and indoors.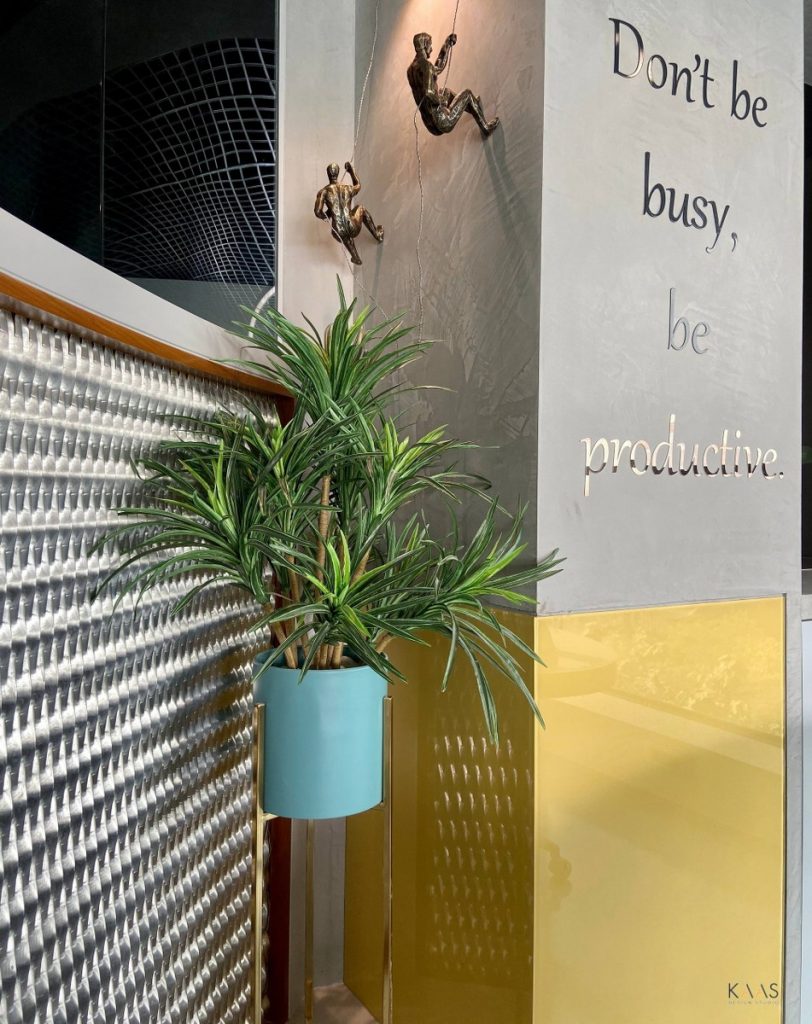 A simple curvilinear S shape starts at the entrance of the office, which artistically leads a user from the indoor to the outdoors. The conference room floats like a lantern in the center of the office, illuminating the surrounding space. Understanding the client's requirements, the spaces were designed to not only fit the physical attributes of design but to integrate natural elements to elevate the human experience. All of the interior spaces have been boosted with natural light which bathes into the curvilinear spine of the design.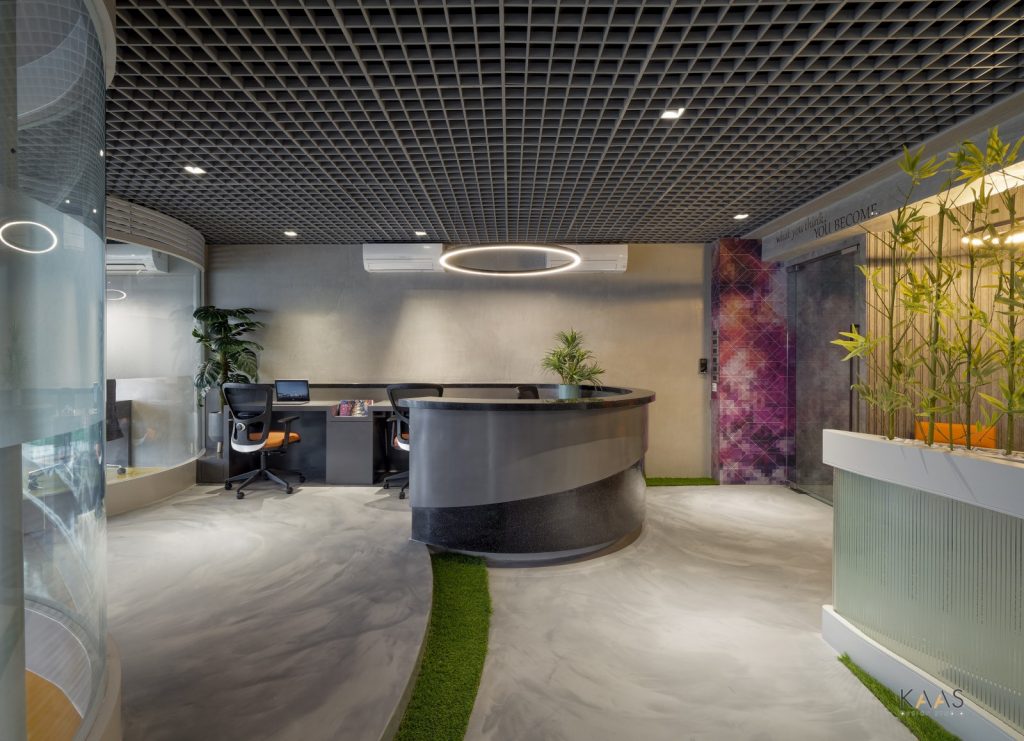 The entire office is wrapped up in shades of grey, with hints of brighter colours in few spaces to enliven human experience. Every individual workspace is draped in a different pallet, which not only defines the change of function of the given space but also celebrates the effortless conversation of man with nature and design.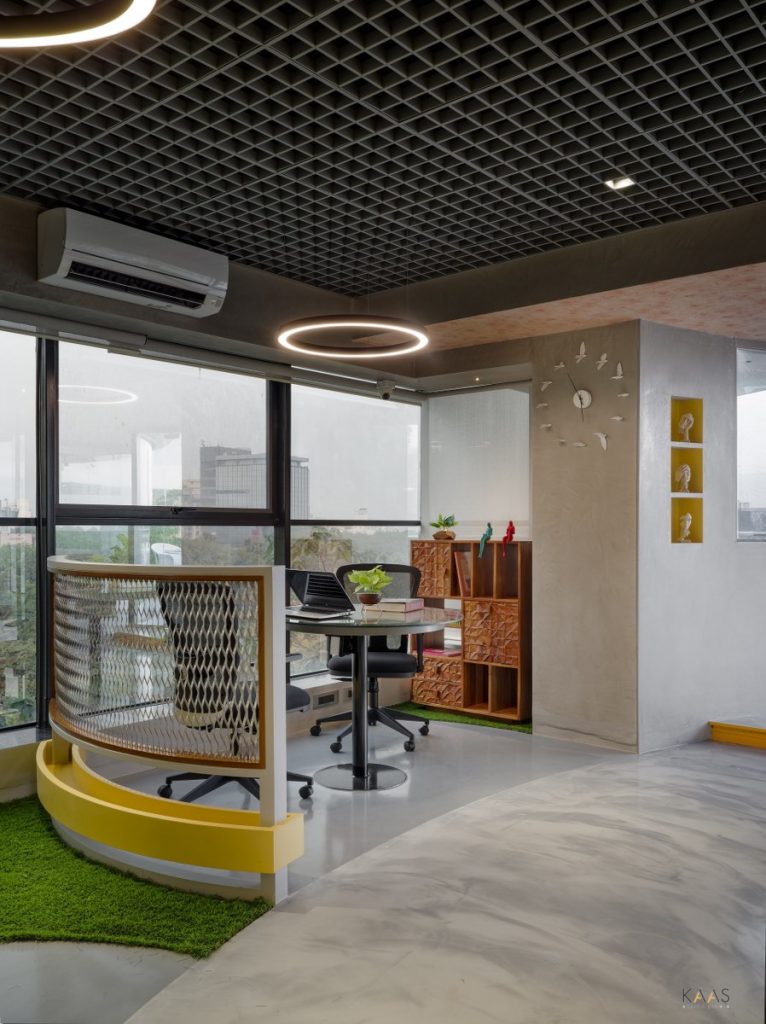 Touch of green spaces with the help of artificial turf in between act as effervescence and quickly lifts up ones, increasing work productivity.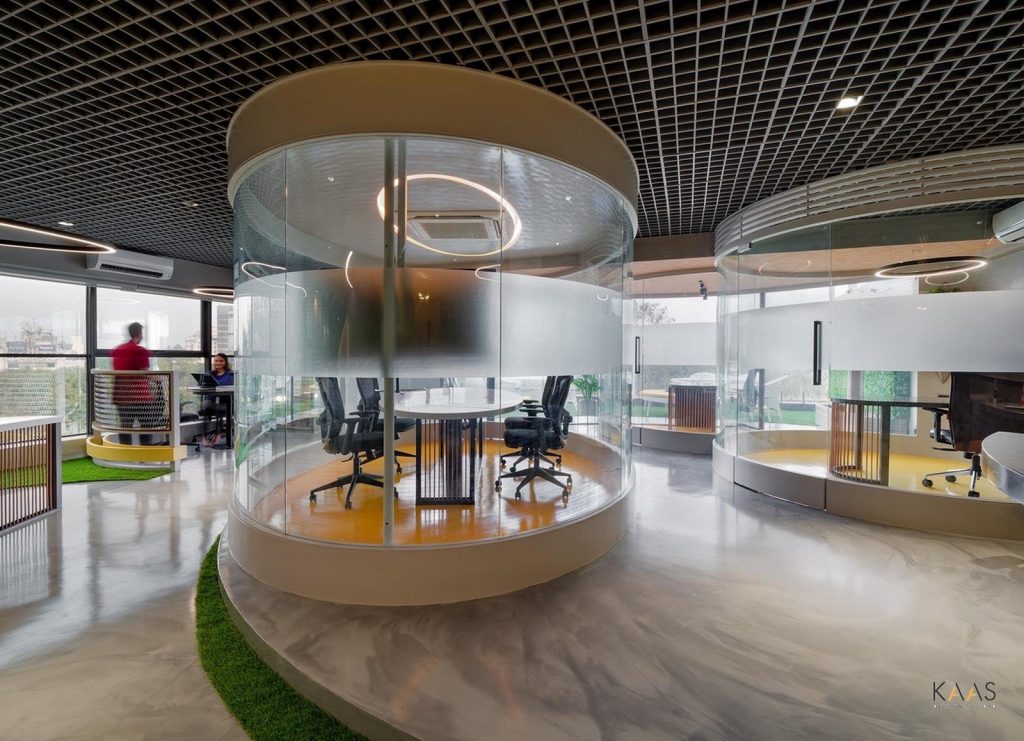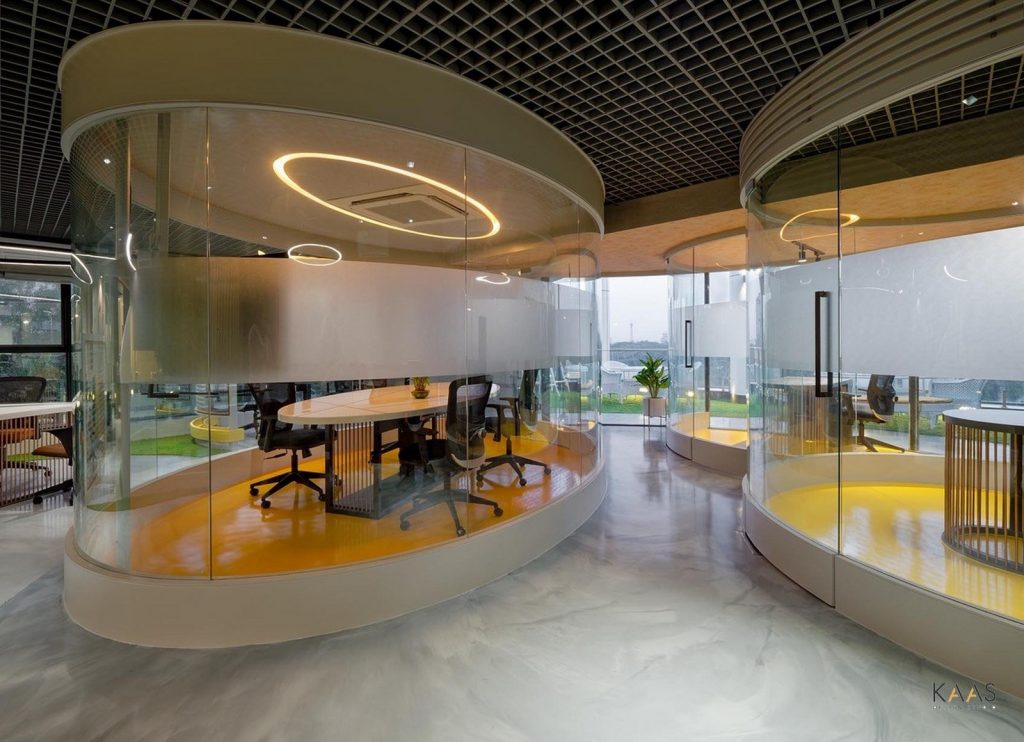 Features-
Tapping on to the southwest breeze, pivoted windows in the director's cabin have been designed to scoop natural light and breeze. A backdrop has been created towards the rear side of the office space, which beautifully hides the services and powder rooms, without compromising on its usability and function.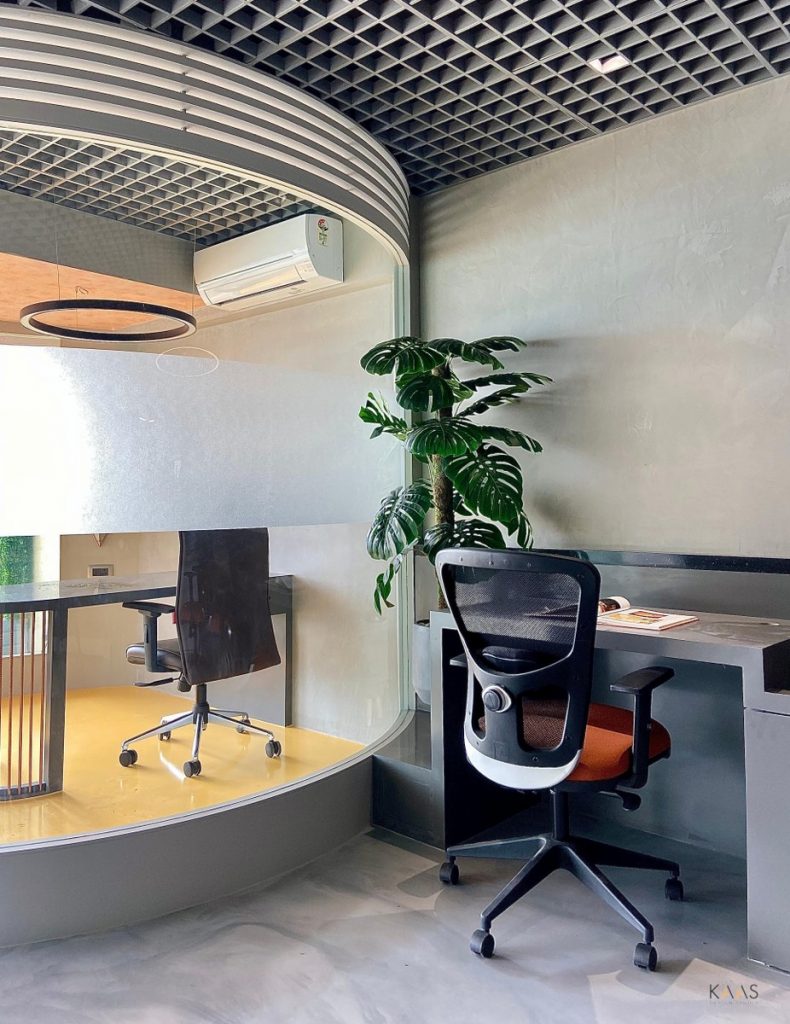 Few cabins have been illuminated by colored flooring and minimalistic furniture, which suddenly elevates the space. Reinforcement bars have been used, which not only helps as table supports but also adds sleekness to the given table sizes, making the design lighter and spacious.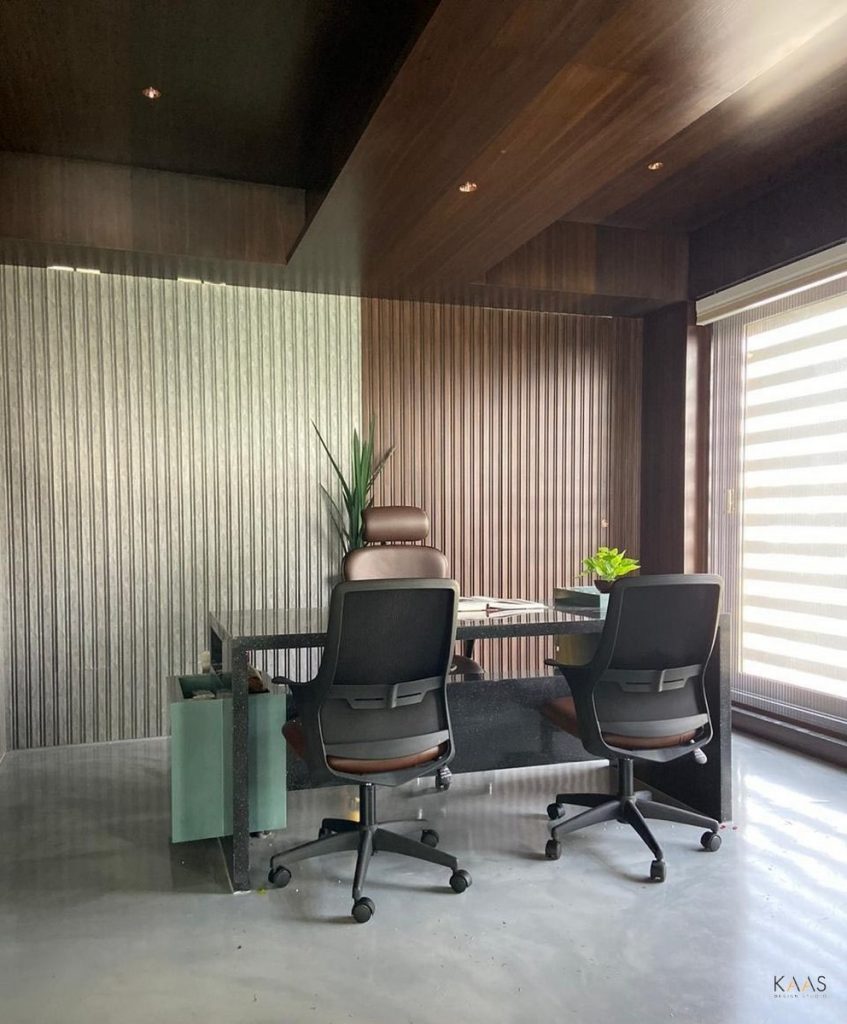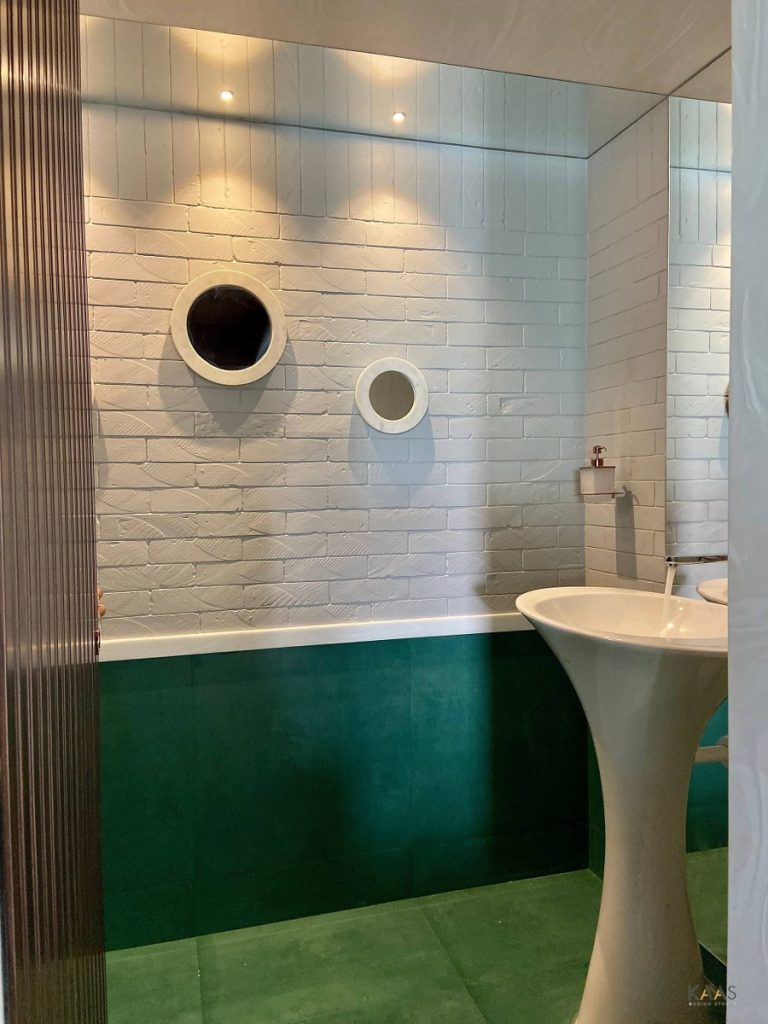 Materials
A varied material pallet has been dealt with, with the sole idea of bringing newness to the design, not only in terms of its spatial organization but also its material attributes. Use of PVC panels, Du Pont Corian, industrial – epoxy flooring, metal grey open grid ceiling, artificial turf, wire cut bricks, CNC cut titanium letters, rose gold metal inlays, 8mm reinforcement bars for table supports have been used, which helped us enhance the office aesthetically.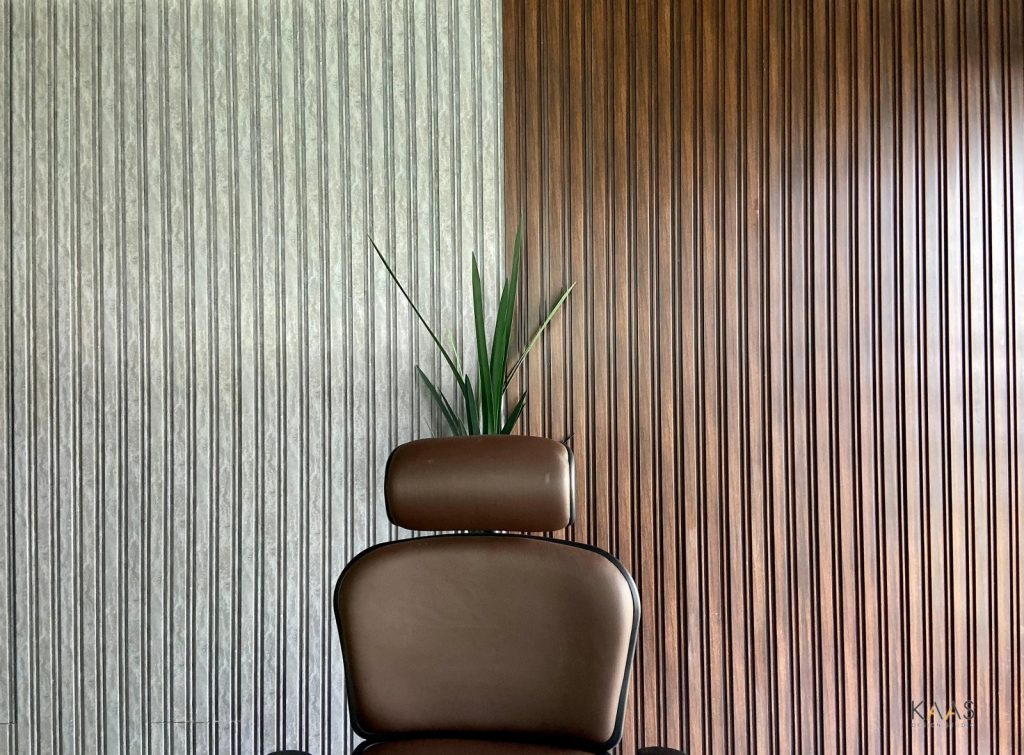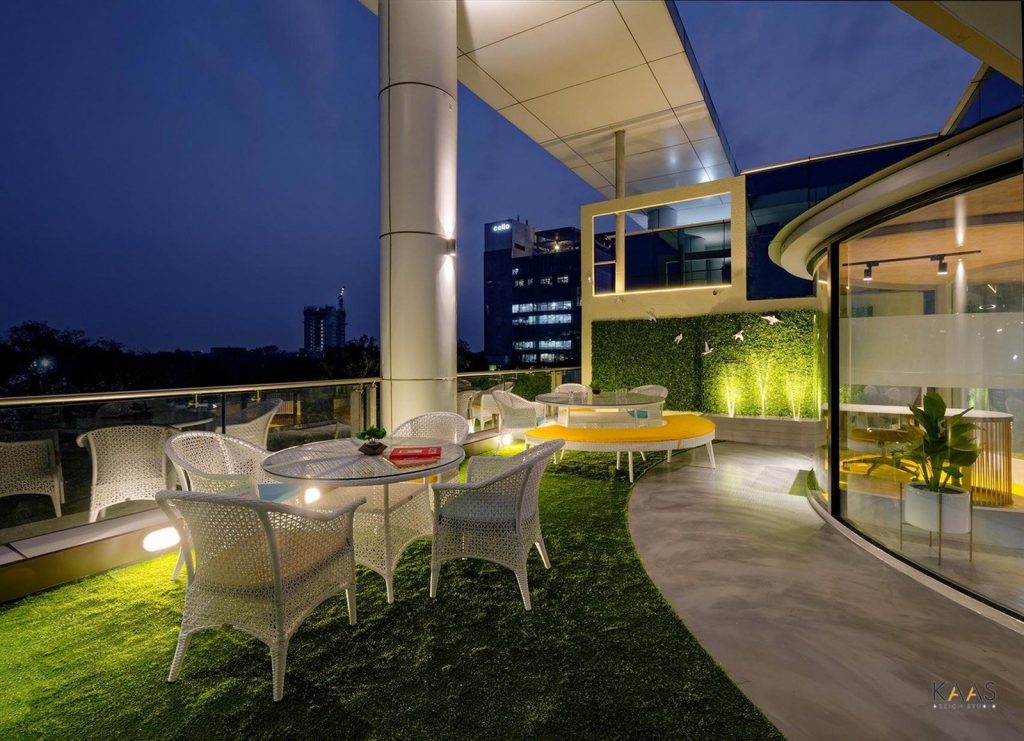 Décor brands like the Sofa curated by Stanley, Blinds- Hunter Douglas, lights- Artemide, Office Chairs- Featherlite while another styling for space was researched and procured from design vendors- studio Objectry, studio Palasa, purple turtles, & Gulmohar lane.
FACT FILE:
Firm: KAAS Design Studio
project Name: Marquis Advertising
project Location: Pune.
Area: 1850 sq feet
Designer: Ar. Komal Patel and Ar. Arjun Shah
Project Year: 9th December 2019
Photography: Hemant Patil
Website: https://www.kaasdesignstudio.com/
Facebook: https://www.facebook.com/kaasdesignstudio/
Instagram: https://www.instagram.com/kaasdesignstudio/