The Arched Insight: A Bijou Workspace | Shraddha Architects
This bijou workspace which is 550 sqft in size is meticulously designed by Shraddha architects located in Bharuch, India. This workspace is designed for an industrial plumbing agency, known by the Anjani enterprise in Gujarat.
Visit: Shraddha Architects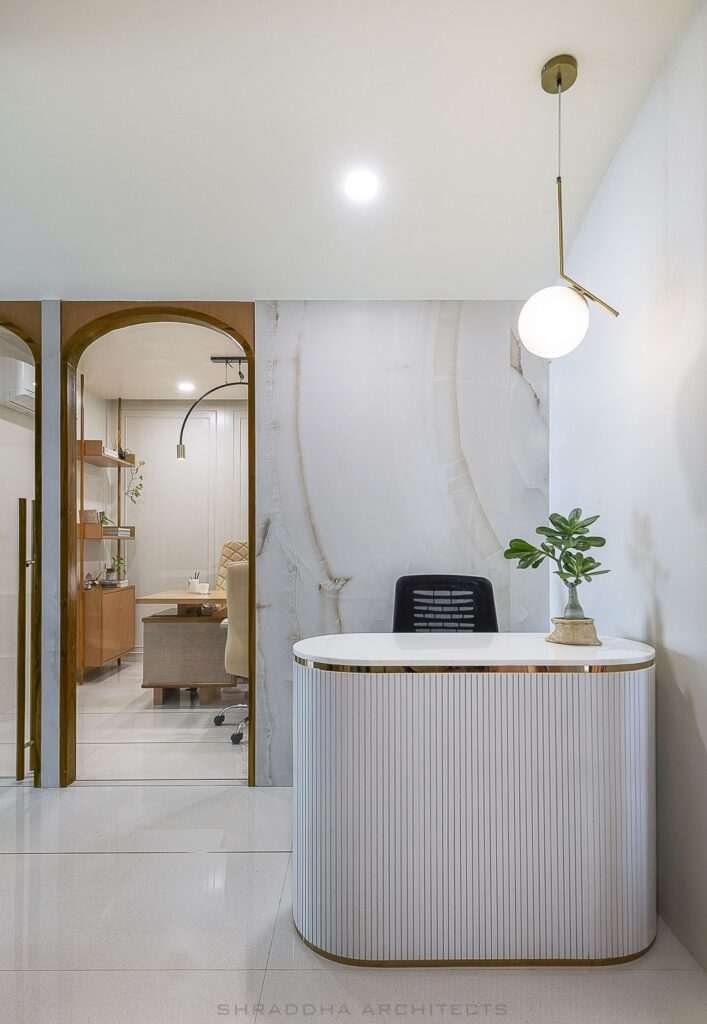 The foundation of this space grew from few sketches, which comprised of balance between shapes and their composition. On principles of modern classical style; clean lines, neutral hues, and intake of light were taken into consideration.

&nbsp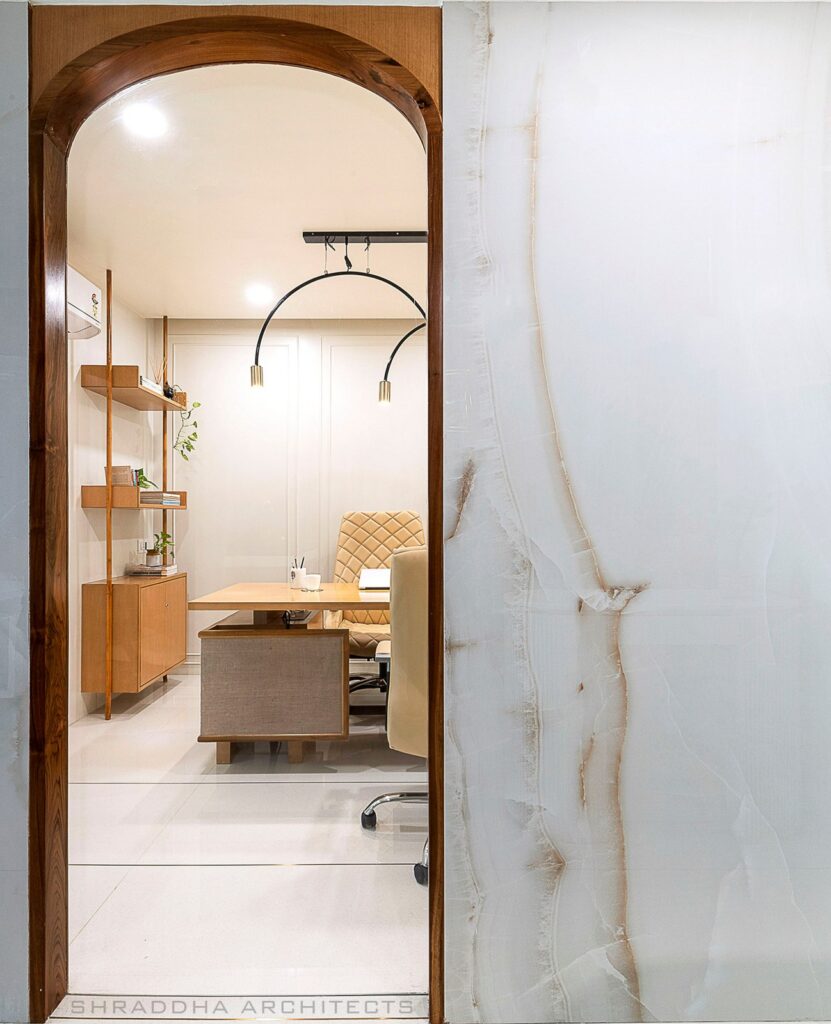 The material selection and the creation of color palette are done in the most selective manner and with minimal variation. Tints of brown with a gist of natural shades and the green plants give a very earthy and soothing vibe. Soft weaved textures add to the ease and simplicity of the whole look.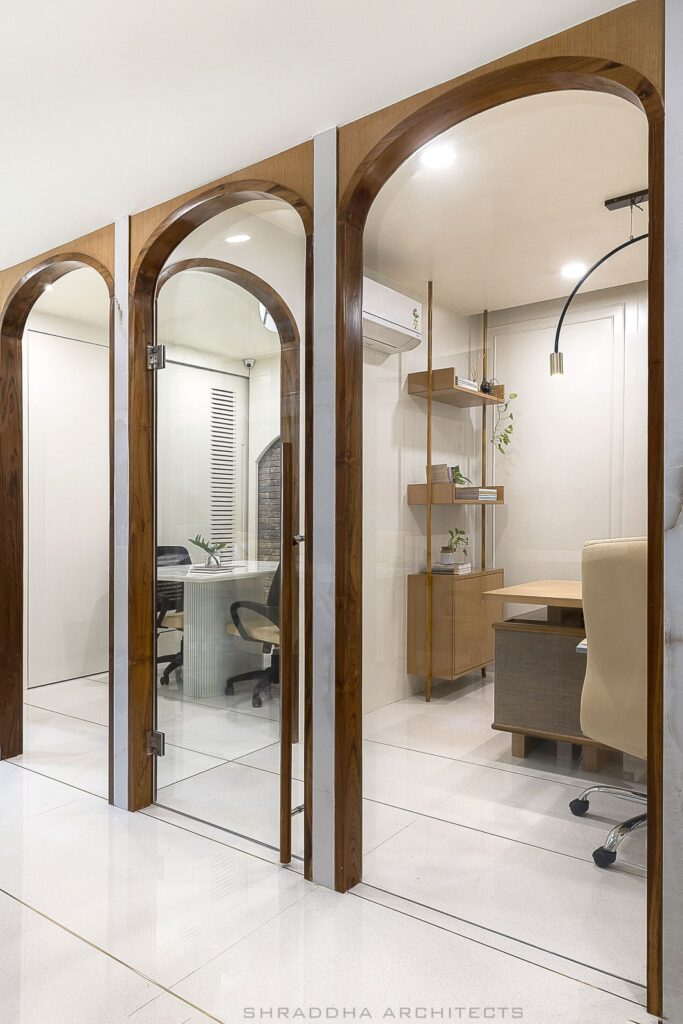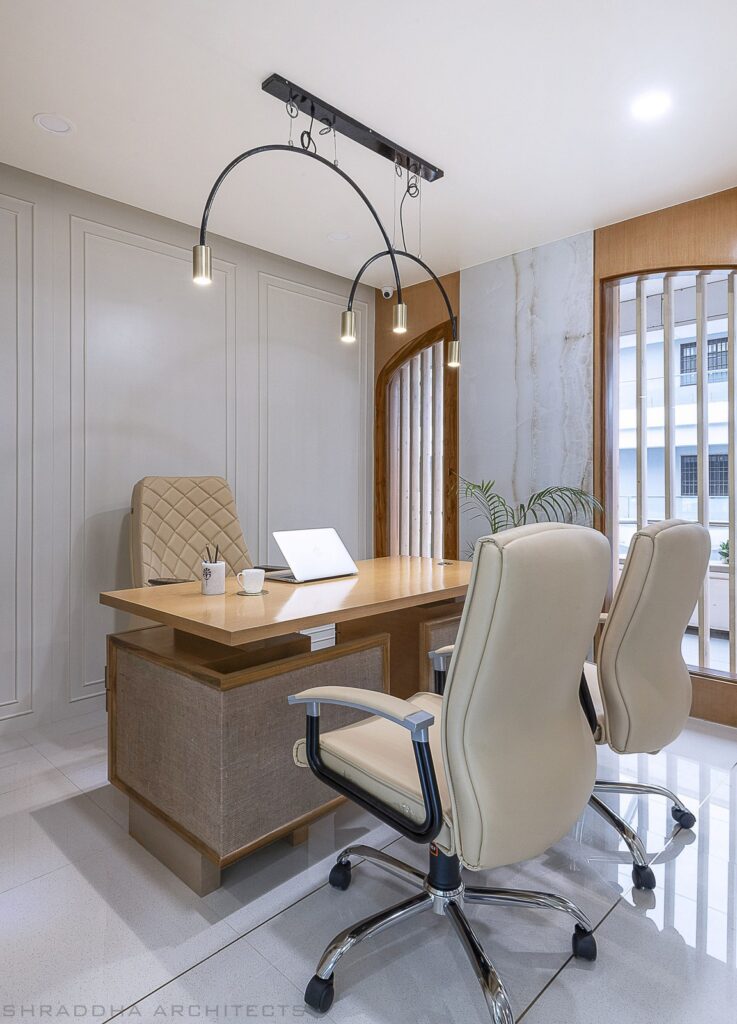 Foyer is designed in a way that it leaves a pragmatic first impression on the visitors. The perforated brick wall plays a dual role of an aesthetically impressive first glance as well as technically allowing the movement of natural light and air.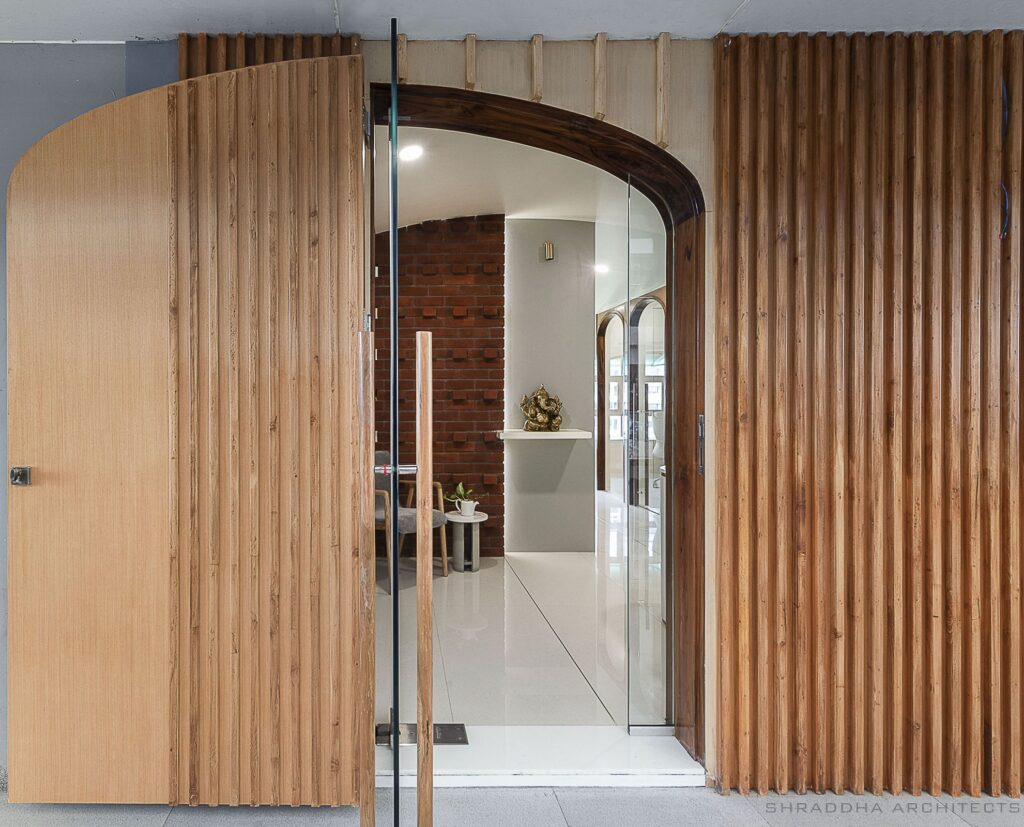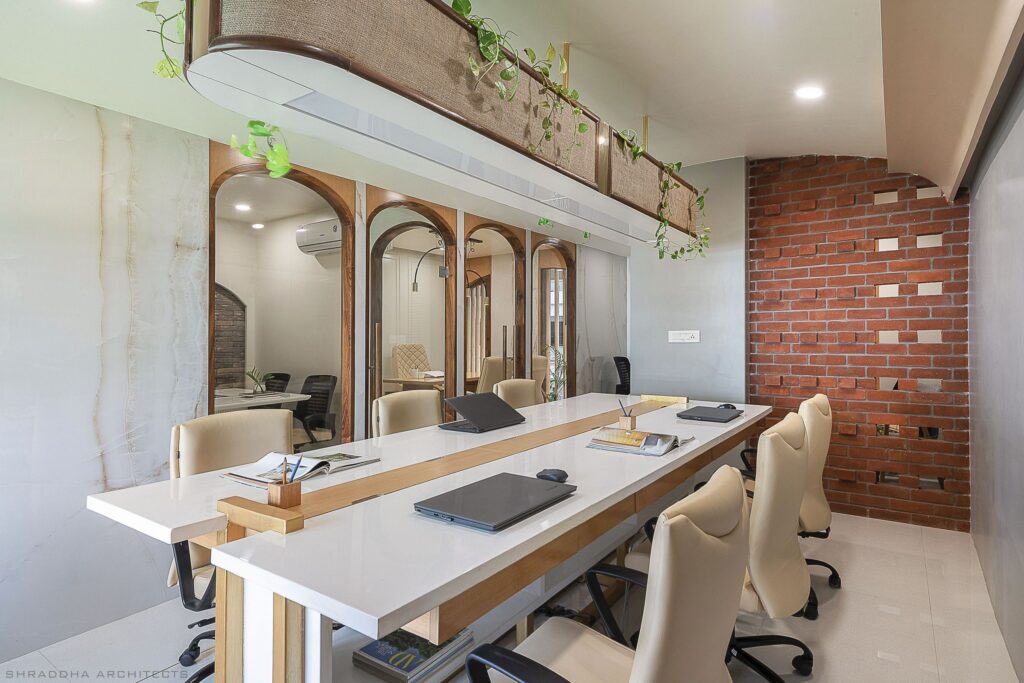 The workspace, main cabin, and a compact conference area are separated by a screen of arches filled in by glass separators. The arches play an artistic role in shaping the overall look of the space yet technically acting upon the brief. The staff workspace is designed as a whole keeping in mind the unhindered communication between the staff members. A homogeneous staff work desk is designed in a way that the central most part of the desk conceals all the electronic clutter of the appliances, leaving a clean and tight look for the piece of furniture.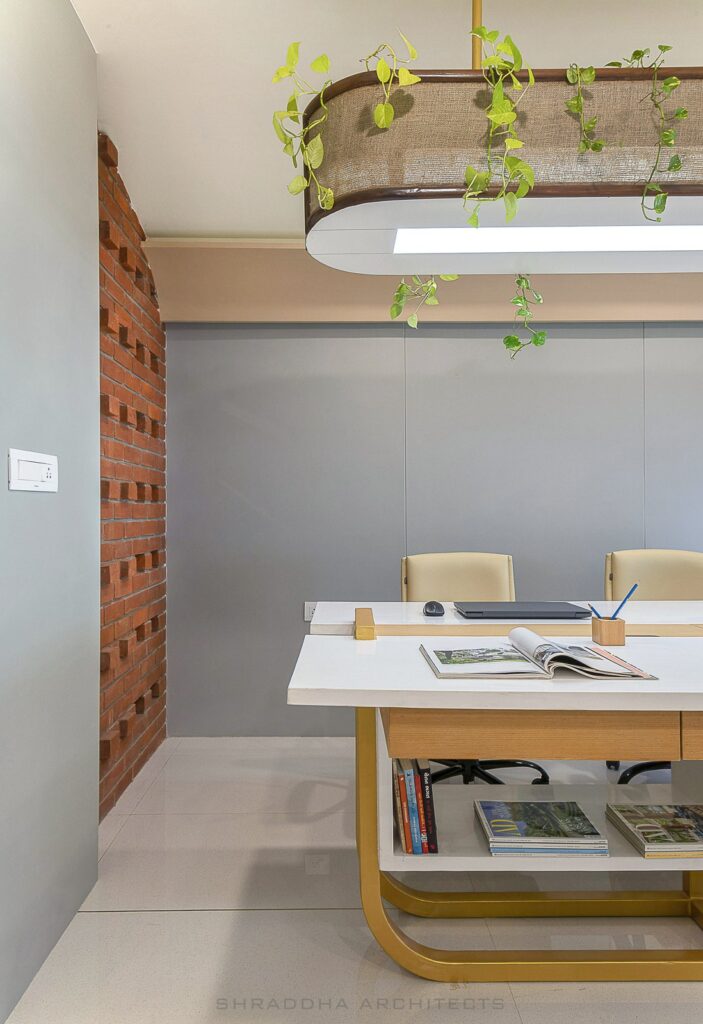 To maintain the uncluttered homogeneity of the space ceiling fixture too is designed as a whole in combination with natural greens which brings the required break in palette. Coming to the main cabin, the overall scheme is kept indistinct of the other spaces. The added beauty is in the form of change in materials yet not forgetting the coloration of the whole space. The geometry we see in main desk and the shelf has a touch of quintessential elegance.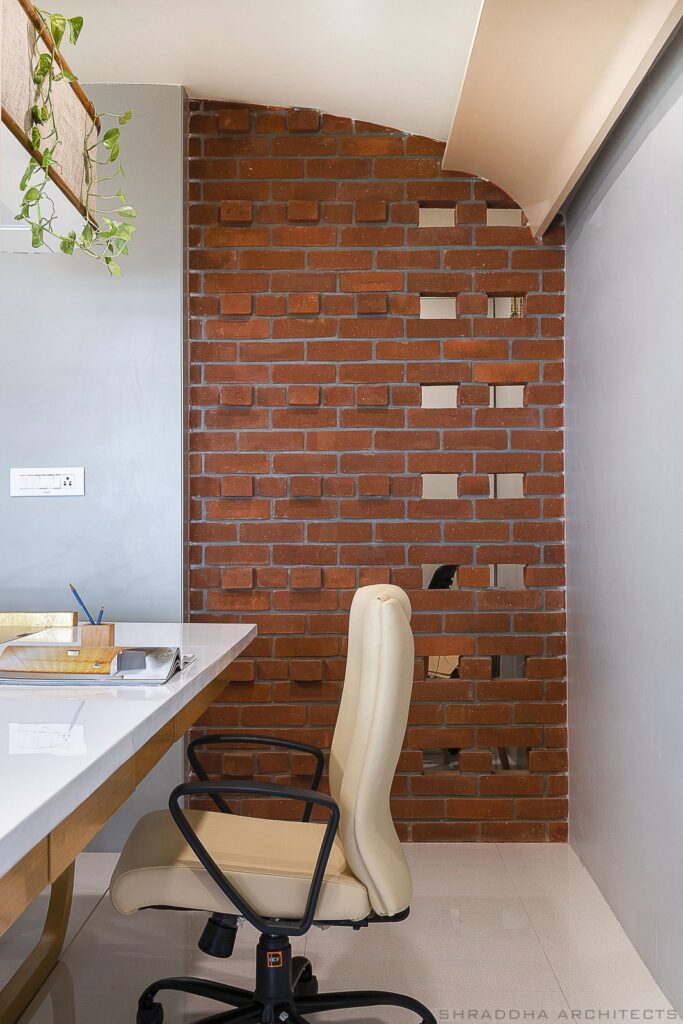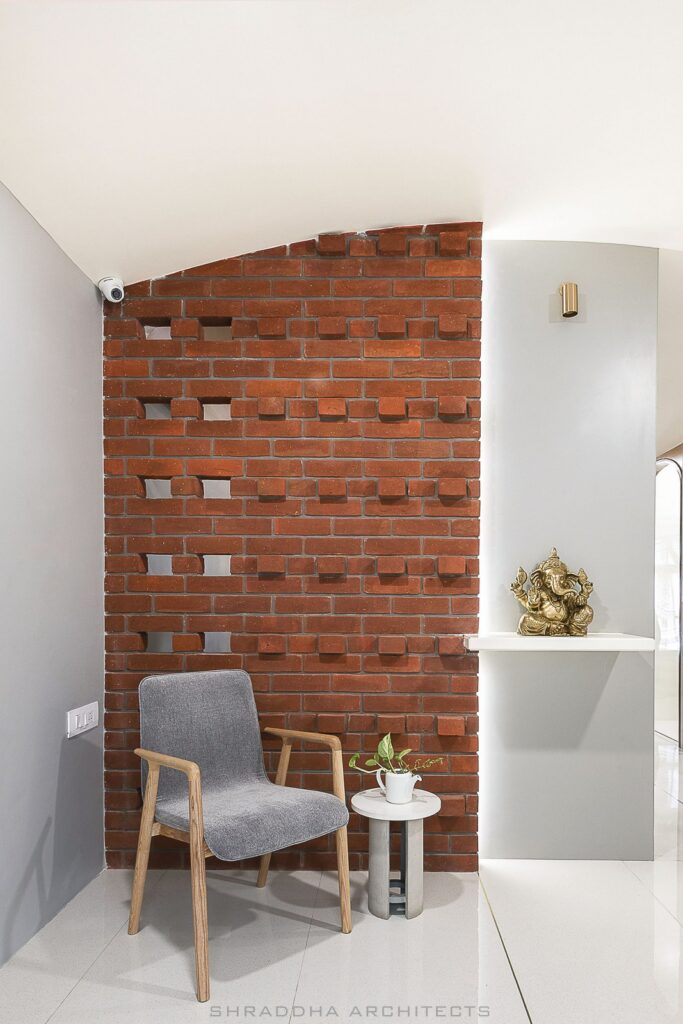 The exterior look is created keeping in mind the security concern of the space yet is in complete sync with the interior which wraps around the entire workspace in similar thesis and lines. It also helps maintain the evenness between the inside and the outside. The amalgamation of striped patterns in varied materials, series of arches, a tinge of beige, and a pinch of green congregates the entire workspace in minimal words.
FACT FILE:
Architecture Firm: Shraddha Architects
Project Name: The Arched Insight
Completion Year: 2020
Gross Built Area: 550 Sq. ft.
Project location: Bharuch, India.
Lead Architects: Siddharth Patel & Sheenal Patel
Photo credits: Phxindia
Text Credits : Ar.Yashvi.K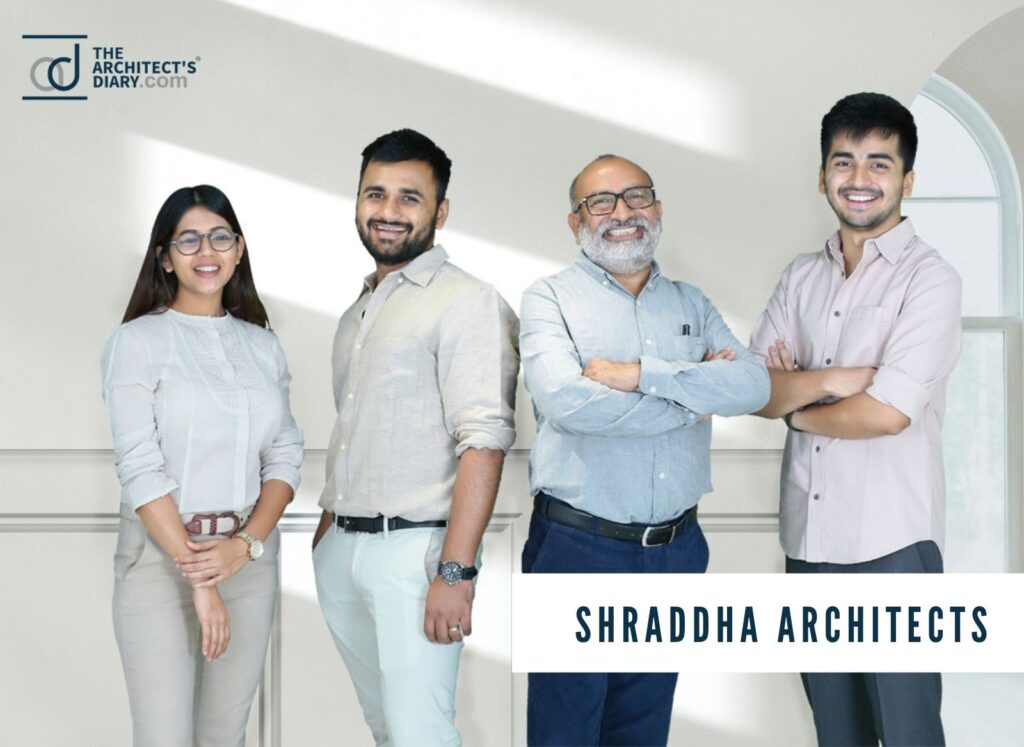 Website: http://www.shraddhaarchitects.in/
Facebook: https://www.facebook.com/ShraddhaArchitects-
Instagram: https://www.instagram.com/shraddhaarchitects/