Succinct And Simple Bungalow Design Of Vadodara | Studio Yamini
The project involved creating a home for a family of three, on a corner plot within a society of private villas in Vadodara. Being a corner plot, resulted in a little extra space that had to be used differently. The brief was succinct and simple: a large living room, dining, kitchen, guest bedroom and a common bathroom on the ground floor and two master bedrooms with ensuites on the first floor. The compact plot — it measured a tight 1,650 square feet — yielded the architects a footprint of 875 square foot (built-up).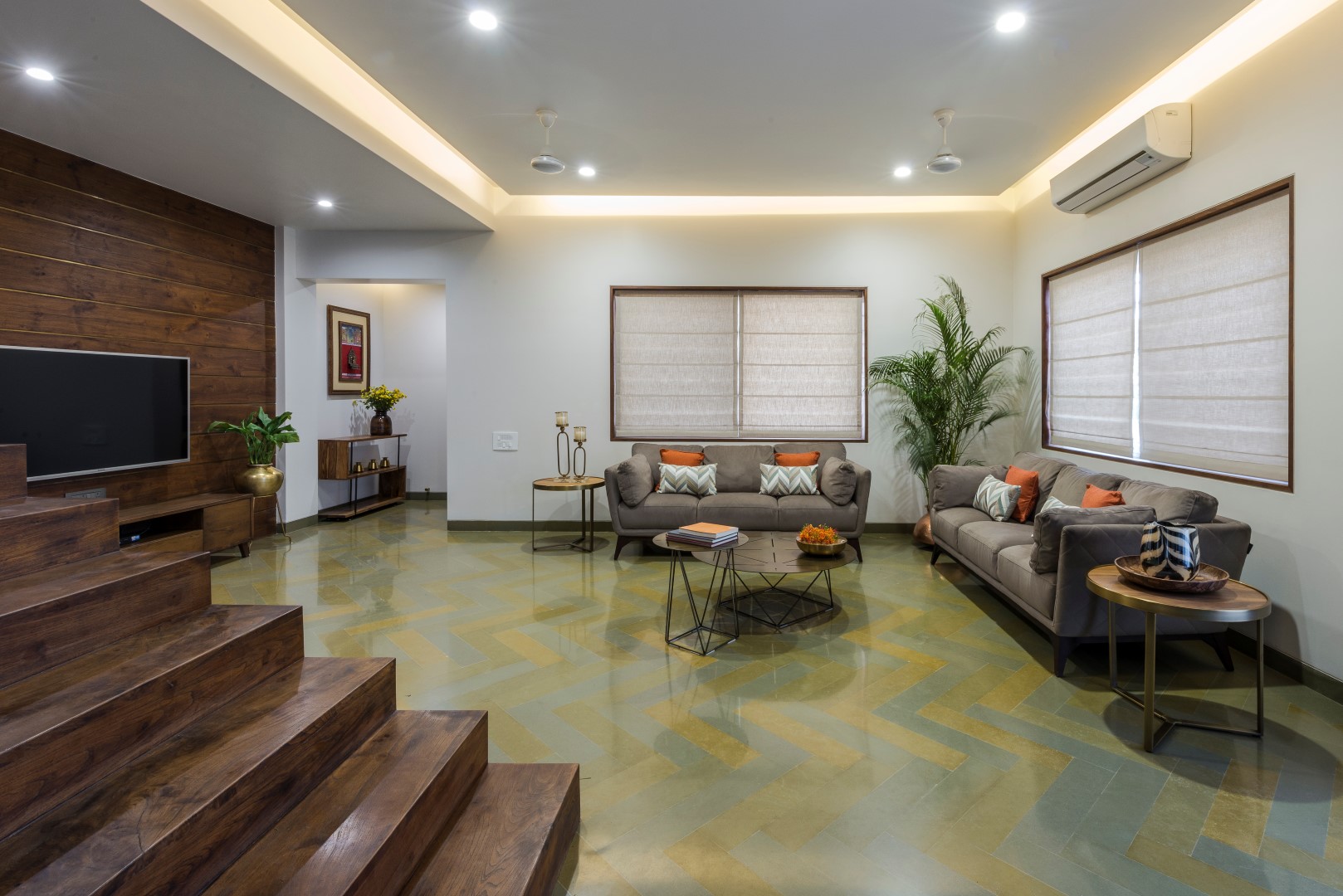 &nbsp
The important aspect of this project, therefore, was space management — and much of the design deliberation revolved around strategies of leveraging the footprint of the ground floor without making it seem cramped. The most challenging aspect of working on this project, state the architects, was to accommodate the maximum in minimum. Their thoughts, naturally, turned to an open-plan articulation.
The living and dining areas were orchestrated as an 'L', with the long arm being the living room and the adjacent dining area arranged perpendicular to it. The furniture configuration — meticulously planned beforehand — used minimal pieces to achieve the 'open and larger' sense of space.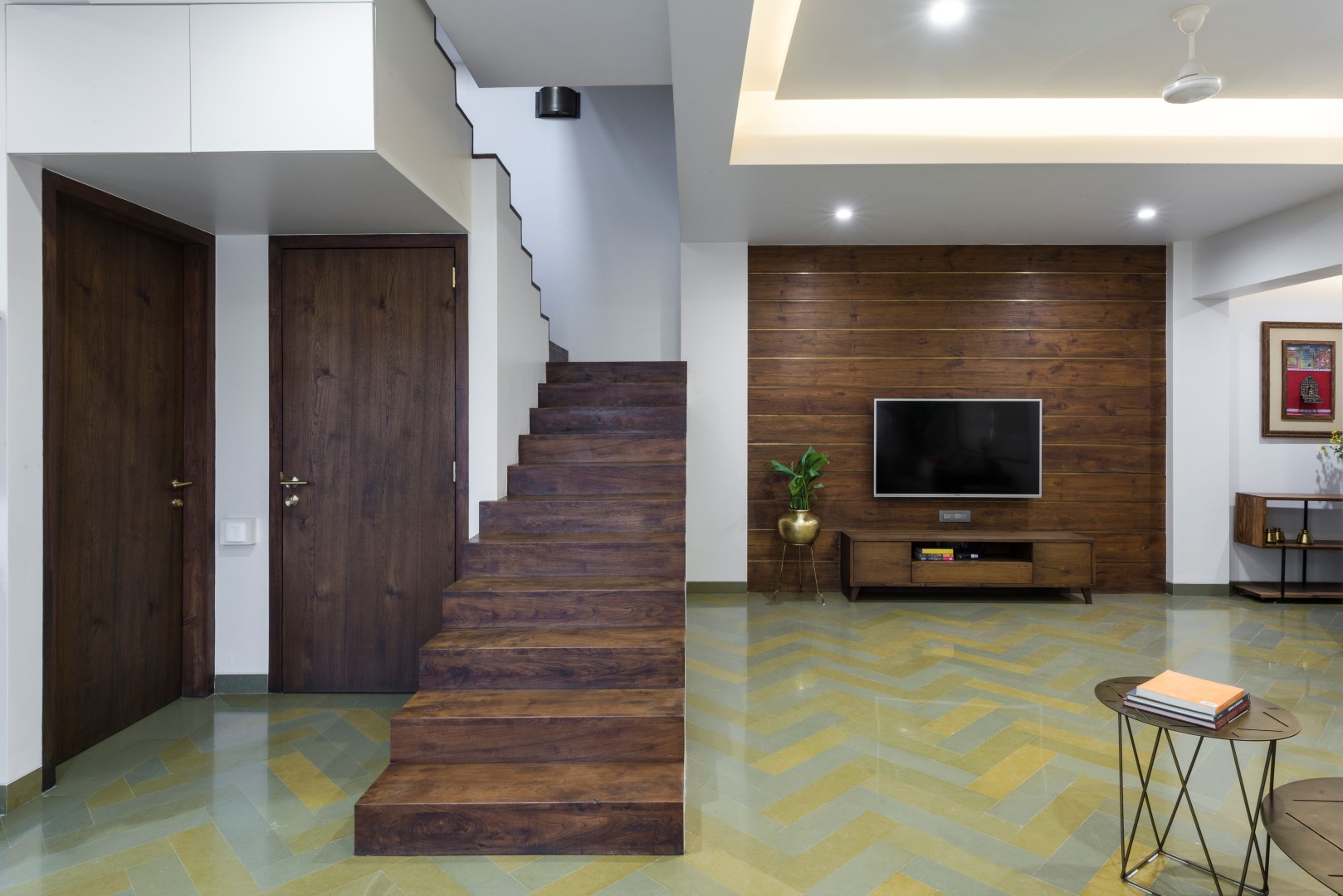 Additionally, most of the furniture was kept as loose pieces to create a lighter feel. All the public areas were kept open, whereas the private areas like bedroom were concealed within four walls. Large windows were provided to get more natural light — which again helped in making space look bigger and facilitated cross ventilation.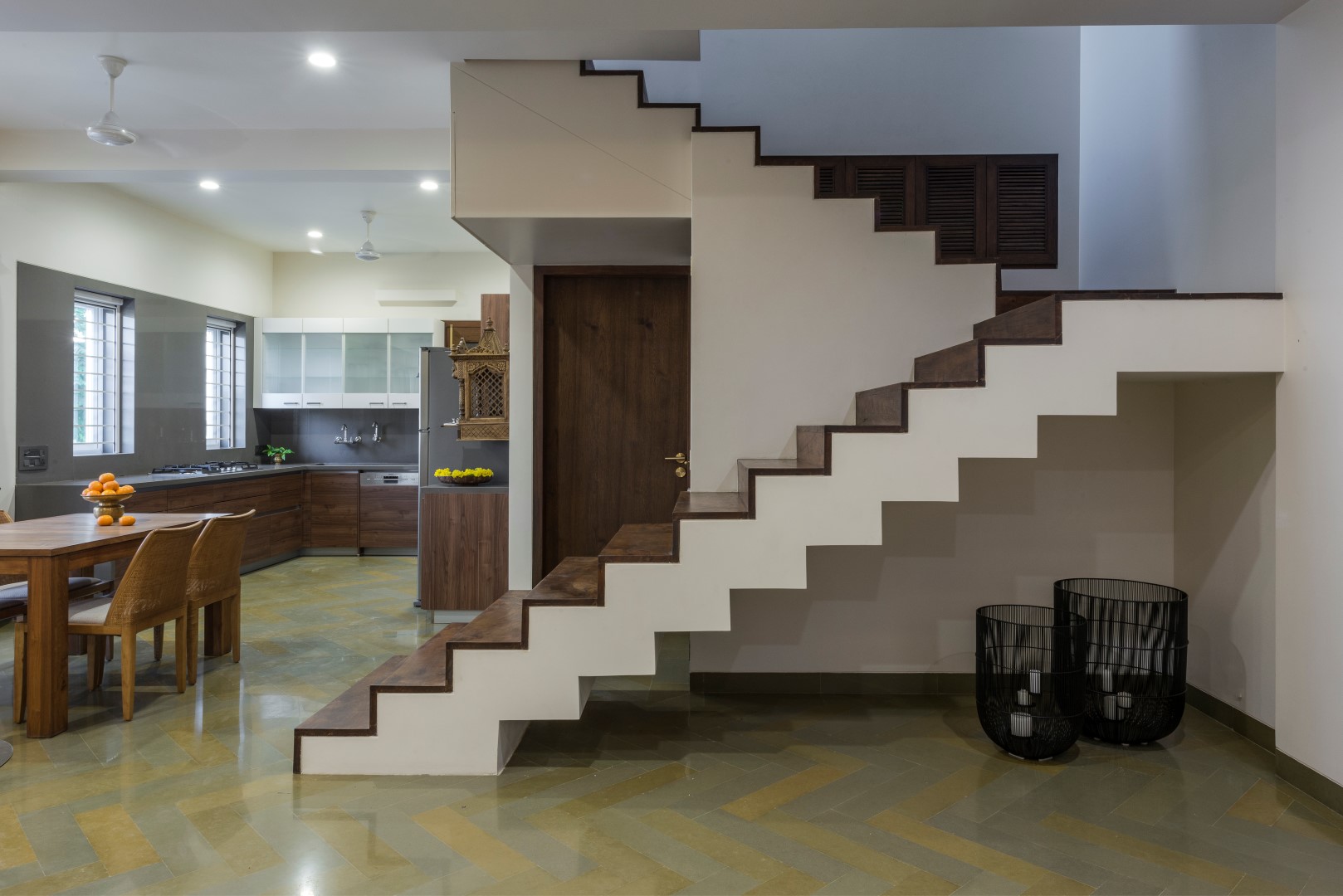 A minimal material and colour palette also aided in effecting a spacious feel: plain white walls, Kota flooring, and teak wood furniture. The white walls helped in reflecting light and giving the home a visually buoyant feel; Kota stone brought in an earthy look and teakwood (mostly recycled) made it warmer, cozier and more homely. Among the materials, Kota plays a strong role in interior treatment.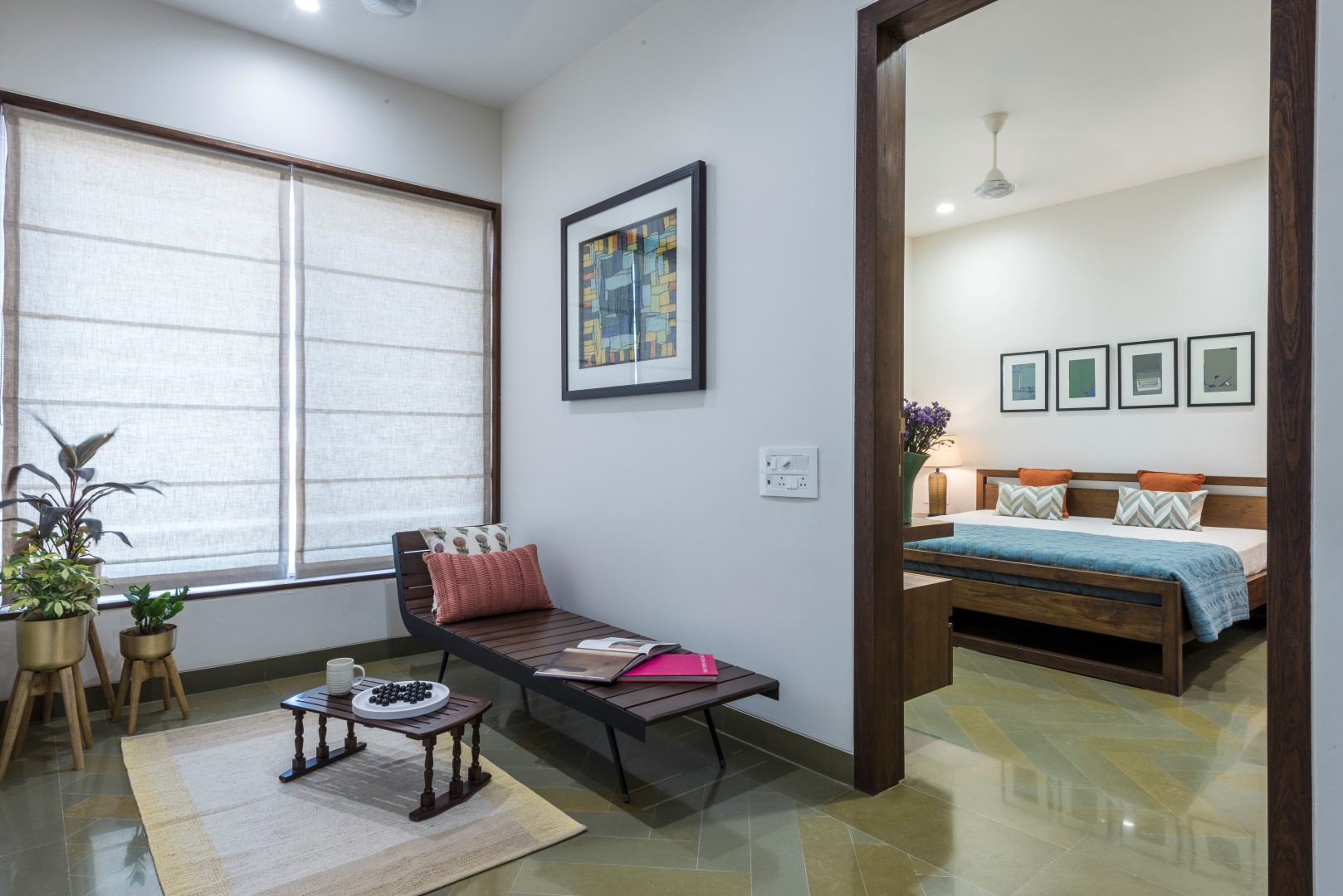 The architects have tried to use the natural stone — often disregarded decor-wise and relegated to high-traffic areas — in a different way by leveraging its natural variations. The architects had the Kota cut into planks and fixed these in a herringbone pattern. The overall lighting has been kept soft to further enhance the ambiance. Direct as well as indirect lights have been provided in the design to achieve both the moods.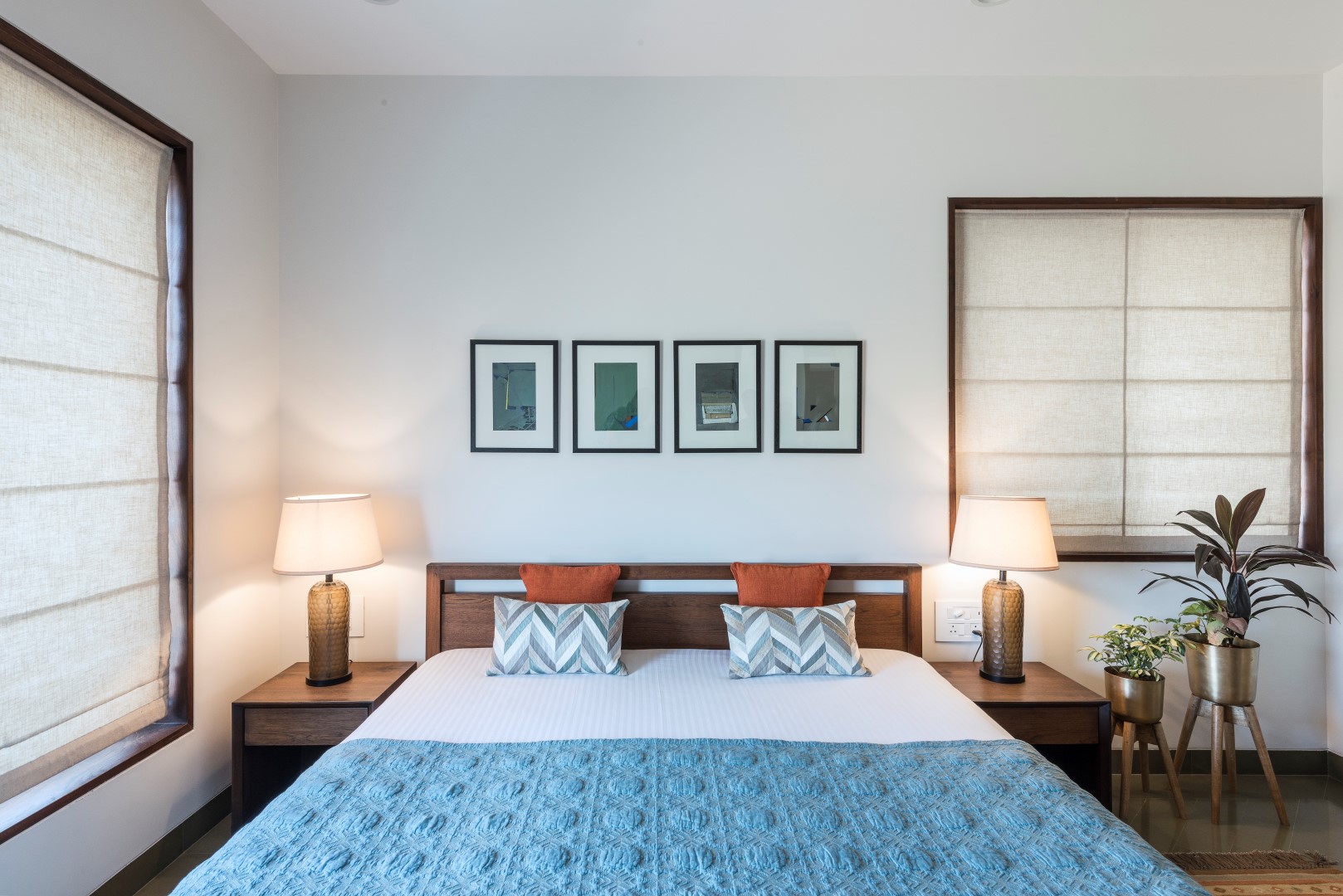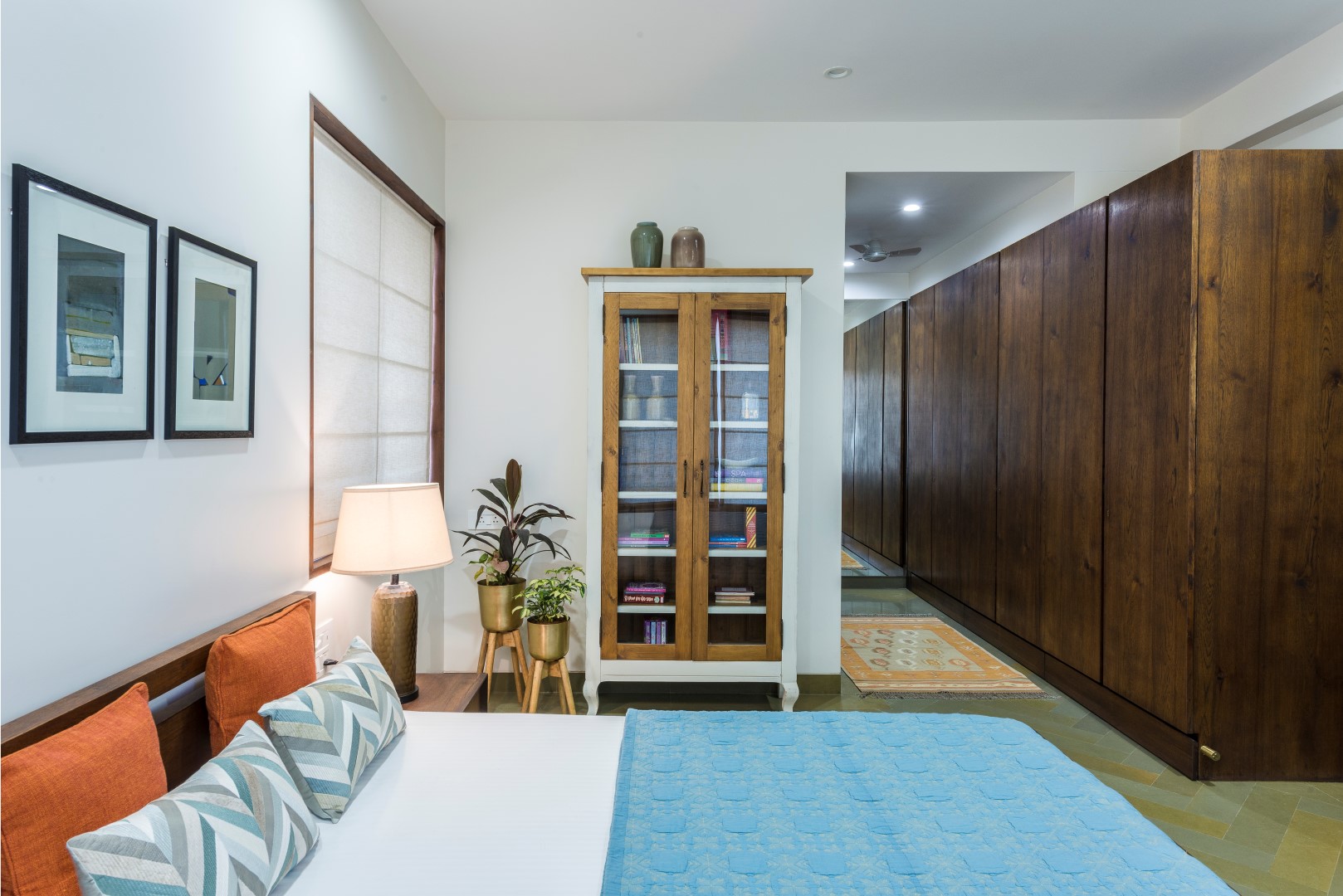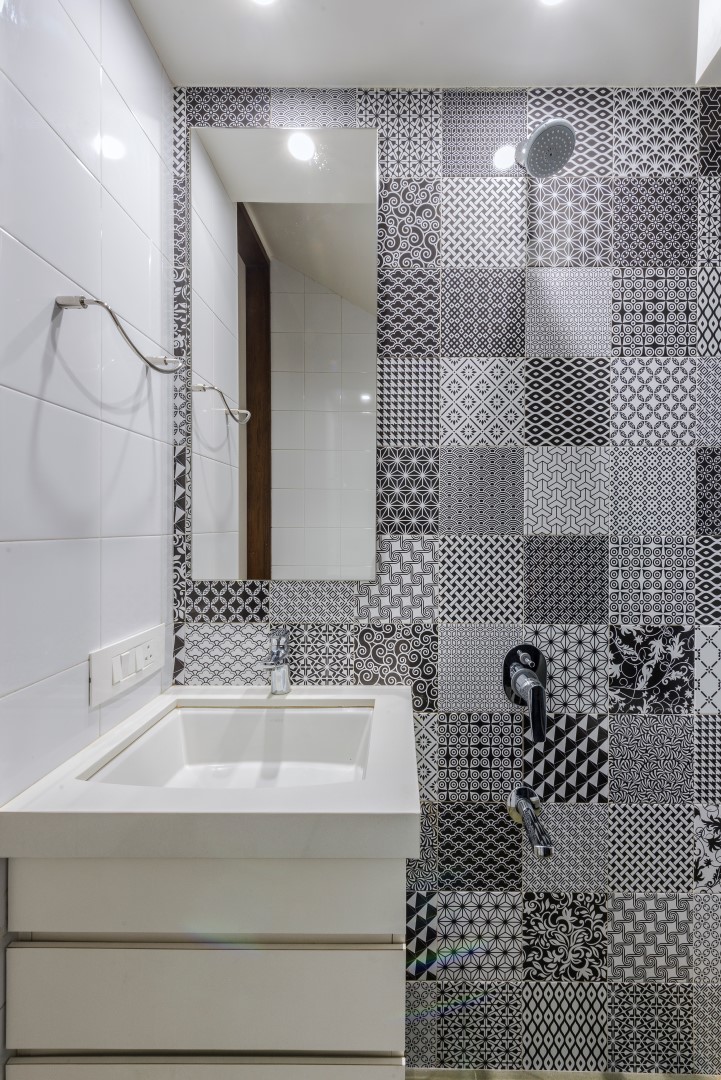 While the clients found the design philosophy of 'keep it simple' difficult to digest initially, they grew to like it after a few sampling exercises were undertaken and as the project progressed. Today, visitors find it hard to believe that so much has been done in such a small area. The simplicity and 'plainness' which were concerns earlier have become points of appreciation.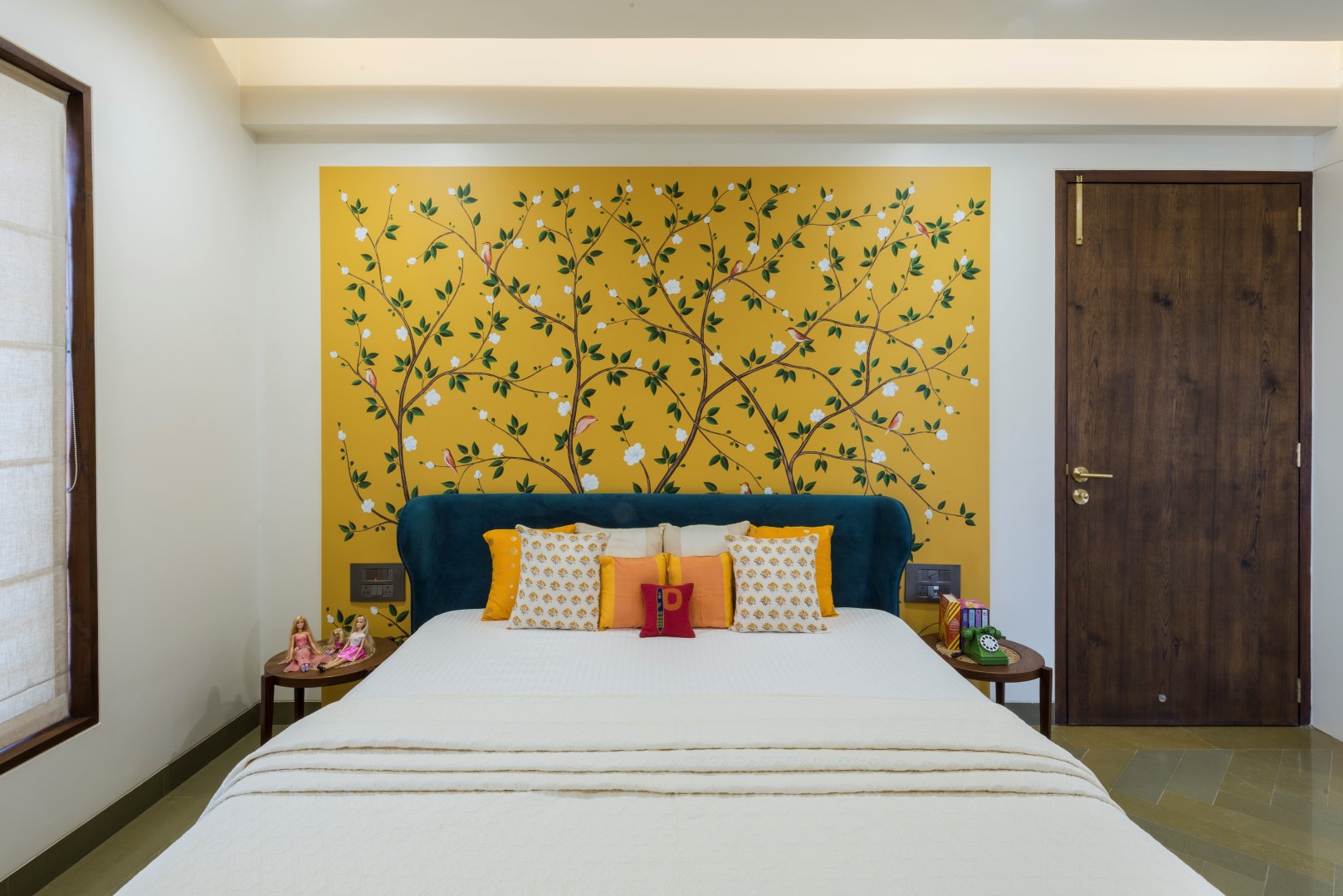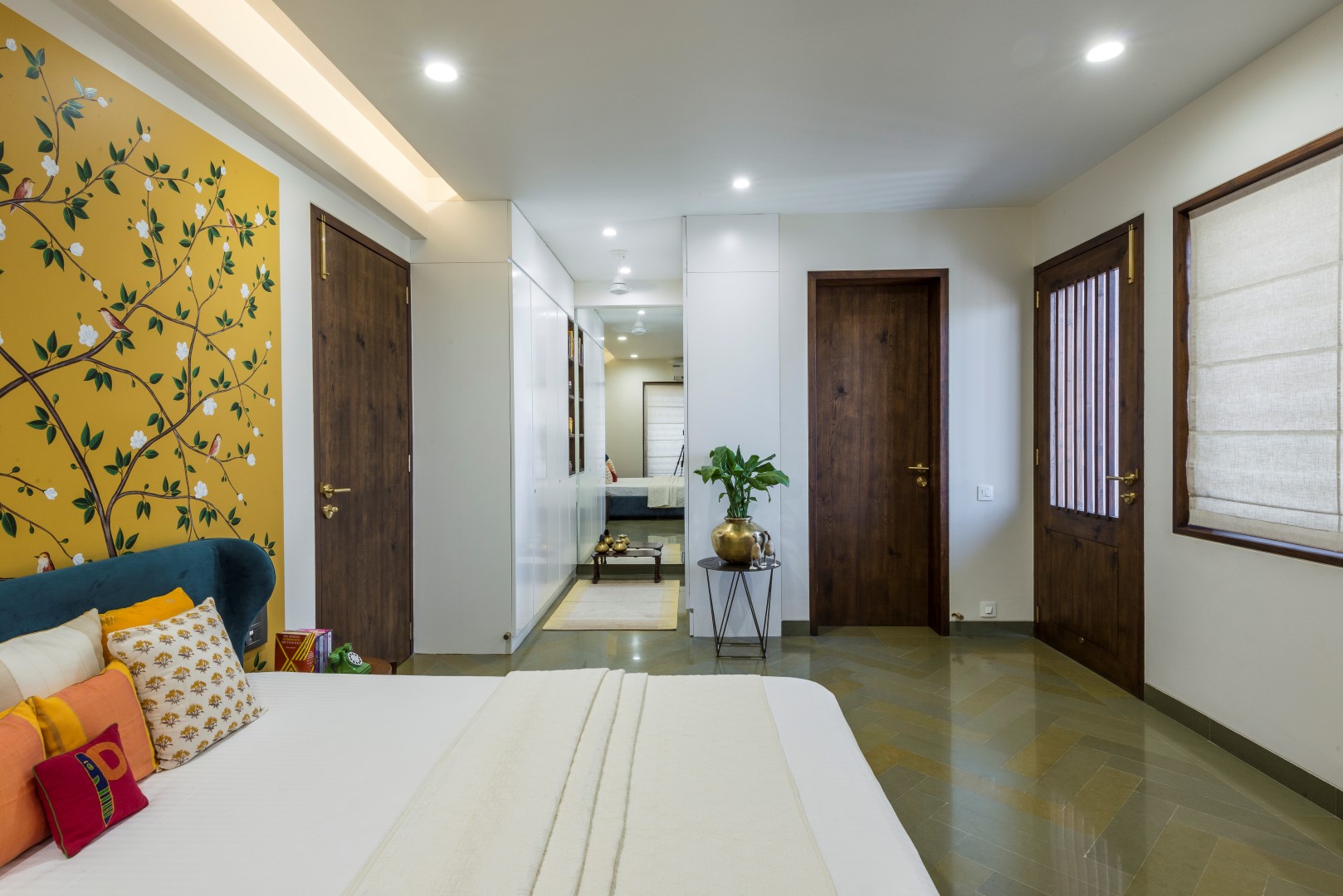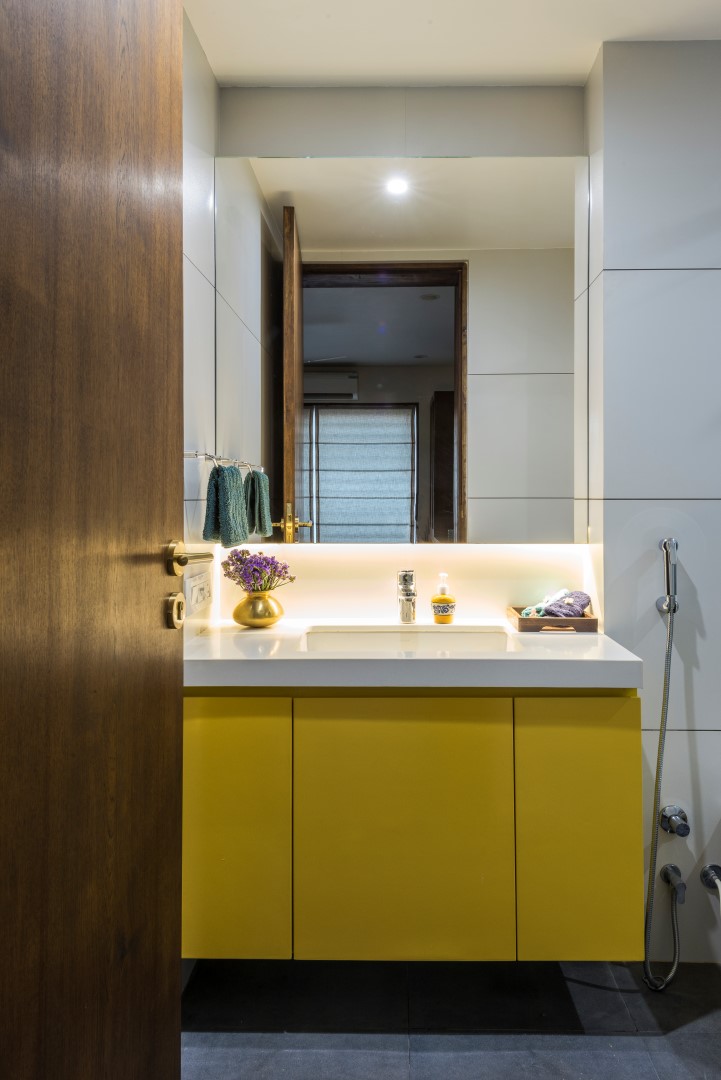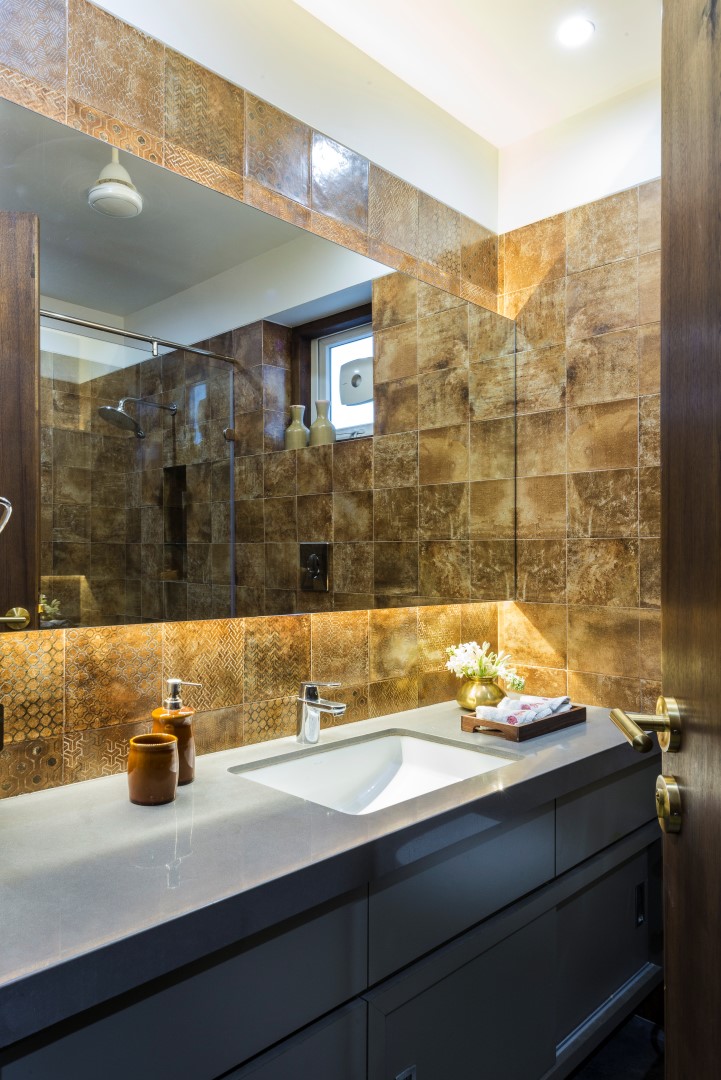 Fact file
Location: Bungalow at Vadodara.
Area: 1,970 square feet (total built-up G+1)
Design firm: Studioyamini
Design team: Mitul Shah, Mehul Shah, and Kajal Shah
Photograph credits: Photographix | Sebastian + Ira
Artists: Backdrop in children's bedroom by Ashish Chakraborty
Materials
Brown Kota (floor), white paint (walls); teakwood (paneling and woodwork) and gypsum (ceiling)