An amalgamation of different colors, textures, Materials, Finishes and yet all bounced together with a sense of harmony and creating an ambience that's surreal, fresh, new and stunning.
Stunning Apartment interiors – Shikha | Chirag Design Studio
Visit : Chirag Design Studio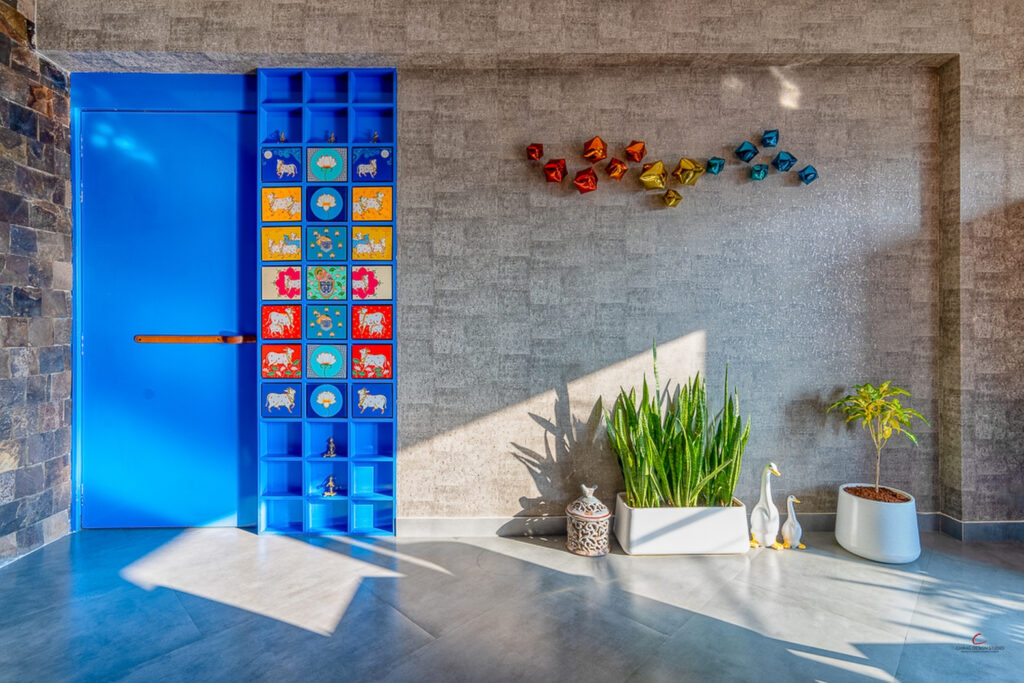 Formal Living
The space 2850sq.tf. in Banjara Hills Hyderabad was visualized to be a place that speaks about an experience that evokes a person to appreciate that beauty of art that's integrated into every corner of the house.
Art and the use of exquisite craftsmanship to create different areas whether it's the customized leather wall cladding in the formal living with its intricately hand tooled engravings or the beautifully hand crafted "patachitra" art work that's on the east wall of the formal living.
Informal Living
The 1960's restored lambretta scooter in the living room with its hand tooled engravings of the clients daughters name in the leather sea. Everything within the space is designed to look its personal.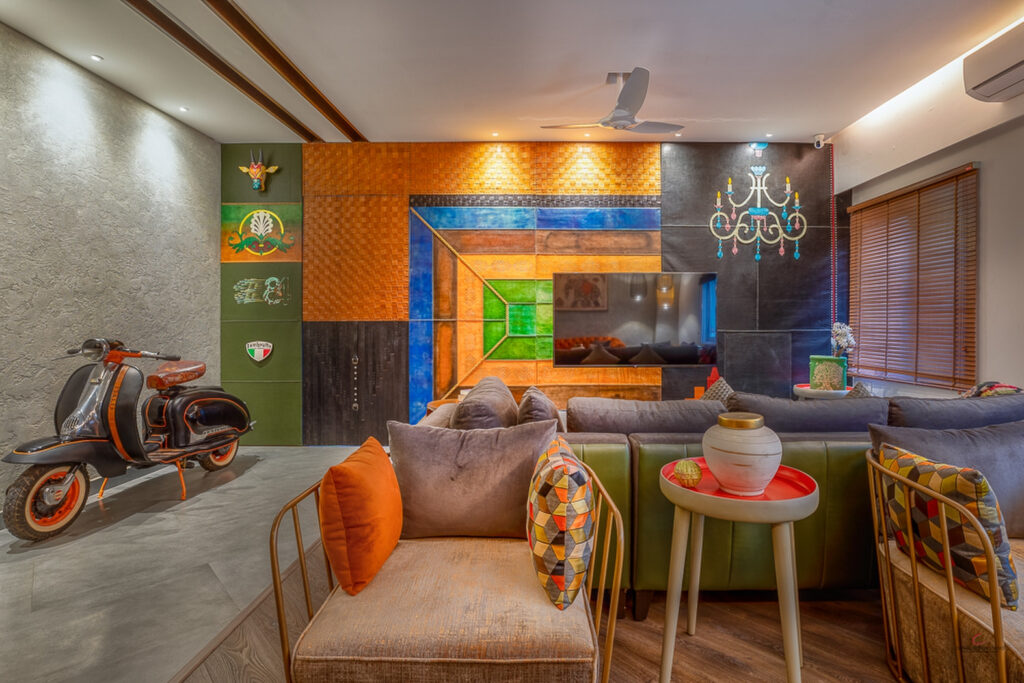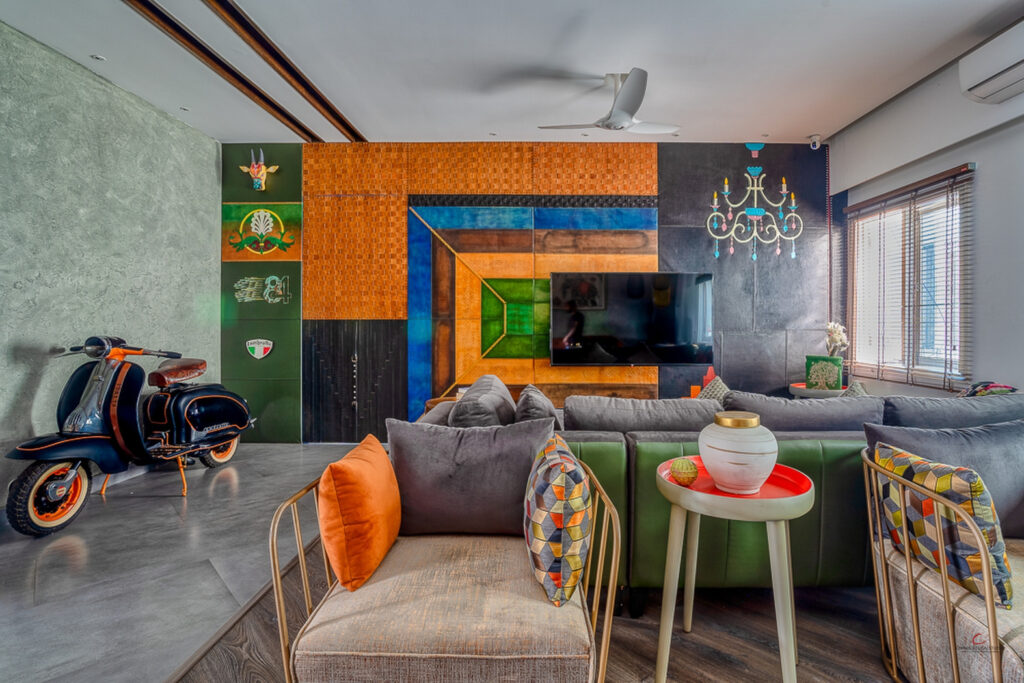 The walnut finish doors with the white ceiling and concrete finish walls along with the ash finish wooden flooring and concrete finish tiles contrasts the play of colors in the furniture and the varied colored leather wall cladding on the west wall of the living area.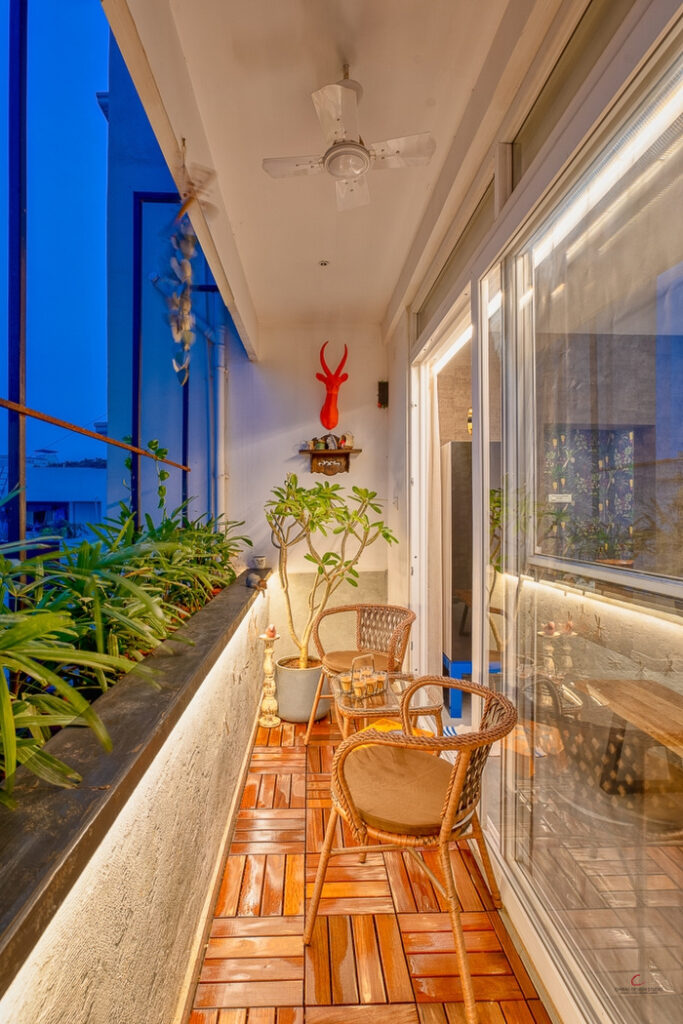 Dining And Bar
The dining area with its bar table in handmade tiles and blue leather top with customized leather handles has a Balinese brown stone cladding as in the office space. The dining table in metal and solid wood top has 2 different design and colors of chairs along with a solid wooden bench towards the balcony.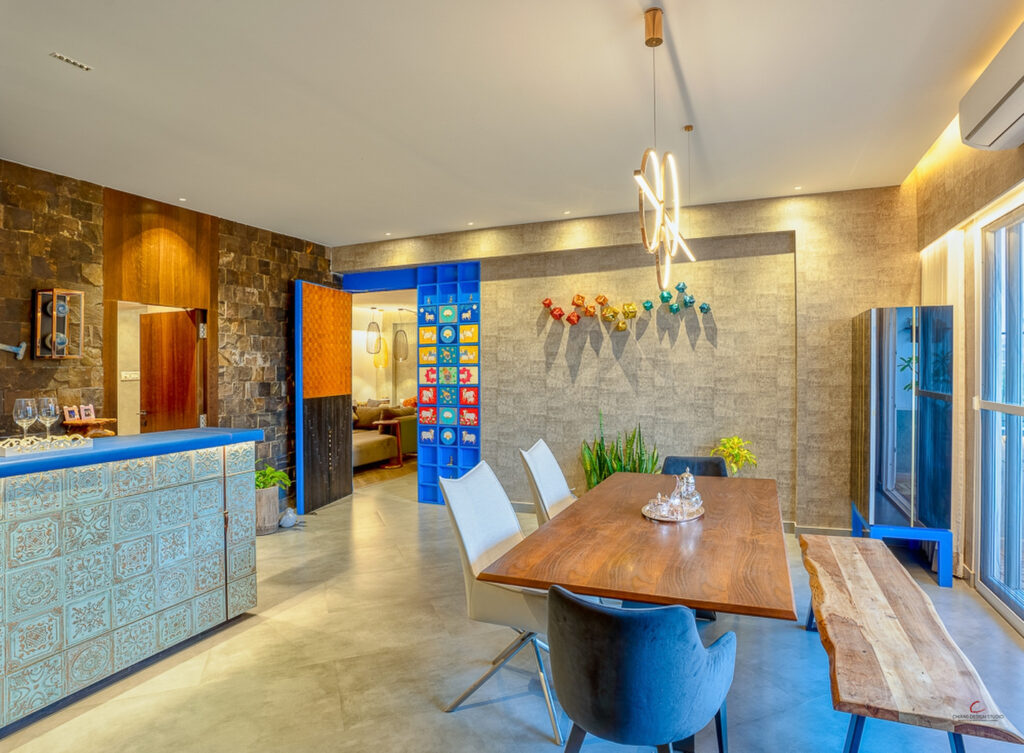 A metal mural in bright colored pieces adorns the west wall of the space next to hand painted "pichwai" paintings on the blue partition and door that's adorned with a customized metal handle wrapped in leather. The 2 crockery cabinets on both ends of the  dining space in black lacqured glass finish with brass inlays again highlights the play of different color, materials and textures within any given space.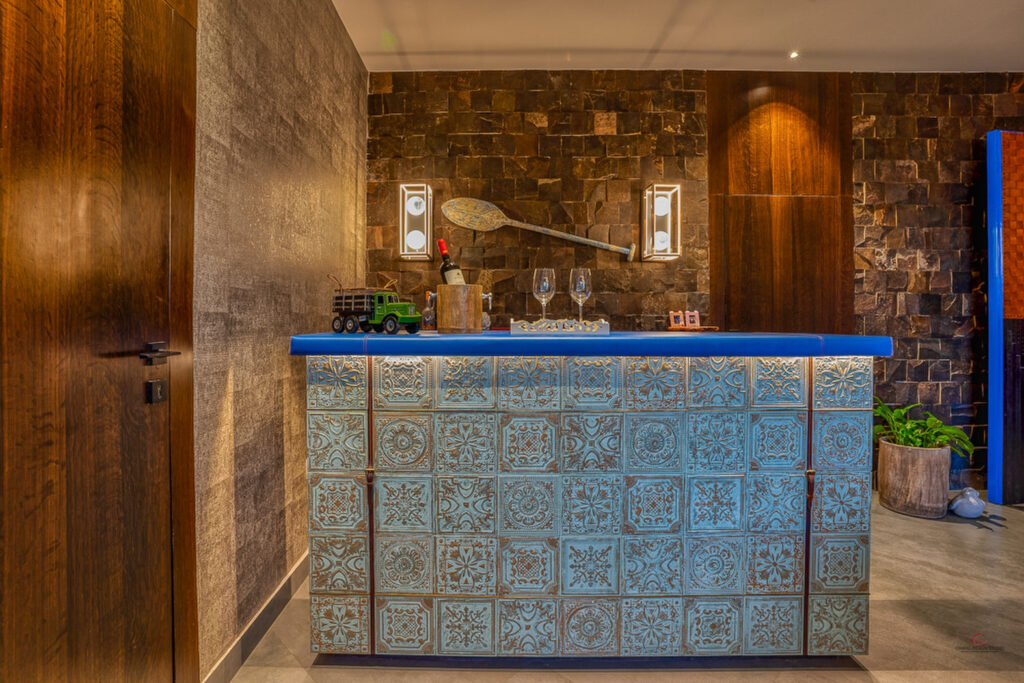 Daughter's Bedroom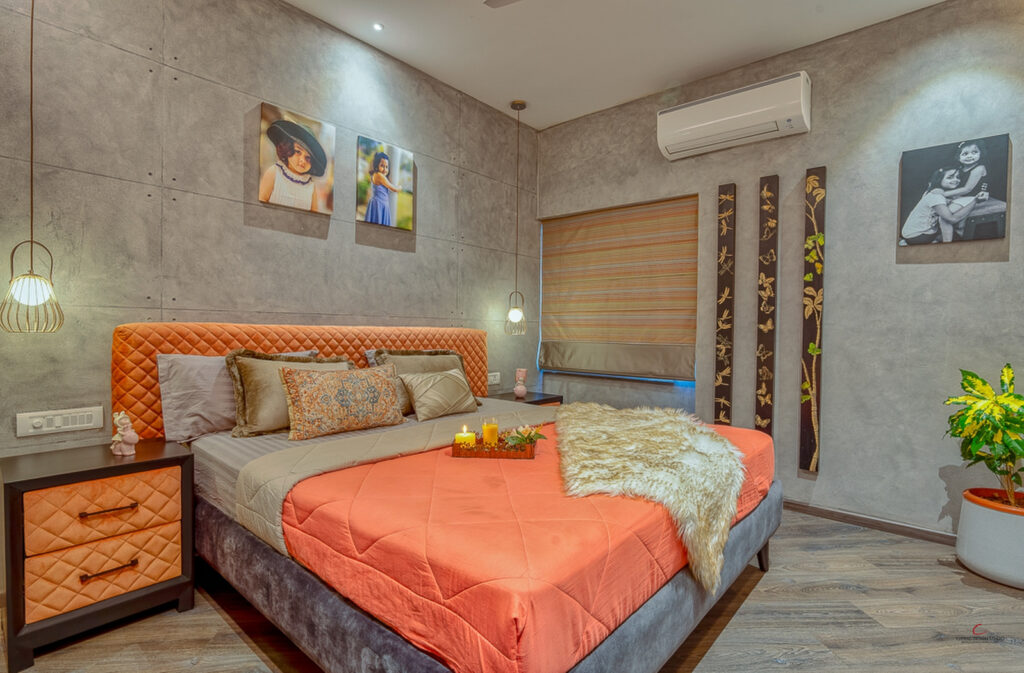 The daughter's room with an all concrete finish walls on four sides with black and white canvas of prints of them creates a cosy feel to the space with its brass pendant lights and a 3 paneled hand engraved wooden blocks of butterflies.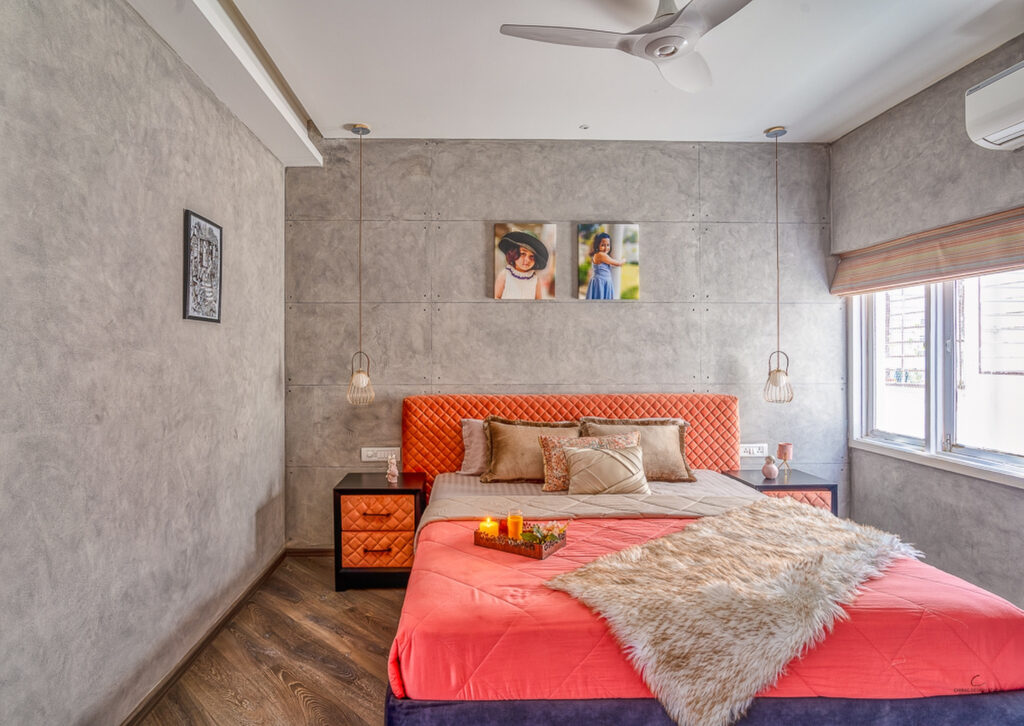 Master Bedroom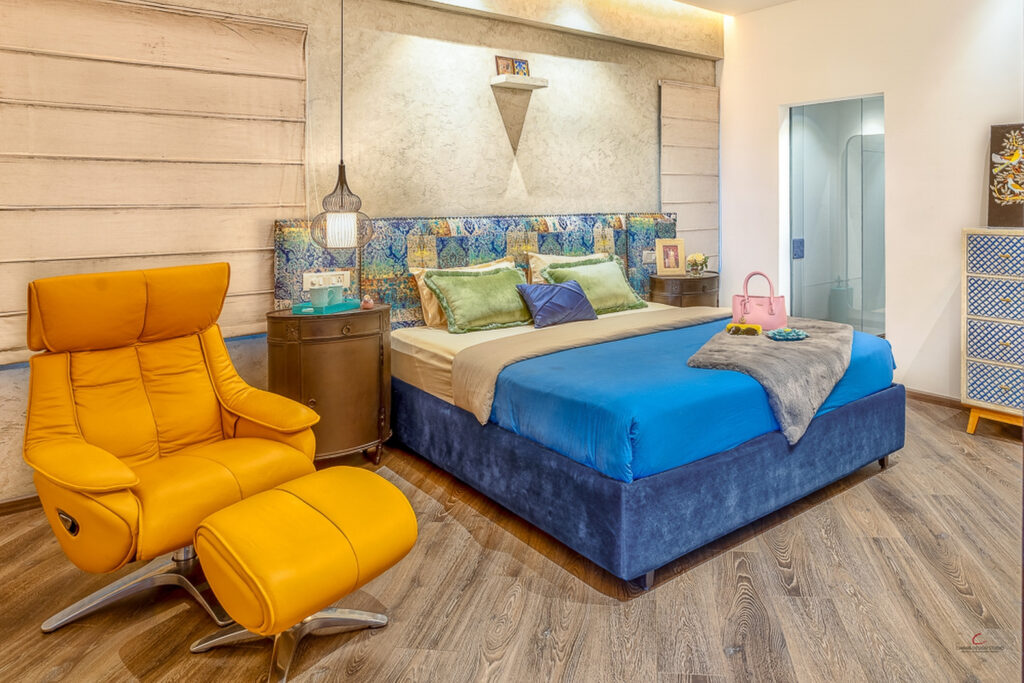 Master bedroom has a bohemian style of colors in the bed designs with a concrete finish wall as its backdrop, interesting metal pendant lights and metal night tables. It's chest of drawer in blue bone inlay patterns continues the theme of use of bright colors and textures and contrasts with yellow leather recliner with an ottoman.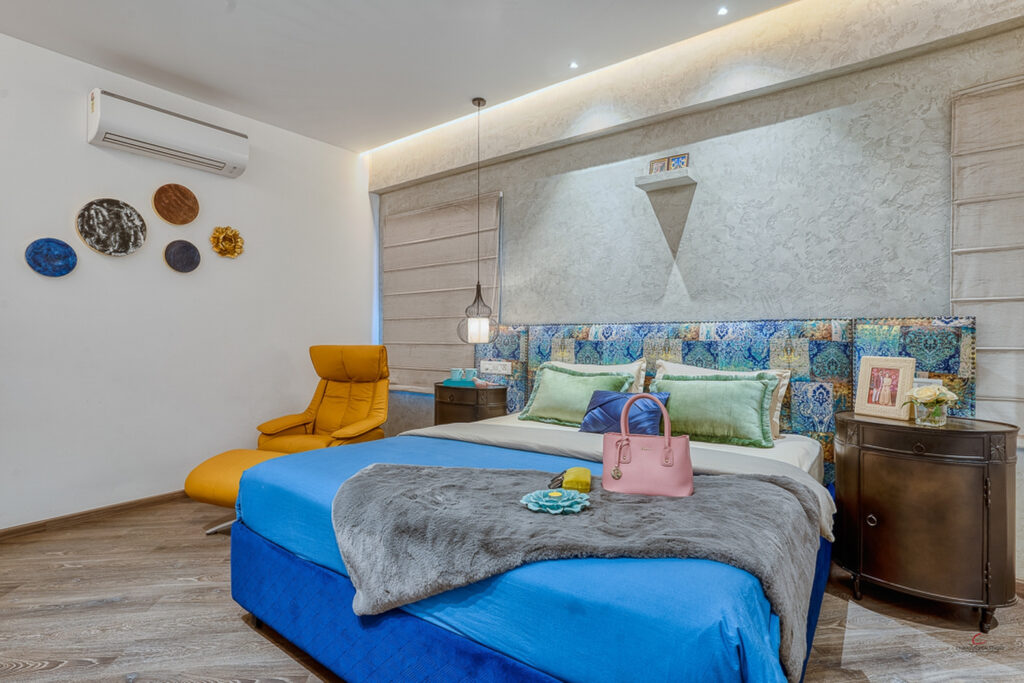 Private Office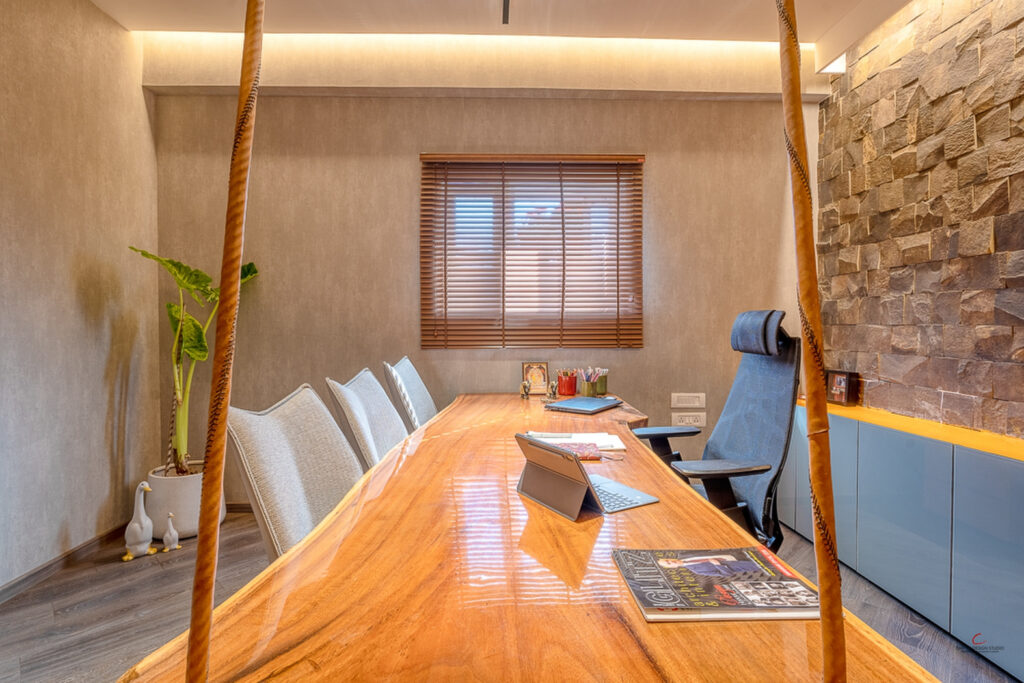 Private office with its floating solid wood log table hung with detailed leather wrapped with baseball stitch details on them.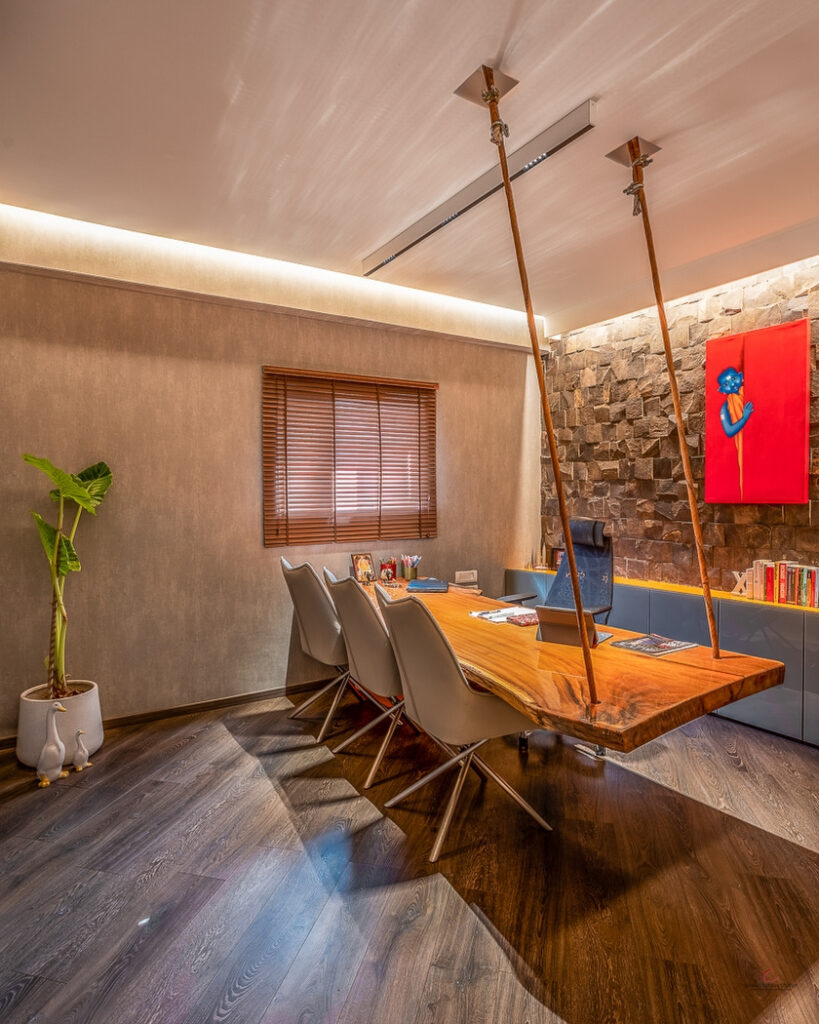 Drawings :
FACT FILE :
Designed by : Chirag Design Studio
Project Type: Apartment Interiors
Project Name : Shikha
Location : BANJARA HILLS , HYDERABAD
Year Built : 2020
Duration of project : 45 DAYS
Plot Area : Built up : 2850sqft
Project Cost Appx : 75 LAKHS
Principal Architect : AR.CHIRAG SWAIN
Team Design Credits : Ar. Rajshree Parida and Priyaranjan Das
Photography By : Ar. Nayak Photography
Color Palette :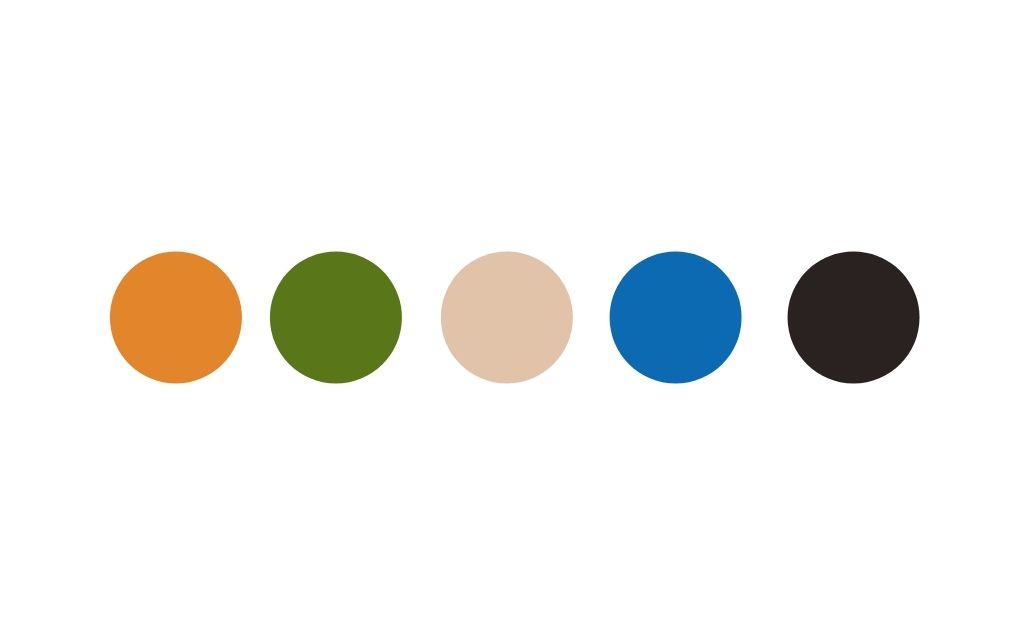 Basic Insights of your firm and the project :
Please share with us challenges faced by you during the process of design ideation till execution of the project. We are sure there might be many and you would have overcome it successfully.
This project began during 2020 Lockdown, we faced a lot of challenges with labour and managing time. Due to travel restriction, we faced a lot of problems while material selection. Team work and proper communication between the design team and the execution team helped us handover the project on time and quality as visioned.
2. What is that one design element in the entire space which has your heart.
–THE BAR AREA.
Bar table in handmade spanish tiles, a blue leather top with customized leather handles and brown leather belts, brass inlays in between the tiles and a Balinese brown stone cladding.
3. Design Style which is followed by the project
ECLECTICISM
Principal Designer :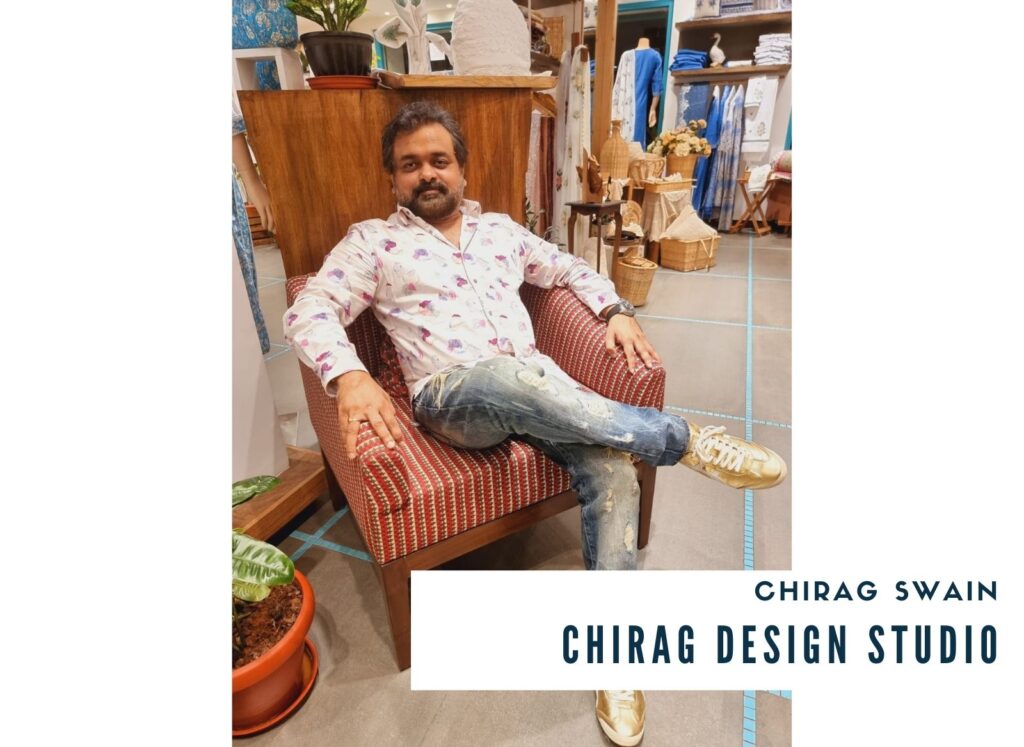 Firm's Website Link : www.chiragdesignstudio.com
Firm's Instagram Link : Chirag Design Studio
Firm's Facebook Link : Chirag Design Studio
Email Id : [email protected]
Disclaimer: No TAD editor is involved in the curation of this content.