&nbsp
Chit Chat Chai Pod Kiosk | D2D Architects
Visit : D2D Architects
KIOSK
Pinned in the bustling locality of Hyderabad, Chit chat chai has now reformed itself into a modern kiosk catering to the mobile and shifting crowd in today's world. Adding to the public architecture of the area, this kiosk is the focal point in terms of functionality and aesthetics.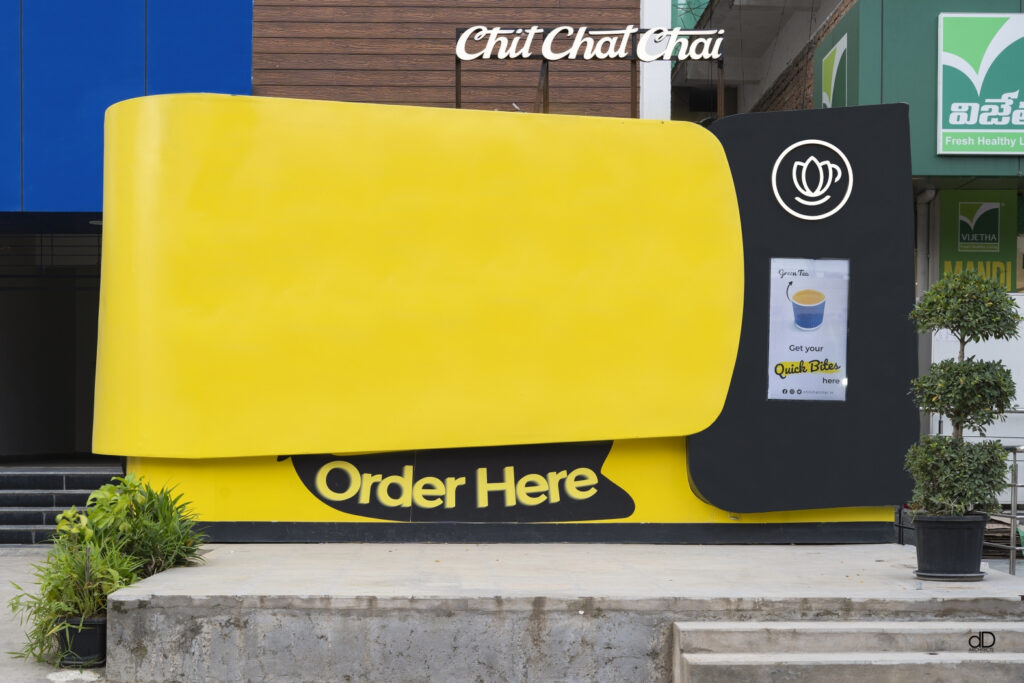 The vibrant signature hues of the brand have been actively used on the top hung shutter of the kiosk, capturing the attention of passers-by even when closed.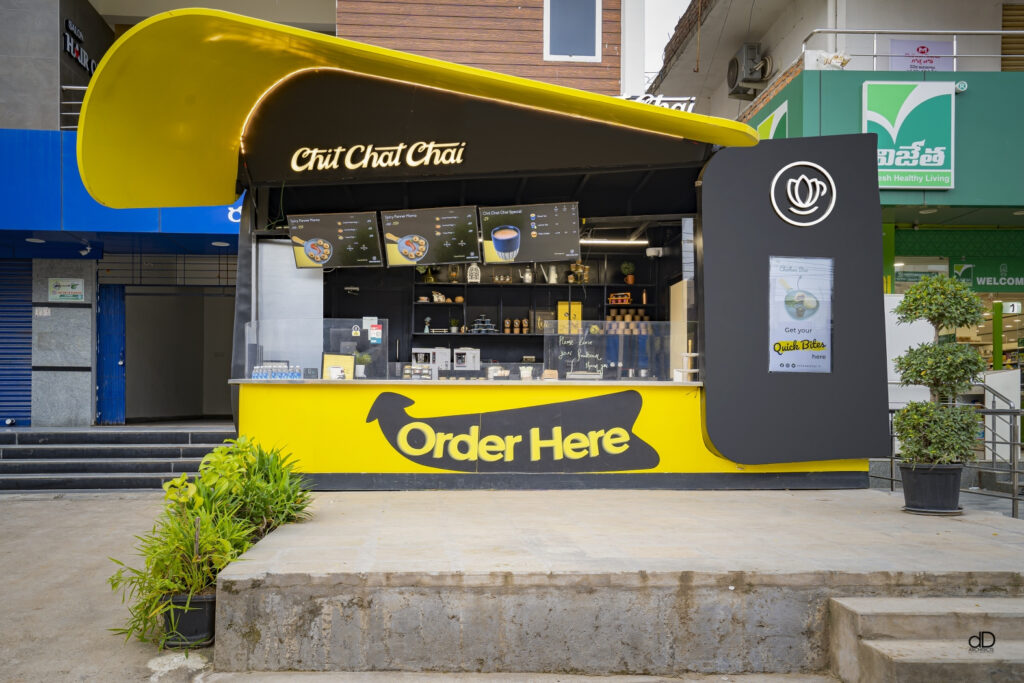 Inspired by the international kiosk culture, the backlit nameplate and logo of this 220sqft kiosk illuminate the kiosk and the customer's territory in the front brightly. The live counter displays the services and commodities that one can relish besides creating an experiential break for the customers! The curved corners on the counter cater to a wider public while also making a point of interest on its facade.
The interiors of the space are tackled smartly with a clear display of shelves lowered with metal rods breaking the monotony of concealed storage functionally. The definitive ordering signage and digital menu screens make the kiosk chaos-free during peak hours of the day.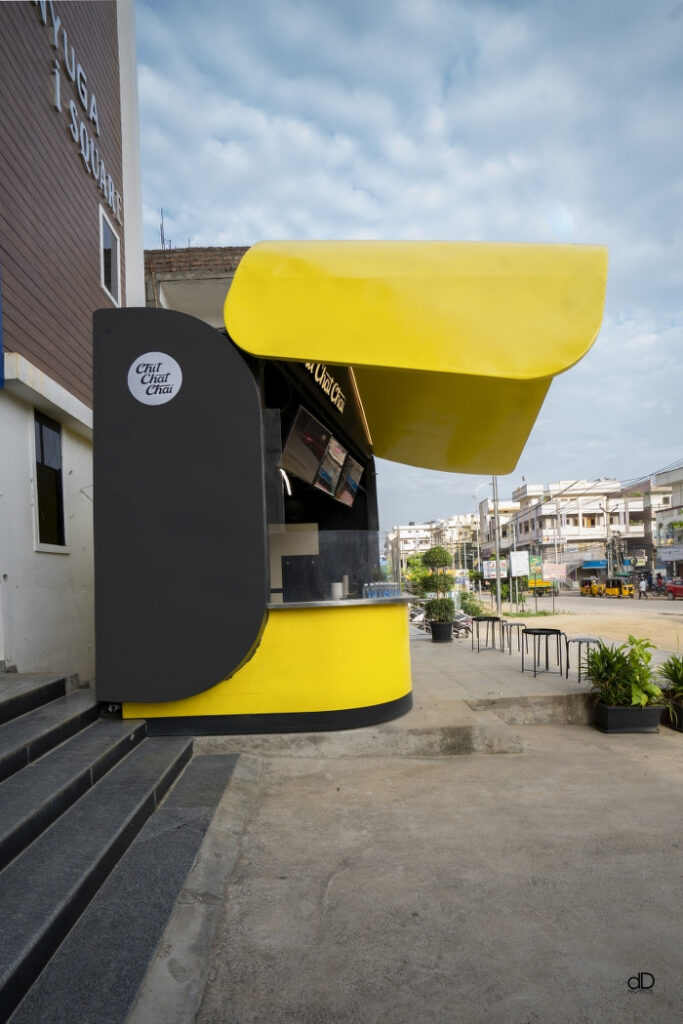 The shell of the kiosk is made up of fabrication with metal sheets making it weatherproof and its top hung shutter that is meticulously arranged to the center of gravity of the kiosk which is powered by a hydraulic system that allows it to stylishly turn into shelter above once open. As chai, is the first thing to savarin the rain!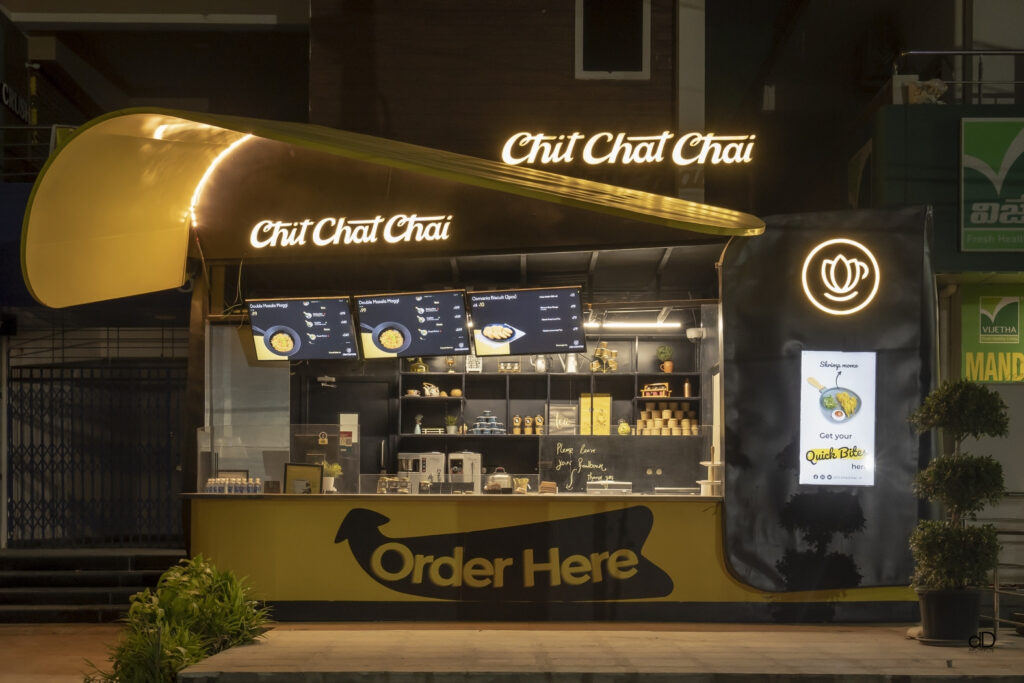 Chit chat chai's new kiosk is one of the microelements in public architecture that will create macro impacts. In today's day and age with the fast-moving crowd, a small break on such a kiosk will turn out to be an experience of its own.
Fact File :
Designed By: D2d Architects
Project type: Hospitality – Pod
Project name: Chit Chat Chai Pod
Client: Mr. Poorna tej Valluru
Location: Hyderabad
Year built: August 2021
Size: 220sqft
Project cost appx: 8lakhs
Principal Architect: Ar. Patnala Rohit
Phograph Courtesy : Yash Reddy
Color Palette :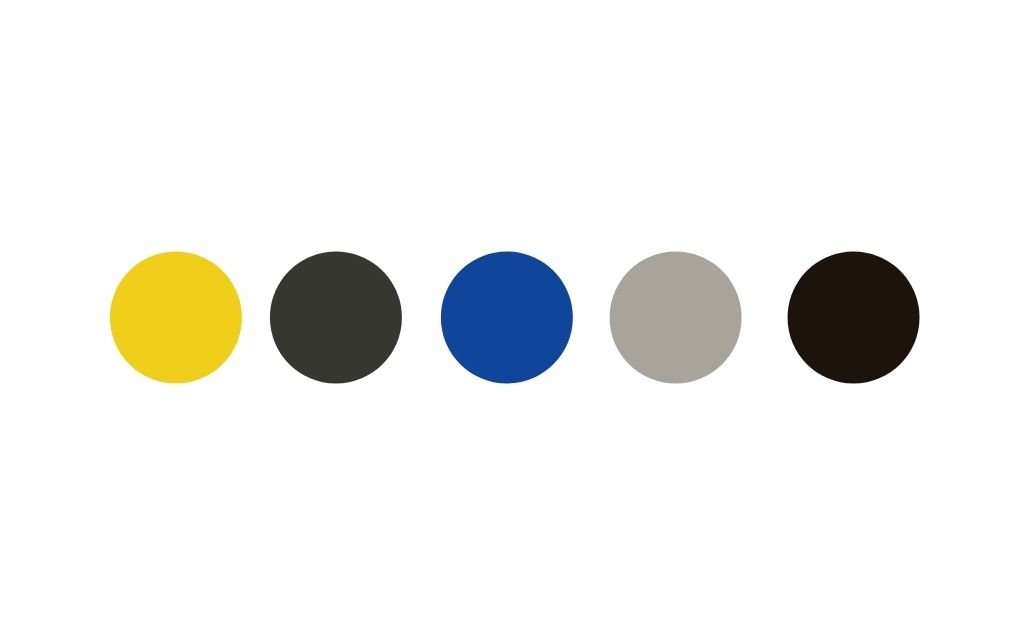 Products And Materials : Paint : AkzoNobel paint | Construction Materials : Mild Steel metal | Lighting : Light Kraft Hyderabad
About Firm:
D2dArchitects, founded by Ar. Patnala Rohit, a graduate Architect from Vaishnavi School of Architecture and Planning, Hyderabad. The firm is based in Berhampur, Odisha . He has developed a broad range of experience in the education, precision engineering, commercial and other niche sectors. He prioritises collaboration between clients, consultants and contractors and is passionate about the work .The people of this firm have always strived to provide Architecture & Interior Design solutions that are bespoke with energy & contemporary design. Their design approach is largely involves an intense articulation of colors as mood makers. Materials & surfaces come together to create the right painting- like composition for a range of various scale.
Principal Architect :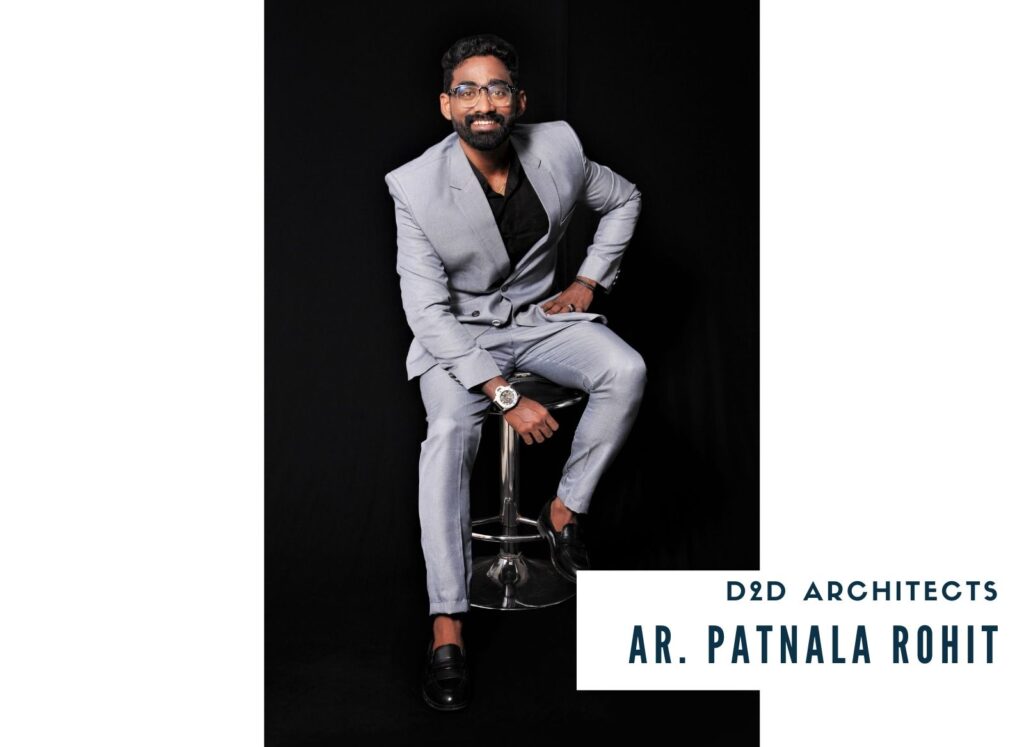 Email Id : [email protected]
Disclaimer: No TAD editor is involved in the curation of this content.