While we were designing this project, covid struck and we quickly adapted to the new norm of online working. While we were fighting severe covid at personal level, we didn't let that kill the spirit of the project and our team rose to the occasion and delivered designs on time. During execution, though there were restrictions on how much work we could do at the site with minimum work force, with right planning and out of box solutions we managed the project timelines and quality of work.
Sophisticated And Elegant Apartment Interiors | 1 POINT SIX 18
visit : 1 POINT SIX 18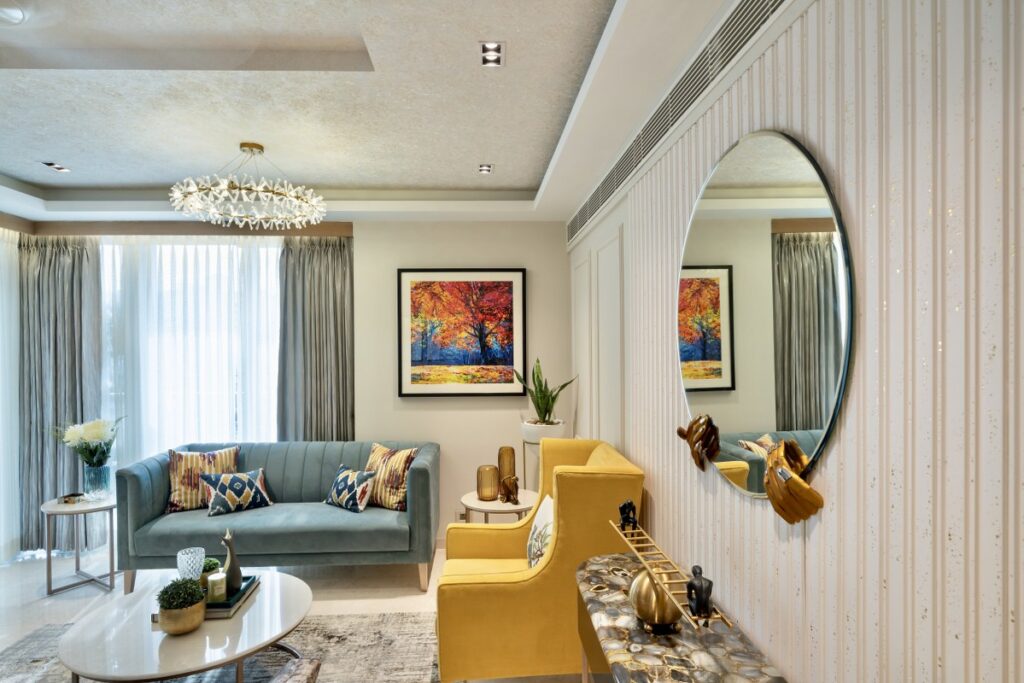 The Bar unit cum partition in drawing room of this project has our heart. It's exactly the way we had visualized. It's a perfect spot for the couple to sit by the window in the evening. It is between drawing and dining therefore functional apt and lets the larger guest gathering to move around in both spaces and yet be connected with the bar unit. The clean lines with minimal approach and subtle colours makes this bar unit become the highlight of the space without being overbearing.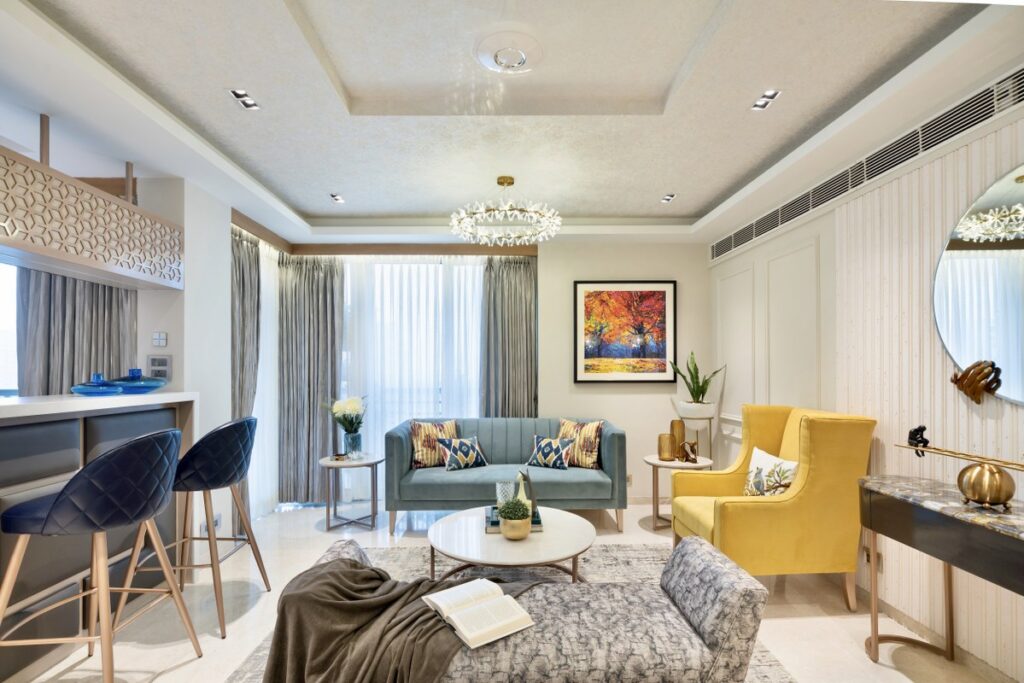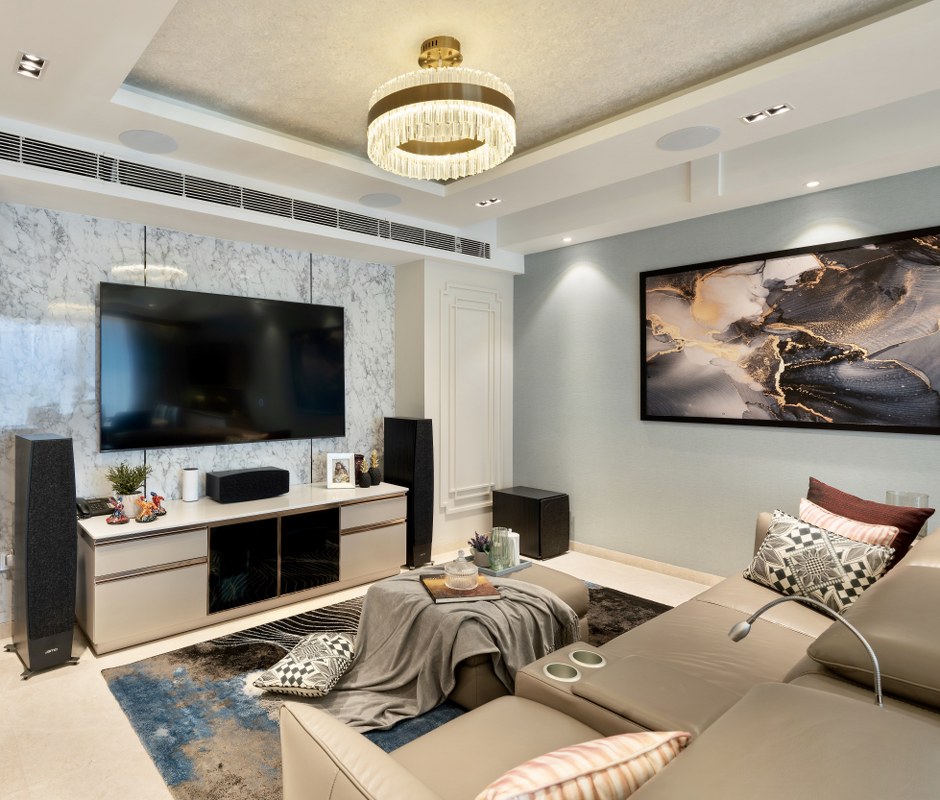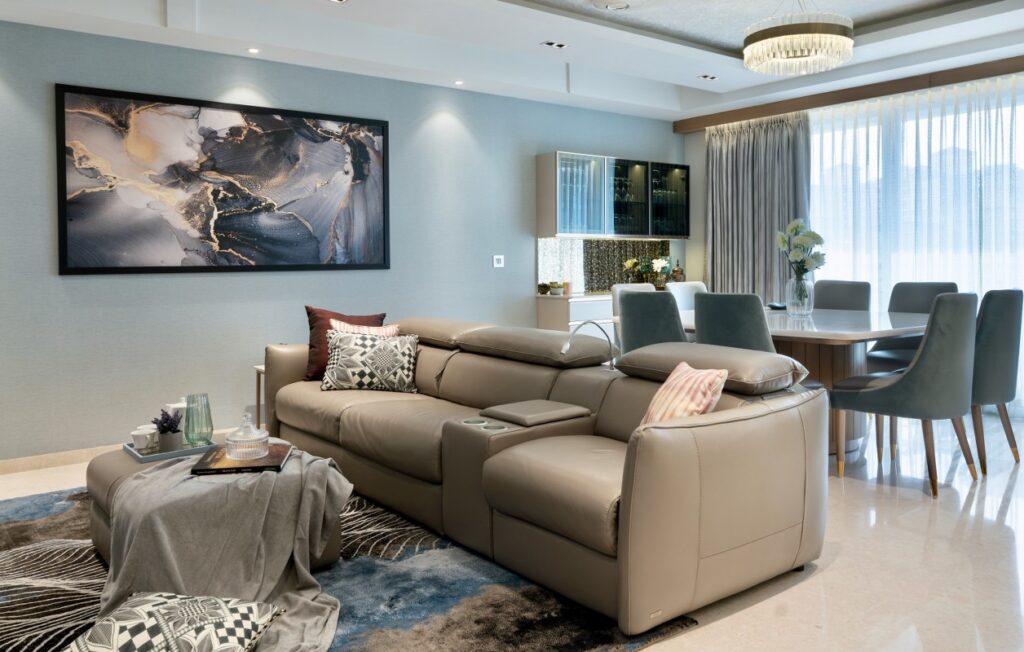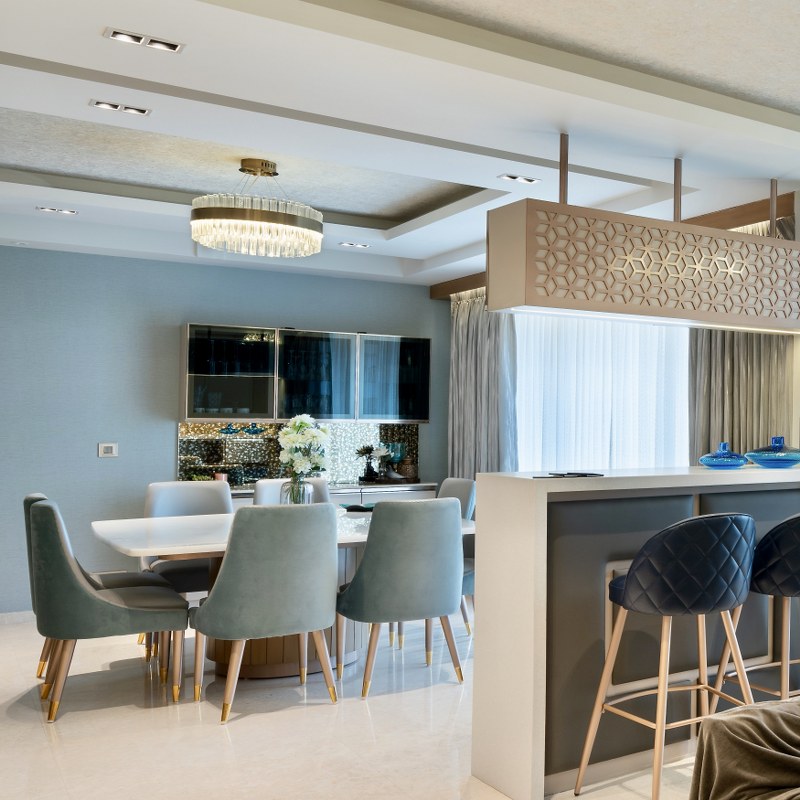 Pastel Colours are always a popular choice in bedrooms. Since this apartment was following a Soft, minimalistic approach, pastels became an obvious choice for the bedrooms.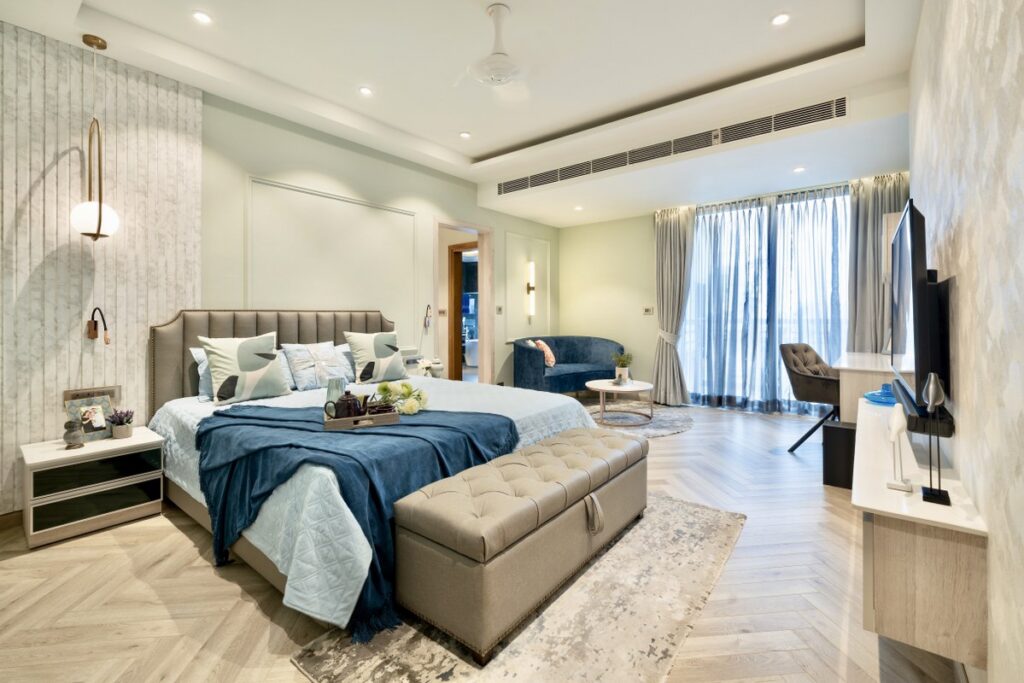 This Master Bedroom was definitely a large room yet we wanted to create a look of expanse hence one pastel colour was chosen across the room with white being the accent on walls. The louvered white – grey panelling on the headrest wall accentuates the asymmetric look that we were also trying to create through different light fittings.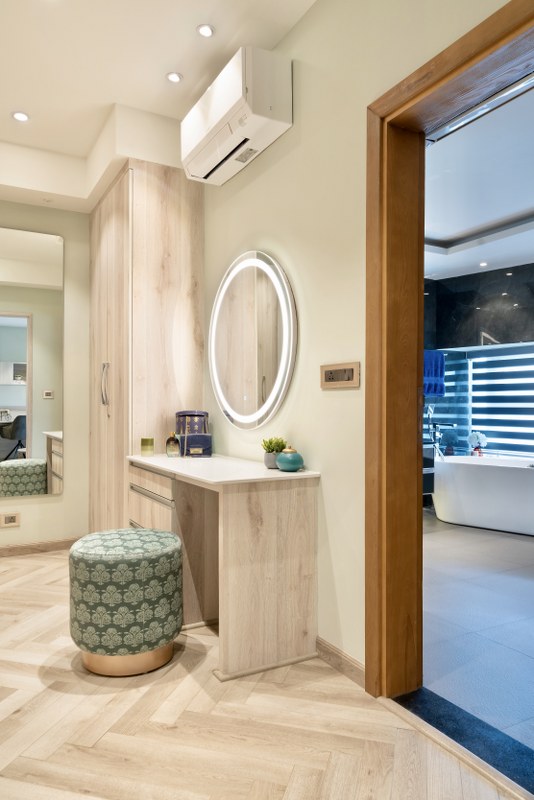 White textured wallpaper on the tv unit wall, supports our cause and makes the look complete. Pastel green hues with whites and greys let us create a soft yet unmistakably sophisticated look with a blue curved sofa, the only bright accent, makes an interesting statement in the room.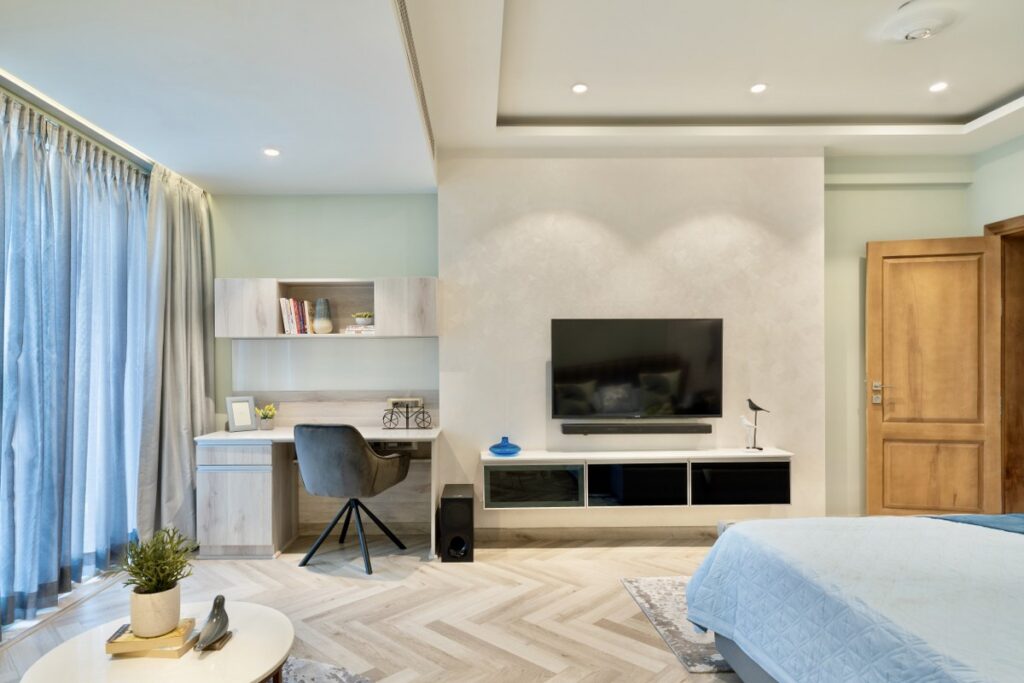 When we talk about a kid's room, especially girls, we generally expect a room exploding with colours on walls and furnishings. While designing a not-so big bedroom for a child, following a minimalistic approach can be difficult. Hence, all the furniture was designed in white including a four-poster upholstered leatherite bed. The brief was clear that since the child was young, it would also be shared by a grandparent and hence we had to make sure the room looked apt for 9yr old and a 65yr old.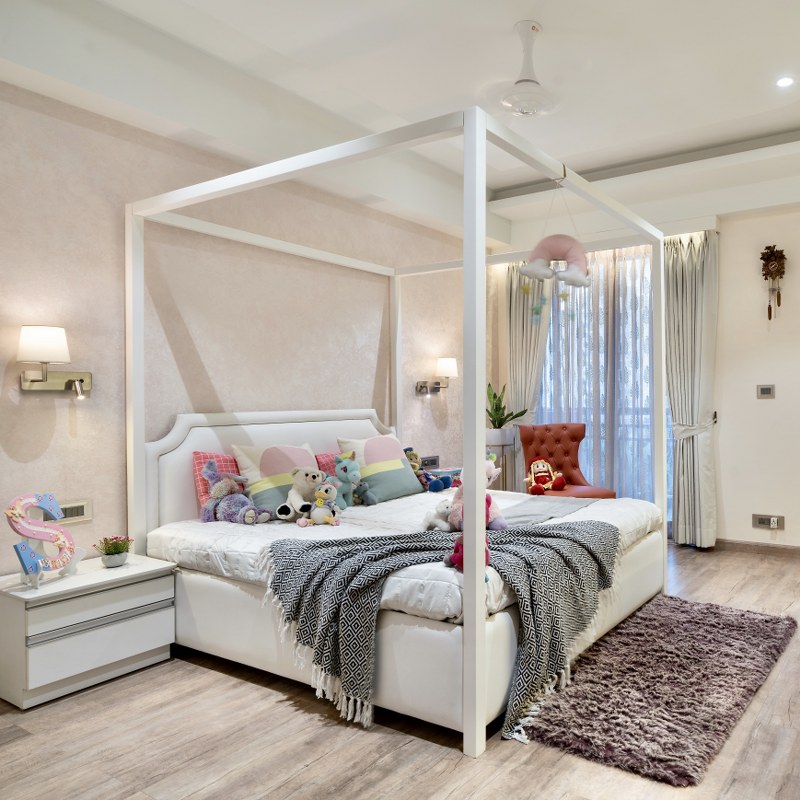 Pastel pink worked its charm through the room. We used light hues of pink in sheers too to create the soft pink effect during the day and keep the room softly lit even on a bright sunny day. A deeper Coral pink chair was a perfect accent along with the bright toys which made the room adorable.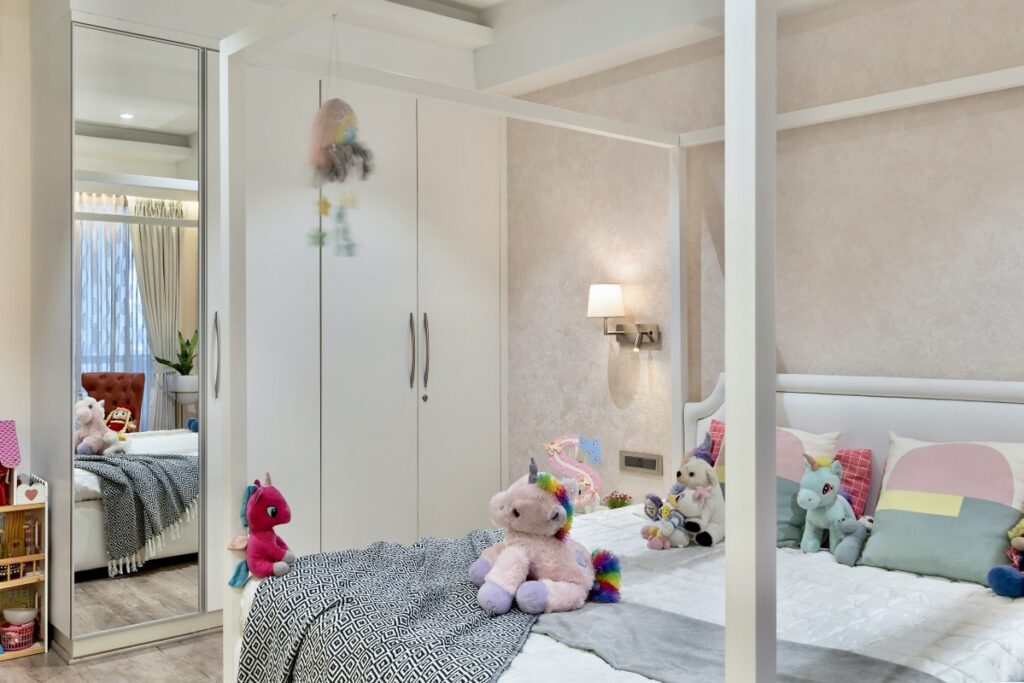 When you get to design a baby boy's room, your priority is to make it safe, comfortable and give enough floor space for the baby to move around even if the room is the smallest. We made a trundle bed instead of a single or double bed considering an adult would be sleeping along with the baby and also it will add space to the room when not in use.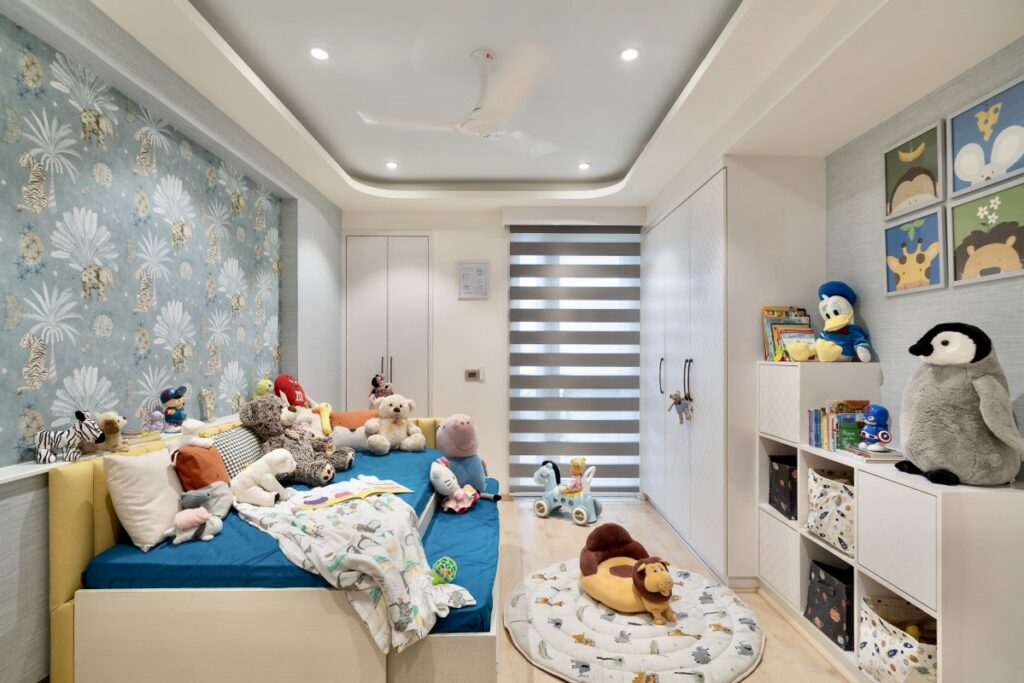 Pastel blue wallpaper was chosen as an accent to add character to the room with yellow as an accent as the bed and art in the room. This soft baby bedroom with white wardrobes and accents is just the kind of room you would want for your little one.
Bathrooms are the smallest spaces in the houses. Along with the kitchen, bathrooms take top priority when it comes to designing. Therefore when we started, the intent was clear, it had to be bright, crisp and minimalistic. This was not a very large bathroom and it had very less natural light, therefore we went ahead with beige tiles in the bathroom but with multicoloured shaded tile as highlight. The highlight tiles were used in small percentages so that it did not take away the crisp look that we wanted to create. Even though the feel was light, the highlight tiles brought in a splash of much required fun elements into the space.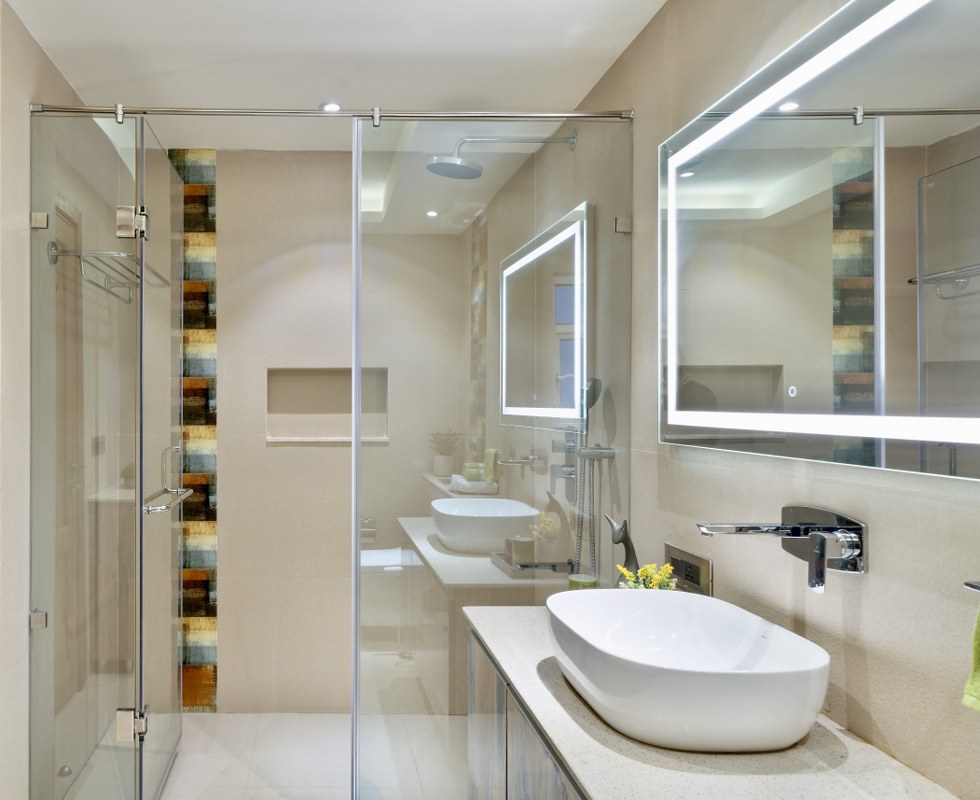 We put in all our efforts to design the sophisticated and elegant apartment interiors. All our projects are inspired by the space itself, the amount of sunlight it gets, the kind of space we are trying to create. Most importantly we try and create spaces that reflects the user and his aspiration for the space. Spaces that have a timeless vibe.
FACT FILE
Designed by : 1 POINT SIX 18
Project Type : Residential
Project Name : Apartment Interiors
Location : The Belaire, DLF Phase 5, Gurgaon
Year Built : 2022
Duration of project : 4 months
Built up : 4200 sq.ft
Project Size : 4200 sq.ft
Project Cost Appx : 176 Lacs
Principal Designer : Mr. Adeesh Garg & Ms. Bharti Rastogi
Photograph Courtesy : Nakul Jain
Products/Materials/Vendors : Lighting – The White Teak Company / Doors and Partitions -Bespoke By Team –1pointsix18 / Sanitaryware – Jaguar, Artize / Furniture – Bespoke By Team –1pointsix18 / Flooring –Decowood Floors / Kitchen, Wardrobes, Cabinetry – Bespoke By Team –1pointsix18 / Paints-Asian Paints Artefacts – White Domus, White Teak Company.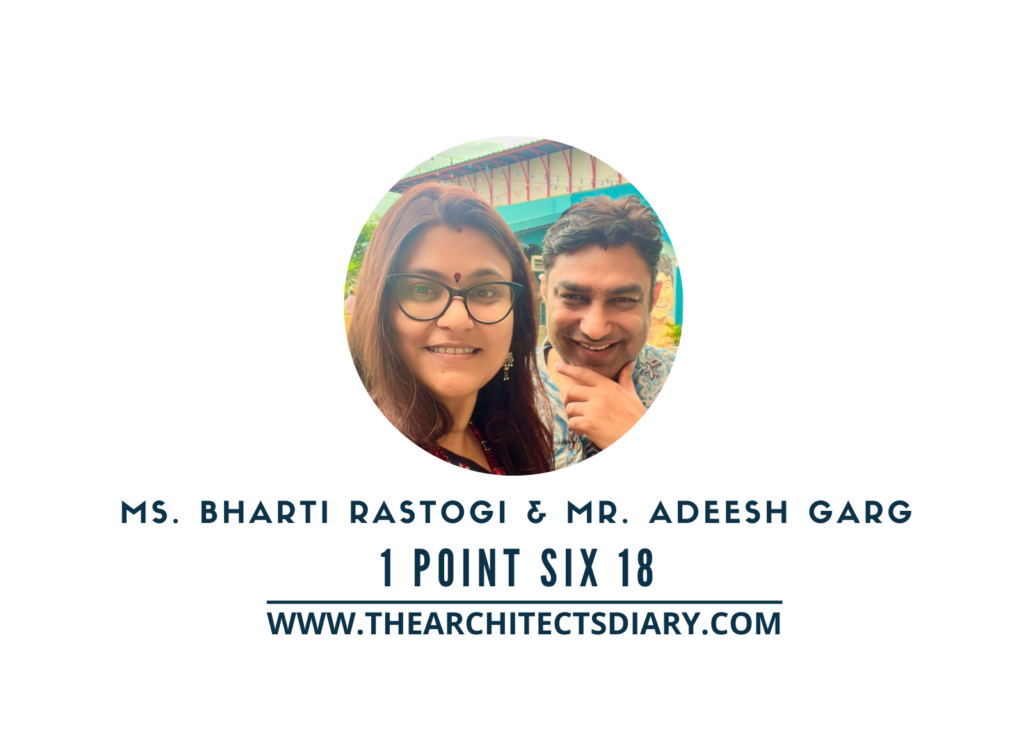 Firm's Website Link : 1 POINT SIX 18
Firm's Instagram Link : 1 POINT SIX 18
Firm's Facebook Link : 1 POINT SIX 18
For Similar Project>>> PLAY OF MATERIAL AND TEXTURES LEADS TO A MODERN AND LUXURIOUS RESIDENCE