Satsang Hall is an Assemblage of Perforated, Curving White Volumes | Serie Architects
serie architects reveals the design for 'satsang hall', a 5,000-seat auditorium for the shrimad rajchandra ashram in dharampur, india. currently under construction, the 15,500 square meter building is scheduled for completion in 2021. the auditorium will serve as the primary discourse hall, or satsang hall, for devotees, and is the landmark building in the larger masterplan which will house over 10,000 lived-in devotee on site. the building is placed at the middle of a crescent-shaped ridge, overlooking a valley to the west.
Visit : Serie Architects

principal of serie architects christopher lee describes the design as 'being informed by the concept of the 'samavasaran' in jainism, which describes a mythical building which represents the aggregation of knowledge — through discourse and learning — as building blocks, to bring devotees ever closer to enlightenment.' this concept is seen in all jain temples, where the aggregation of self-similar elements creates lofty shikaras — curved, pyramid-like forms that cap the sanctum sanctorum at the heart of the temple and appear to reach for the sky. the building consists of 13 stacked rooms, rotated 45-degrees on top of each other. this rotational stacking gives rise to an interlocking wall structure made up thin, gently curved concrete shear walls, perforated to let in natural light.
the largest room of 'satsang hall' — the main auditorium — is organized as a circular drum. this column-free space, measuring 56 meters in diameter, is located at the center of the building. the drum rises four storeys and is visible from all levels, making navigation and orientation around the building clear and intuitive. the structural load of upper floors is transferred away from the central space of the drum through four intersecting arched walls. the main stage is slotted into the arches on one side of the drum and clad with perforated timber panels acting as acoustic baffles. there is no fixed seating as devotees normally sit crossed legged on the floor.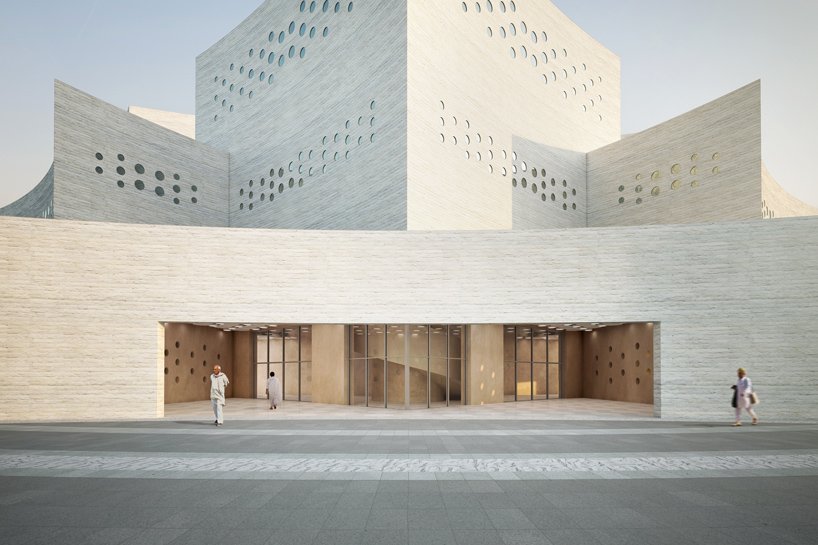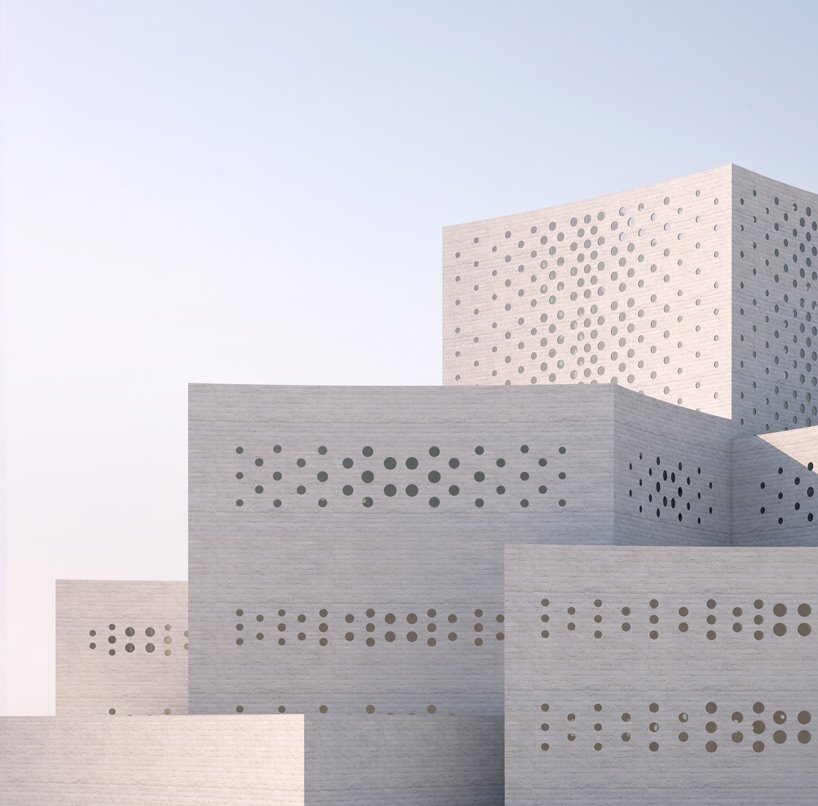 principal of serie architects mumbai kapil gupta comments: 'the exterior façade of the building will be clad with hand-chipped, 75 millimeter wide, marble strips of varying lengths. the strips are sourced from the marble waste of the famous makrana mines in rajasthan. these are the same mines where traditional artisans have sourced a special white marble — known for its environmental resilience — to construct jain temples all over india. some of these temples are hundreds of years old, like the dilwara temples of mt. abu.'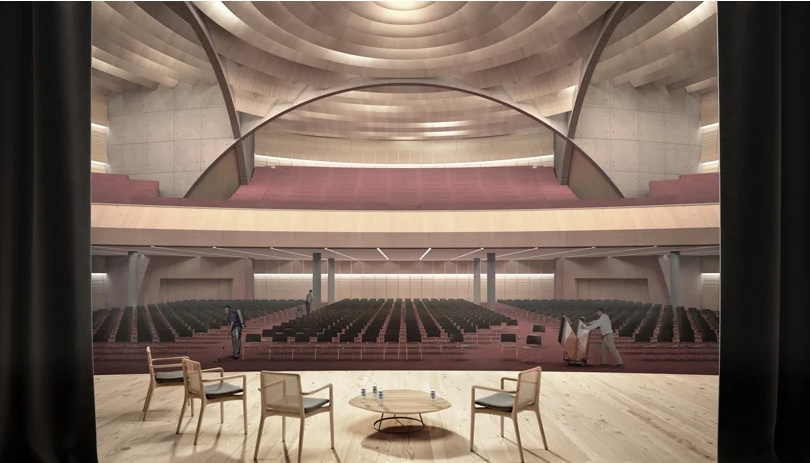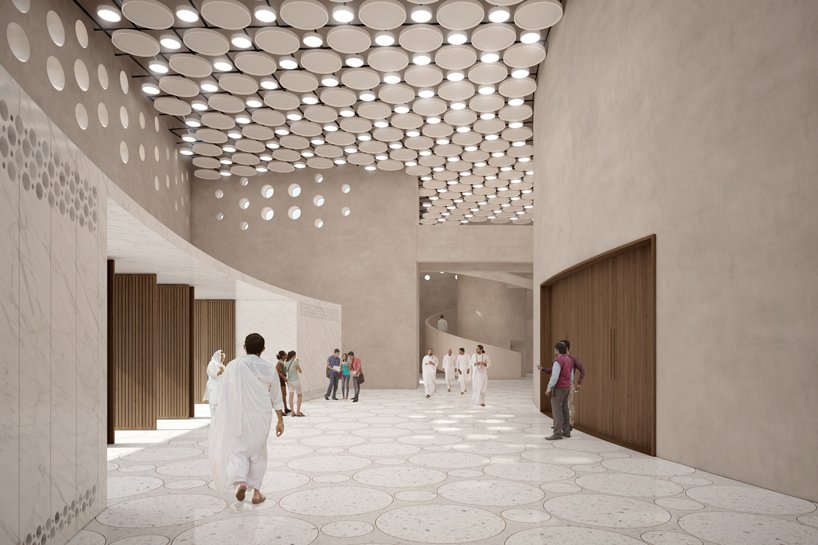 the main foyer is accessible from all eight corners of the building. facing a valley the main entrance is formed by two angled vestibules, allowing devotees to deposit their shoes before entering the foyer. on the upper floors, various rooms contain a library, classrooms, exhibition spaces, multi-purpose halls and meditation rooms. the last and highest room is an elongated lantern-like volume serving as a large meditation hall.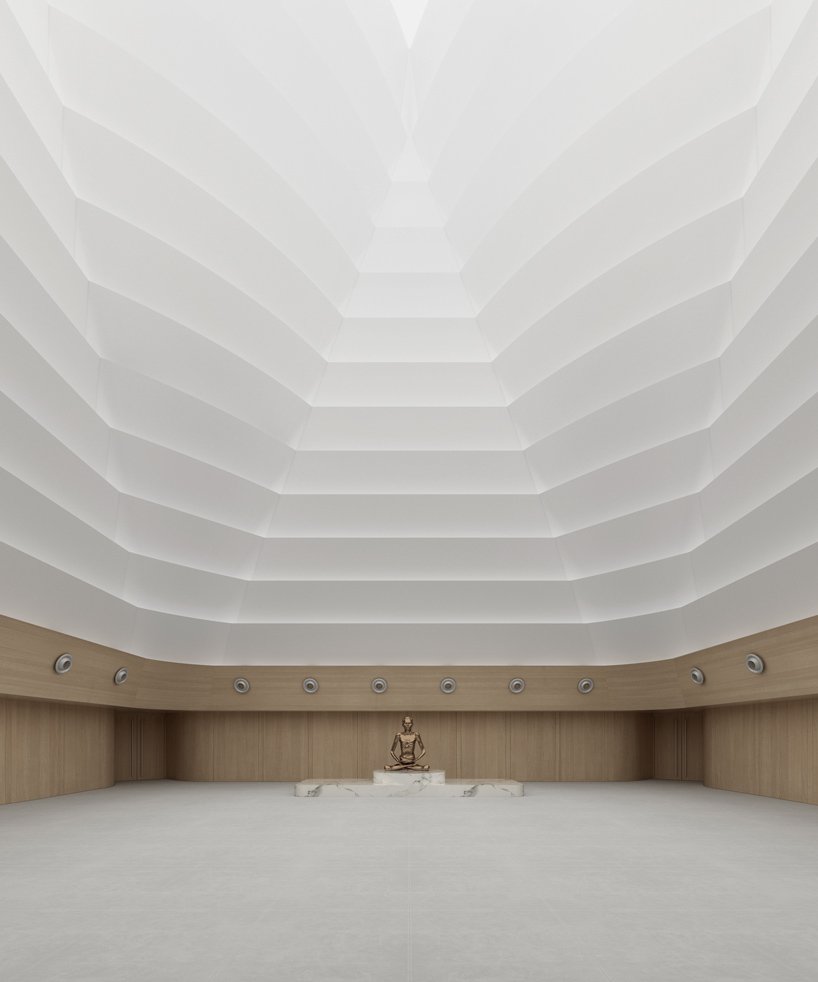 Fact File :
project title: satsang hall
architecture: serie architects
location: dharampur, india
status: under construction
expected completion: 2021
program: religious gathering
façade consultant: BES consultants
acoustics: munro acoustics LLP
Source : Design Boom