SADKRUT- A Serene House | Alkesh Patel and Associates
The luxury was achieved keeping in mind simple forms, monochromatic ¬schemes, soft curves, textures, and lights.
"SADKRUT" is the amalgamation of the names of the family members. Collectively it becomes a beautiful name for the residence. This 4BhK apartment was designed for a nuclear family, where our idea was to achieve a feeling of calmness in the residence. Which could only be executed through efficient design, sense of balance, symmetry, and Elegance.
Visit: Alkesh Patel and Associates
It was a challenge to achieve that quality of space through Design elements and materials. I believe in minimalism, where you can express a lot with minimum objects and effective placement that emphasizes the space.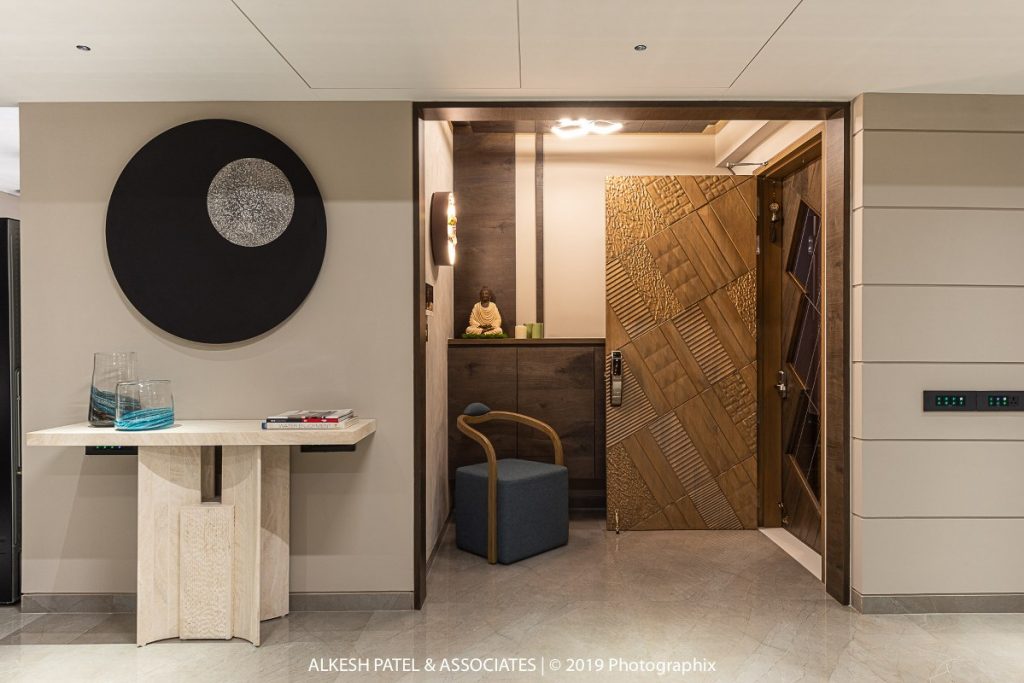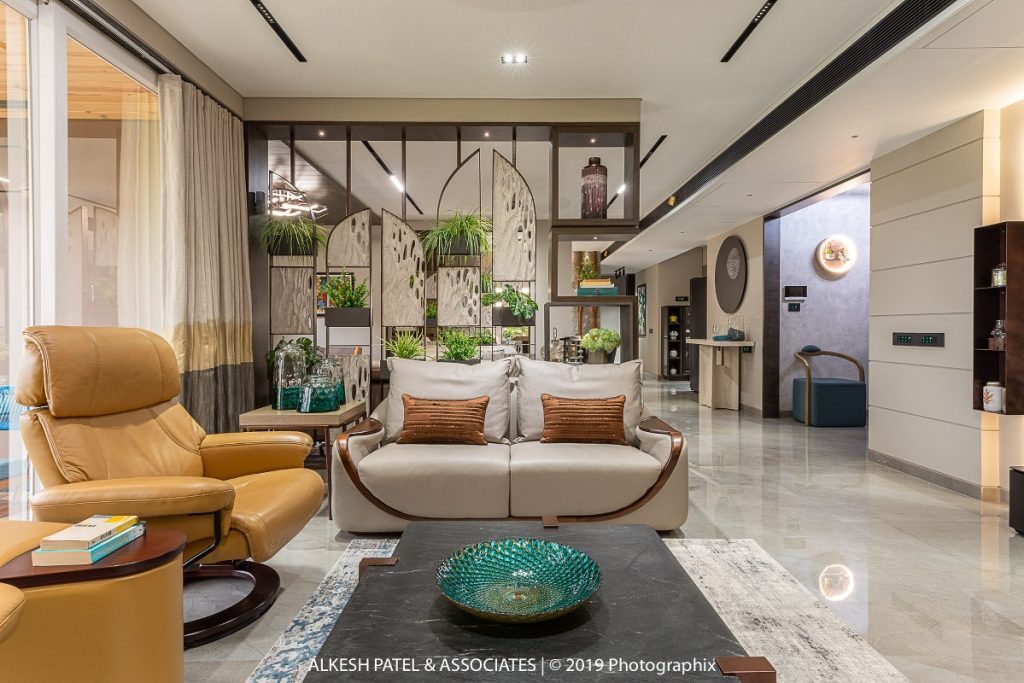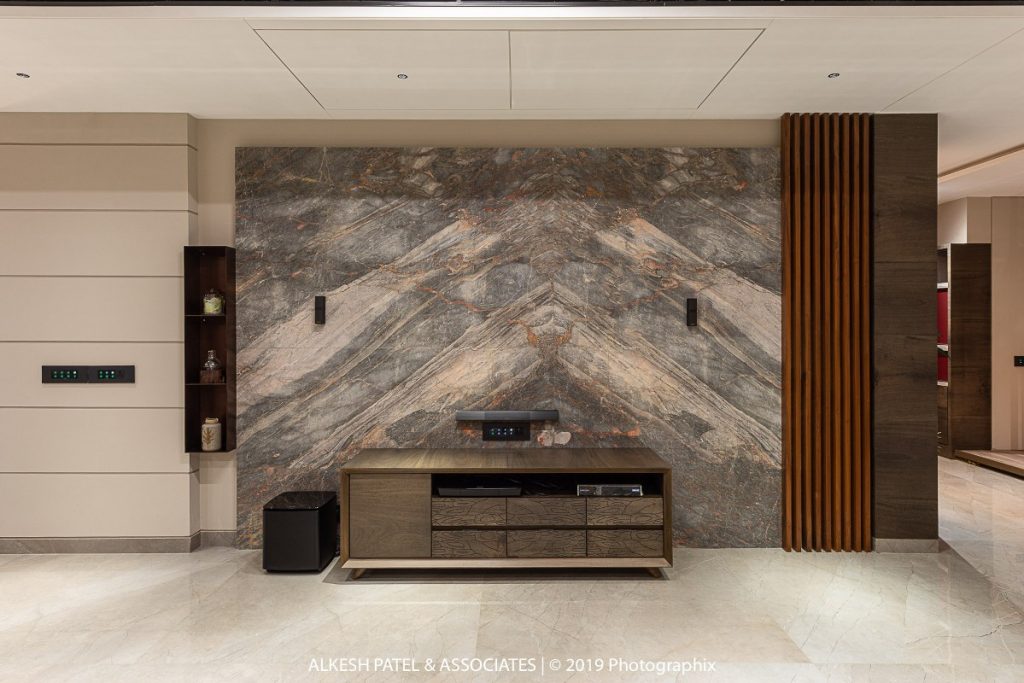 According to a saying as the first impression is the last, similarly, the exterior spaces are equivalently important as interior spaces of the residence. So we as a designer never wanted to neglect the outer part of the apartment. Exposed brick and wooden cladding on the wall gives an attractive look to the entire space. Random flooring pattern with the combination of marble and wood finish collectively compliments the design.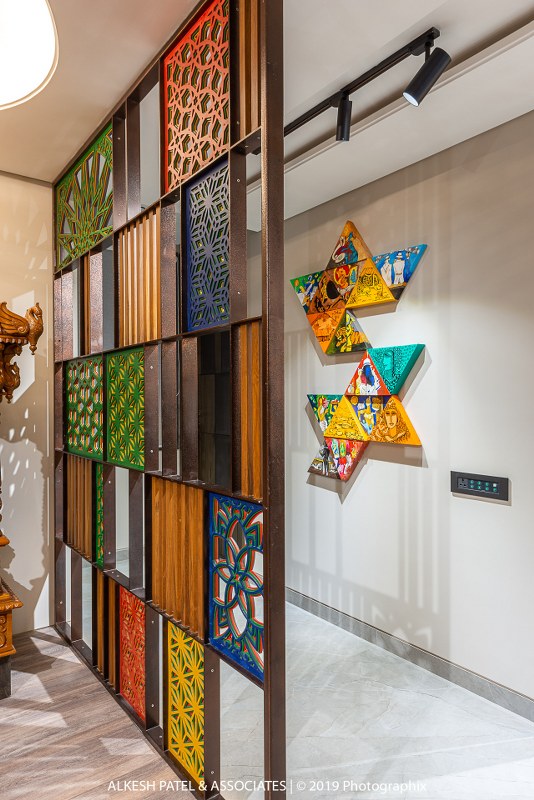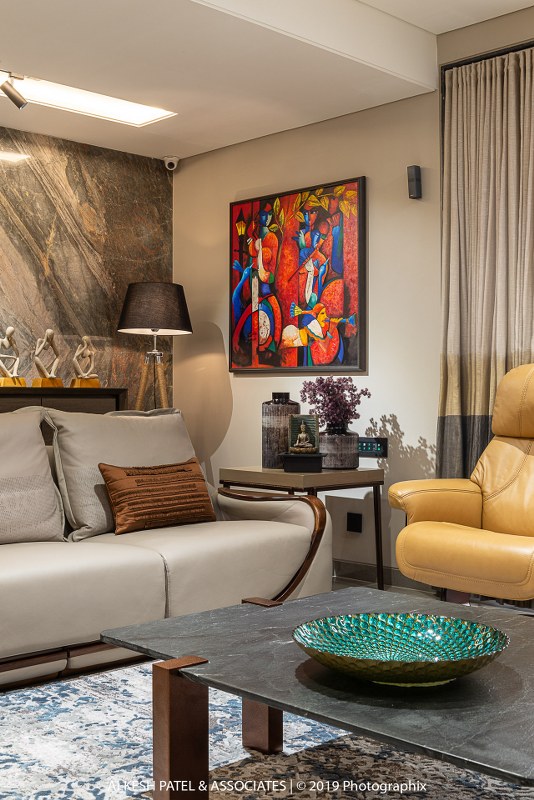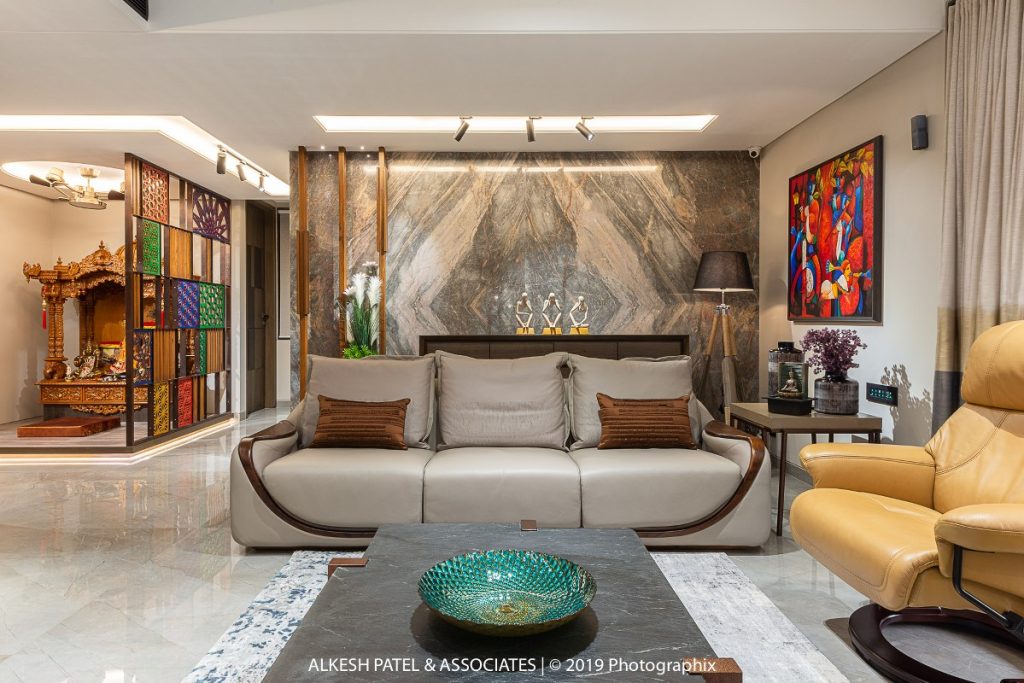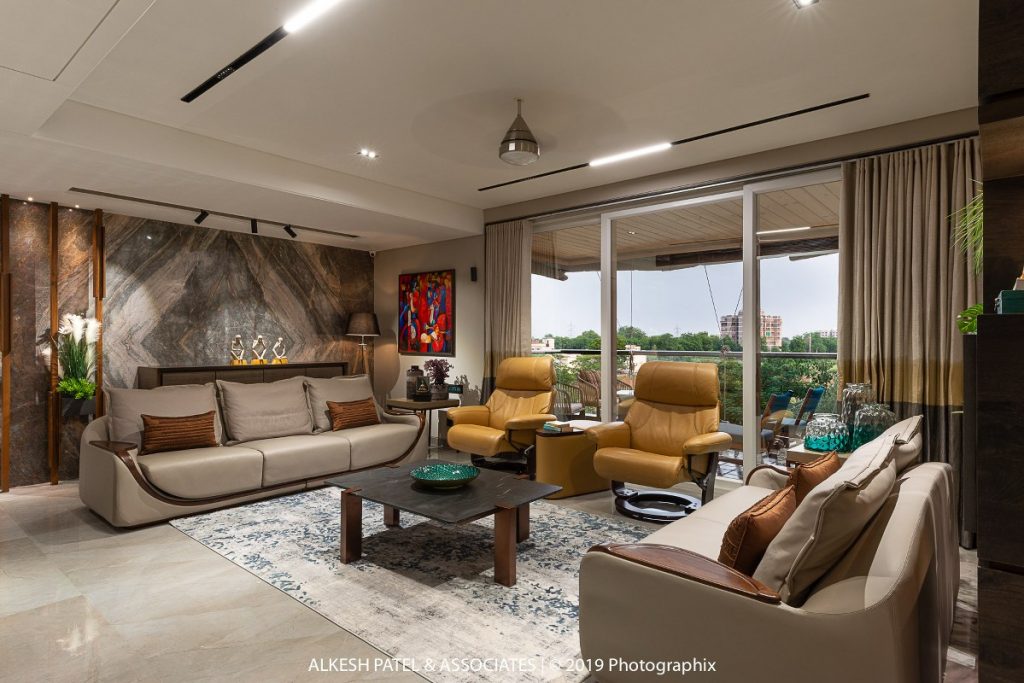 The luxury was achieved keeping in mind simple forms, monochromatic ¬schemes, soft curves, textures, and lights. Our material palette includes Marble, Wood, Rustic metal, and moreover plants to make space look more alive. Spaces look elegant if the materials are widely chosen.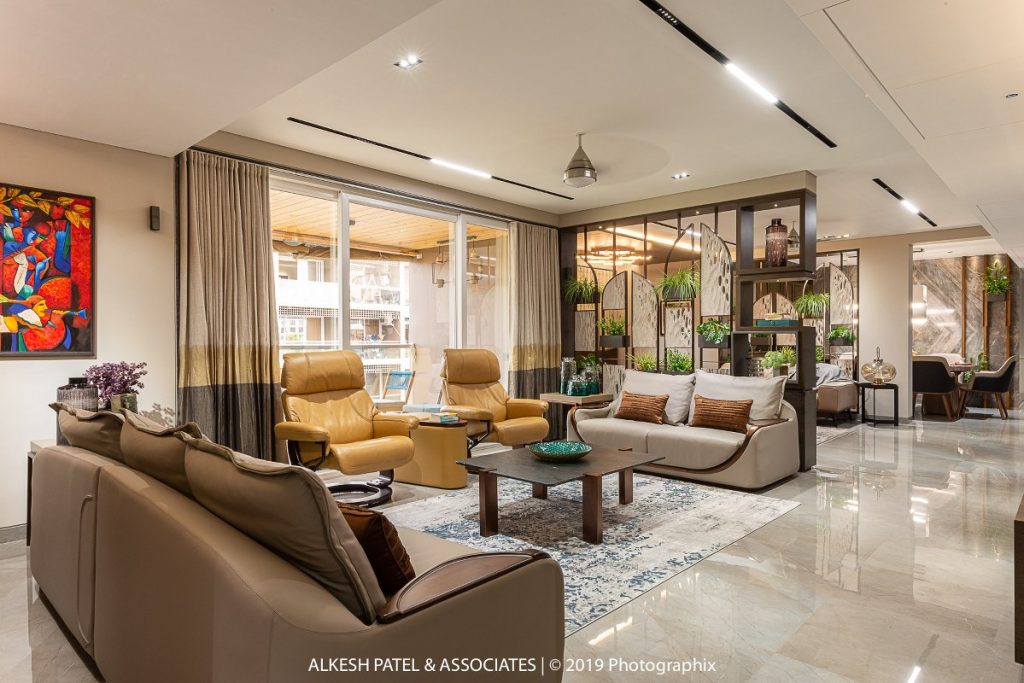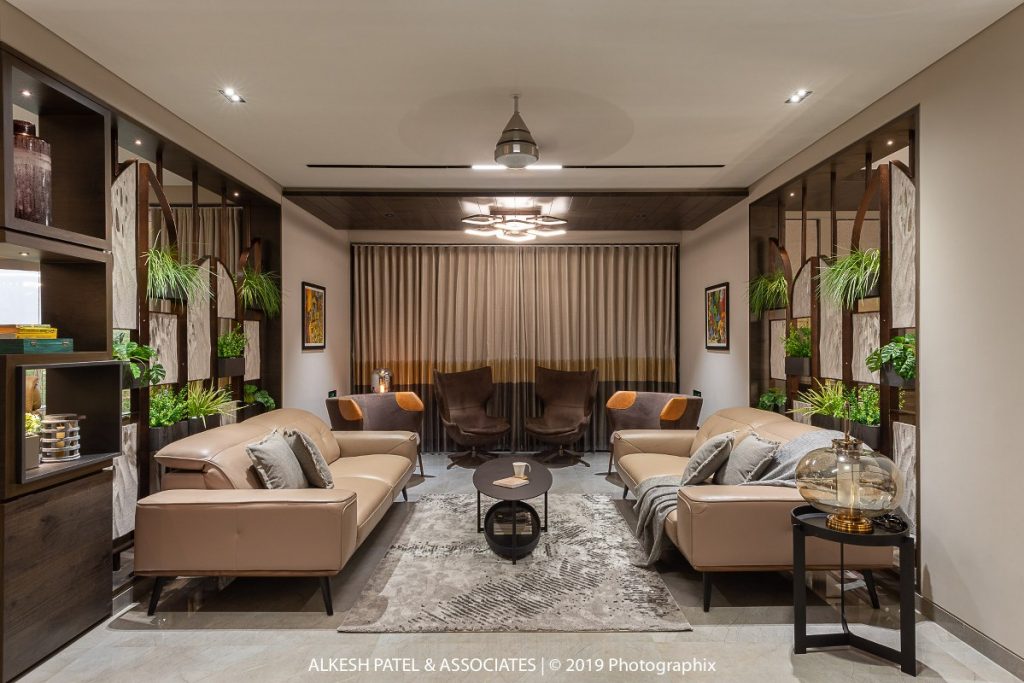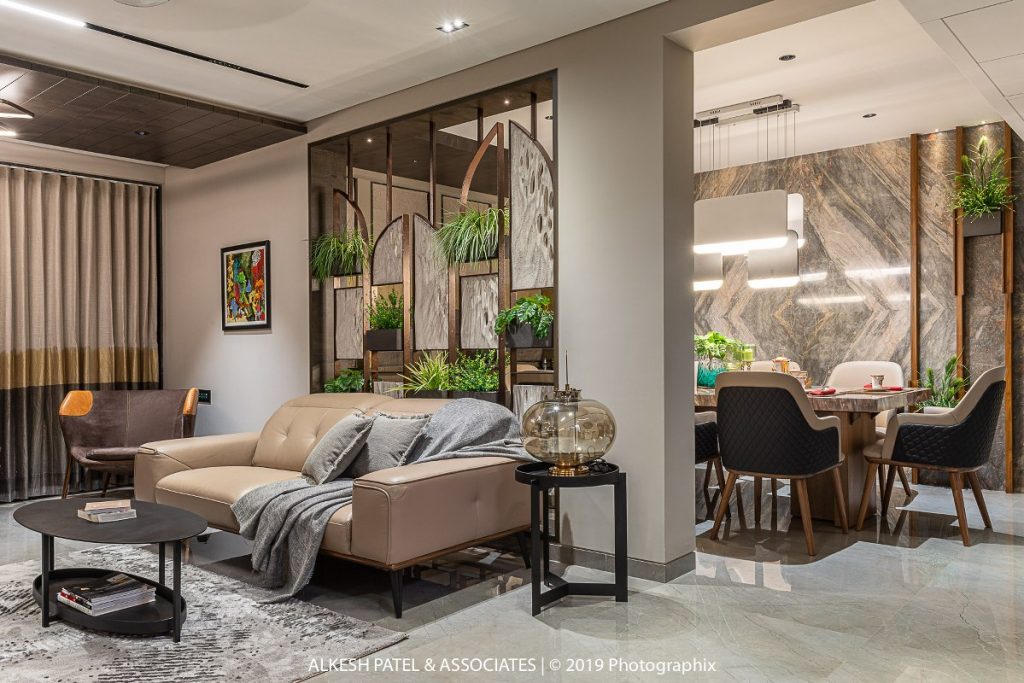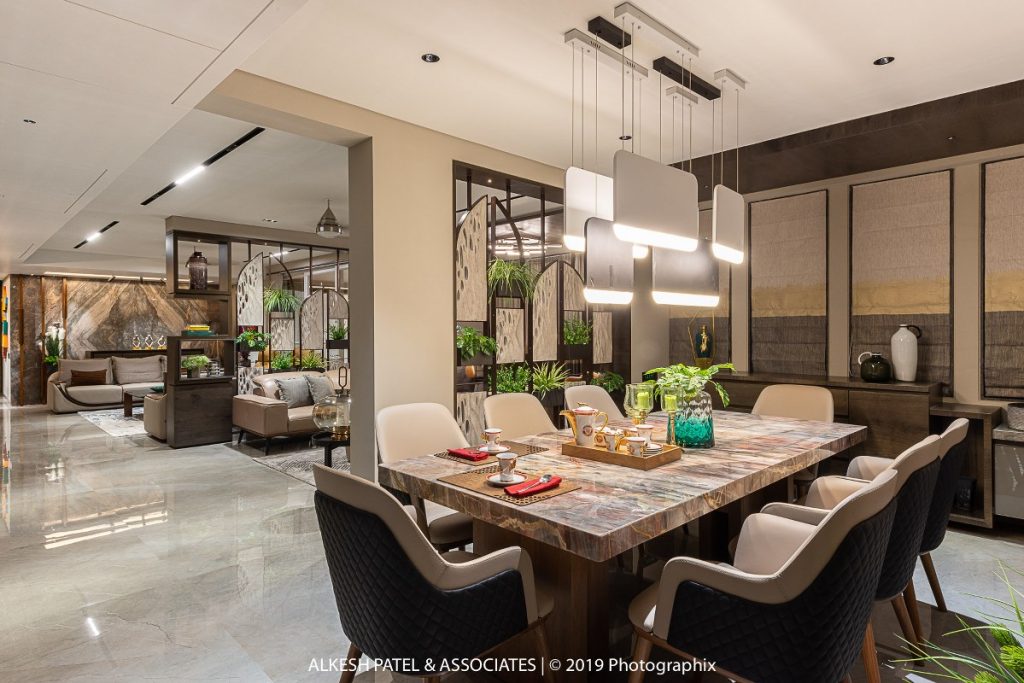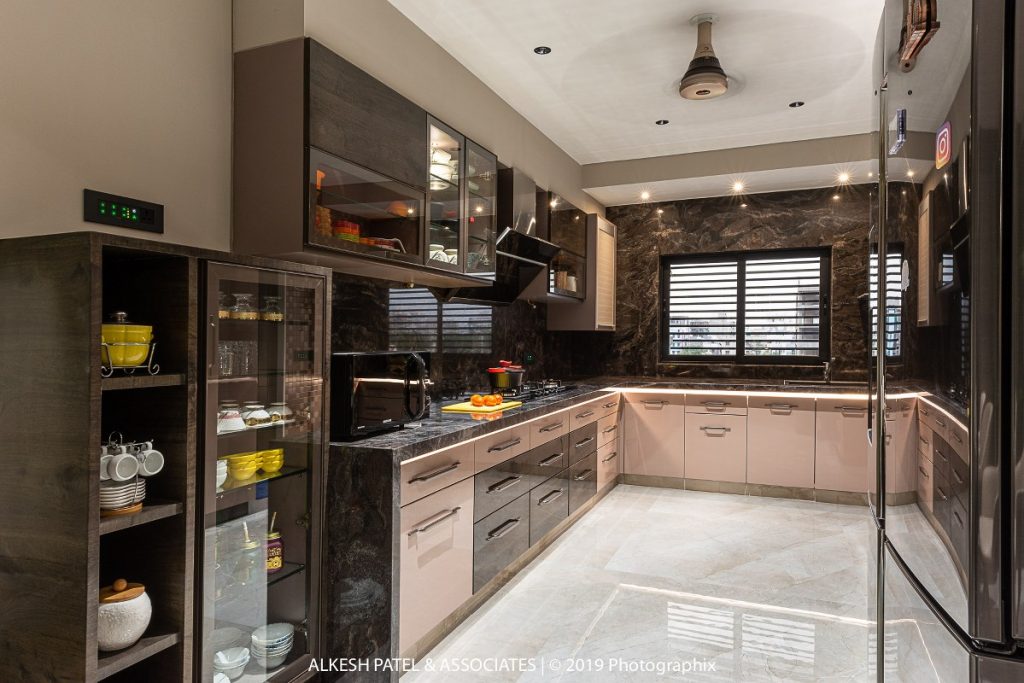 After entering the residence you arrive at the longitudinal family spaces, we broke the whole long space according to the required activities. While any strong division was not an option. As privacy was not the demand of the spaces, we wanted the spaces to be visually broken and still connected to each other.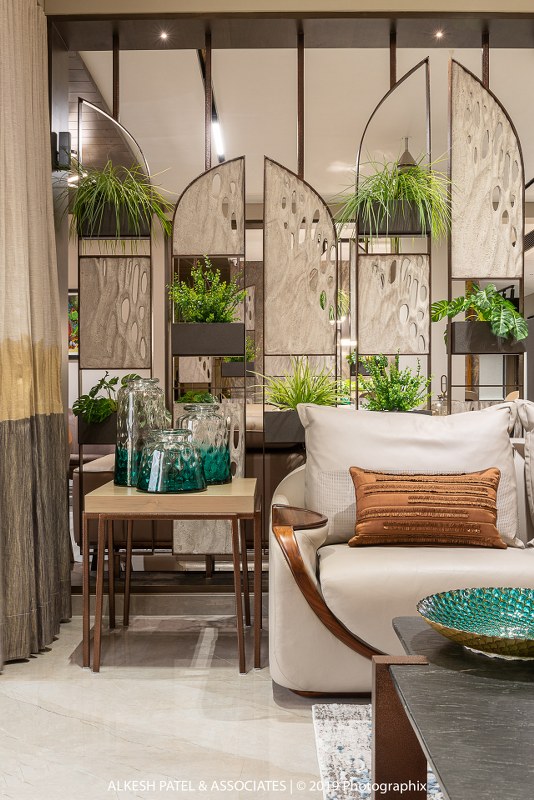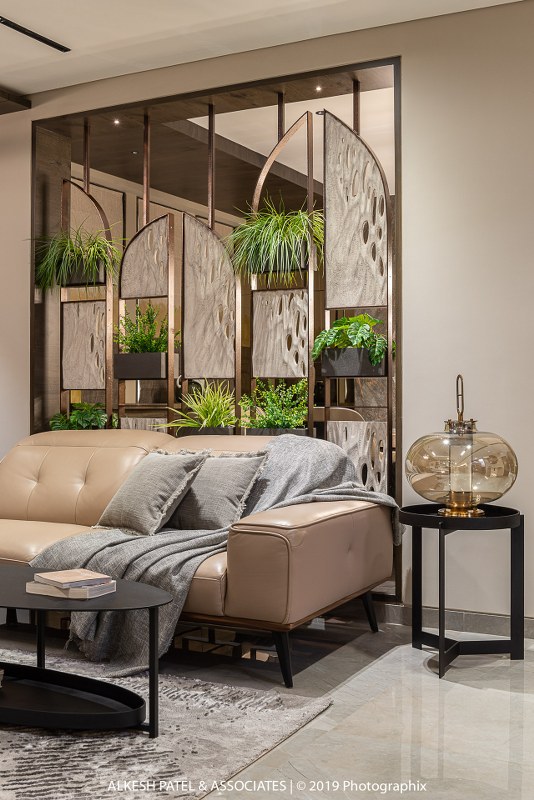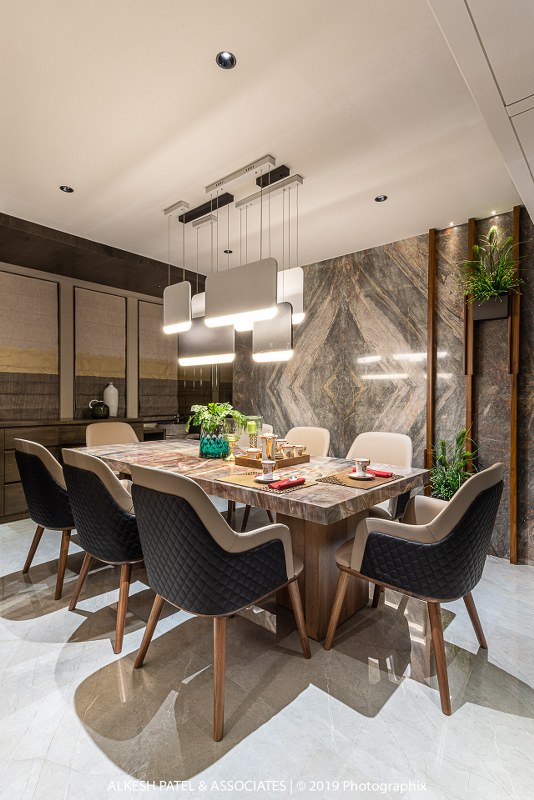 So Screens were created to separate each living room and dining area. We believe that not only glass is used for transparency but that characteristics can be achieved by molding metal and wood if designed properly. Plants were installed in the partition so that the spaces look live. Two symmetrical walls parallel to the partitions were cladded with marbles and incorporates wooden planters. Vertical bands of wood holding the horizontal boxes of planters create a proper balance between the elements.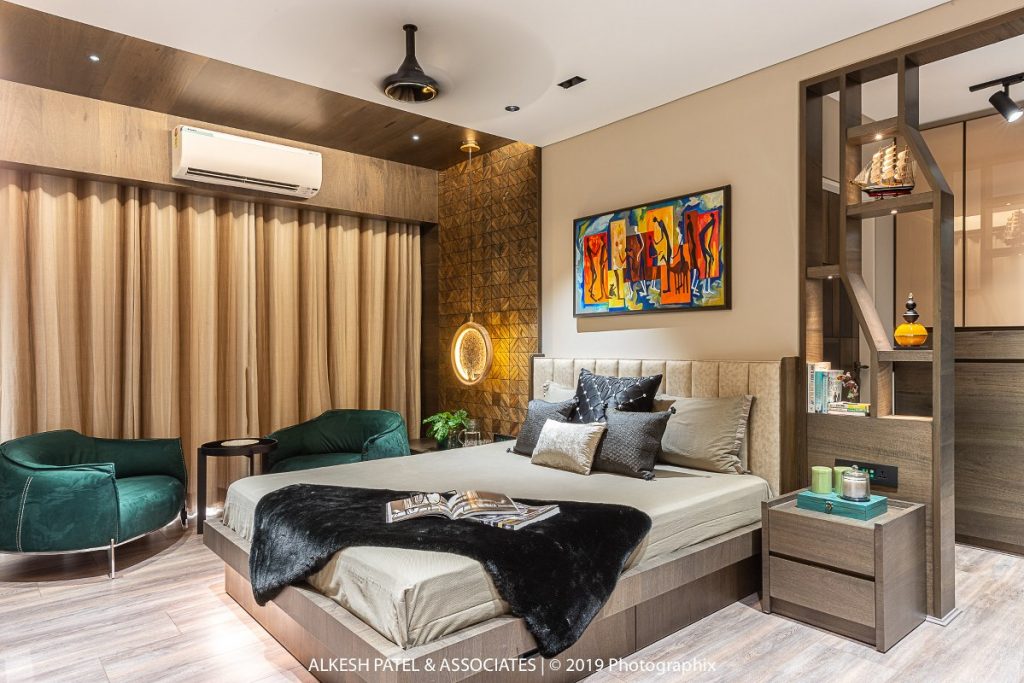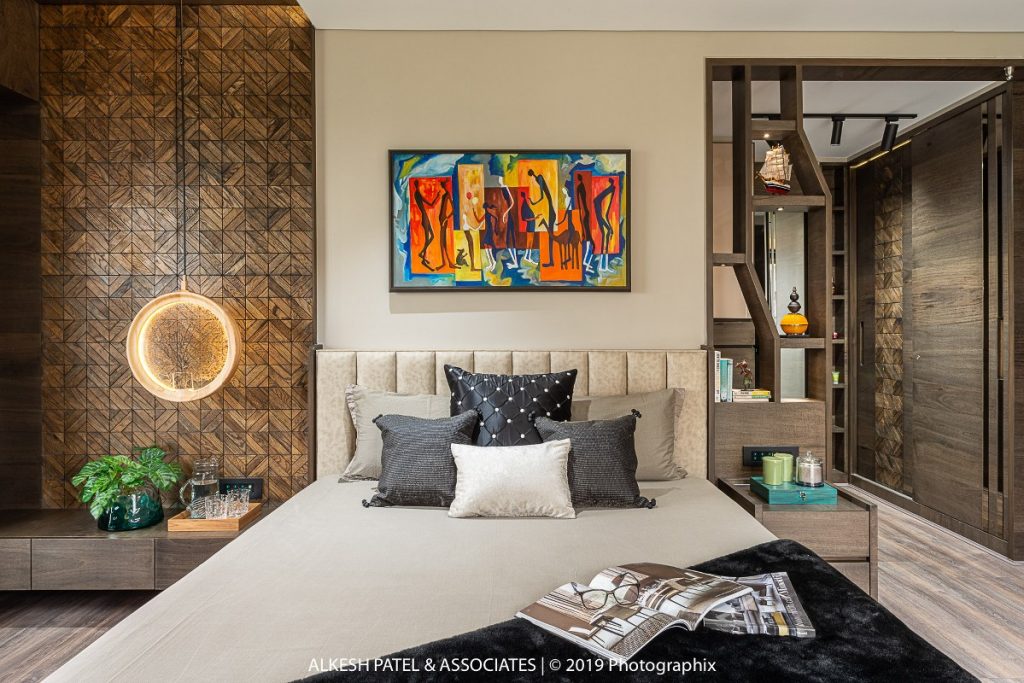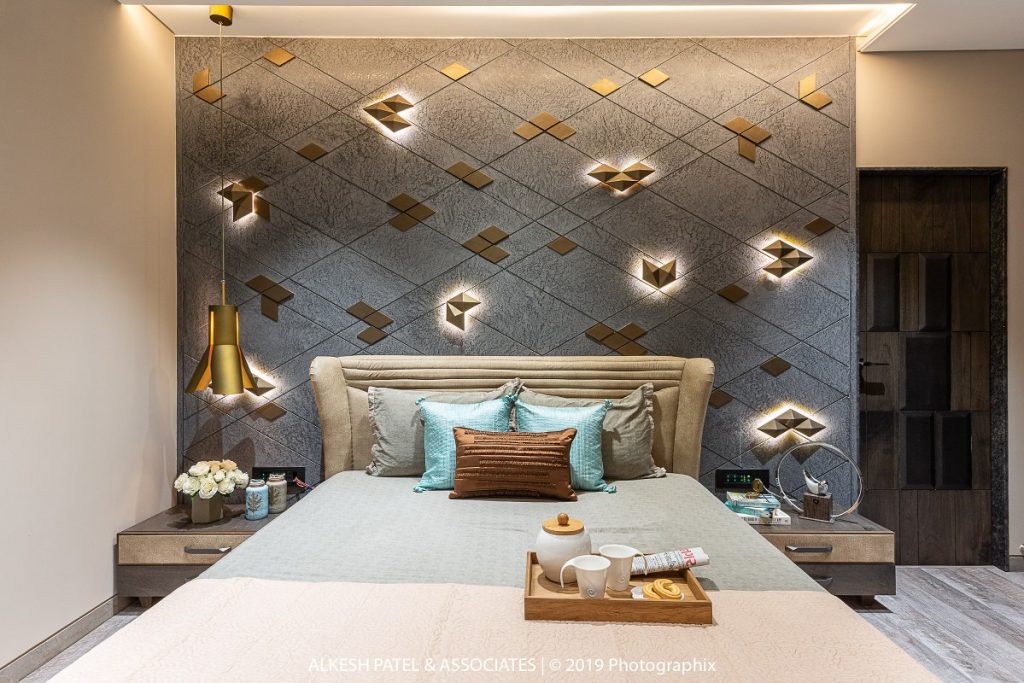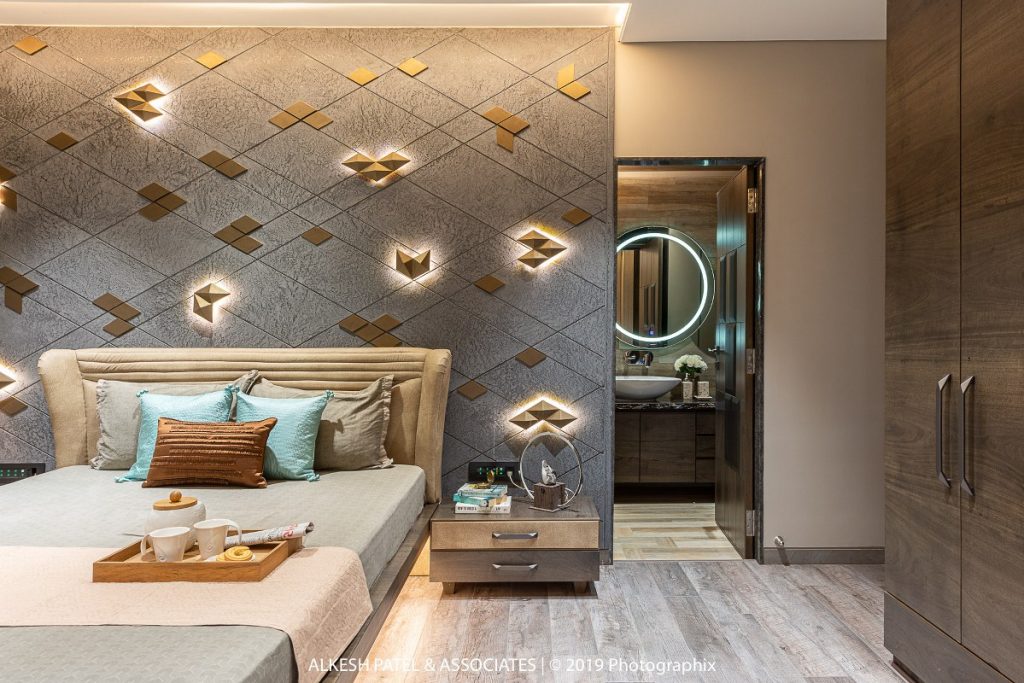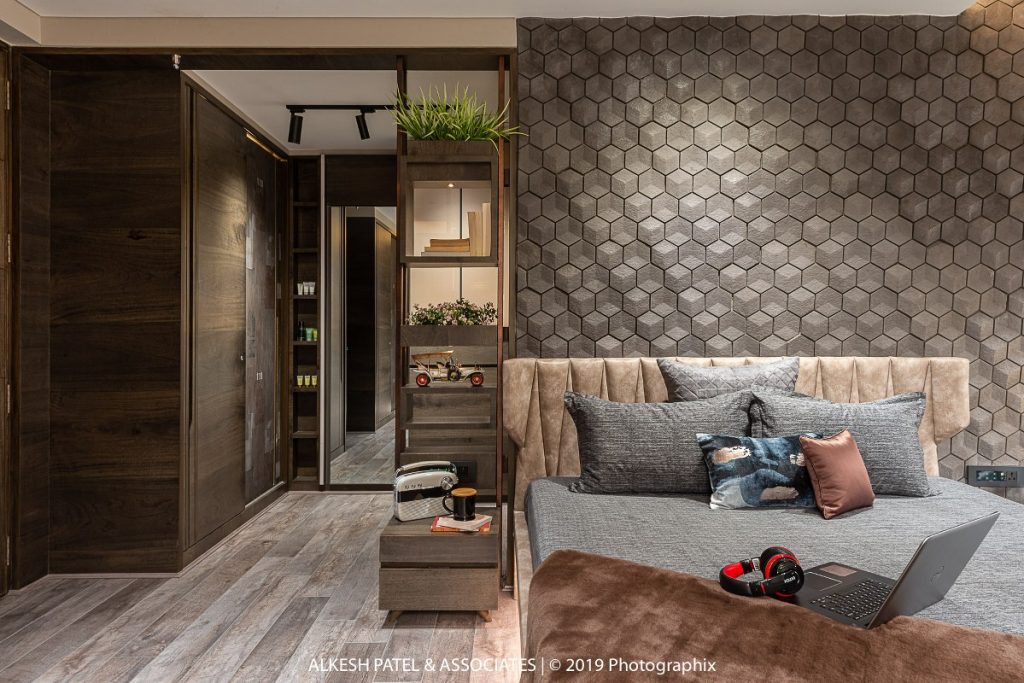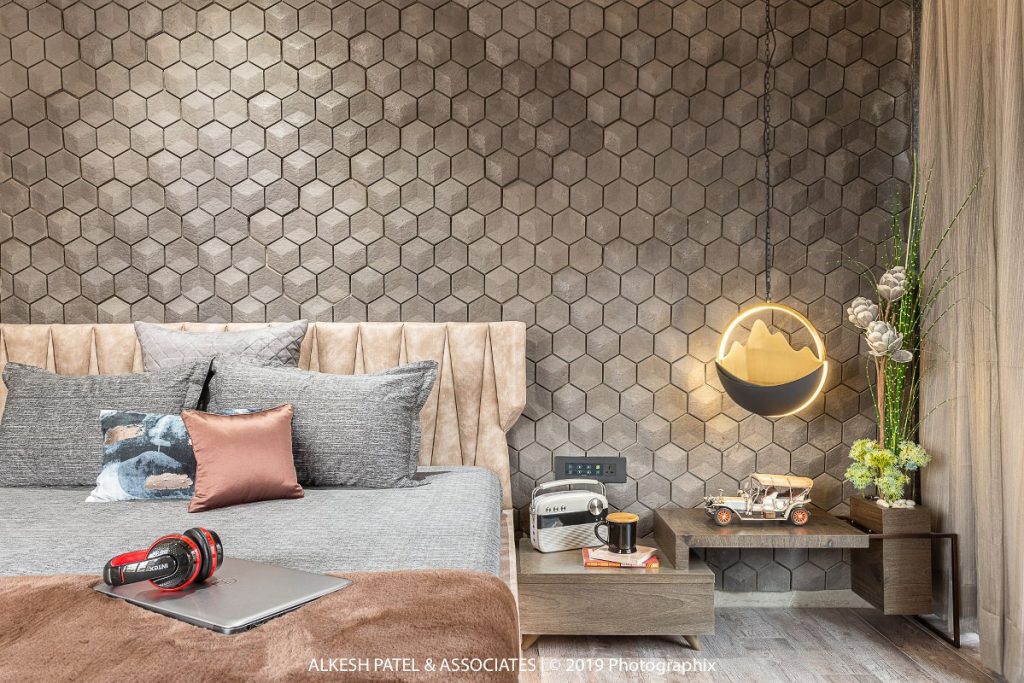 Monochromatic materials were merged together for a clear pattern in the final product of each bedroom. Wall behind every bed in the bedroom is been intricated well. Kid's room has a repetition of the cladding modules on the back. Paintings are used to break uniformity into the spaces, which eventually compliments the spaces and makes them look playful.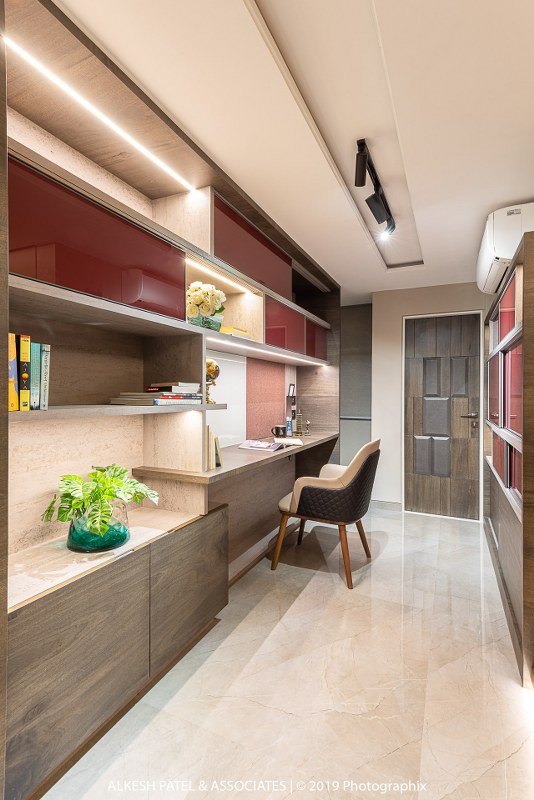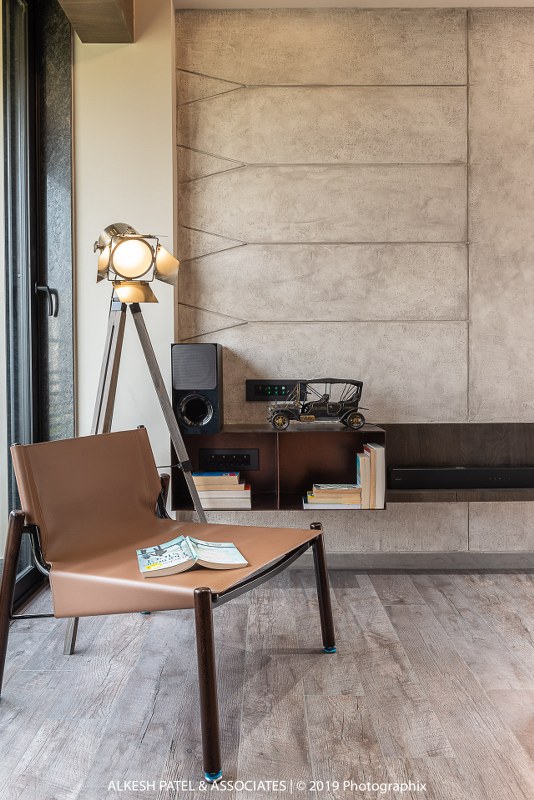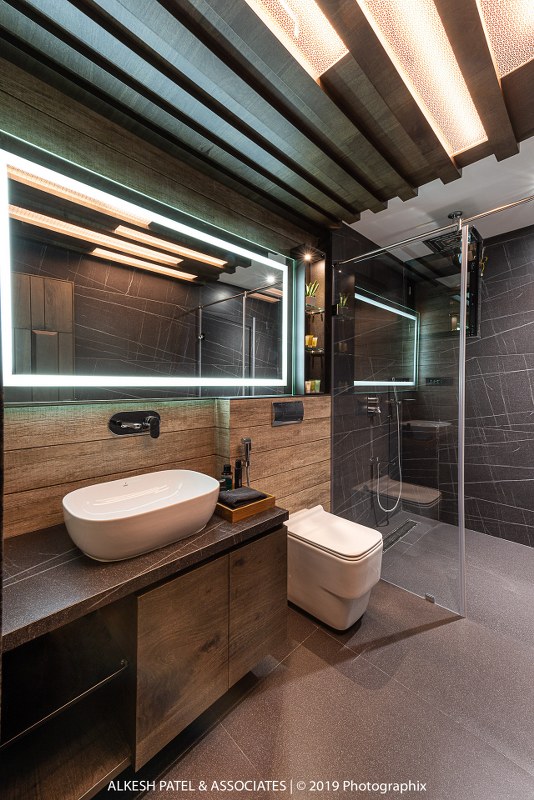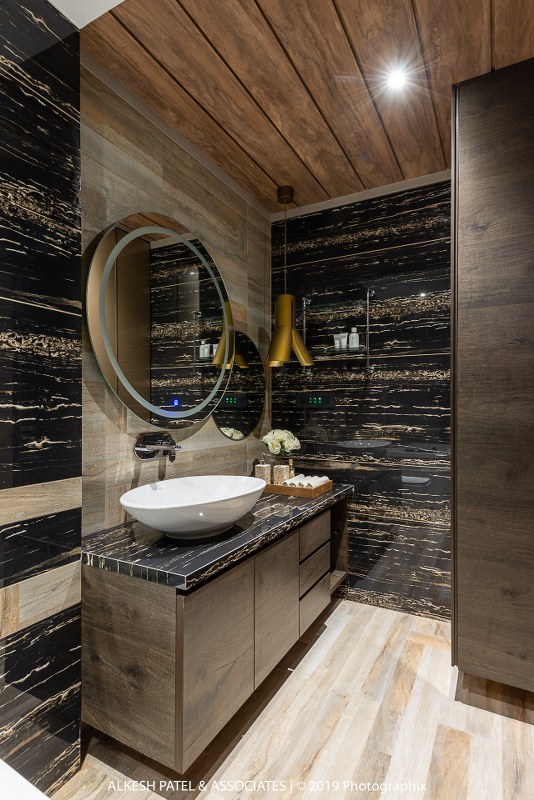 This residence proves itself that elegance comes along with the idea of simplicity rather than a mixture of plenty of contrasting elements together.
FACT FILE:
Firm: Alkesh Patel and Associates
Project type: Residential
Project name: SADKRUT- A Serene House
Location: Kudasan, Gandhinagar, Gujarat
Year built: 2019
Size: sq feet : 2920 sq. ft.
Principal Architect: Alkesh patel
Photograph courtesy: Photographix india
Website: http://alkeshpatel.com/
Facebook: https://www.facebook.com/apa.alkeshpatel/
Instagram: https://www.instagram.com/apa_alkesh_patel/