&nbsp
Roomy, Contemporary And Congenial Residence Interiors | Phylosophy Design Studio
The brief was simple – The client wanted a spacious, contemporary, and comfortable home. It was an amazing 3000 Sqft space on the ground floor of an upmarket residential building.  This gave us the advantage of using the manicured lawns of the building as a visual natural extension to the home. Ravi needed only 3 of the 4 bedrooms but he needed a large living/ dining/bar area.
Visit: Phylosophy Design Studio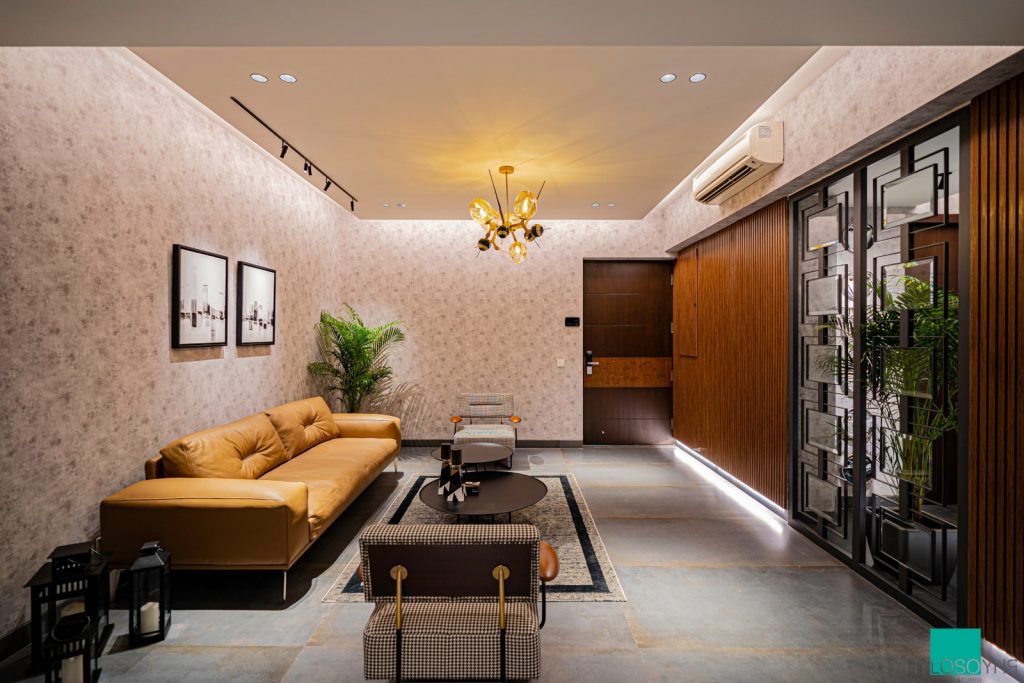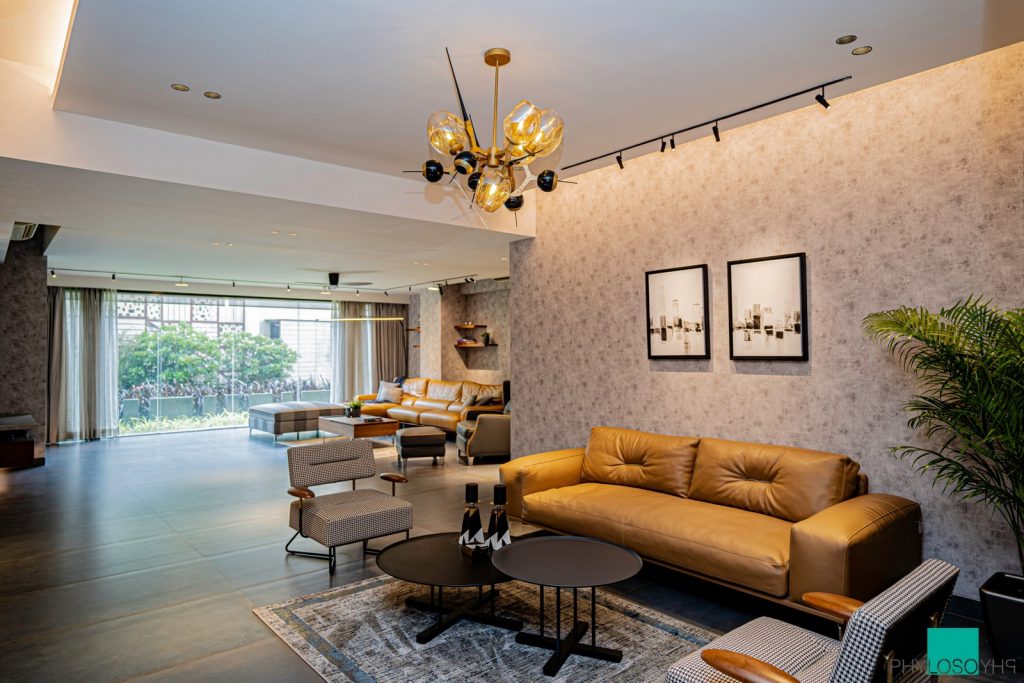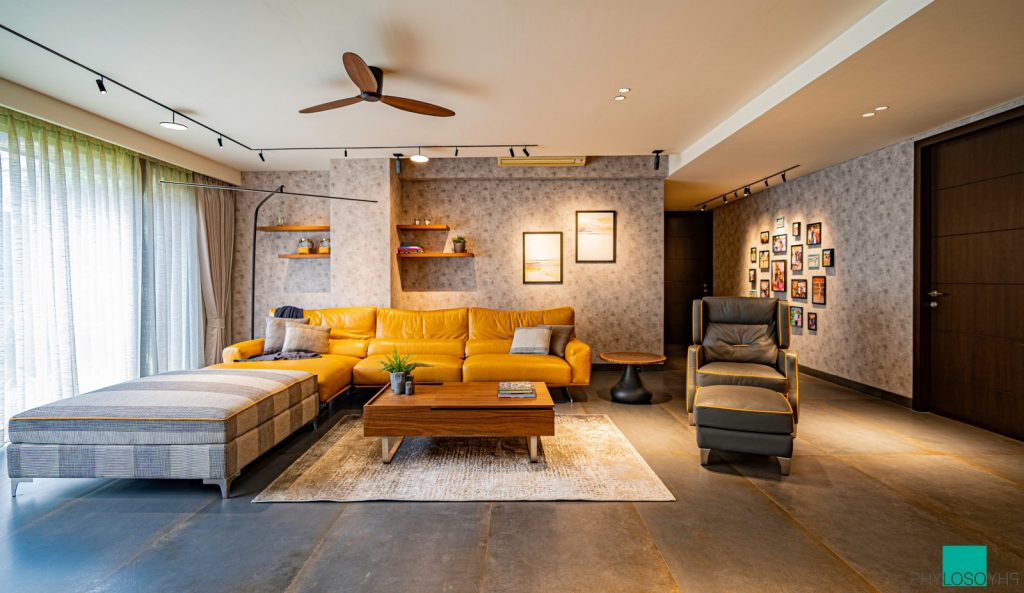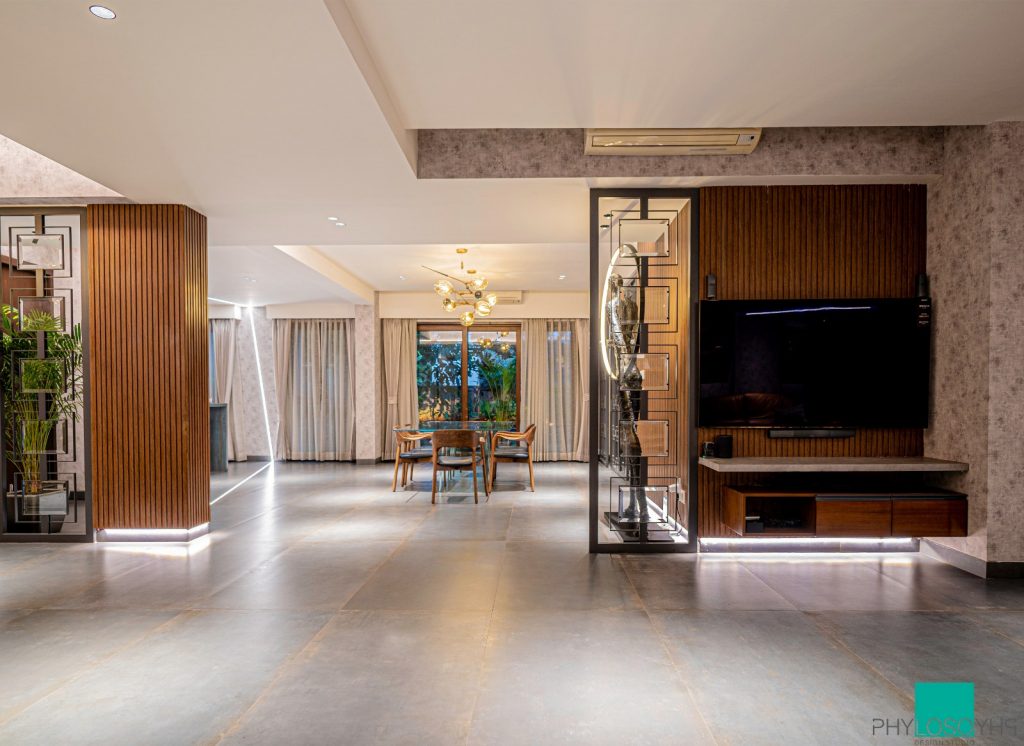 We got cracking on the layout eliminating all the walls that had a view of the lawn and replacing it with end-to-end French doors or glass ensuring the open areas fully utilized the view. The fourth bedroom was knocked down to create a large bar area while the attached bathroom was also reduced to a smaller but well-appointed powder room. The kitchen walls were replaced with sliding glass doors that gave the option of keeping the kitchen open when required but when closed offered the view but kept the strong odors of Indian cooking within. The marble flooring was removed and we laid a smart grey coloured vitrified Spanish tile to add a very contemporary look to space.

&nbsp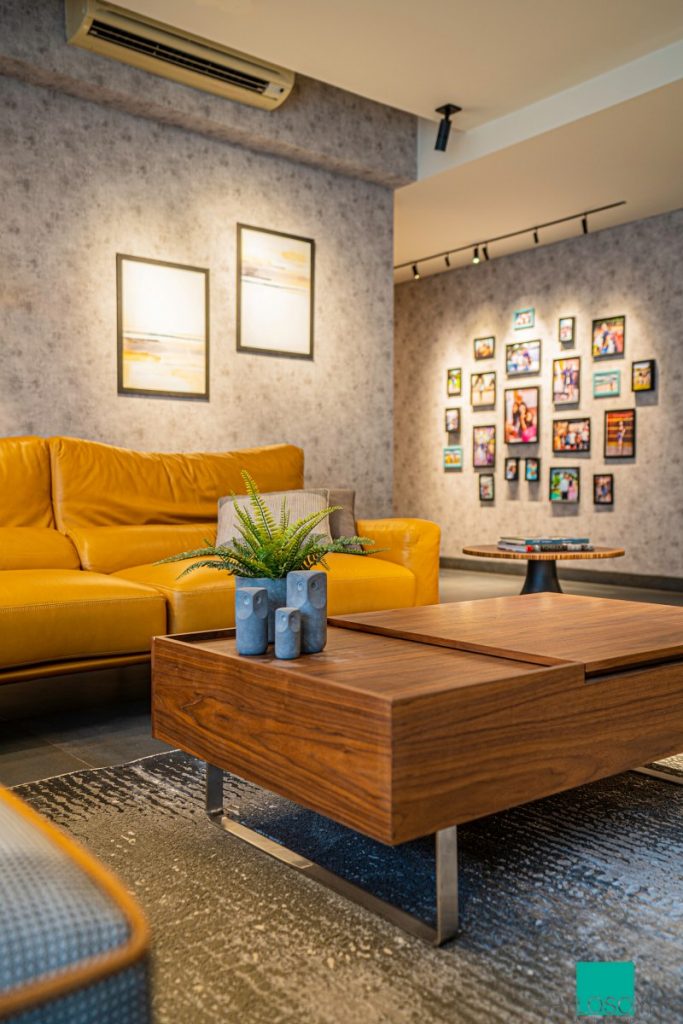 Ravi wanted to move into the house within 3 months so we looked at buying furniture that was readily available. The sofas, dining table and beds were sourced from Stanley. Tan couch with sleek B&W accent chairs make the drawing room very inviting. The yellow couch in the living is the perfect place to sink in and watch TV. This couch was a little small for the large space so we added a ottoman to extend the length. The accent chair continued with the yellow scheme in the piping detail.
The quirky artifacts like the planters, wall plates, and the large floor lamp became conversation starters and completed the look. The bar unit was customized on-site in a combination of metallic tiles, interesting blue laminate, and veneer to match our wall paneling.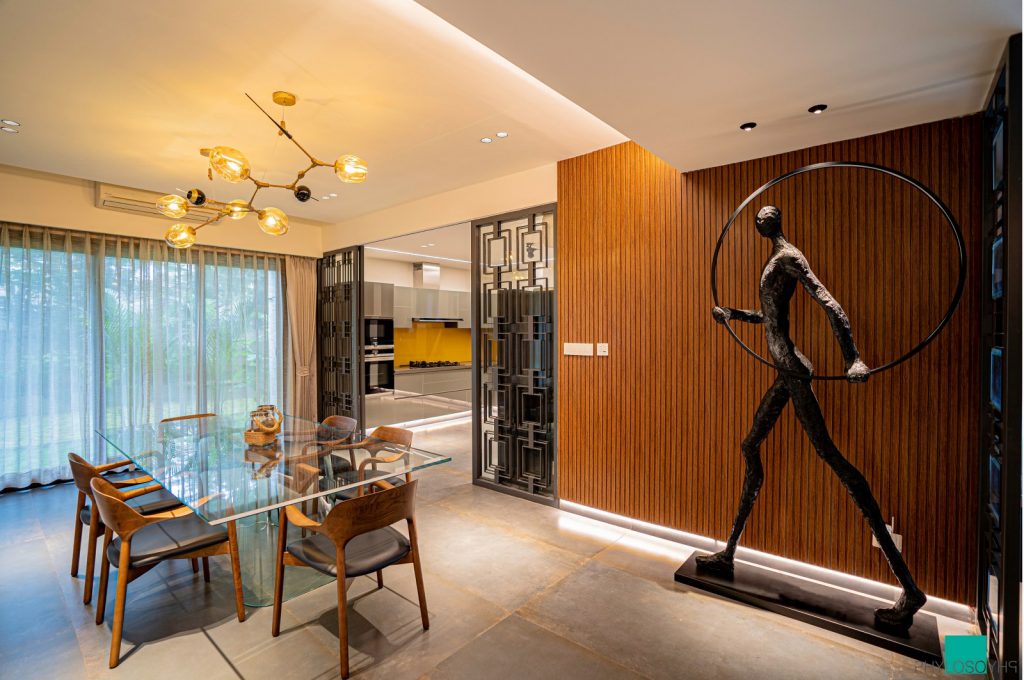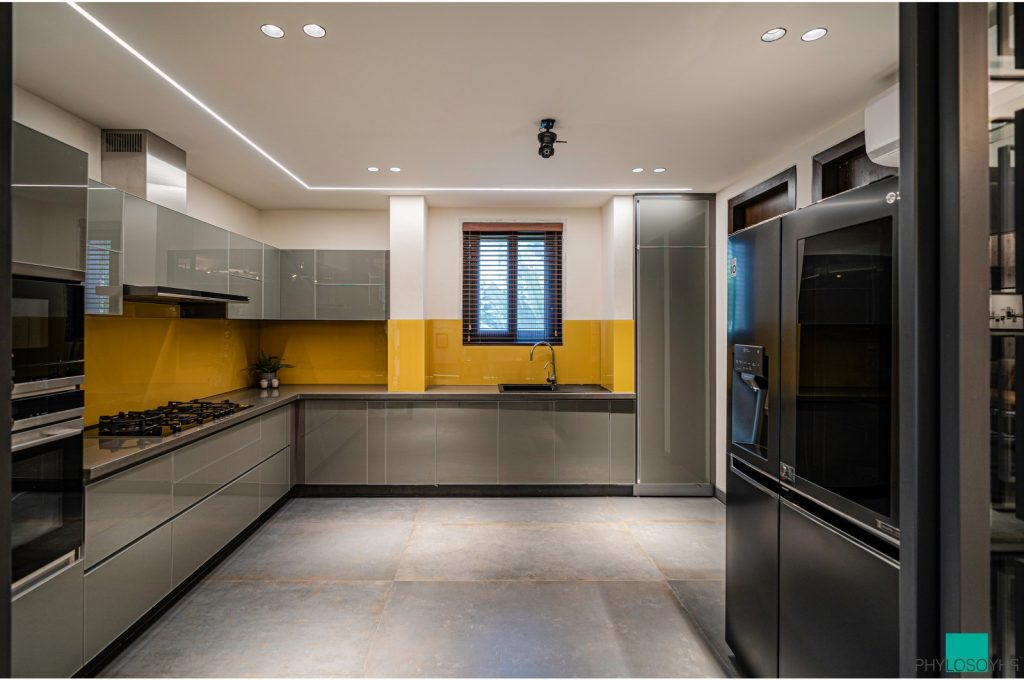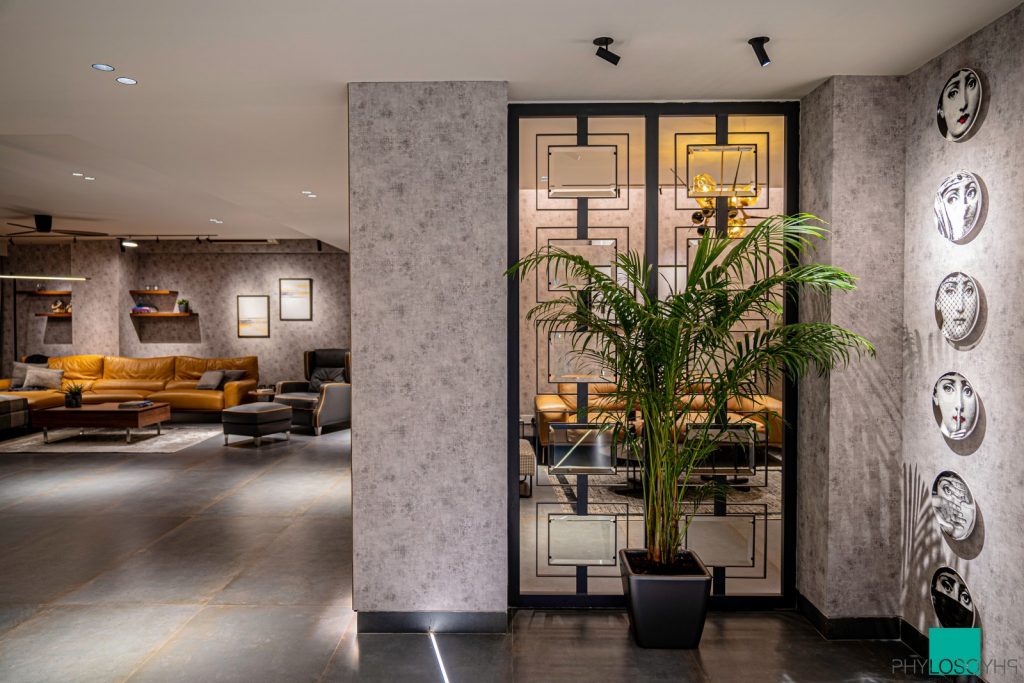 Client's love for golf is evident in the wall art behind suspended on the golf clubs. Profile and magnetic track lights by The Lighting work perfectly well to illuminate these areas. They drop from the ceiling onto the wall and continue on the floor in the bar area. Interesting chandeliers in the drawing and dining add a hint of luxury. Leather beds in the bedrooms were complemented with interesting wallpaper in the rooms while the wardrobes were kept neutral.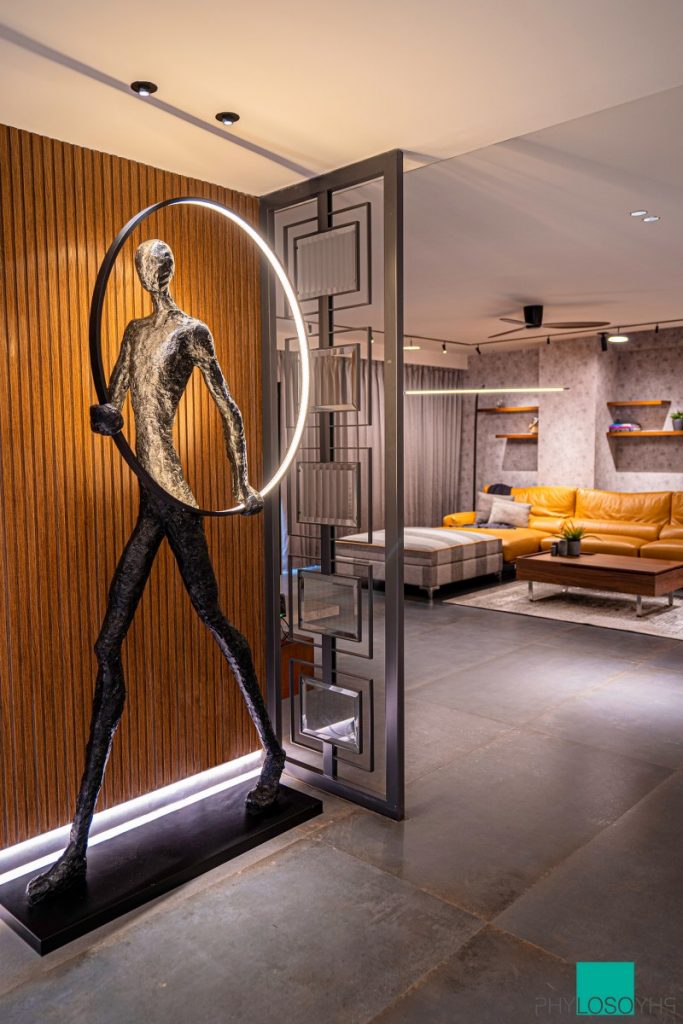 The wardrobes and kitchen were by homeland while the wall paneling, metal works, and bar unit were made on site. The kitchen in grey glass has a yellow glass backsplash to continue the pop of colour. The metal sliding door design echoes as a partition in the drawing and living areas. The curtains, wallpaper, customized bedding, and rugs were by Studio Orion. We all raced against time and ensured that the project was completed in a record time! The end result was a lovely home and a very happy client.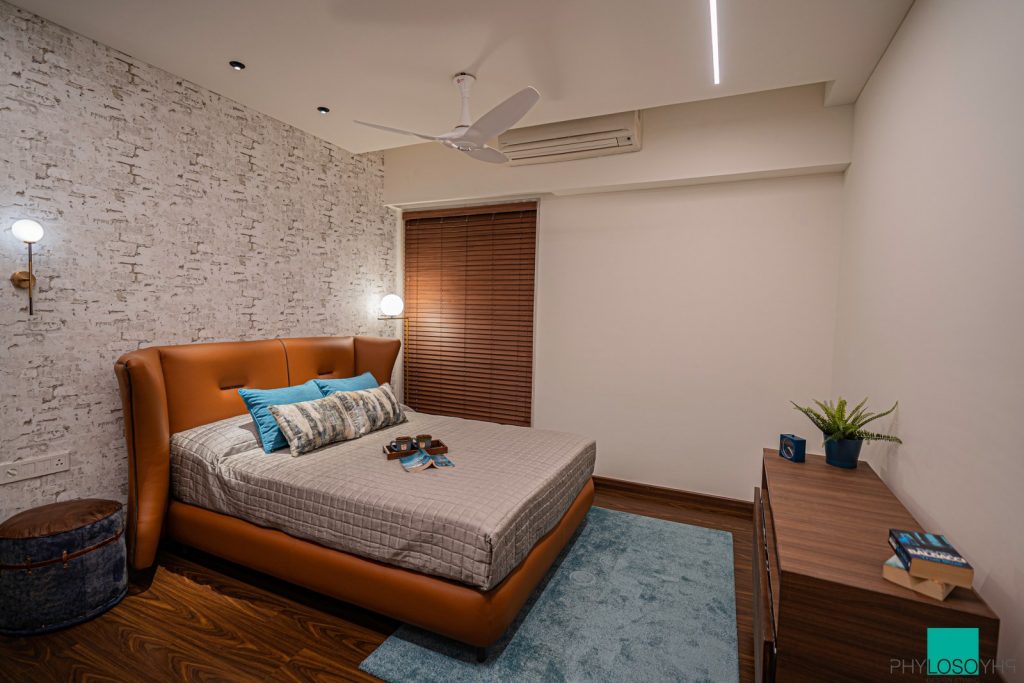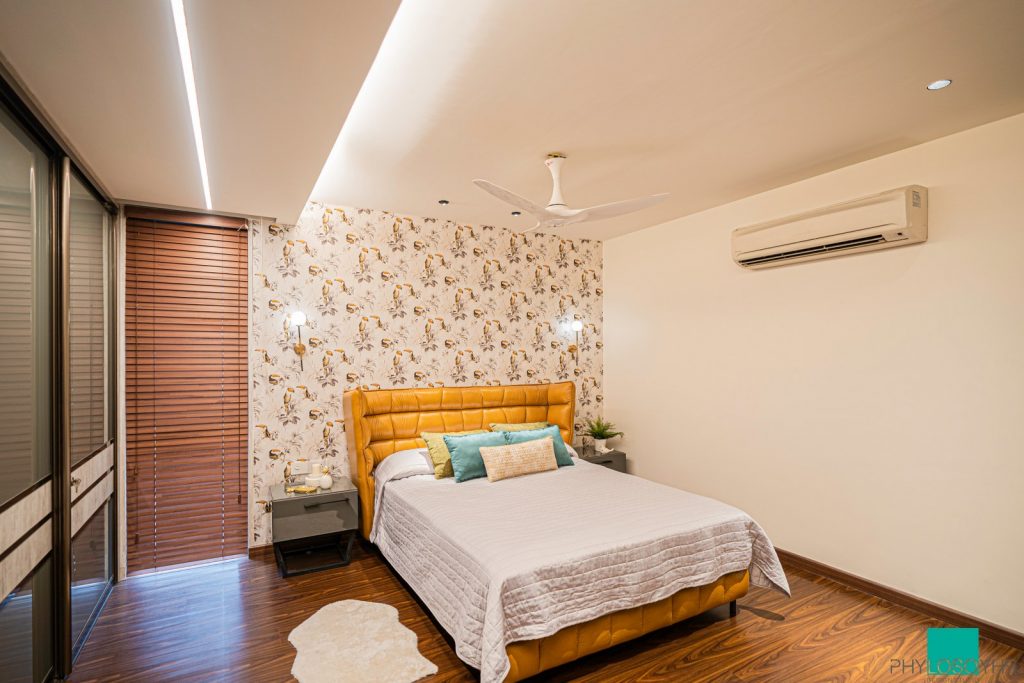 FACT FILE:
Firm Name- Phylosophy Design Studio
Client Name- Mr Ravi Varma
Year of Completion – Nov 2019
Area- 3000sqft
Principal Designer – Vasundhara Sampath
Location- Hyderabad
Photography- Rithika Jain
Website: http://www.phylosophy.in/
Facebook: https://www.facebook.com/nikitaandvasundhara/
Instagram: https://www.instagram.com/phylosophydesignstudio/

&nbsp