&nbsp
Retail Outlet-Luxury Wedding Card Store | Artisan Design Studio
Client Brief – 
The objective was to design a retail outlet for a luxury wedding card store, with a main desk, informal seating for meetings with their clients and a back office area with a small pantry and ample of storage space. The main display area needed a good amount of storage to house all their card samples, display a few bespoke designs and branding. Everything had to be incorporated in the 200 sq.ft of space.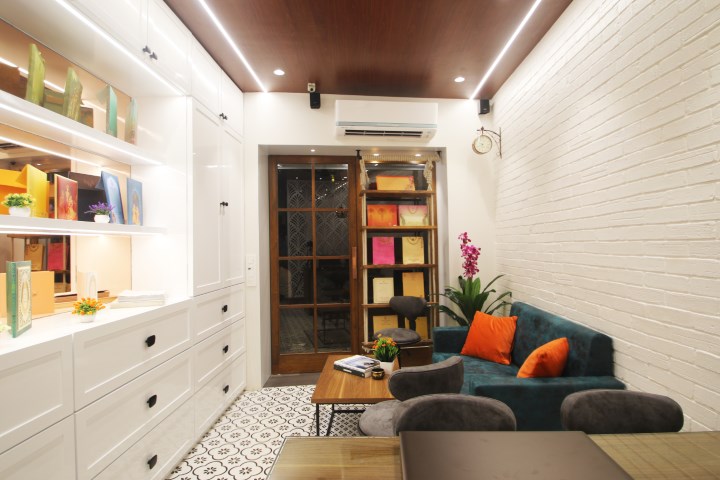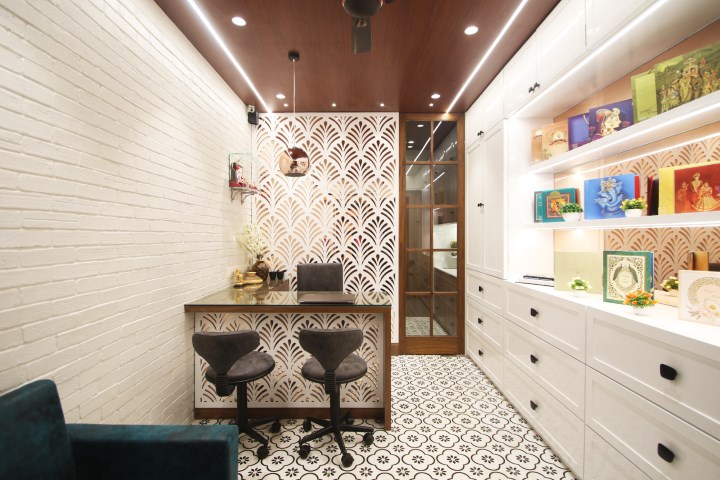 FACT FILE:
Architectural Firm: Artisan Design Studio
Architect/ interior designer – Harsh Porwal
Project type – Retail store
Project Name – 200 sq.ft Contemporary Chic Retail Store.
Area – 200 sq.ft
Location – Girgoan.
Picture Credits – Omesh Redij.
Project details-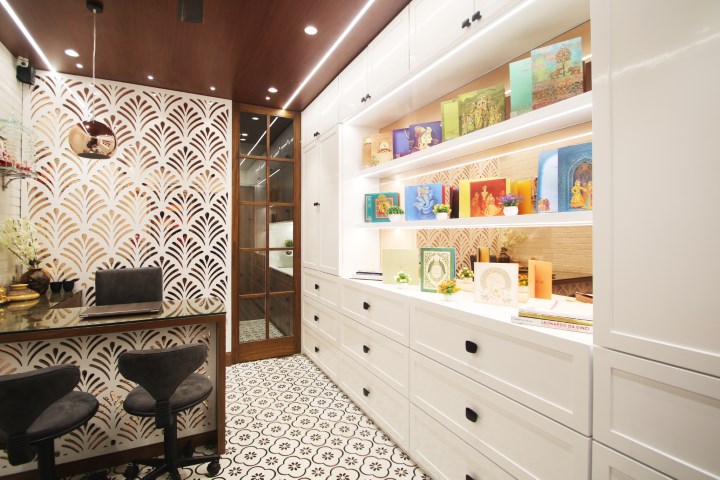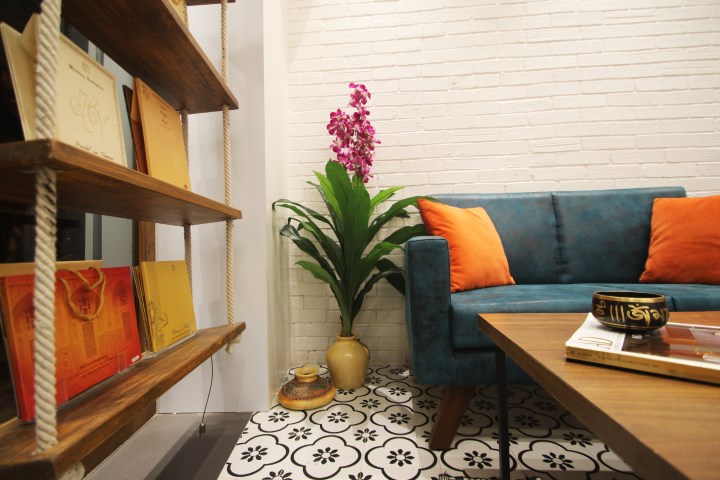 Located in Girgoan, the hub of all the wedding card stores, the objective was to design a bespoke boutique store for the client, keeping in mind the aesthetics of the kind of work they do and also give full justice to the design of the store. Keeping in mind, the floral patterns and laser cut designs which are used in wedding cards, the floor was picked on similar lines and is the highlight of the store. The display area was made with the intention of storage space- in terms of display and arrangement of sample cards.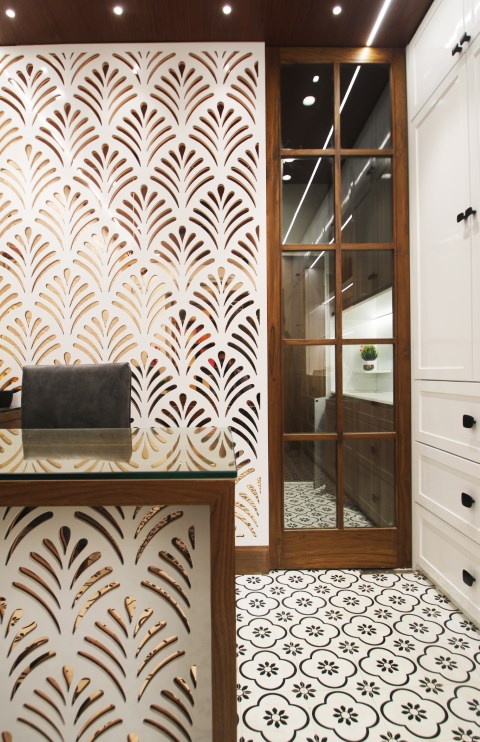 The window display is minimalistic-shelves hanging on ropes used for display. The clients wanted a white store, so to achieve this we used laser cut jalli finished in white PU paint over a rose gold mirror. The entire display unit was finished in white PU paint and the side wall was furbished in a faux white brick wall. As the colour palate of the store is minimalistic, the sofa fabric used is blue faux leather and a rose gold mirror was used to give a focus point to the store.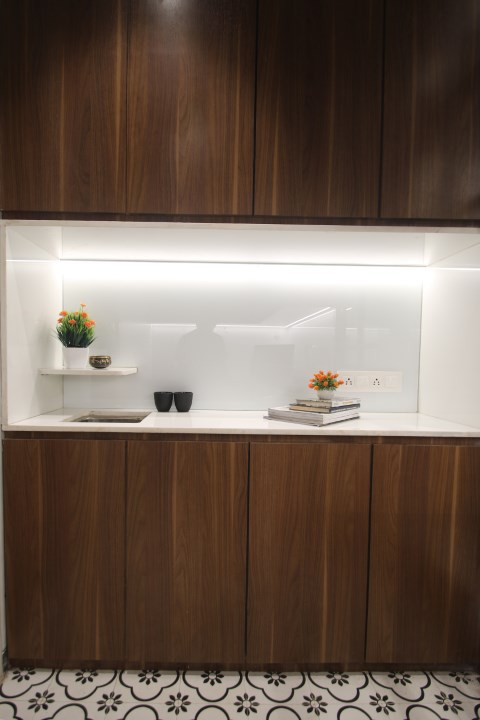 The back office has an elongated door which makes the store look bigger and is fitted with a small desk for the designer with ample storage along with a small pantry. Highlights of the store are the floor with floral vetrified tile, and the laser cut jalli over a rose gold mirror as the main backdrop of the store.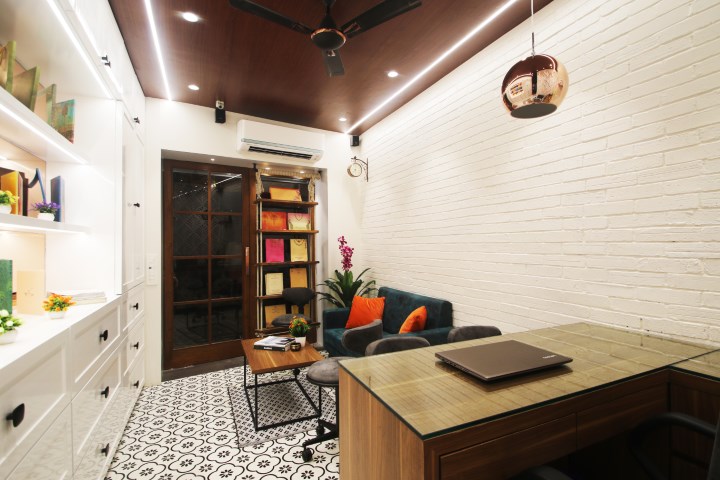 Studio Brief –
Artisan Design Studios is an interior designing firm established in 2016. Our founder, Harsh Porwal draws inspiration from the path of life to create a symphony of patterns & texture. He is an aesthetic interior designer & consulter, passionate about his work and strives to achieve the best for his clients.