&nbsp
When faced with the challenge of blending the bucolic ways of living with the inescapable modern grind, Dinterplay Architects had a creative solution in mind. They designed the contemporary design Zarukha House from the ground up with an open-roof central court and impeccable latticework on the facade, two elements nearly impossible to find in architectural projects of the modern times.
Residence that exudes a Balance of Vintage Vibes with Contemporary Design Elements | Dinterplay Architects
Visit: Dinterplay Architects
At a first glimpse, the facade of the Zarukha House chimes in with a uniqueness, giving an appeal that two houses are stacked one upon the other. This represents the two families living together in the building– two brothers who requested a structure that would balance privacy and social time.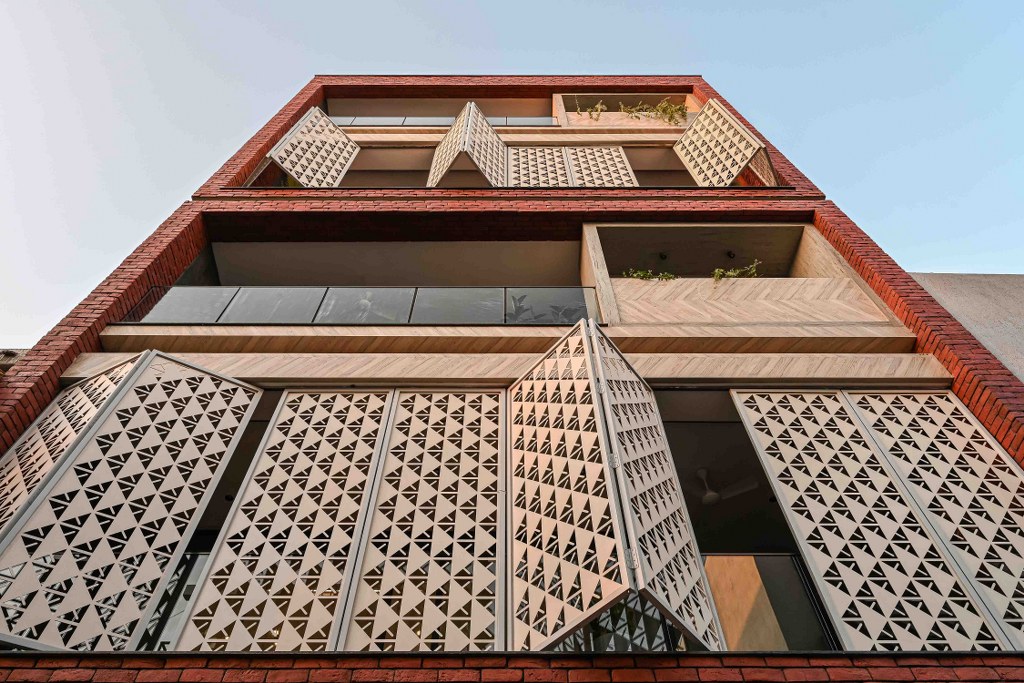 The meticulous design details take over your senses when you step in, marked by a thoughtful play of light and innovative use of space. The four floors feature an ultra-modern design of the interiors with the luxury of comfort, ventilation, and plenty of privacy. The fifth and ground floors, on the other hand, are built to promote cohesion and make social time among the families effortless.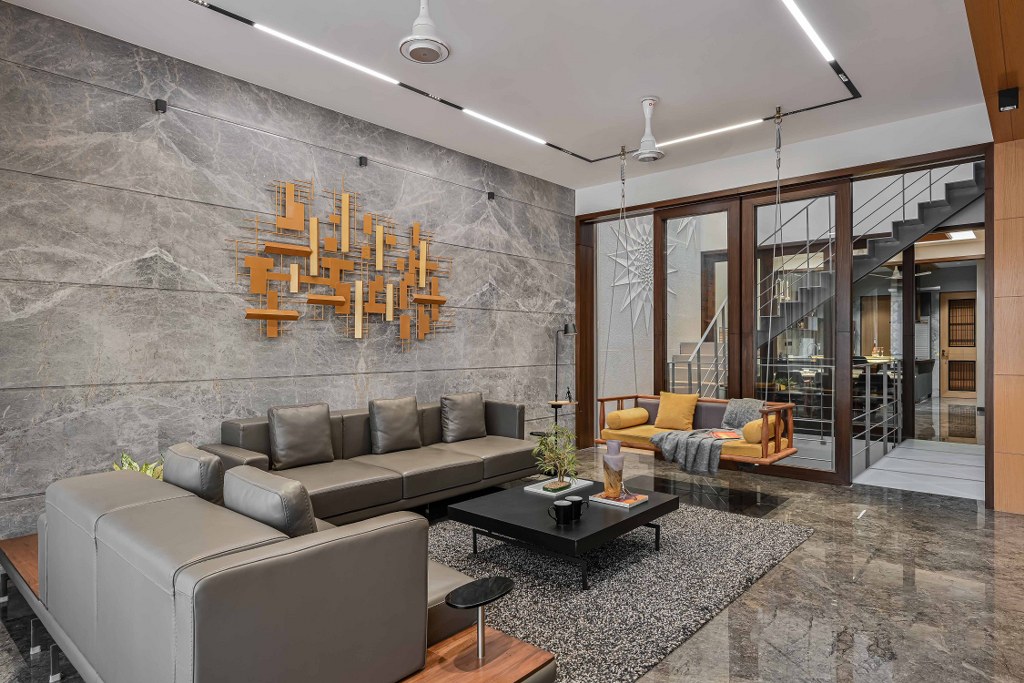 The Zarukha House, a project led by architects Shreya Bhavsar and Krunal Patel, thus takes a fresh approach to modernisation of a region's roots, while bringing a spark of innovation to the skyline of Surat.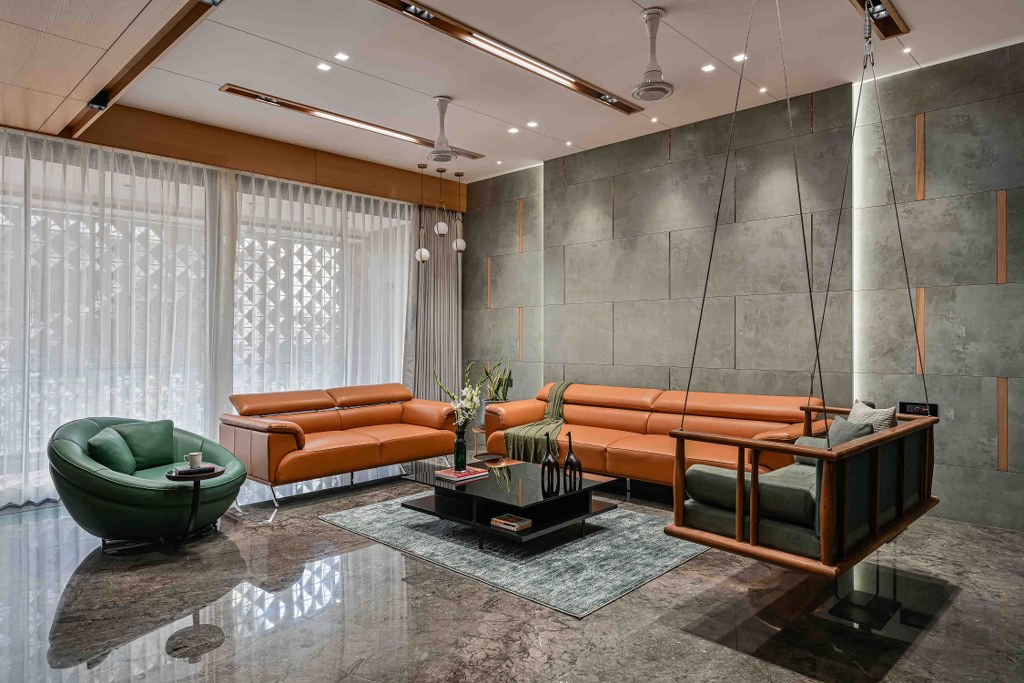 The design also amplifies vertical connection using a vertical service core, wherein all the functional spaces are on the west and the service and utility areas of the house are towards the east end. The service core strategy further helped in bringing more stability to the structure, while also cutting building costs due to the synchronisation among floors.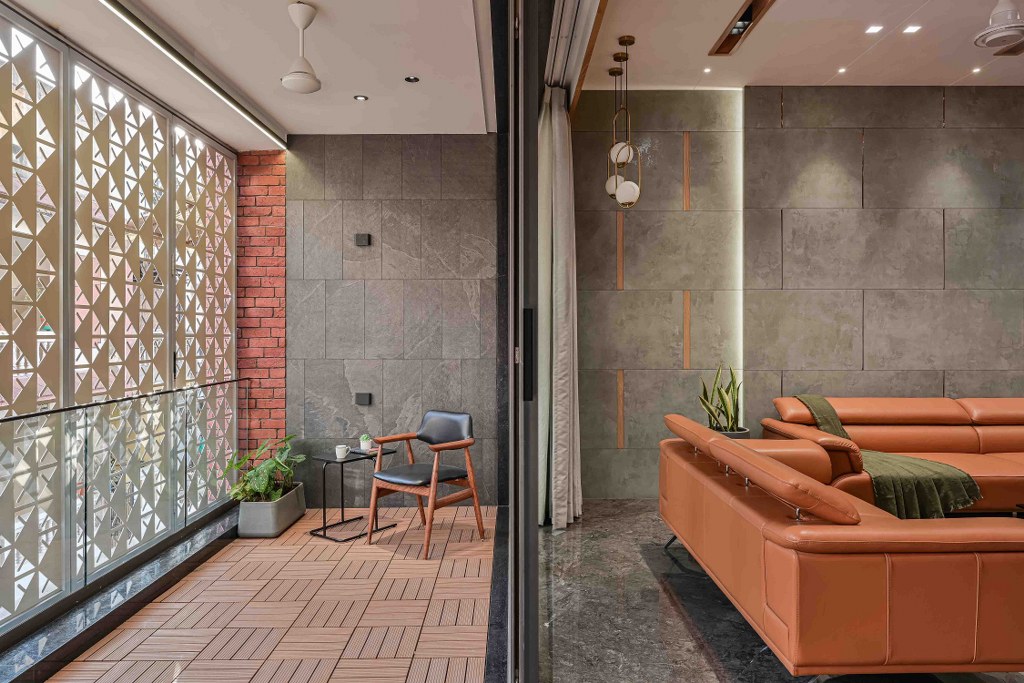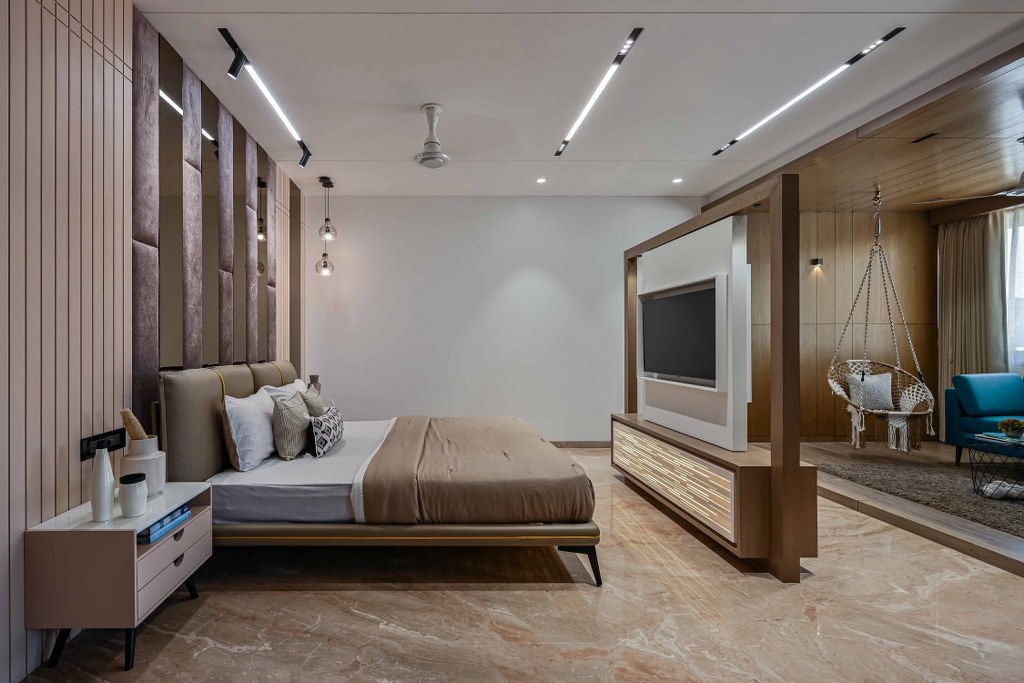 Dinterplay Architects is a brainchild of two established architects, Ar.Shreya Bhavsar and Ar.Krunal Patel, who believe the interplay of architecture and design to be the single most differing factor between a good structure and a great one. Avidly dedicated to innovative ideas and their pragmatic realisation, Dinterplay Architects operates out of Surat.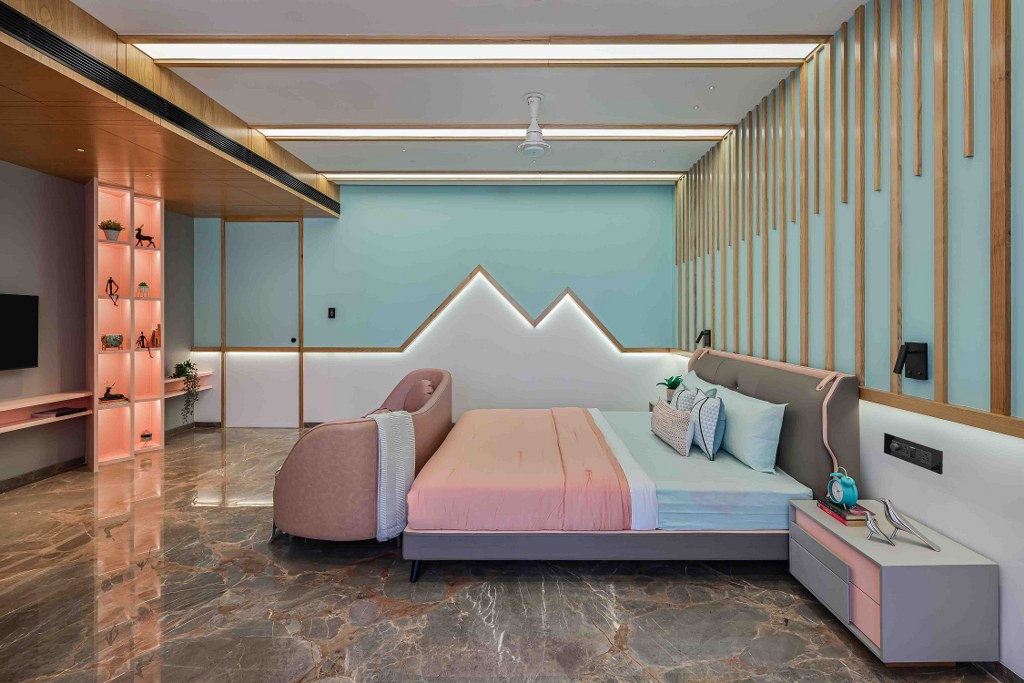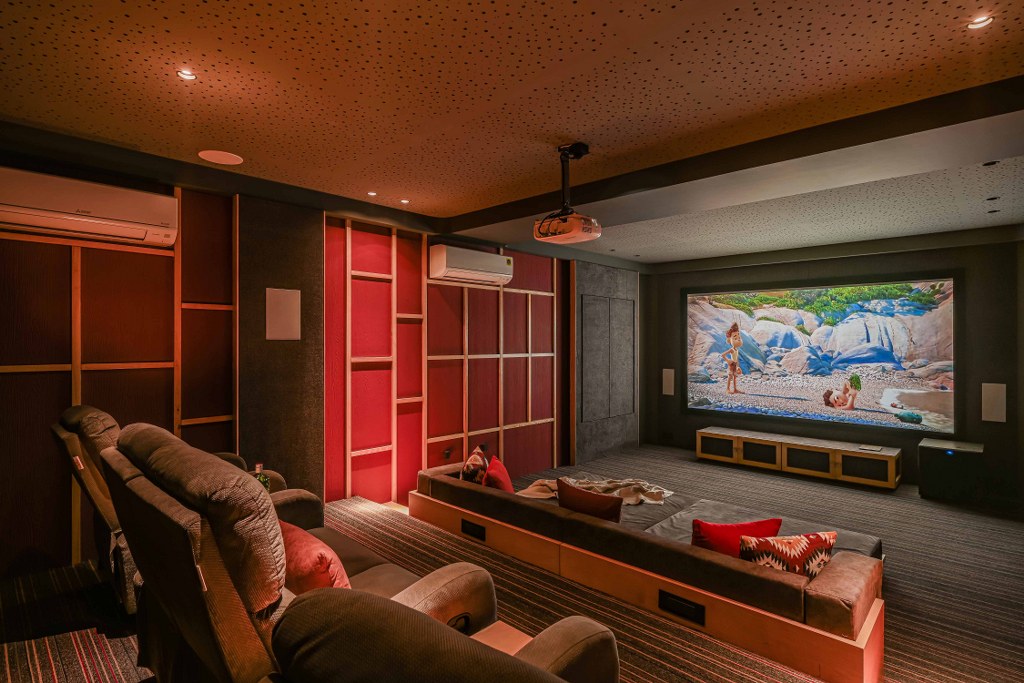 The clients are deeply fond of their bucolic roots, so the architects ideated an upgrade of the central court, a space still found only in traditional houses. While the families' individual floors (1st and 2nd floor for one family, 3rd and 4th for another) are internally connected, all four floors find a common connection through the central court in this linear plot.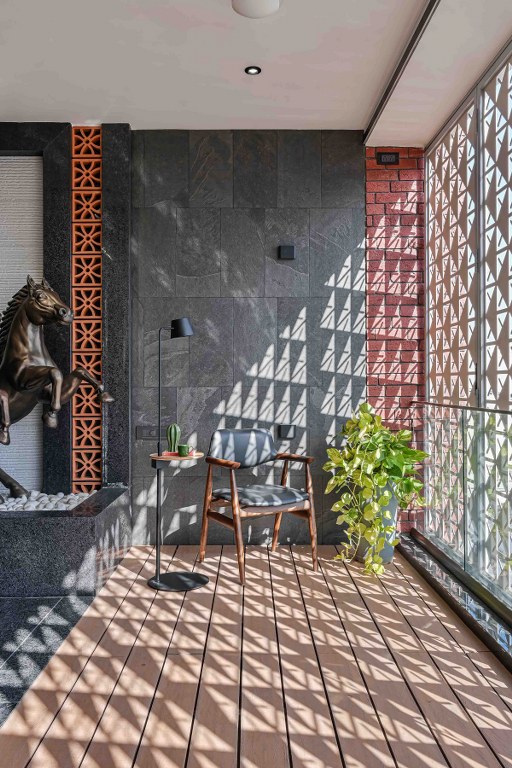 The idea behind the central court was to aid skylight and allow direct communication between floors. The ground and fifth floors are shared.
The south-facing and linear plot offered plenty of opportunity to invite sunlight, but came with the challenge of gaining satisfactory cross-ventilation due to shared walls on both sides. To combat this complication, the facade of the house is perforated on the first and third floors. This innovative design helped on multiple fronts– in blocking harsh sunlight, offering privacy whenever required, and extending the area of the living room.
Fact file
Designed by: Dinterplay Architects
Project Type: Residential Architecture and Design
Project Name: Zarukha house
Location: Surat, Gujarat
Year Built: 2021
Duration of project: 2 years
Plot Area: 2000 Sq.ft
Built up: 11300 Sq.ft
Project Cost Appx : 5 Crore
Principal Architect: Krunal Patel, Shreya Bhavsar
Photograph Courtesy: Noaidwin_sttudio
Consultants for the Project:
MEP & HVAC Consultants: TRT Technologies LLP
Structure Engineers: Smit Thakkar
Lighting Designers: Smart Light
Acoustics Consultants: Nikesh Patel- Precious autosys
Products & Materials: Wallcovering / Cladding: Flex stone brick cladding, Concre expo texture | Lighting: Smart Light | Windows: Telesia | Furniture: Conifer | Paint: Asian Paint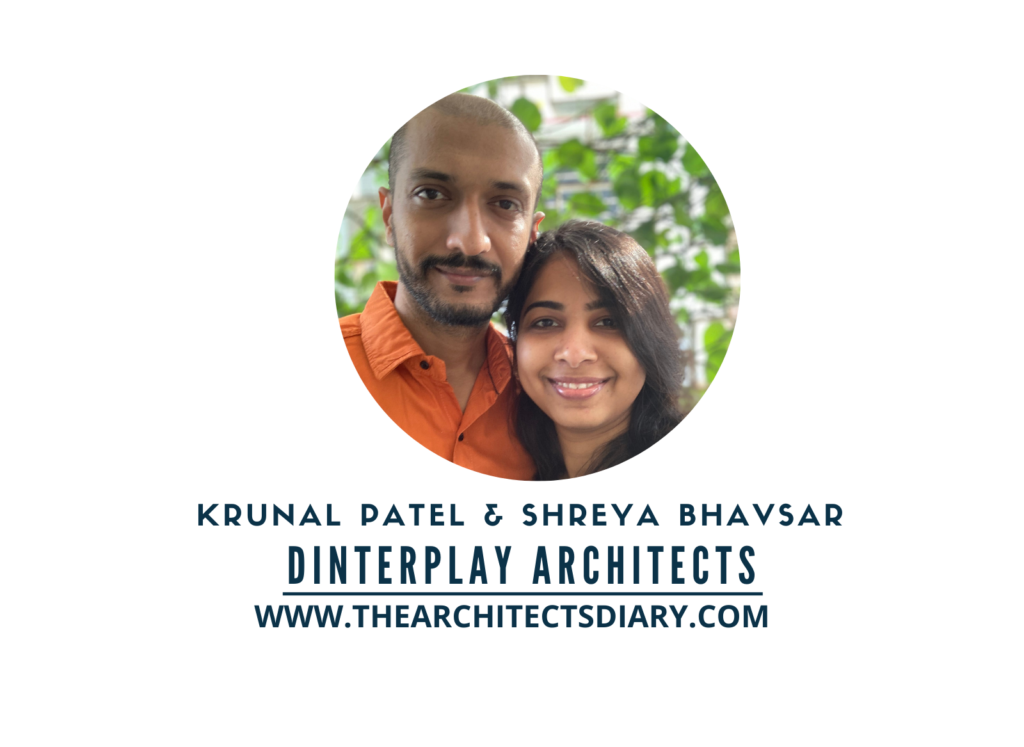 Firm's Website Link: Dinterplay Architects
Firm's Instagram Link: Dinterplay Architects
Firm's Facebook Link: Dinterplay Architects
For Similar Project>>Exemplary Spatial Experience Redefining The Paradigms Of Contemporary Design