&nbsp
A bustling neighbourhood in Pune, Viman Nagar is home to several commercial establishments. Teeming with office goers, the locality is characterised by a host of commercial activities including cultural cafes, street hawkers, store fronts creating an eclectic chaos. Mekong Folks presented a unique opportunity to make a statement that drew attention while also maintaining a subtle aesthetic style.
Eclectic Chaos & Cultural Aesthetic makes a Unique Concept for this Asian Diner | Studio GASP
Visit: Studio GASP
Without meddling with the functionality that was required for the structure to be used optimally, only the façade was changed. Spread across three levels, each serving a distinct purpose, the design weaves together the contemporary and the modern that is reflective of the restaurant's philosophy as well.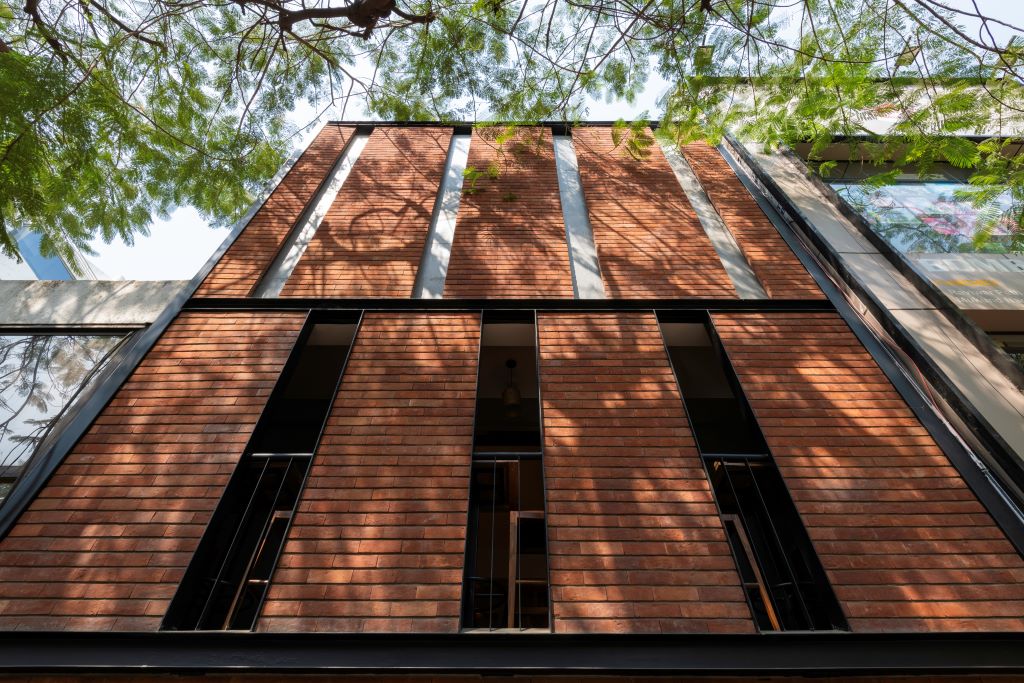 Half way through the project, the studio was briefed that the ground floor would be converted to a confectionary space to attract walk-ins and enhance business. Rising to the occasion the architects delivered a space that was eye-catching yet stays true to the essence of the restaurant.
In the bakery, shelves were created using birch ply and a partition space was added that merged onto the staircase continuing the use of plywood in the private dining room.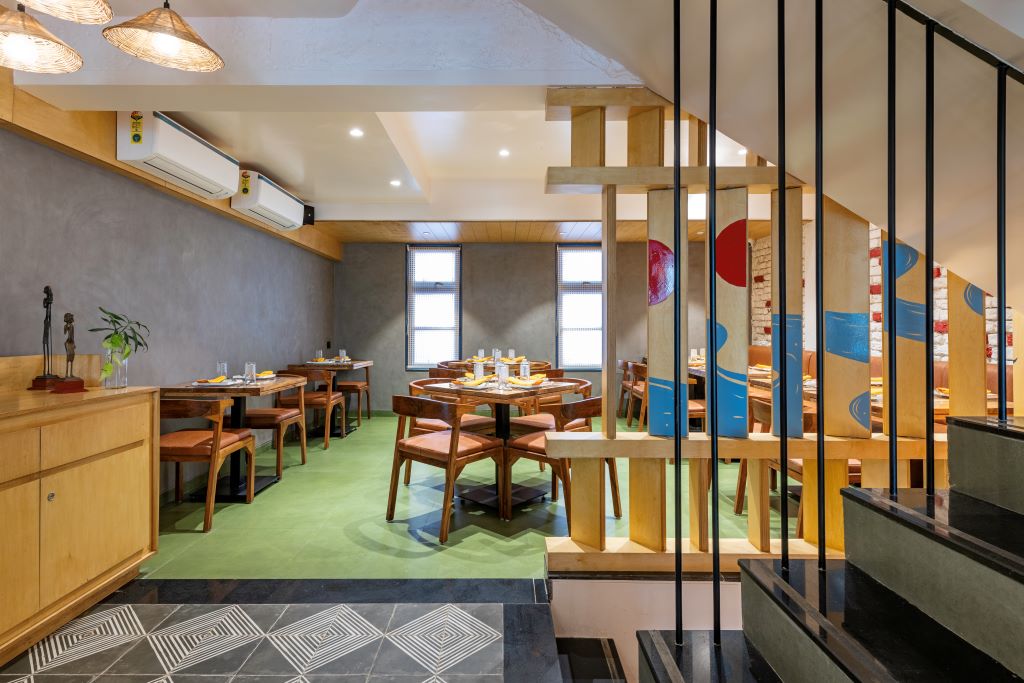 The first floor houses an indoor thematic restaurant while the second floor serves as a charming private dining room. As guests are led to the dining area on the first floor, they are greeted by a vibrant 12 ft. painting that depicts the sheer joy that a meal can bring to you while also reflecting hints of pop culture through the Mekong river delta. Similarly, motifs across wooden panels add a pop of color as you enter the dining area.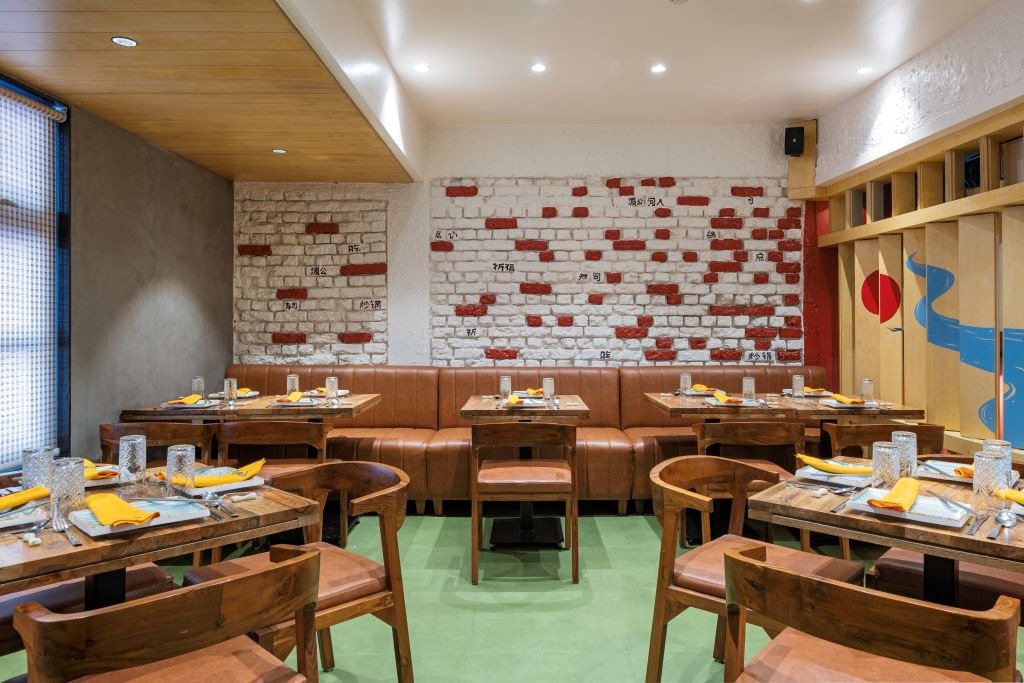 A subtle material palette was meticulously curated, which connects the external and internal pats of the restaurant. The use of grey concrete finish on the walls with tan brown as the main accent colour gives a perfect balance of space the otherwise small restaurant. Green flooring has been used to add an element of drama that further accentuates the feel of the space.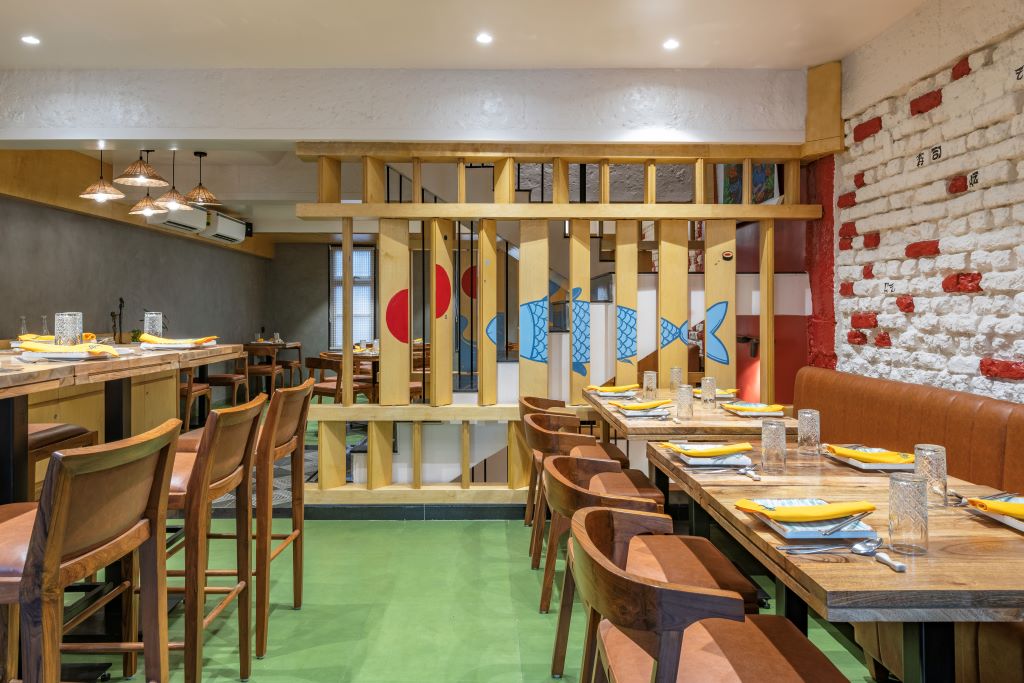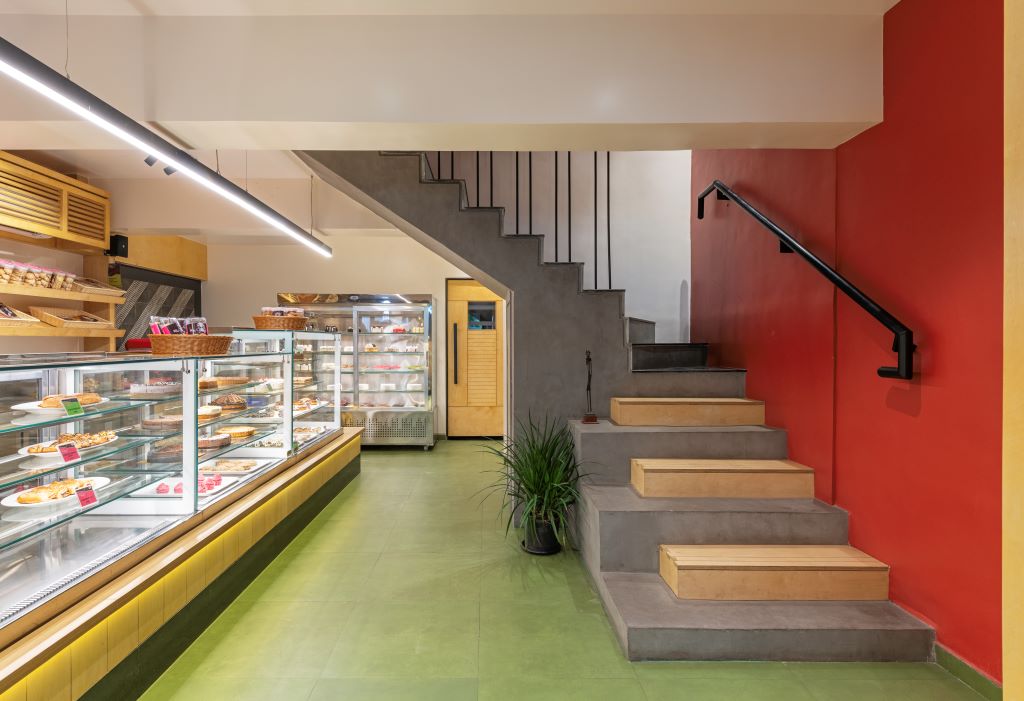 The store room assigned to the top level creating a dead wall for the road side façade while the middle level had apertures which would shield the dining area from the noise and air pollution of the road. To provide a cohesive character to all these different spaces, the studio has invested a lot of thought in the details amalgamating the use of birch plywood, fluted glass, mild steel and leather upholstery. While renovating the space, the existing plaster was converted into a concrete finish to merge with the furniture tones.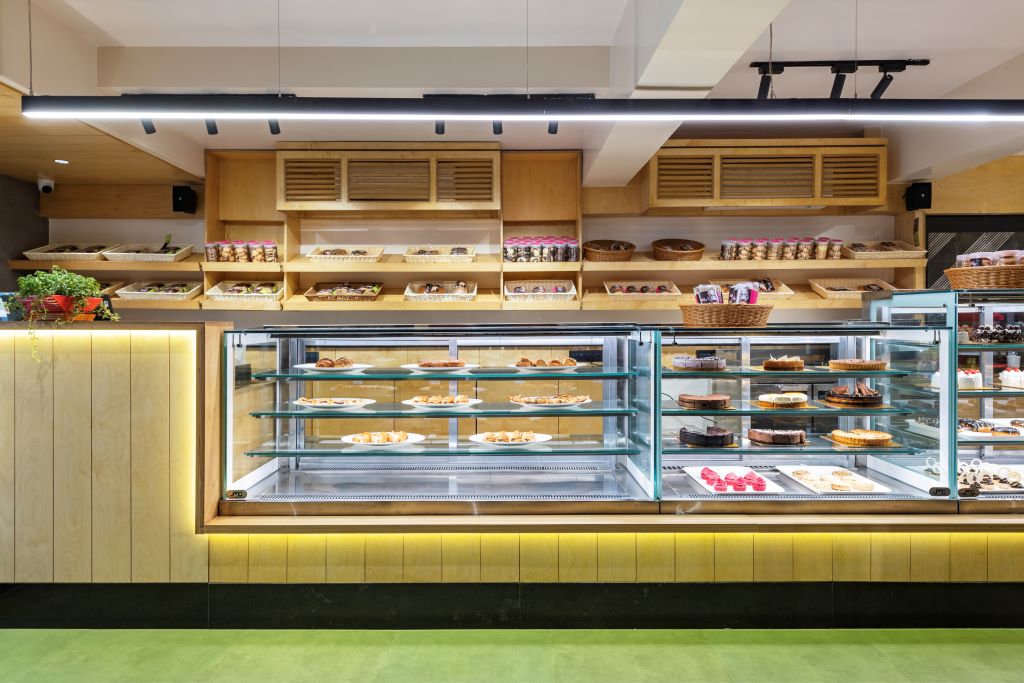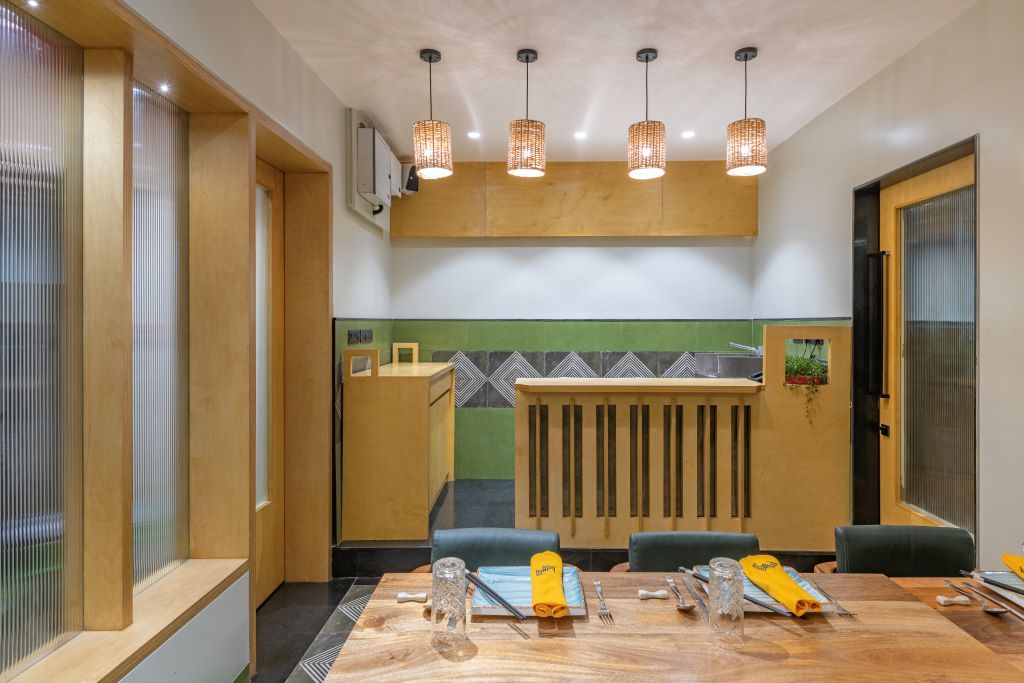 The existing balcony area presents the perfect warmth, with just a couple of tables, it was planned in a way it offed a cosy space that also overlooks the street.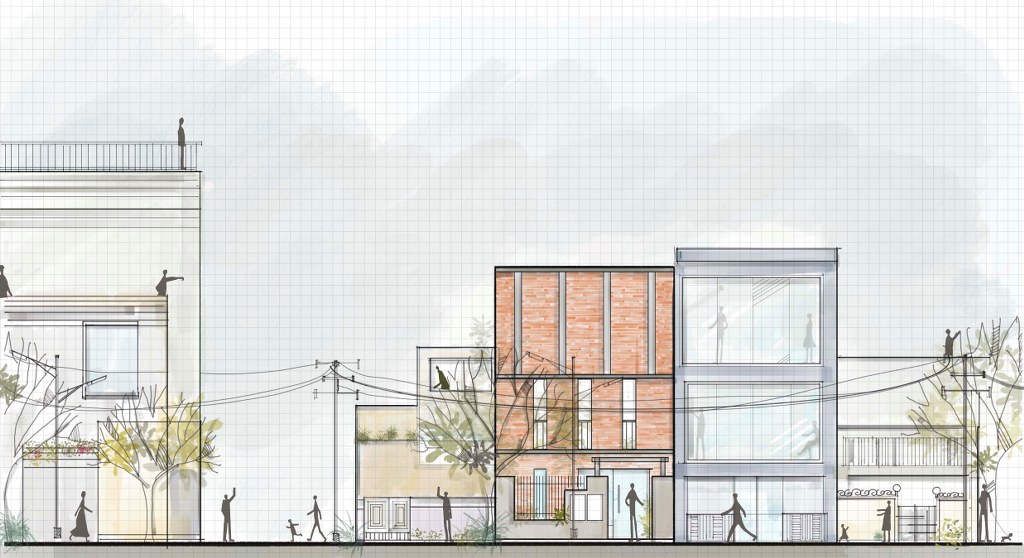 Fact File
Designed by: Studio GASP
Project Name: Mekong Folks
Location: Pune, Maharashtra
Project Size: 1400 Sq.ft.
Year: 2021
Principal Architect: Gargi Kulkarni Pherwani, Sahil Pherwani
Consultants for the Project:
Concept: Rajjeet Chandra
Artwork: Abhinav Kafre
Text: Amrita Choudhary
Project Management: Kumar Patil Consulting Engineers
Contracting: PROMT PMC
Kitchen Consulting: Kitchen Krafts
Photograph Courtesy: PHX India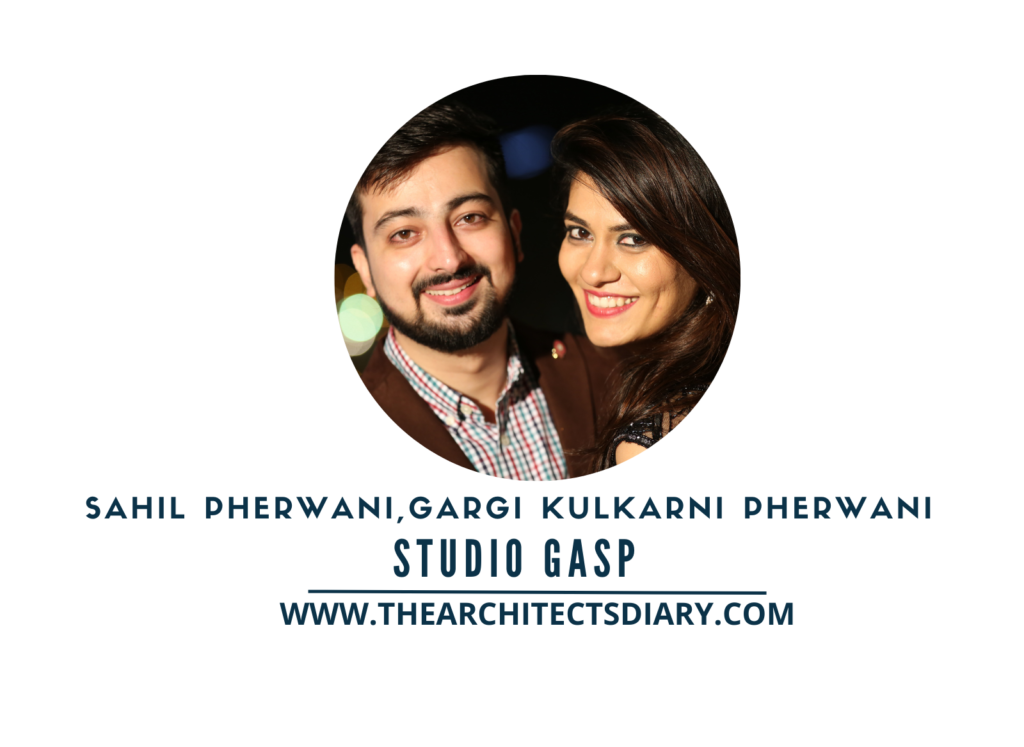 Firm's Instagram Link: Studio GASP
For Similar Project>>Islamic Cultural Center In Piedmont-Italy | Wafai.Architecture And Fragomeli + Partners