&nbsp
Residence Evoking a Bohemian Aesthetic Essence : House Dyuthi | Tales of Design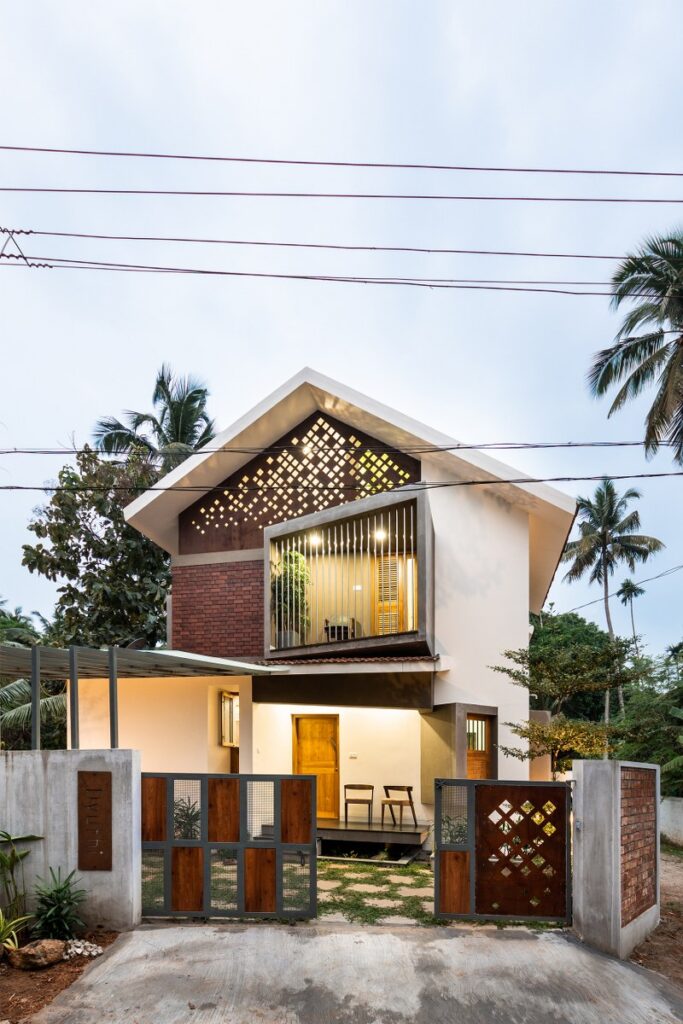 House Dyuthi is located in Parakkad suburbs situated a few kilometers from Thrissur city, cultural capital of Kerala. Site has a narrow profile of 32ft X 72ft, is situated in a residential neighborhood. Challenge was to accommodate all requirements of home to the narrow plot. Design Strategy was to have a series of spaces that is connected by a central axis, thus reducing the circulation area and ensuring connectivity. Through programmatic zoning a linear stacked volume was formed.This family home follows a climate sensitive design with sloping roof and shades for windows.strategically placed sky lights bless the interiors with an interplay of natural lighting through out changing day time. Skylights also help to reduce overall energy consumption during daytime. Built form is inspired from aesthetics of old vernacular structures of the city that are rich in architectural elements like gabled roofs, brick facades and louvered wooden windows.Geometric patterns used in flooring is a nod to the city's grand palaces.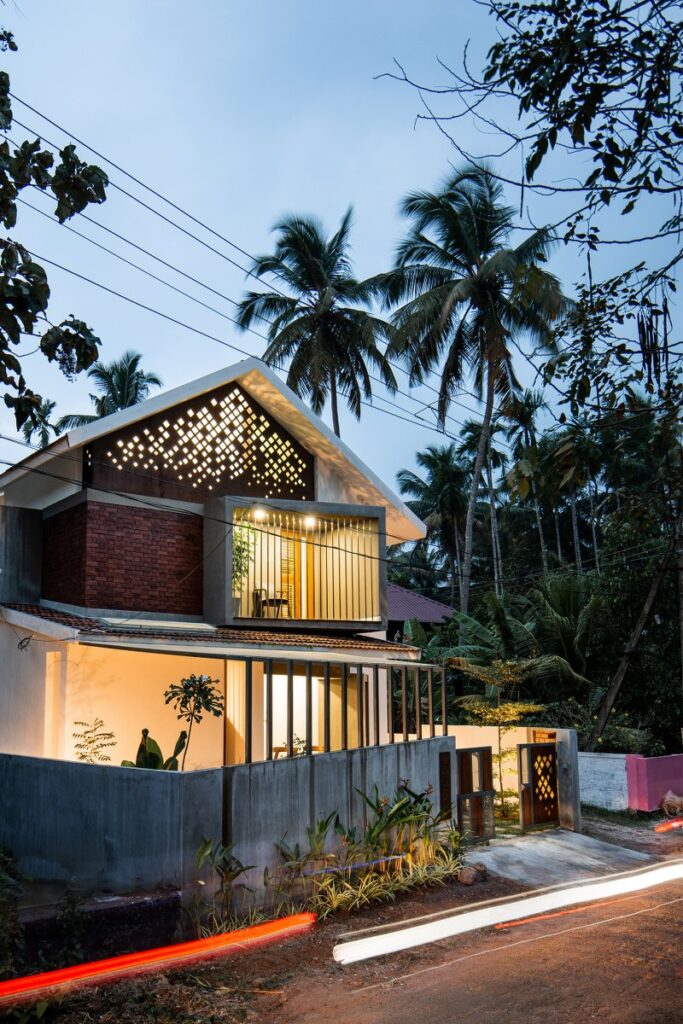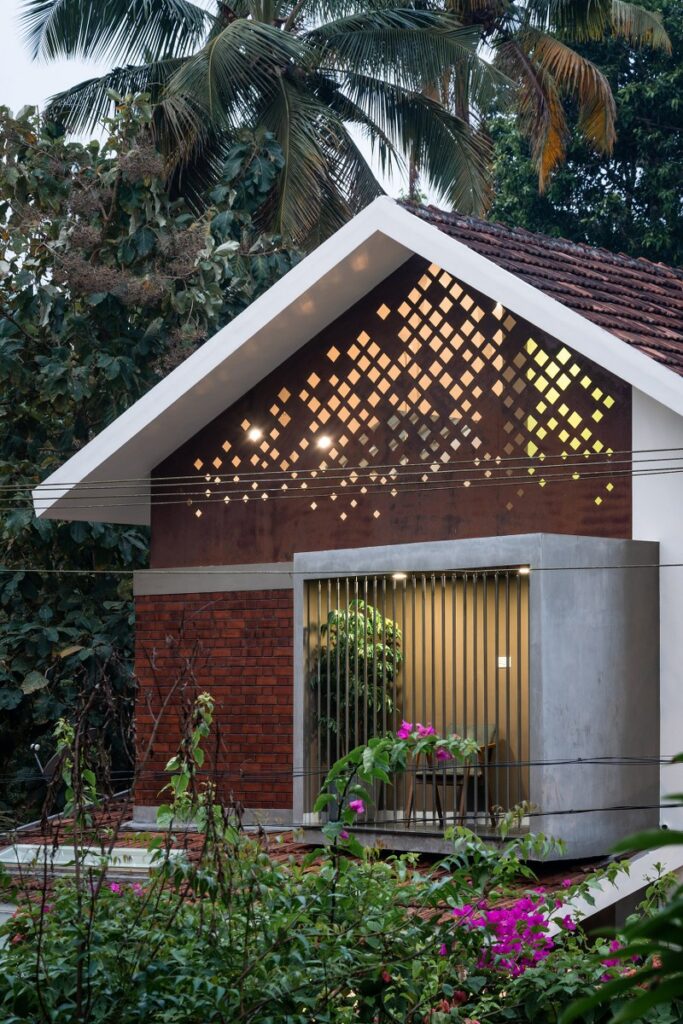 Entrance to the site is through the east facing approach road. Kottah paved front yard leads to Verandah that sits on a small koi pond adjacent to frosted glass covered car port. Veranda leads to the central circulation axis of that has a focal point of patio.inbuilt seating in the living area becomes a part of the window openings and has storage units below. Palm wood topped staircase is placed between the living and dining areas to act as a buffer. Dining is a double height volume placed between a green niche and central court, which is at close proximity with kitchen.High ceiling of dining area helps in passive cooling and create a strong visual connection between the floor plates. Programs in ground floor comprises of common areas and two bedrooms with attached toilets. Upper floor plate has a library, home office,two bedrooms with attached toilets and a east facing balcony.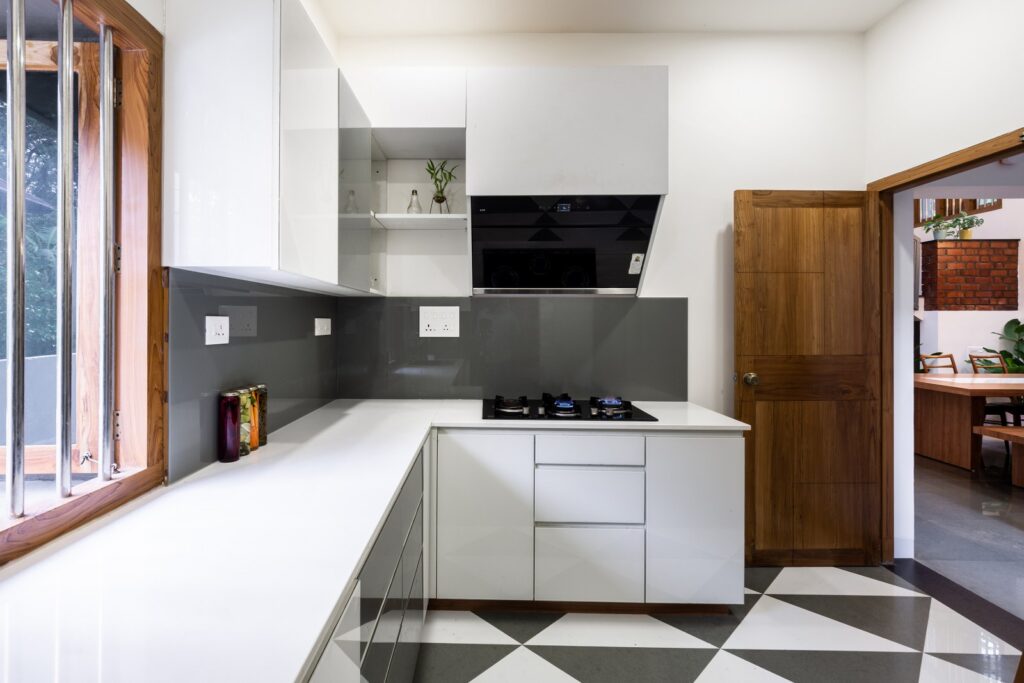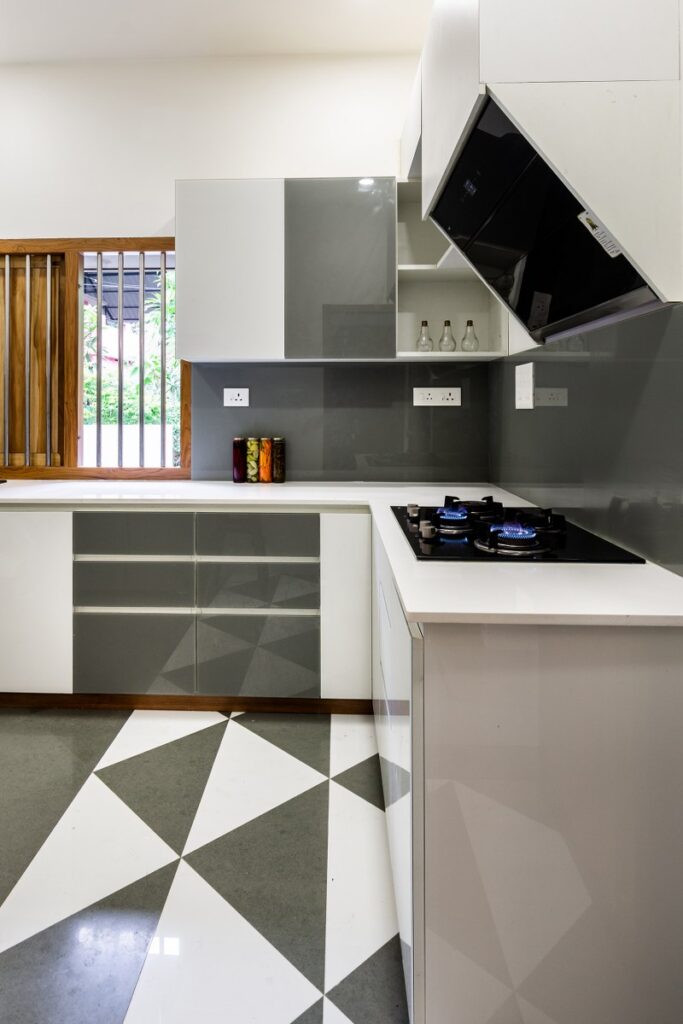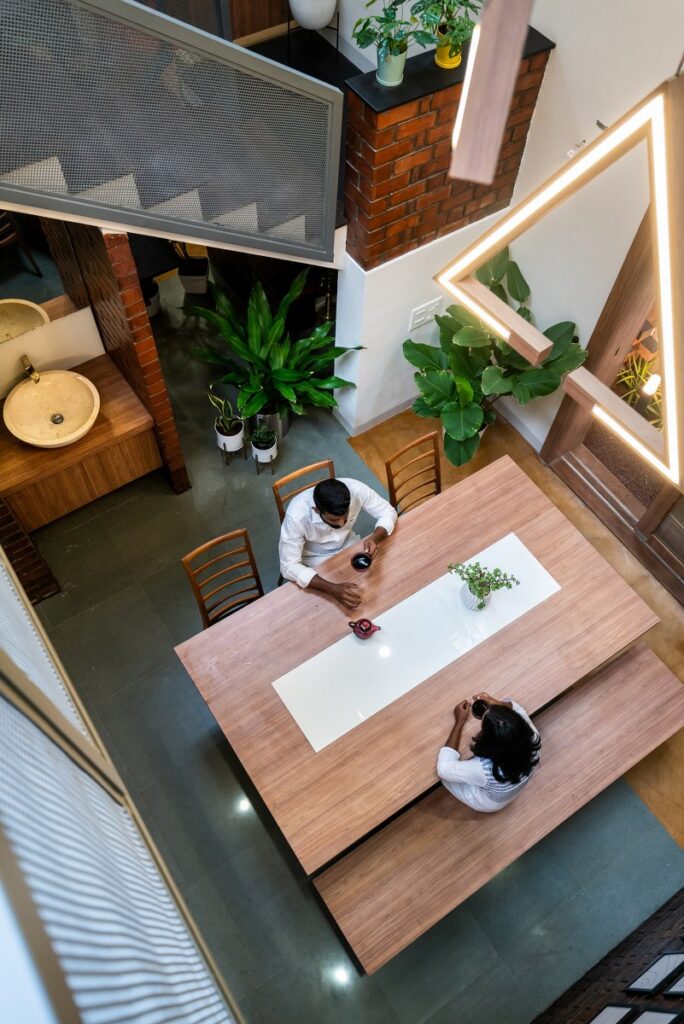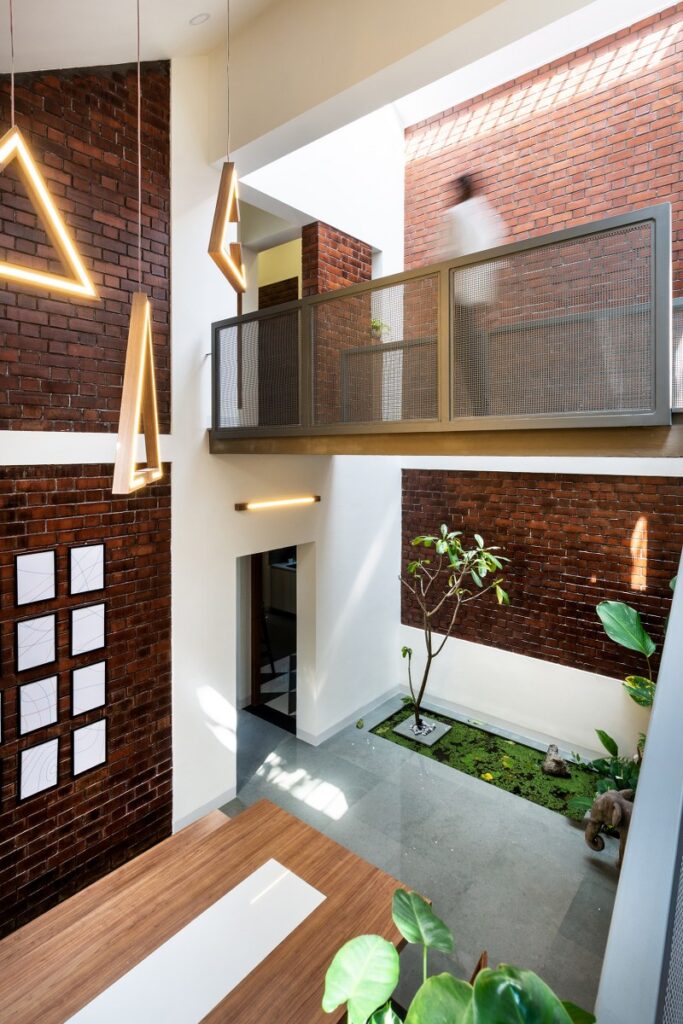 Interiors: House Dyuthi evokes a bohemian aesthetic essence in terms of having a base color for each space, low height furniture, flooring patterns and abundance of indoor plants. Indoor plants help to reduce the stress level and keeping a clean indoor air by absorbing toxins. Bedrooms have inbuilt bed coat with storage units, side table, wardrobe and mirror unit that follow a base color and consistent wooden finish. We also took the opportunity to explore customized hanging and wall mount lights which reflect the same design philosophy.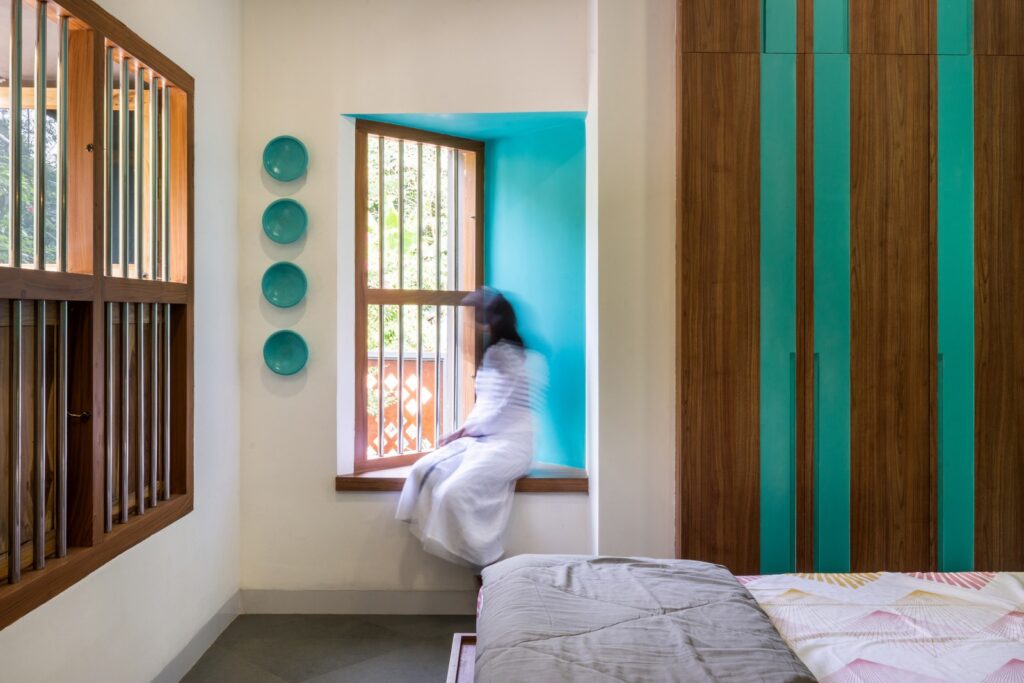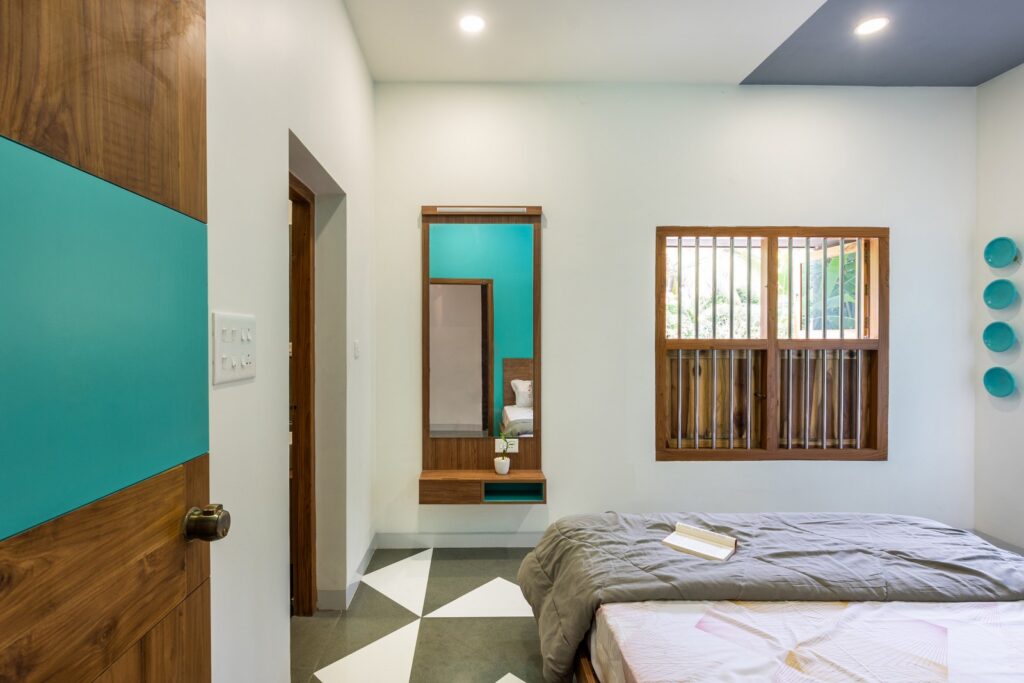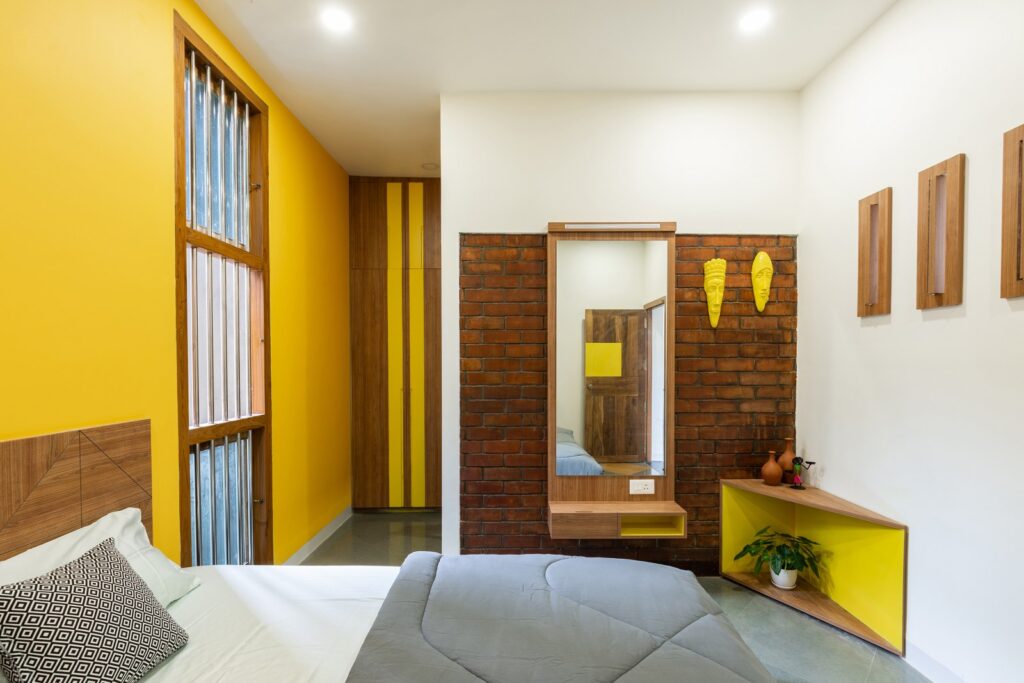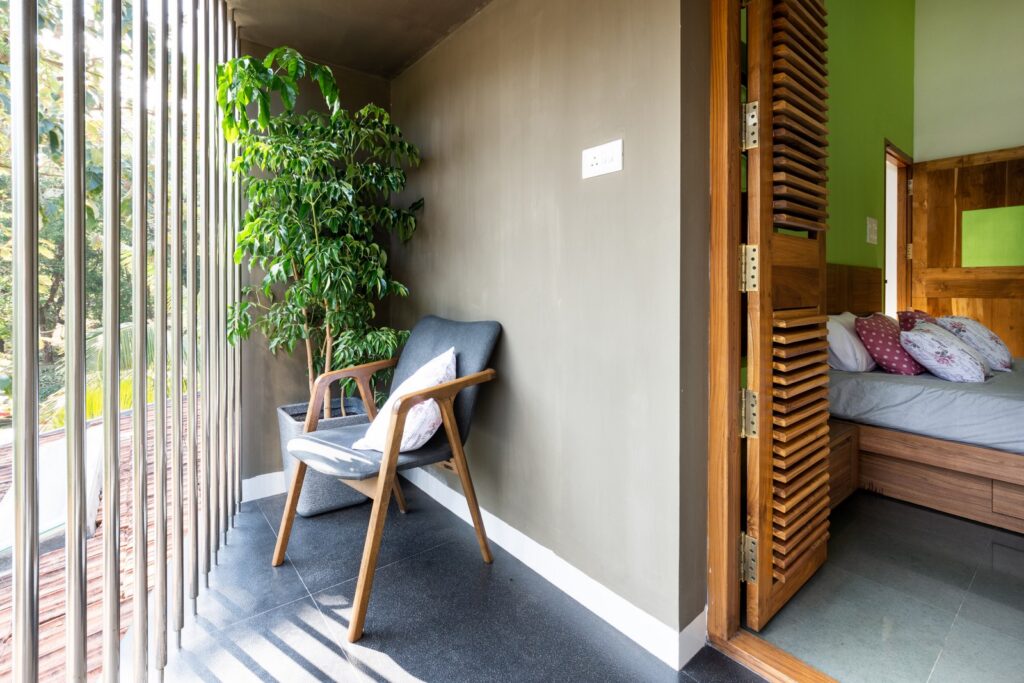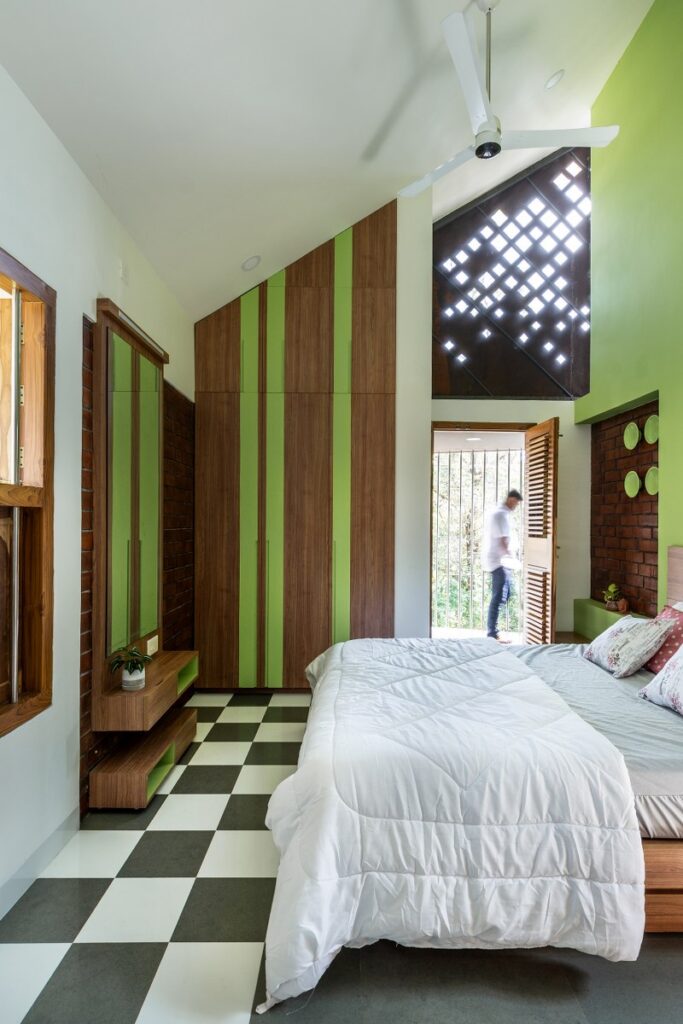 Materials: Dyuthi's rustic material palette imparts a sense of warmth and contrast. Corten steel perforations and their strategic placement at ceiling level ensure air circulation by stack effect, thus creating a cooler and low pressure interior environment. Perforated corten steel ornate the interiors with moving patterns of daylight and at night the steel facade shimmers in its own indoor lighting. Corten steel facade and MS perforated members used for skylights and railings help daylight to sip into the interiors and change constantly following the sun path throughout the year. Flooring material of the residence is primarily polished kottah, with Jaisalmer granite, Nanowhite granite that form intriguing geometric patterns.Numerous kilns situated near the site locale made it easy to choose bricks as predominant material for load bearing as well as exposed walls. Reclaimed Mangalore roof tiles used in the project are sourced from different demolition sites nearby.Interior furniture is customized to fit into the overall design philosophy of the residence with its consistent wooden finish and color palette.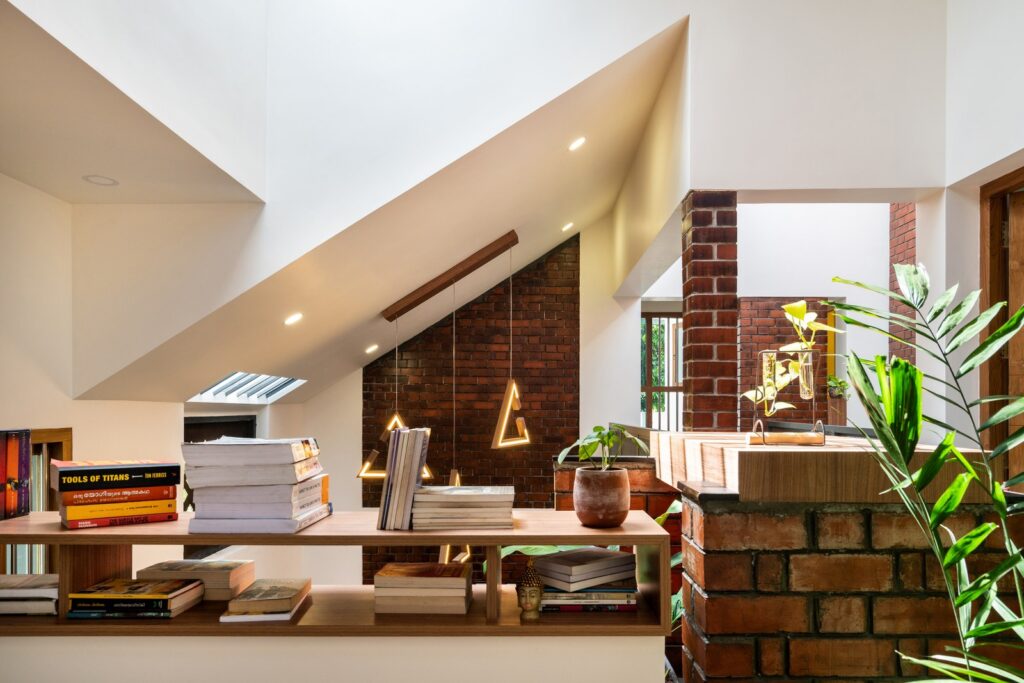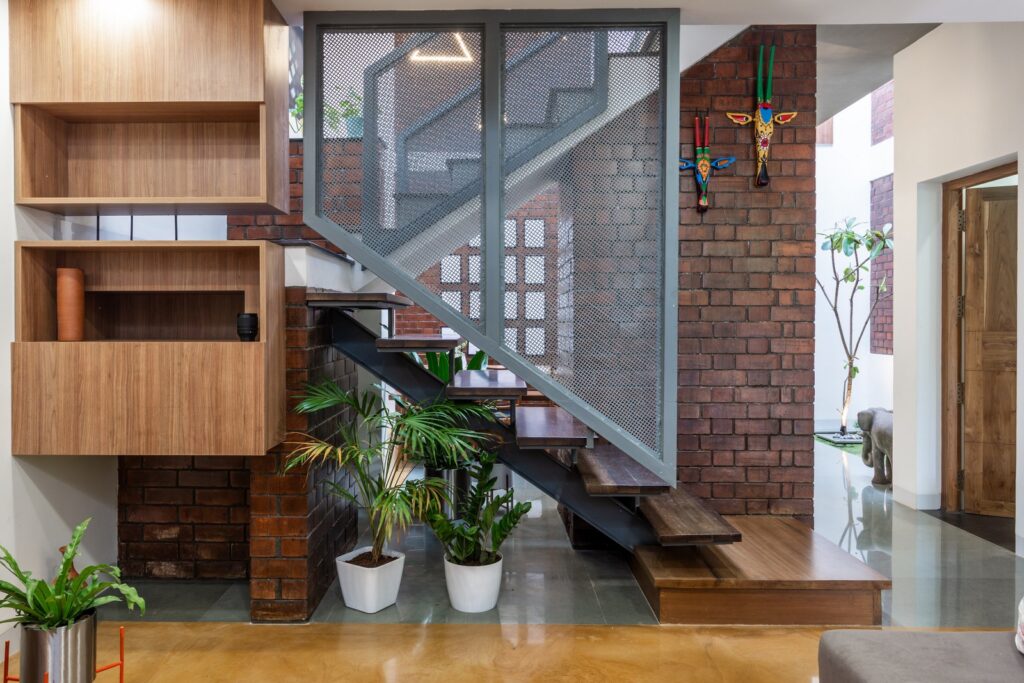 FACT FILE:
Designed by : Tales of Design
Project Type: Residential
Project Name: House Dyuthi
Location: Parakkad, Thrissur
Year built: 2018-2020
Site Area: 230 sq.mt.
Built Area : 2165 sq.ft.
Principal Architect: Ar. Shammi. A. Shareef
Photograph courtesy: Turtle Arts
About the Firm:
Tales of Design studio was found by Ar. Shammi A Shareef. He graduated from Al Salama Institute of Architecture in 2016. After gaining expertise in large and small scale projects through working in various design firms, He established this practice. ToD studio believes in context driven design process, its journey guided by need and user comfort while emphasizing on research, systemic problem solving and creative interventions. Currently ToD is based in Perinthalmanna, Kerala with projects around South India.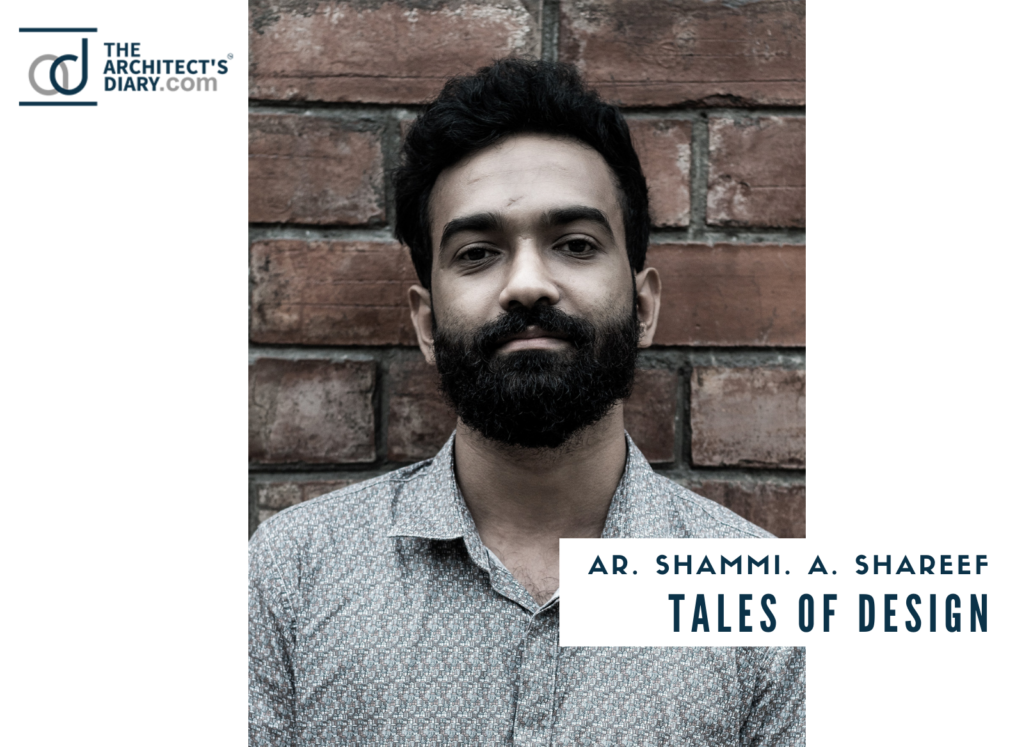 Firm's Instagram Link : https://www.instagram.com/tales_of_design/
Firm's Facebook Link : https://www.facebook.com/talesofdesignstudio/
Firm's Website Link : https://talesofdesign.in/