So, you have come to a conclusion that you need to take proper care of your vehicle, and you are planning on building it some protection. Well, you have two alternatives here: Custom built carport or build one for yourself (DIY).
Most people assume that the two are similar since they accomplish the same purpose. However, these two differ in various aspects.  Michael Thomas, a professional builder from Pro Carports Brisbane explains the difference between the two. This will help you identify which one is best for your home.
What is the difference between custom built carports and DIY kits
Custom made carports and DIY kits are similar from different angles. Interestingly, they both offer your vehicle protection from rain, sun and the wind. You can attach these carports both to the side of your home or build them as free standing structures. Their difference comes in the way they look, how much they cost and by how they are built.
Custom made carports are fully walled with a door and wide cover up that gives you and the vehicle enough access. This enclosure keeps out anything that can be thrown at your vehicle from the outside. In comparison, a DIY carport kit mostly has at least two open sides. It will offer your vehicle protection from the sun and the rain. However, you cannot fully protect your vehicle from all the extremes due to the uncovered sides.
Pros of DIY kits carports
Pros
They are cheap compared to custom build
It can be built them from a wide range of materials
You only need little DIY experience to build
You either won't require any legal authorizations or it will be very easy to acquire
Cons
Compared to custom built carports, the DIY carport kits tend to be less versatile.
DIY carport kits are not theft proof.
They don't offer enough space for practical storage especially for valuable items.
Actually, they do not do much in adding value to your property
Most of them have a shorter durability period compared to a custom built carport.
Pros and Cons of a Custom Built Carport
Pros
It offers 100% protection to your vehicle against all essentials
They can provide ample storage space for a wide range of important items
It gives enough security from theft in comparison to the DIY carport kits
They add taste and increase value to your home
In fact, you can turn custom built carports into a living space when needed.
Cons
You will have to bring in skilled help making it more expensive.
You will take a longer time to finish its construction.
They require much more legal requirements than the DIY carport kits.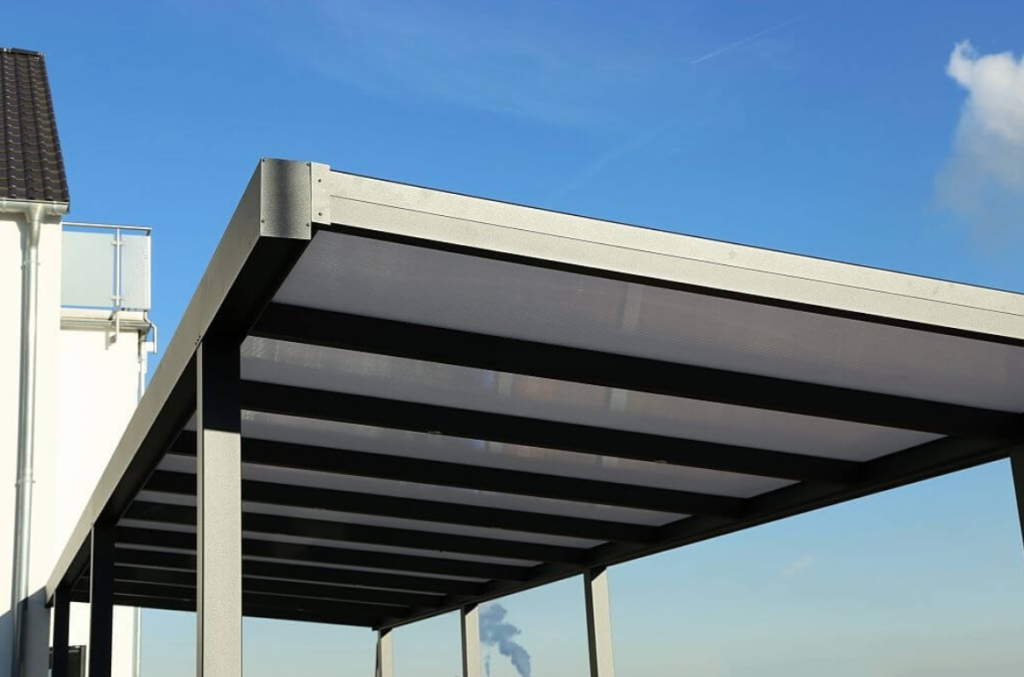 So which is the best between the two?
As seen above, there are some very essential differences between the two types of carports. It is better to consider each sensibly before picking the right one for your home. So let's lay out some possible scenarios that would help you get what you really need.
1. Why do you need a carport?
The most common reasons why most homes build a carport is to get tools and some other equipment out of the house. Therefore, consider your reasons to decide on the best carport for your case.
2. The value of your vehicle
Both carports can protect your vehicle including the two sided one. However, the value of your vehicle should determine the kind of protection you yearn for. Know the value of your vehicle and meet it with the best carport.
3. Occurrence of wind and rain in your area
Considering the amount of rain and wind experienced in your area, this will help you gauge the best carport for you. If there are heavy torrents and winds, you need the strongest and perhaps expensive too. This way, you'll be sure your car is safe.
4. How long you'll be living in your area
How long do you plan to live in your current location should determine how durable your carport should be.
Conclusion
Ultimately, it is you who should decide on the best carport for you. With the above guidelines, you'll definitely settle on what's best for you, for your home and for your vehicle. So, we may not be in a position to decide the best carport for your home. Your needs and home parameters should help you in making the final decision.