Residence Design with Straight-lines, Creative and Comfortable Responses | VPA
The Project
Vipul Patel Architects' design philosophy is simple, and consistently followed by the firm: provide functional programmes that marry aesthetics with ease of maintenance, and showcase a personality that is in alignment with the client's lifestyle.
This residence design project located in Ahmedabad was no different. Bagged through positive word of mouth publicity, it had a simple brief: a spacious uncluttered home with an elegant personality. Being familiar with VPA's design approach, the client, other than spelling out the basic requirement, was only too happy to let the design firm get on with the task at hand.
Detailed Design Note
The design story revolved worked around the concept of "Make in India/Make it Yourself" with simple, straight-lines, creative and comfortable responses.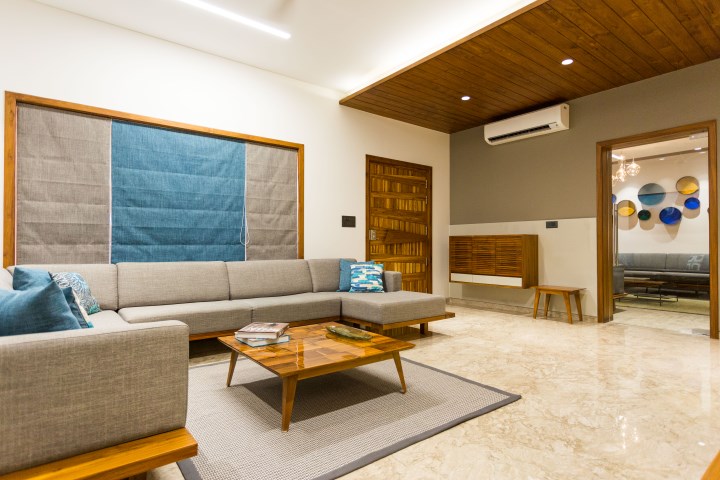 Having entered at a point when the building was being constructed, gave the architects the scope to carve out the spatial configuration as per the desired programme.
The public spaces on the ground floor were modified to obtain comfortably-sized kitchen, dining, family and drawing rooms.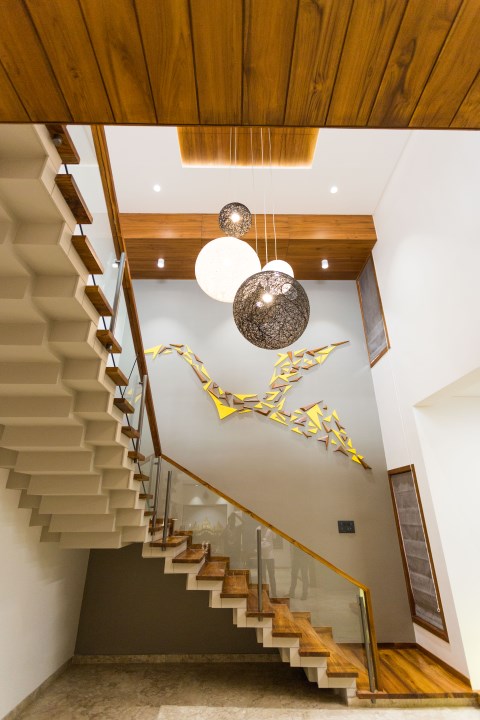 Ample space was apportioned for the bathrooms and dressing areas, culminating into a perfectly sized home for a family of six.
Eschewing a curatorial approach, the architects customized every piece of furniture and other elements that have gone into the making of this home.
The mural that graces the wall of the double-heighted stair core is an example of attention to detail and tailor-made design. Designed with the help of an artist, its colour (yellow) establishes its visual importance, while its form (avian) signifies the free energies embodied through the seamless design.
Execution note
The key to the success of this project was the correct and judicious integration of the wall colours, choice of the fabrics, the PU finish of the colours, the painting, the pedestal lamps, decorative lightings and artefacts… just like a jigsaw puzzle that falls into place when the correct pieces are thrown in together.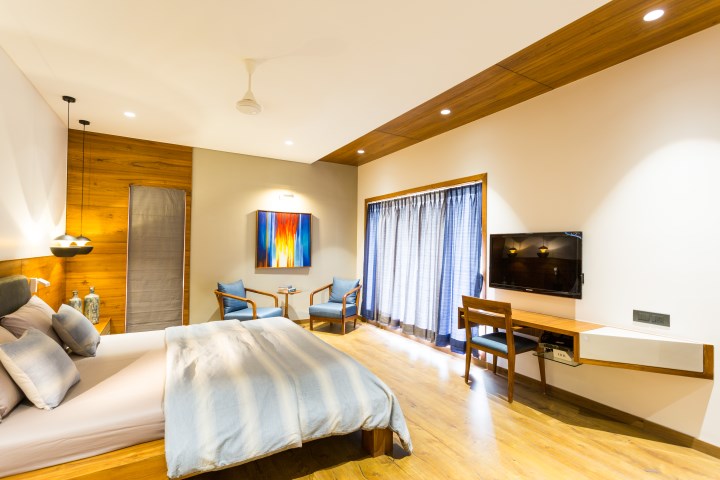 Rising above a mere 'propping' exercise, the design creatively binds all entities and functions into a customized narration where every detailing is custom-made to form a cohesive whole and to create a classic and modish design story.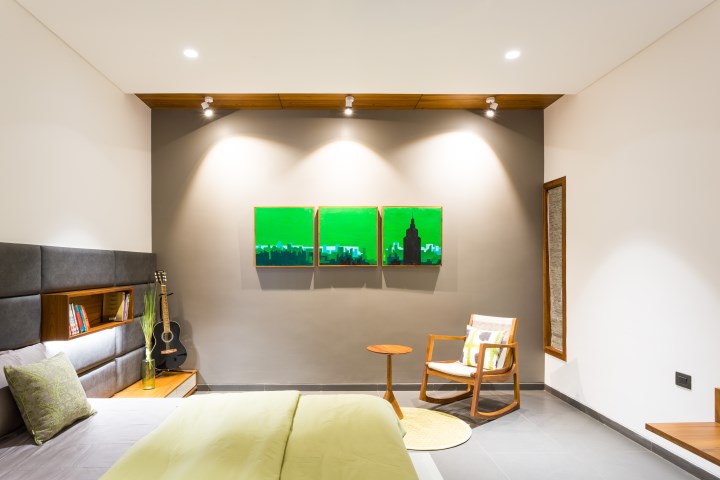 Fact File
Location: Ahmedabad
Details of the space (area in sq ft): 3500 sq ft.
Concept & Interior Design: Minimalistic design and "make in India".
Principal/ Creative Director: Vipul Patel Architects
Design Team: Vipul Patel, Ronak Patel, Jinal Patel and Naiya Patel
Photograph credits: Peachart
Artists: Amit Pariyani, Mr Chandrakant and Jinal Patel