Steering clear of kitsch that is usually associated with 'Made in India' tag, this fancy little play room Design was brought to fruition by the efforts of Frolik+Co team. Frolik+Co had been established to read the minds of the young, growing minds and give them a quirky, yet peaceful space to explore and experiment.
Playfully Illustrated Play Room Design with Whimsical Palette | Frolik+Co
Visit: Frolik+Co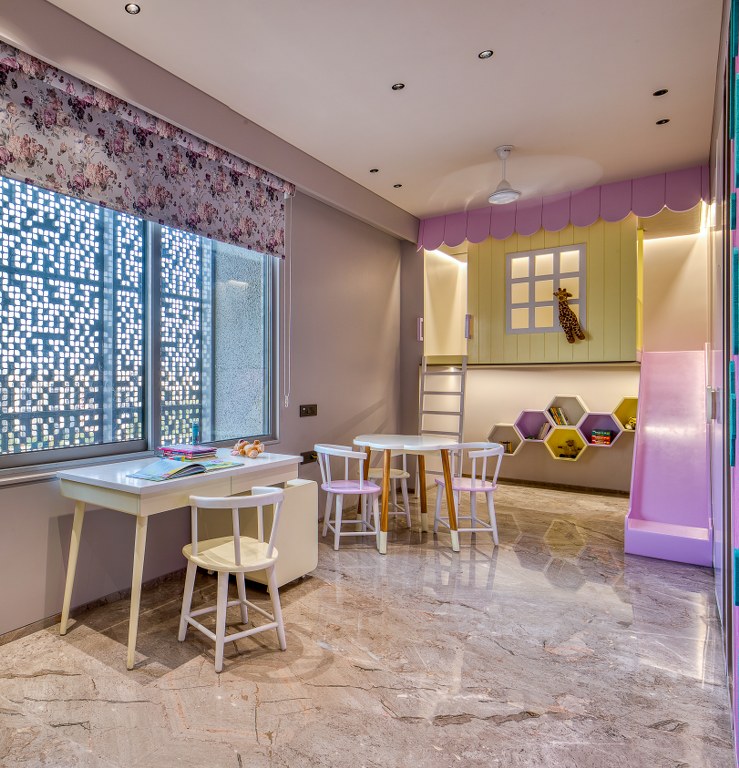 The clients' brief was very specific. They needed a separate space for their child to do all the fun, clutter and gossip she likes. And there came our Purple Play Room. It was designed for sweet little Aakanksha, who always fancied a bunkbed but couldn't have one due to space limitations. When she knew they were to get a new place, the bunkbed was her dream come true.
Once we had the brief, we quickly put our thinking hats on and suggested a slide with the Bunkbed to add more fun and character to the room. We also added a small window and a rooftop detailing, to add creativity and uplift the look of the bed.Right from the colours, shapes and furnishings it had to reflect her character. The colour scheme we picked was a very pastel and subtle one, hence she can mindfully express her emotions.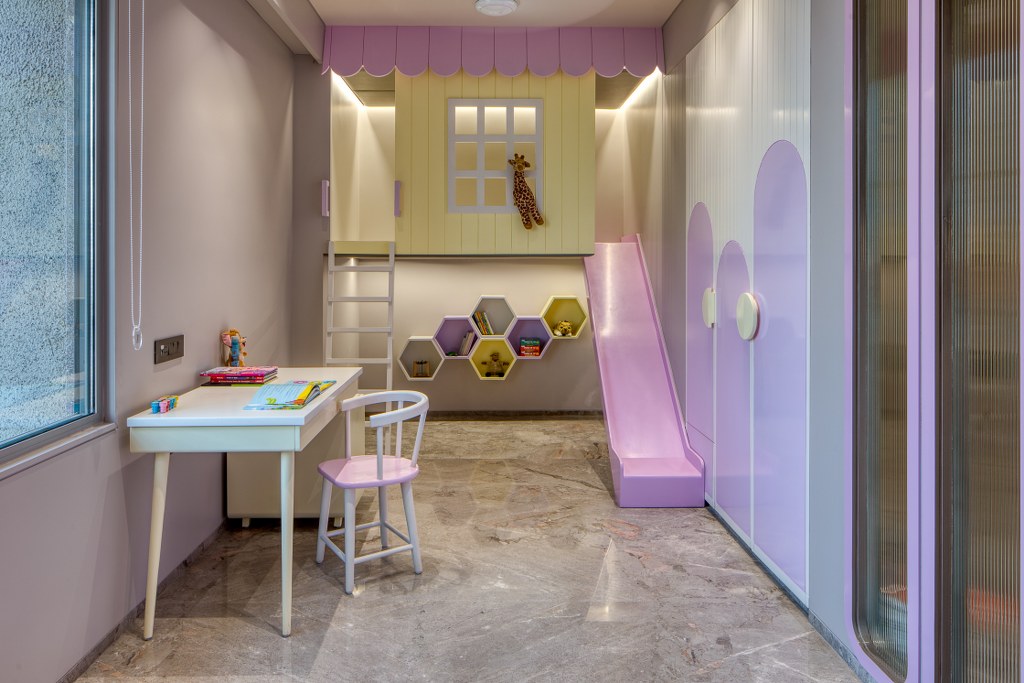 We came up with a with a small library below the bed which makes the perfect cosy space for her to read, sit on the floor and play, paint and draw her oversized imaginations and much more.
What if she has her girlfriends around? Oh yes we did not miss on giving her a round flower shaped table, where they can do all the group activities and non-stop fun. We did maximum utilisation of the space by pushing the wardrobes slightly into the passage behind, giving a complete rectangular open space. The room had to be organised and neat at the end of the day. So instead of a typical pigeon hole toy storage , we came up with these bigger storage spaces to fit all her stuff in. The arches in the design reflects a child's innocence and their moulding minds.
We accommodated a small study space in her den, where she could do her lessons in her own comfort zone. It was a chic, warm, inviting space she would totally enjoy every minute spent. All the pieces were intricately crafted by the carpenter team of Frolik + Co. We made sure everything was done at out factory and just a final few finishing touches on site. We Duco painted all the furniture pieces to achieve the exact right shades of colors. We made sure of the minute details and the rounded corners to give the perfect finishing we needed. The walls and floors were kept neutral to maximize the color play.
Fact File
Designed by: Frolik+Co
Project Type: Play Room Design
Project Name: The Purple Play Room
Location: Ahmedabad, Gujarat
Year Built: 2022
Duration of project: 2 Months
Project Size: 250 Sq.ft
Project Cost Appx: 3 Lac
Principal Architect: Rootu Desai
Photograph Courtesy: Umang Shah
Products & Materials: Finishes: Duco Finish | Flooring: Italian Marble | Paint: Asian Paints Royale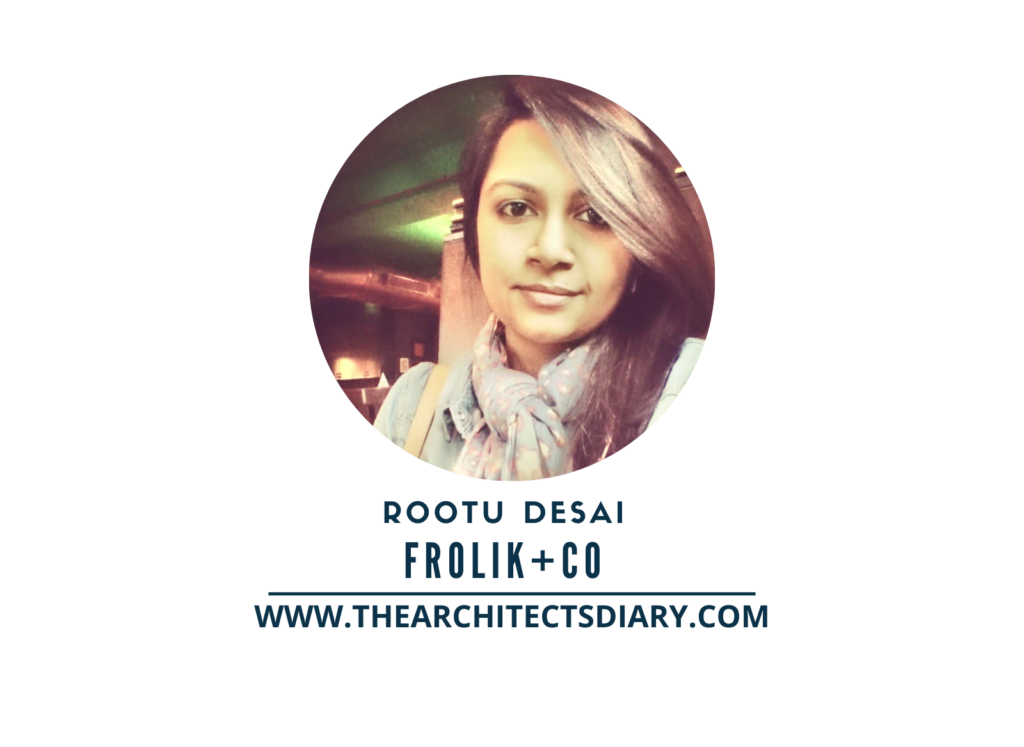 Firm's Instagram Link: Frolik+Co
Firm's Facebook Link: Frolik+Co
For Similar Project>>Seamless Luxury with the Elegance of Minimalism