PIZZA SOCIAL Interiors (Adajan) | THE INTERIOR WORKSHOP
Creating this restaurant in the heart of Diamond City SURAT, by Prominent Designer, TEJAS MISTRY, who employ his sensibility wisely with his perky and creative use of material and design technic to this Restaurants.
In the area of 1767 Sq.ft. the restaurant provides a reception area and two separately divided spaces for dining and enjoying the food.
In the entryway for Reception Desk, designer ignored using common design instead, he used the ordinary colourful metal number plates of different cities and countries mixing wood into the back side of it, which gives a Rustic Classy, eye-catching sight twisty look to the table  & the Area.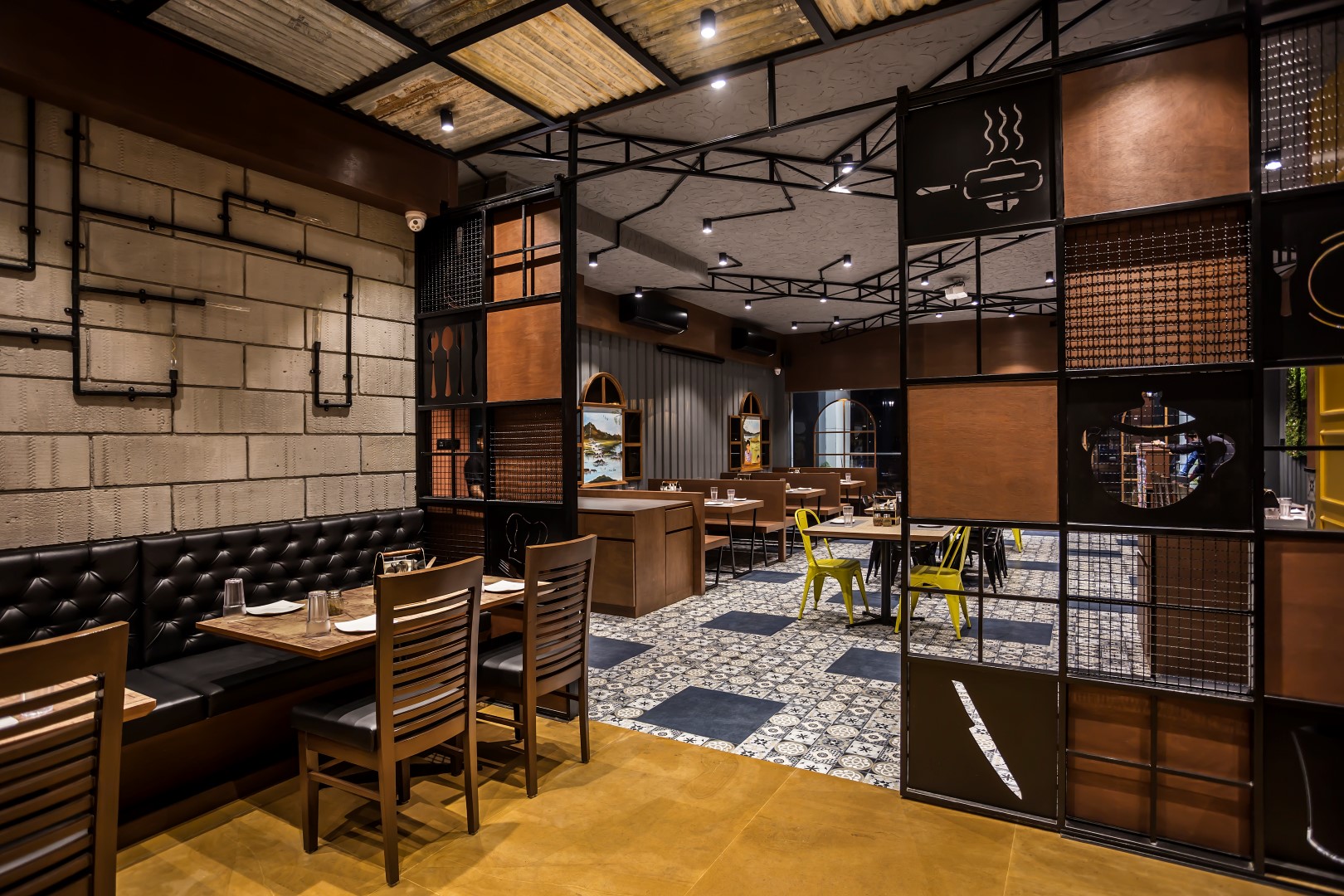 The entrance is finished in glass and wood giving transparency of inside ambience. Moving on to further areas, to the left-hand side is the reception desk made with interesting features.  Right next to reception desk and the opposite of it, the dining space is developed for the people to enjoy the food. The elevation of the area is finished in metal with wooden window frames showing some posters of nature, and making it feel natural.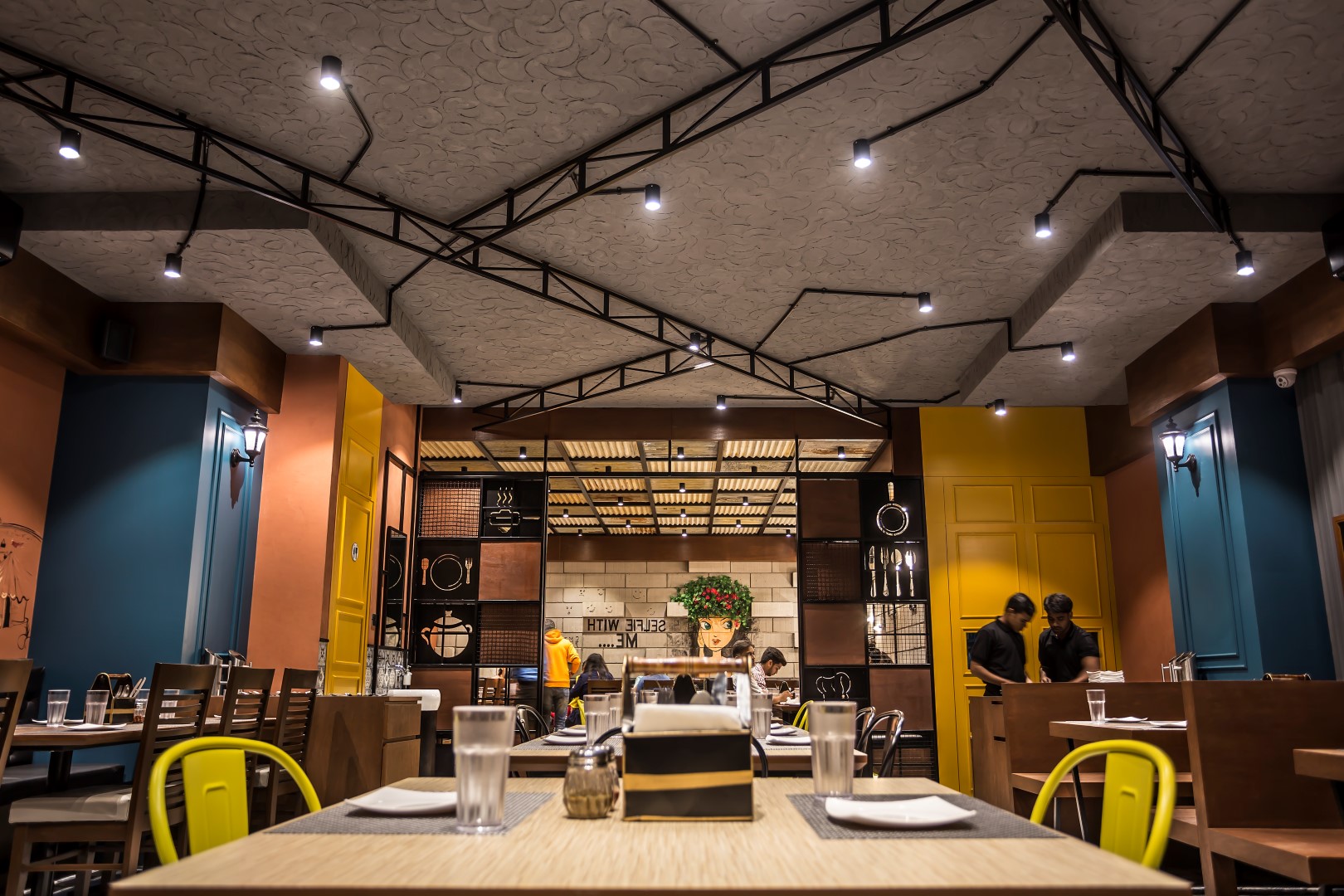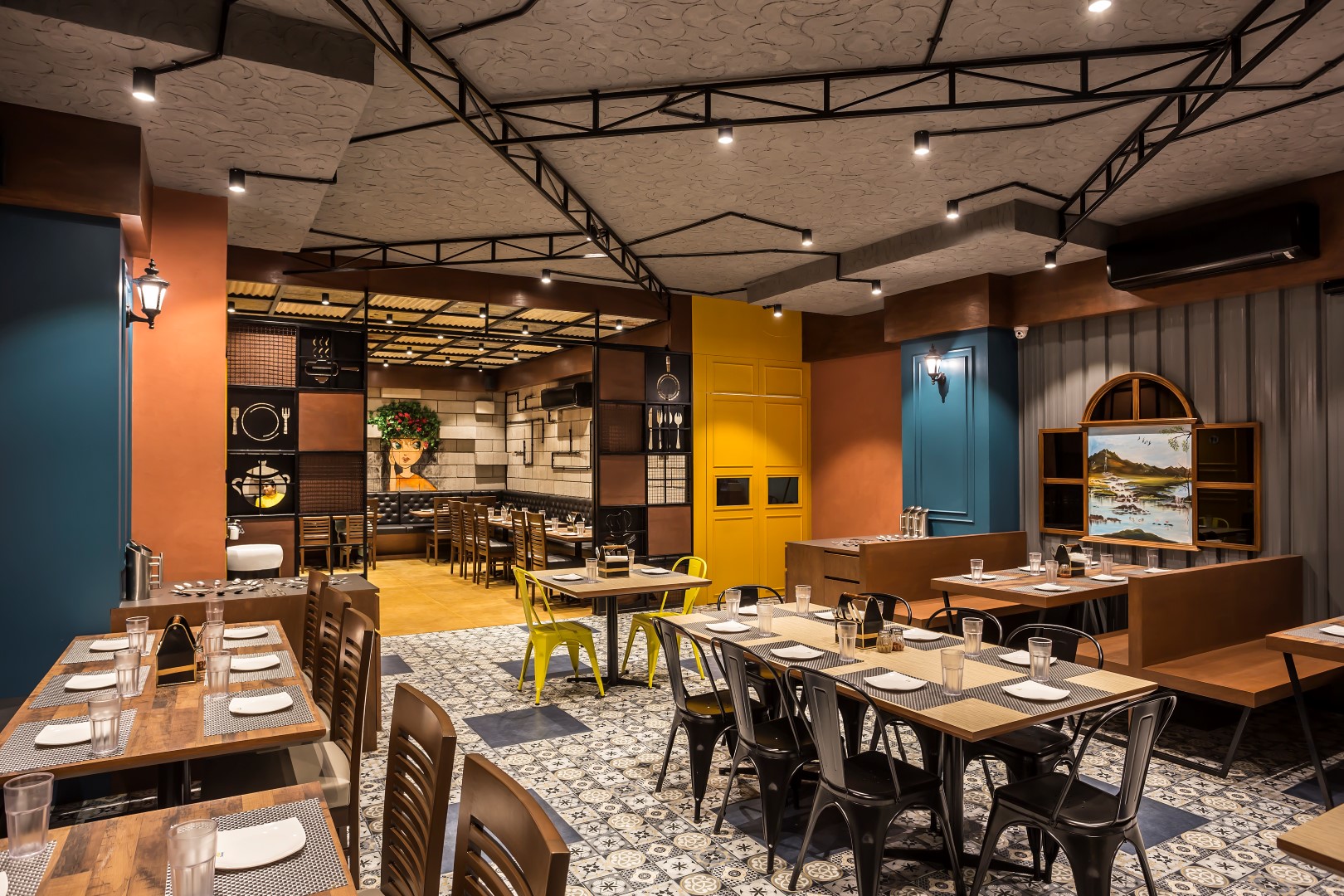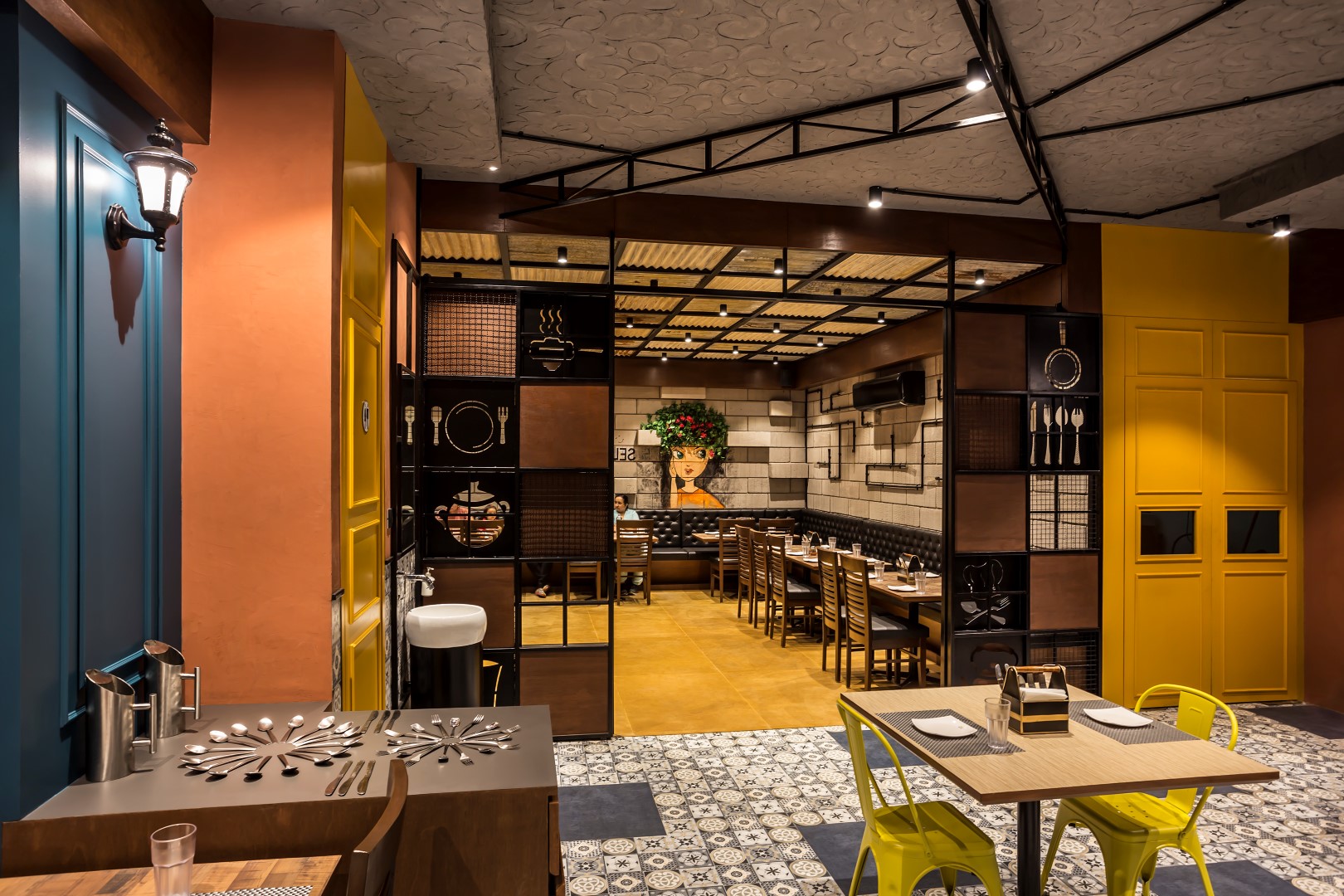 Also, there is a framed vertical plantation behind the reception desk, making the reception area more attractive. Flooring is covered within ethnic textured tiles assemble in a unique way. The ceiling is designed exposed with metal truss over it lights, that looks like branches coming out of a tree.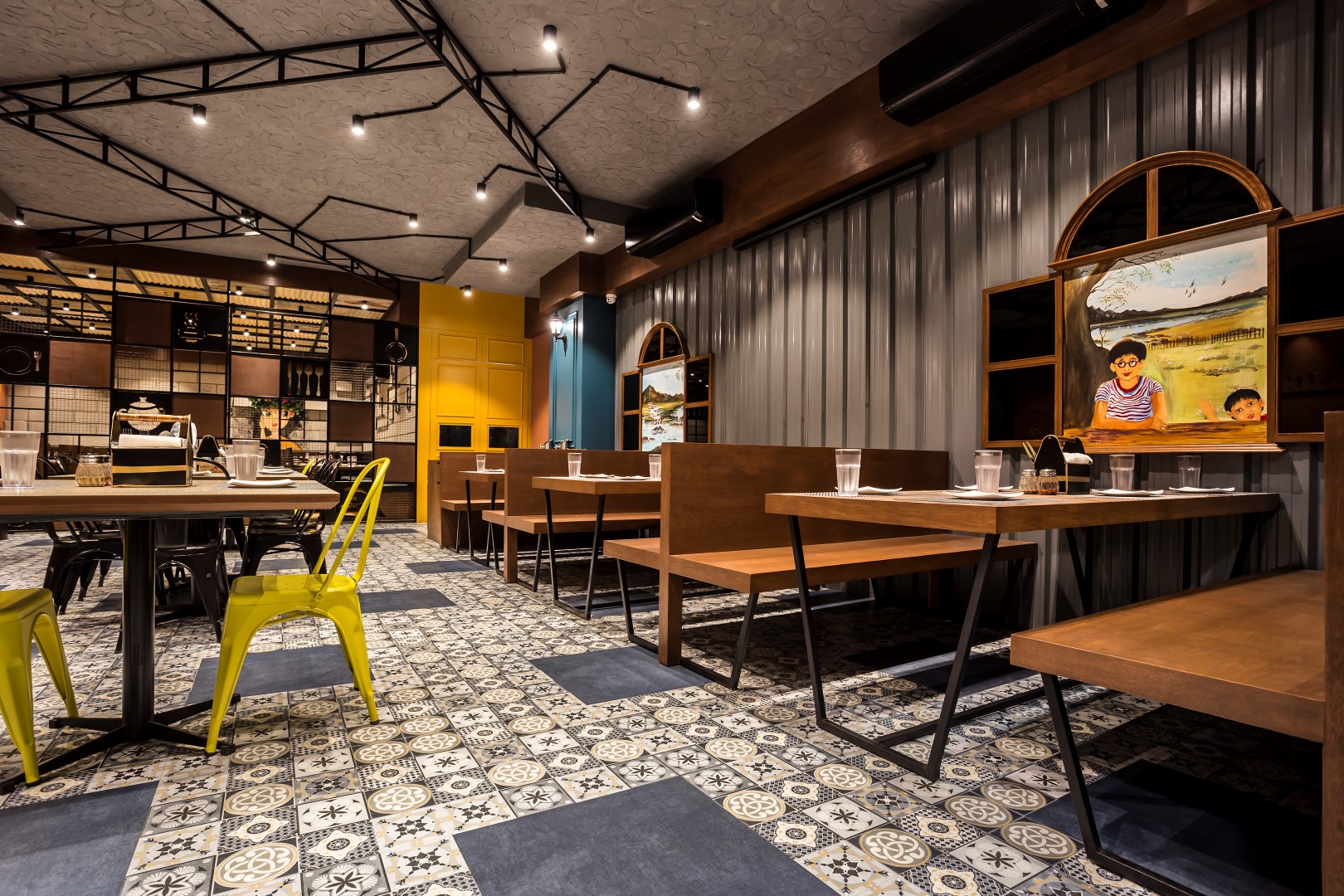 The elevation of party hall is finished with concrete blocks and metal pipes to add more beauty and creativity to it. Some of the blocks have scribbled on it.
The Ceiling of party hall is eye-popping. The ceiling is completely designed in the rustic theme which is old and scraps corrugated sheets hanging. The scrap sheets are used as a great part of designing ceiling. The flooring in party hall is wooden. The ambience of this area is completely different than the other.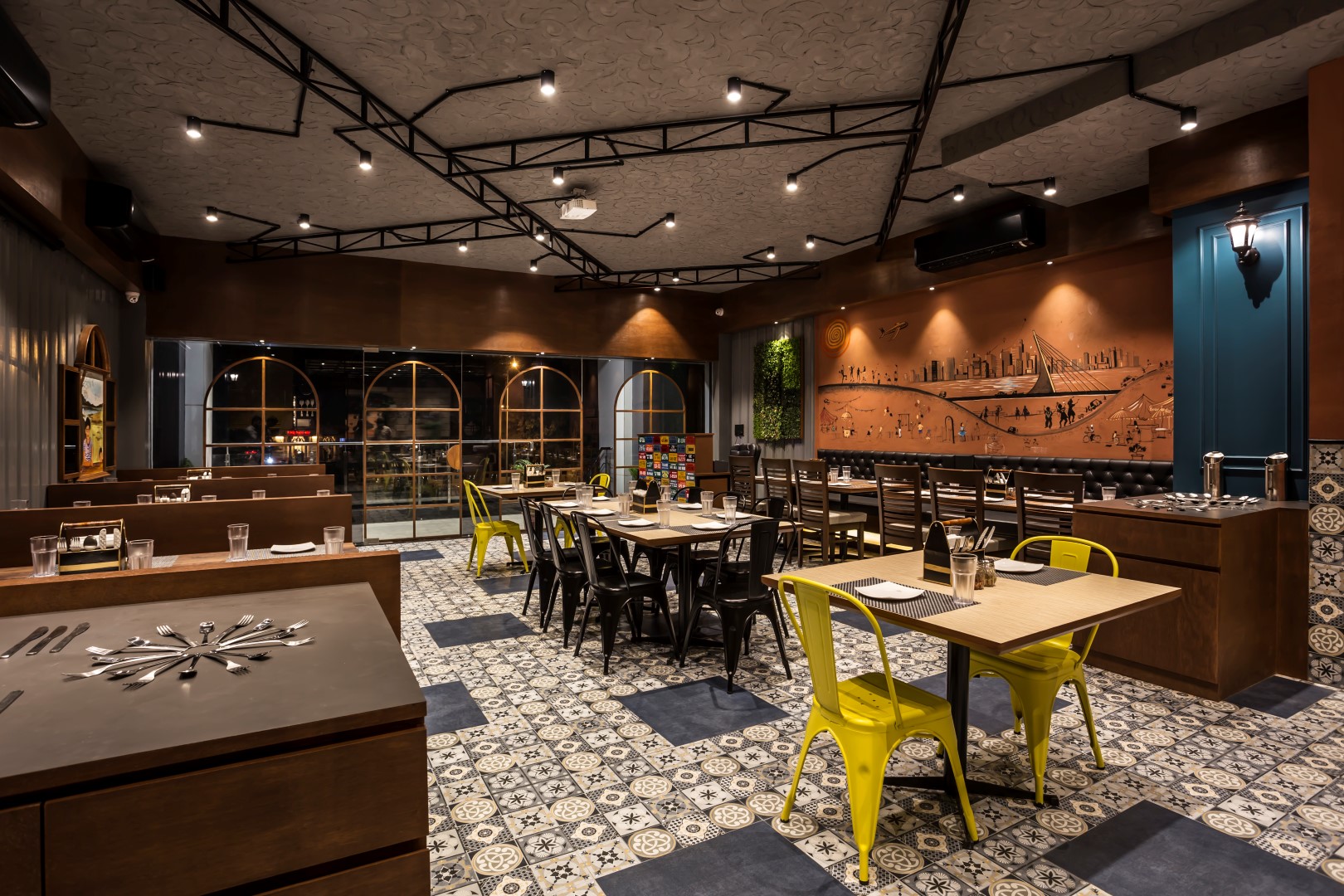 In addition to that. The furniture is blended with Booth and calm sitting sofa with an addition of brown and black tables and chairs which are made up of metal and wood as well.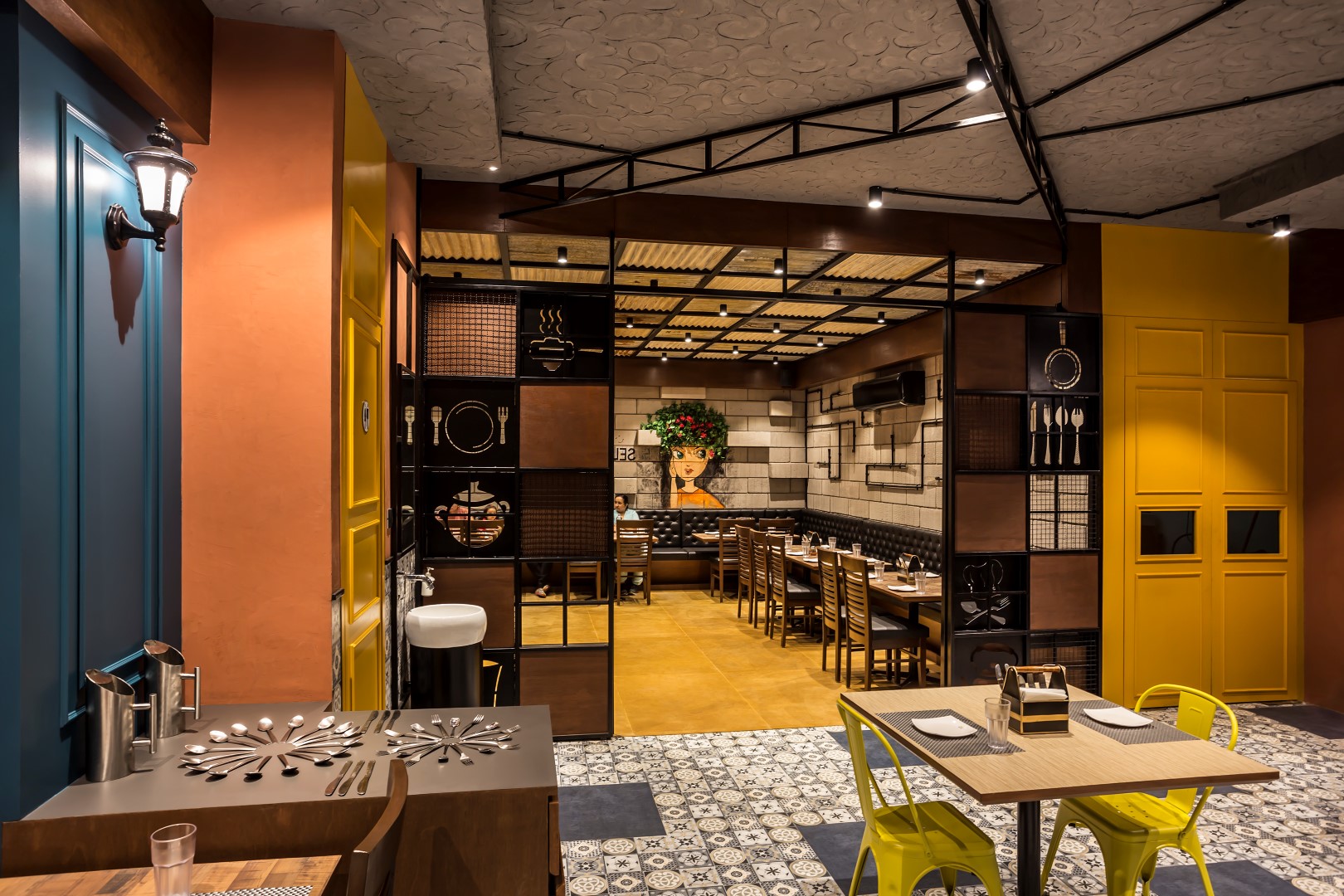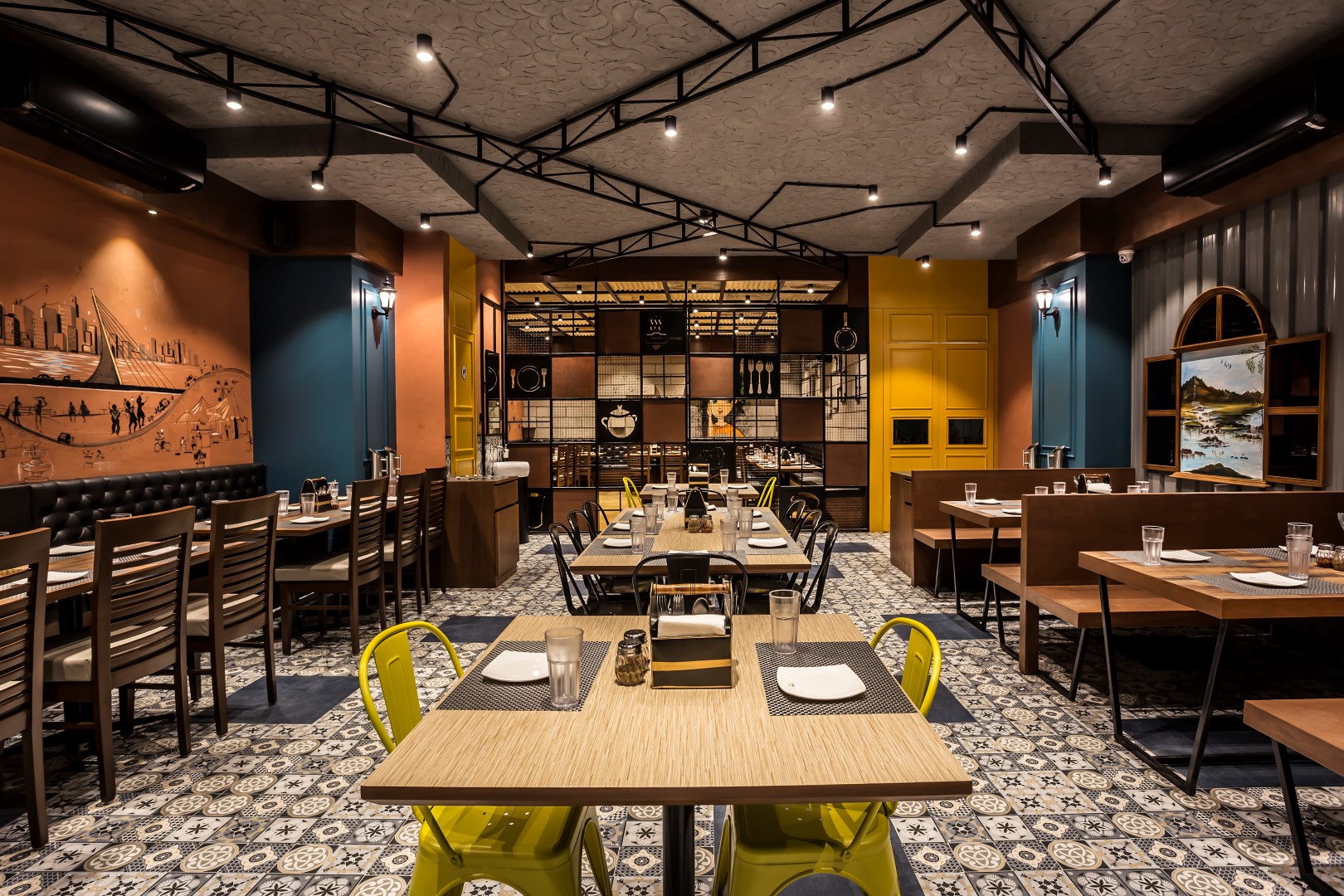 Ceiling, wall design and sitting, complement each other pleasantly, which Juxtaposition natural and rustic look with various designing elements which makes and brighten up all the spaces of Restaurant.
The lights all over the restaurant are placed in a way that it highlights each and every corner
the sitting space as in dining space, chairs are made up of wood, the sofas are finished with leather. The divided dining space and party hall are almost same, yet gives a different experience.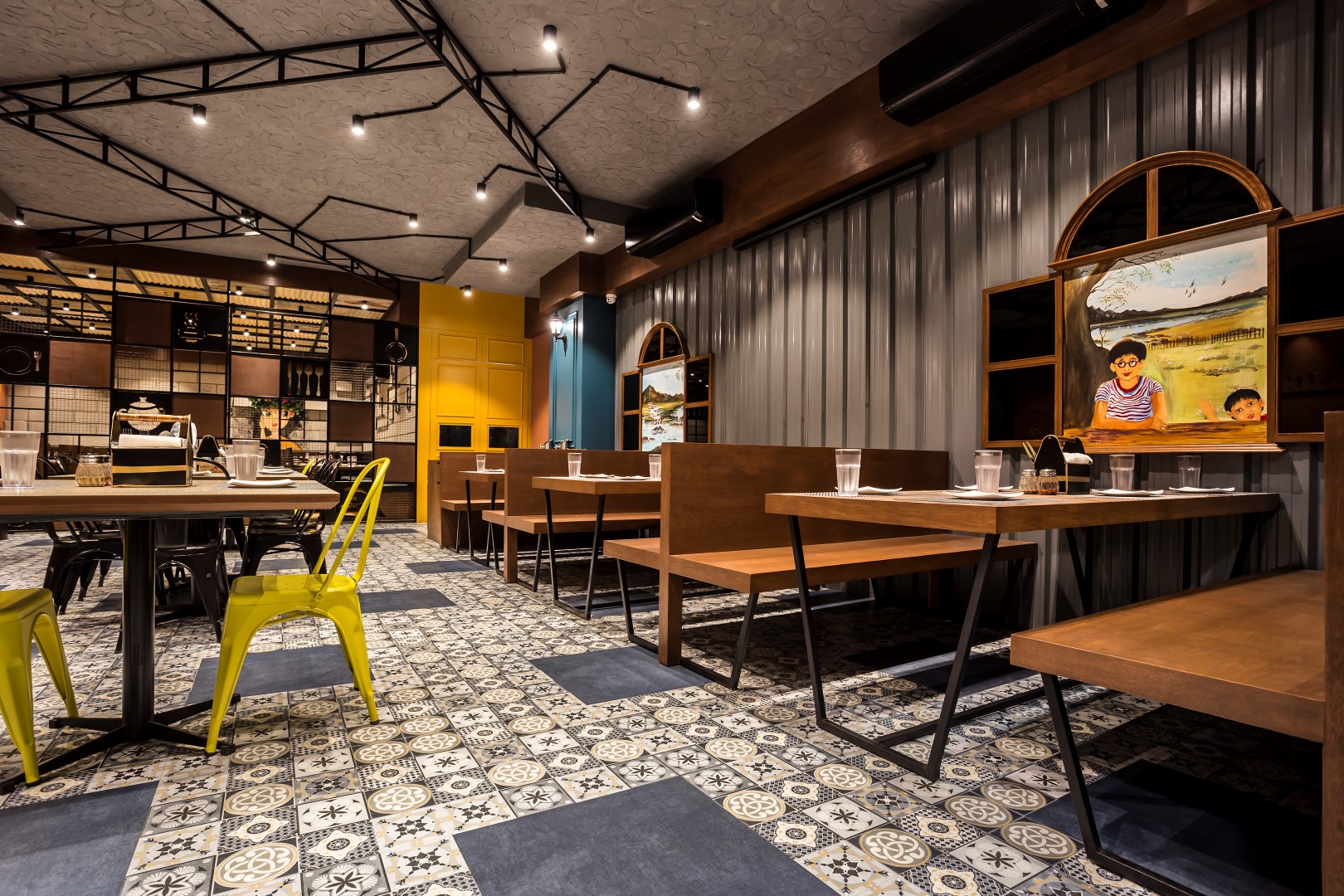 To add more, on one elevation, there is beautiful and very attractive beach scenery painted and some handwritten words, images, and other various elements in its design pattern from a young artist that makes the dining experience more comfortable and gives unique effect,& make space and wall seem seamlessly attractive.
The wall made up of light metals, and the paintwork of children which creates dramatic, yet live exciting look to walls.
FACT DETAILS 
PROJECT NAME – PIZZA SOCIAL
CHIEF\ PRINCIPLE DESIGNER – MR.TEJAS MISTRY
FIRM NAME – THE INTERIOR WORKSHOP
TEAM MEMBERS – TEJAS MISTRY, KALPESH CHOTALIYA, PIYUSH PANCHOLI
TYPOLOGY– RESTAURANT
PROJECT AREA – 1767 sq ft
PROJECT COST –  15 Lacks
PROJECT LOCATION – SURAT, GUJRAT, INDIA
PROJECT COMPLETION – 2017S
TEXT CREDIT – NAFISA RANGWALA
PICTURE CREDIT – KAMAL BENGALI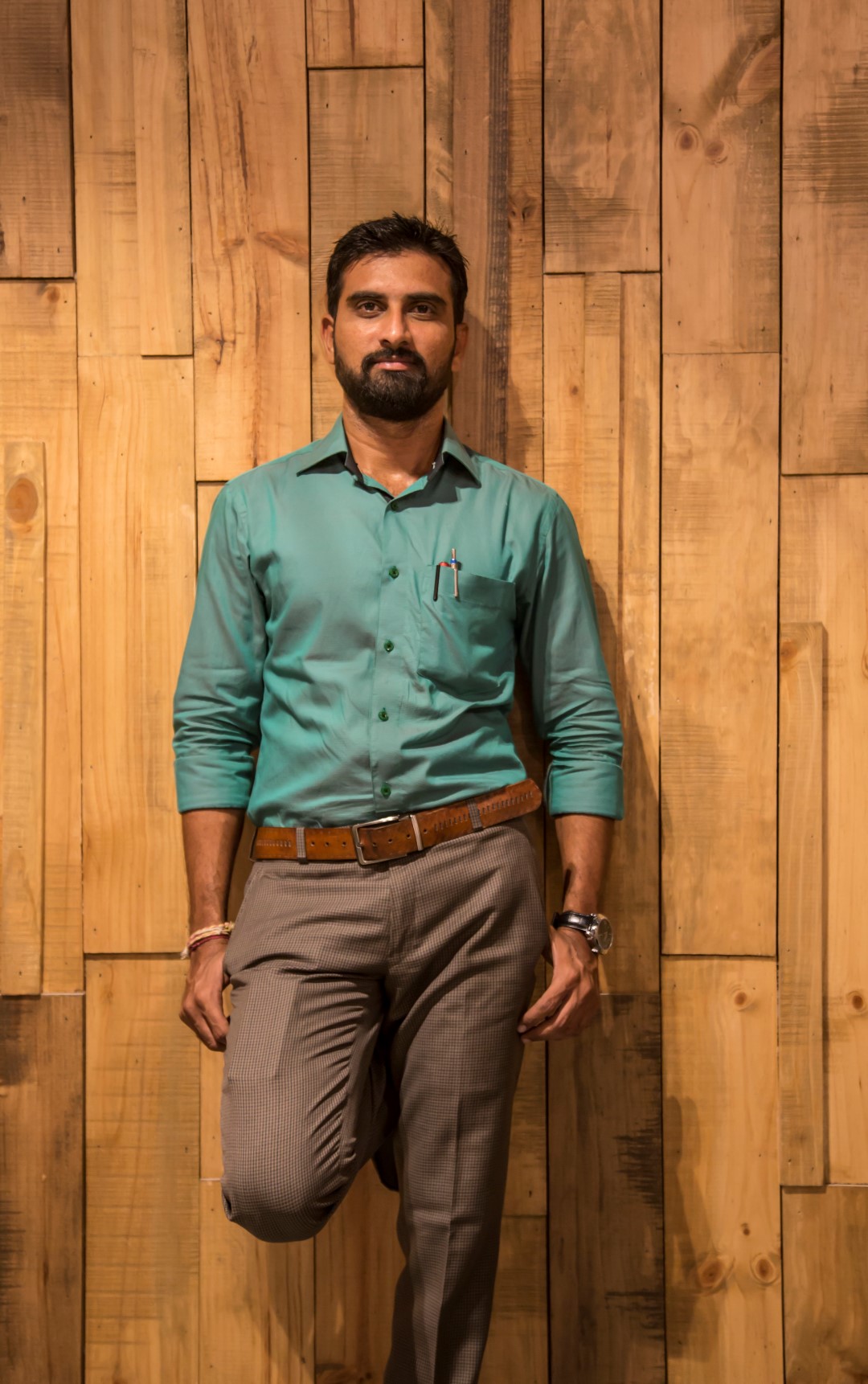 According to Tejas, a good design is a combination of desire, enthusiasm, simplicity, innovation, grace, and the necessities of the client. The pleasure of seeing a client satisfied is not just that, but I see designing as my therapy said Tejas.
"Excellent design that exudes great taste is not limited to any particular design style. Our projects run the gamut from classic to modern and contemporary city lofts to rustic mountain retreats. Commercial or residential each project is exciting uniquely tailored to the individual needs and expectations of our clients."
Awards –
IIID Design Excellence Awards 2018
Zone Level -3
Winner Of – Small Commercial Workplace
Commendation – Leisure and Entertainment
Runner up Of – Young Practice of the Year
CONTACT DETAILS-
TEJAS MISTRY
MO- 09879453181
ADD- 302-303 GOKUL SOLITAIRE, NEAR RUNGTA ACRADE,
OPP, NANDAVAN-2, V.I.P ROAD, VESU , SURAT- 395003
WEBSITE- [email protected]