A Pastel Colour Palette Adds Up To Dessert Studio | Pondicherry | Architecture_Interspace
The cream affair is the interior design of the first dessert studio in Pondicherry. The young client requested an innovative and contemporary design that is maintenance-free. The site is located within a 5min walk to the beach in the French colonial town at the heart of Puducherry. This location is a hotspot for tourists from Bengaluru and Chennai and for local beachgoers.
YOU SAW IT FIRST ON THE ARCHITECT'S DIARY
The design challenge was to expand the space within the existing shell. The original space was 10×13′. By introducing a mezzanine level in the double height space, the seating area was doubled to 20'x26′. The other challenge was the timescale of the project – from conception to construction, it was completed in 12 days. This meant the design, materials and construction technology had to be adapted for a fast-tracked project.
To replicate the bright colours of ice creams, a pastel colour palette comprising of blue, yellow and pink is used for the dessert studio. One hundred cubes rotating on a vertical axis combine to form Cream affair's logo on one side and function as spaces for customer testimonials on other sides.
The lighting is designed to have minimum interference with the existing structure. Lighting conduits contain electrical wires inside uPVC pipes and are suspended from ceilings. The LED fixtures are connected to uPVC pipes using special reducers. And the bends in the electrical conduits are achieved using L-shaped specials.
The mezzanine floor and the galleria are formed of ferro cement concrete on grid rafters. A mild steel wire mesh acts as a handrail and partition between the ground level and mezzanine. The production area, serving station and hand wash are neatly tucked in below the mezzanine floor and galleria.
A full 6'x6′ glazed window offers street views from 3′ height thereby offering privacy and views at eye level for customers and passer-by at the same time.
The dessert studio has opened to highly positive reviews and the interior design of the studio is playing a critical role in bringing in new customers and retaining long time ones.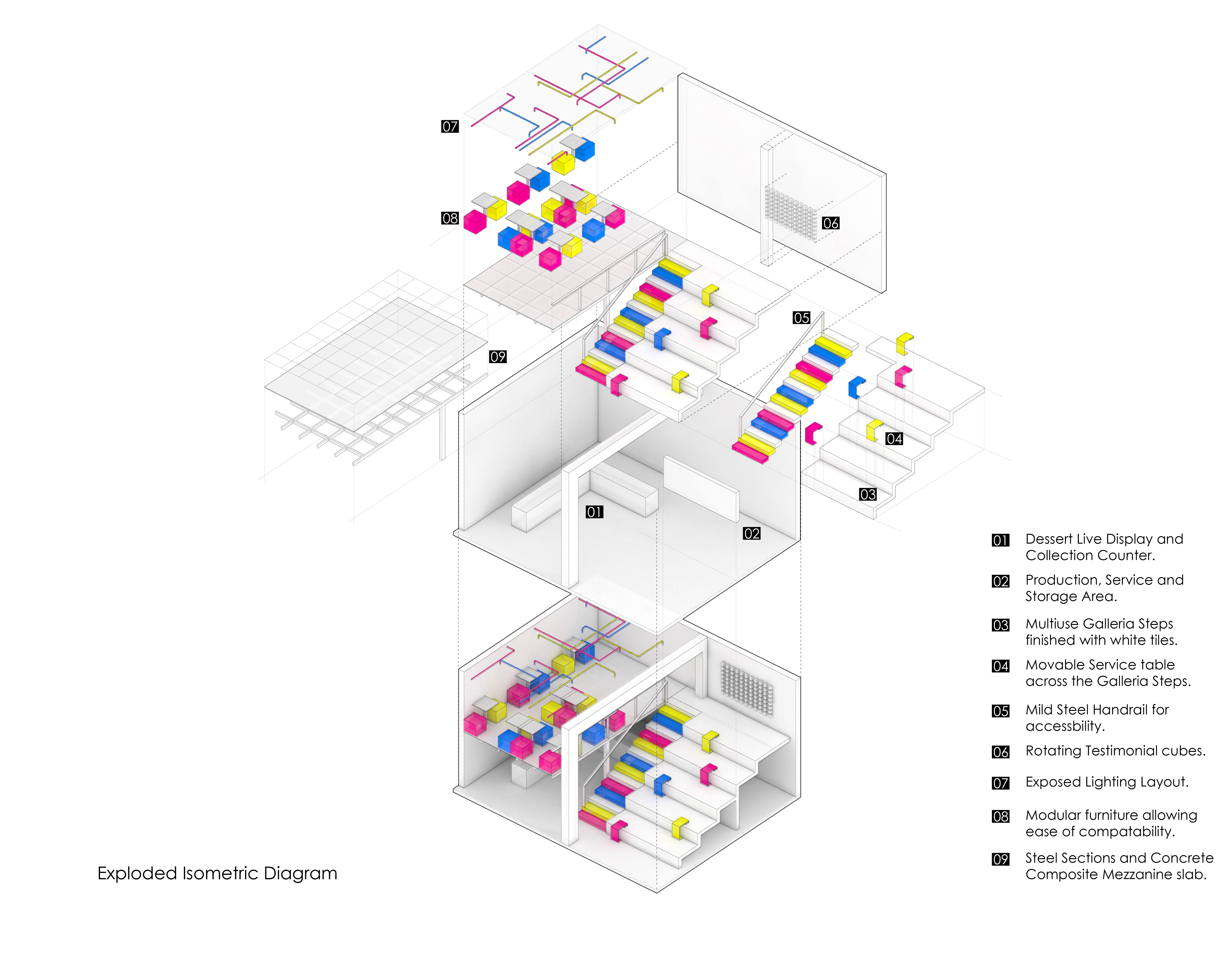 Project Fact File*
Project name: Cream Affair Dessert Studio
Project location: Pondicherry, India
Lead Architect: Goutaman Prathaban
Architect' Firm: Architecture_Interspace
Design Team: M.Prathaban (Civil/ Project Management consultant)
Madhini Prathaban(Architect)
Contact e-mail: [email protected]/[email protected]
Gross Built Area: 900 sq.ft (83.6 sq.m)
Project Category: Commercial Interior Design
Duration of Execution: 8 days
Photo credits: Mr. Felix Emmanuel