'Earthy Affair' our recently completed office project in Gandhidham, is hinged around a natural and woody design narrative. We decided on a blend of cane and pine wood to arrive at a connection between rawness of material along with geometric lines and patterns.
Open Interactive Spaces Designed In The Office Interiors | THE AD EFFFECT
VISIT : THE AD EFFFECT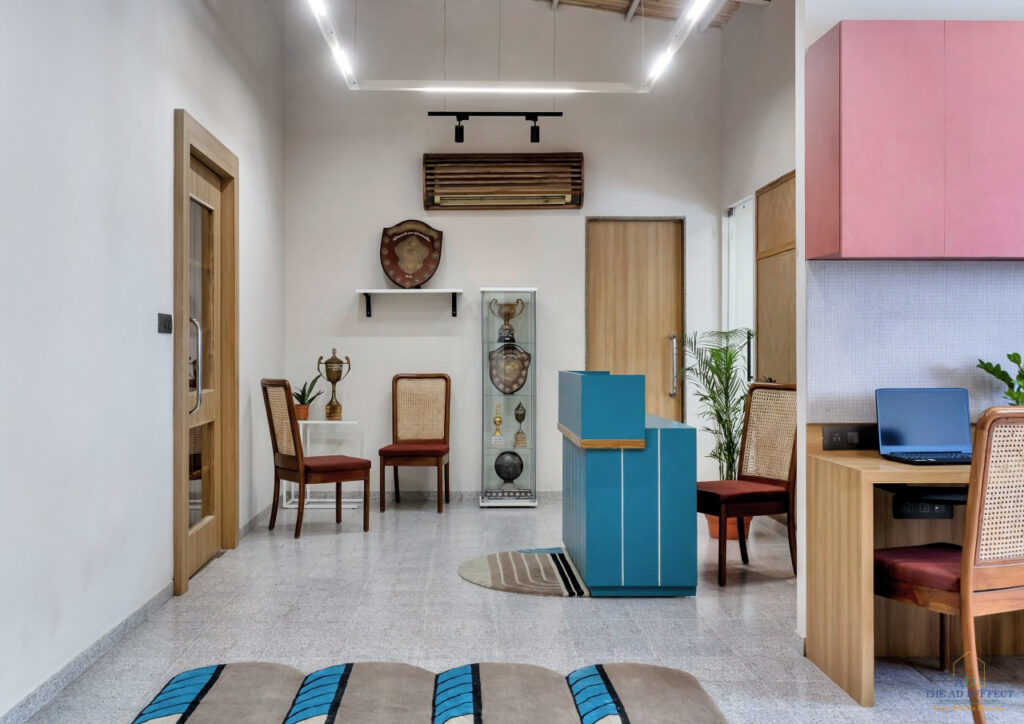 Designed with a panelled glass door and a bright colour, the entrance at 'Earthy Affair' resonates with positivity. The entire office is a well-balanced combination of understated neutral materials, generous circulation spaces and teal highlights. This meld lends the office with a poised collaboration of aesthetics and functionality.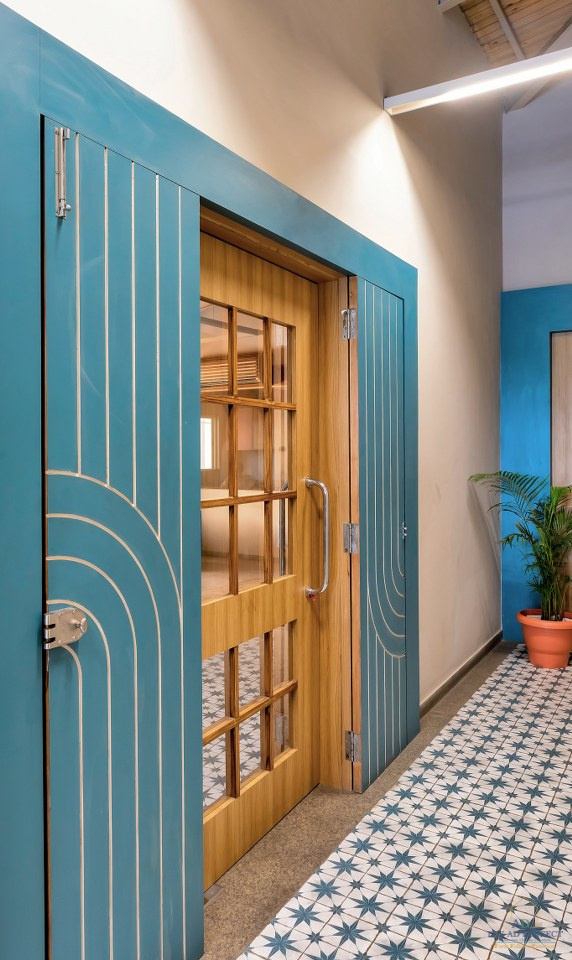 The entrance at 'Earthy Affair' sets the mood for the design story inside the office. The entire office follows a sober colour palette with an influx of blue and wood finish. A patterned flooring in white and blue adds the required artistic touch to this earthy narrative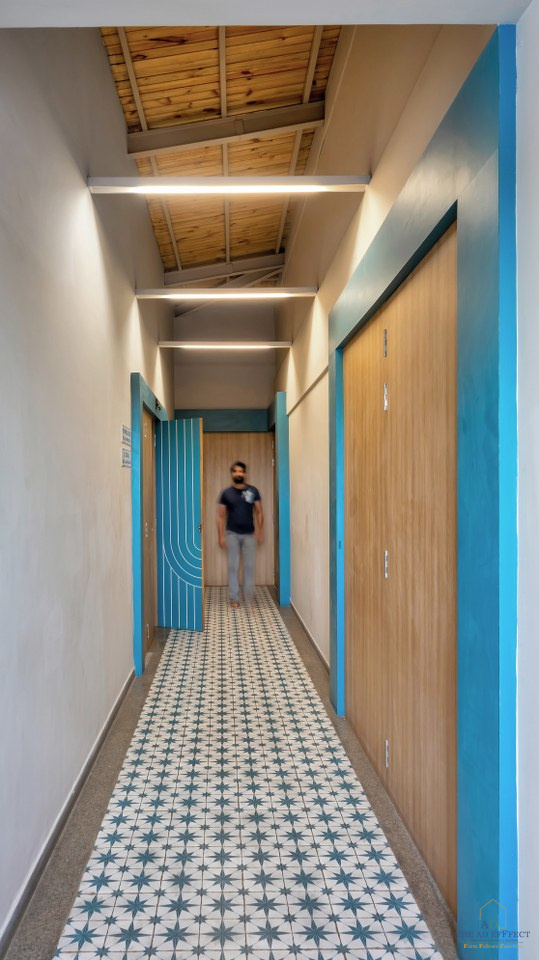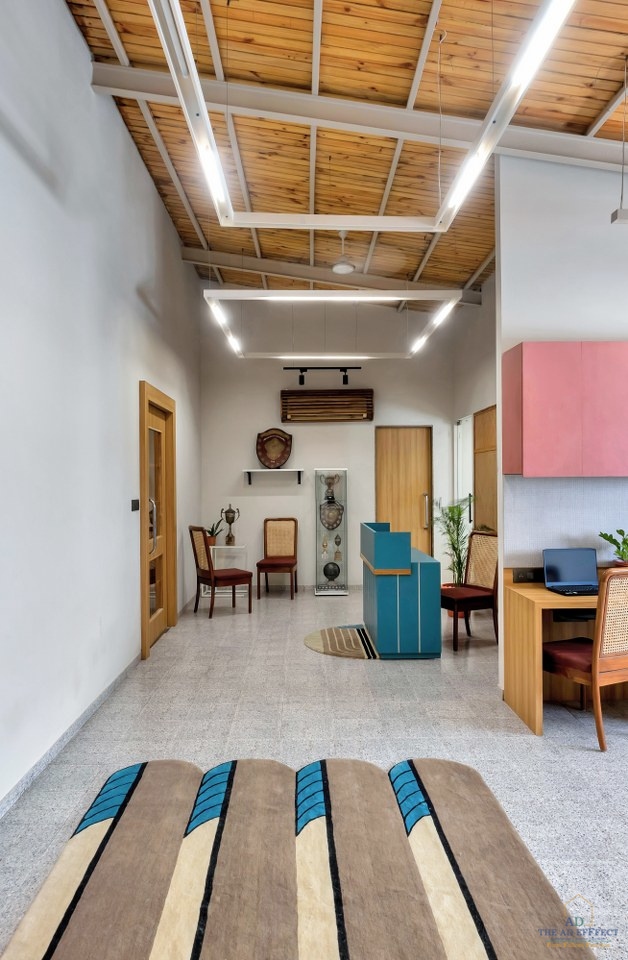 The design embraces creativity through patterns of the rug, the terrazzo flooring and plants. The wall in the waiting area showcases awards and accolades won by the client, giving a glimpse of the company's achievements. Here, zoning encourages working in a fluid manner with minimal spatial circulation.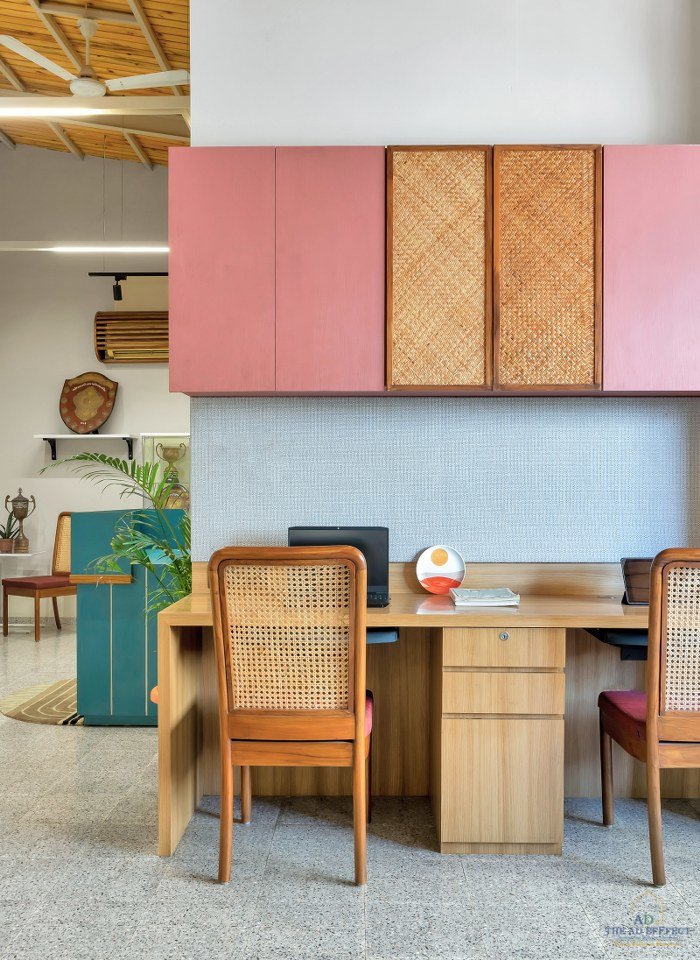 The overall space at the 'Earthy Affair' is simple and spacious with a combination of blue and cane texture complemented with a pop of brick tone that complements the natural wood textures.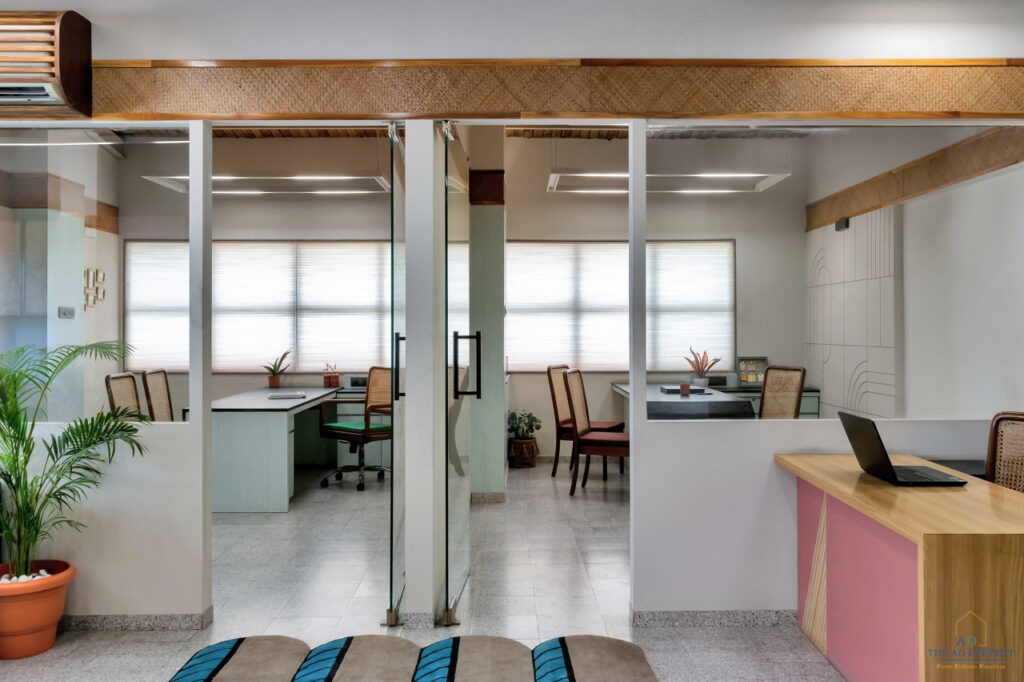 The main cabin has ample natural light throughout the day due to large openings and connectivity to the staff area outside.The rawness of the table in this room, finished in black kadappa stone, amplifies the natural narrative.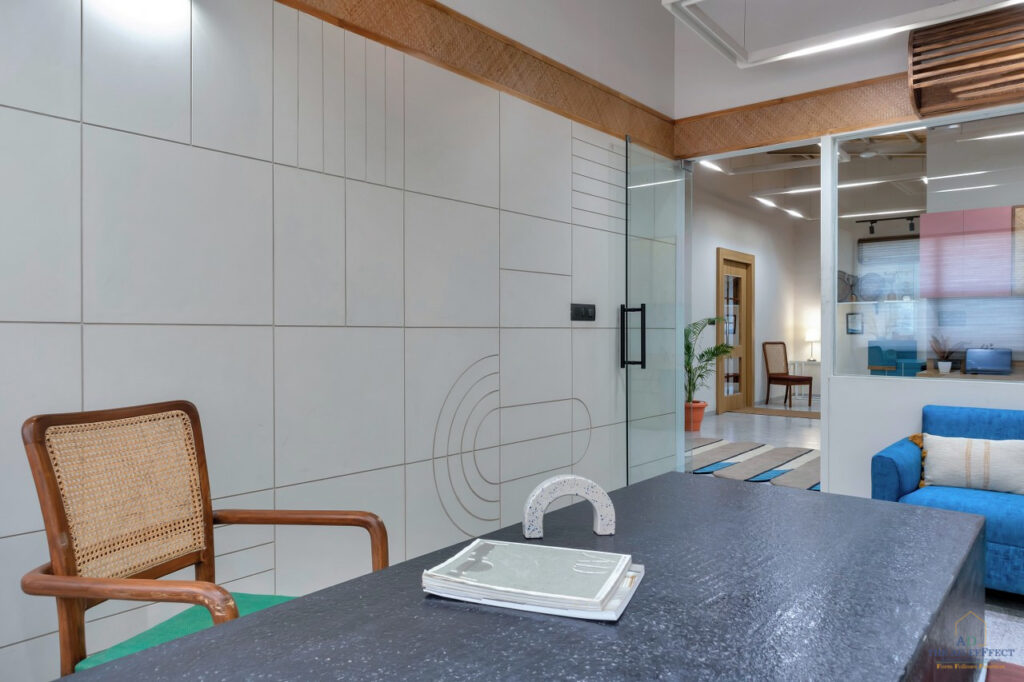 The key brief given by the client at the 'Earthy Affair' was having as much open interactive spaces designed in the office interiors. We strategically planned two main cabins in a manner to have visual access to the main road and wide spaces within for easy interaction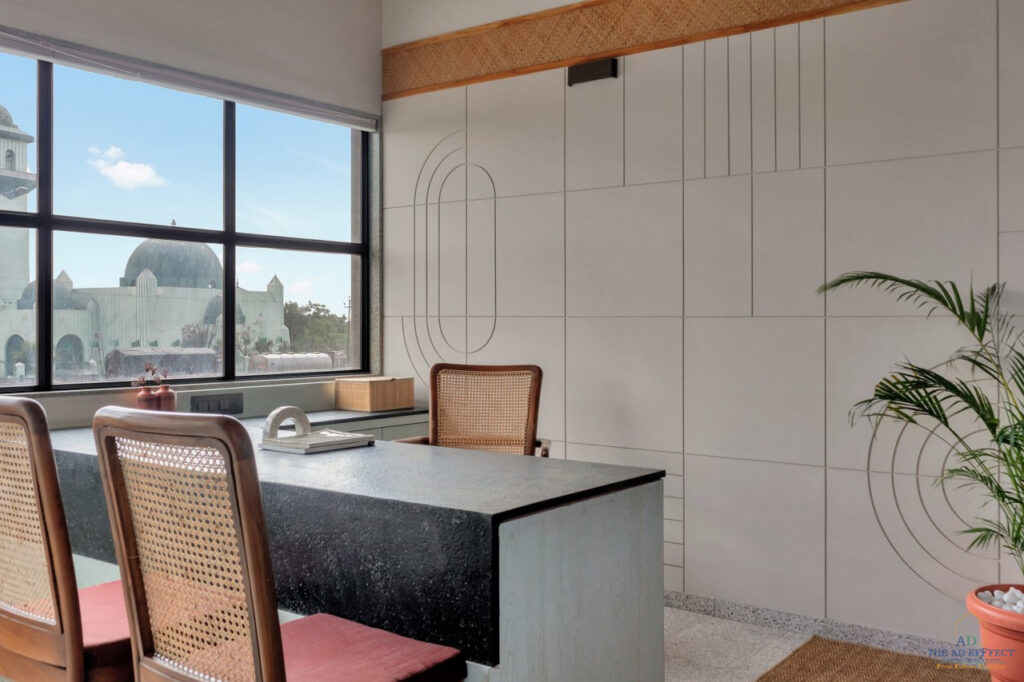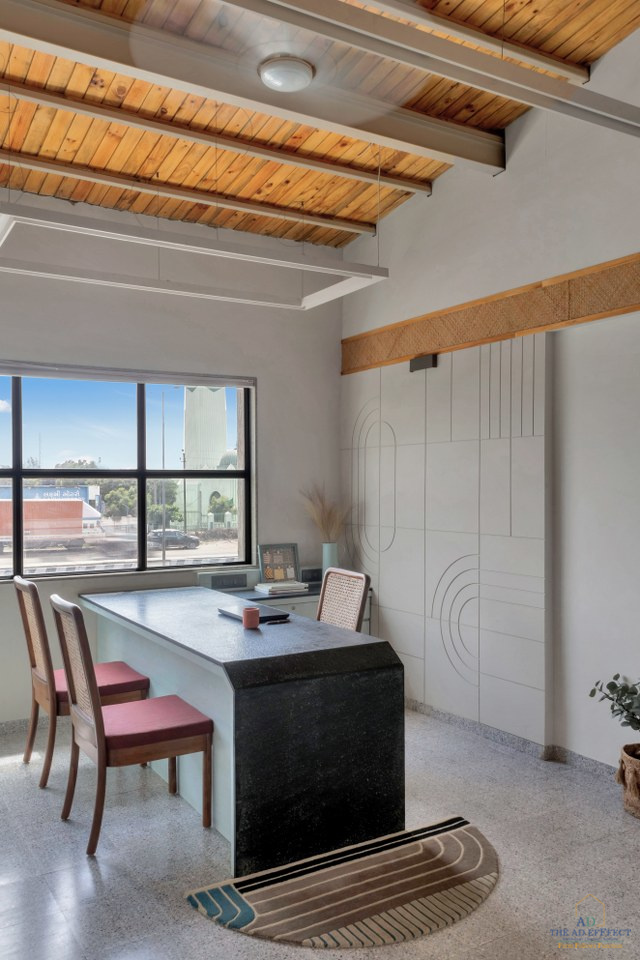 The window facing the main road facilitates inspection and allows the client to be updated on all the workings of the vehicles of their transport business. The customized rug and plants adds a pop of liveliness and fun to this otherwise serious and hard working office.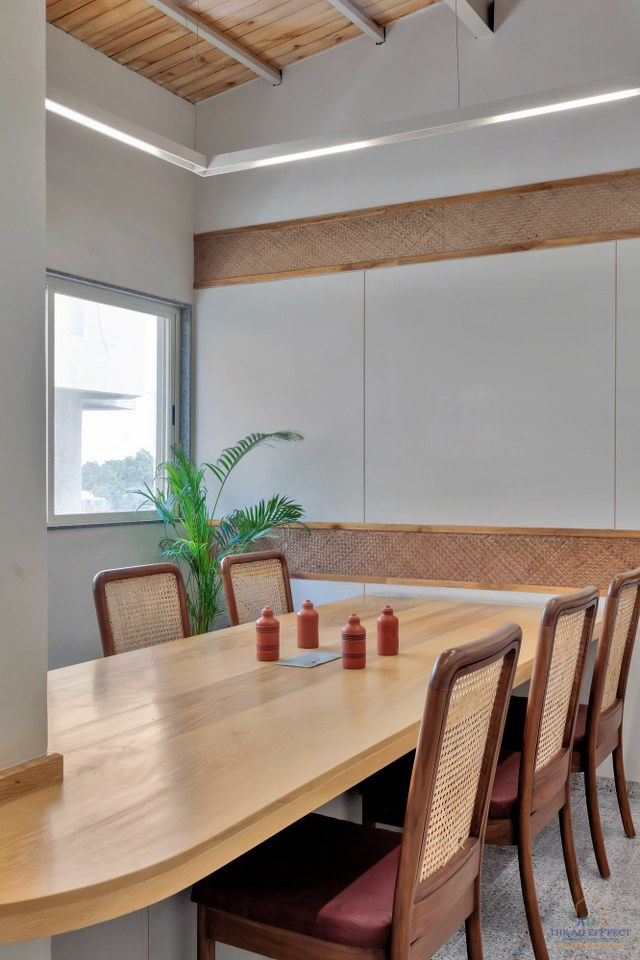 FACT FILE
Designed by : THE AD EFFFECT
Project Type : Office Interiors
Project Name : EARTHY AFFAIR
Location : GANDHIDHAM HIGHWAY
Year Built : 2021-2022
Duration of project : 5 MONTHS
Project Size : 1200 Sq. ft
Project Cost : 20 LAC
Principal Architects : AMBER CHAAUHAN & DRIISSHTI ADVANI
Photograph Courtesy : I.D. Rohan Patel
Products / Materials / Vendors : Finishes – LAMINATES , CHAIR MADE WITH WOOD N WICKER , PATTERNED TILE IN PASSAGE , TERRAZO TILINGV IN OFFICE AREA / Lighting – HANGING LIGHT CREATED ON SITE / Doors and Partitions – REGULAR FLUSH DOOR AND PLYWOOD PARTITION COVERED WITH CANE / Sanitaryware – CERA / Flooring – TERRAZO / Paint – ASIAN PAINT / Artefacts – IKEA / RUGS –Candour Rugs.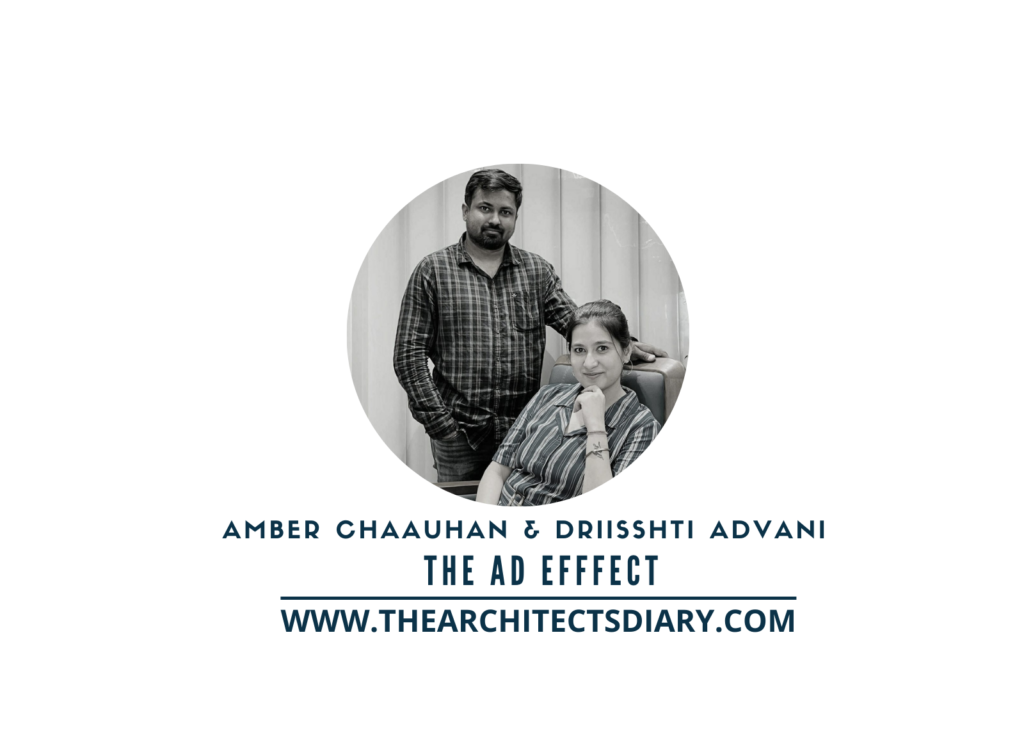 Firm's Website Link : THE AD EFFFECT
Firm's Instagram Link : THE AD EFFFECT
For Similar Projects >> OFFICE INTERIORS FOR A YOUNG DIGITAL MEDIA COMPANY GIMBAL MEDIA