Office Interior With A Raw, Edgy Yet Welcoming Design Language | The Crossboundaries
In designing the interior and space for the corporate offices of Alembic Real Estate, Vadodara. The Crossboundaries took an opportunity to give the interiors of a 55-year-old large industrial building its second life. The site for the Alembic Real Estate office is set in the vast 200 acres of Alembic Group campus which are being redeveloped and upgraded as a walkable and sustainable mixed-use development called Alembic City.
Visit: The Crossboundaries
EDITOR'S COMMENT ON THIS PROJECT
"Risen like a Phoenix, keeping intact the integrity of the previous space, this design has an edgy tone to it. Seamless in nature and giving a pause through design where necessary, brings about a dramatic architectural atmosphere. Careful selection of materials and soundness in its usage is shown throughout this Real Estate Office."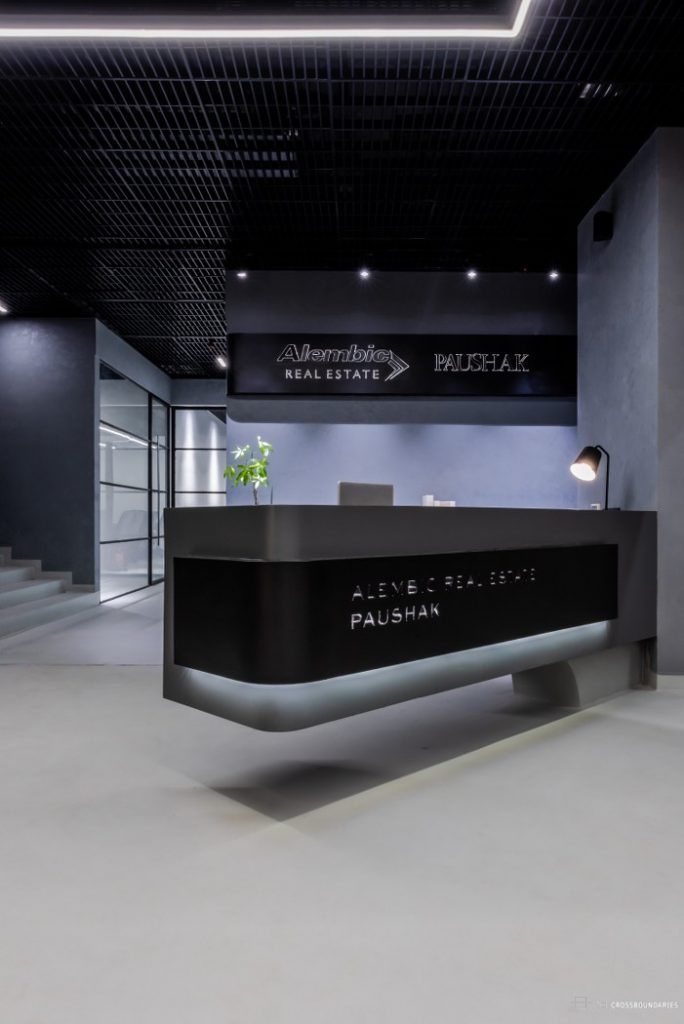 For an office space to be shared and jointly occupied by two diverse businesses with a total of over 115 employees, the designers have developed a clean and efficient ambiance. The overall color scheme is a range of muted greys, blues, and blacks as an ode to corporate efficiency, yet sometimes tempered with the occasional warmth of a brick wall and natural greens.
In a largely linear and orthogonal layout, the entrance foyer and office reception is a skewed and oblique protrusion that creates a first striking experience. Generating sudden drama with a cantilevered reception desk that appears to be in suspended motion, this space immediately demands attention with its proportions and scale. The oblong, 9 feet long floating sheath around the reception desk is cast in matt grey, with the company name lettered on black. Setting the tone for the color and material palettes through the office, a system of neat, sleek MS partitions with a solid jet black metal door, ushers the visitor in.Throughout these initial spaces, walls are dressed in a muted silver-grey stucco, and a metal grid ceiling in black floats neatly overhead.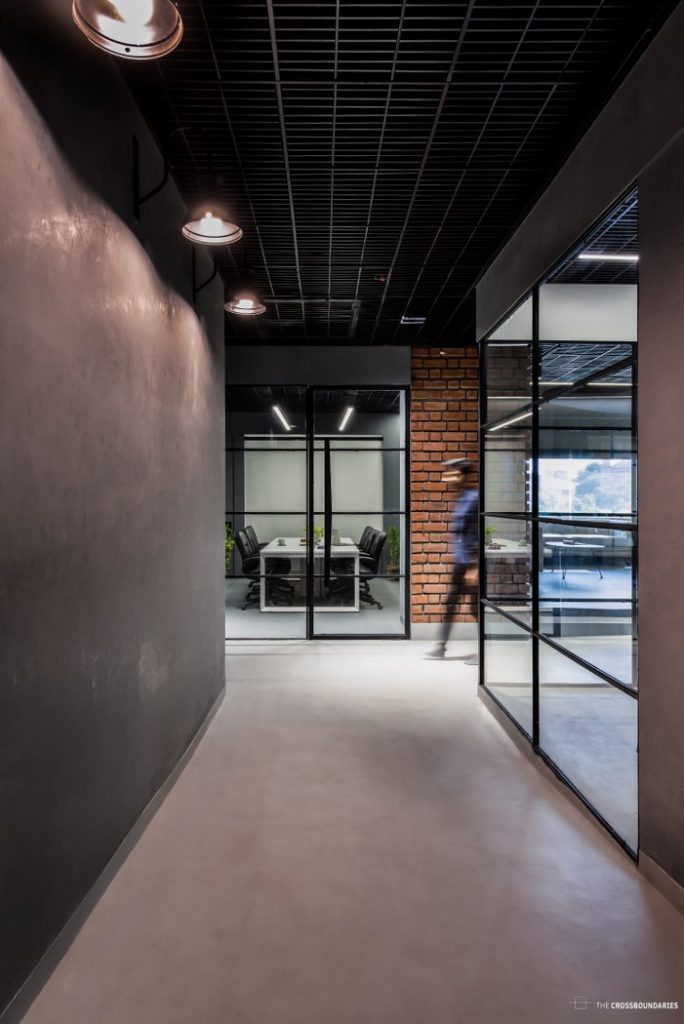 An element of absolute wonder in an otherwise formal and astute space is the massive elliptical sculptural ceiling light fixture! This 30 ft large customized element, the black ellipsoid light encompasses a corner that holds the waiting area, and extends beyond it, above the angled reception desk. As part of The Crossboundaries' deepening interest and innovation in lighting design, this Cosmic Orbit light has been carefully custom-designed in plaster of Paris, cast upon a special armature of aluminum and wood. Being a large-scale, and one-of-a-kind installation, each curve and radii was precisely modelled and executed on site, with the final solid form being coated in matt-black PU polish. When switched on, the circumferential profile LED light in warm-yellow to add an experience of hurtling through a cosmic expanse, and the weightlessness of being in space!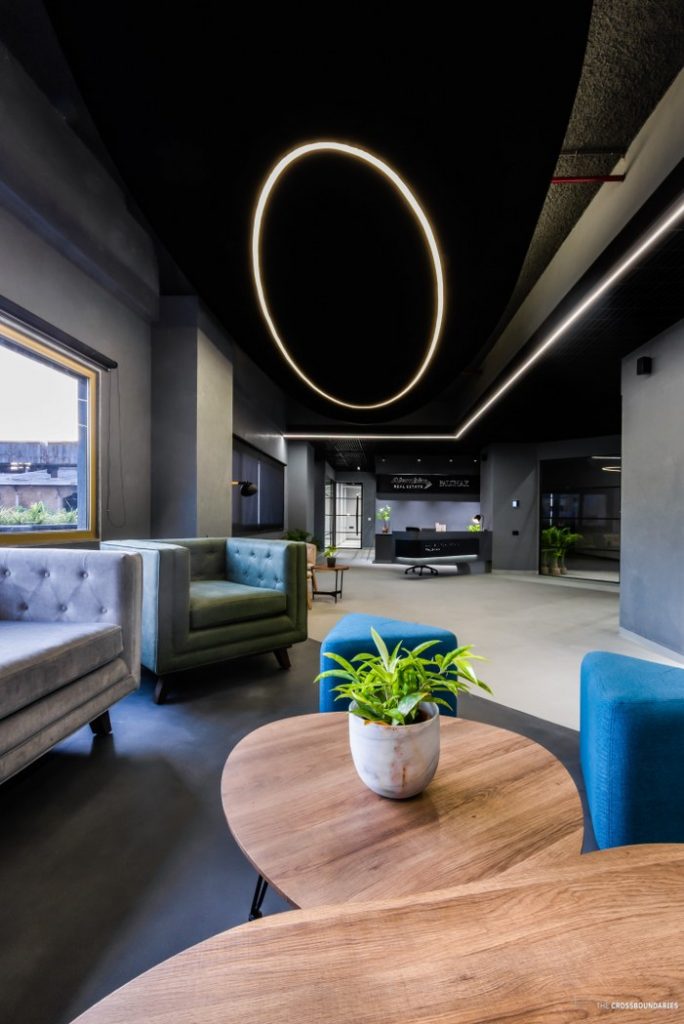 An exposed brick wall as the backdrop, with warm spot-lighting and plush seating at the waiting zone anchors the space back to gravity. The building's original Kota stone flooring came with a character of unevenness and was chipped away to create a leveled 8mm floor surface for an even and clean finish. This seamless horizontal surface extends across the office floor, except in spaces that are raised on a step, such as the waiting lounge platform.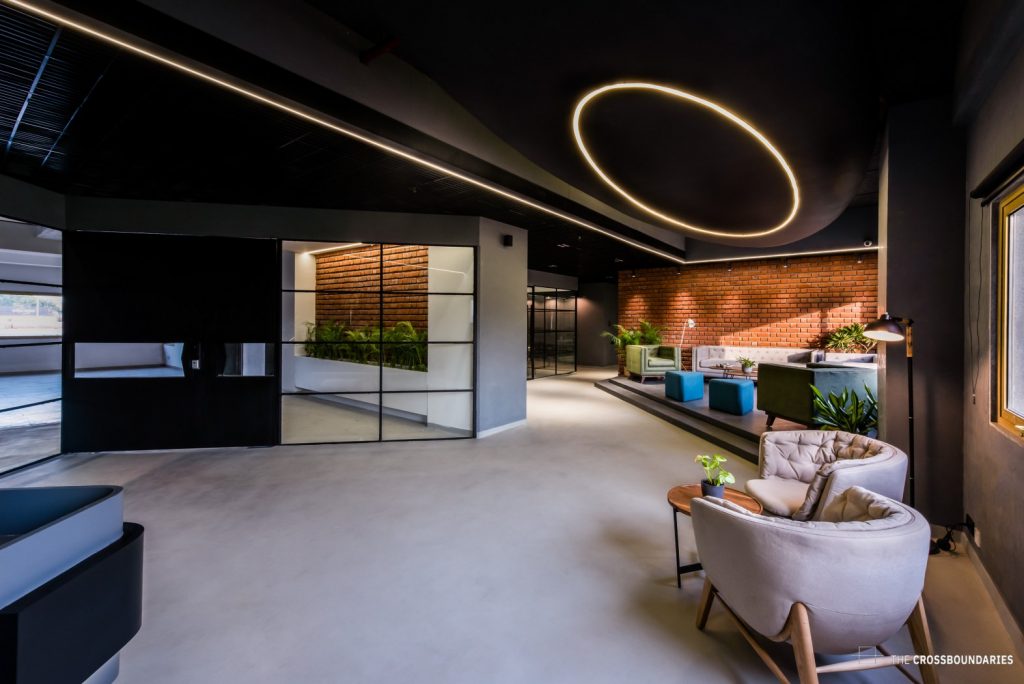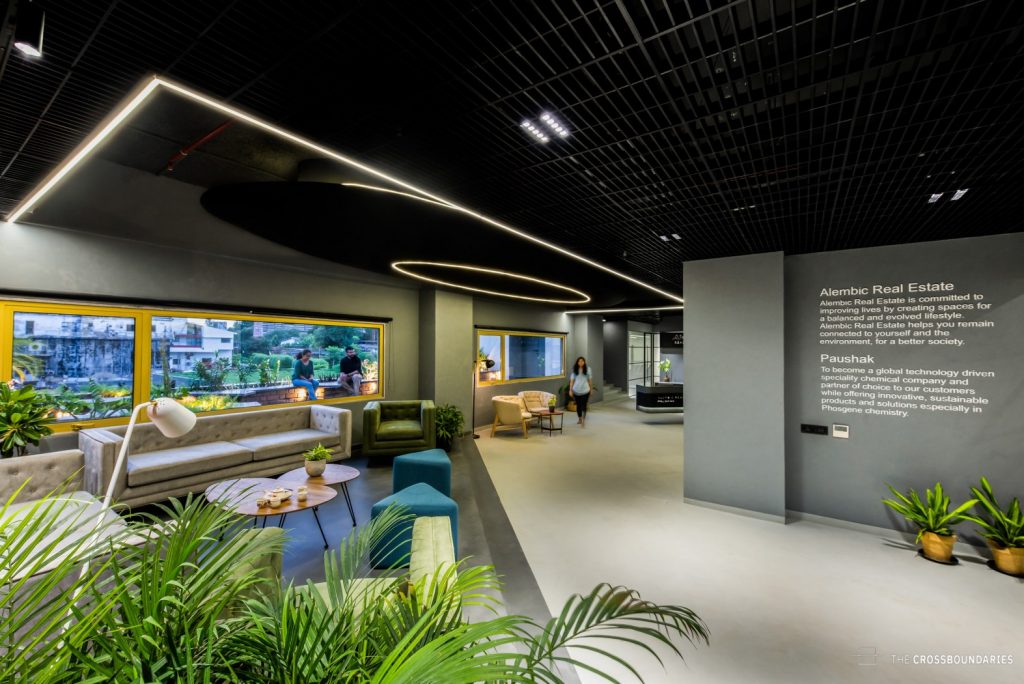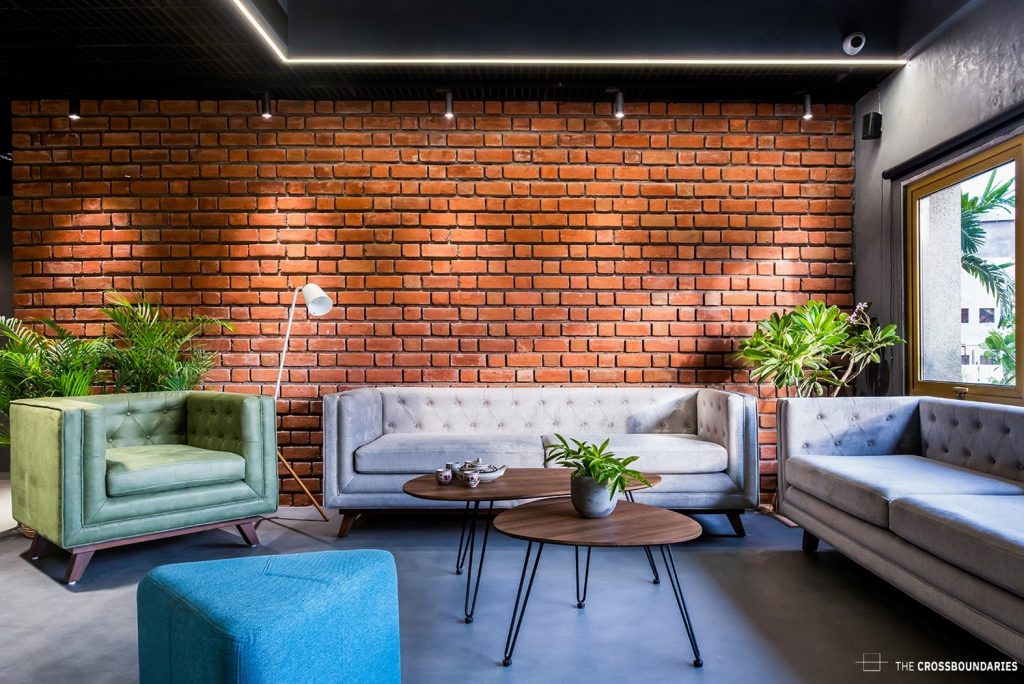 To remain quickly accessible and within reach to all executives, a 20-people board conference room is designed adjacent to the entrance. Here, a few more colors, such as a calm yet confident blue begin to show and lend character to the space. On the short end, a blank white wall ,language of parallel, linear profile lights under a subtle black metal grid ceiling communicates direction and focus effectively. Near this formal conference room, a smaller, easier space for quick and short meetings, vendor discussions and video conferencing is designed. For transparency and easy access, a system of lightweight black metal partitions housing 8mm glass acts as a partition for the room. A sprinkling of fresh green indoor palms is a break from the cold and muted tones.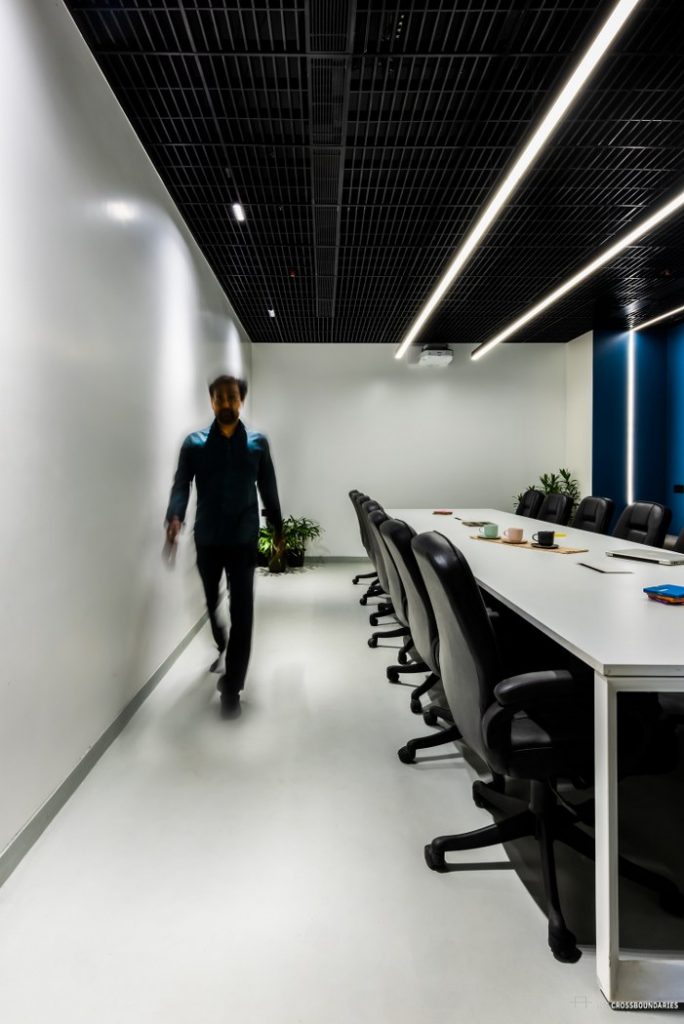 Towards the left of the accessory meeting areas and at the south-west end of the building, an oasis for calm contemplation has been created in the form of a library/reading room area and breakout space. Designed as an intimate gathering space, or to spend a quiet moment during a busy day, this linear room has a large metal rack spanning an exposed brick wall on its longer side. The sleek metal rack divides the wall into sections to display books and artefacts, flooded with spot lighting from the overhead track light. Due to the 10 foot height of the topmost shelf, a sliding metal ladder has been fabricated and placed for easy access. The loose furniture is an eclectic mix of easy single-seater loungers and asymmetrical tables sourced from a local furniture brand.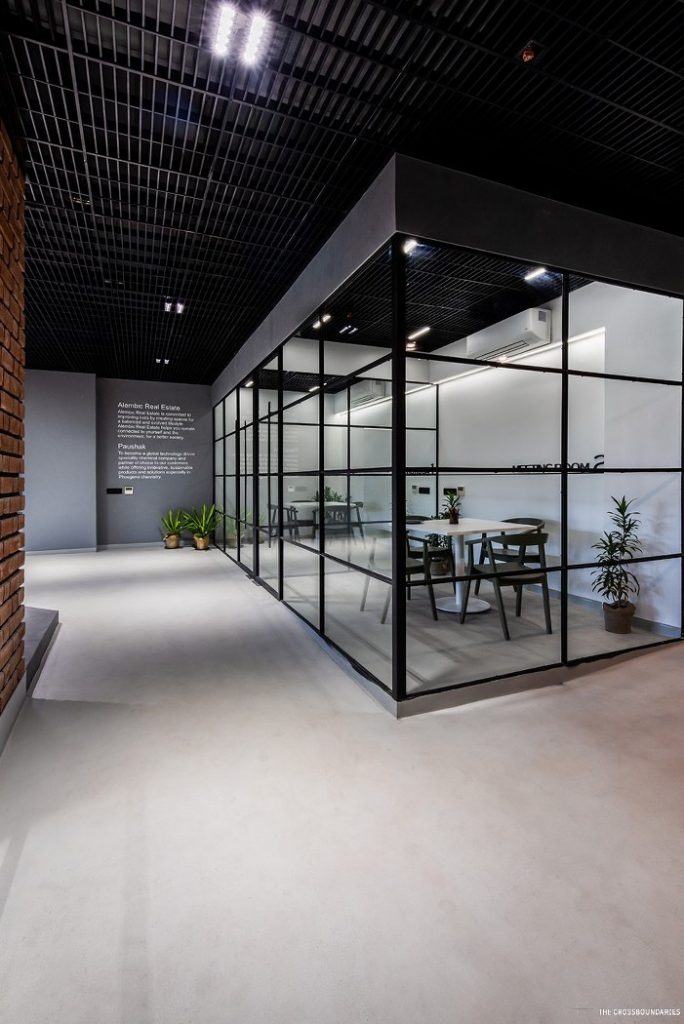 An extension to a space for casual conversation and relaxation, the open terrace not only draws the sightlines outward from inside, but also brings a glimpse of the open skies through the long picture windows, inward. The low parapet angles and continues to become a long, unbroken seating of black stone capped on an exposed brick wall. The floor is covered with black grits spread across the surface to allow rainwater to pass through the slope.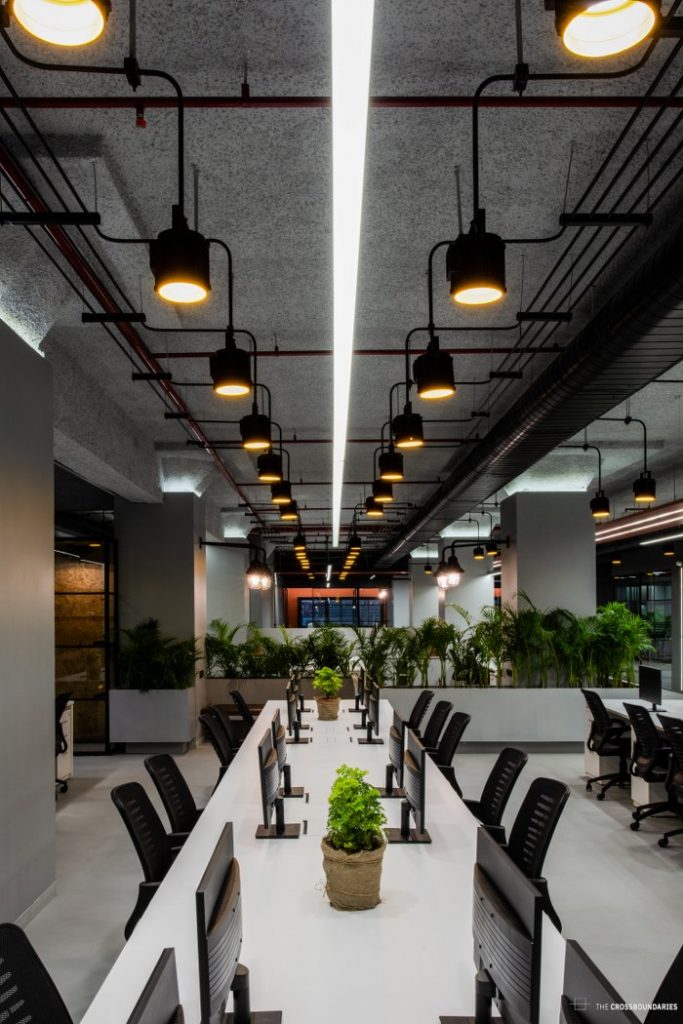 Across the raised waiting area, two cubicula meeting rooms are provided, mainly for frequent monthly audit meetings that do not need interaction with the main office floor. A similar language of black painted 25mm metal grid housing 8mm clear glass is used to neatly partition the offices. On bare and low-maintenance walls, 8mm thick letters cut out in black acrylic become legible markers of the room's function. Adjacent to the Audit rooms, a passage leading to the service areas is dressed in dark stucco walls, and highlighted by 3 wall hung lights.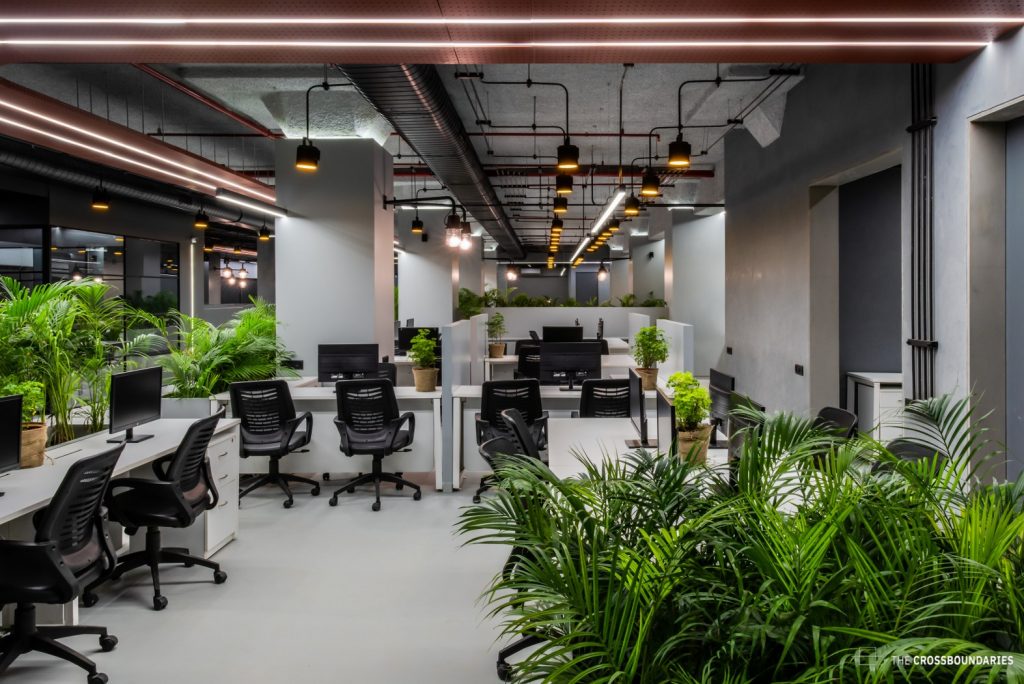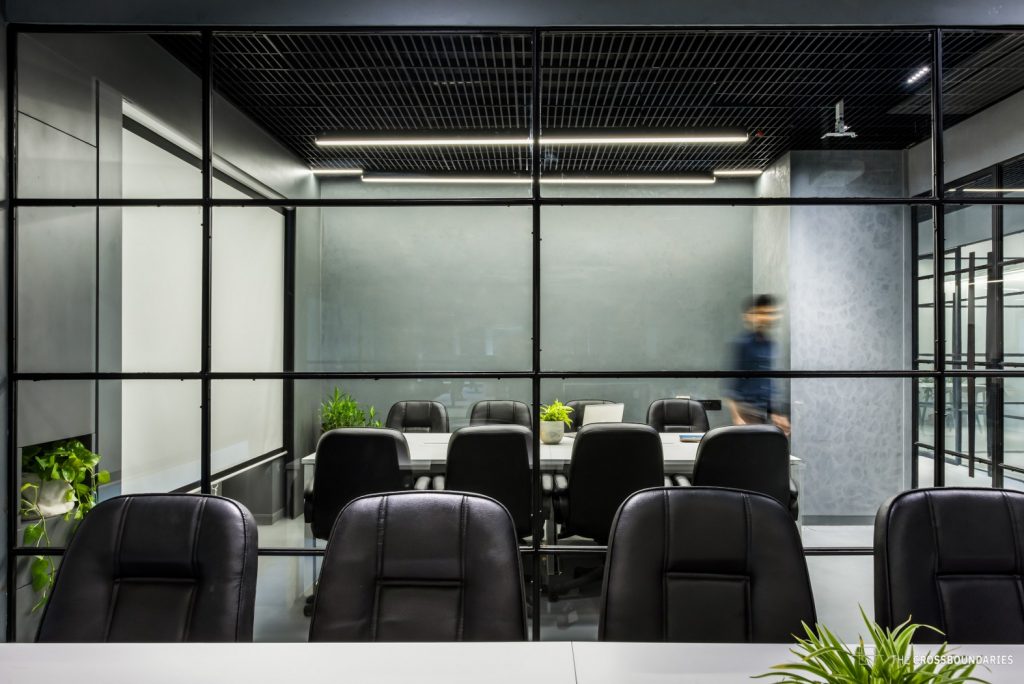 Furthering an exploration of a raw, yet efficient and soothing palette for workspaces, the common toilets are an example of composing industrial elements and materials effectively. The female toilet has been designed with a casted concrete platform with 3 custom-fabricated mirrors that are wall hung on a brick wall. In the male toilet too the vertical surfaces have been undressed, and textured with natural grit. An installation of modular cubicles having dark-grey partition boards complement the rough yet usable look and feel of the washroom. Being a Real Estate office, construction materials have been displayed in their true form, with no artificial cladding or ornamentation, with only a variety of plants to brighten the service area.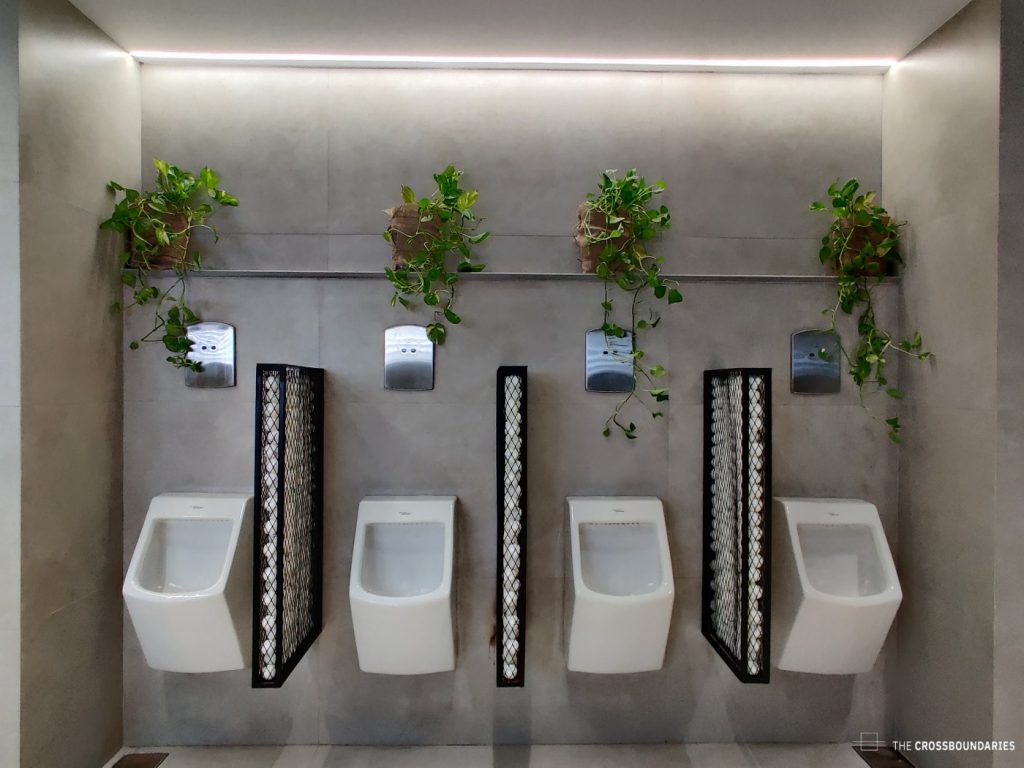 At this contemporary office with a fresh and vibrant mindset, formal and informal meeting areas are designed to flow into one another, often defined and demarcated by a constant language of metal and glass partitions. The conference rooms 3 and 4 before the entrance to the main office floor are identical spaces encased in black metal and glass grid. The main office floor is reached through a short passage and double-doors. The workspace layout spans 40 feet, through a forest of massive columns that have been neatly cladded with grey-painted ply boards and MDF, leaving the tapered capital exposed. For cost-effectiveness and minimal intervention, these rooms are treated with rough Dana plaster and tufts of fresh green plants that also act as acoustic buffers.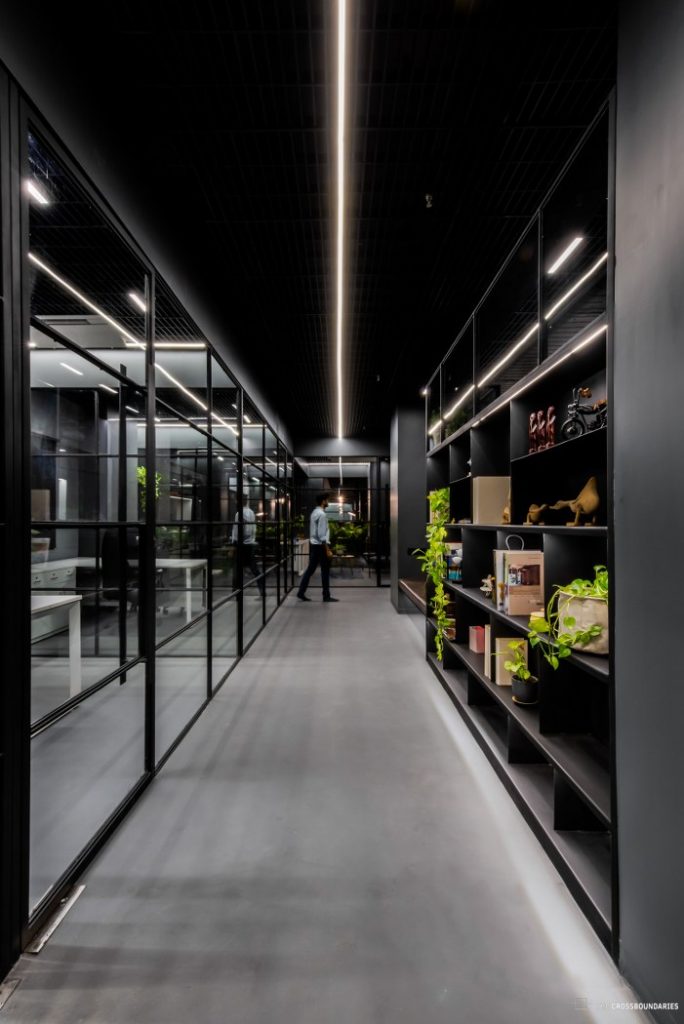 While the main executive desk areas are arranged in neat rows, private cabins and enclosed work cubicles are tucked away to the south east direction. As a new-age office space that transcends conventional hierarchies, the design intent consciously breaks down rigid social and interpersonal systems in a professional environment .Against a muted background of grey stucco, all workstations, exposed services and common functions are arranged according to a repeating, rhythmic ceiling grid.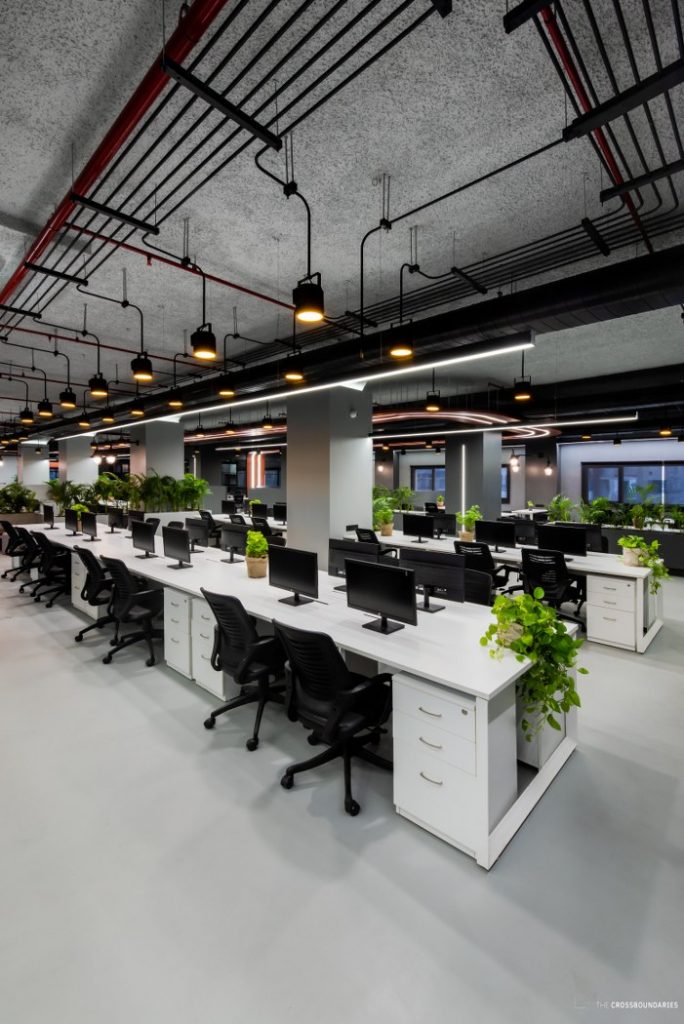 The electrical cables are neatly grouped together equidistantly and run the height and length of the ceiling to terminate into specific light fixtures. In a stroke of ingenuity, pump-motor body and spare parts were cleaned and painted yellow inside and connected by bent MS pipes to create a system of hanging spot-lights over worktables. Along with other services being gently suspended from the grey Dana plastered ceiling, the rows of cables terminating in lights are set distances are also hung at a calculated level.
A swooping loop of rust-colored GI sheets runs and curves above the central spine of the workspace layout. This installation acts as a cable tray, and also holds two parallel profile LED lights, creating an infinite loop of lighting above the office floor. An interesting composition of reds, blacks, and greys unfolds at the ceiling level, while at eye-level muted shades of grey interspersed with greens create the office ambiance. The main-office floor for executives is largely linear, with unidirectional rows of sleek tables arranged such that there are more face-to-face interaction and fewer dead-zones. Intermediate cabana-areas are created as small-group seating, as conversation-islands in the otherwise free-flowing, open-office scape.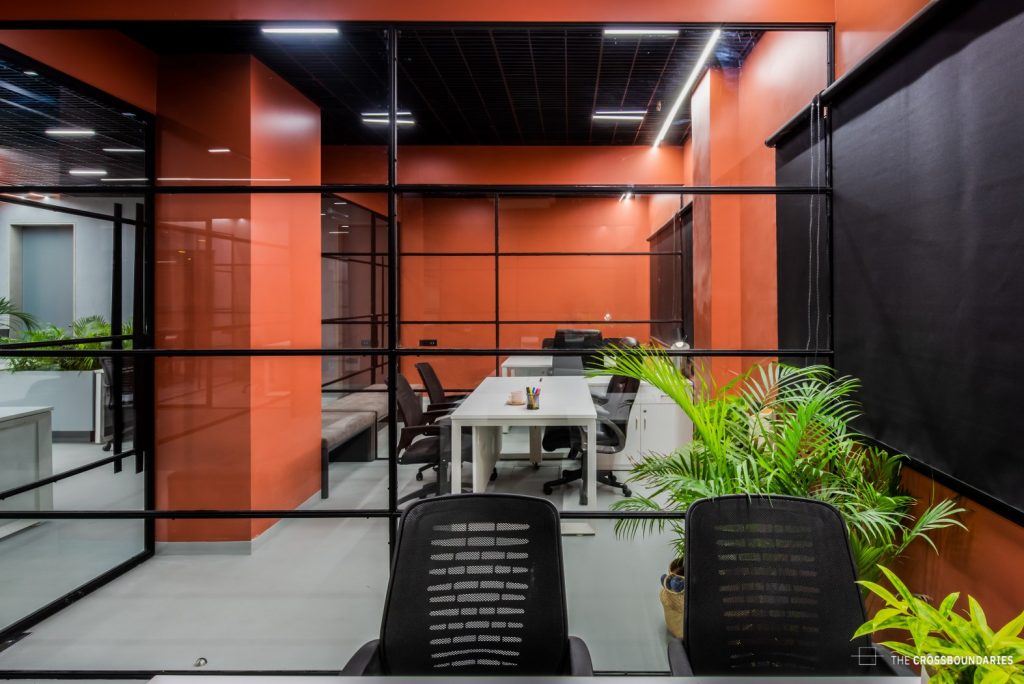 An open-plan office layout is extremely functional and efficient but also comes with the occasional need for privacy and noise-canceled zones. To cater to this, ingenious Phonebooth pods were designed and placed in one corner for executives to conduct phone calls or individual chats at ease in privacy. These phone booths, quite literally are compact capsules with a metal-framed glass door and an internal lining of corkboard for soundproofing. Elements sourced from industrial waste and scrap become productive and beautiful additions to these designed capsules, complementing the overall raw, industrial look and feel of the site.
Another such intervention is a sleek 24 feet long bar-like table, doubling up as a discussion table as well as a quick serving counter for the adjacent dry pantry. This long black table is coated with matt black industrial paint and is supported on a tapered white base coated in micro Crete. This table acts as a divider for the dry pantry, and as a linear space for a long-throw projector screen that can descend from one end when required.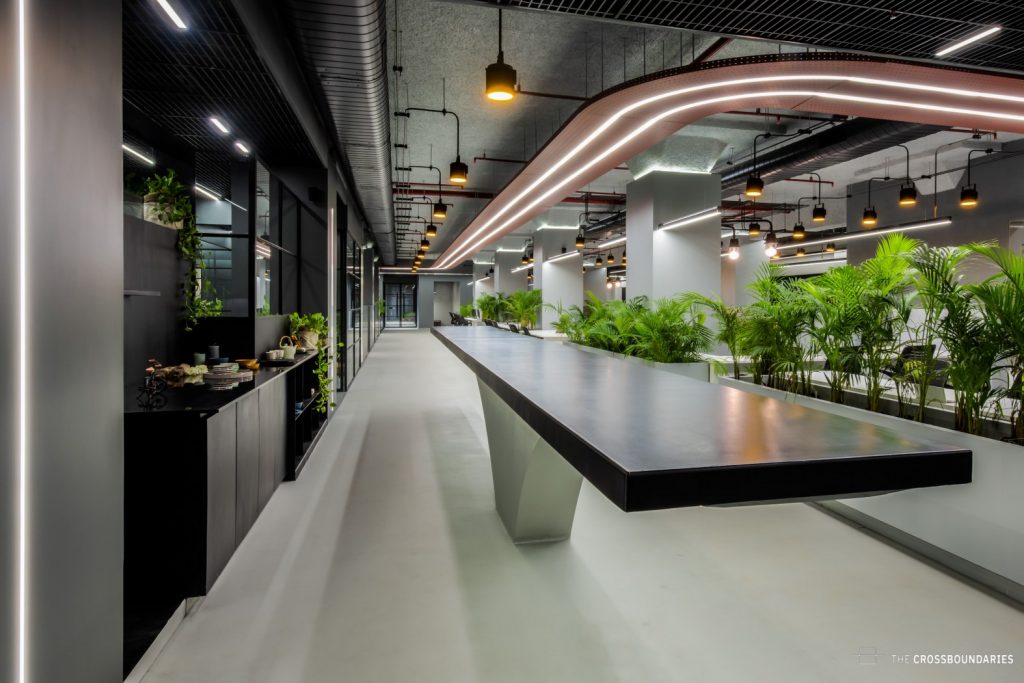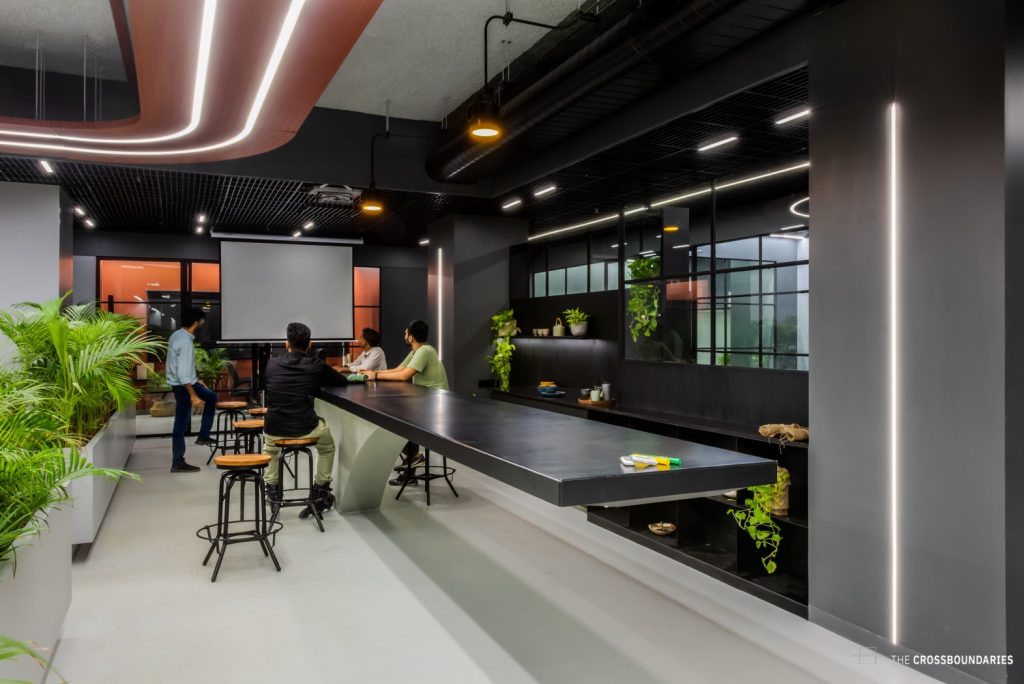 FACT FILE:
Design By: The Crossboundaries
Project Name: Alembic Real Estate Office
Size: 11467.77 Sq. ft.
Location: Vadodara, Gujarat, India
Design Team: Forum Jariwala, Vijay Dhabi, Neel Patel, Rishabh Prajapati, Khushboo Gunjal, Nidhi Vyas, Dhruv Prajapati, Pooshan Mahajan, Akshay Mer, Shailesh Boghani & Harsh Boghani
Client: Alembic Real estate and Paushak Limited.
Photography: Ashish Chakroborty (CrossClicks)
Text: Niharika Joshi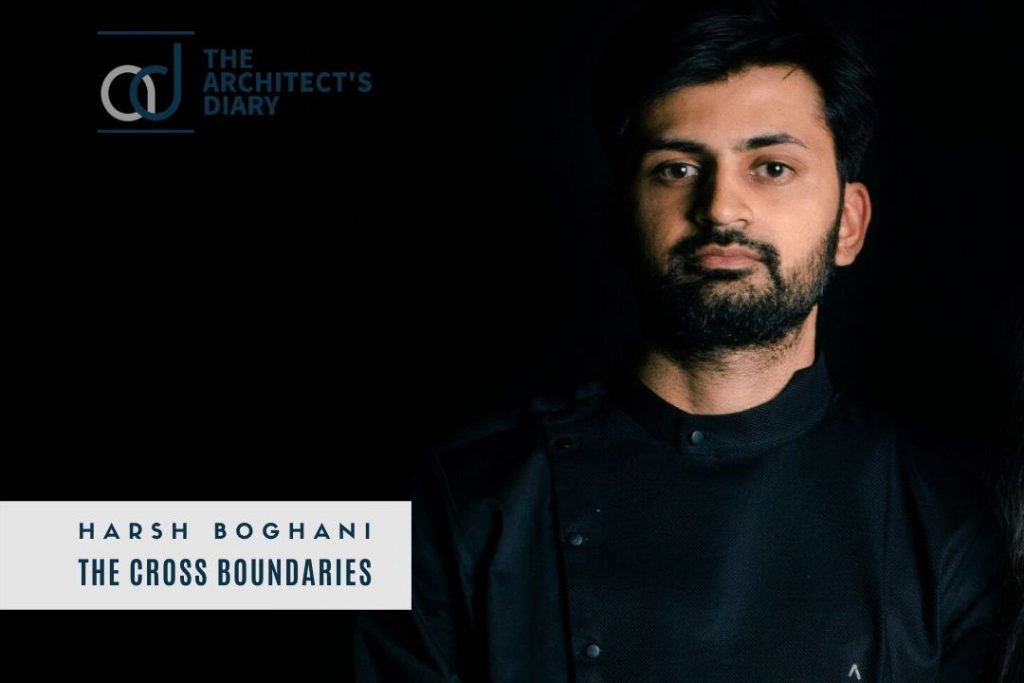 Website: http://www.thecrossboundaries.com/
Facebook: https://www.facebook.com/thecrossboundaries/