&nbsp
Office Design Reflecting The Ethics of Political Party | Advait Architects
INTRODUCTION
Ar. Shyam  Bhatt and Ar. Viraj Wadiwala, founder and principal architects of Advait Architects, have designed office for a MLA in Surat, which have a basic colour palette, which includes natural wood and monochromatic colour scheme.
Understanding the client, the use of a space is the base of any design. In this project, the space is designed in a way that it reflects the personality of the client.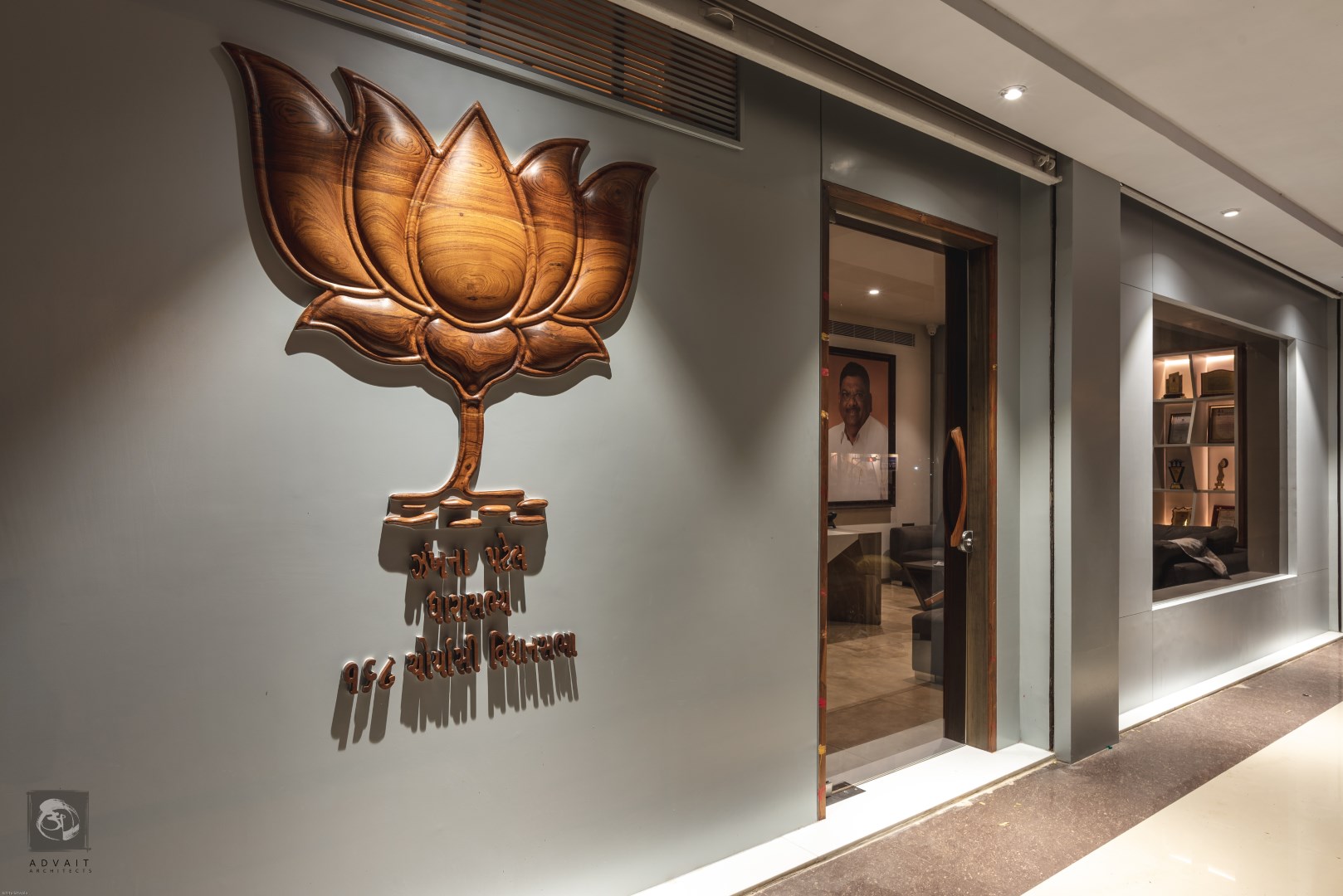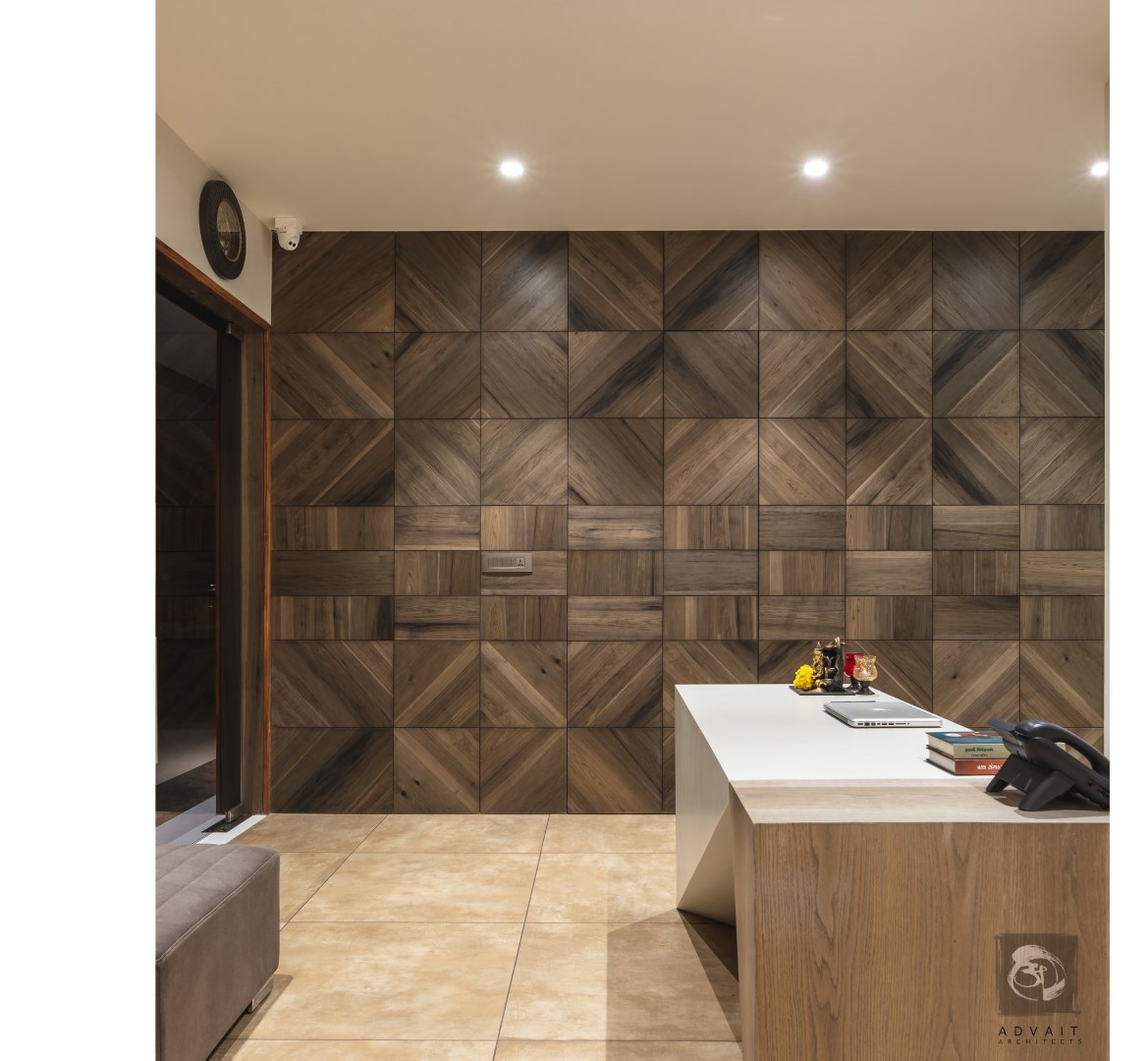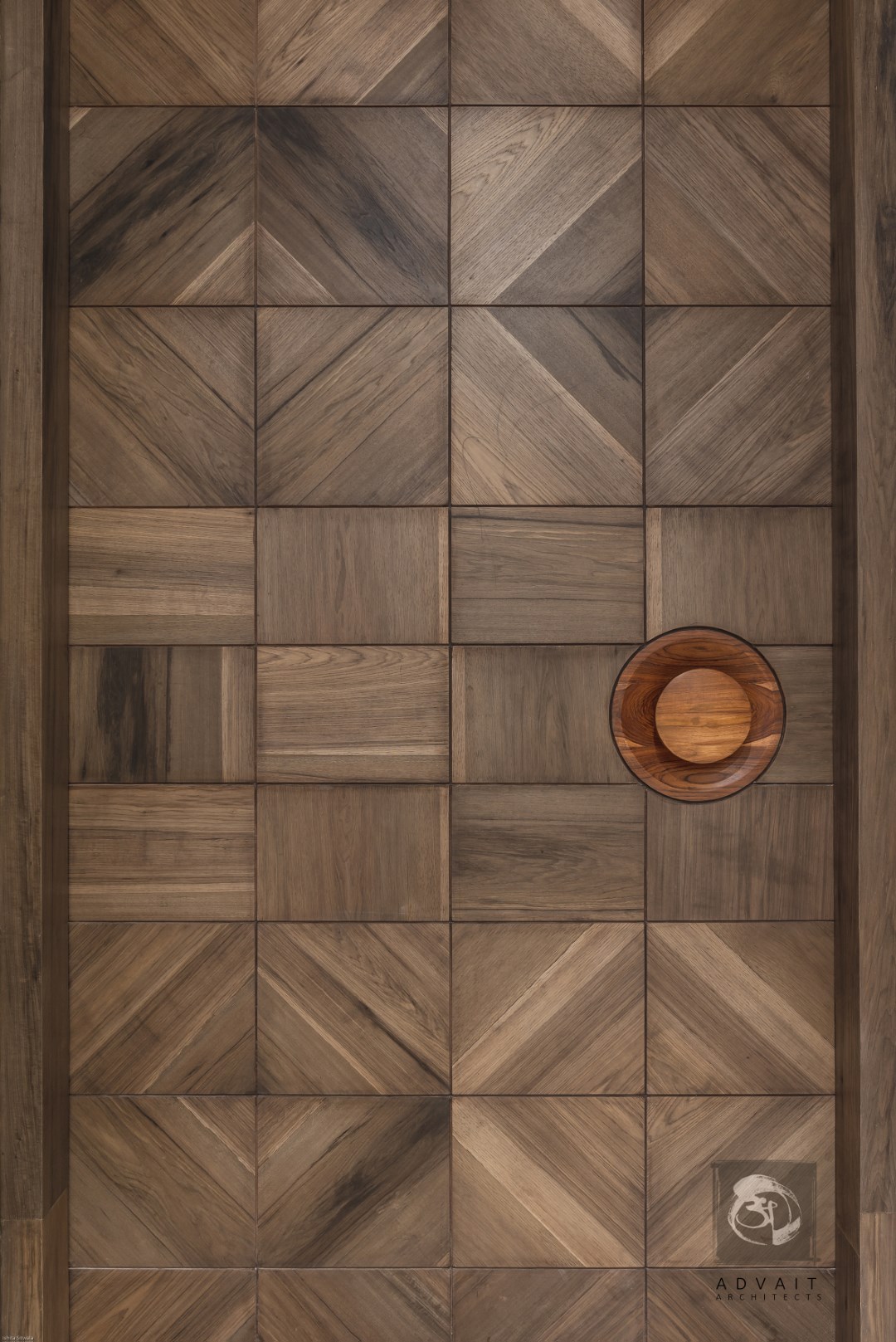 SPATIAL ORGANIZATION
As one enters the office from the lobby, the political party logo is highlighted which is made from natural wood, finished with a brighter tone of polish so that it symbolizes the orange color reflecting the political party in a more subtle manner. Spatially, the office moves from public to private areas as one space unfolds after the another. The Reception is designed to be more dramatic with an alluring table and the wall unit.
The longer side partition wall has been finished with simple veneer while the play of it's grains adds a captivating character to look at.  The main cabin door follows the same veneer pattern with a crafted wooden handle which embraces the whole design.
Workstations are designed by using a monochromatic colour scheme with netural ceiling and play with the light and shadow enhances the space. The main idea was to provide maximum storage as per clients requirements and niches were created by adding indirect lights and green compliments the whole space.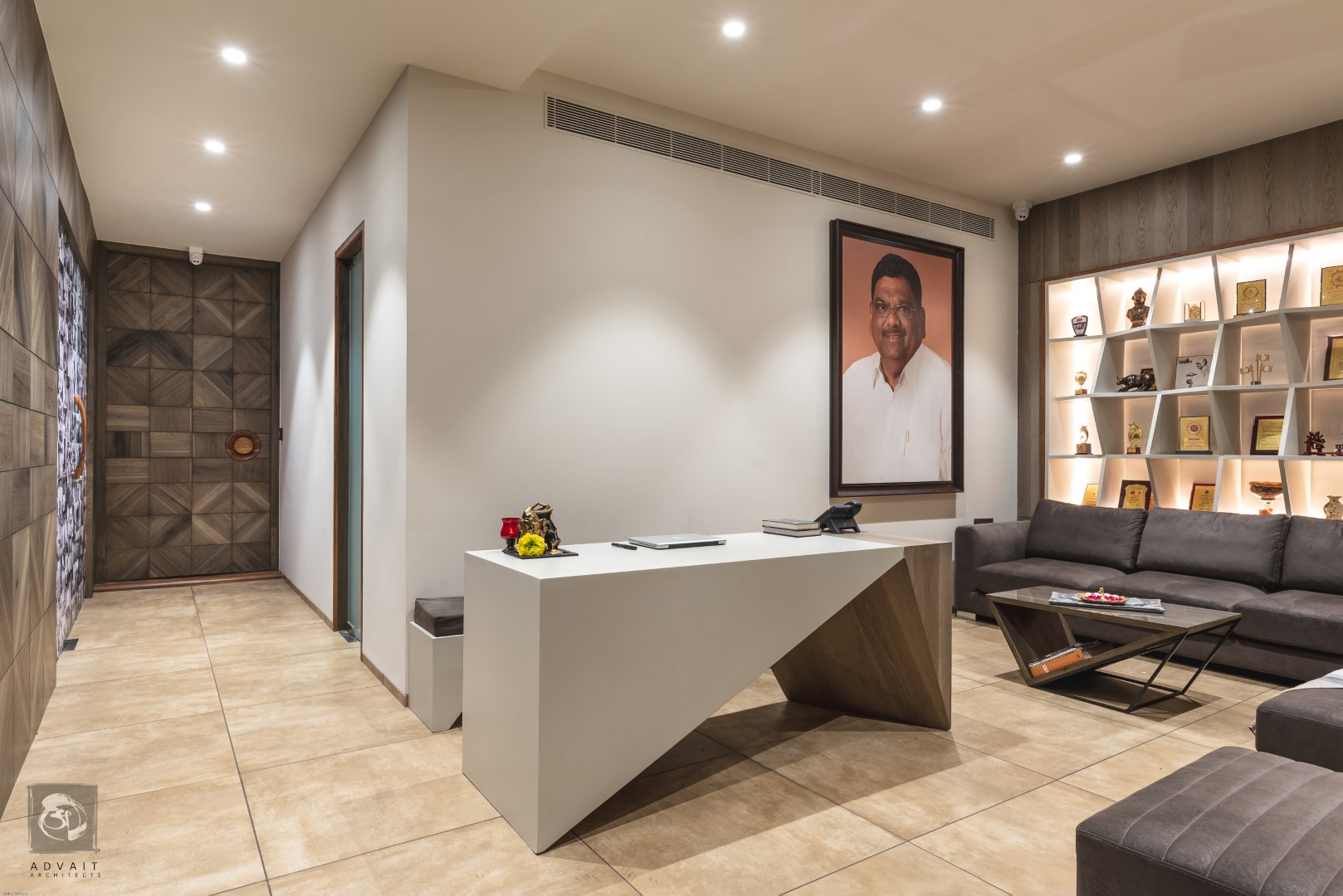 MAIN CABIN
The focal point of client's cabin is the back wall which emulates the ethics which have been nurtured by her father, which is crowned by his portrait which is actually a hand sketch by a artist finished with paint on it.  The door from the cabin are smartly designed by blending them into display units, the opposite wall comprises of a picture collage of the great Indian leaders which keeps her motivated. The overall ambience of the cabin is opulent without being conspicuous, by adopting neutral color palette and lighting, along with a touch of natural wood which compliments the overall space.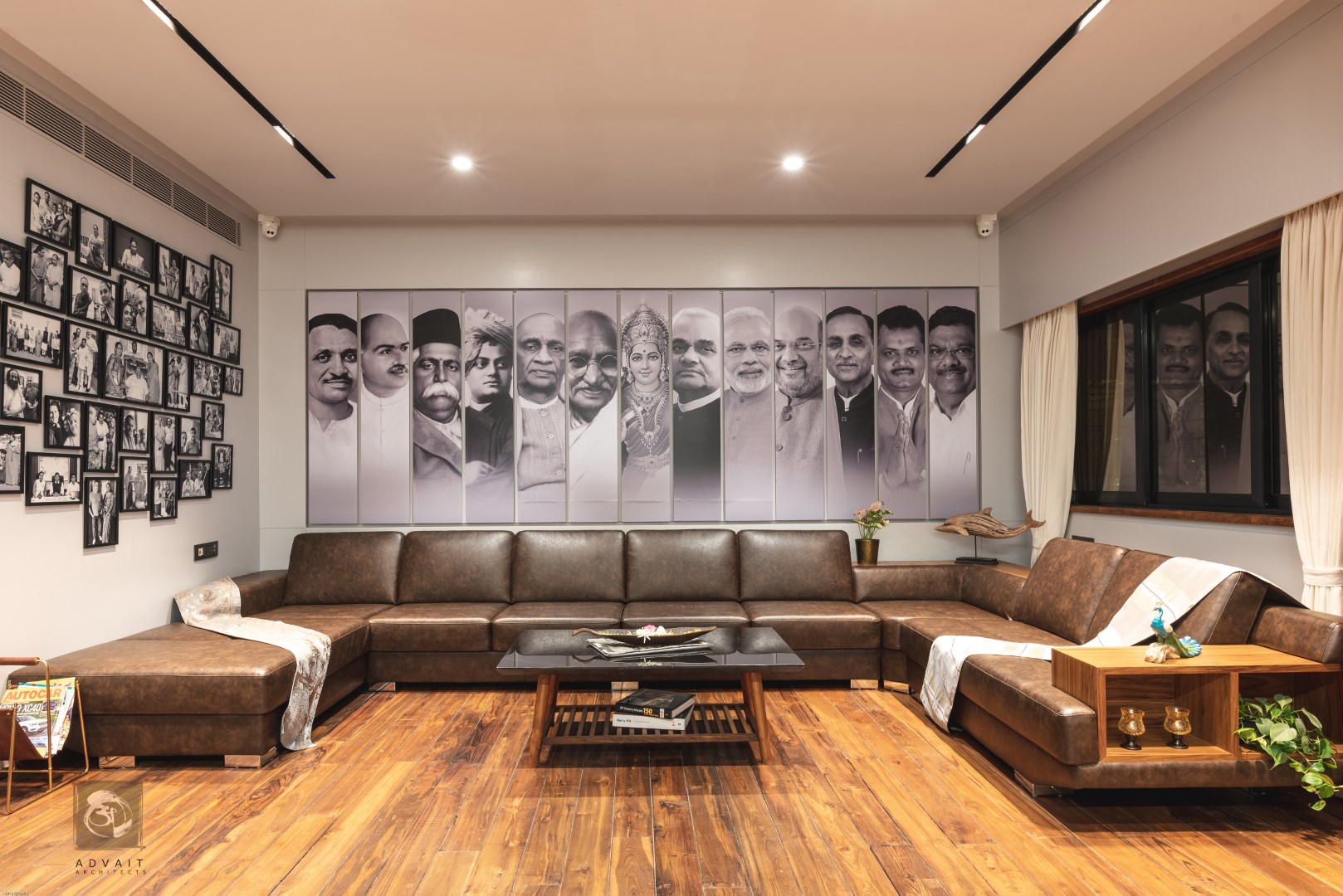 ANTE-ROOM
These Ante room is designed as the client's personal space which needs to be peaceful yet lively. Sobright color splashes are used in the sofa fabric, fabric has also been used as wall paneling with wooden strip in between for acoustics.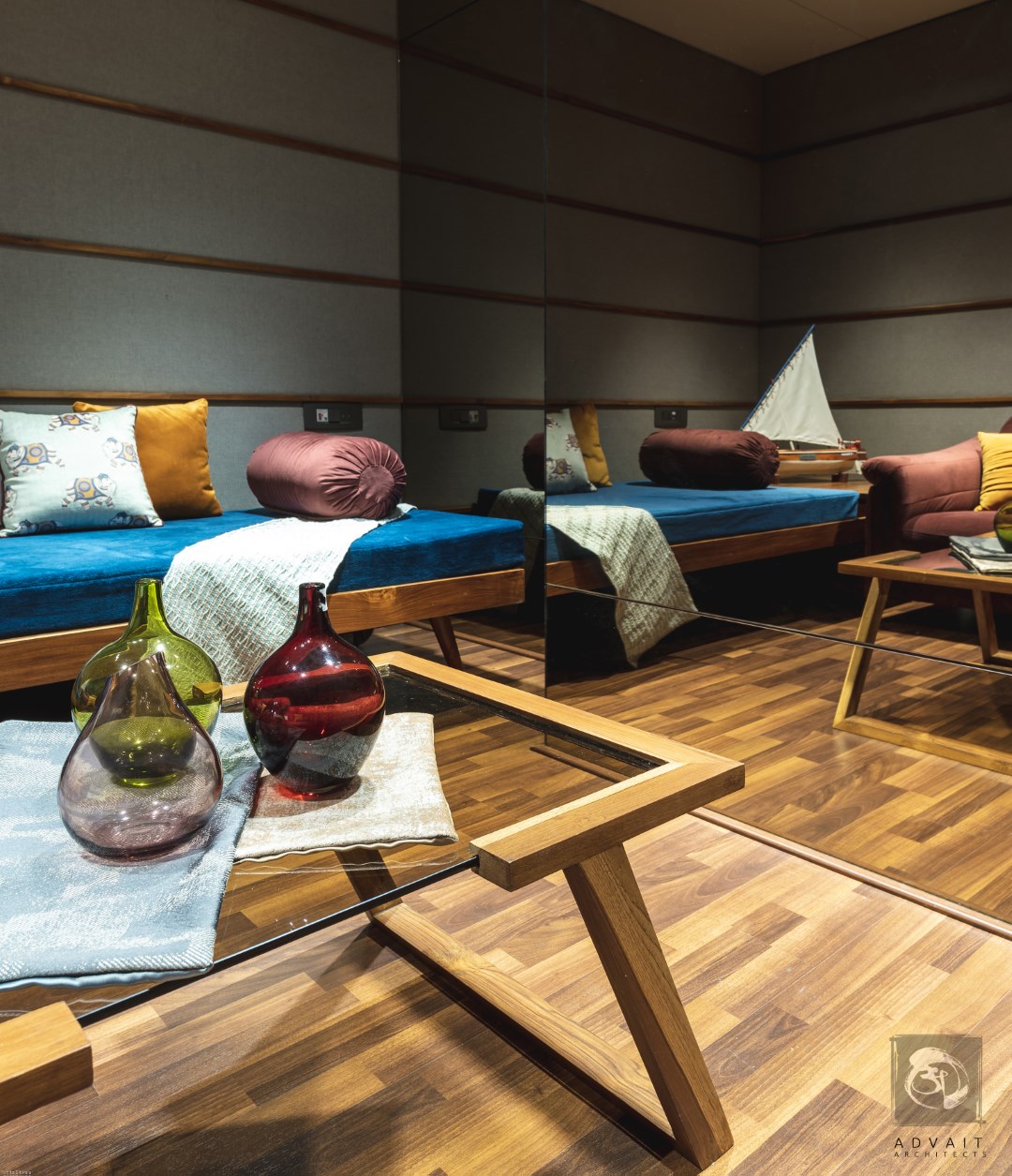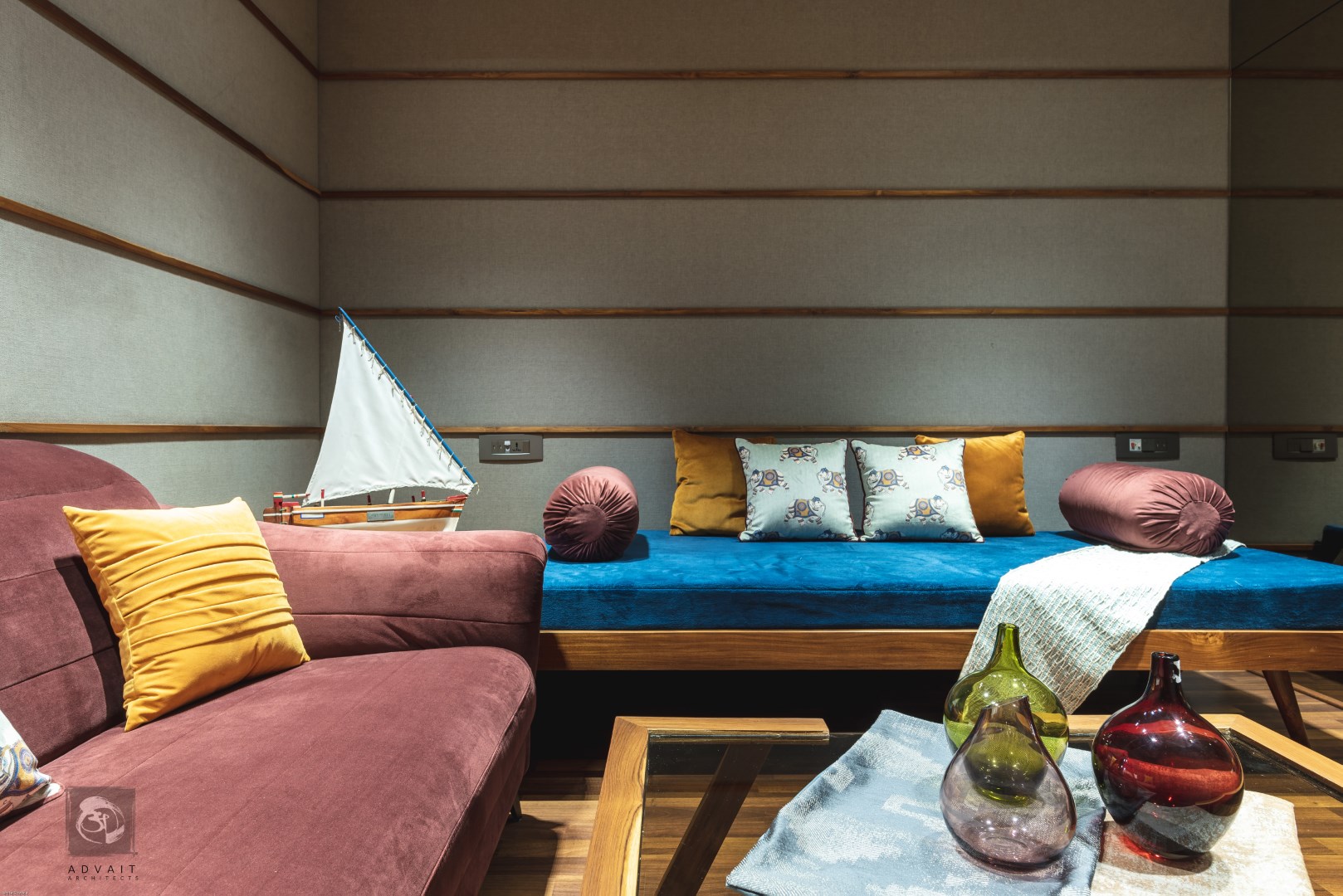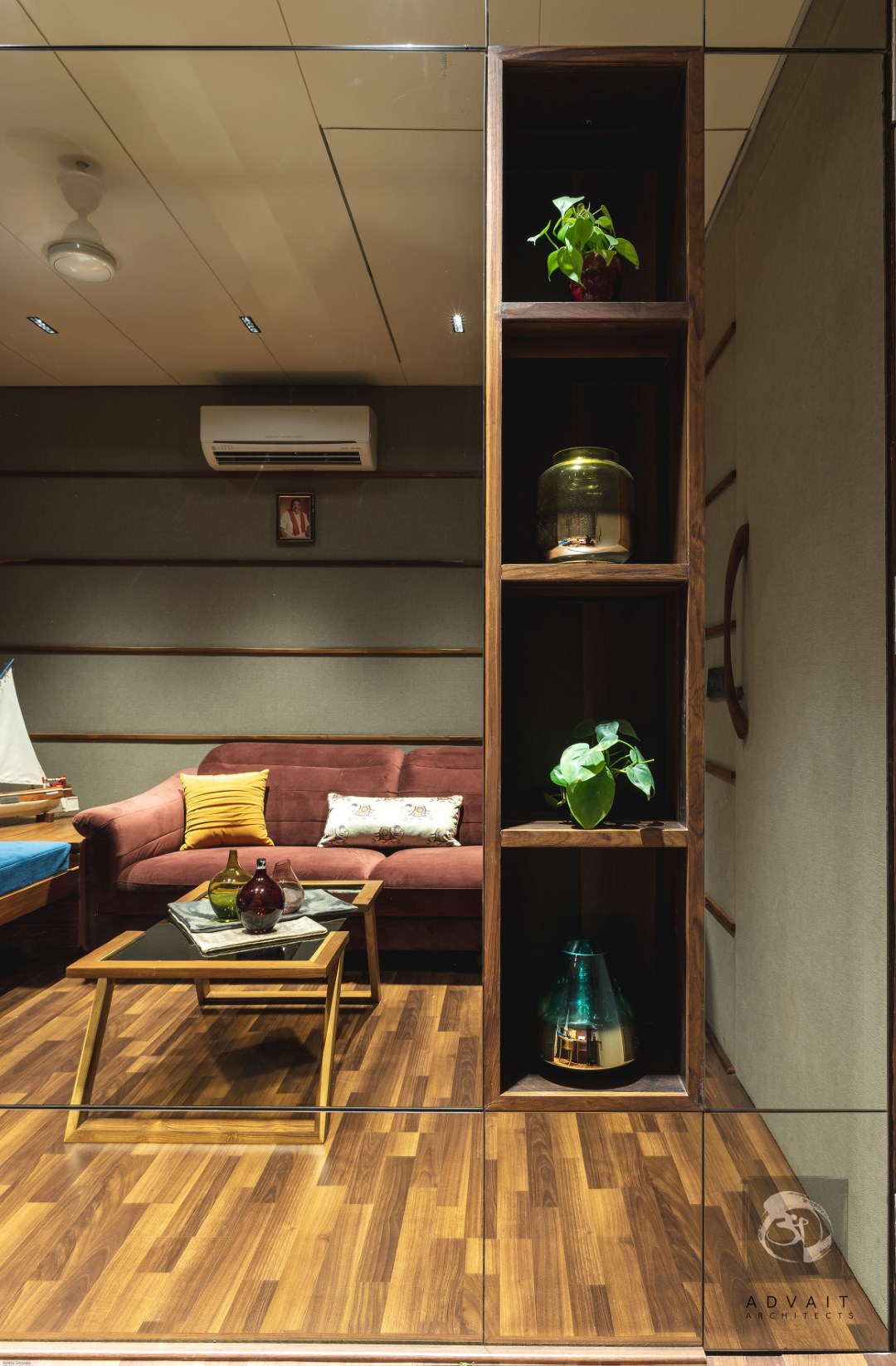 FACT FILE:
Architectural Firm: Advait Architects
Client: Smt. Zankhana Patel MLA, Surat.
Project: Office Design.
Location: Western Business Hub,
Near J.H Ambani school, Vesu,
Surat- 395007.
Total Area:  1400 Sq.ft.
DesignTeam:   Ar. Shyam Bhatt
Ar. Viraj Wadiwala
Parth Verma
Karansinh Parmar.
Project Year: 2018.
Photography Credit: The Fishy Project (Ishita Sitwala).
Text Credit: ID. Riddhi Chitalia.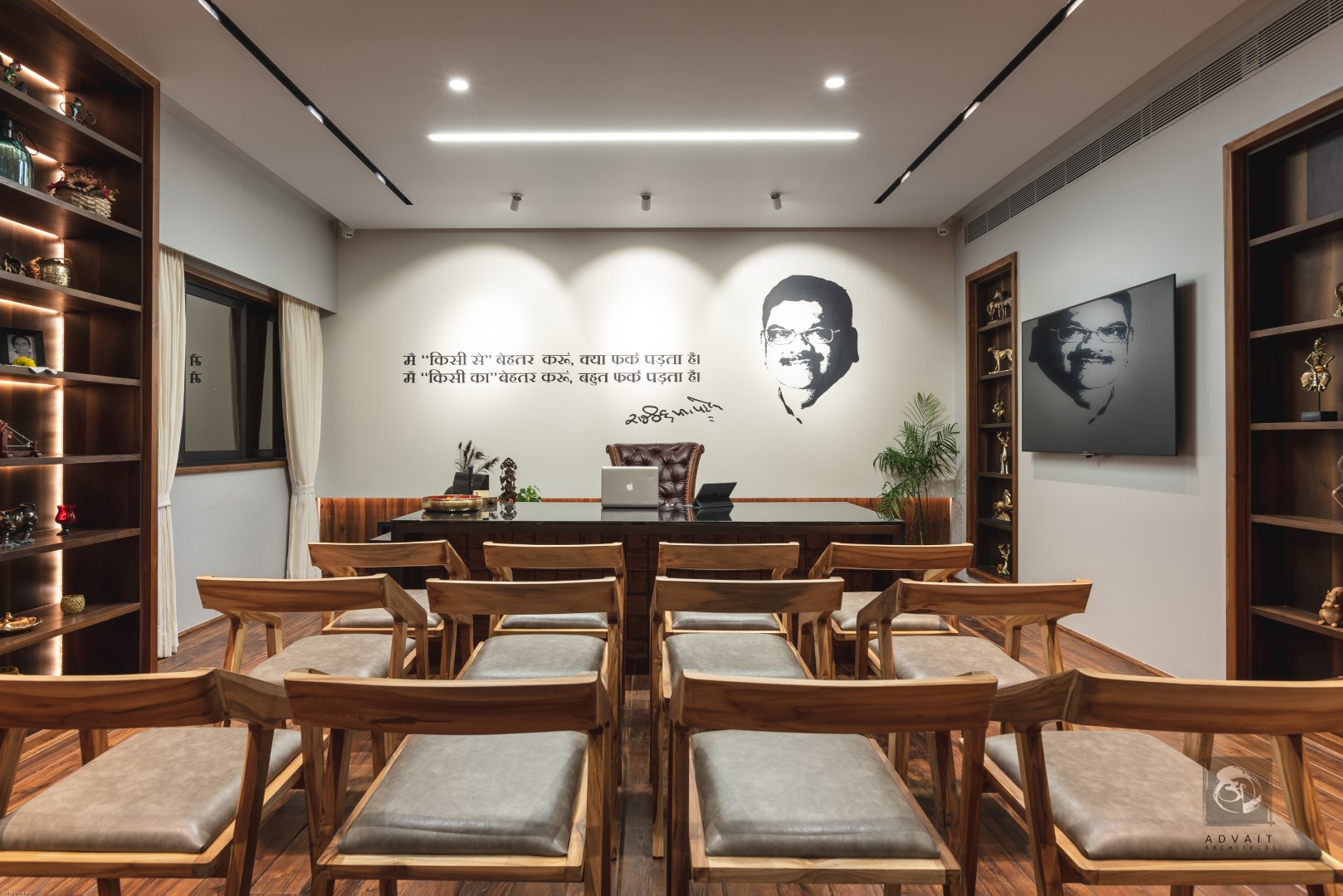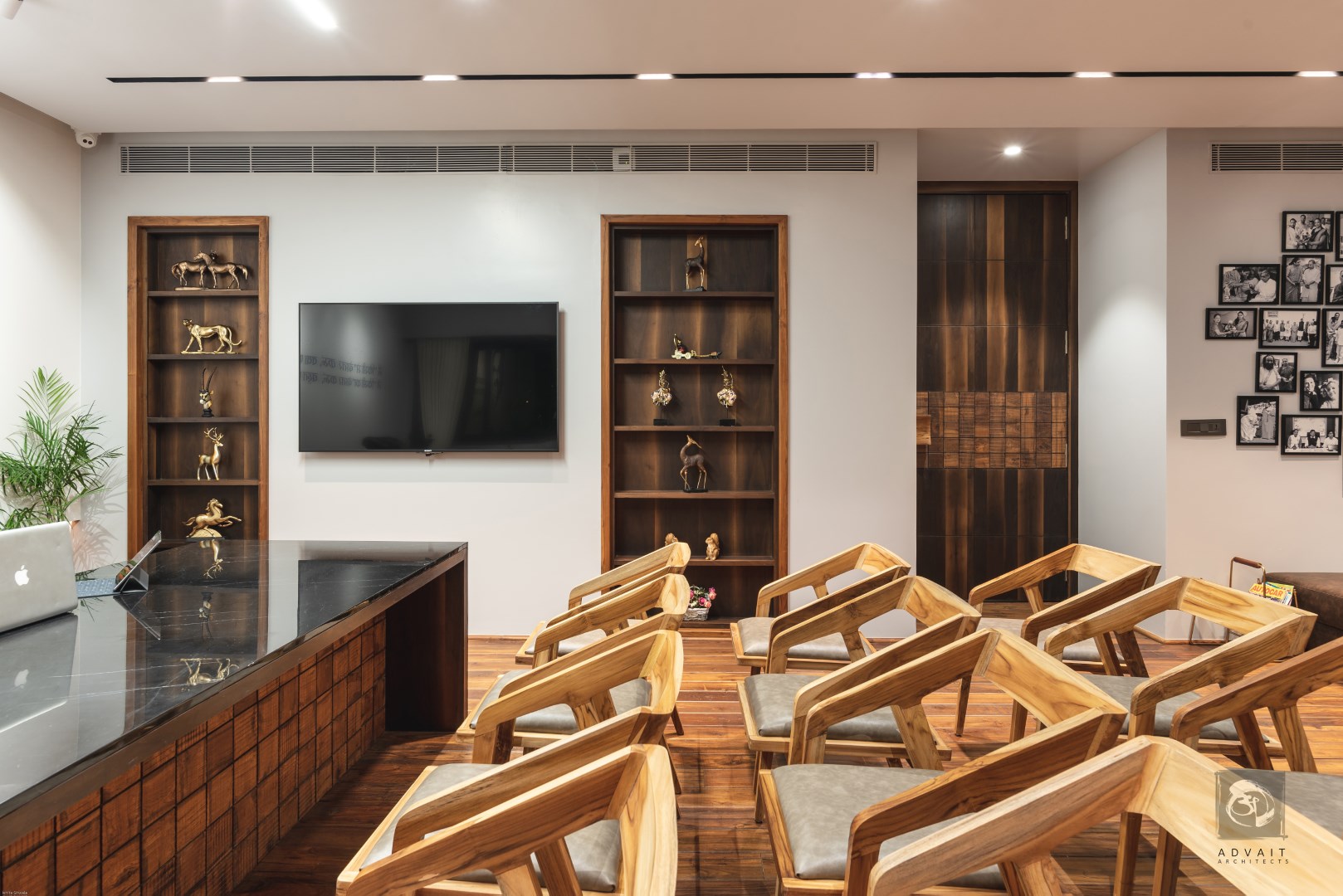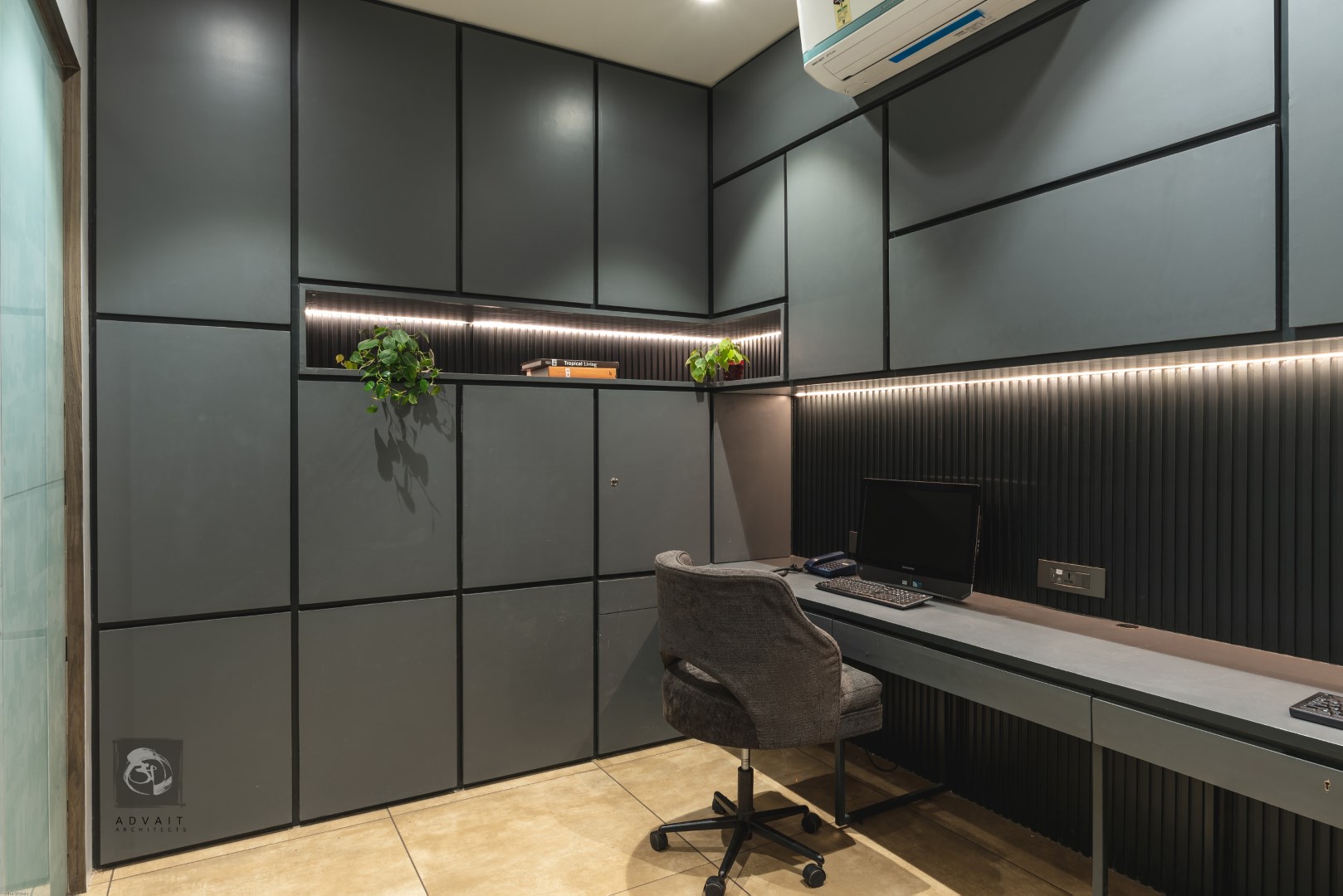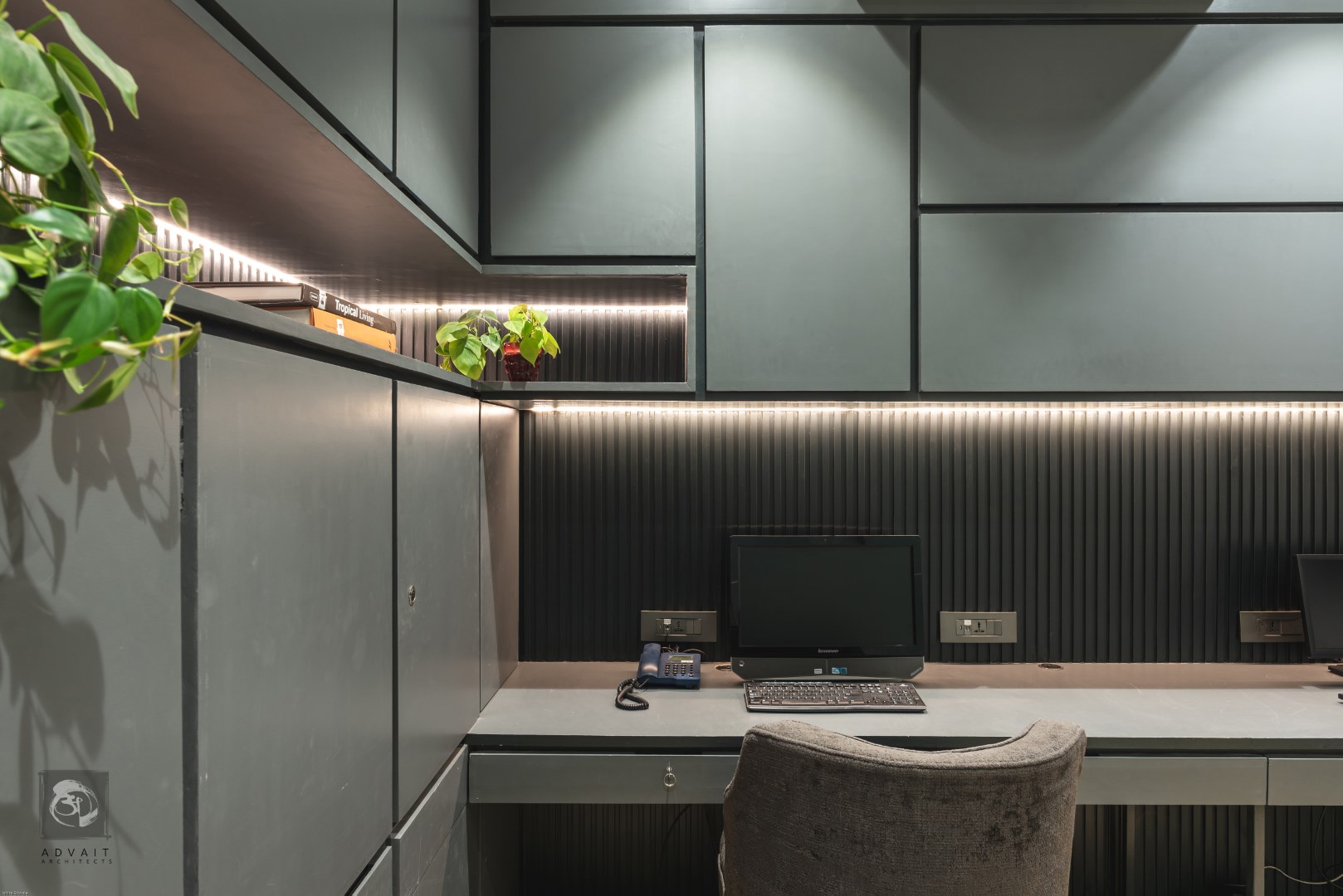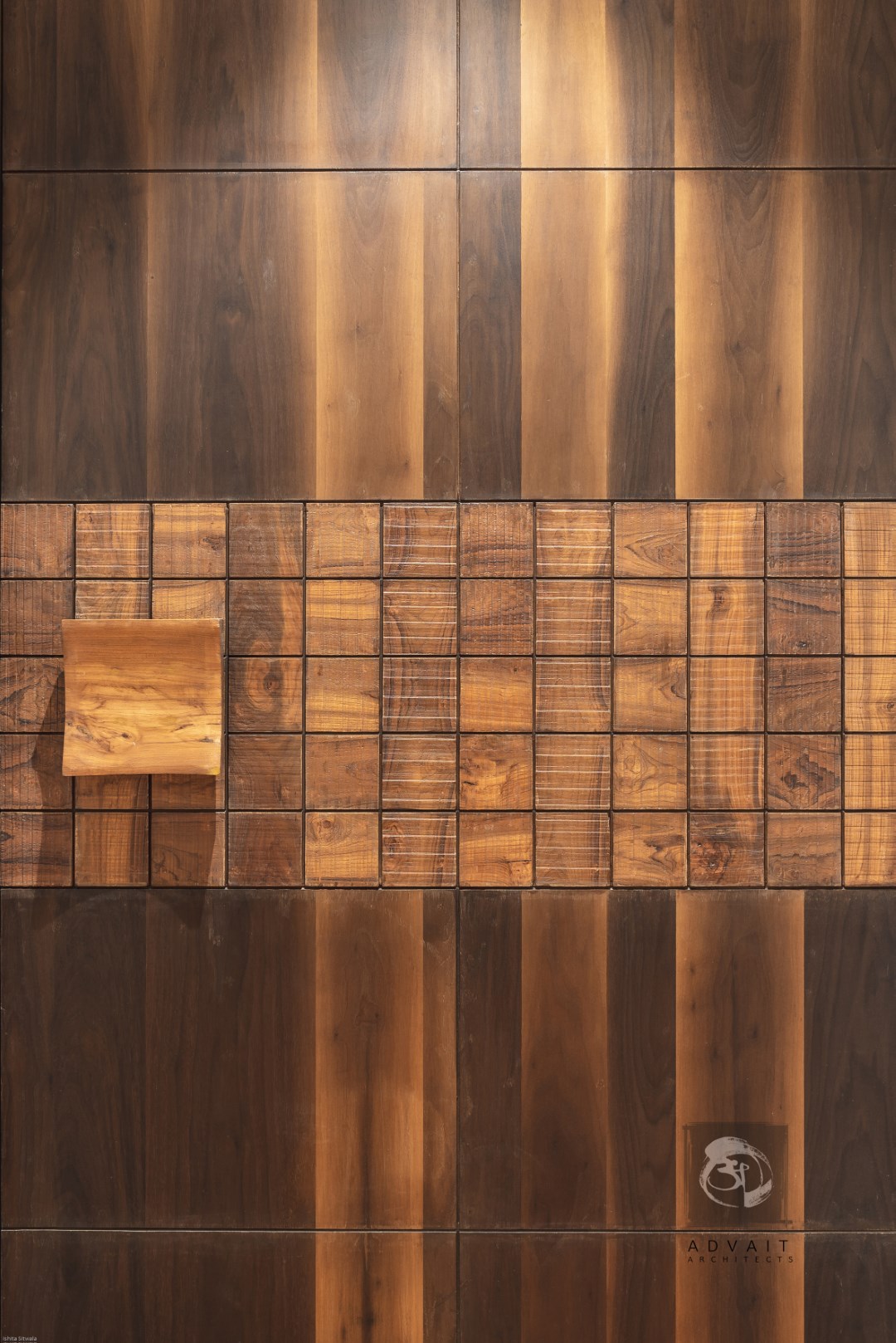 TOILET
Door to the toilet is disguised as a display unit in the cabin which gets flushed with the wall. handmade tiles are used on the walls with niches provided besides the basin  with wooden frame, making it look more luxurious.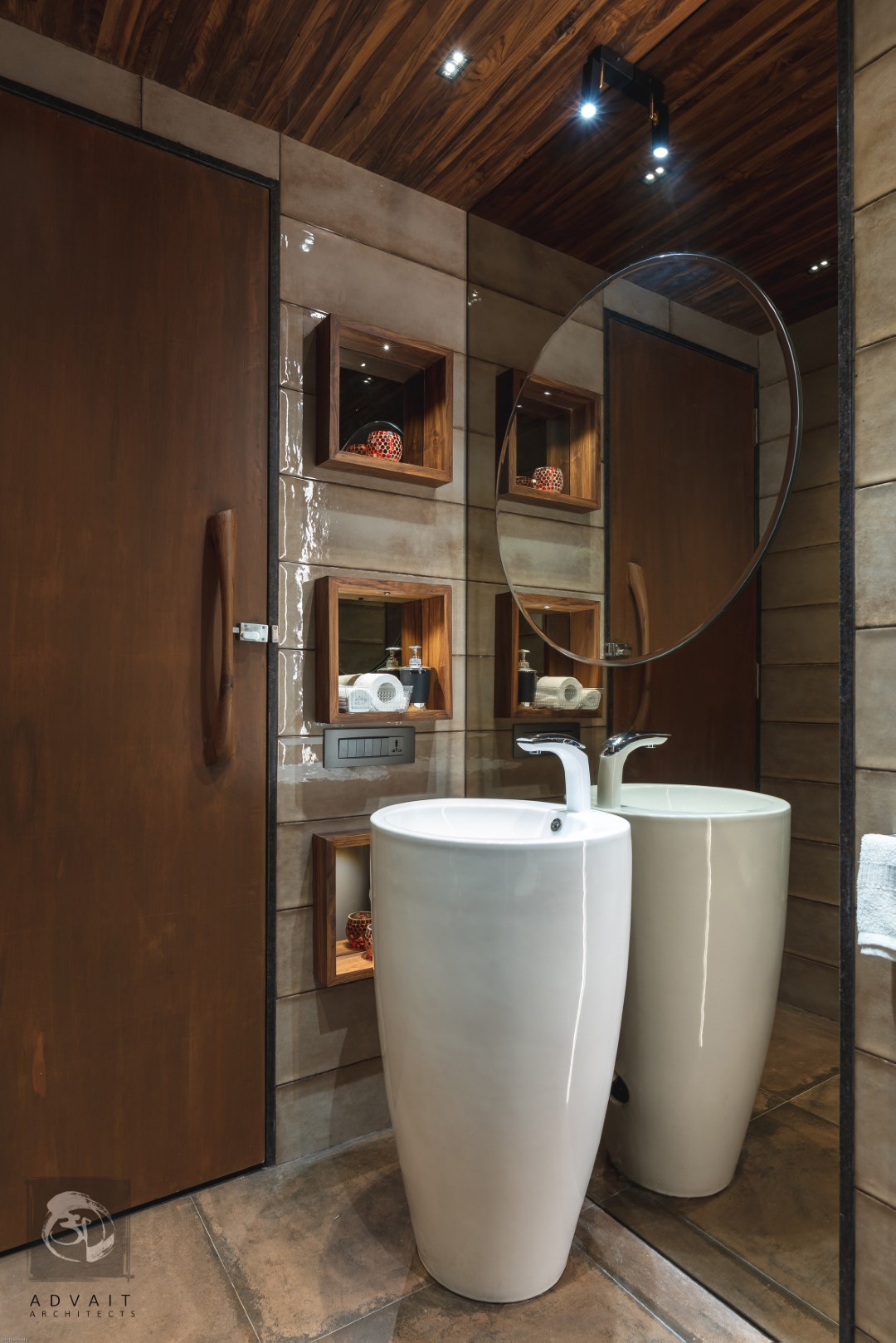 Principal Architects:
 Ar. Shyam Bhatt
Ar. Viraj Wadiwala