Office Decor That Exuberates A Taste For Swanky Interiors | Rishi Design Studio
Aspirations are the cornerstones of dreams. Dreams that don't let you sleep. Dreams that demand your blood and sweat. When such dreams manifest into reality, you become unstoppable. Rishi Soni's journey reflects the above-mentioned idea and is much more than what meets the eye. His reputation for building classy interiors that exude impeccable quality gives him an edge over his competitors.
Visit: Rishi Design Studio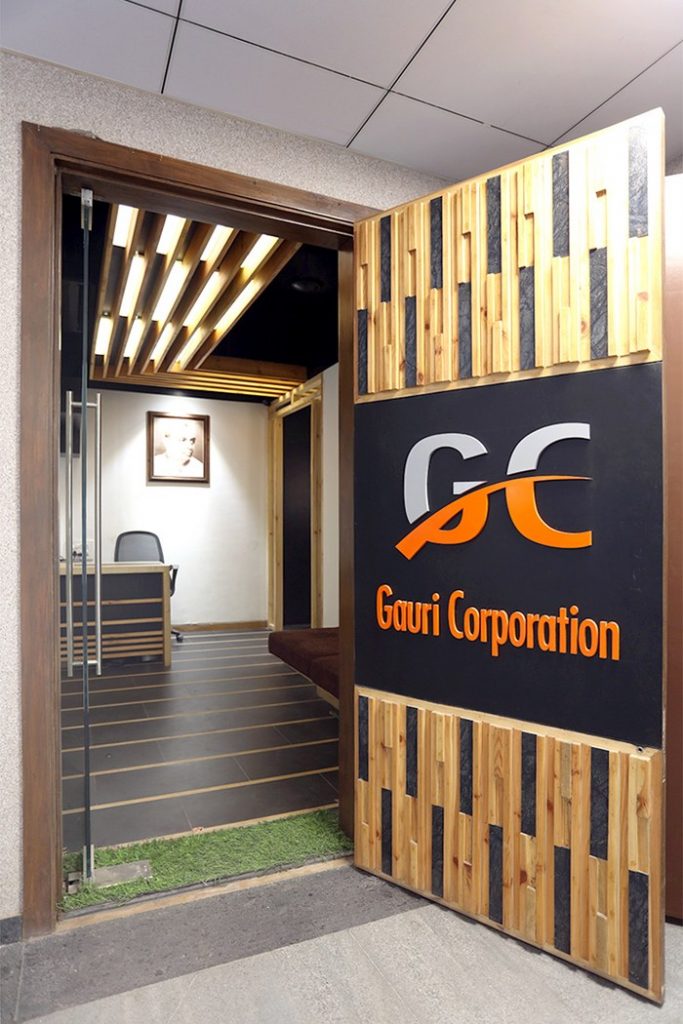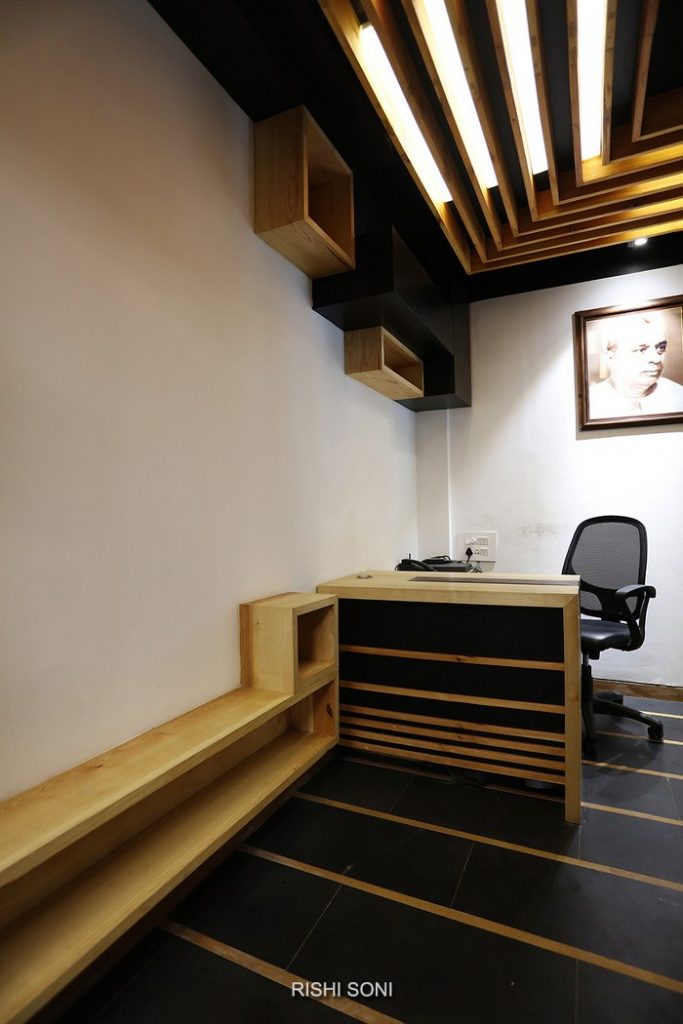 Mr. Soni believes that art blooms like a wildflower if it isn't bound by restrictions like money and rigid ideas of design and structure and his client gave him just that. His name had been recommended to his current client by someone who had already benefited from Mr. Soni's sophisticated frame of work.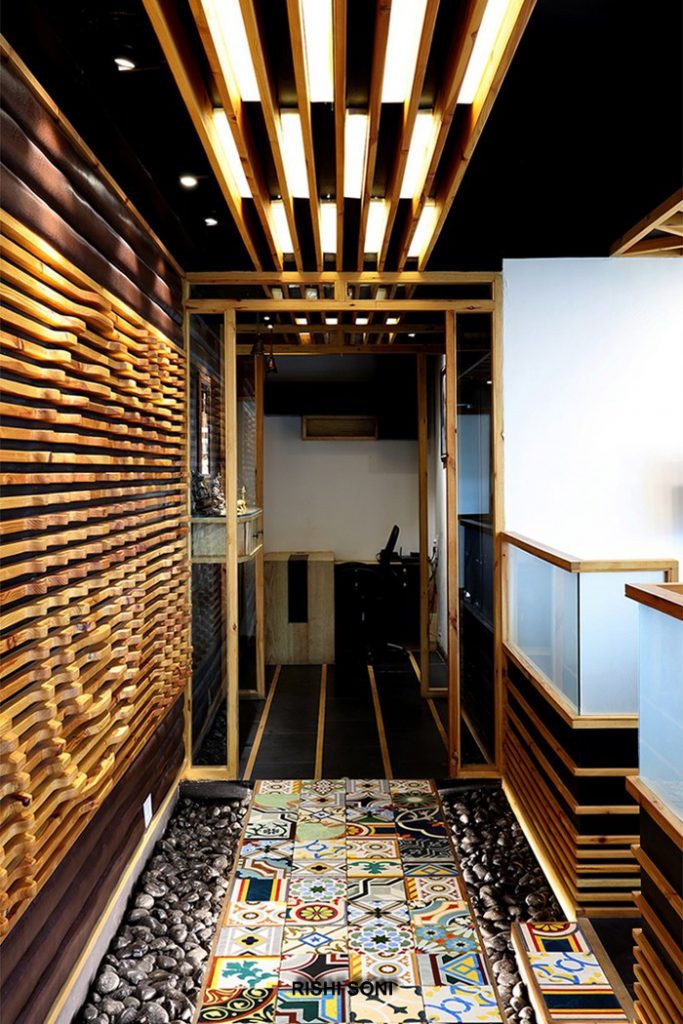 His client is a young entrepreneur who understands the importance of a workplace that appeals to all his employees and clients and creates an environment that looks classy and exuberates a taste for swanky interiors that earnestly makes the people feel at home.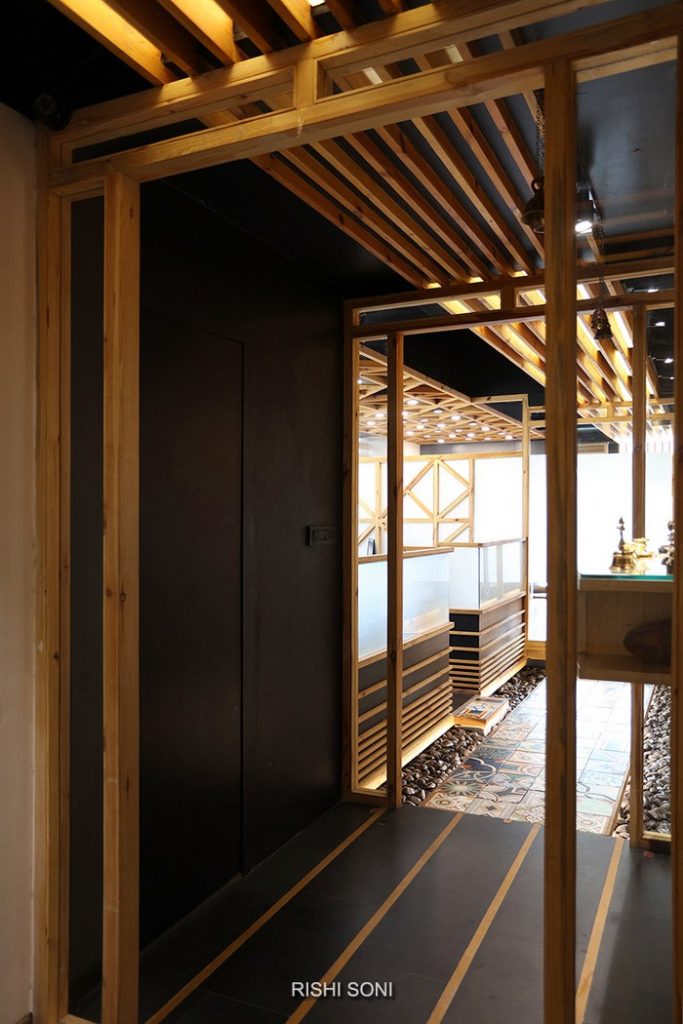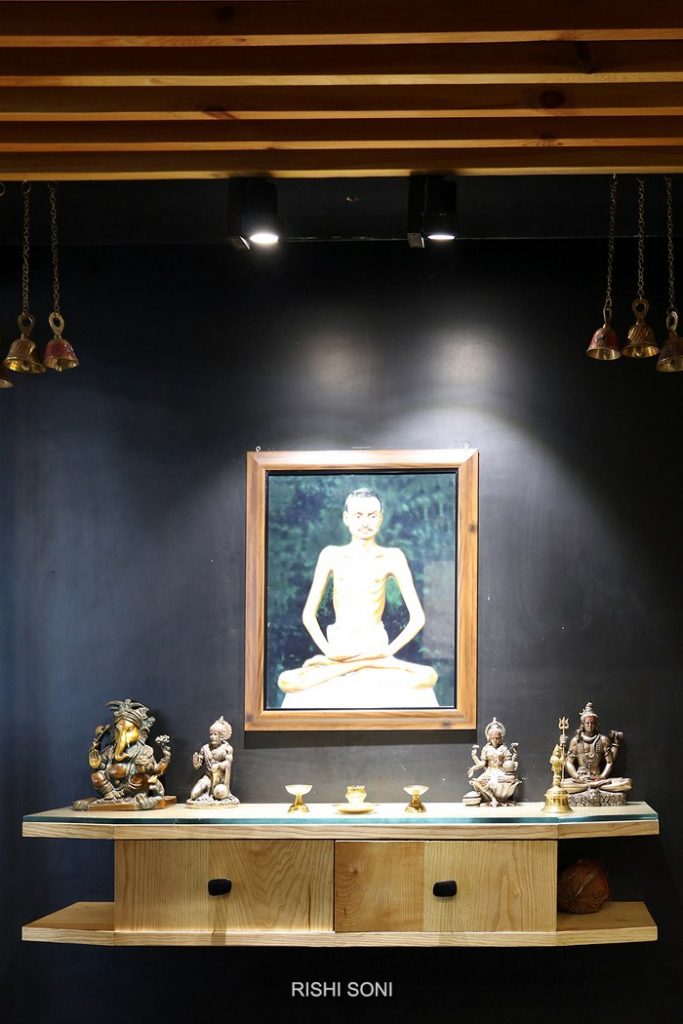 Mr. Soni's vision was simple while initially chalking out the specifics: People spend 10-12 hours daily at their workplace so it is very important to be surrounded by a décor that is easy on the eyes and is decked with designs that are a class apart while being thoroughly professional. He convinced his client that Café-like interiors would go perfectly well with the brief that was given to him.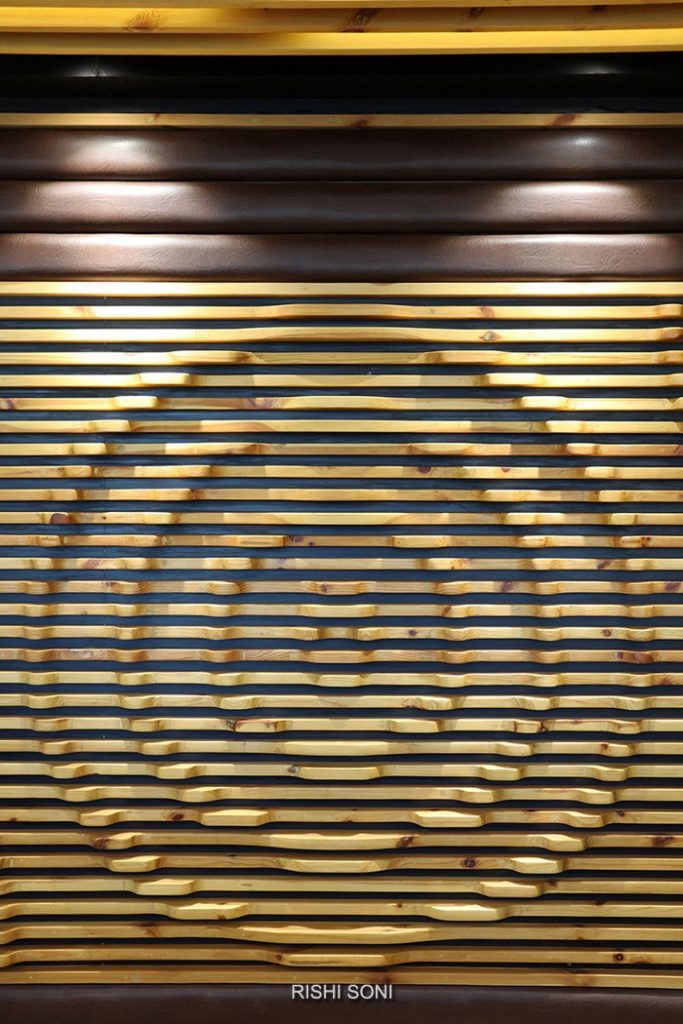 He also felt that just because he had no budget constraints didn't mean that he had to make it excessively extravagant. Noisy textures and loud colors were a big no and the designs had to be urbane and chic with minimal inspiration from Indian art and crafts.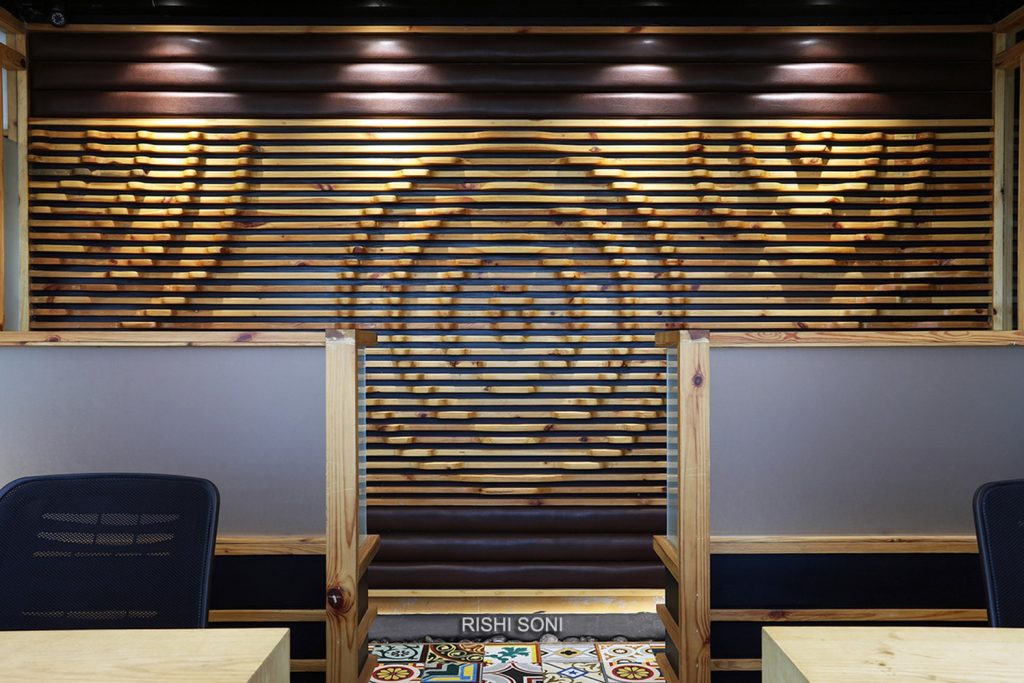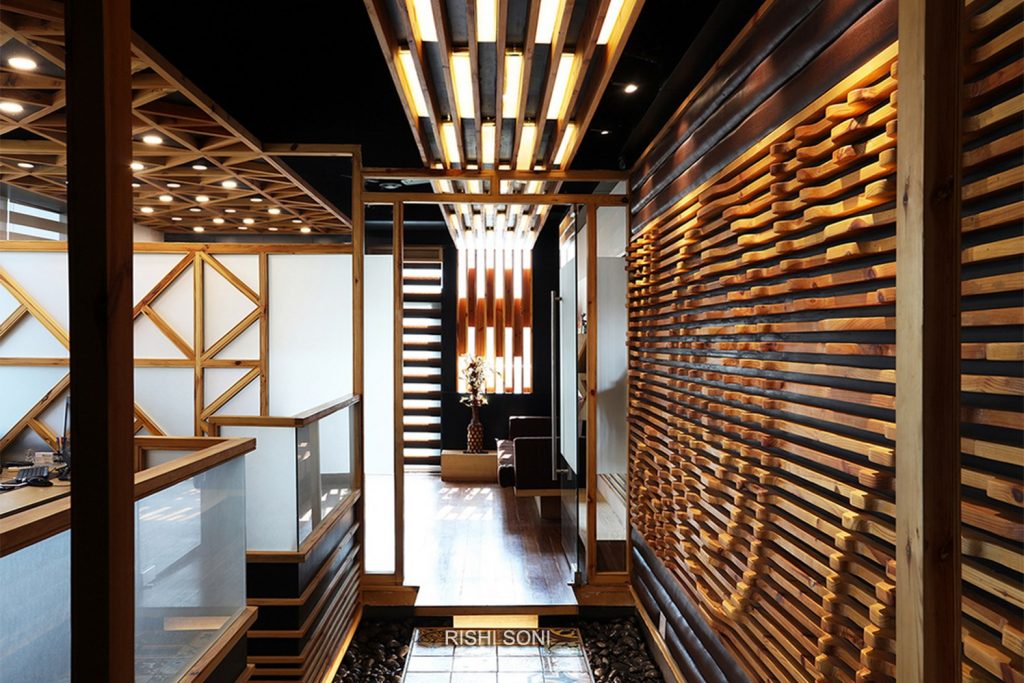 Since its inception to its final touches, the project took a total of two months to come to a victorious end. The designs are stylish and 50% of it consists of a glass façade that helps natural light to seep in effortlessly which brightens the office and reduces the use of artificial light. The mosaic-like wooden panels accentuate the looks by three folds. The wooden ramps are elevated by a floor aligned with tiles that ooze a contemporary charm. All his designs are whimsically Rubik in nature. The black ceiling effectively hides the tube lights, fans, and A.C and increases the space drastically.
As soon as you enter the main door, you will come across the company logo and signage. It matches the interiors and immediately gives you an idea of how the company is. The liberating space, quirky wooden walls and the stylish floors make you feel happy and welcoming.
The main door that is made from the leftover wooden strips used in the interiors, leads you to the reception and waiting area. The reception area has been purposely kept simple and clutter-free to contrast the main office area. The floor here is made of black granite and Jaisalmer stone that gives it an ethereal look.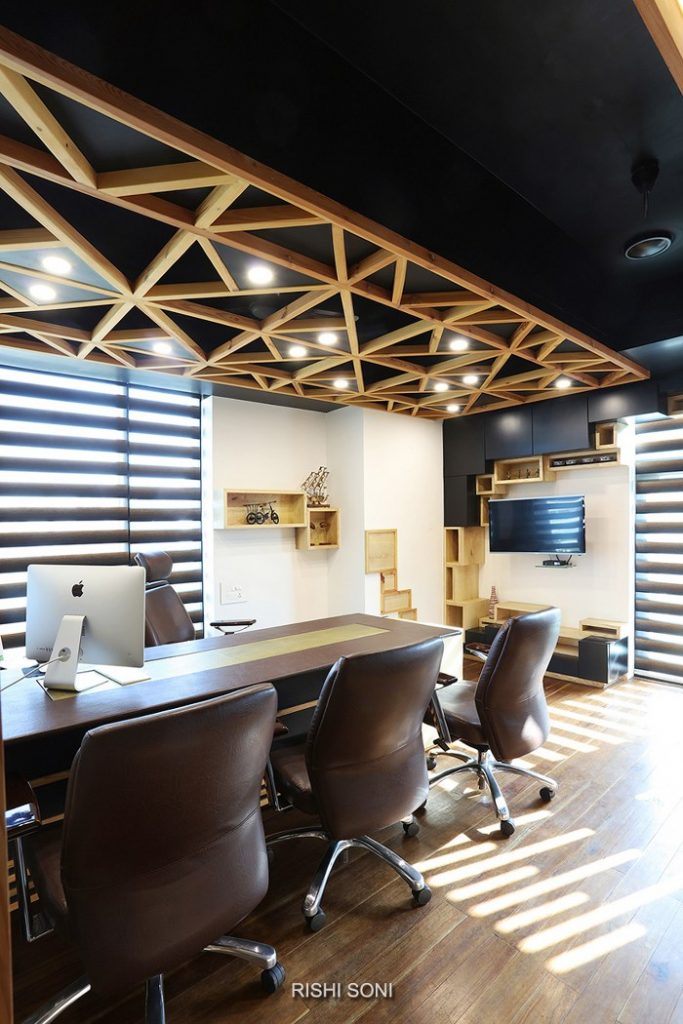 The main office area is lavishly designed and has a plush table that is specifically designed keeping in mind the fact that the table shouldn't get cold when the temperature falls. It is efficiently clad with fine leather and brass plate to keep the top of the table warm or neutral.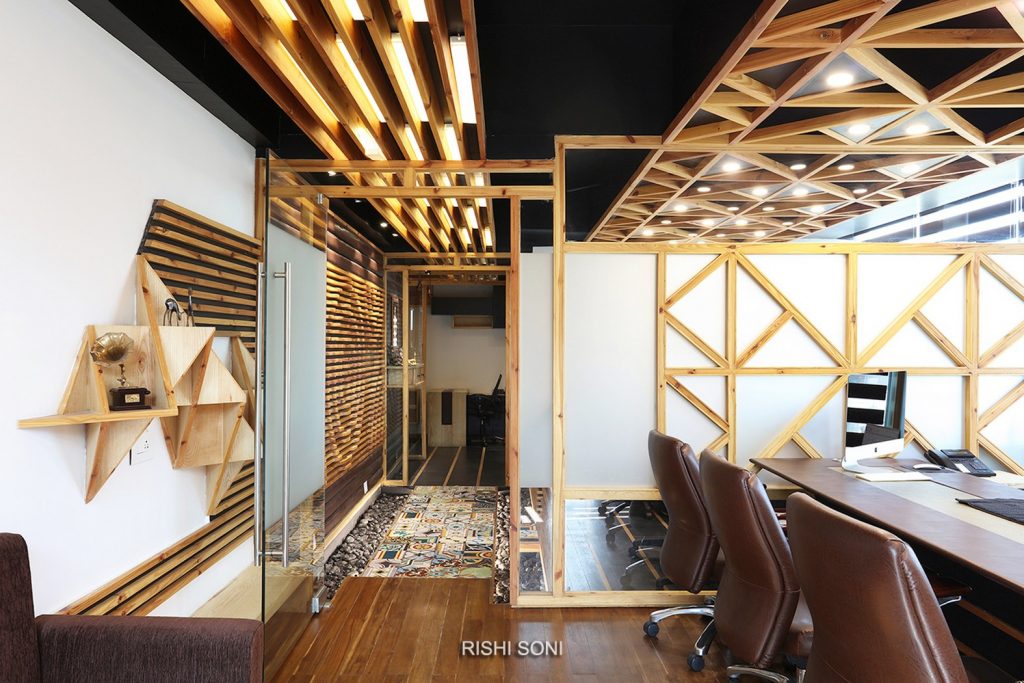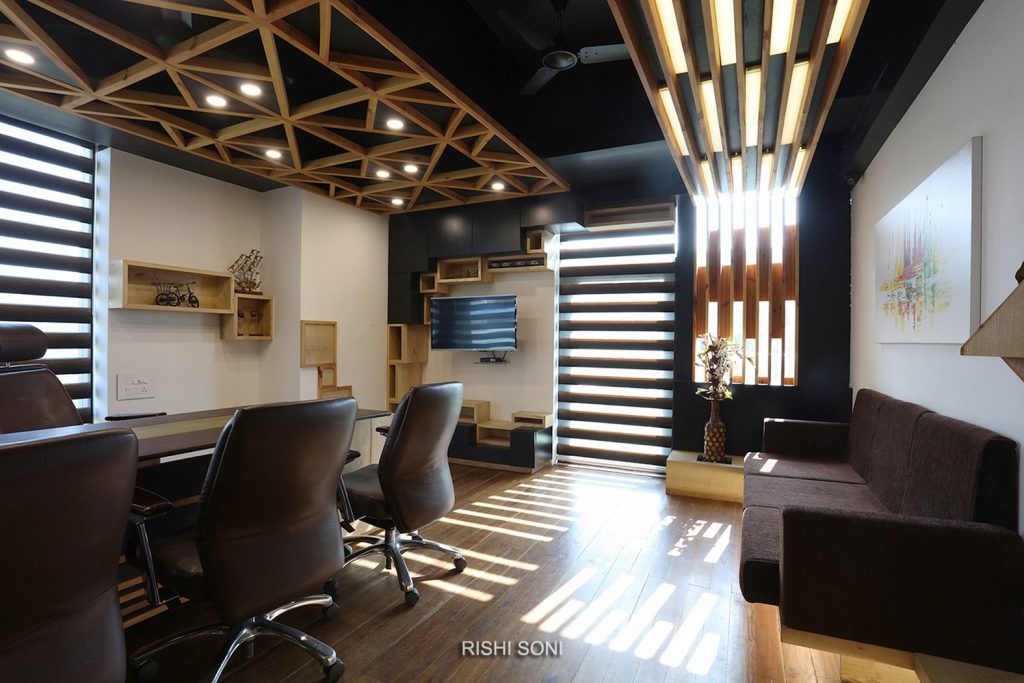 The intricately designed wall of expression is a quirky representation of how the client is, modern in his perspective but grounded and culturally strong in his execution.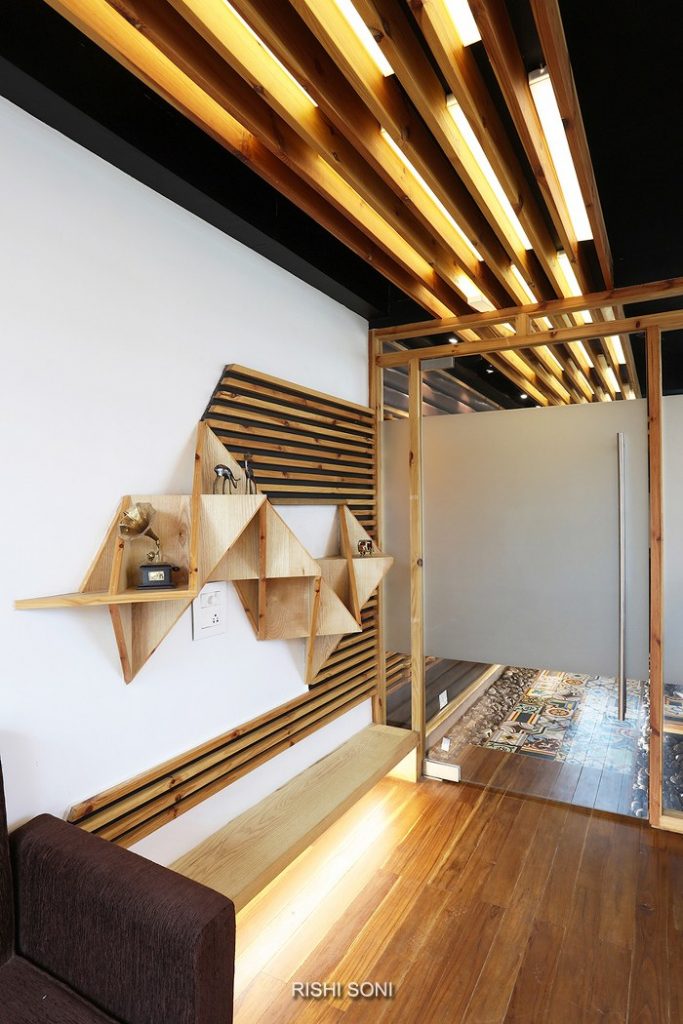 The classy and futuristic approach to the design is what Mr. Soni thrives for in all his designs. The offices he has designed until now are great examples of his refined taste. He believes in reinventing the Indian craftsmanship and recycling materials to design spaces. He feels that the office should be an embodiment of one's belief system, ethics, and principles. After all, work is worship and if you don't feel like you belong to a place, then how will you achieve the pinnacle of success.
FACT FILE:
Designer Firm: – Rishi Design Studio
Project type: – Commercial Office Styling
Location: – Ahmedabad
Principal Designer: – Rishi Soni
Project Size: – 800sqft
Project Cost: – 30 lakhs
Year: – 2019
Completion time: – 2 months
Photo credits: – Dhrupad Shukla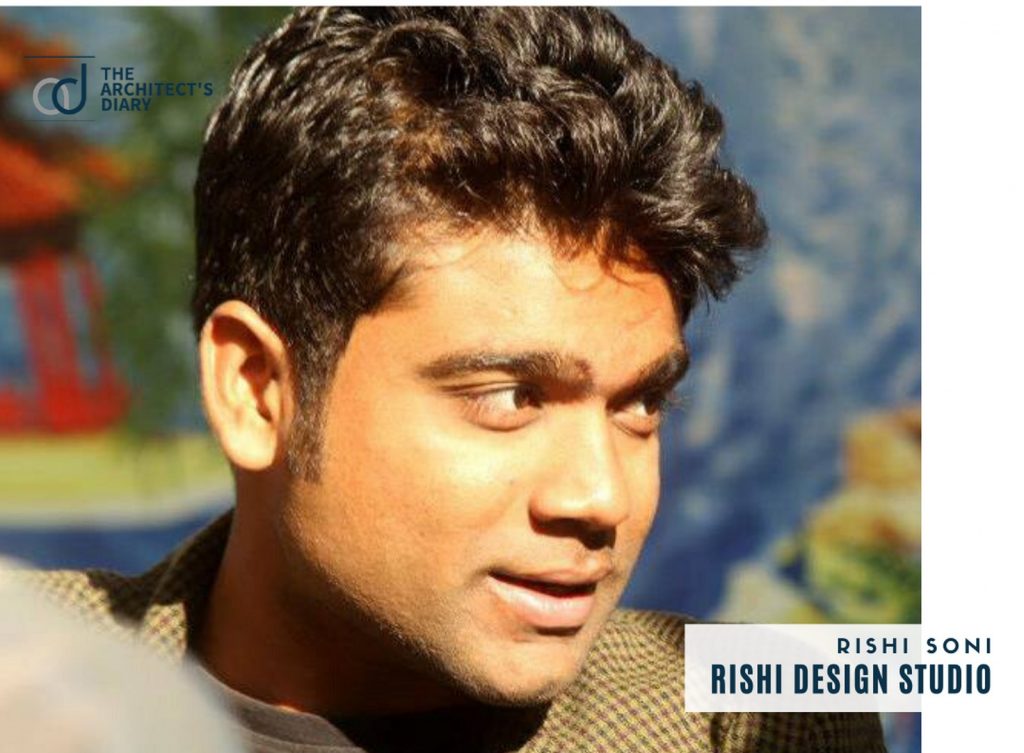 Facebook: https://www.facebook.com/Art_by_rishi
Instagram: https://www.instagram.com/art_by_rishi/