The Neo-retro Styling Place
A degree Salon, Vadodara
The speedily growing salon chain A one lets each of its branches sport a uniquely designed concept and when Usine Studio was asked to brew up something interesting for their 1000 sq ft Vasna Road branch in Vadodara, the duo knew just what to do.

&nbsp
They decided to fashion the place in a smart, Neo-retro mood, considering it is all the rage recently. The design is ruled by shades of grey with well-decided bursts of ochre yellow and brick reds. This scheme is then bathed in a soft yellow light giving the ambience a crisp yet bouncy quality. The space is topped by a ceiling where the exposed services in a calm cobalt blue dictate a sincere industrial charm.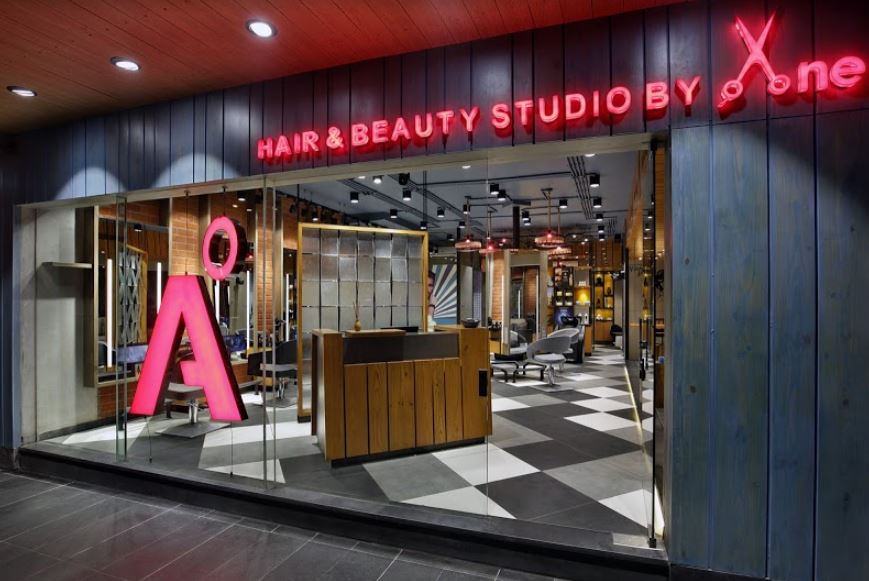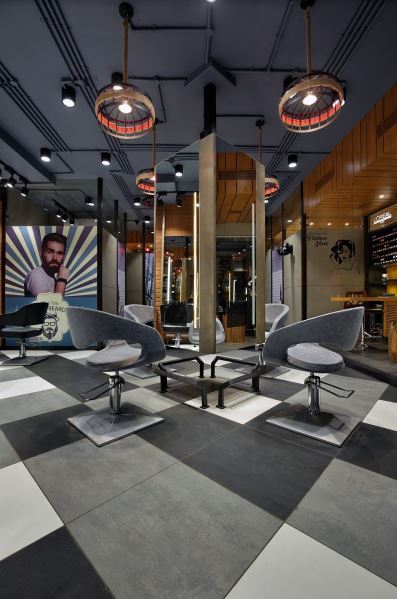 The pinewood reception desk is a stately welcome which is elegantly contrasted by the glass divider screen; the wood and glass together instil the rustic modern vibe that was intended. The stepped up waiting area has a lower ceiling than the rest of the space, which invites you in towards a large cloudy grey sofa. Retro graphics that went along with themes of salon and grooming were employed to amplify the undertone.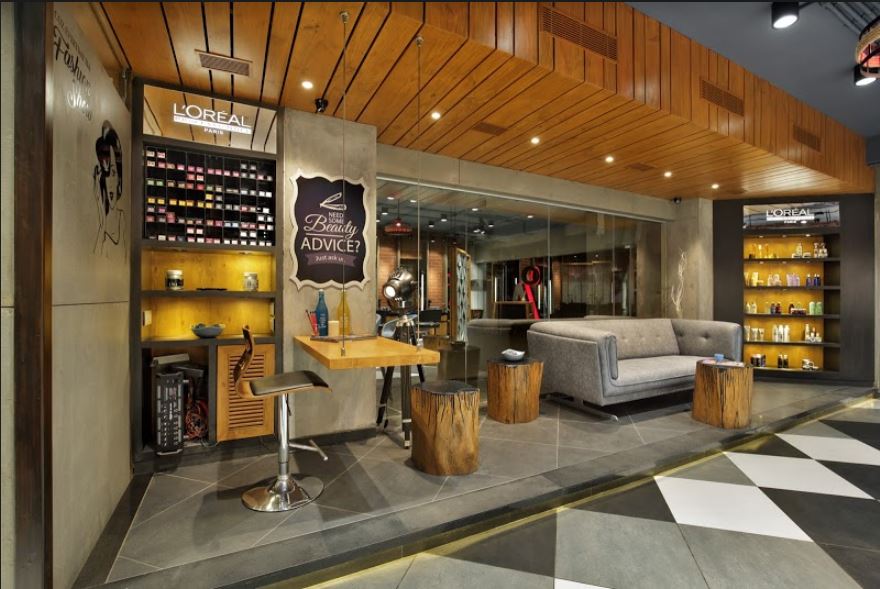 An angular juxtaposition of chequered grey and white flooring imparts a movement to the otherwise still elements that face each other covertly. The set up almost reminds one of a chess board where the mirrors and armchairs seem to be the bishops and pawns.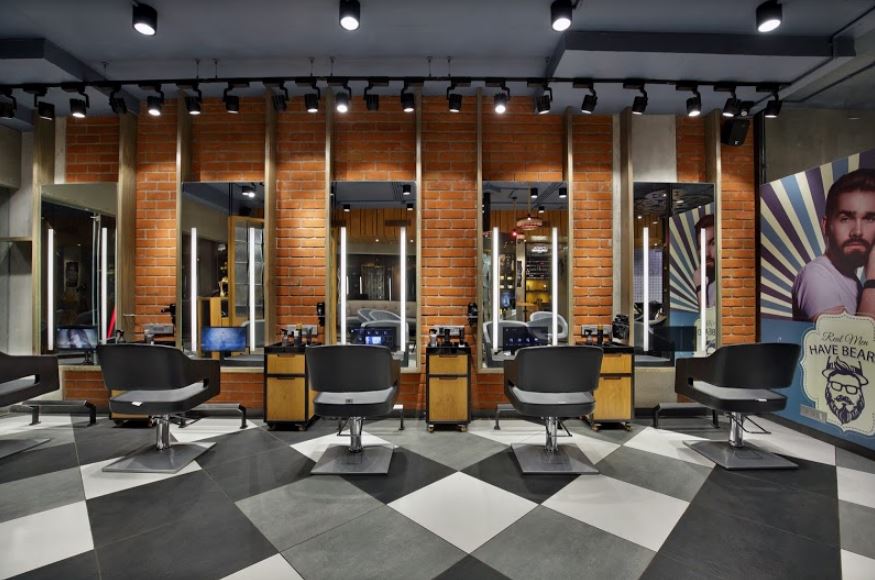 The rawness of the built space is utilised by leaving the brick work exposed. The flatness of the wall is skilfully articulated by projecting 5" wooden bands between which the mirror consoles appear to be nestled.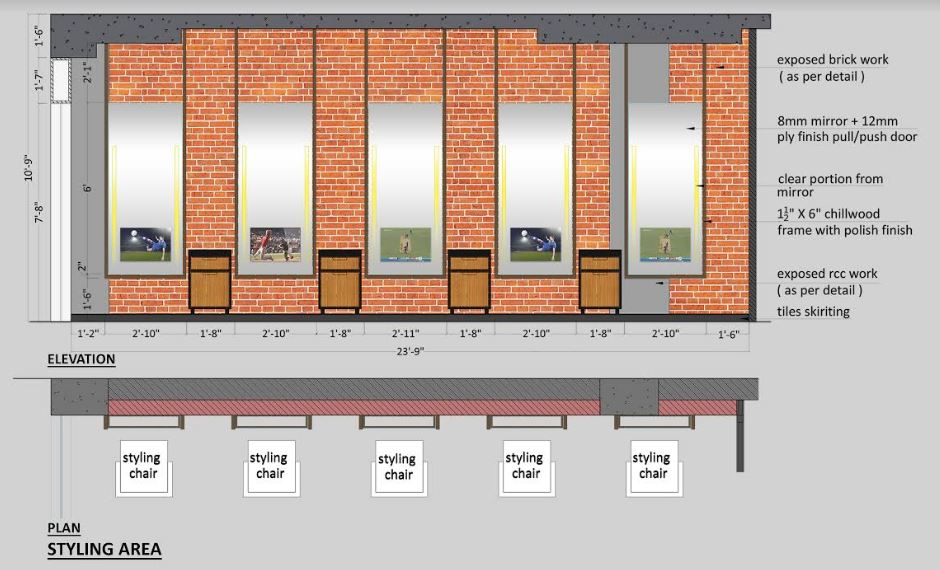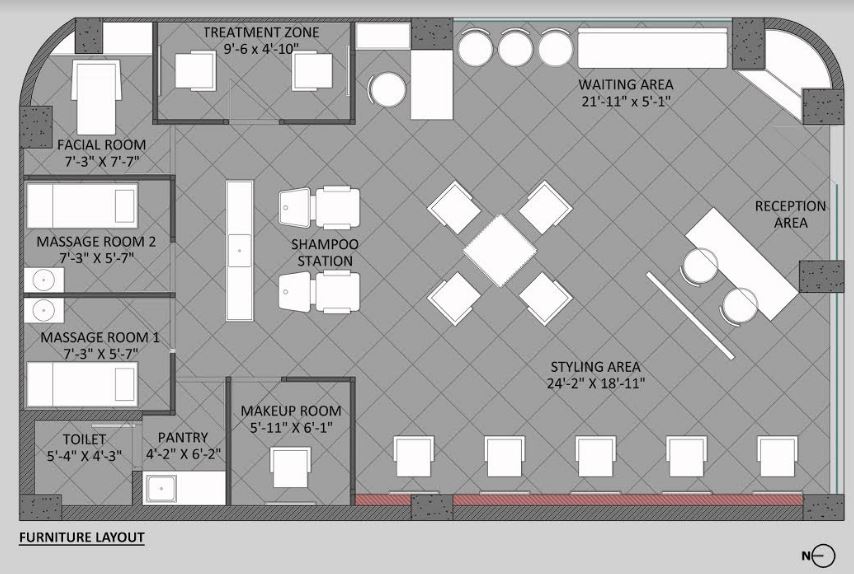 The mirror consoles that are not set against the wall are suspended from the ceiling, and hence help eliminate the visual weight from the central circulation spaces.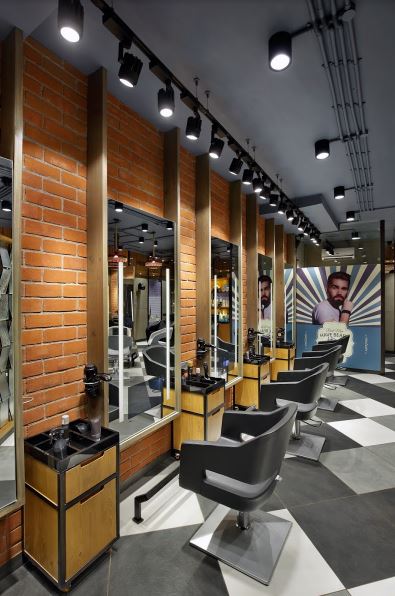 The main feature of the make-up zone is a circular mirror where the traditional series of bulbs are done away with and instead the mirror's periphery is etched with bulb silhouettes that are lit up from the back. It is mounted on a finished grey plaster wall whose smoothness funnels all the focus onto the mirror's reflection.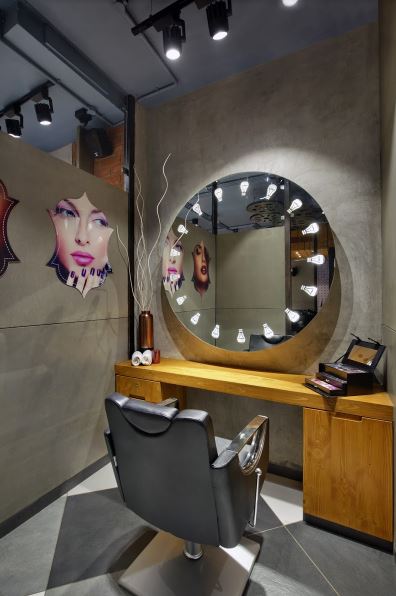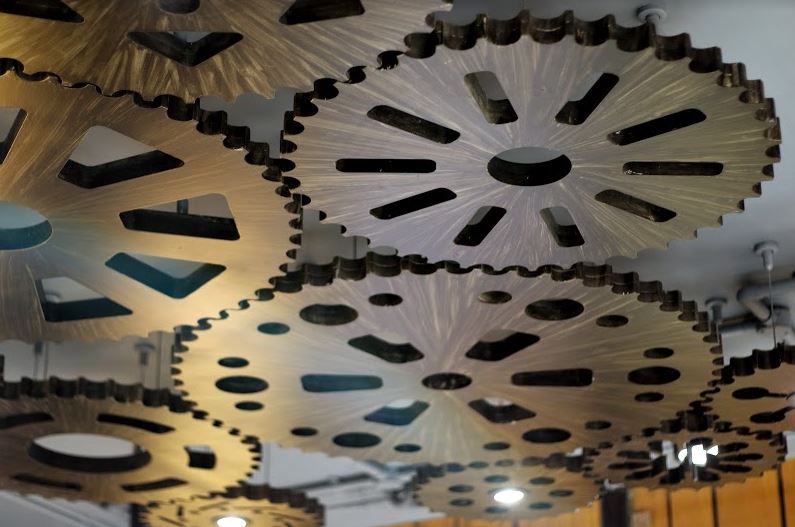 The massage room is adorned with wooden veneered mirror and shelves with bronze articles lined upon it. This combination hints at an earthy oriental feel under warm lighting.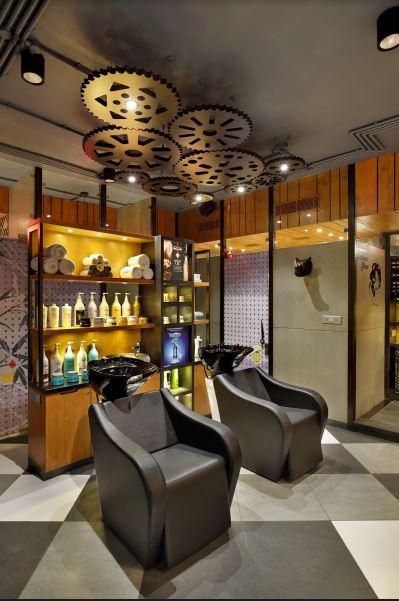 The neutrality of the ceiling is broken only in the hair-wash zone where people are required to stare right into it. A series of rusted metal cog wheels are installed to induce a hypnosis that also continues the machine-like language of the rest of the ceiling.
The overall space is enhanced on the concept of rephrasing the retro and the result is an unswerving and weightless setting for the modern glamour regimens.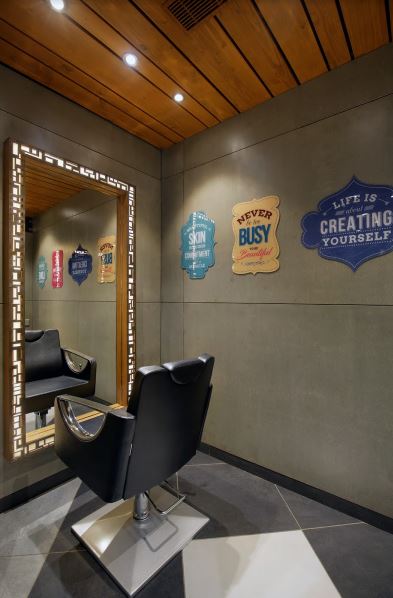 project Name : A degree salon
Project location: vadodara, gujarat
Led architect:Yatin Kavaiya & jiten tosar
architect's firm :usine studio
Design team: divyesh padhariya
Contact email : [email protected]
Gross carpet area: 1000 sq.ft.
Duration of execution: 2.5 months
Photo credit: Tejas Shah
PMC : Siddharth sariya
Graphics / branding : Trizon
Text -Vaishnavi Sharma