&nbsp
Navpad-A New Path with Kaleidoscope of Tints | Pavan Infratech 
Navpad which means a New Path to Allure vision by Amalgam of Tints and Segment. The Design of house mainly depend on Use of Colours. Different colour are used at different rooms which merge with Center Black to create Kaleidoscope for every moving thoughts. Segment i.e. Birds & Plane in colourful language give Childhood Resemblance on white canvas, which would Interfere with our Conception of Space.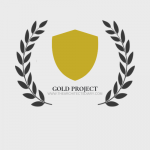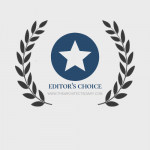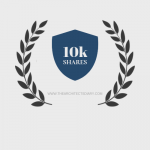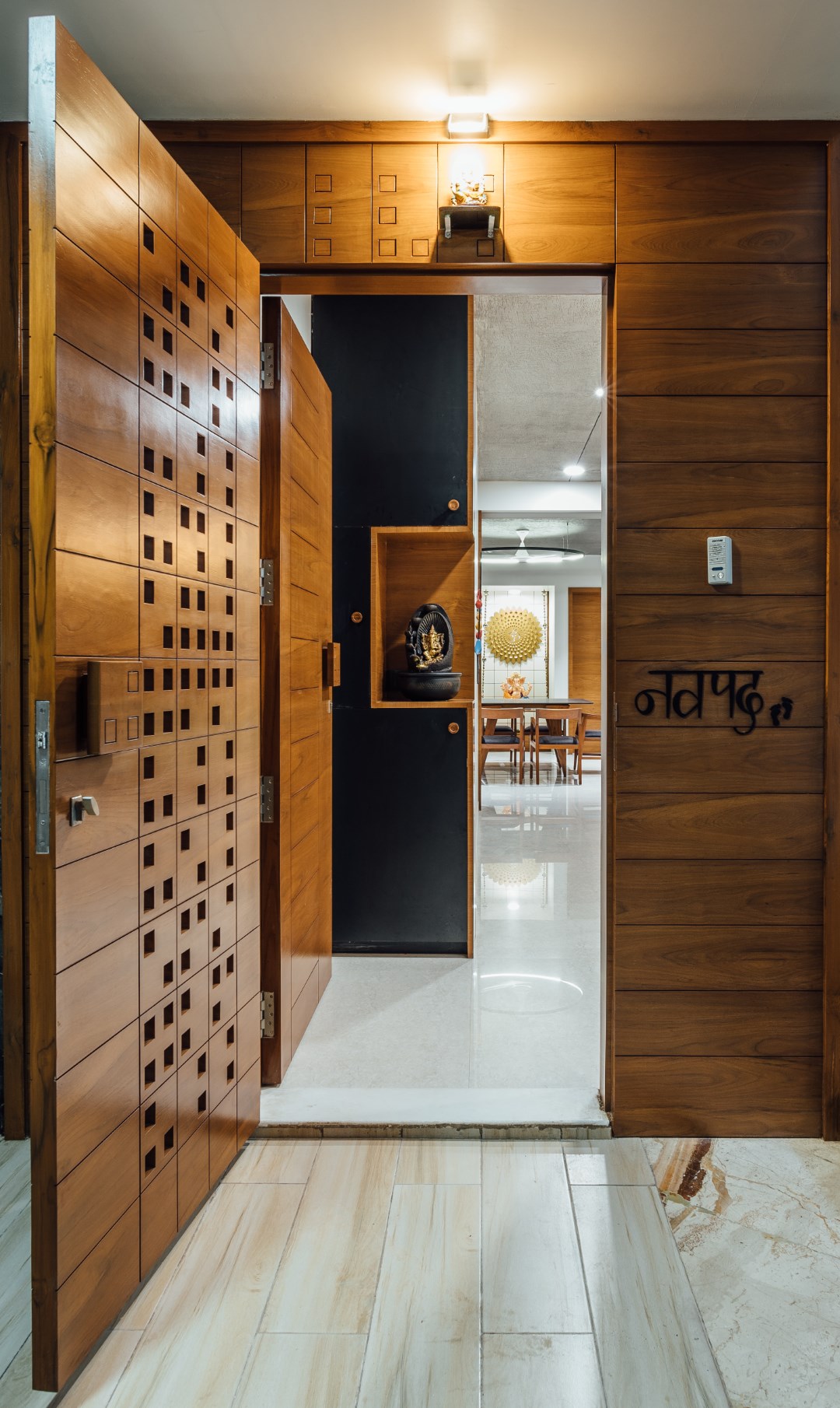 Living space is created to feel a new dimension. The first rule applied here is to ensure that we are going for harmonious interior in which every element is well integrated and completes itself with the others. Contrast, either by color, light or texture must be chosen so that the elements remain balanced. Colors aren't randomly used, because it plays an important role in reflection of area for the people who is going to reside in it . We choose colour base on, how long and at what times of day, person will spend time in it and what activities will take place in
that room and the mood we want to induce in it.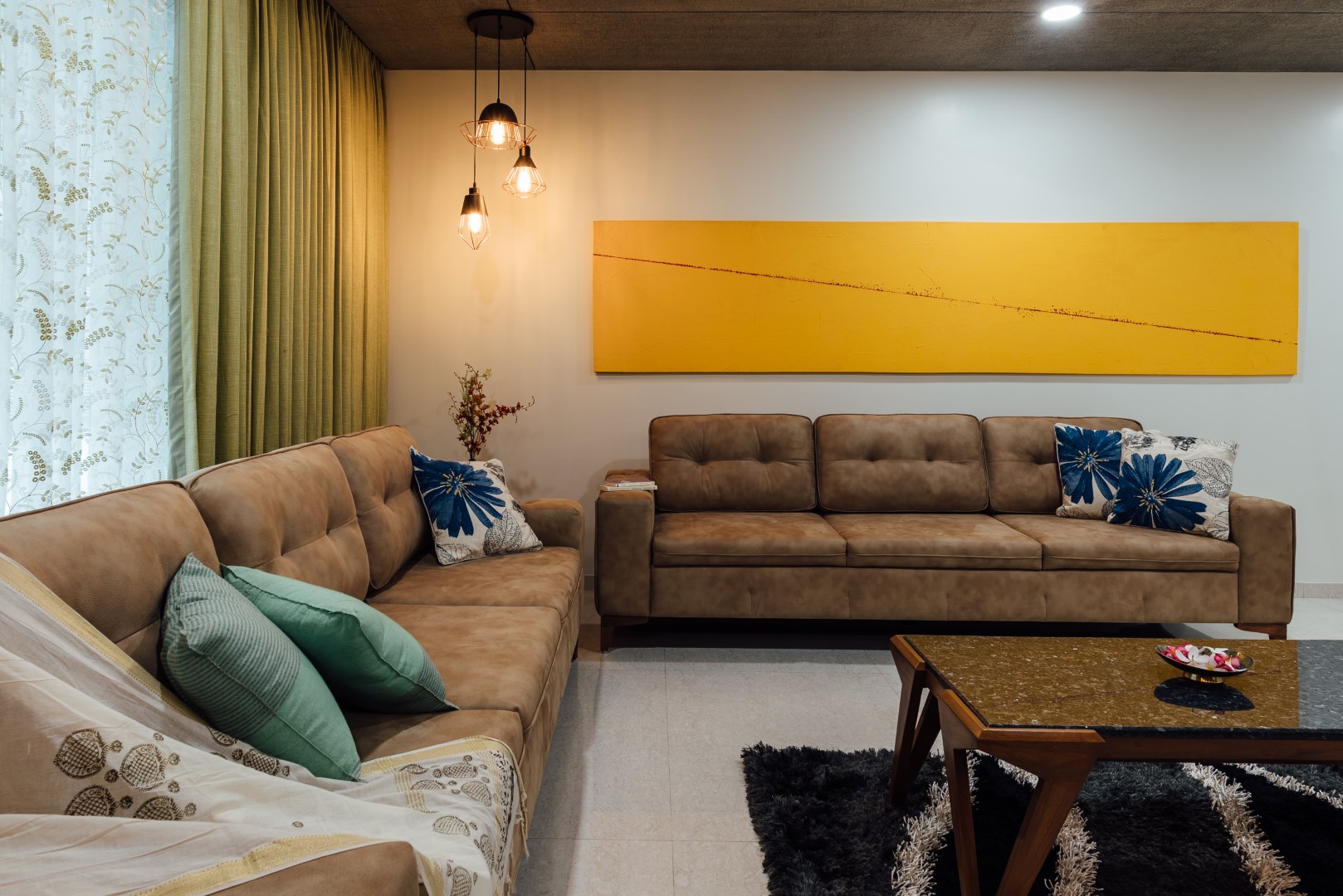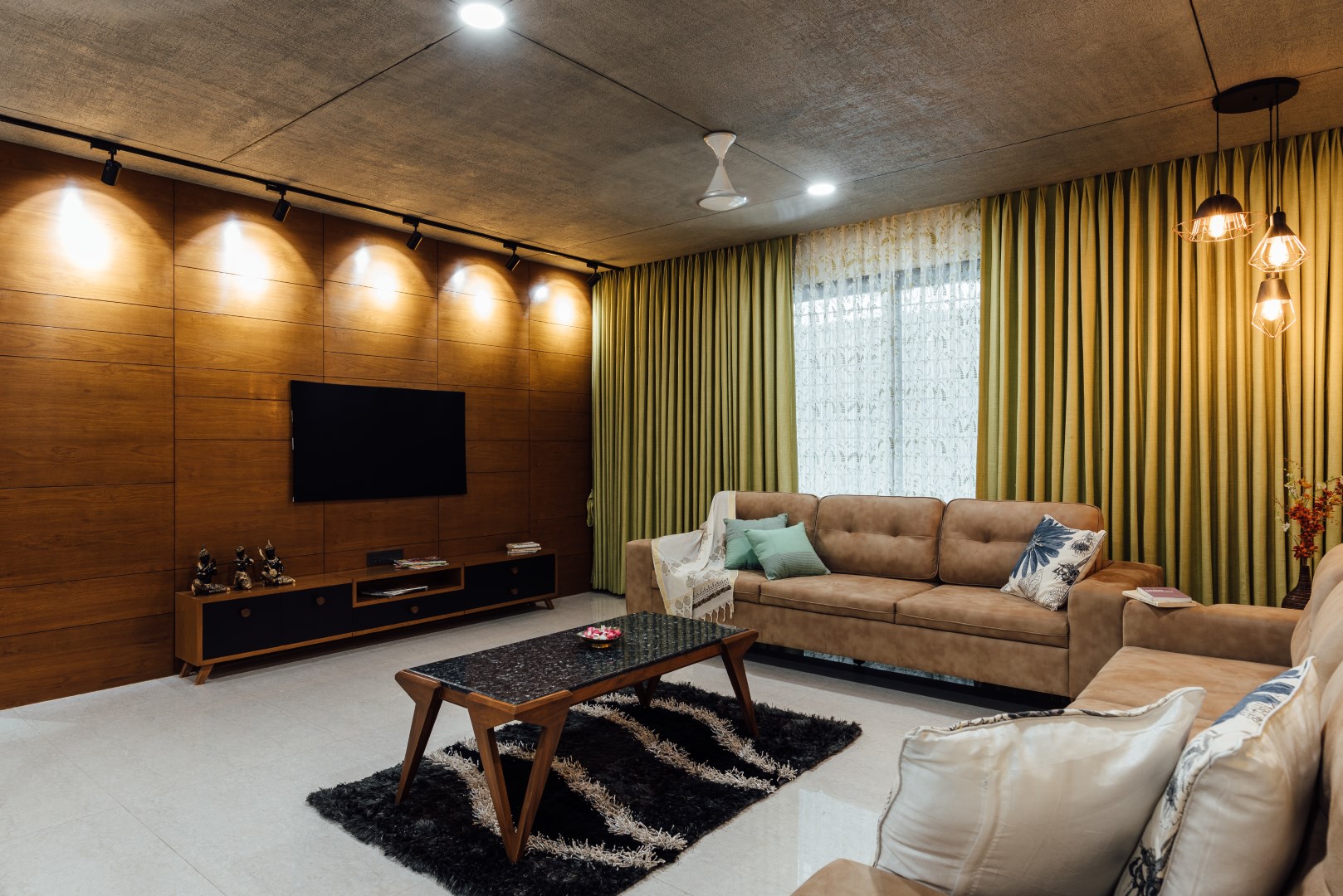 At first sight we may think that it 's very easy to design rooms, like we love being surrounded with inspiring wallpapers, vivid colours and graphic patterns, but if we don ' t know anything about colors & what combinations would look great for our home style, the results might have nothing in common with regular appearance. So Here we used colour with correct amalgam and understanding i.e. white is used to accentuate space in the kitchen, darker tones in the living room & bedrooms to create more intimacy.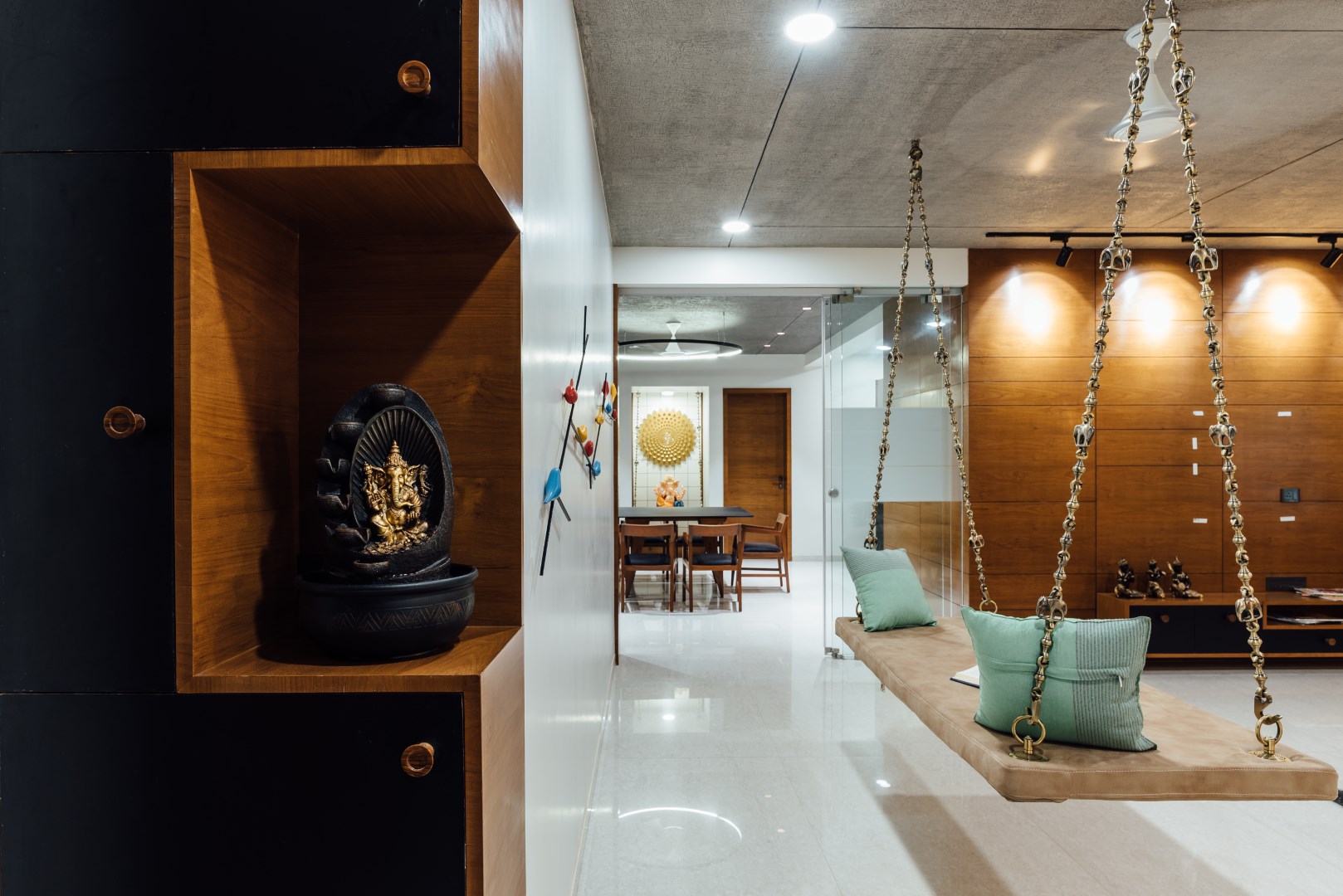 Design combine 2 types of light to create an atmosphere within a room.Task lighting is used to illuminate a specific area & Accent lighting is used to set a mood with accentuate an aesthetically pleasing feature.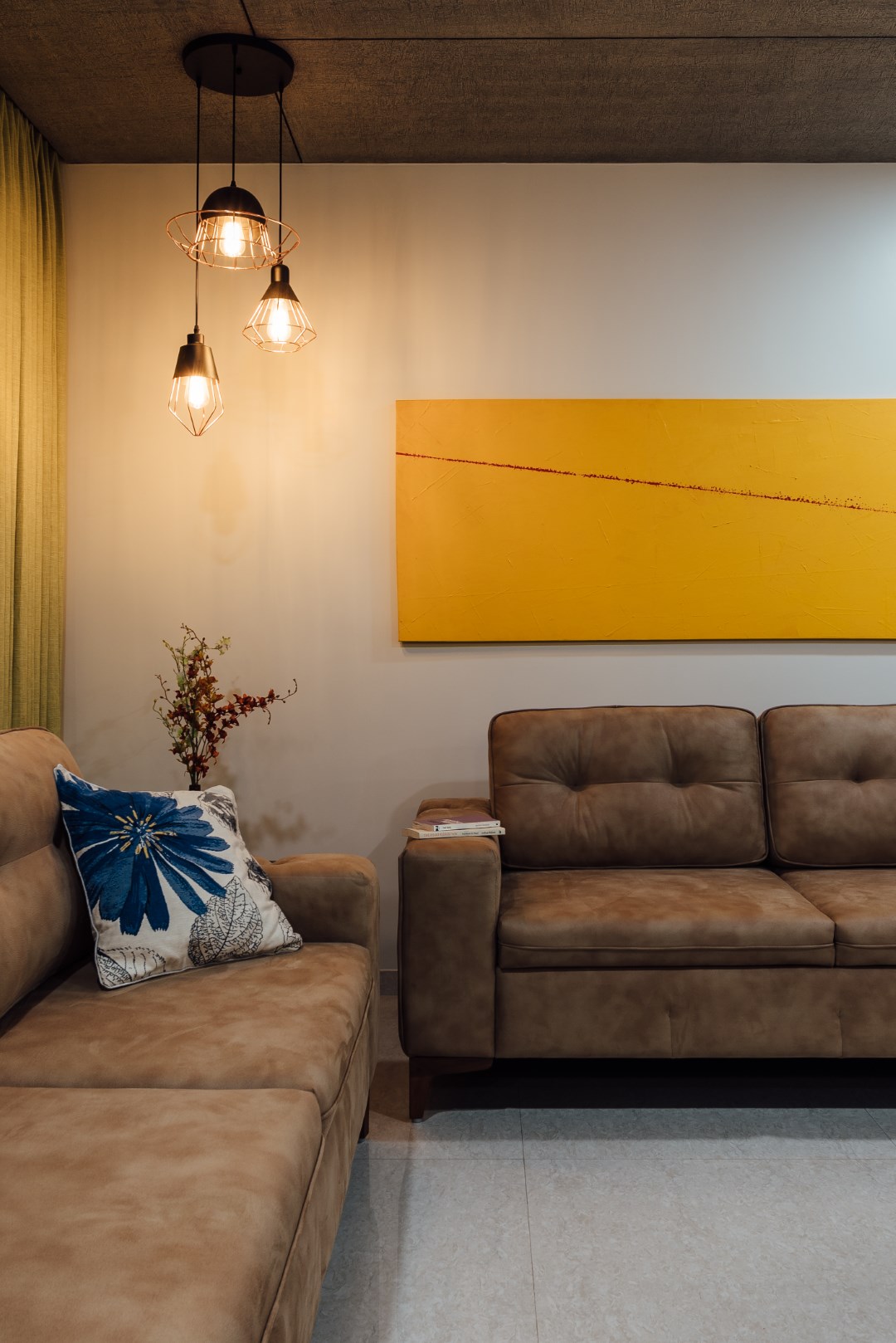 Nature means harmony and balance. Maybe that is why few hours spent in nature help us relax and recharge our batteries. Following this idea, We thought that it would be interesting to create an extension of nature in your own space, through Adorable figurines of birds an expression of natural decoration as a design element.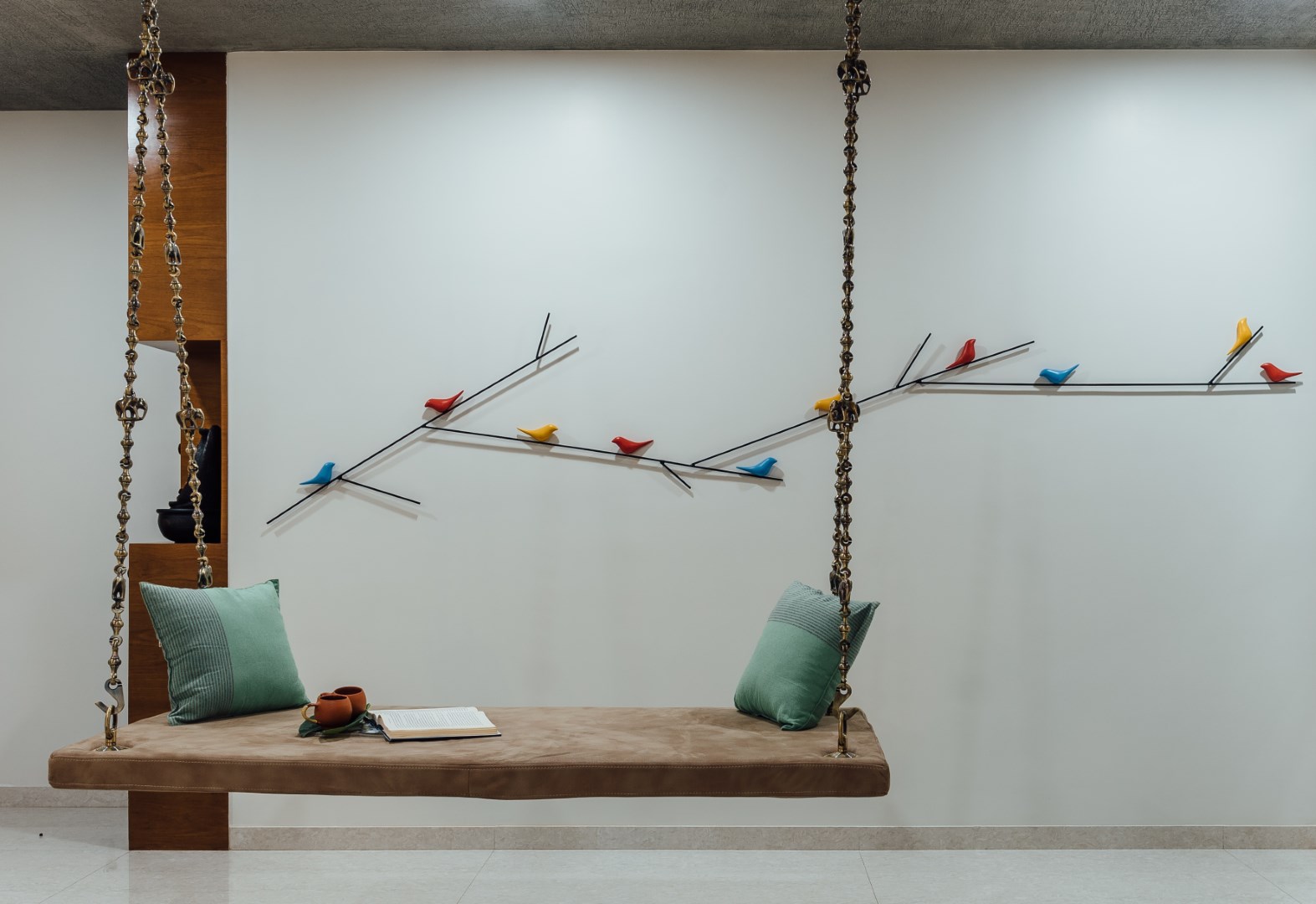 As we know Colors act in three basic ways:Light, Dark and Neutral. You can easily match every room 's colors to your personal desires,to your taste and to the room's purpose. Light colors are expansive and airy, making rooms seem larger and brighter. Dark colors are sophisticated and warm; they give large rooms a more intimate appearance. Hence colour here so chosen for rooms are Neutral as in Wood & White, Dark as in Blue and Light as in Yellow & Green. All these dark and light colour combine with neutral colour to create more homely and loving ambiance in the room.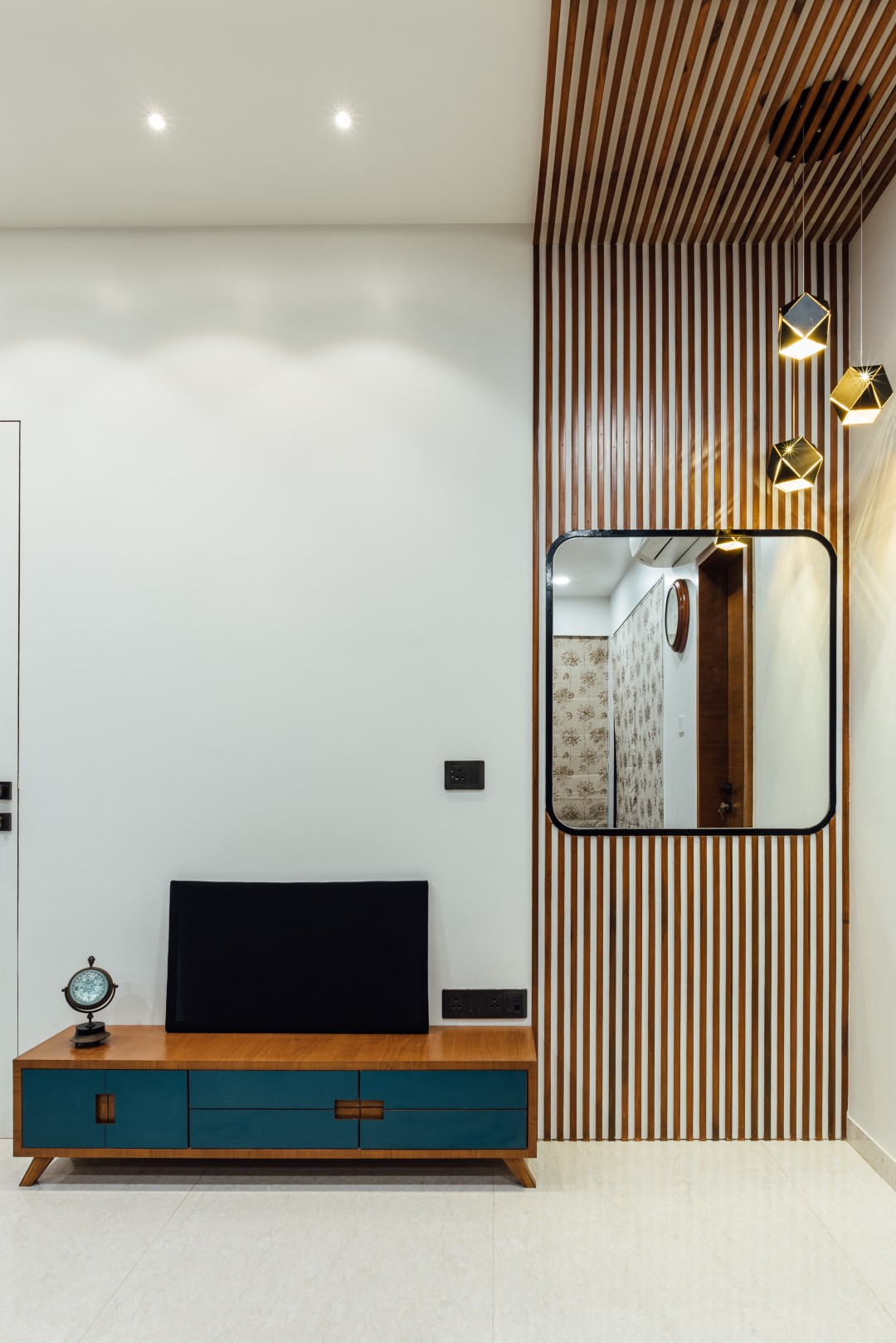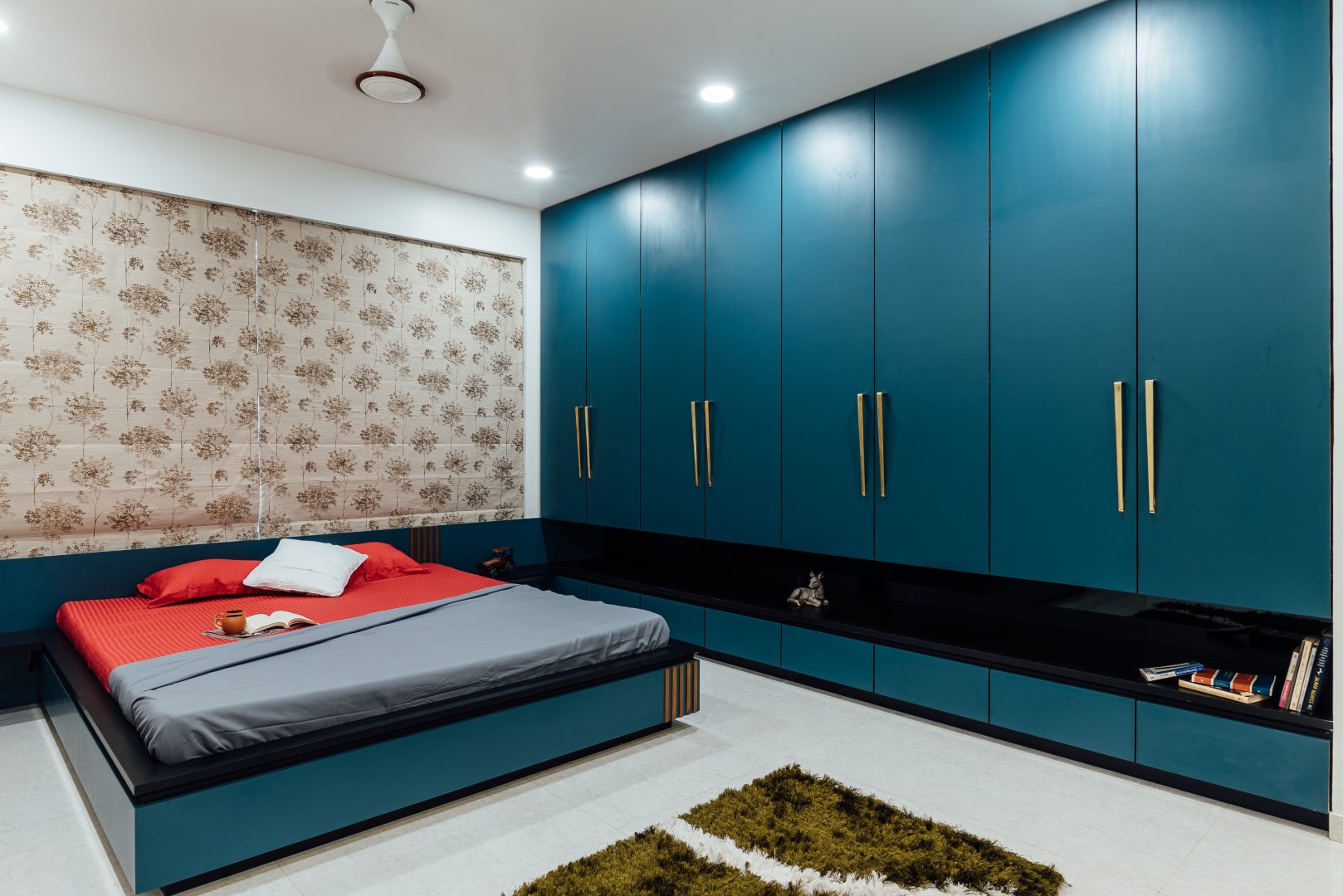 To Encourage relaxation, Blue is known to have calming provoke and it affects the human mind profoundly. There is a reason why blue is the perfect colour for bedrooms as.It instills a sense of serenity and peace which is very soothing. Wood finishes don't need to match with colour, as we want to create complementing effect of one on another. So we Bring together a mix of inherited combination i.e. blue with dark wood, to decorate the wall with colorful artwork, along with the artificial light to create beautifully adaptable 2 style ambiance.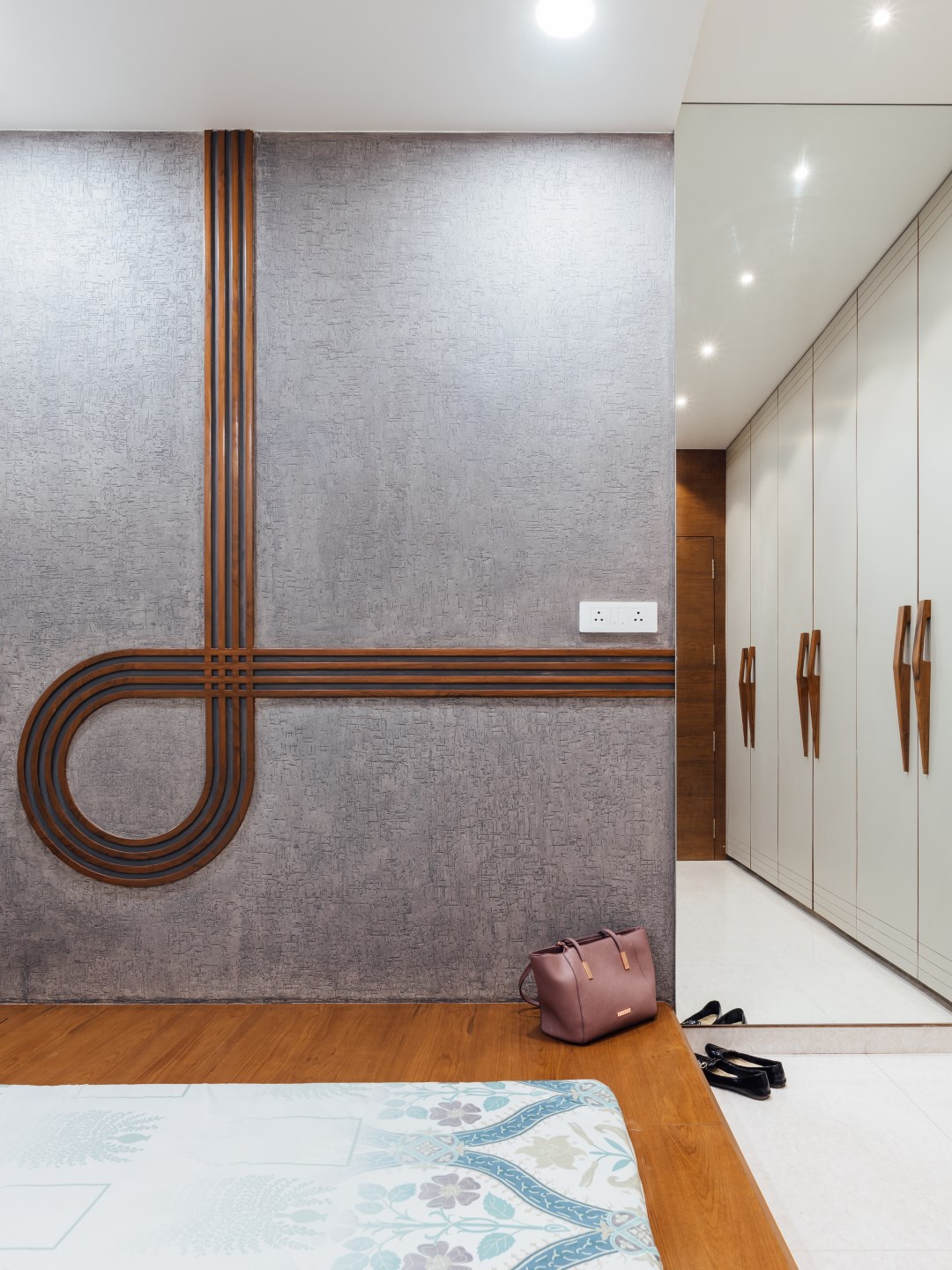 Growing include the fact of evolution that for a long time we grew from our childhood to oldage, But during all stage of our life, roots will always be tangled with memories. The mind must resemble a mirror, which always takes the  colour of the object it reflects and is completely occupied by the images of childhood resemblance.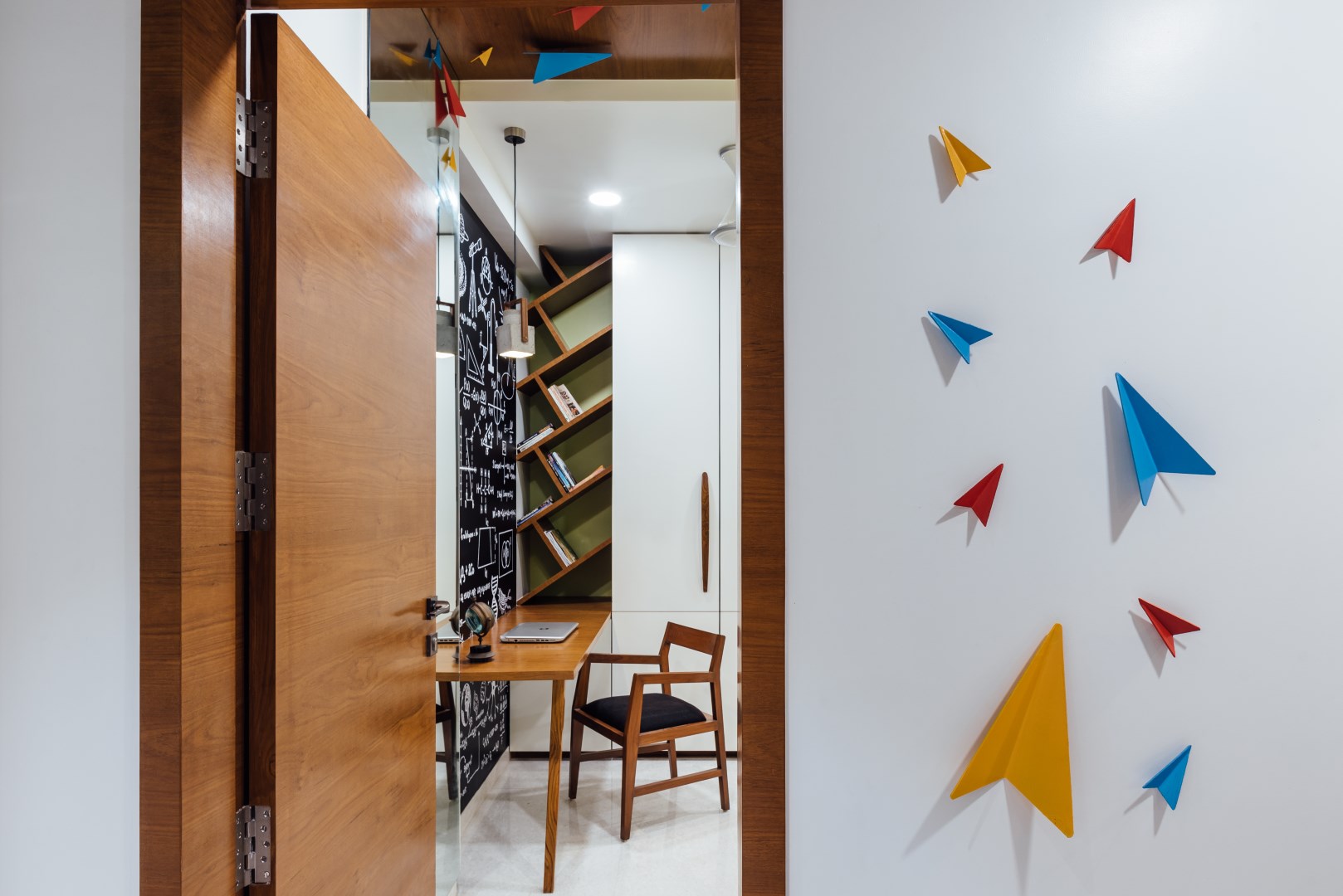 Green colour depict life, sense of calmness, security, renewal, nature of growth & freshness which are the basic charater for a child to inspire. The room was decorated with colour panel to create box wall along with that a black board of canvas given to express the thought on mind. All these i.e.plane, black canvas, green bright colour bring cosiness of space for a child to reside.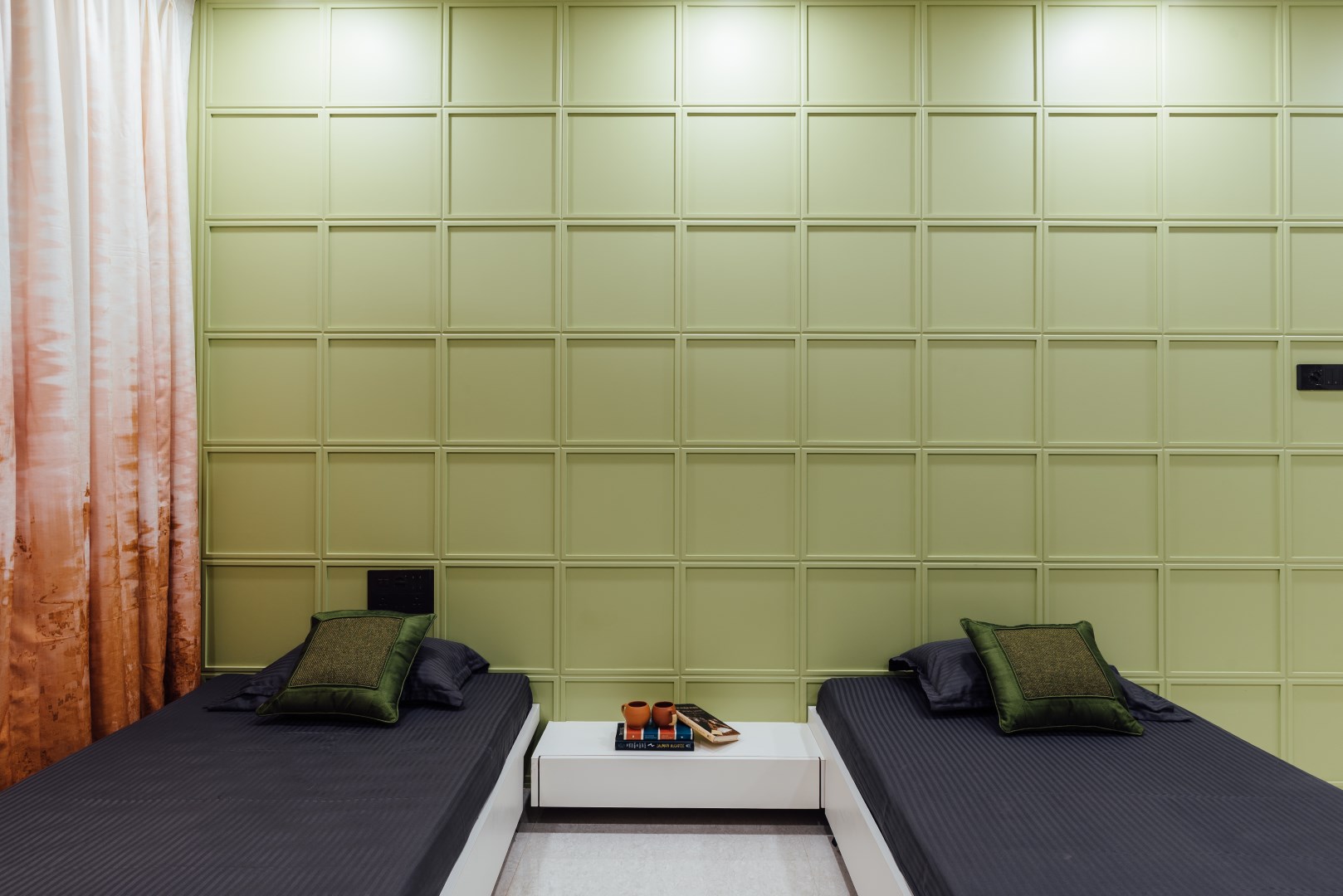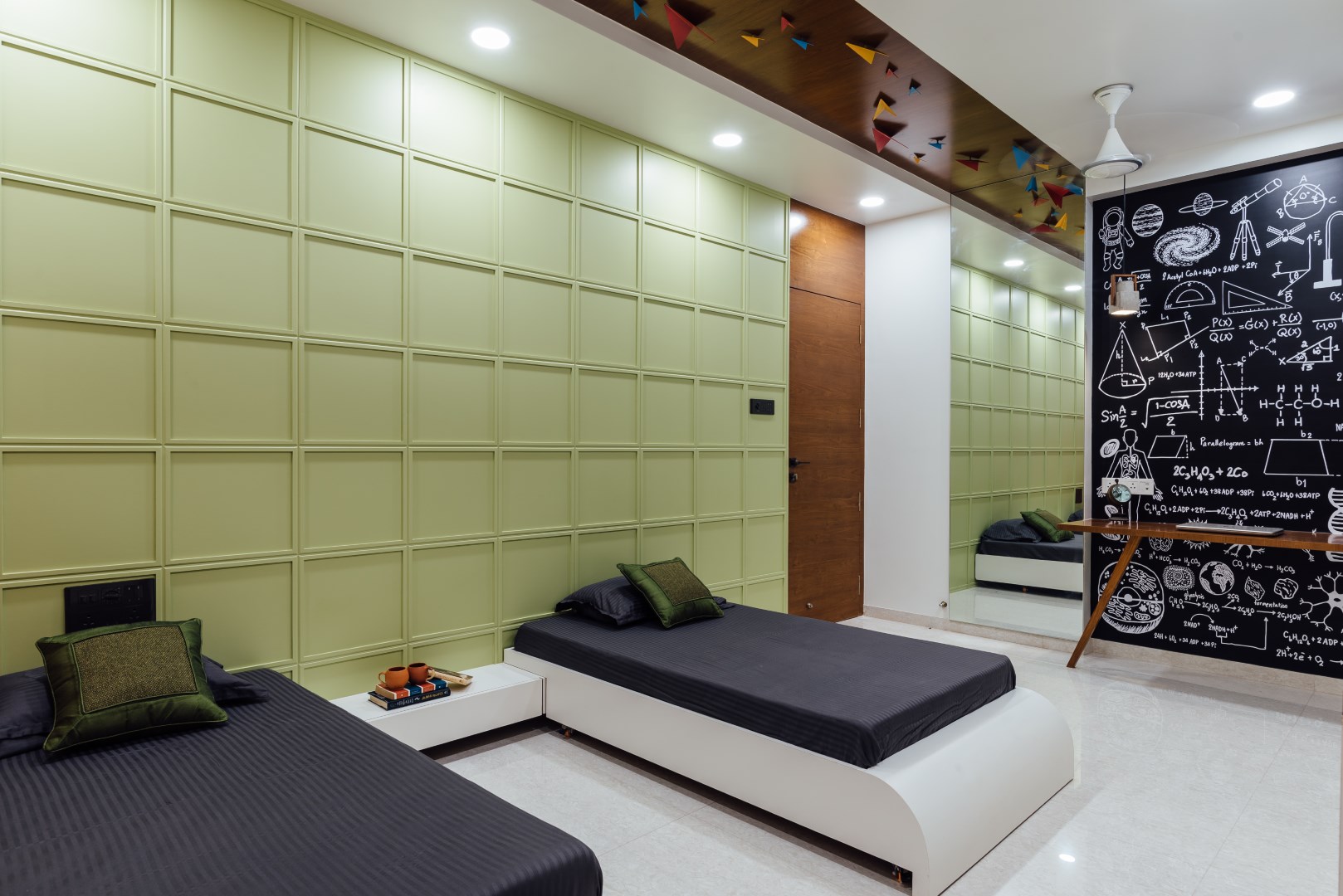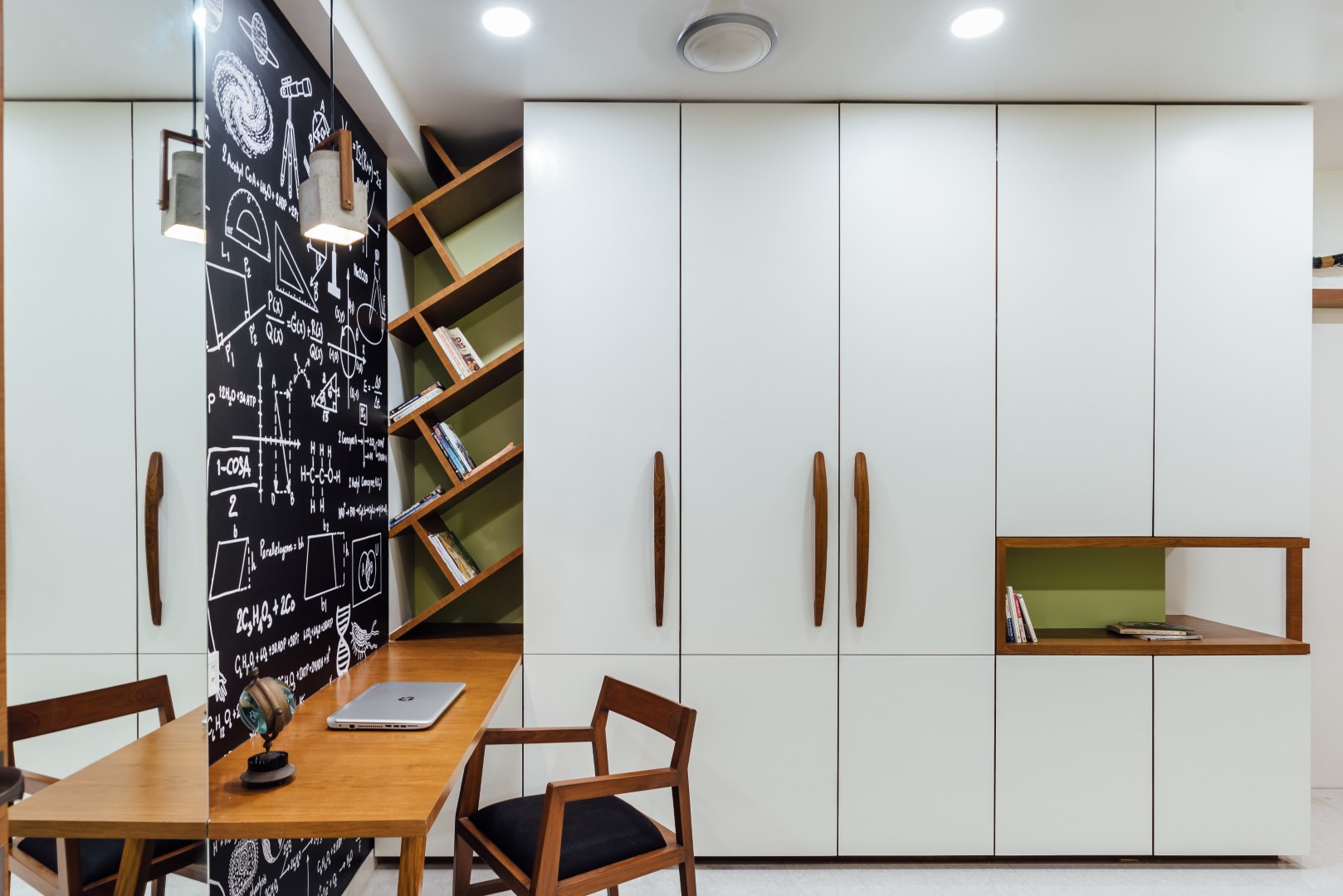 Used tint of yellow colour on bedrest to give a bright and optimistic air for room. Effects of yellow color varies with its nuances. A dark yellow applied on bedrest with neutral colour panel on wall bring a little sunshine in room. When it comes to wood, its a great standing out thing due to its variation in color, pattern,texture, and style in decorating the space.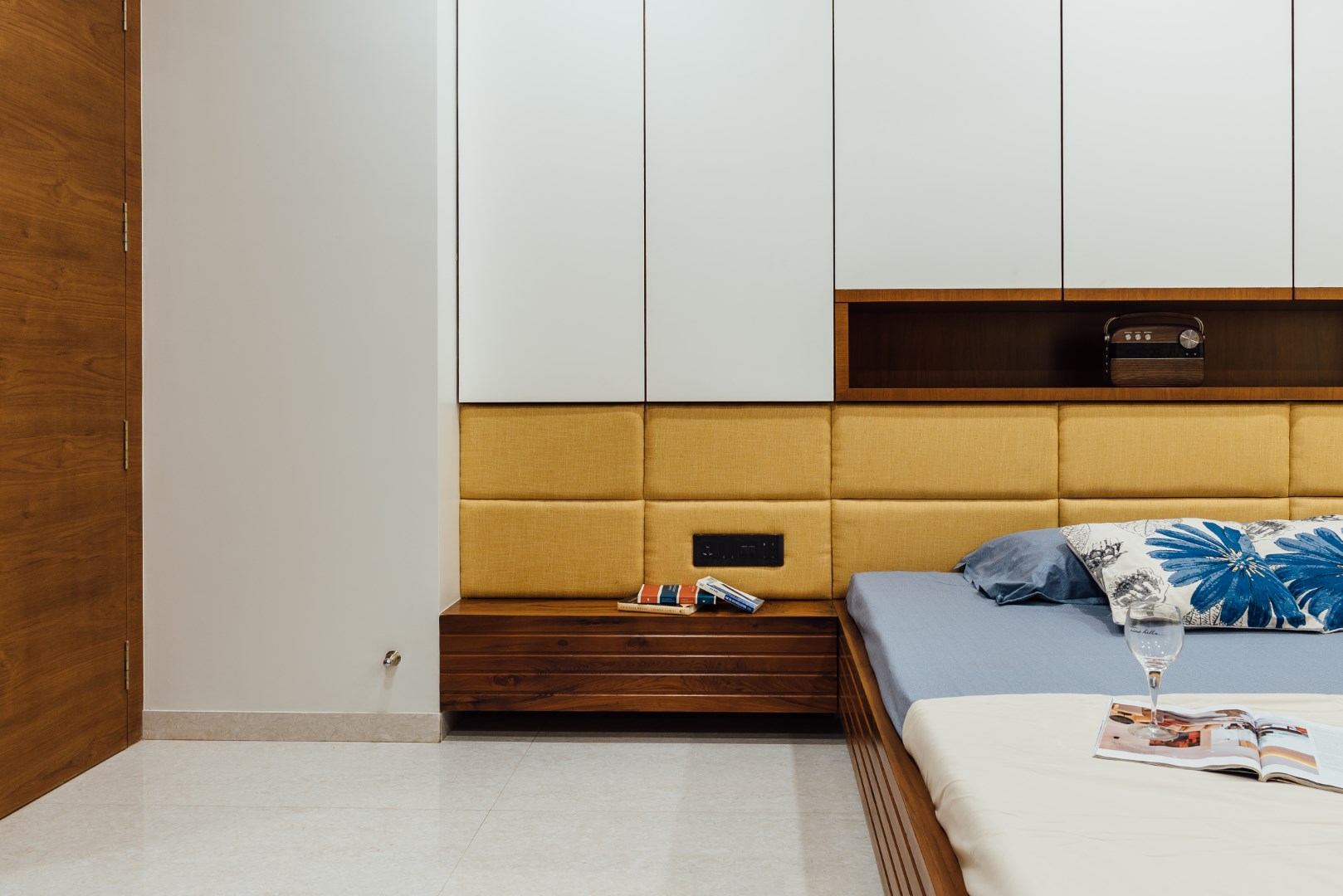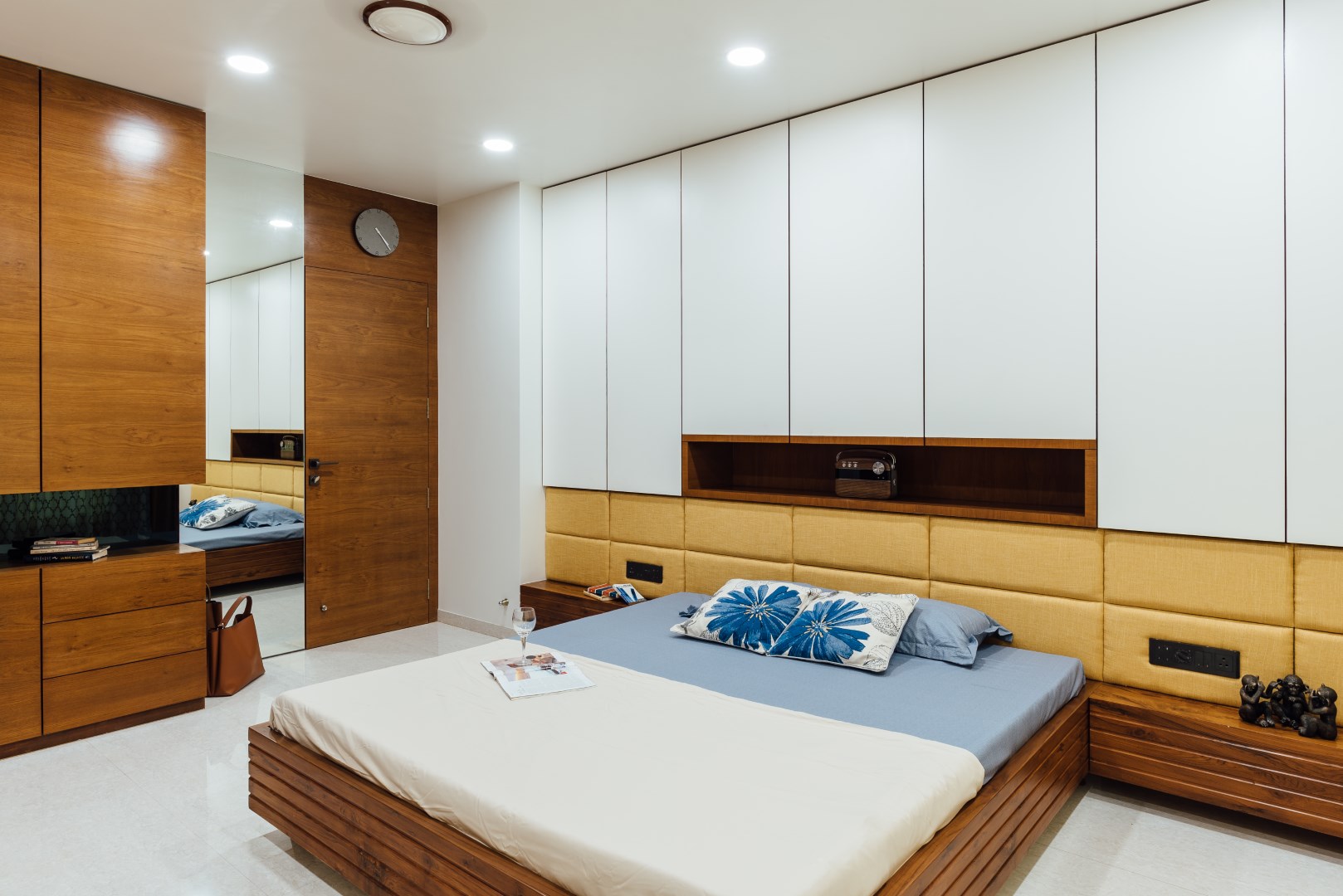 FACT FILE:
Project Name –        Navpad
Architectural firm- Pavan infratech
Area – 1725 Sq.ft. Carpet area.
Location – B-102, Saffron Homes, Adajan,Surat.
Client Name – Shyam Corporation.
Project type – Residential Apartment
Interior Design.
Principal Designer – Ar Niki Panchani.
Project Architect – Ar Harekrushna Zanzmera.