&nbsp
Modern & Neat Residential Interiors VPA Architects
VPA's work has always been designing and content driven. Bagged through positive word of mouth this residential project, in Ahmedabad, had a precise brief: The client wanted a "neat interior" which translated into simple functionals with low maintenance details. Other than the functional requirements, the architects had complete freedom to translate this brief into reality. Adhering to the brief and focusing on every detailed requirement of the client, a design narrative of the simple, straight-line, seamless and responsive design was arrived at.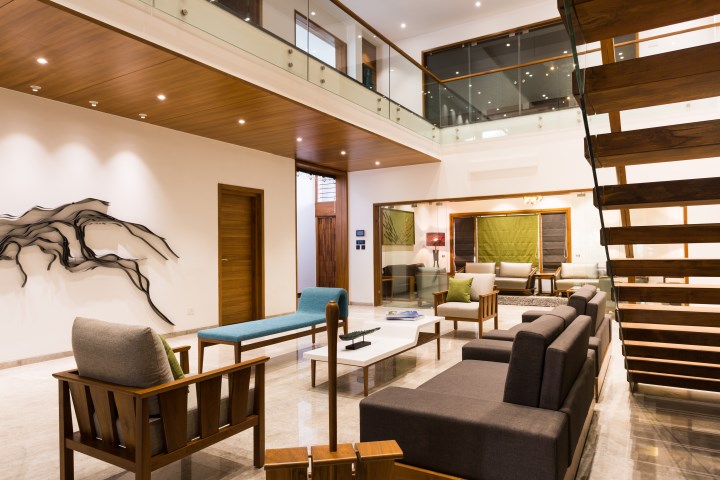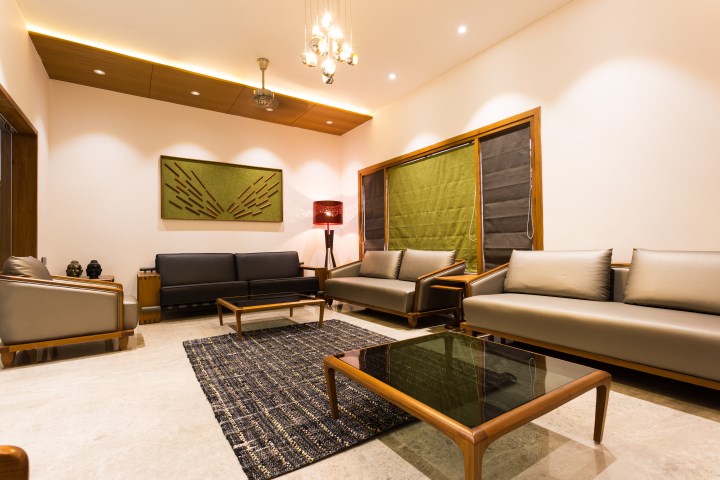 VPA entered the project as designers during the constructional phase of the building hence got ample freedom to undertake civil changes according to the interior layout. For instance, the dressing areas and bathrooms underwent significant modification, as did the public spaces. As the architects were involved in the exterior look of the building, the material selection for the elevations also came under their purview.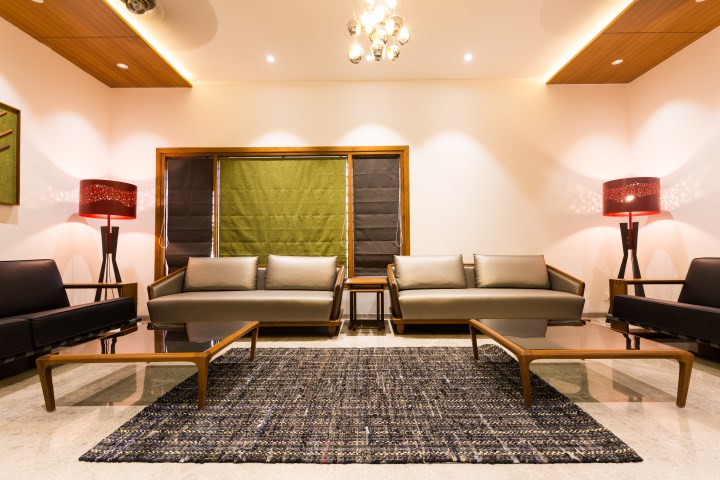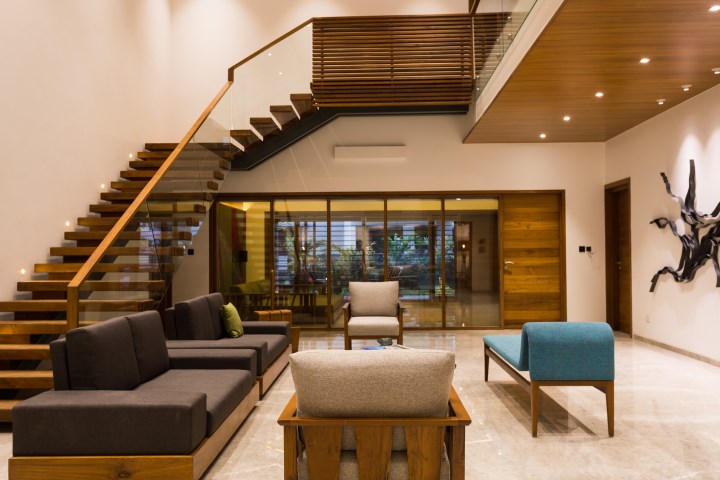 The generous proportions of the internal spaces posed a challenge as notwithstanding several soaring double-height section in the public zone, the client was firm in his request for minimalist interiors. "Thus our challenge was to fill up the room enough to make it look cosy and intimate with minimum interior elements. This is where we used a lot of colours in fabrics and walls to create an illusion of a smaller space," disclose the architects.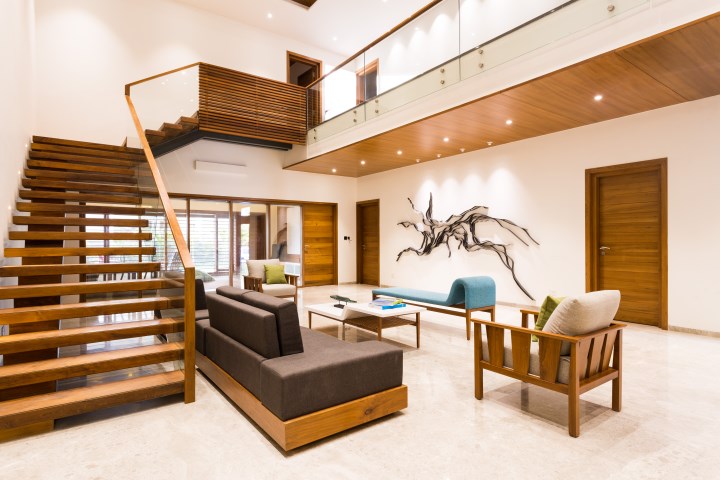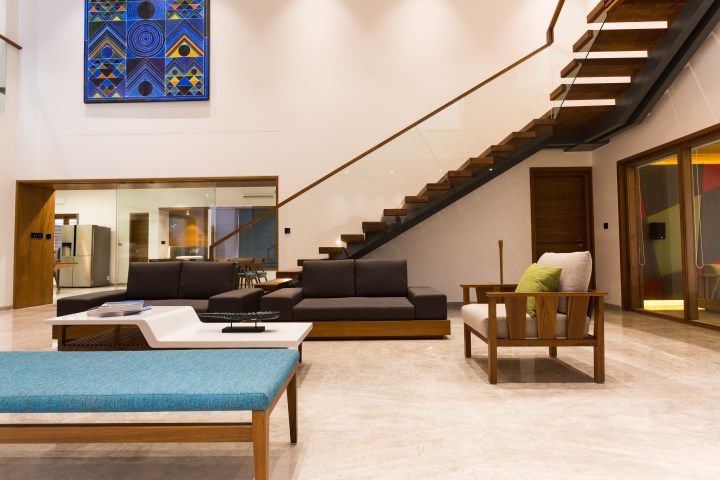 The fact that the individual spaces, and the house as a whole, looks cohesive, can be attributed to the extensive customization that went into its making. "The best part of this project is that every piece of furniture, decorative lights (pedestals), wall murals… have been designed specifically for this project; we think that is one of the main reasons why this project looks whole. We enjoyed the detailing," reminisces the team. "The challenge and creativity in this project lay in making one room and all the elements of that room look like they belong there and nowhere else in the house. For instance, the side tables and the center tables in a particular room would complement its bed and couch and other furniture elements in that particular room only. This gave each room its own specific identity. However, the design language remained the same: minimal and simplistic."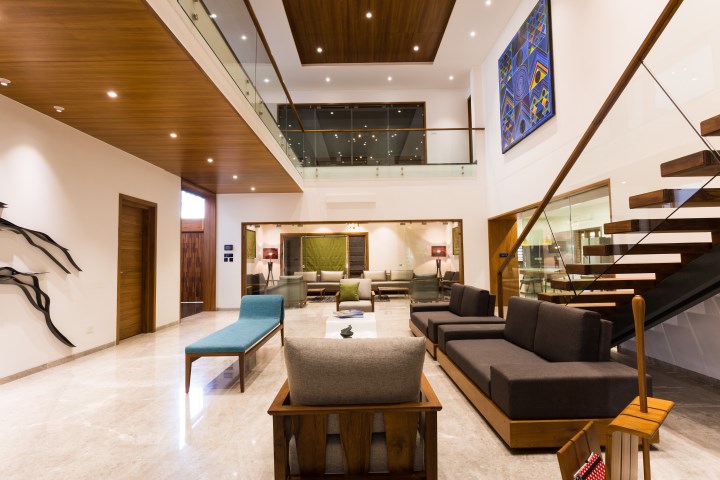 VPA was also appointed as landscape designers for the project. The backyard was essentially designed as an extended verandah, with swings and seatings that opened into a lawn. The front garden hosts a graphical play highlighted with fountain grass, majestic trees, water features and dramatic stone sculptural elements. The fountain grass strongly defines the entry while the lush green lawn is strikingly punctuated with a wooden deck and sit-out, which works as a transition between the built and the unbuilt.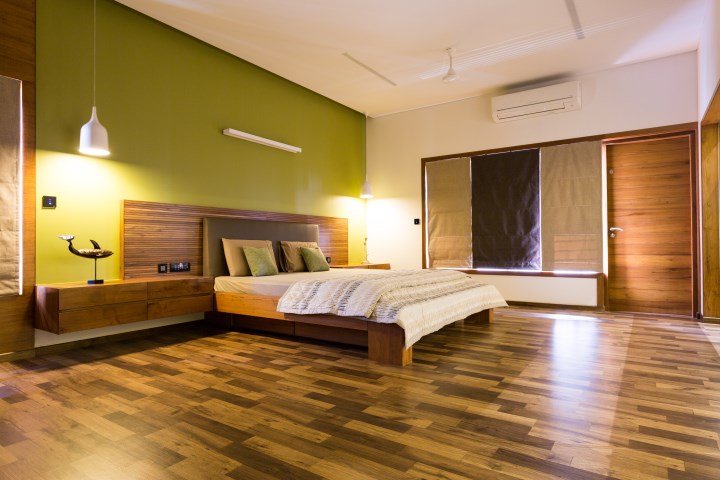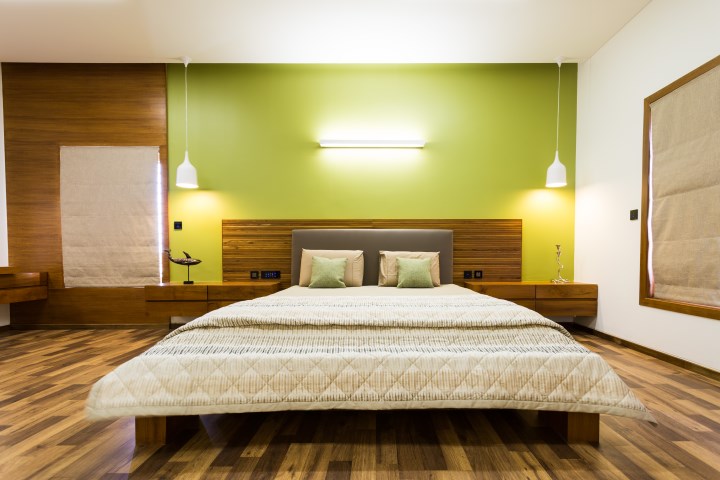 In this residential designing, following the need of the client, VPA has creatively woven together all entities into a customized narration where every piece of furniture, decorative lights, wall murals, fabrics come together to create a unique and neat design story.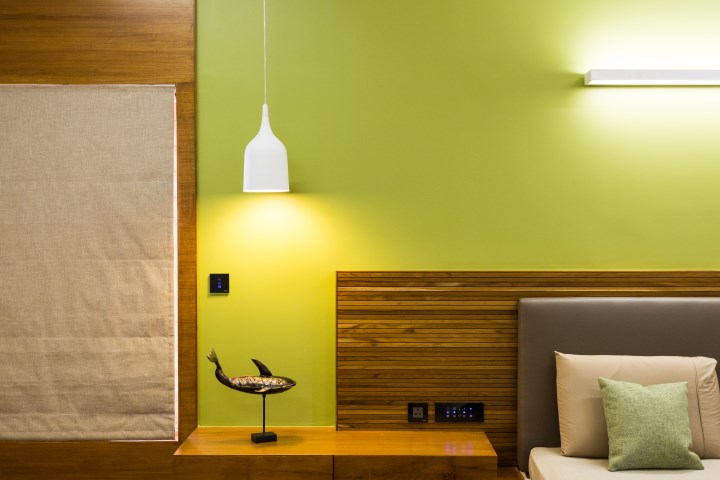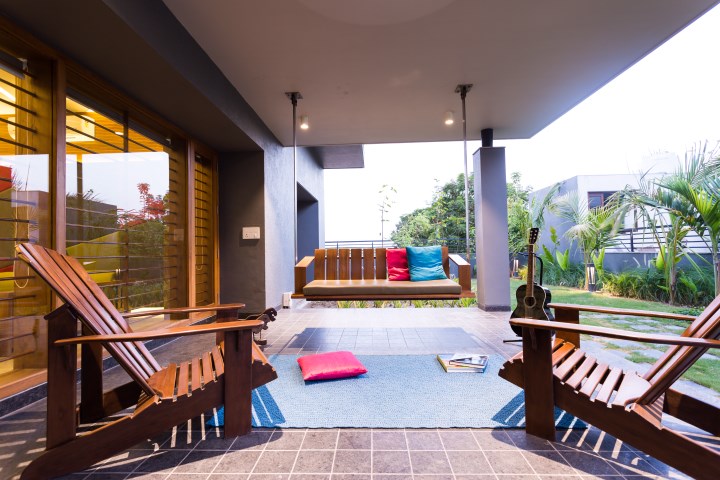 Fact File
Client: JayeshChoksi
Location: Divine Highland, near Science City, Ahmedabad
Details of the space (area in sq ft): 8200 sq ft
Concept & Interior Design: Minimalistic design with low maintenance
Principal/ Creative Director: Vipul Patel Architects
Design Team: Vipul Patel, Ronak Patel, Jinal Patel and Naiya Patel
Photograph credits: Preachart
Artists: Mr. Chandrakant