&nbsp
Modern Apartment Interiors With Basic Materials | CK Architect & Interior Designer
Before going into detail, I'd like to give brief introduction about the client and site.  Modern Apartment is on 7th floor in developing area of the city with loads of direct sun light and covers 4000 sq.ft. It is own by a Gujarati family. In this apartment, 3 generation live together. Client herself is a designer and the they are in construction business.She wanted her house made of some basic materials which were quite difficult. So we chose some materials like Kota stone, R.C.C. sheets, wood, Acrylic, fabric, etc. They also wanted us to play with colors. They were a little inclined towards Vastu Shastra.
About site :  
So the first look of the house, you will see a vintage door, then you entry you will greeted by beautiful painting of Goddess Laxmi, which was made by a friend.They wanted to hang this painting because they believe that Goddess Laxmi brings good luck and prosperity. On the foyer walls we have installed R.C.C. sheets. Blue color and wood is used as materials of console unit.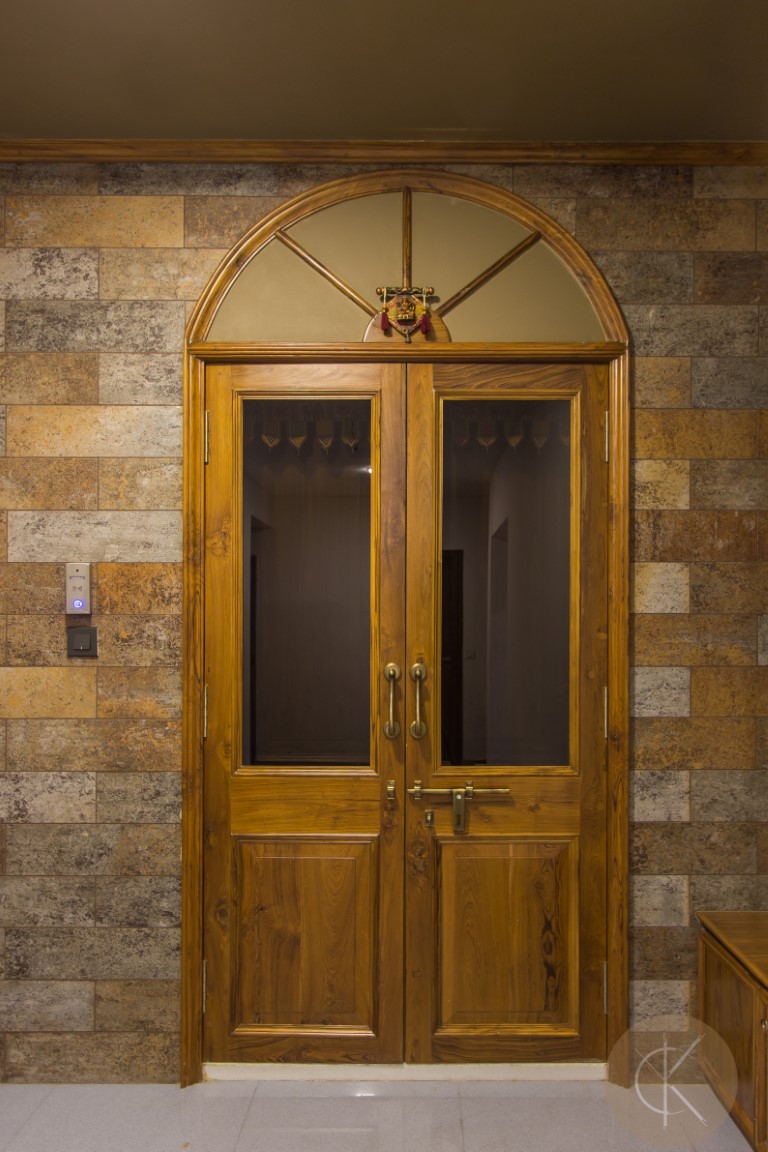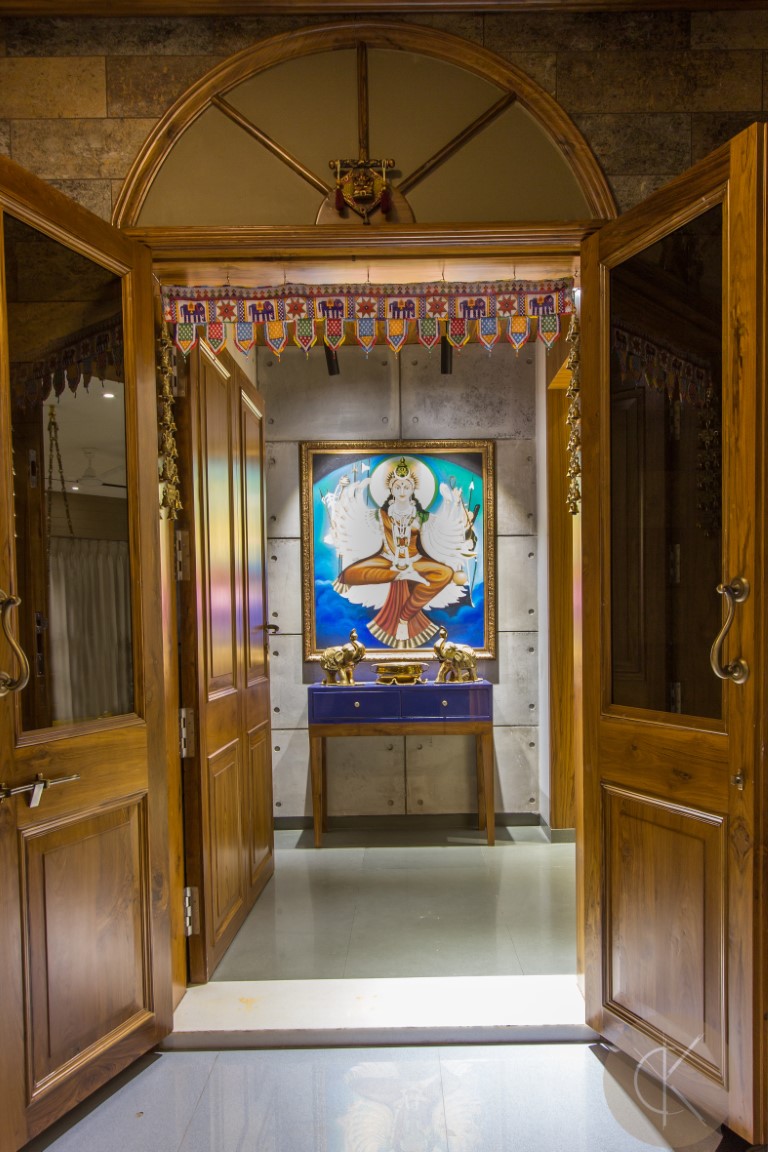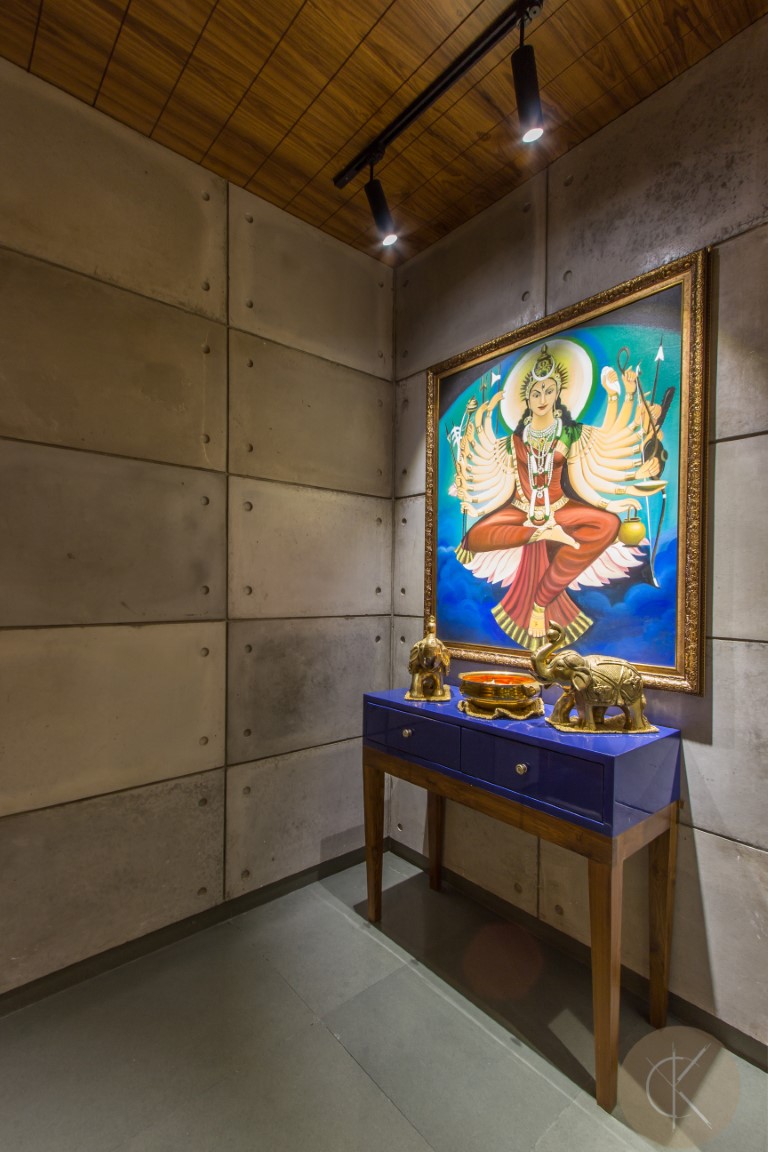 Through foyer you enter in the living room in with flooring of grey kota stone and in the middle of living space we have break jointed gold kota stone. Living room is considered as one of the important places in the house so we decided to pop some colors. Sofas of blue & yellow color complimented with wooden & marble side & coffee table. Client wanted to use swing from old house so we painted it yellow to compliment it with rest of the furniture. On tv wall we have Santurio tiles with simple console in front of wooden & santurio tile.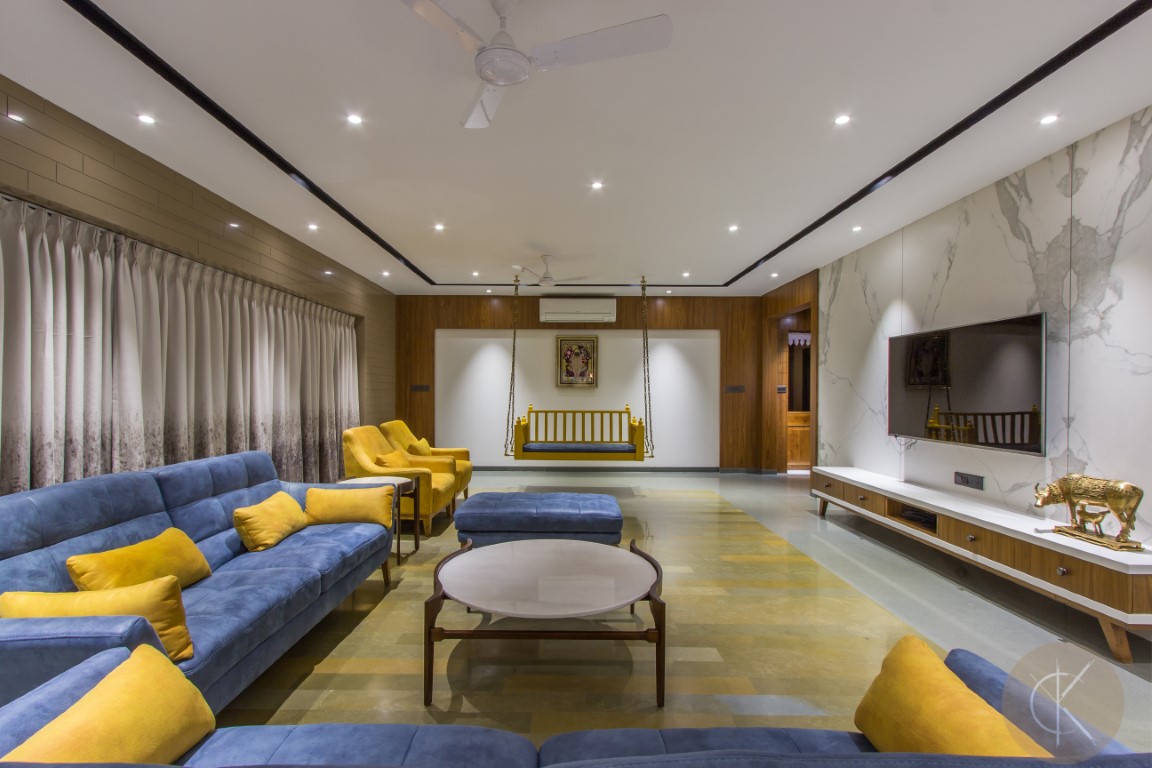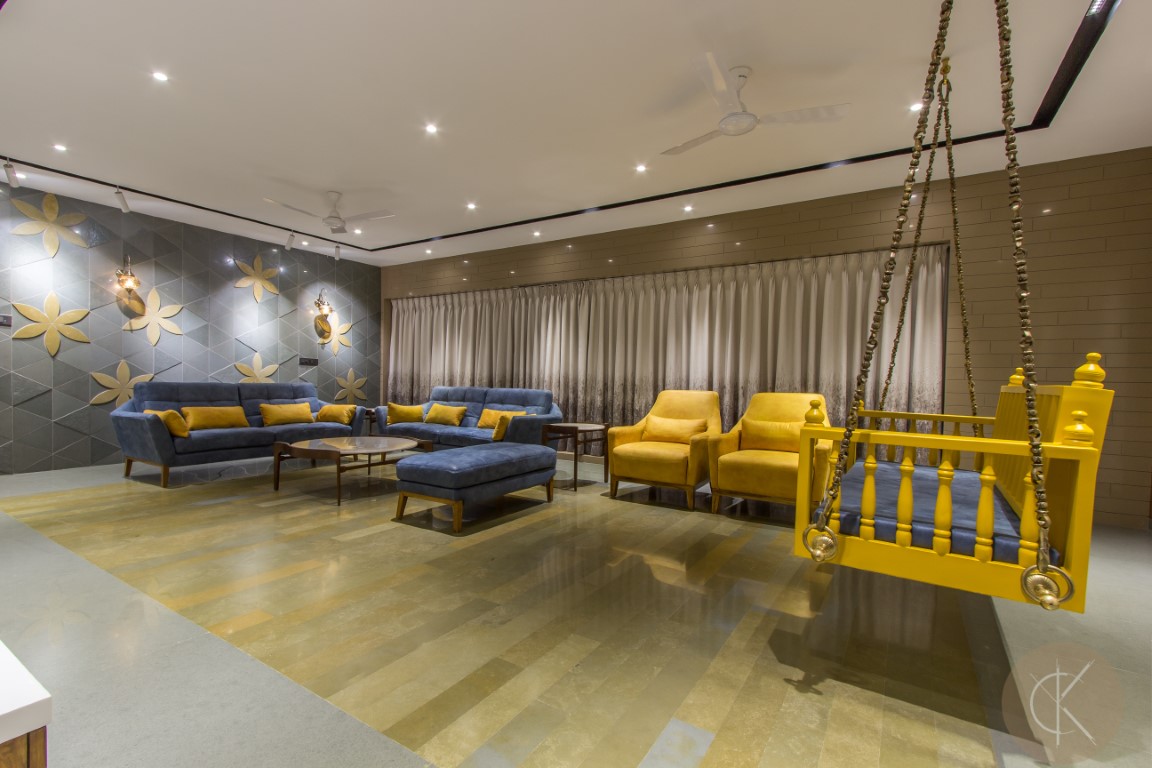 Opposite tv wall we have long floor length window side made like frame is covered with quards stone . Highlight of living room is wall crafted with kota stone and laser cut yellow flower is added to harmonized whole.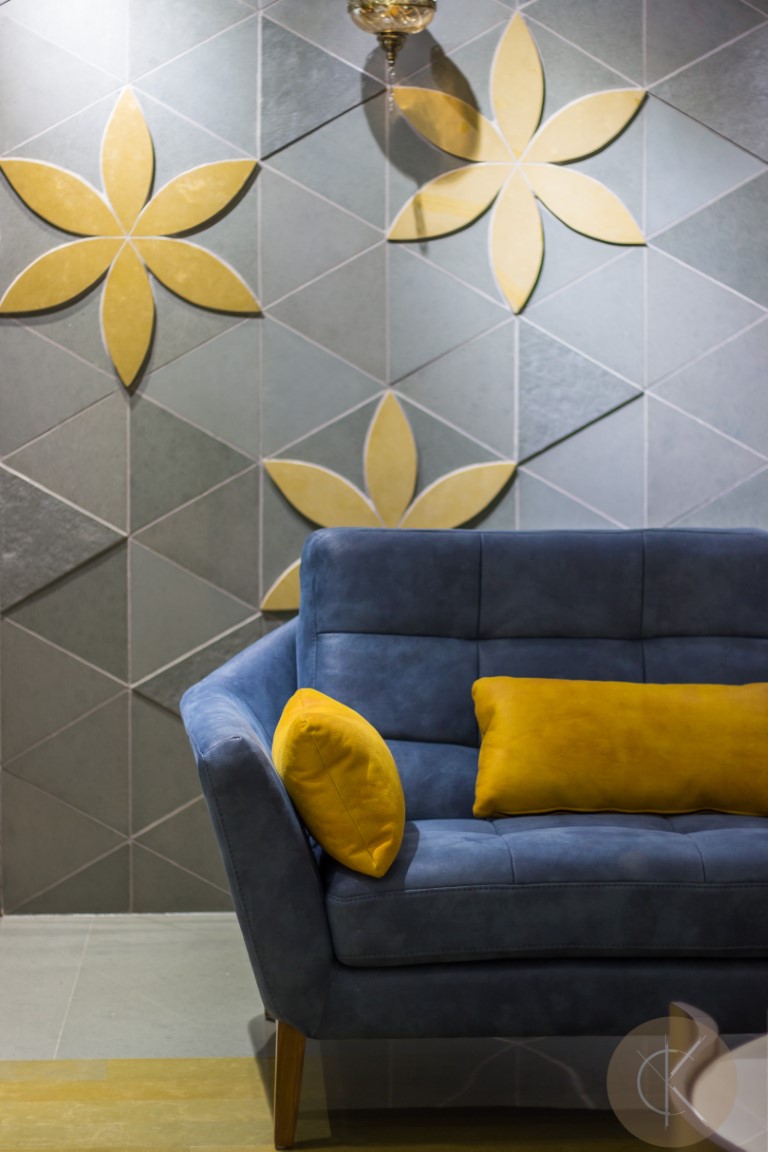 From living room a passage is connected that leads to 3 rooms and semi open kitchen & dining and guest room. In the passage we created a reflecting pattern. Wooden frame , embossed acrylic sheets and gypsum is used in ceiling. Kota stone is used as floor, same as ceiling embossed pattern is created in flooring too.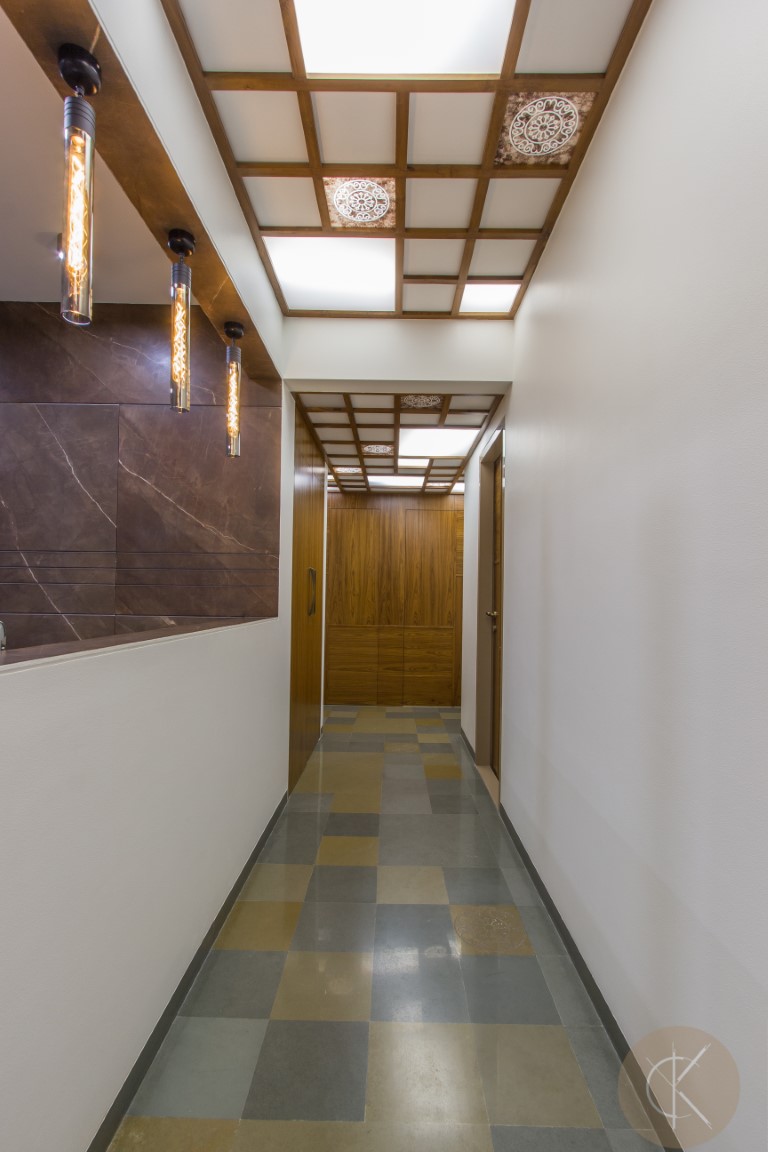 Along side of passage we have kitchen and dining table. Its a modular kitchen,green back painted glass is been used on kitchen cabinets and kota stone with brass patti in the floor and plain white gypsum ceiling.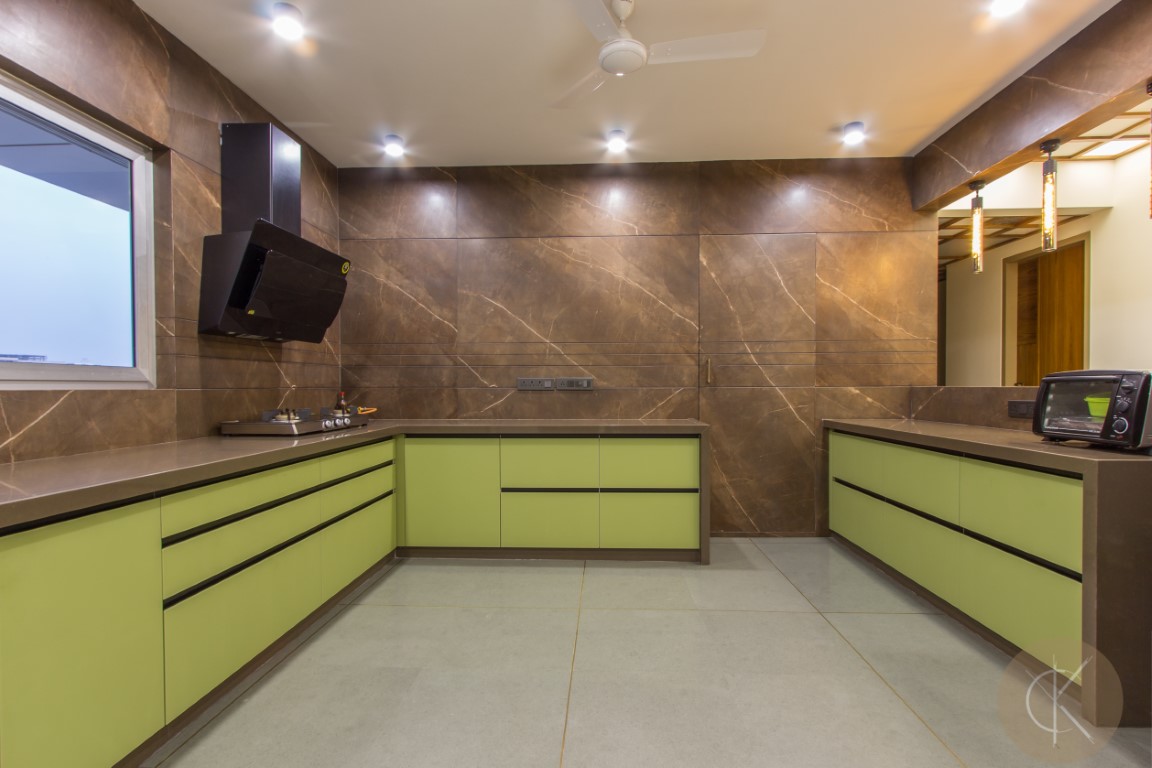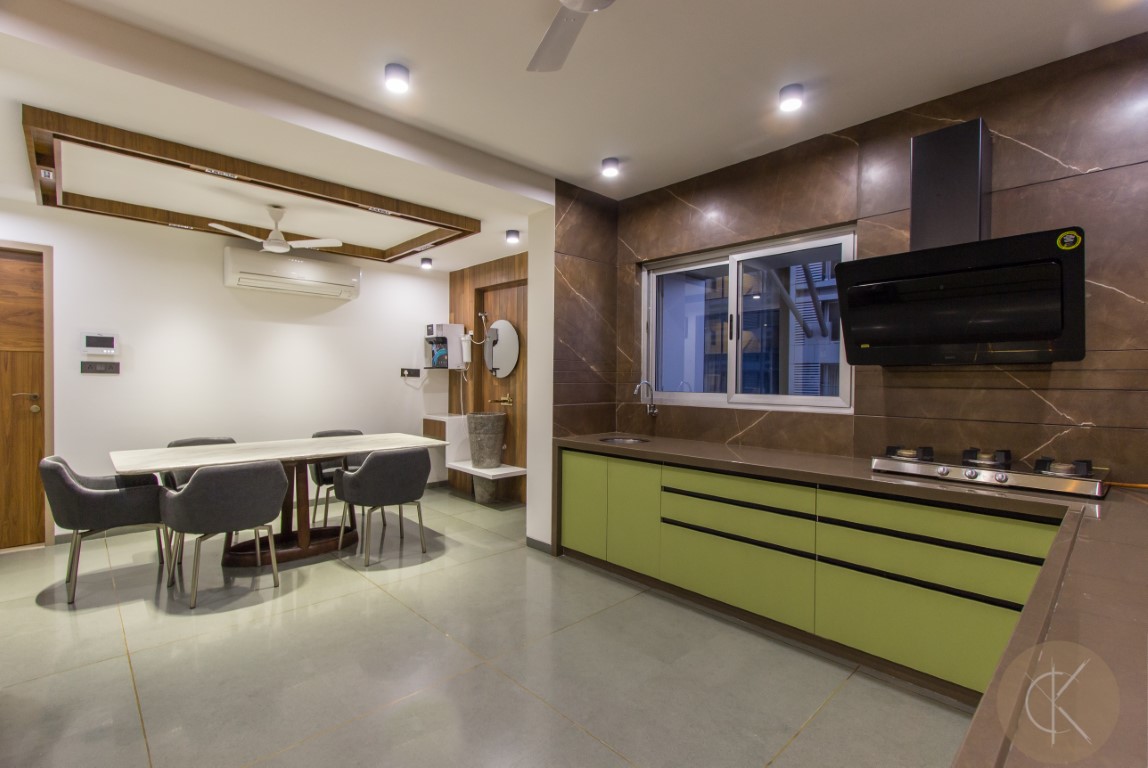 Dining table is of wooden and marble dining area have free standing wash basin with in built lighted mirror. Wooden box ceiling with I lights above dining table .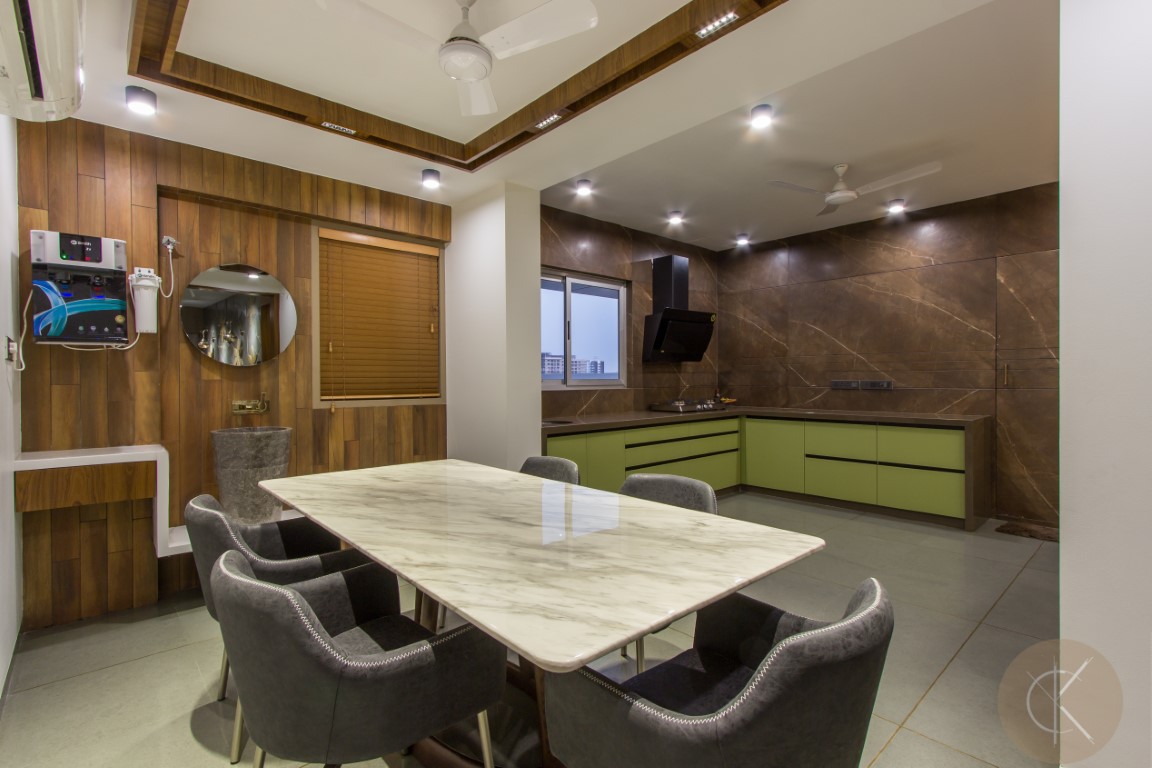 From the kitchen there is a door towards guest bedroom/study with minimal furniture creating simple relaxing environment.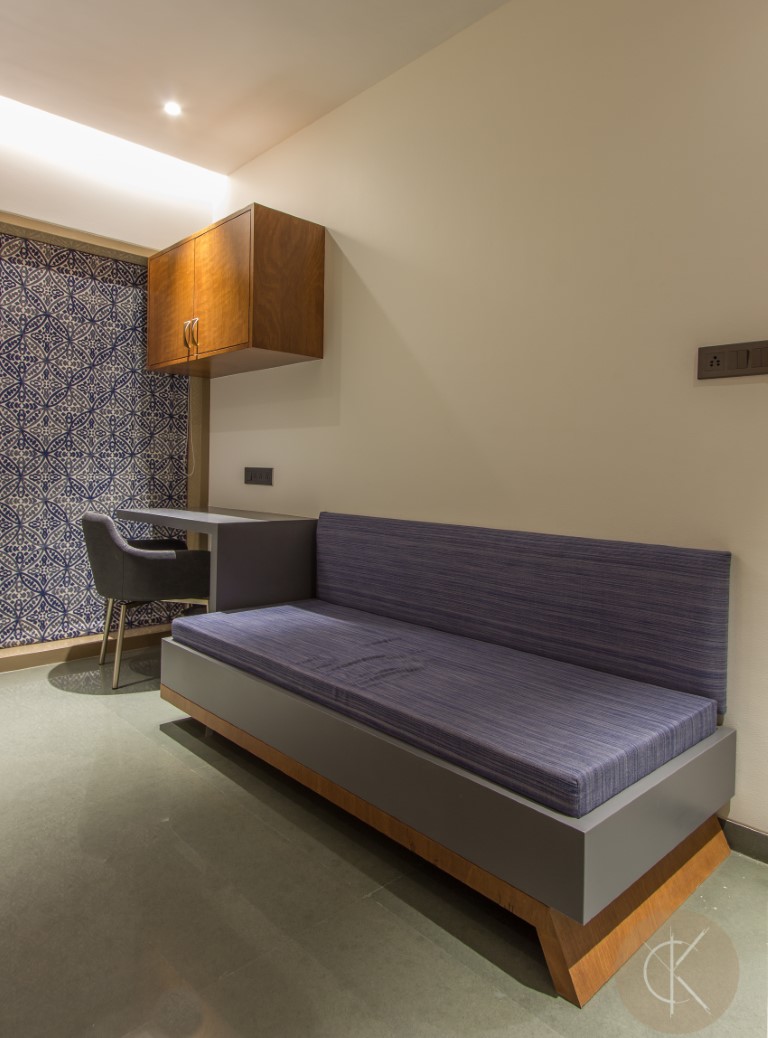 Pooja room is connected to it. On pooja room wall Saven wood is craved and installed. On floor grey and gold kota stone rotated at 45 angle.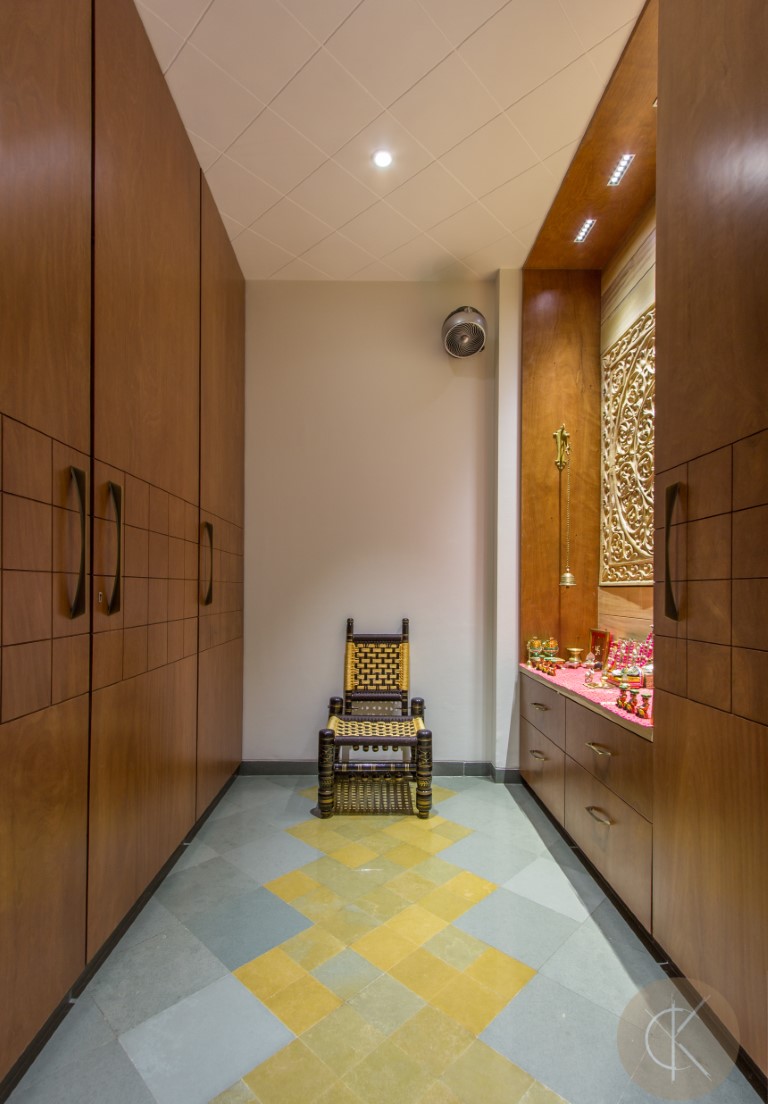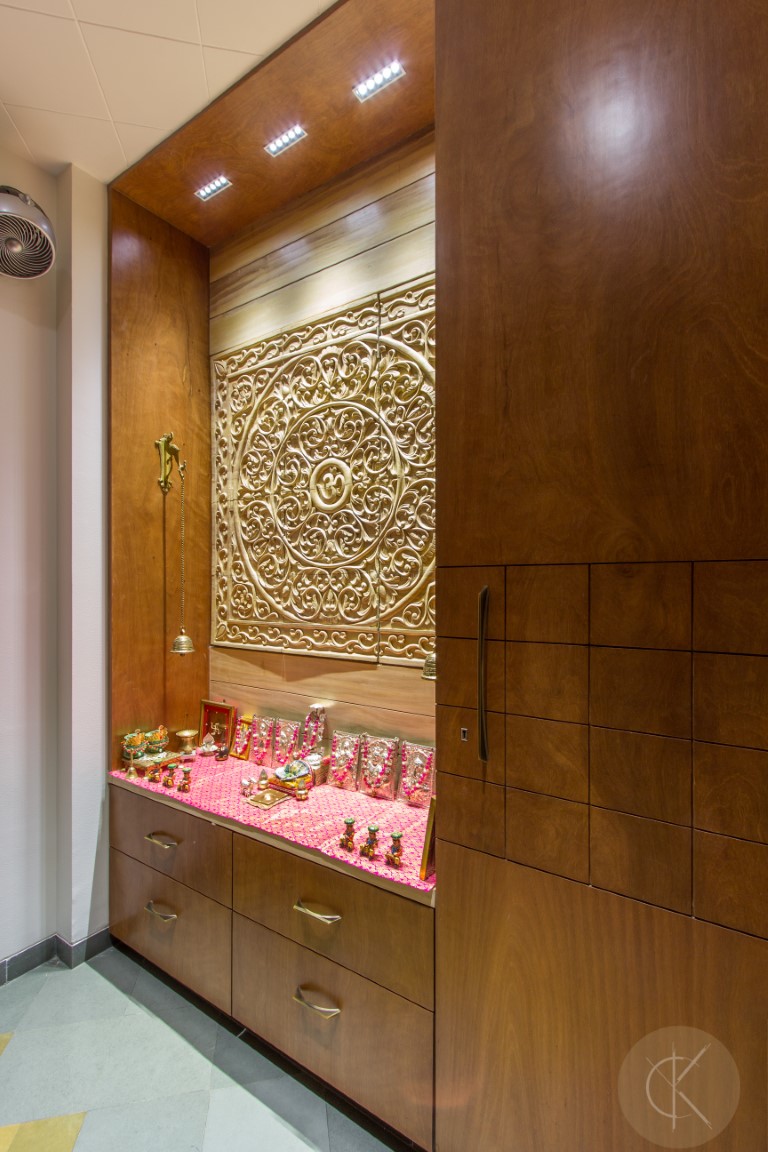 Straight passage leads to 2 Master bedrooms. 1st master room have wooden flooring. Freestanding bed of red fabric and wooden supporters with beige bed back and veneer on side. Groove pattern is soul of the room, its used on opposite wall of bed, bed back and wooden ceiling.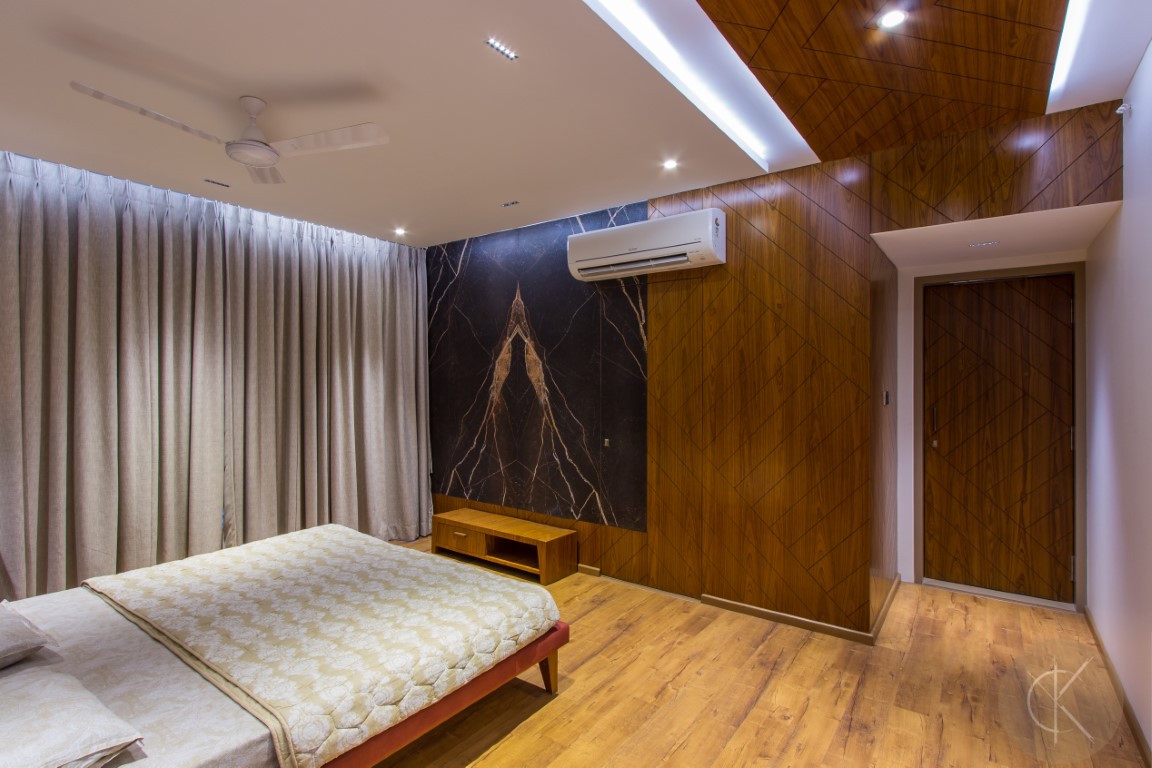 On wall opposite to bed has Italian on quarter of wall including door for toilet and rest veneer with groove pattern. 2 walls of room have floor length. 2nd Master room flooring is of wooden tiles rotated at 45 angle. Room had grey & mustard orange themed. Free standing fabric bed with wooden side tables. Opposite of bed wall is covered in veneer and have grey & wooden tv console. Corner floor length window covered with top to bottom curtains. In this room a wall is painted grey which was done specifically by Asian paints people from their new color collection range. Client & we were satisfied with the look of the whole project.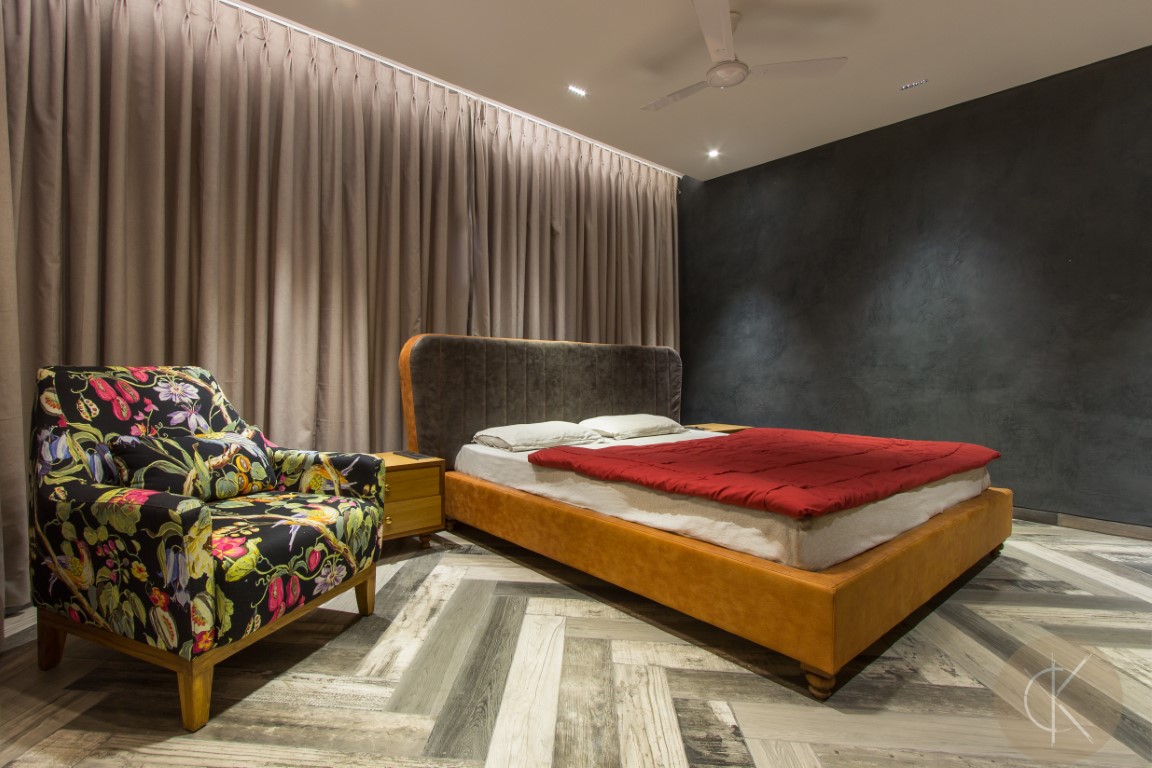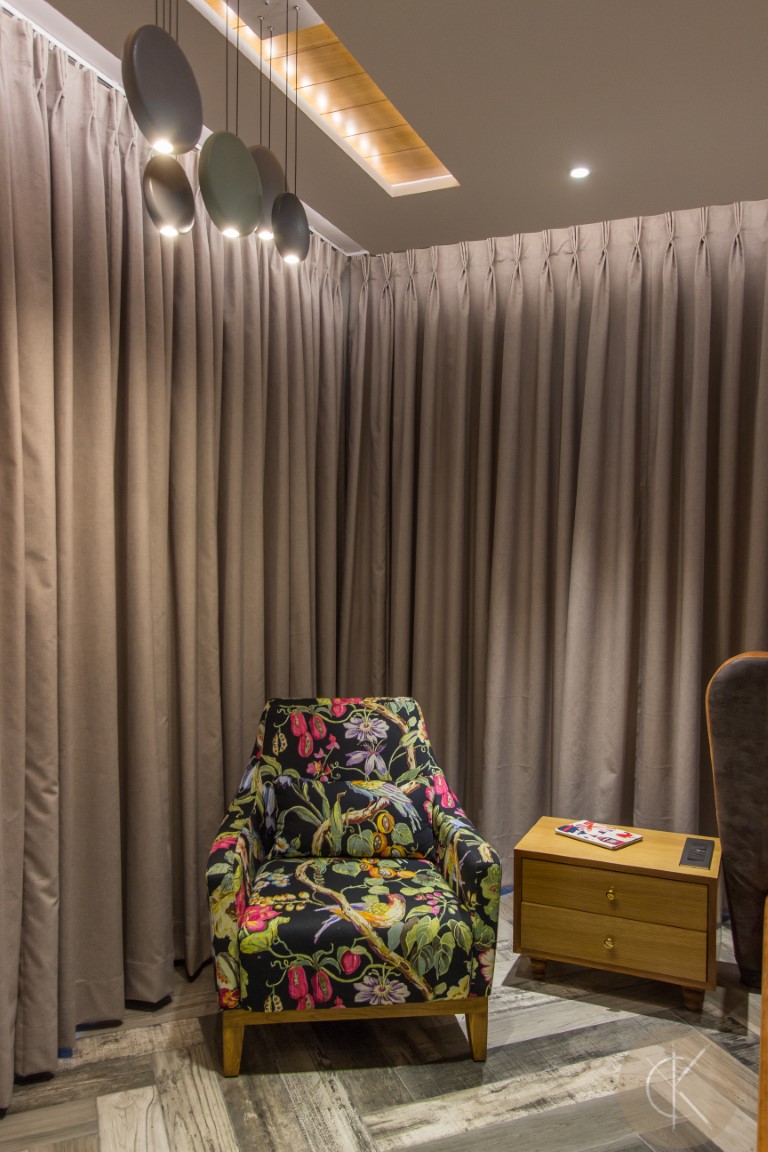 FACT FILE:
Architectural firm: CK Architect & Interior Designer.
client name: Dhwani Jariwala
Project type: Apartment interiors
CK Architect & Interior Designer.
This firm is run by two friends Chintan Patel and Krishna Lalwala located in Vesu area (Surat). We been in successfully creating dream spaces for people years now . We been following your webpage from quite some time. We would like to put up our project on your website. Below is the description about the site.