Modern Abode With Traditional Embellishment | Cognition Design Studio
Designed for a family of four, this 2200 sq. ft residence located in the outskirts of Perinthalmanna in Kerala, features a minimal design with a primary focus on the quality of the interior spaces. The site, just 265 square meters in the area is located in a busy residential neighborhood and surrounded by lush greenery. The client who was part of a family of four approached the architects with a very modest design brief and desired a very simple yet attractive design for their home.
Visit: Cognition Design Studio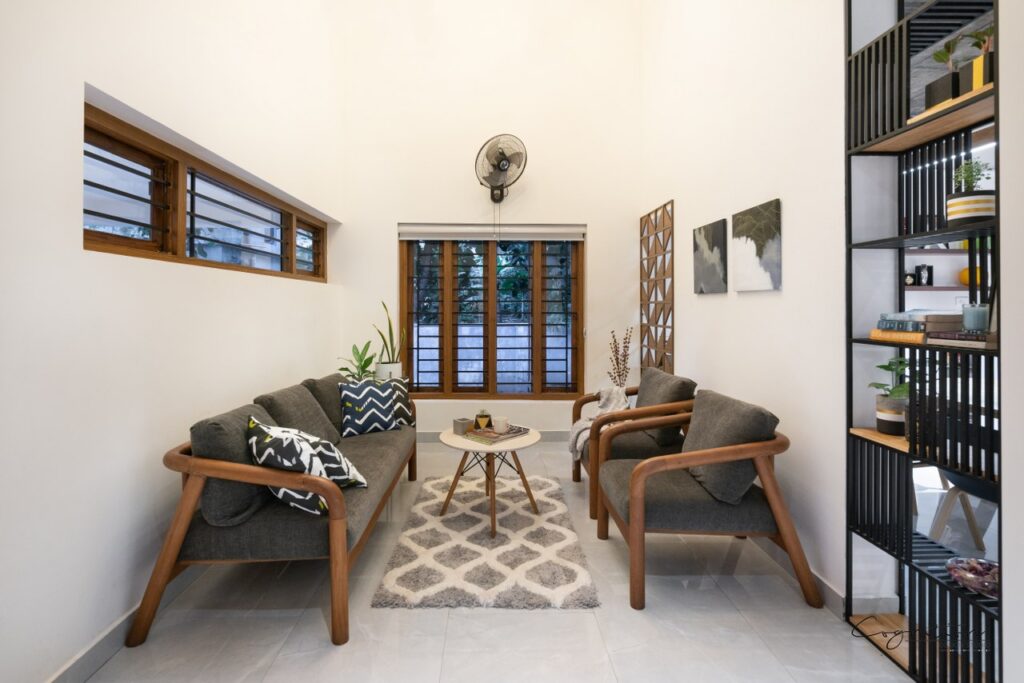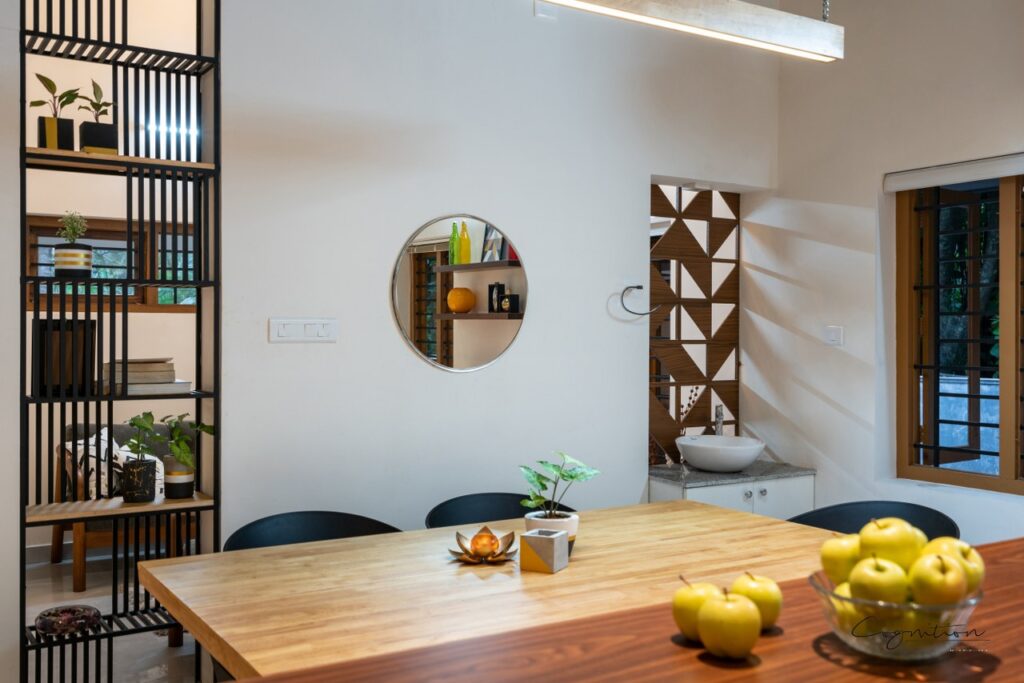 The exterior design is dominated by a large cantilevered roof supported on three struts and finished in a shade of wood. The white-colored façade is only interrupted by carefully placed stone claddings surrounding large windows.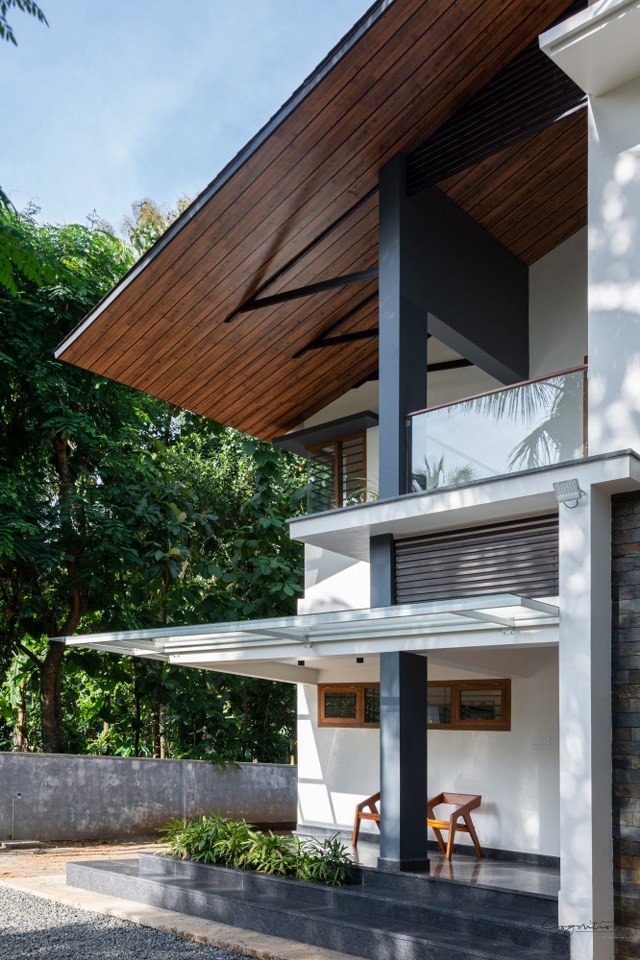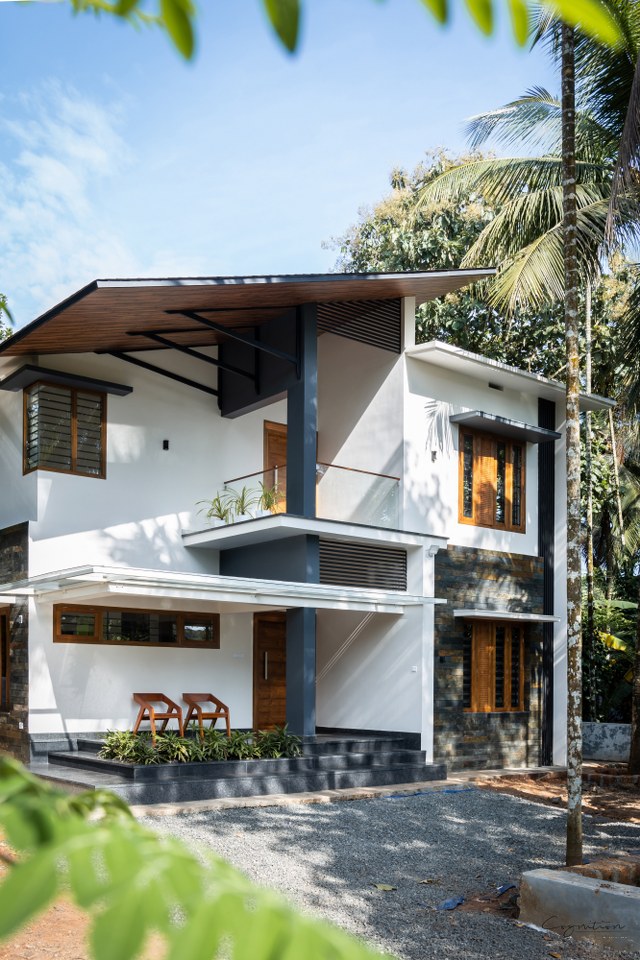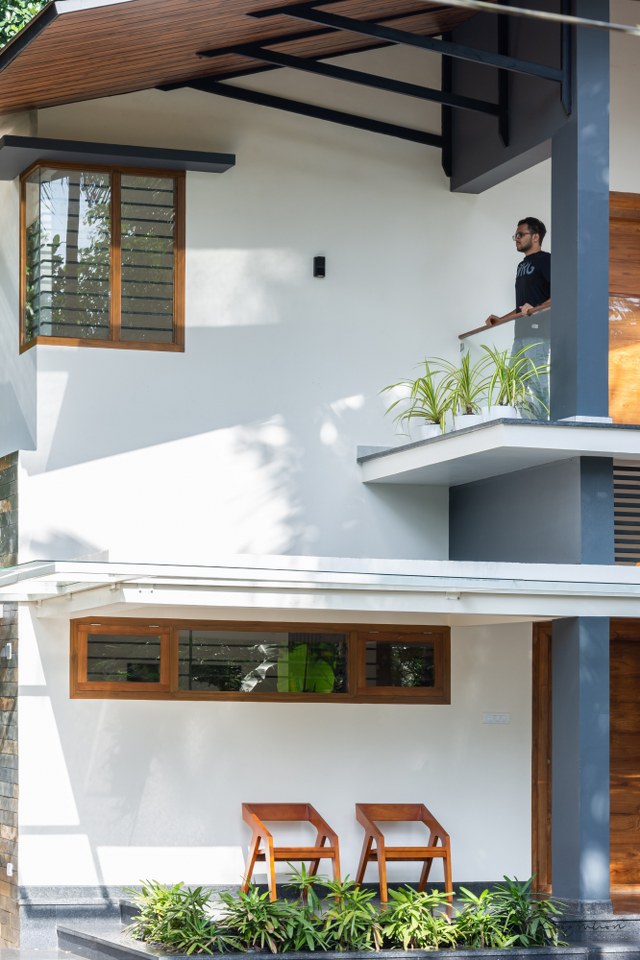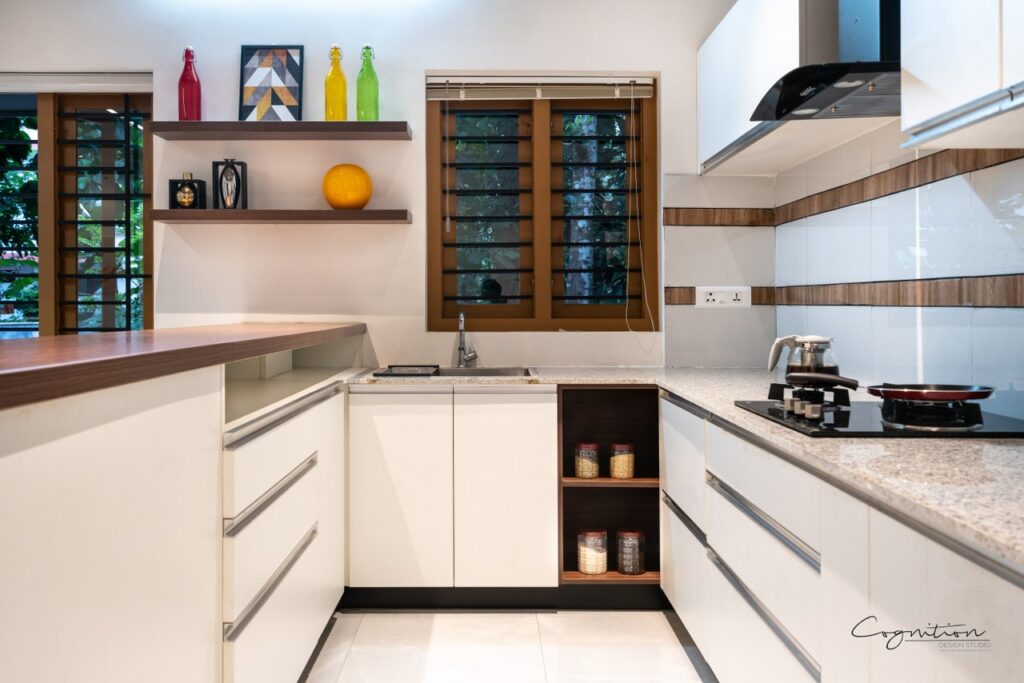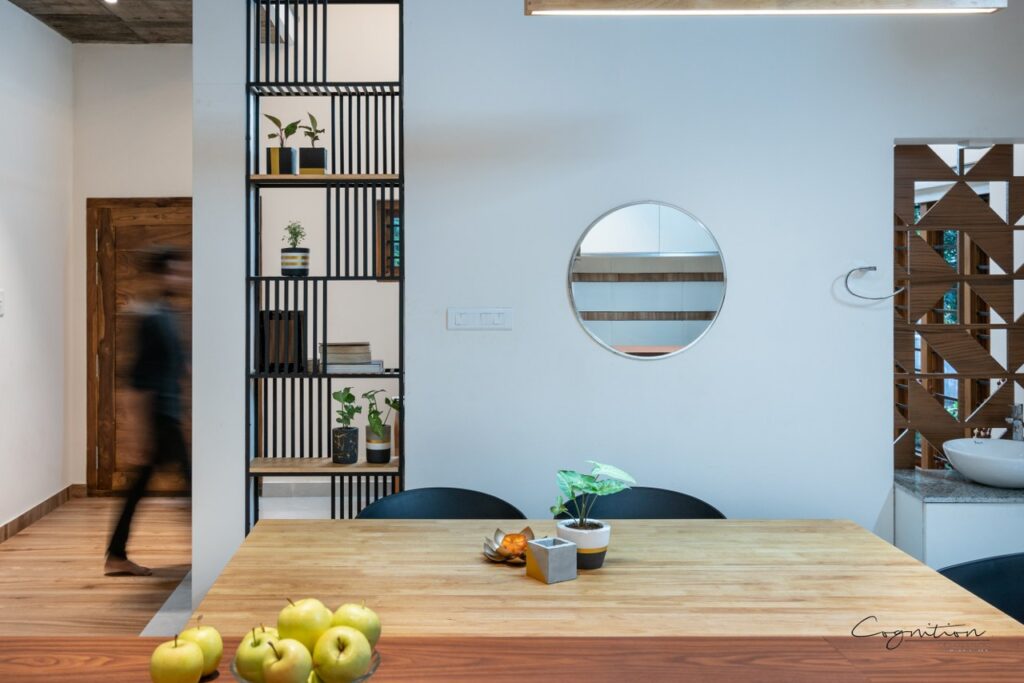 Breaking the conventional residence design typologies in the region, the architects opted for an open plan – visualizing the living, dining and kitchen areas as a single space filled with abundant natural light. Both the interiors and exteriors feature a minimal material palette with white being the dominant color while shades of wood, blacks and exposed concrete provides some contrast.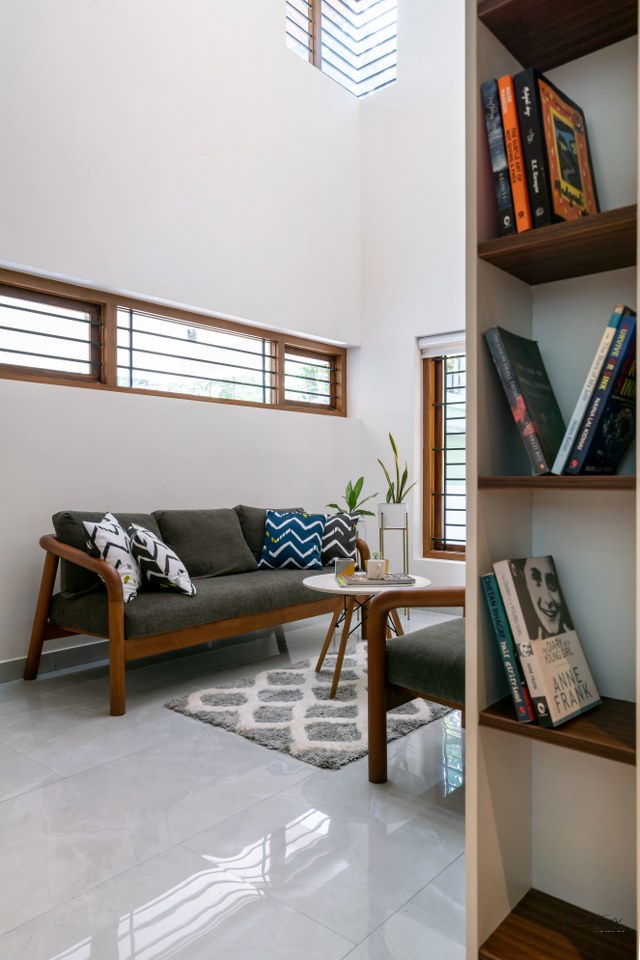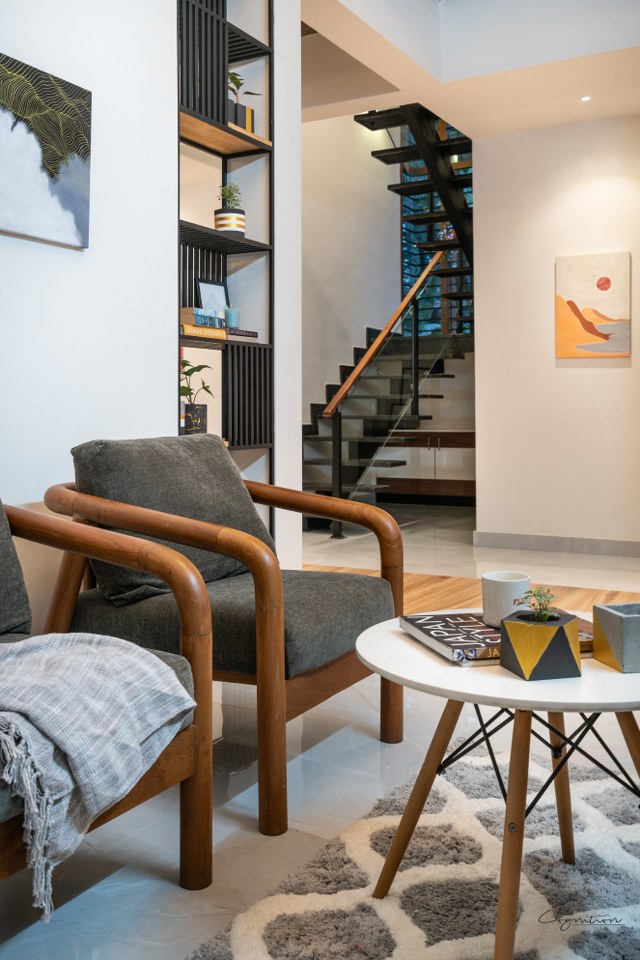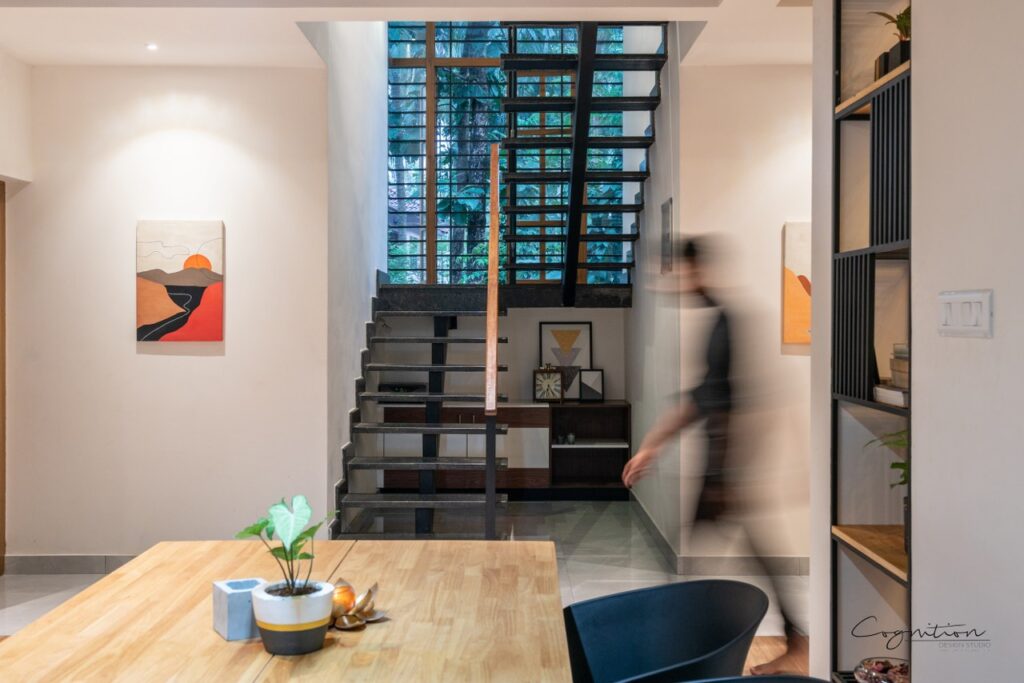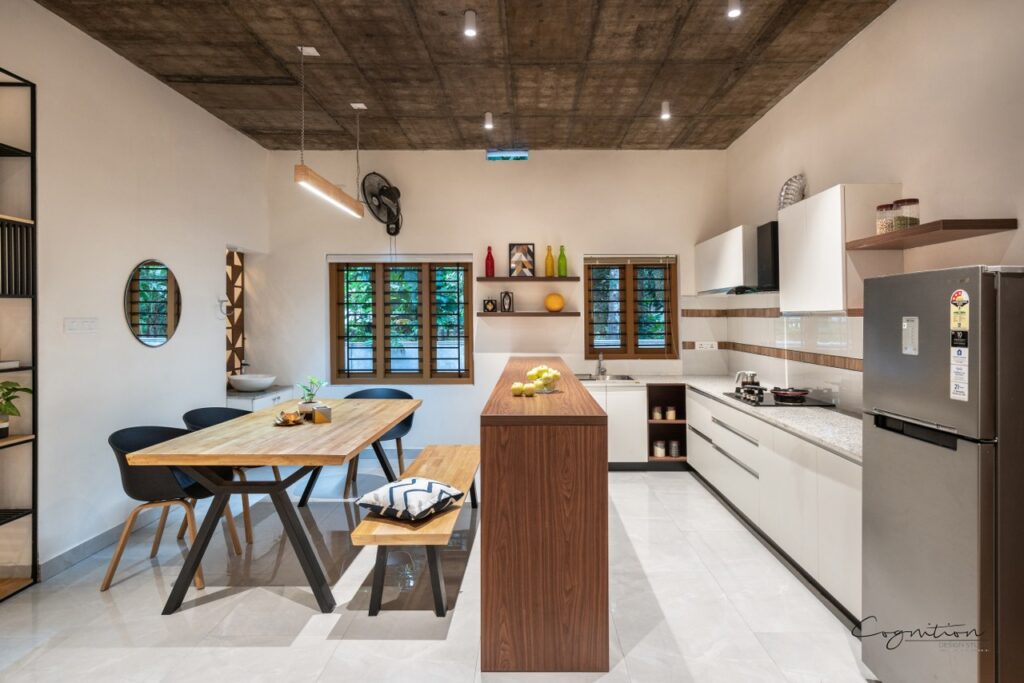 The main entry opens up into the double height living room. A skylight on top of the living room ensures that the room is bright and well lit. The bright cushions, wall paintings and a hanging light adds accent to the minimally furnished living area.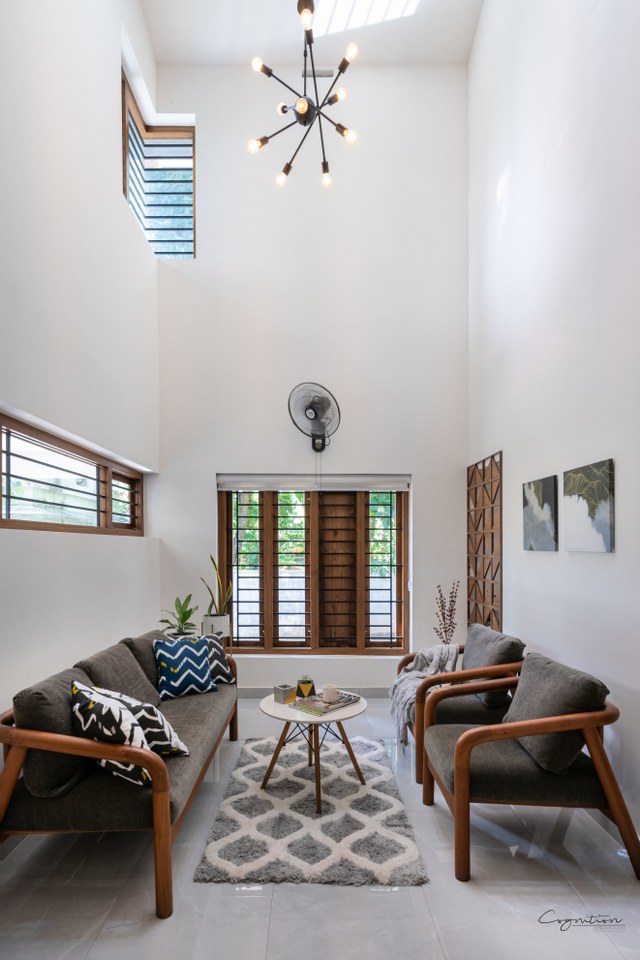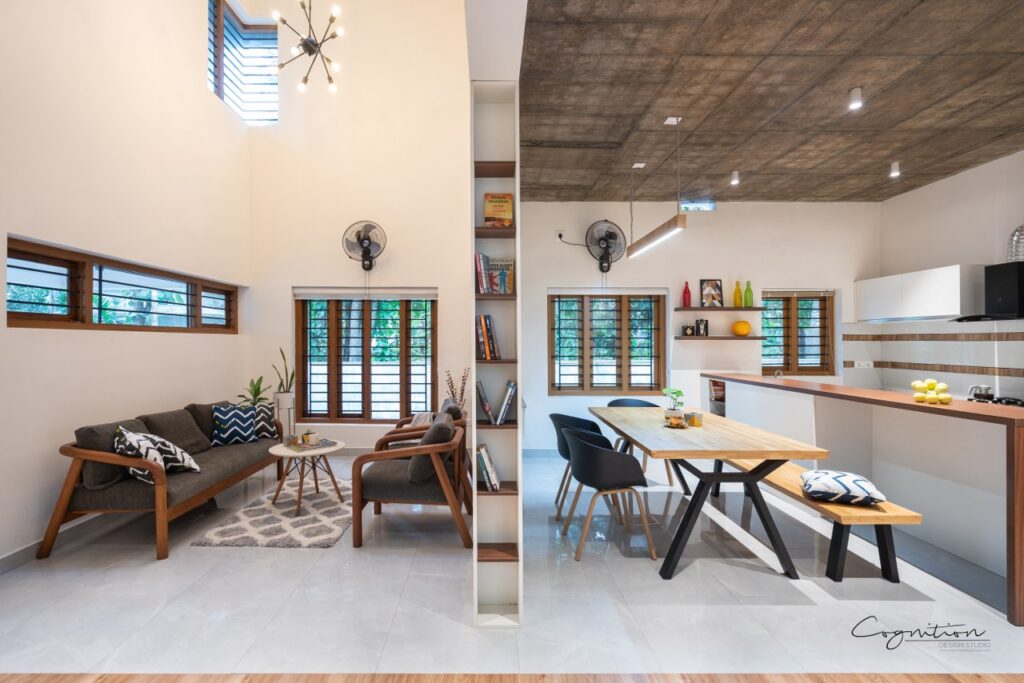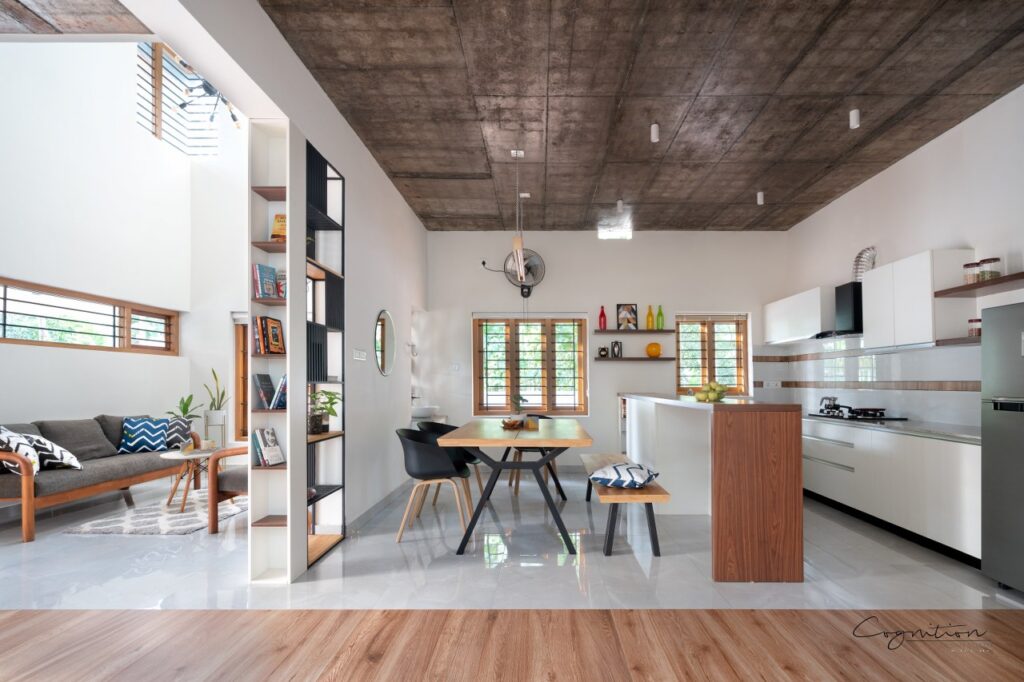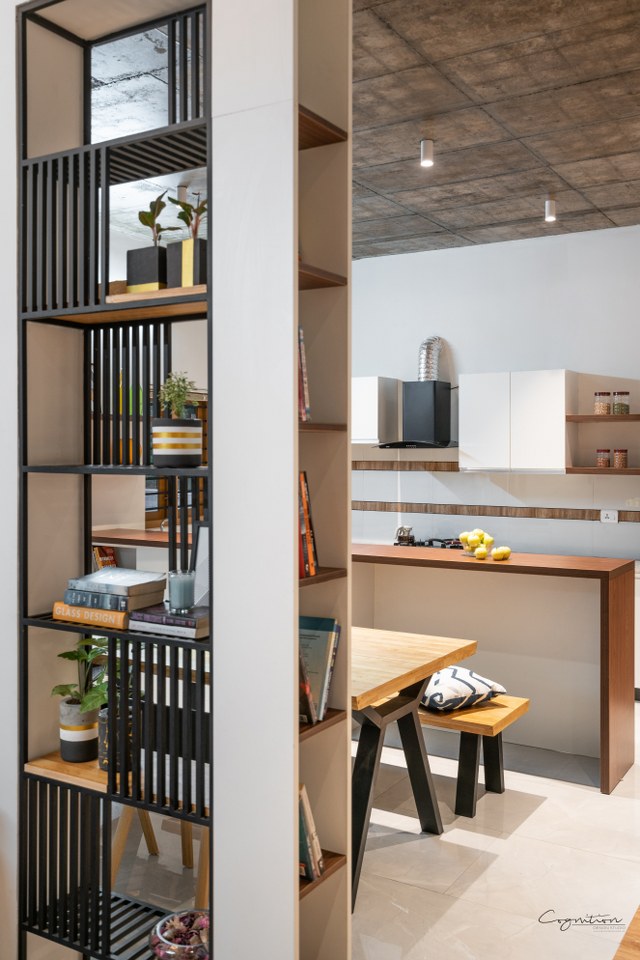 The living area and the dining area are separated by a partition wall which is an extension of an open bookshelf. The dining area comprises of a custom made dining table and bench made out of rubwood. The open kitchen adjacent to the dining area is finished mostly in white with a touch of wood. It has all modern amenities and even includes a small breakfast counter.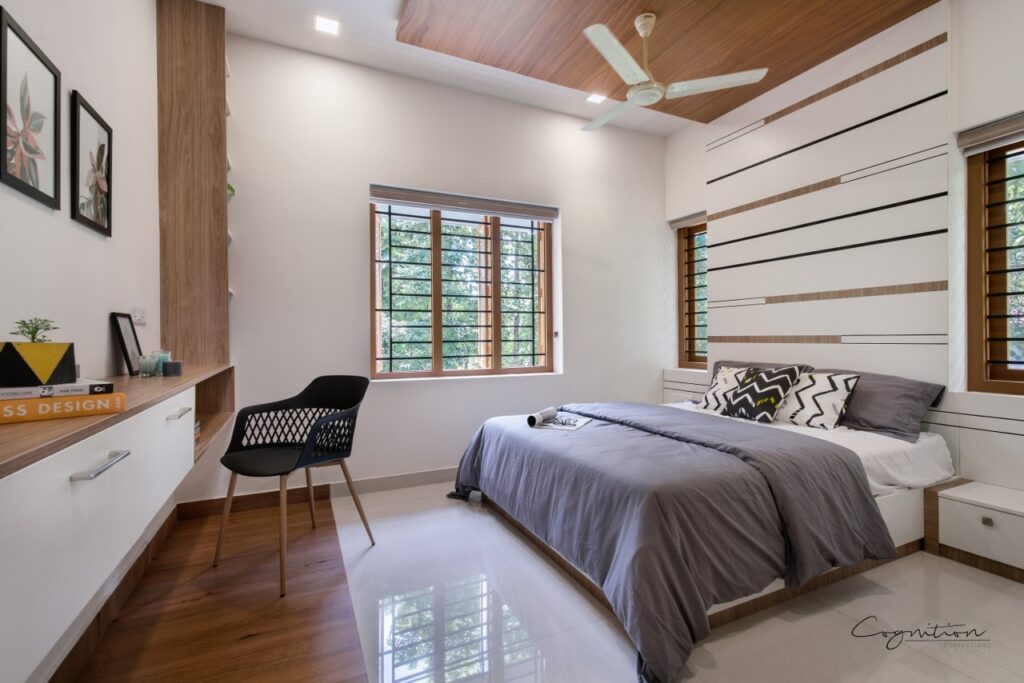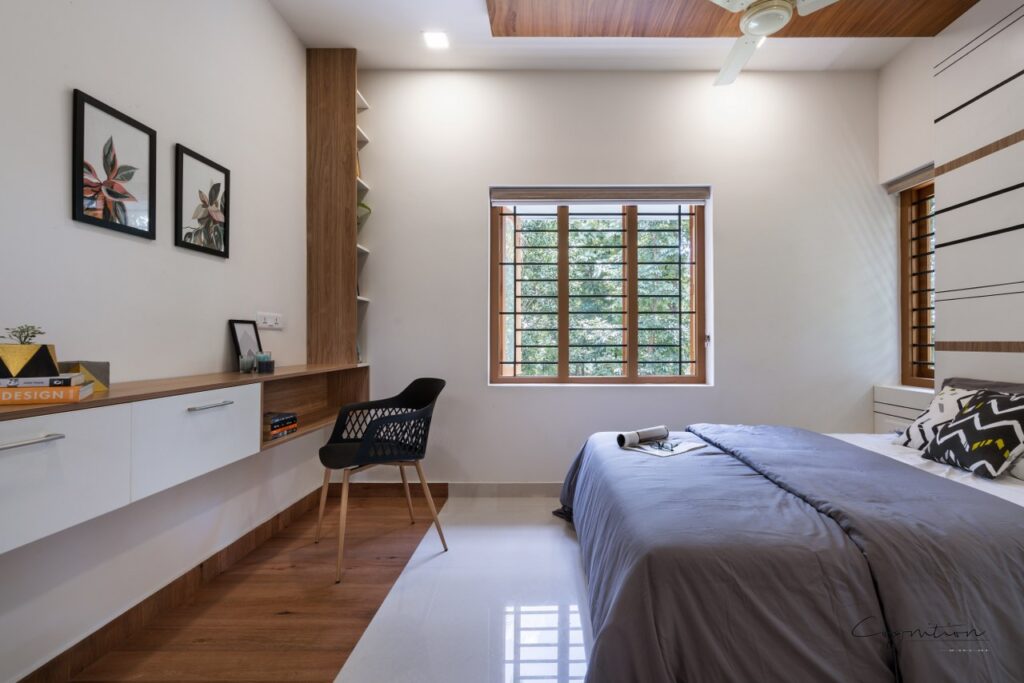 The first floor is accessed through a steel staircase finished in black granite with glass and wood for handrails. The staircase landing features a large openable window and a linear skylight on the roof. Thus the staircase acts as a lightwell which floods the interiors with the right amount of natural light.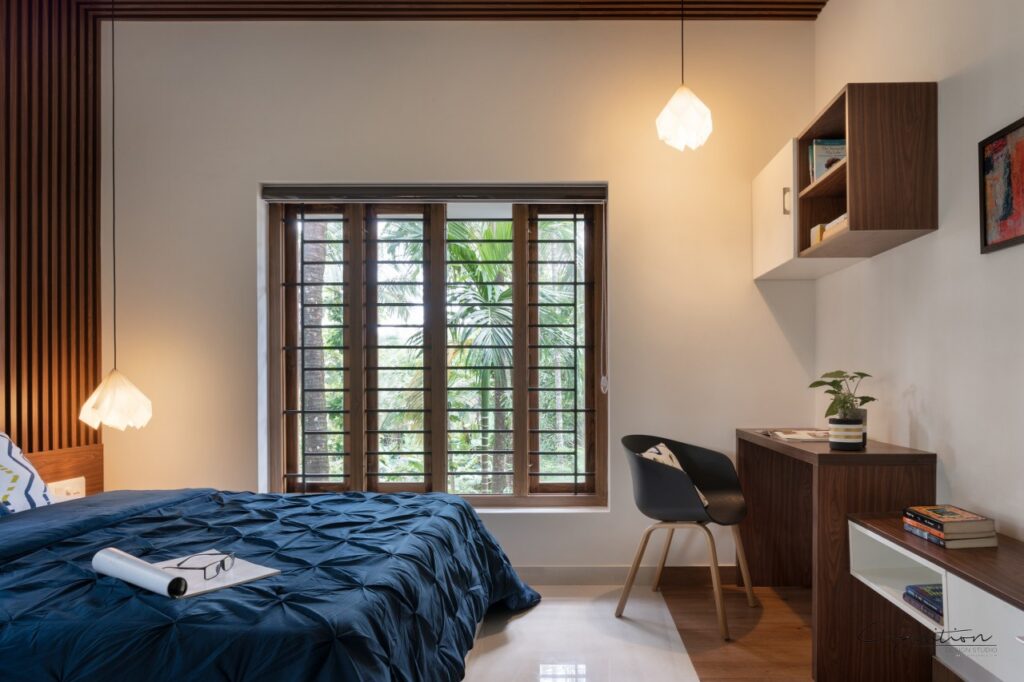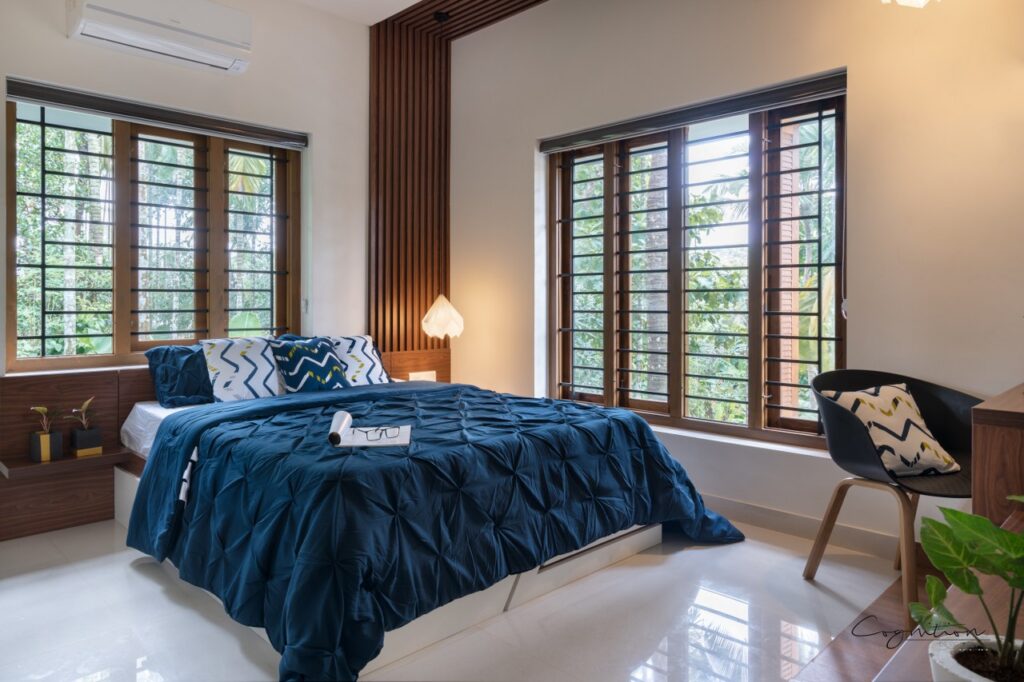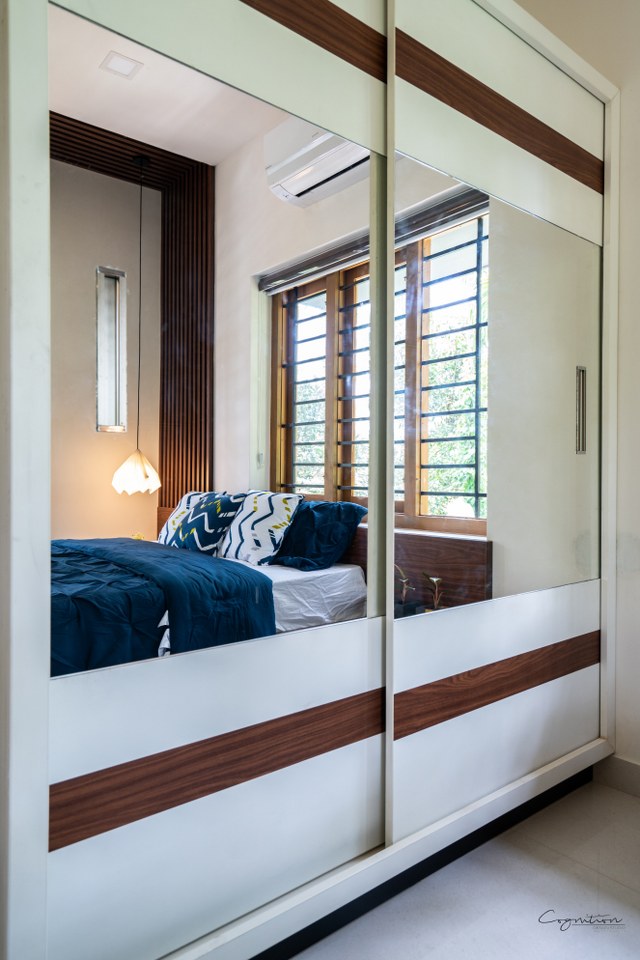 The design of the interiors is kept very minimal on par with the design of the exterior. The architects chose to leave the concrete ceiling in the ground floor exposed which stands out from the rest of the interiors finished mostly in white. Only essential furniture adorns the house while some carefully placed accents add a bit of color to the interiors.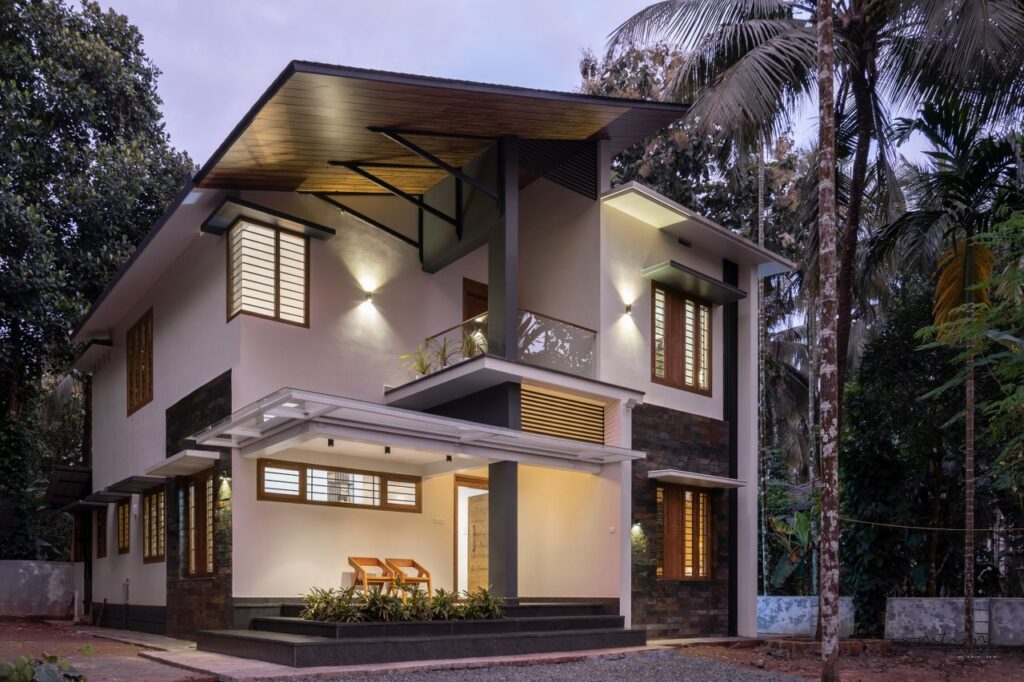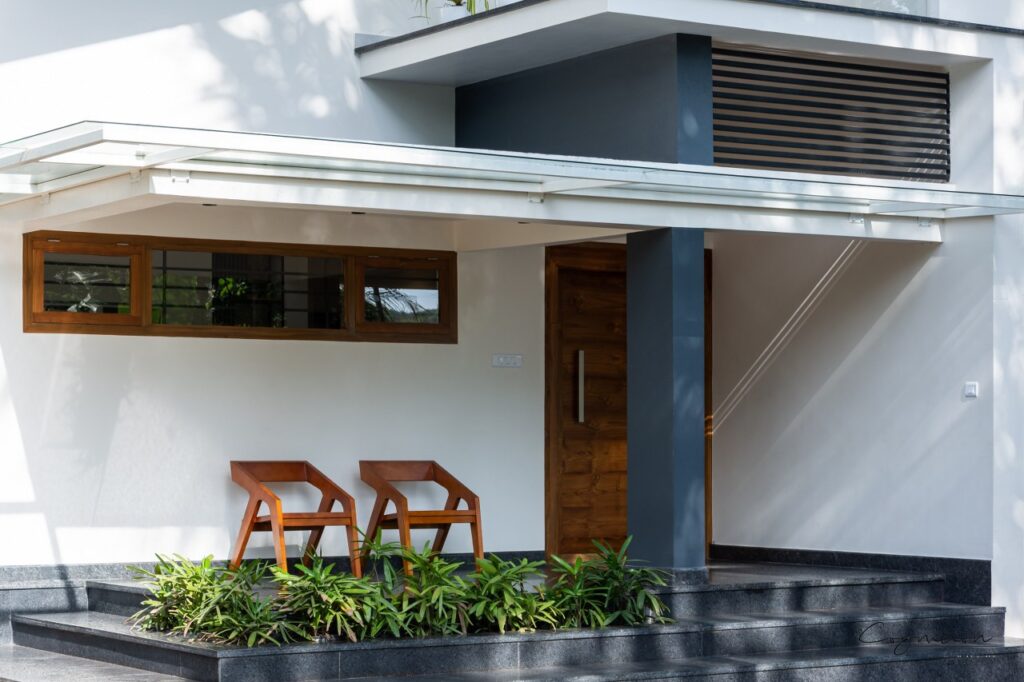 Fact File:
Designed by: Cognition Design Studio
Project: The Shyjal Residence
Project Type: Residence
Location: Perintalmanna, Kerala
Start Year: 2017
Year of Completion: 2020
Plot Area: 6.5 cents
Built-up Area: 2400 sq.ft.
Principal Architect: Ar. Muhammed Faris and Ar. Mohammed Fazil
Design Team: Saleeha, Ajin, Jabir
Photography Courtesy: Turtle Arts Photography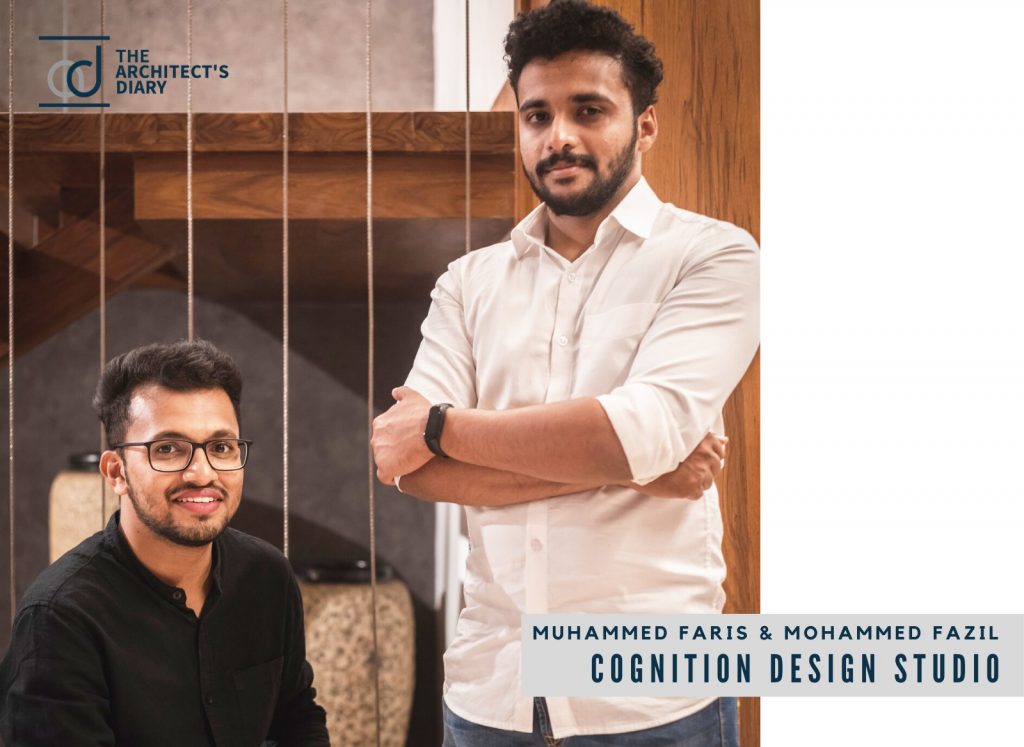 Website: https://www.cognitiondesignstudio.com/
Instagram: https://www.instagram.com/cognition_designstudio/