&nbsp
A Holistic Residence With Refurbished Units And Spatial Synchrony | Rathod's Design
A multifaceted residence by Riddhi Rathod Architects, Mumbai is nothing but breezy, delightful, and a minimalistic shelter for a young working couple and their toddler. From playing and synchronising across spaces to beguiling it with a lot of textures and colours and yet, leaving it effortless with its sober interventions is how this abode was picturised. The primary attribute lies in developing the intended spatial characteristics- affirming the users in their hobby and leisure hours. All these get culminated in a 1500 sq. ft residence.
Visit: Rathod's Design
The entrance door is an assemblage with vertical teak wood battening and an interestingly themed nameplate. The house opens into a dignified vestibule with a pinewood partition directing one to an airy generous living space.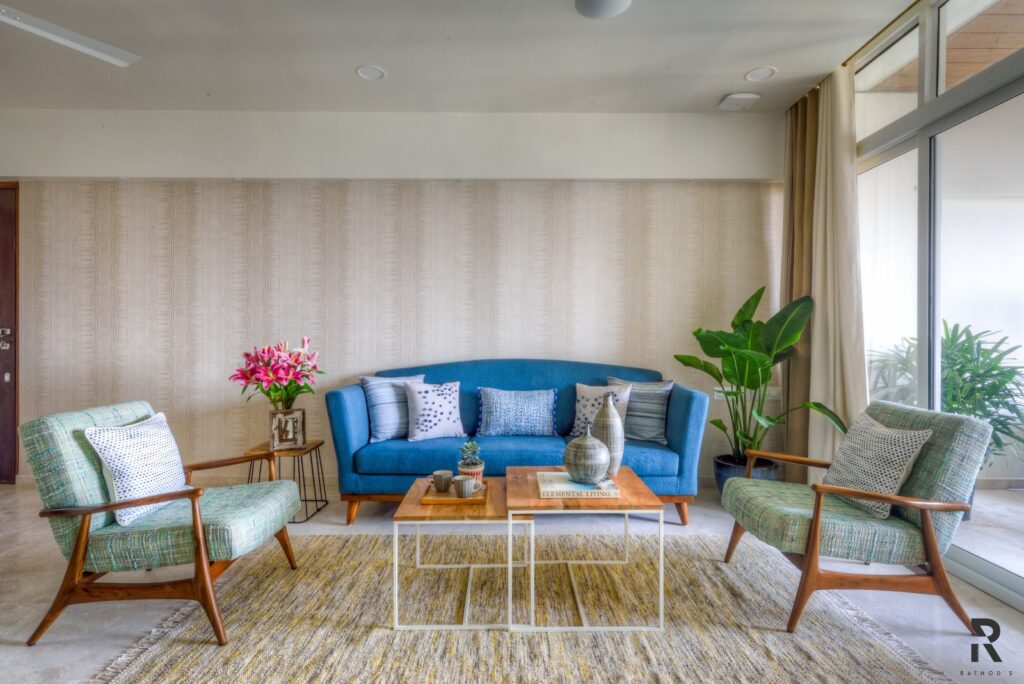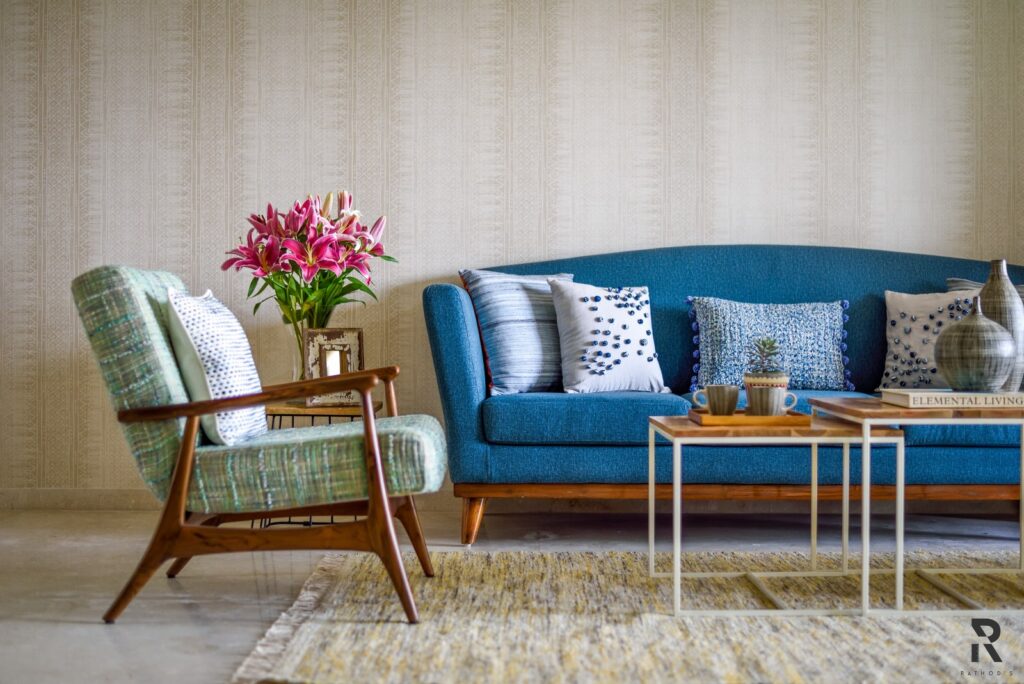 This living area is adorned with plush intricate textures and homey boisterous colours. The jute fabric for the sofa imparts a raw, indigenous, and traditional touch to the assemblage. Handcrafted floor rug and abstractive tea-pois aid in intensifying the intended characteristic. Furthermore, this devious yet sublime setup lies against a traditional ikkat textured wallpaper. The Tv unit is designed in a way to let its massing and voiding do all the talking. What adds the lively charm here is the adjacent balcony space that flushes the indoors with its north-east lights.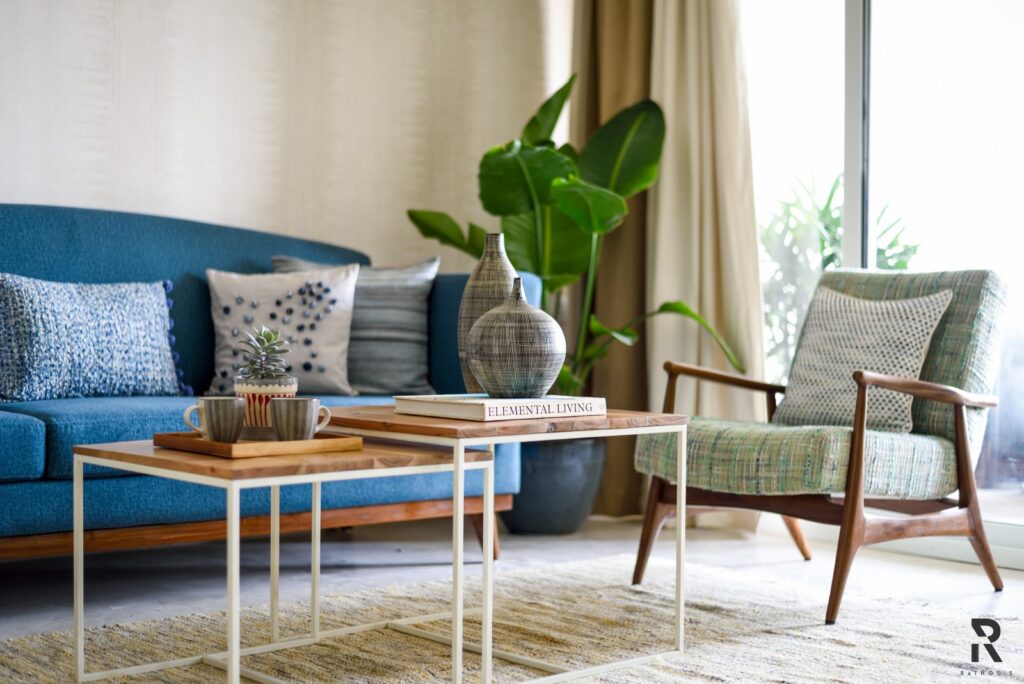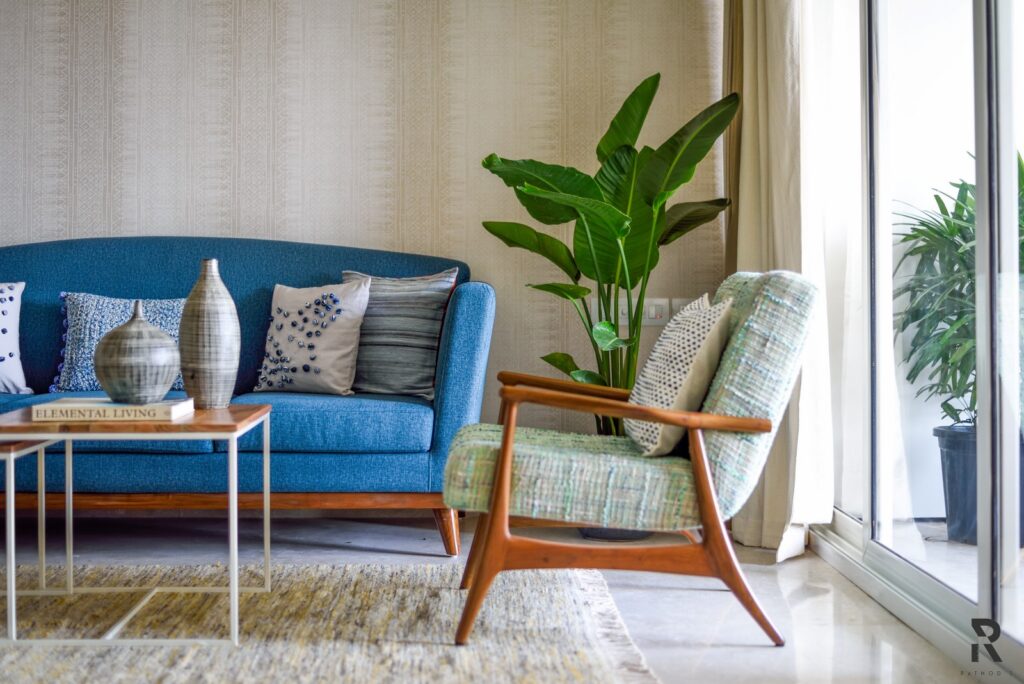 A cornered and conventionally vast space is acclaimed by a contemporary wooden dining table with its fusion chair-and-bench seating. The chosen laminate finish for the storage unit attains a designated texture that expels a gist of traditional intuit.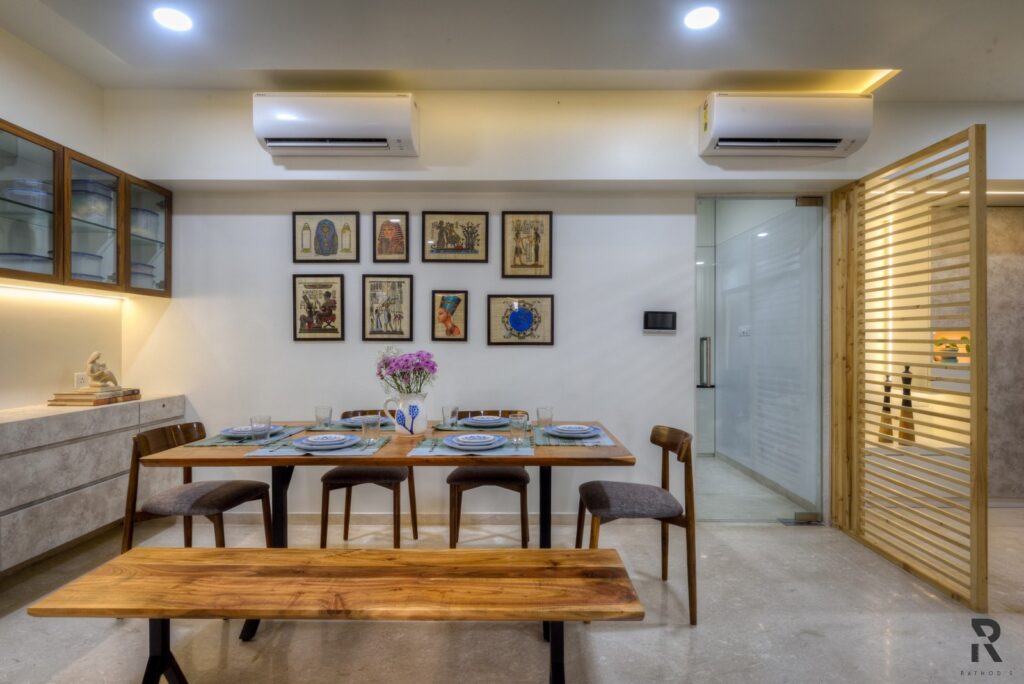 The Egyptian-themed wall hangings silently play a contextual role in imposing a fusionist appearance.  A clear glass door leads to a minimalistic kitchen with neat design and maintenance-friendly attributes. Wherein, a dark wood surfacing assigns a rustic spirit to break down the bleached outlook.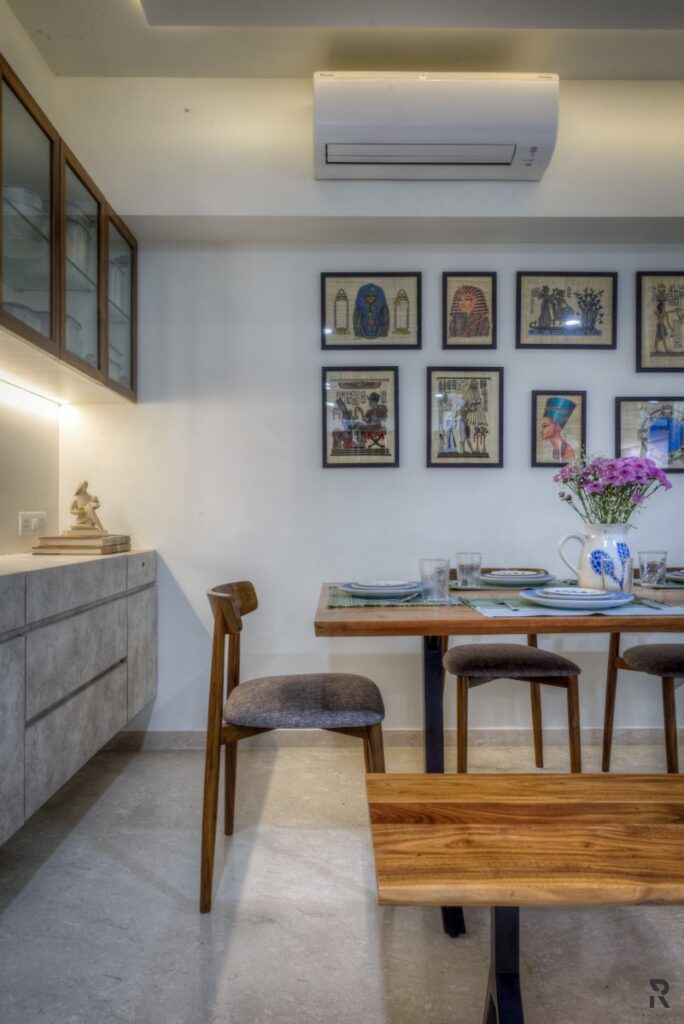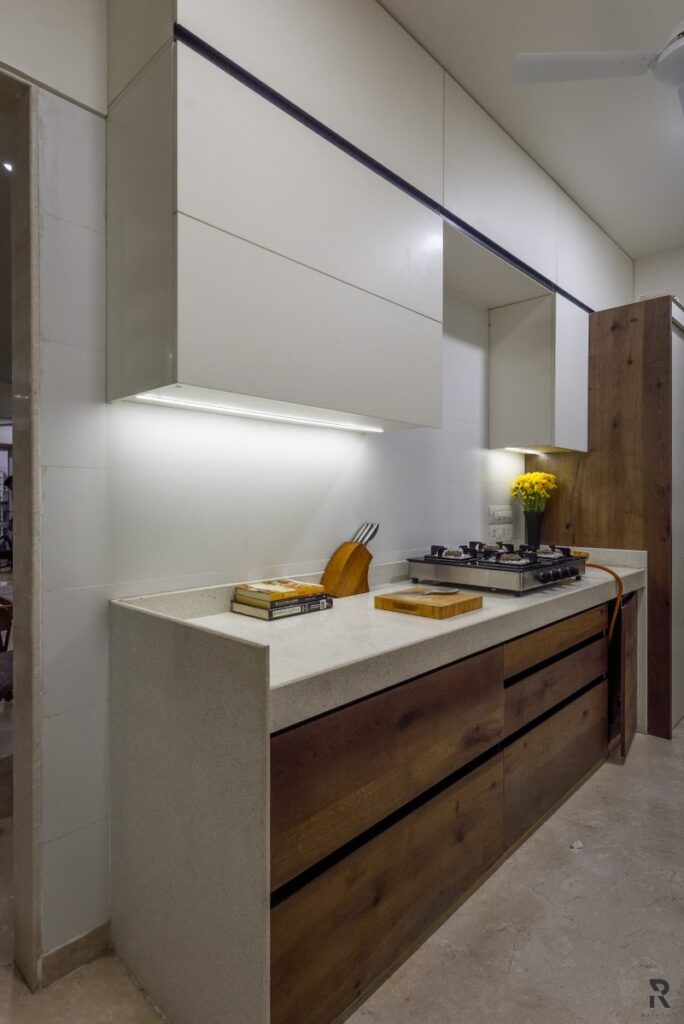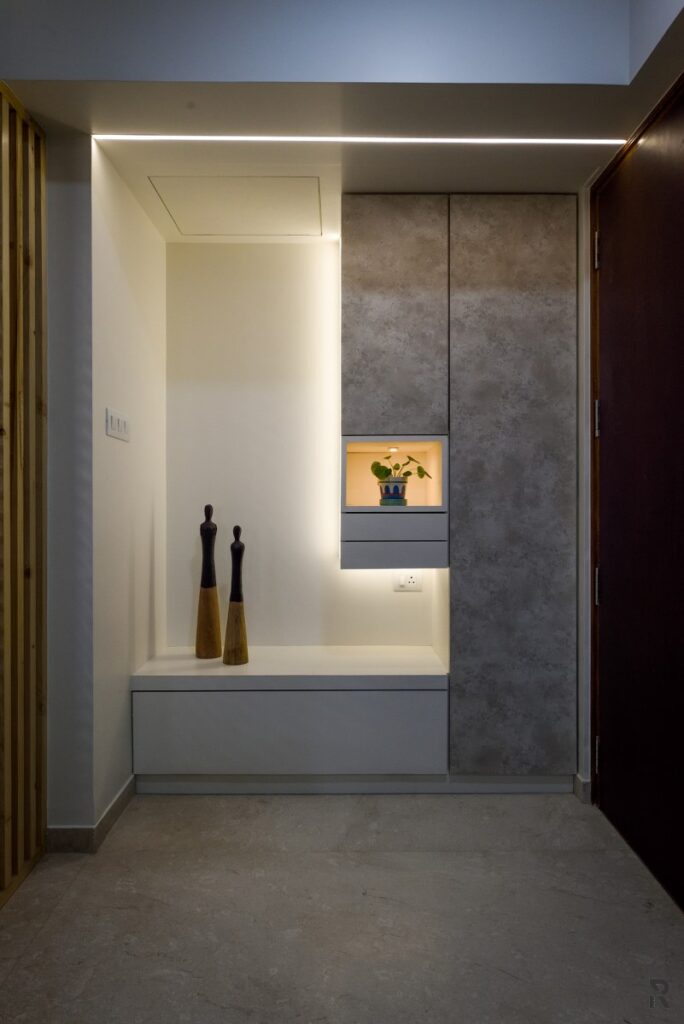 The third bedroom is modified into a convertible open space with a sandwiched fabric sliding folding door for convenience. This is with respect to the clients' love for reading and hence, an old-school chair and a complementing tea-poi alongside. It is created in a way to aid a perfect weekend mood with its full-size clear glass opening on the shorter wall.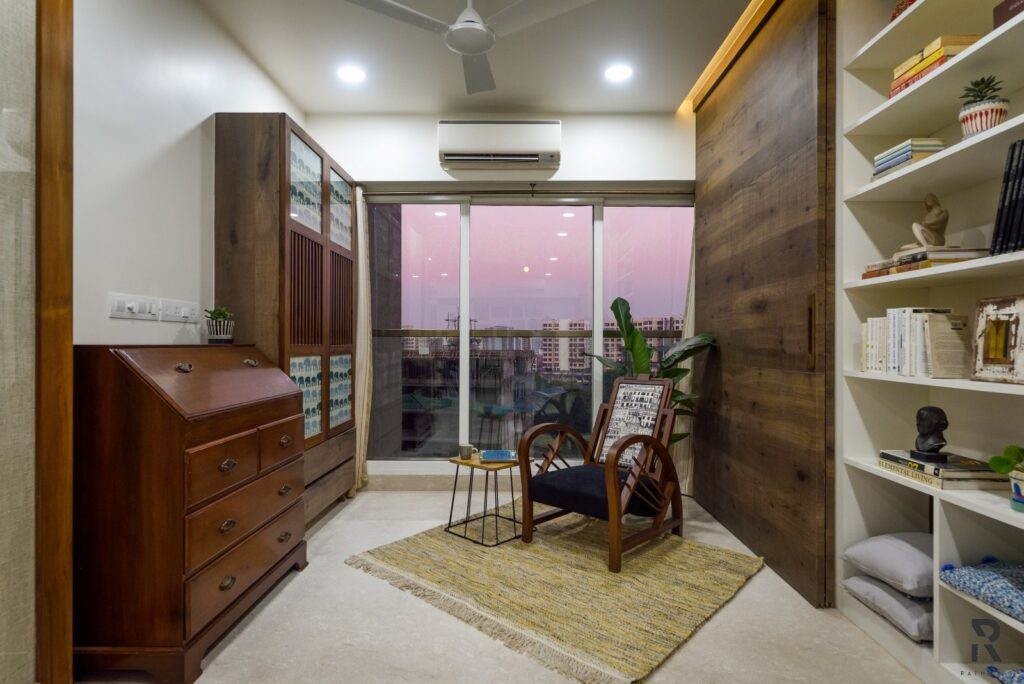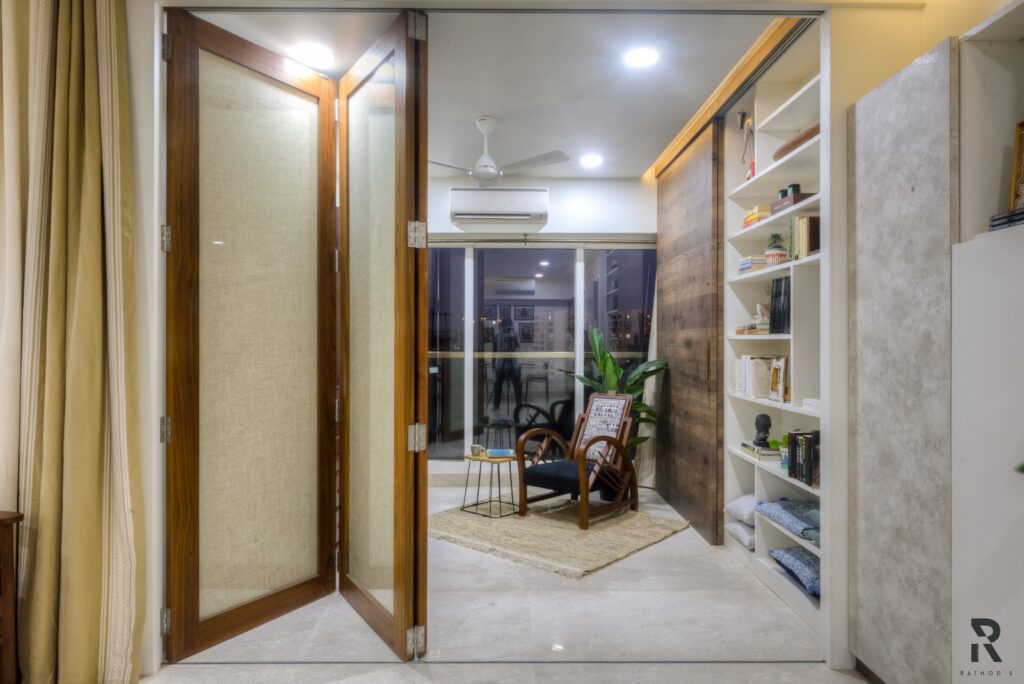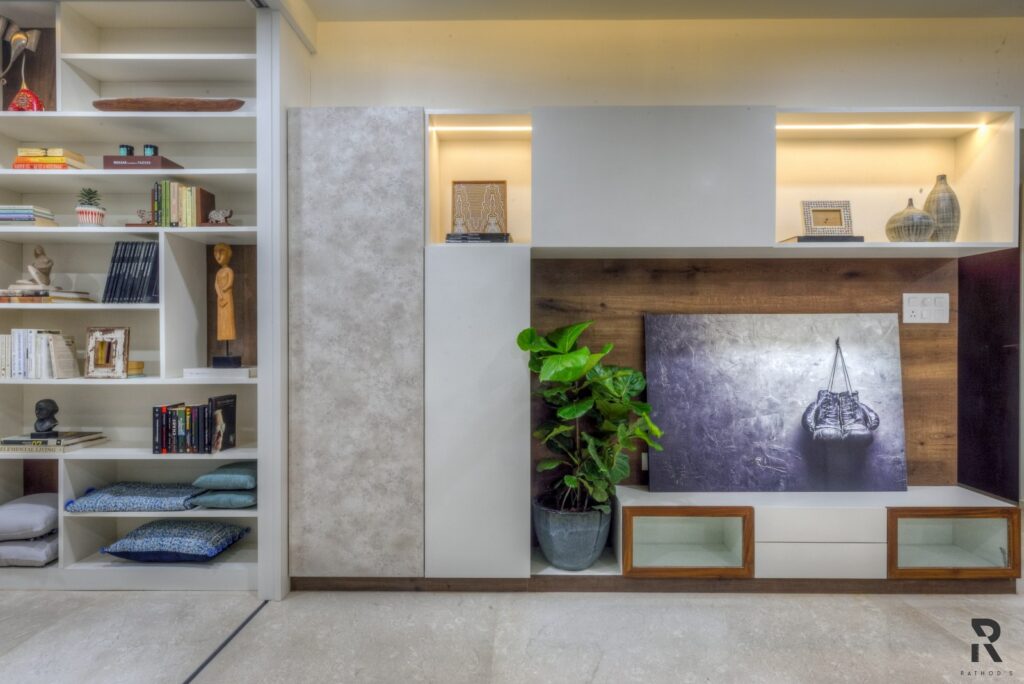 A vintage-style cabinet enables this arena with its desired character alongside the temple cum storage unit. The book shelves extend till the ceiling for a convenient organisation- to be veiled by a sliding door for easy maintenance.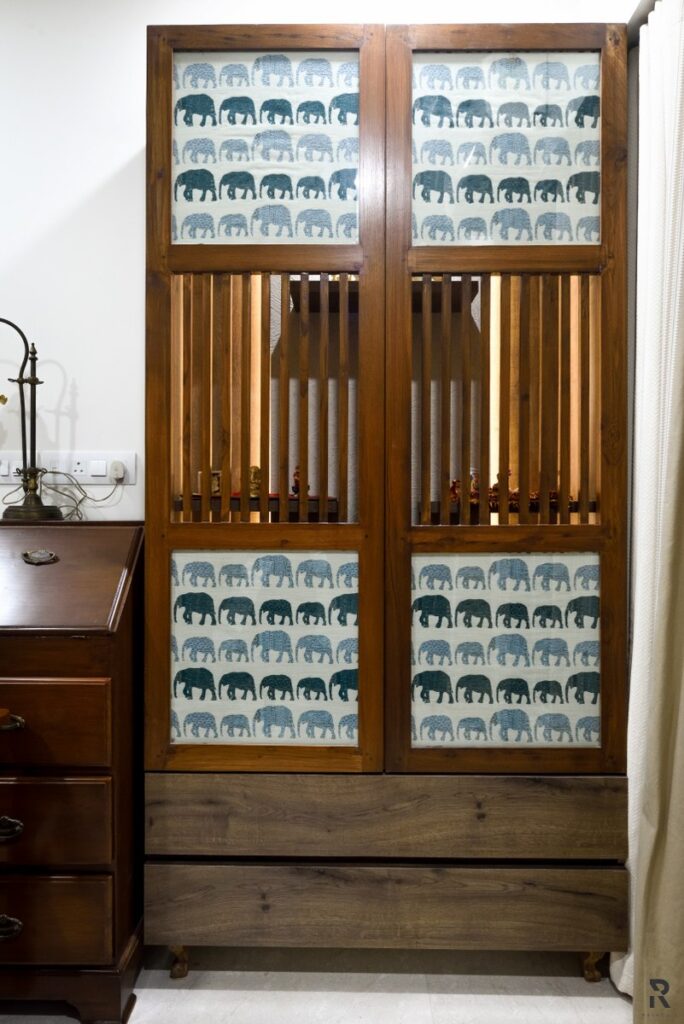 The master bedroom dwells in its neutral approach with a touch of tradition and prolific detailing. A combination of Madhubani block print wallpaper alongside a pinewood partition works dominantly in assigning a traditional cum raw appearance.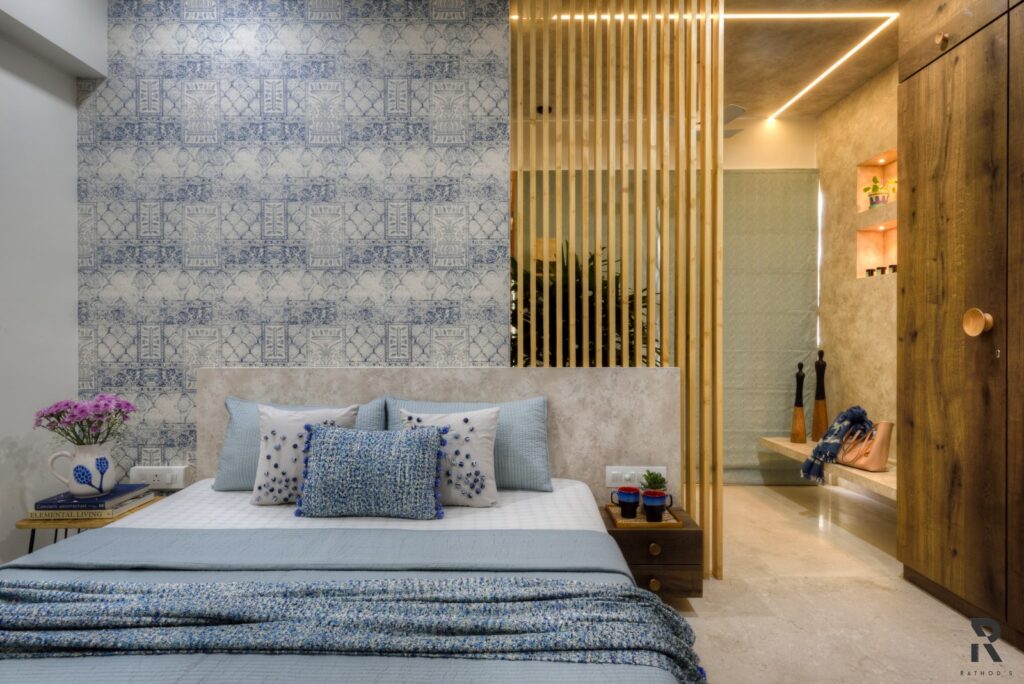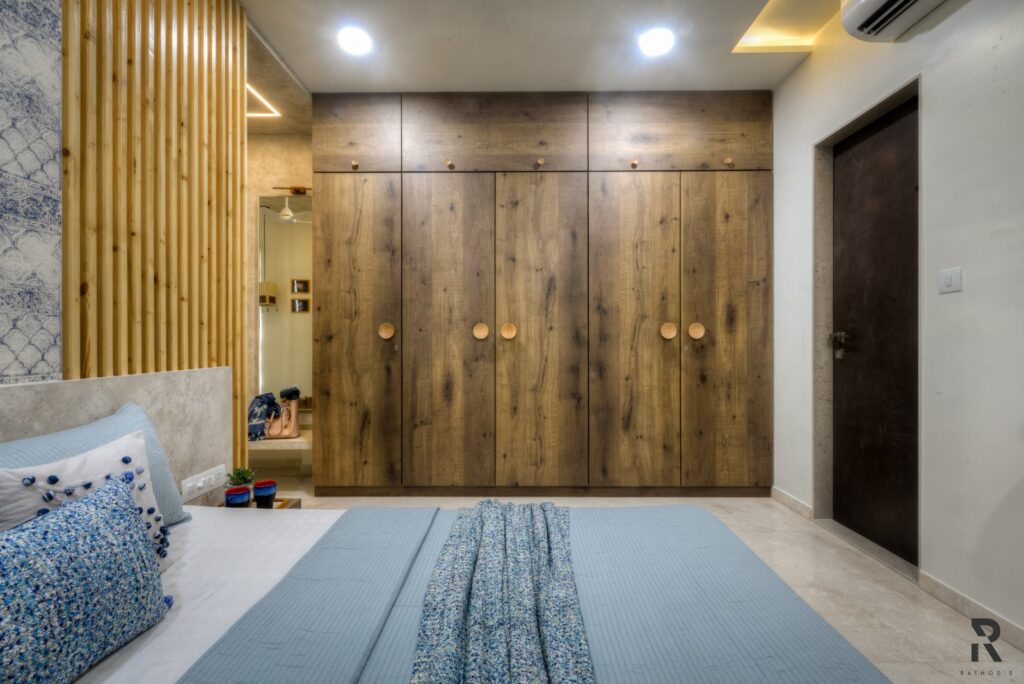 Furthermore, the dark wood laminate finish and crafted wooden handles for the cupboard intensify this look. There is a warm and cozy multipurpose extension to this space with warmly lit niches and textured walls. The wall-hung seating by the full-length window in here makes a semblance of soothing vibes.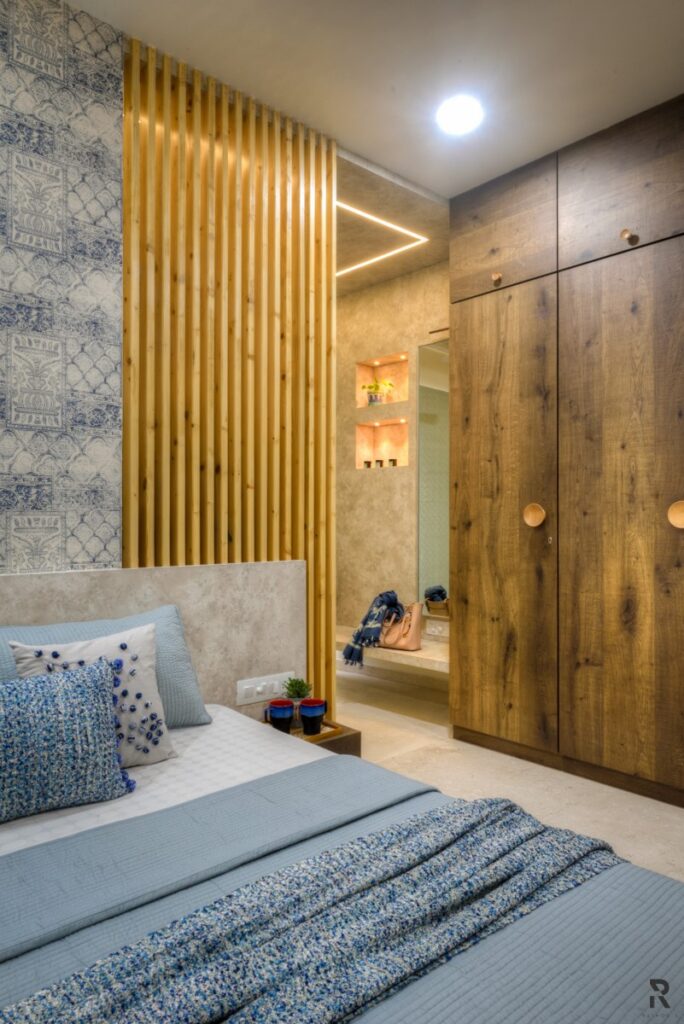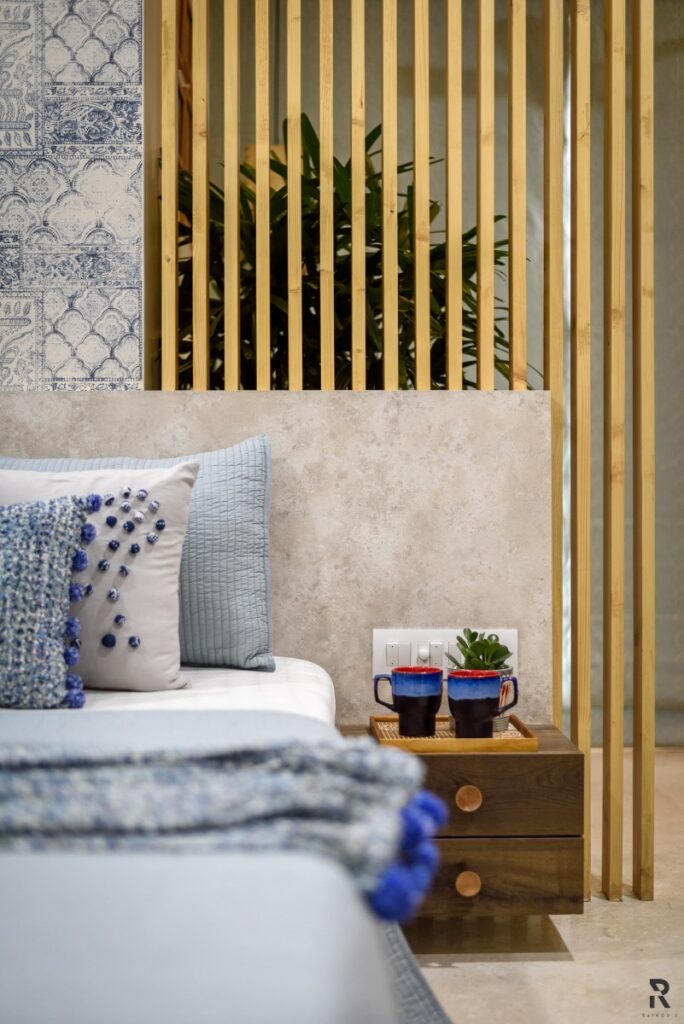 The kid's bedroom takes a Harry Potter theme with its painted walls and graphical wardrobe shutters. It is ornated with refurbished dark wood furniture and appropriately themed window blinds. The space is totally assistive to the user in its design approach and dimensions with a low height study and a floor rug. A large part of the room is left open making it an opportune space.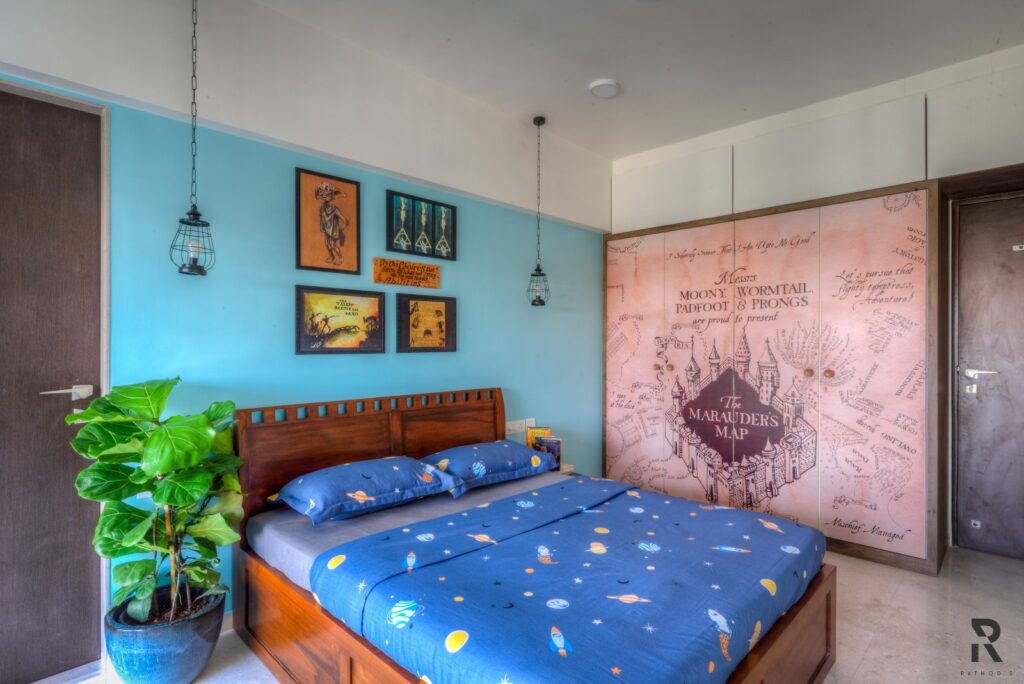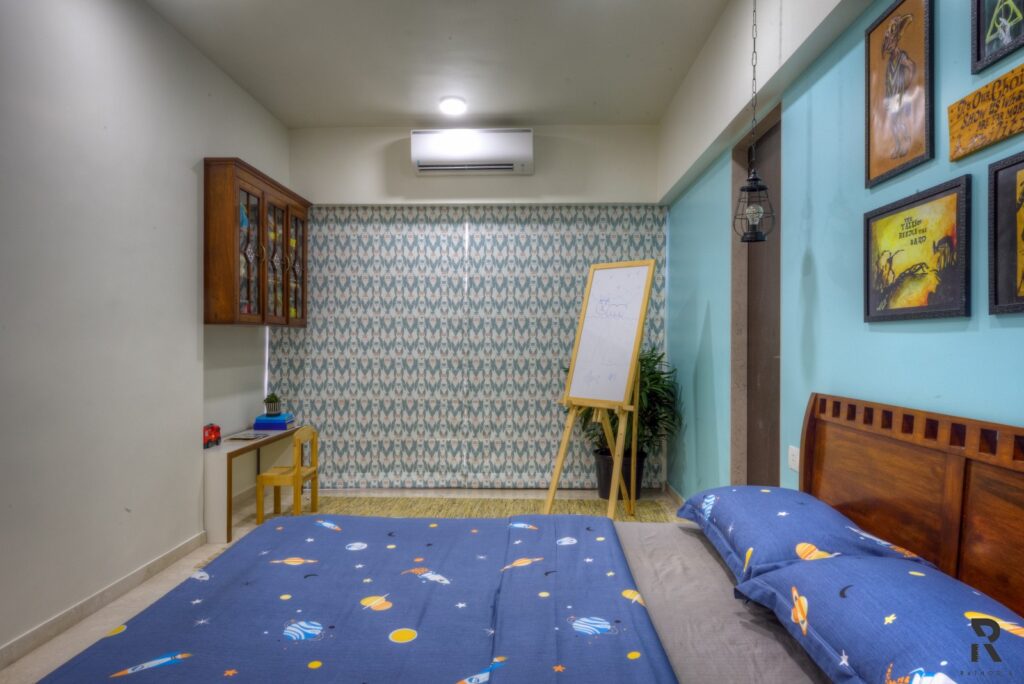 This home takes a thorough design approach with its refurbished units and spatial organization to give back a holistic residence to this young couple and their kid. A rightfully designed abode pertains to the likes and needs of the user; also, keeping in mind their lifestyle and hobbies. This design approach has physically manifested the clients' needs with its rational approach. 
FACT FILE:
Designed by: Rathod's Design
Project Type: Residential   
Location: Andheri, Mumbai
Year built: 2020
Size: sq feet: 1500/sqft
Project Cost appx: 23 Lakhs INR
Principal Architect: Riddhi Rathod
Design Team: Sangeeta Sanga Panchal & Pratima Kajwe
Photograph courtesy: apstudioworks
Interior styling: stylefix.india
Text Credit: Megha Hirani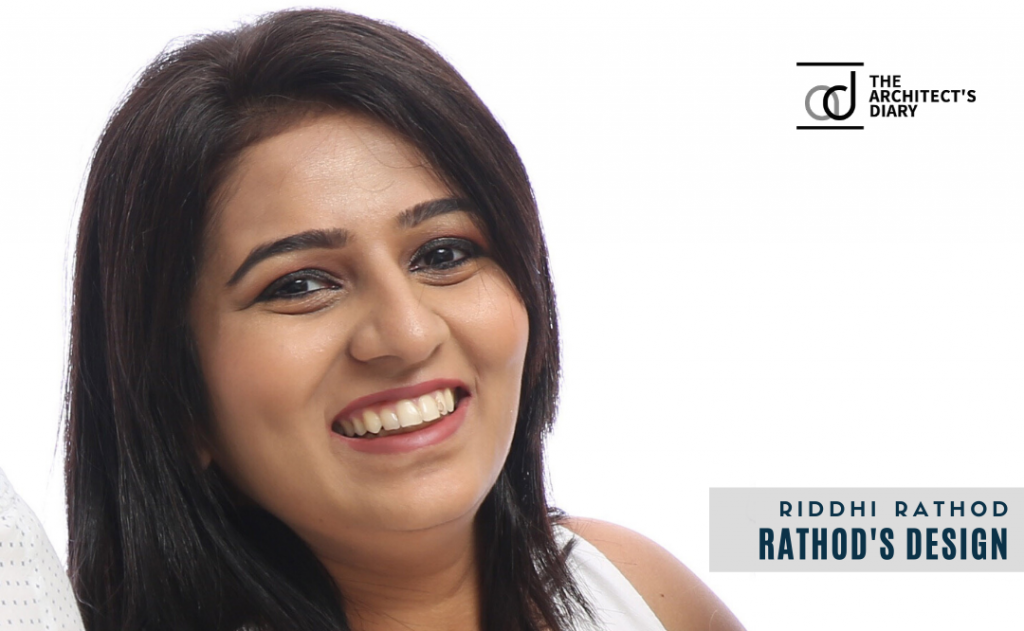 Instagram – https://www.instagram.com/rathods_design/
Facebook – https://www.facebook.com/rathodsdesign/