This tropical minimally office is located in a very busy, commercial district and the city's principal hub, and in the heart of Surat's industrial zone.
Minimally Rustic Office Space with an Artistic Side of Science & Nature | Kritnam Atelier
Visit: Kritnam Atelier
The area is 4,380 Sq.ft occupied by the public space zone (reception and waiting zone), semi-public zone (main executive, conference), and private zone.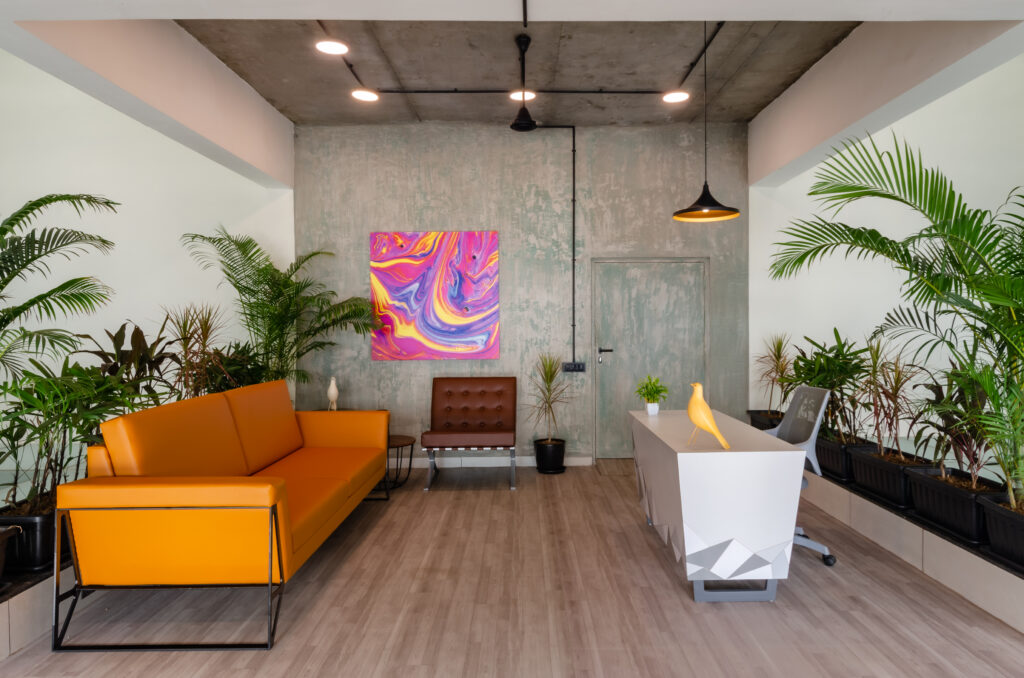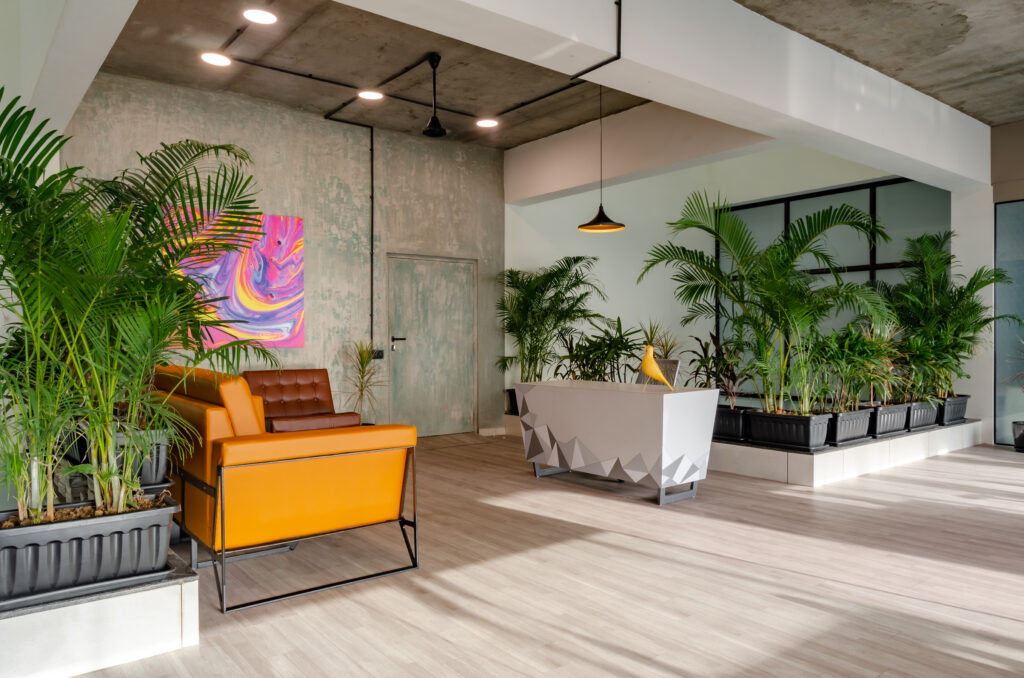 Seating in a waiting lounge makes you feel like you are in a park; an informal lounge makes you feel open. Minimally, an executive space gives a soothing as well as homely feel with lavish green.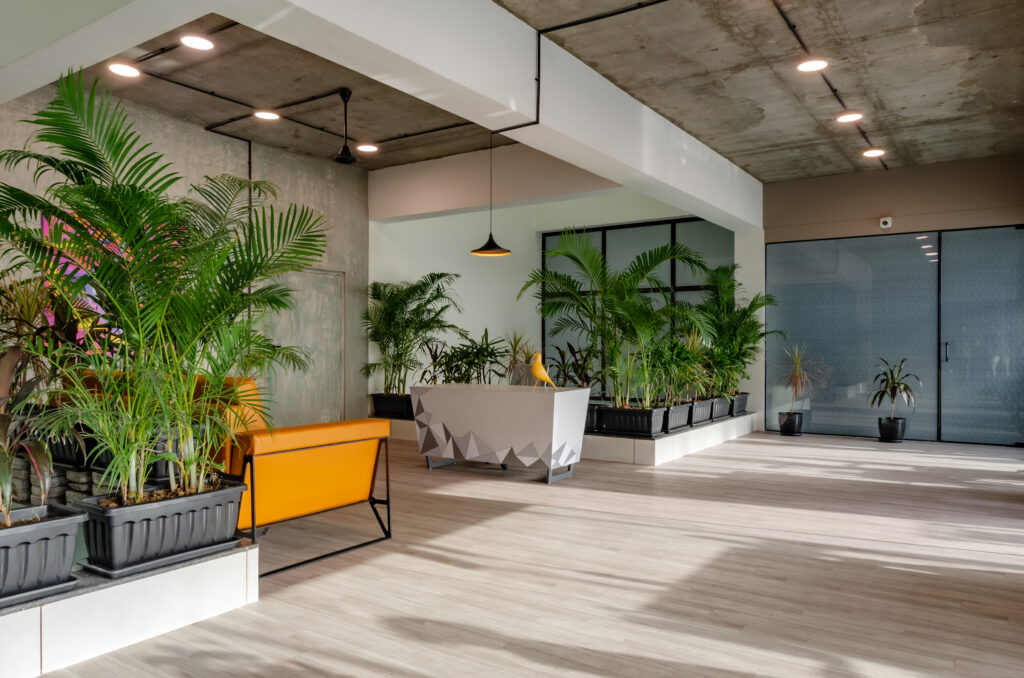 The core idea of the built environment is to bring it back to nature. The design philosophy is a blend of rustic themes based on the idea of living with nature. Our client is deeply involved in the diamond industry, but apart from being very down to earth, also attached to nature. Hence, knowing the client's nature as well as his fondness for the environment. A few words pop out, which are something raw, organic, rustic, tropical, etc.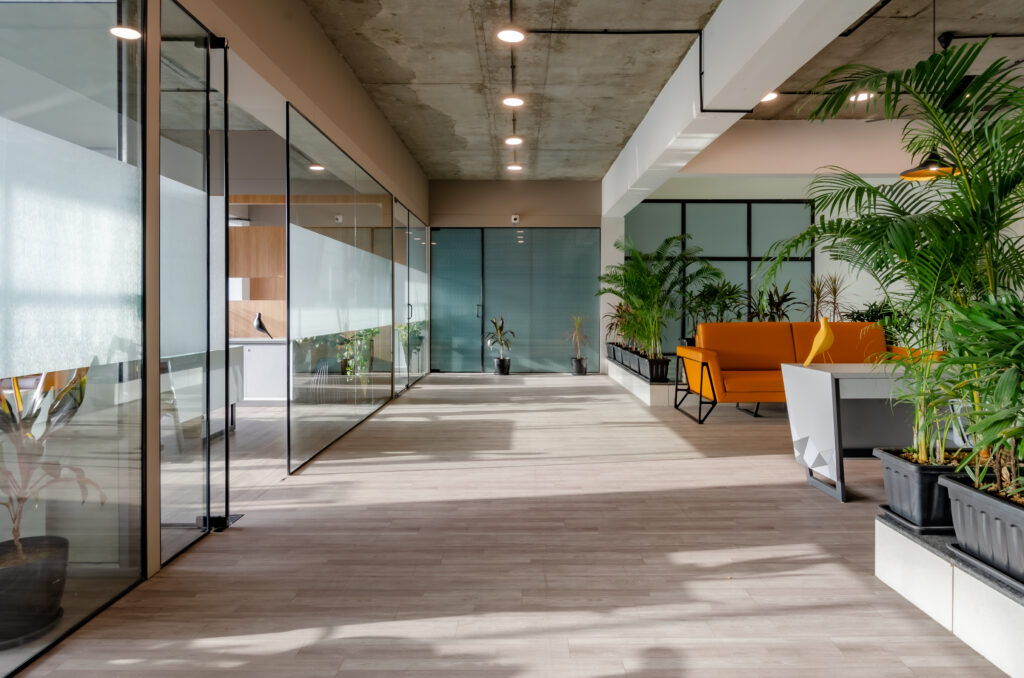 Moods and Feels
Exposed concrete, Stucco paint, Fabric leather, and Reusable PVC modular panel.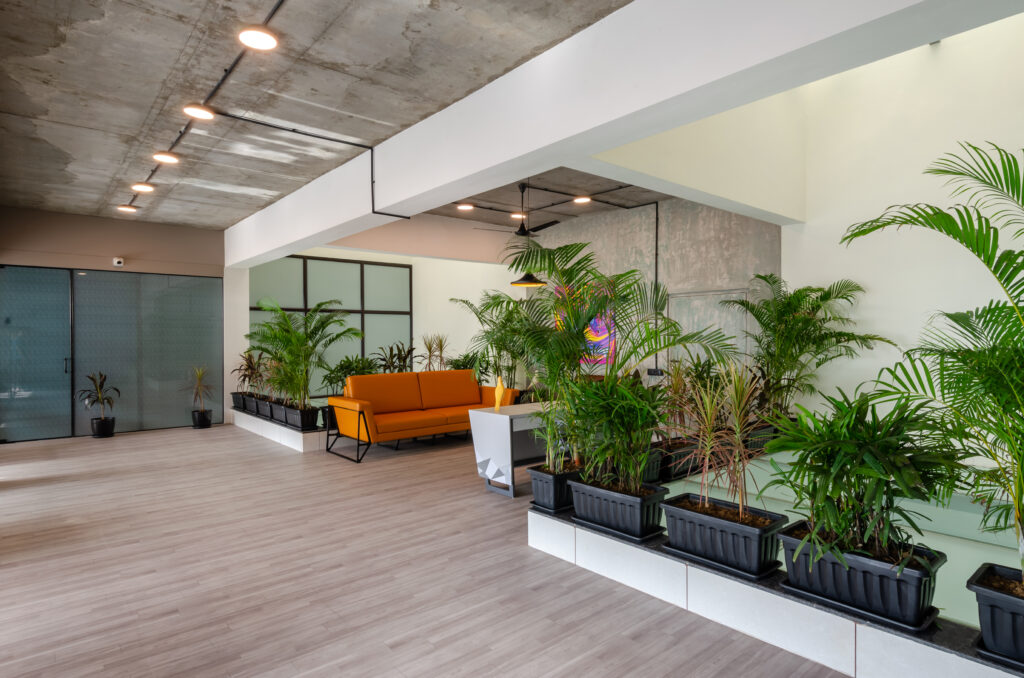 Entrance
The main access wall skin is covered with reusable fluted PVC module panels that give a firewood feel. Furthermore, the brushed brass logo and the plant added to its grandeur.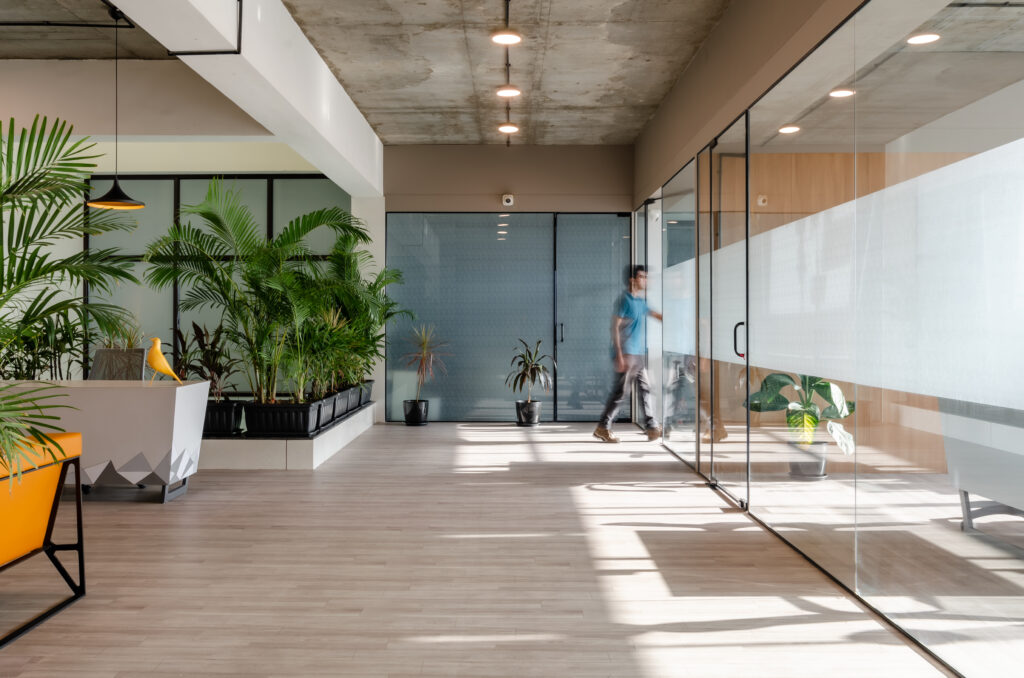 Upon entering the premise, you feel the flora gallery where you are greeted by the abundant touch of the sun's rays and the various shrubs. This is not just an office; this is a manmade 'tiny jungle' that is adorned with an art canvas and sculpted furniture. The vinyl floor surface gives a seamless visual and maintains the spaciousness of the whole area.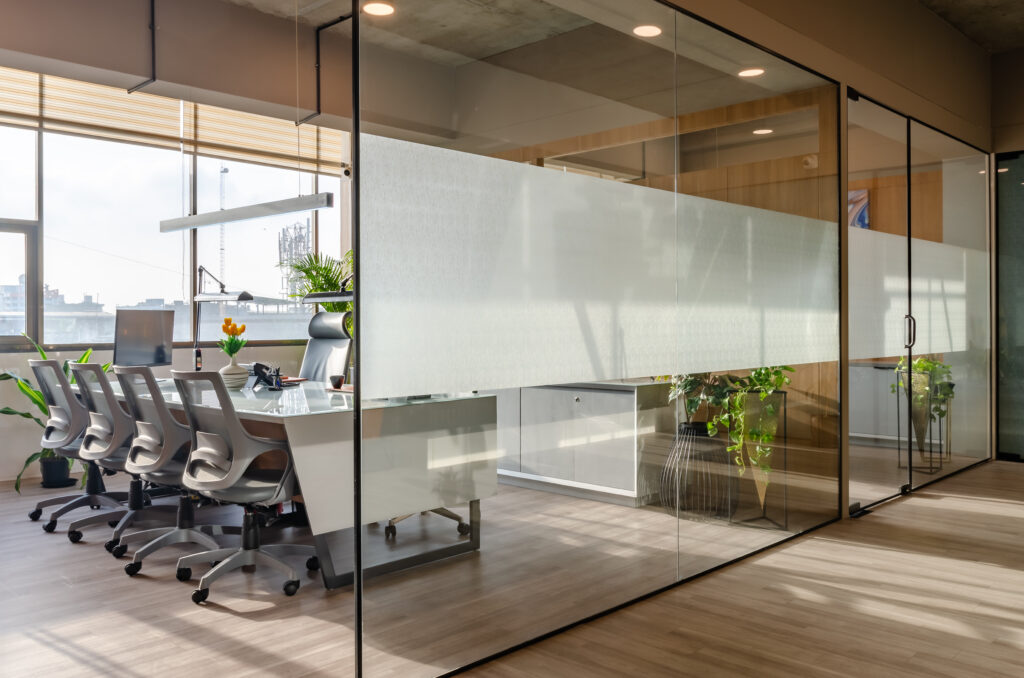 The hallway is lit up with plentiful sun rays which are connected to a lead thin-frame glass partition layer which makes you feel like you are standing outside in the greenery as the sun's rays are spread evenly at every corner. All cabins are completely transparent but also maintain privacy using minimal obstruction.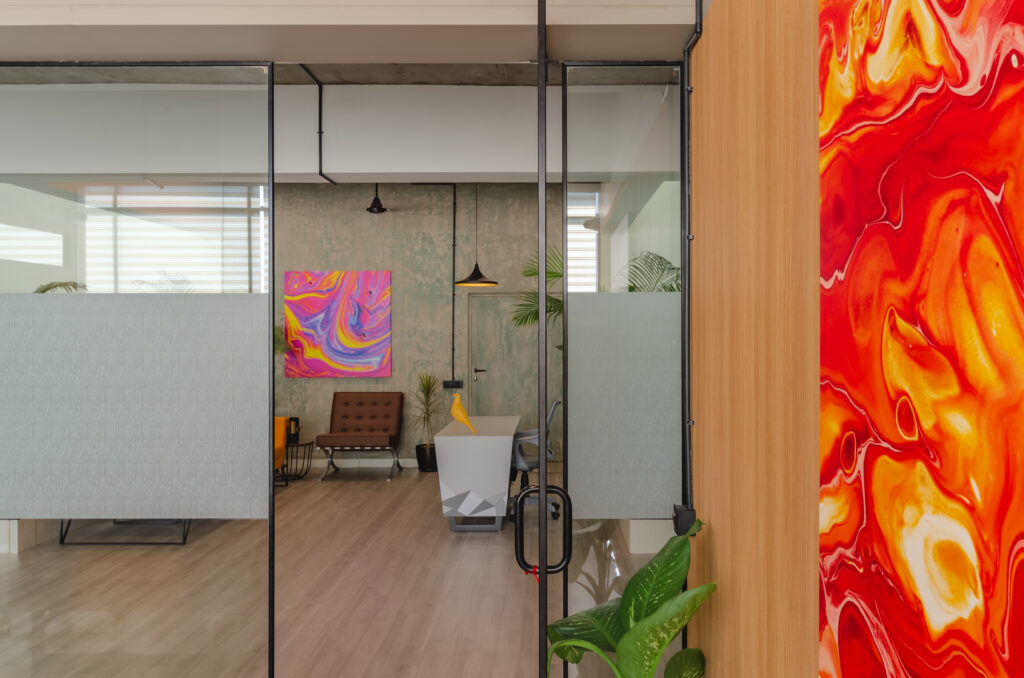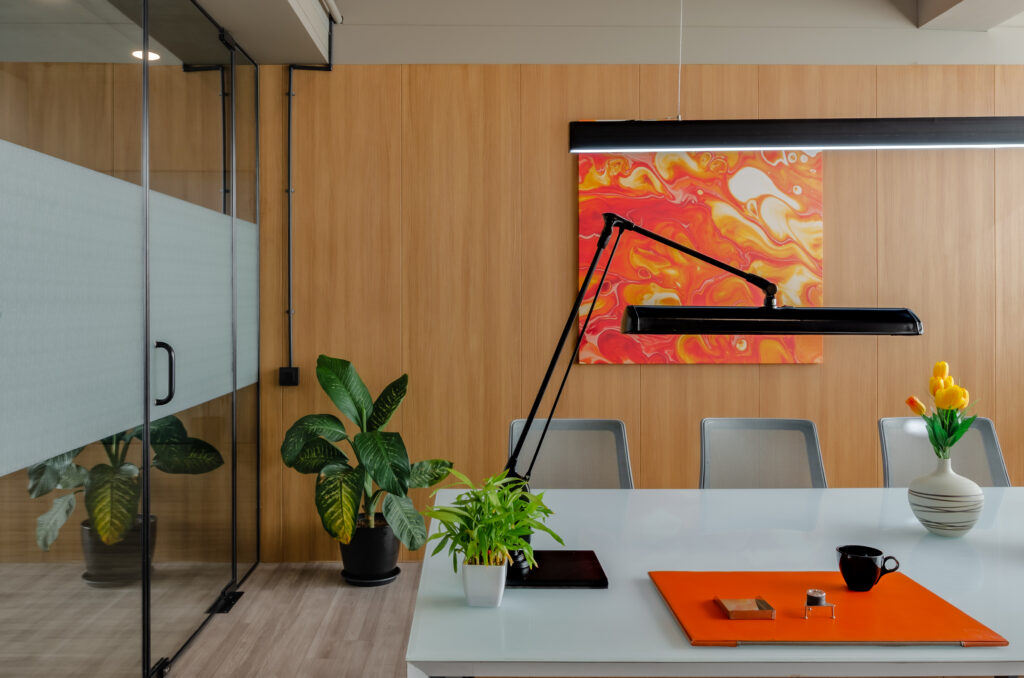 Fluid art is inspired by 'Diamond Dispersion' – where the light travels through the diamond and separates into spectral hues. A fusion of art and science is used in this space.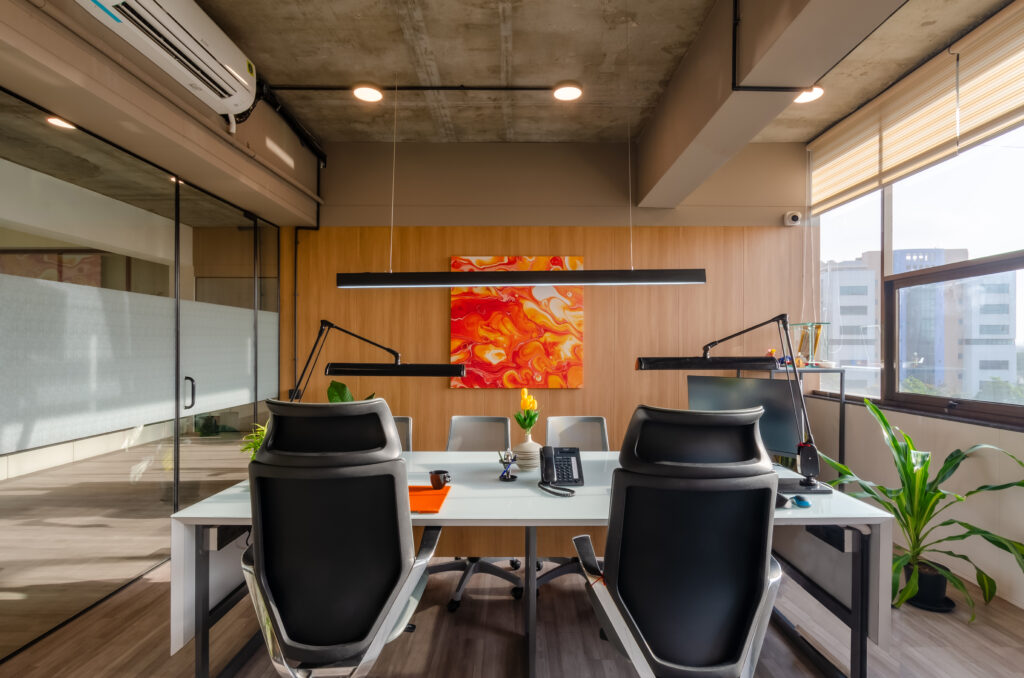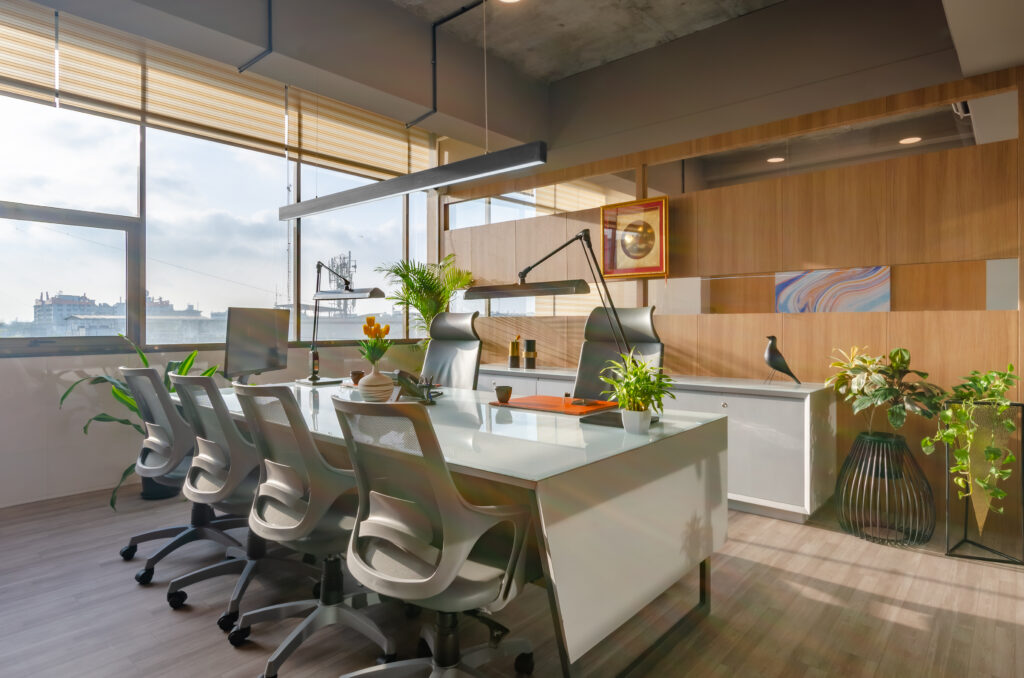 "We will shift the office but keep the diamond work going." – informed the client. So, we sat down with the client and prepared an individual department-wise list. Which day, on what date, which department will be shifted, and how long will it take a time for a shift. In a nutshell, we started the work by taking care of every micro thing.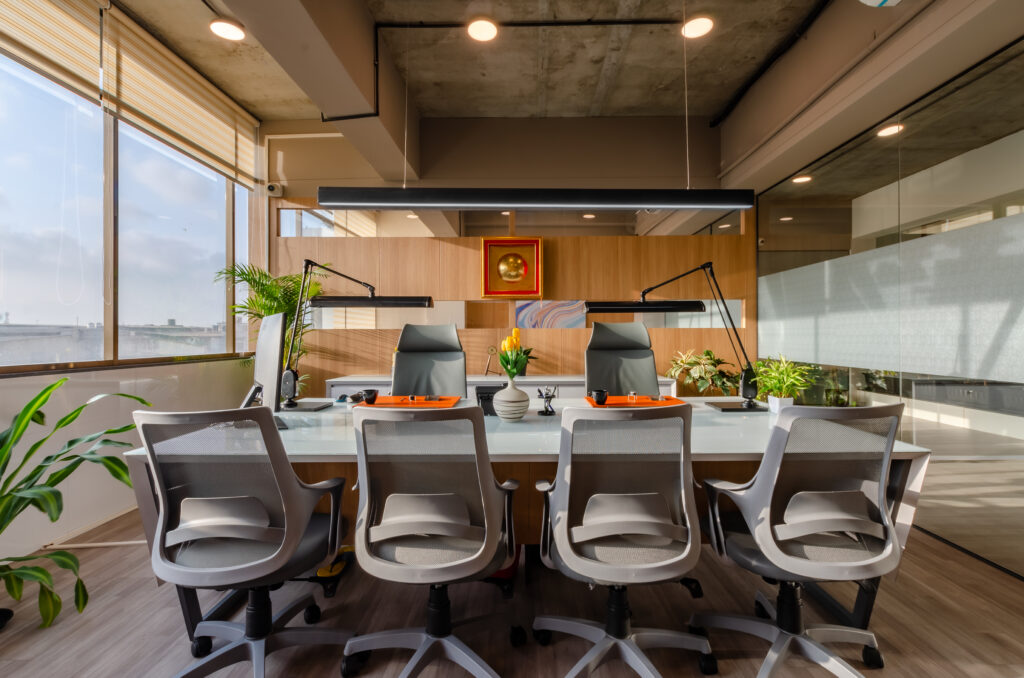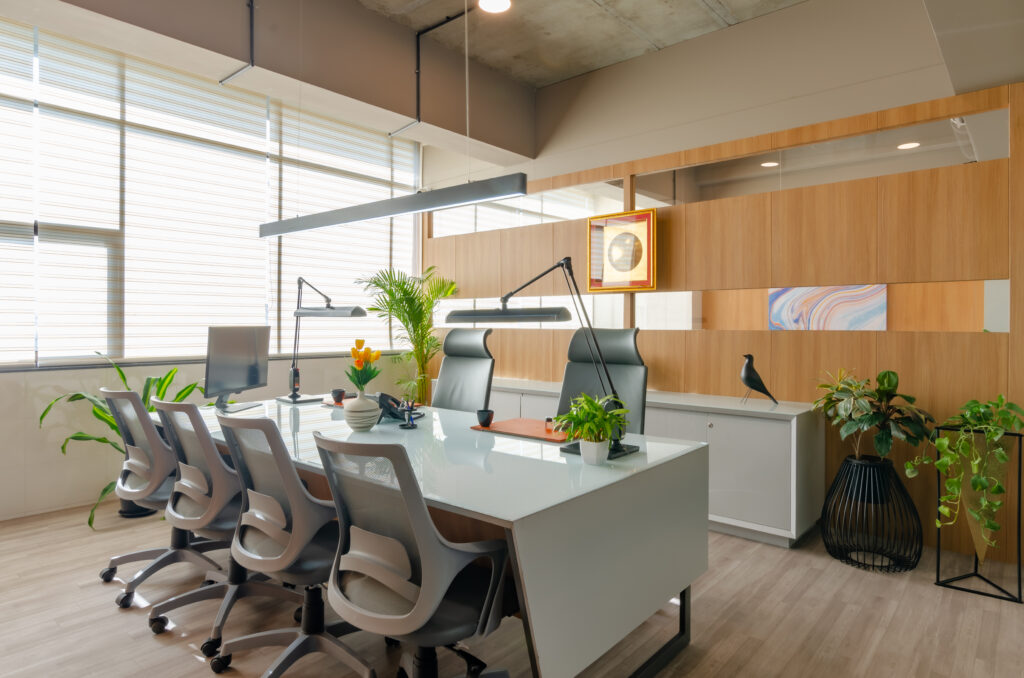 For an execution, each furniture component was prepared with specific details using detailed 3d models, so that it could be easily understood, and implemented as well as achieved the expected result. All executive furniture is specially designed in the style of modular furniture.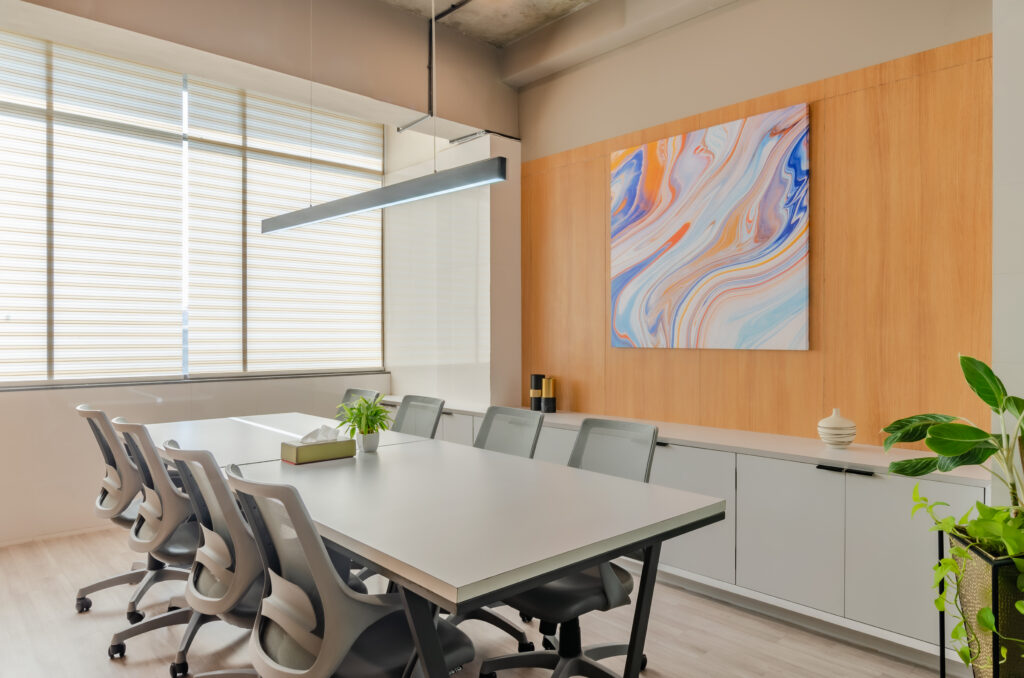 Without making any changes to the existing furniture of both the production zones, we took the micro-sizes of each furniture and diamond machine and the actual dimensions marked on the site, which made it easier for everyone to understand. Team and agencies worked day and night. Thus, the work was completed as planned. In both production zones, each partition was re-anodized and reused, which resulted in the completion of work at a low cost. We have completed this project in 45 days and achieved a new milestone.
Fact File
Designed by: Kritnam Atelier
Project Name: Tropic Extent- a fusion of Art and Nature
Project Type: Office Interior Design
Principal Designer: Maher Desai
Location: Surat, Gujarat
Duration of project: 45 Days
Project size: 4380 Sq.ft
Year built: 2022
Photography Courtesy: Pratikruti
Products & Materials: Furniture: Stanley, Knoll | Art: Jabir R. Kureshi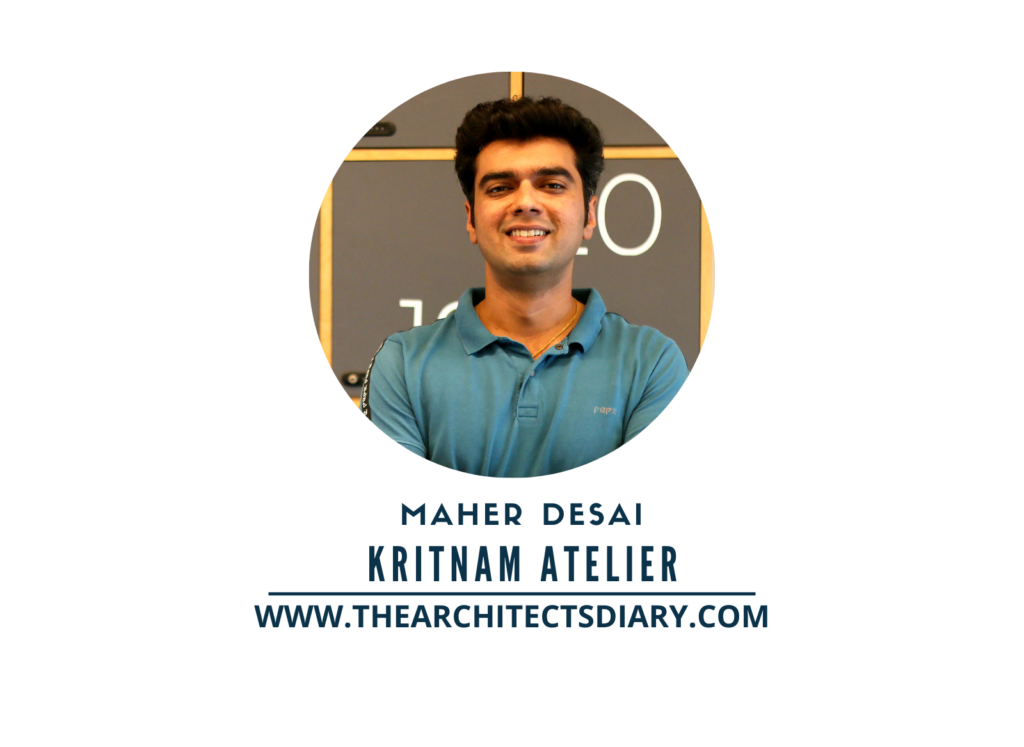 Firm's Instagram Link: Kritnam Atelier
For Similar Project>>Wellness Center that Embraces Warmth & Minimalism