Minimalistic Style With Pristine White Interiors Boutique Design | Saniya Kantawala Design
Located in Khar, Sionnah's Fashion Boutique is spread across an area of 1200 sq. ft. and is done up in a minimalistic style with pristine white interiors. The design intent of the space was to create muted interiors so that the designer's colourful collection could be highlighted,and add the necessary vibrance and flamboyance to the space.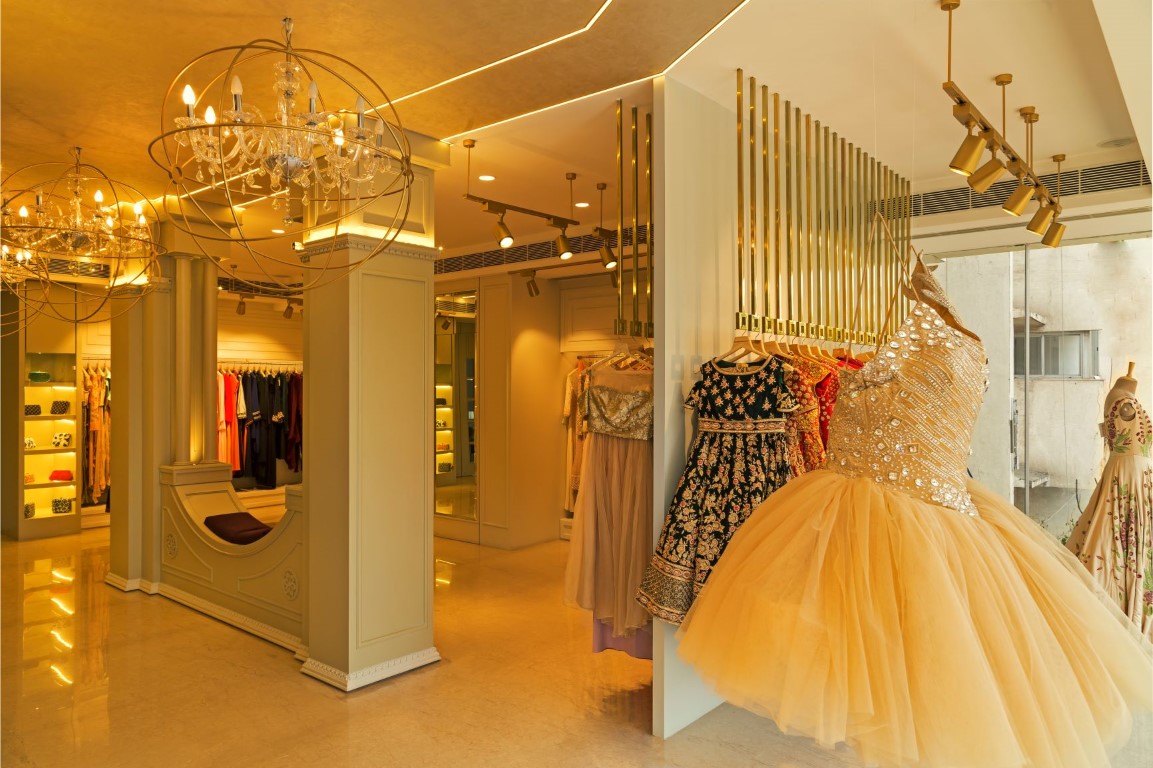 &nbsp
Architecturally the space was ideal for an interior designer, a sit was built with a minimal number of columns and beams which reduce interference. However, instead of utilising the absence of columns as an advantage, a concept was envisaged with a rather unique visualisation of the space that converted the columns into inverted arches.A grand and palatial entry-way was built with four columns that were then transformed into arches. Finished in sandstone PU, the white arches in their statuesque form feature in the centre of the boutique as a striking and magnificent structure.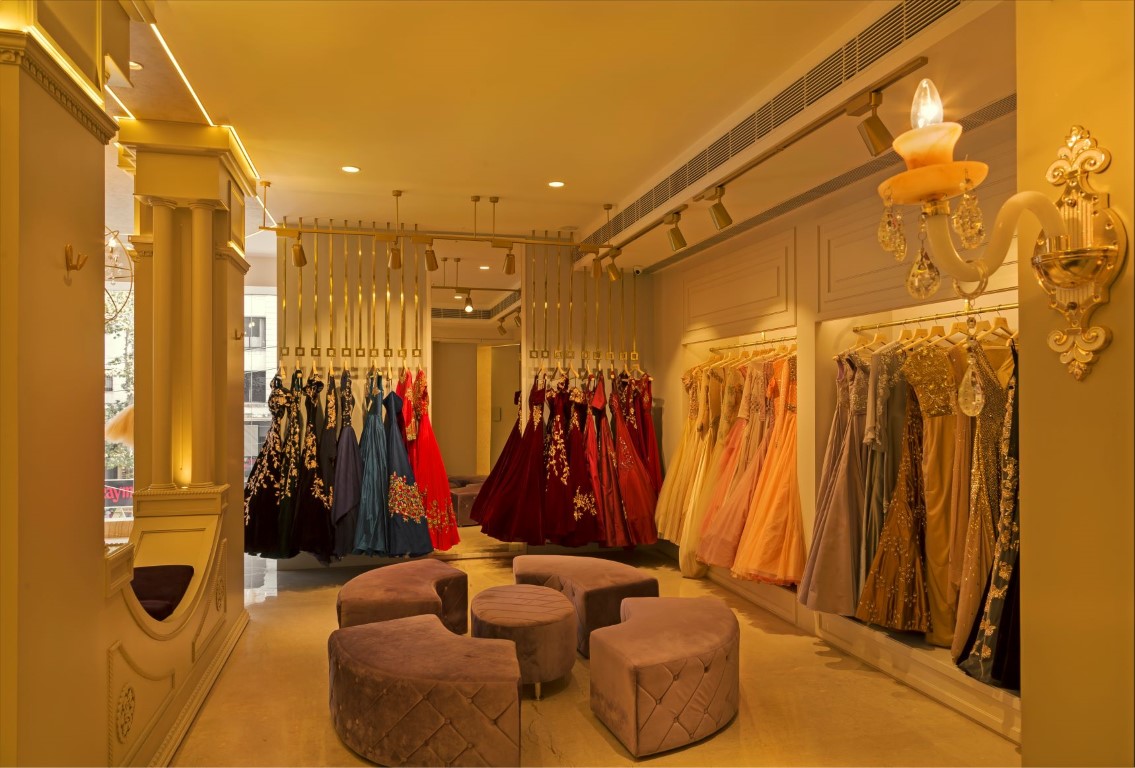 Through the arched entry-way, one's eyes are immediately pulled towards the crystal bevelled ballerina,suspended from the ceiling, ahead of a glass façade; a unique take on the window display. The absence of mannequins in the display and boutique allow the garments to be highlighted in their true form.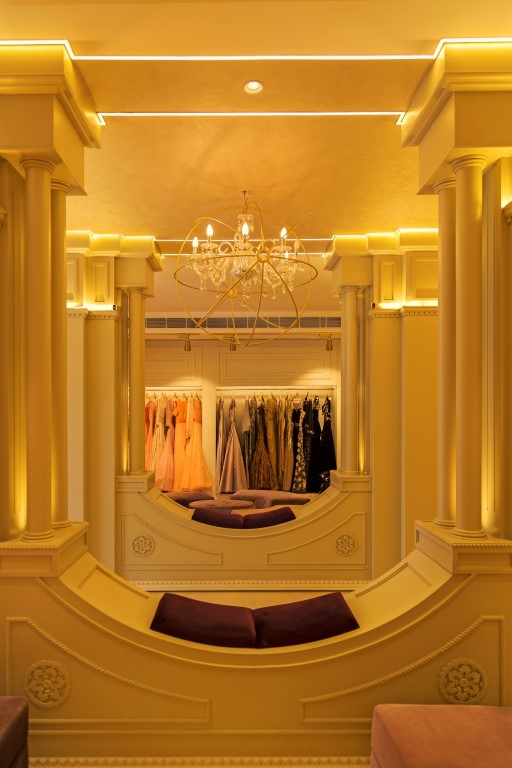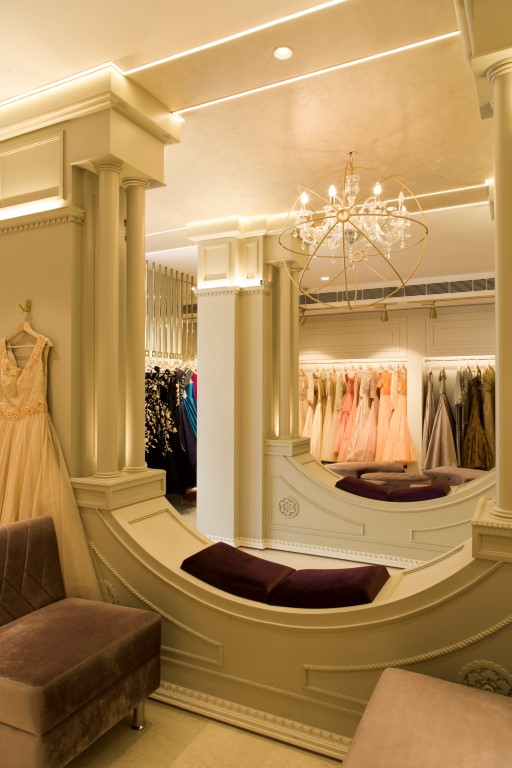 Following the design idea for the boutique, the designer's garments are hung on racks and also suspended from the ceiling across the boundary of the space. The archways, multi-purpose in their design also serve as a seating for customers. They are detachable and can be easily placed anywhere in the space depending upon the seating requirements. When placed back, they form a motif that is frequently seen in the design pattern.Shades of purple and lavender on the sofas reflect a conscious choice for depicting the royalty and grandeur of the space.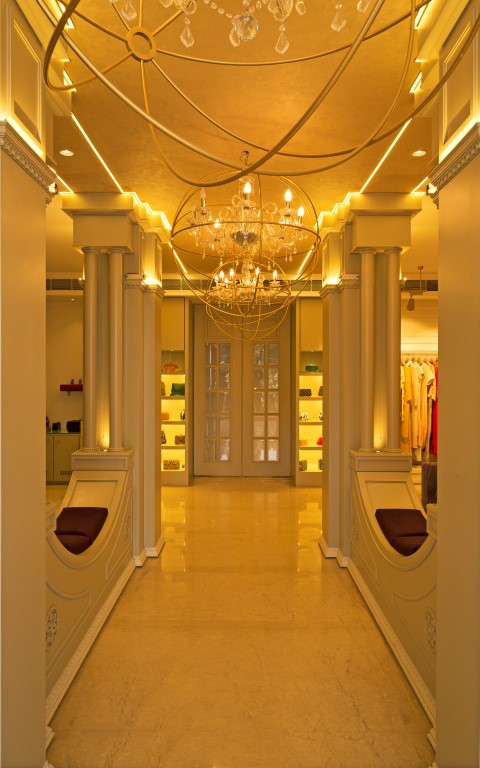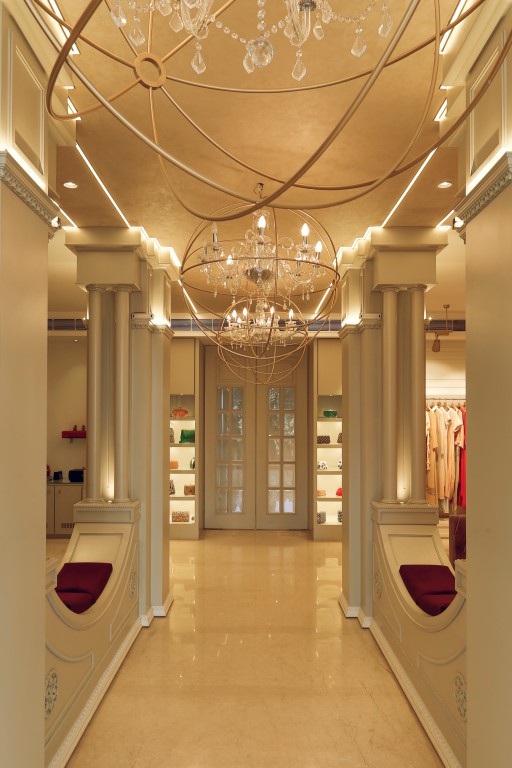 The colour scheme of the space–white and beige,with gold accents reimpose the clean and minimalistic design scheme.The exquisite chandeliers enclosed in a gold spiral casing,and the architectural lamps are stand-out features at the store.The use of gold for studio lights, golden colour racks and chandeliers add that extra edge of extravagance to the space.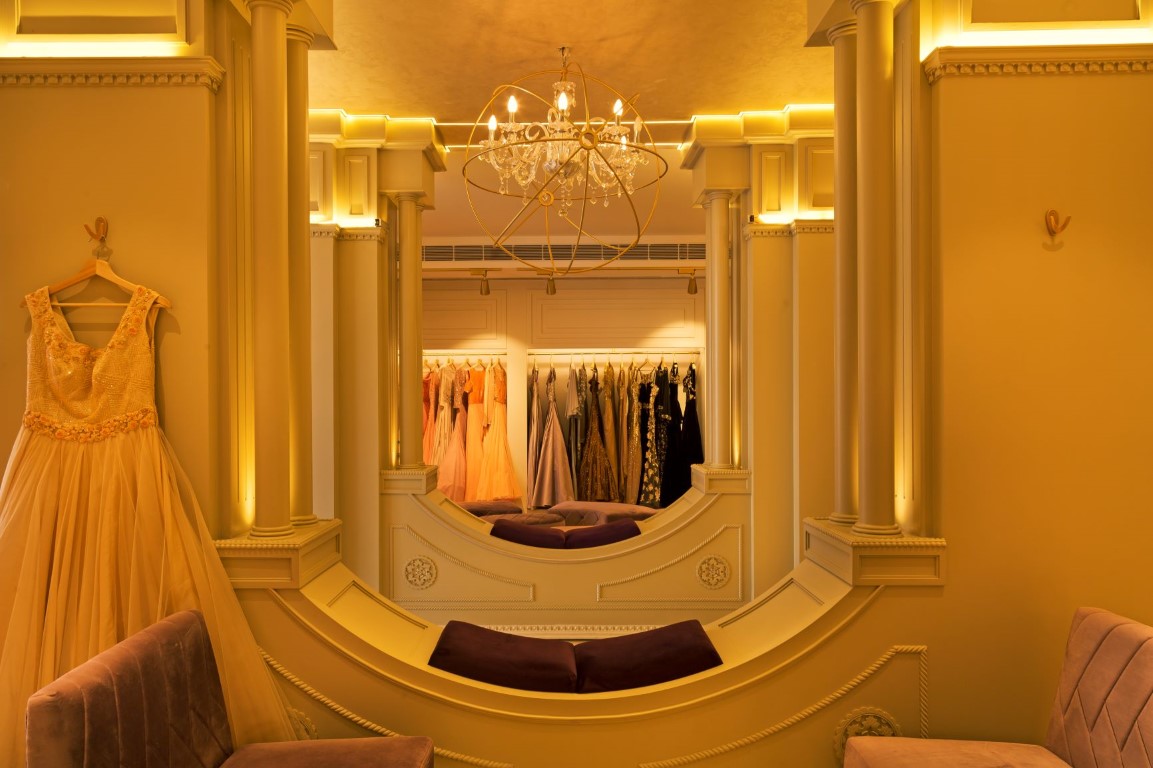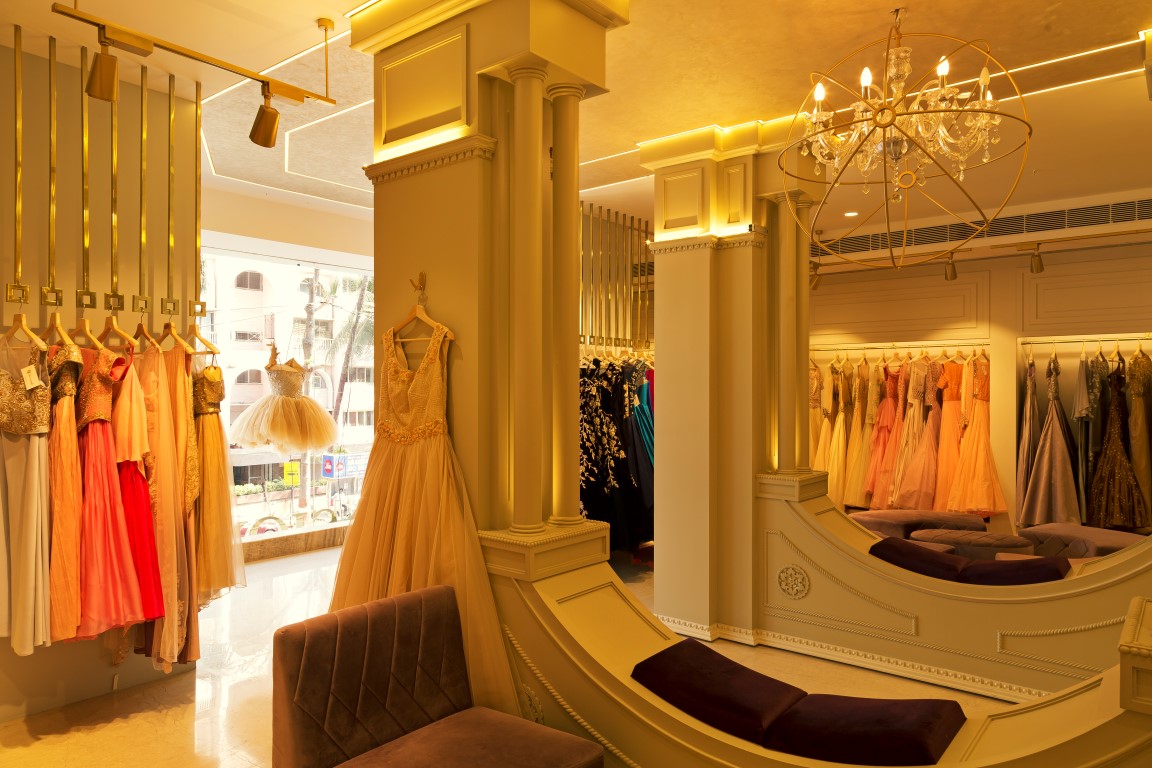 The boutique embraces the concept of minimalism and showcases functional design while artistically creating a space for apparels to serve as the centre of attention. By eliminating unnecessary additions and focusing on selected furnishings, it creates an aesthetic and modern space that exemplifies simplicity.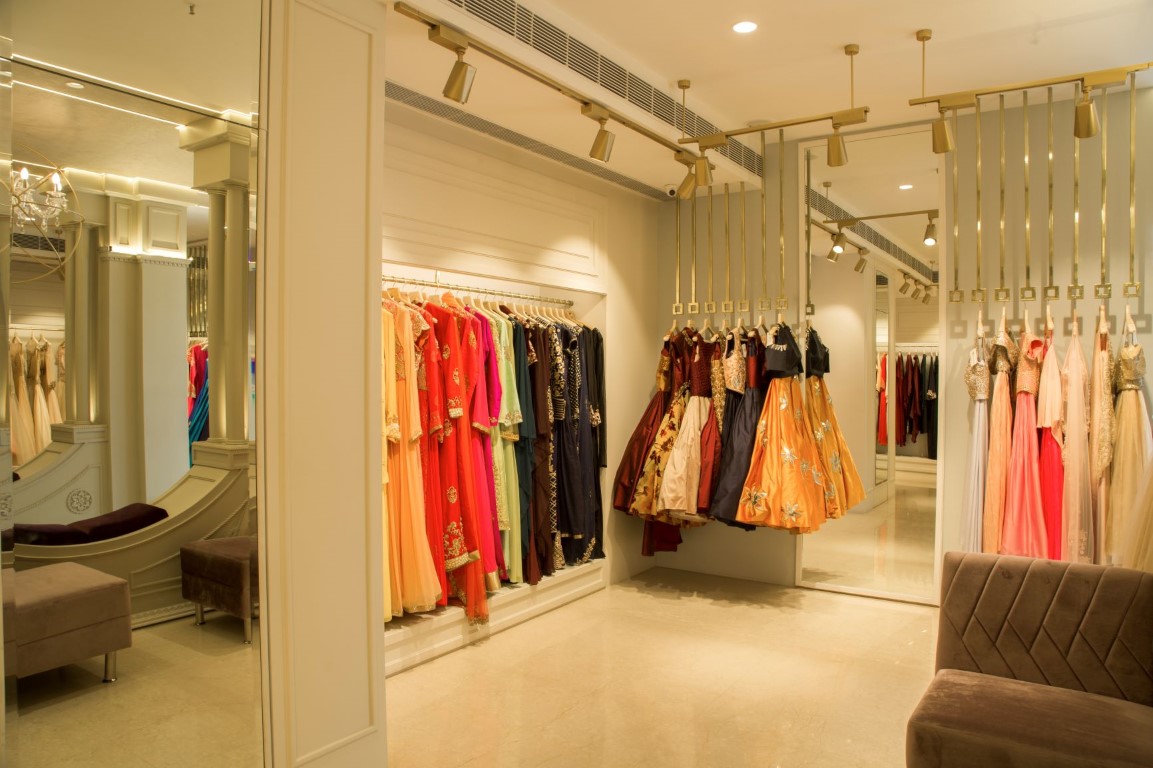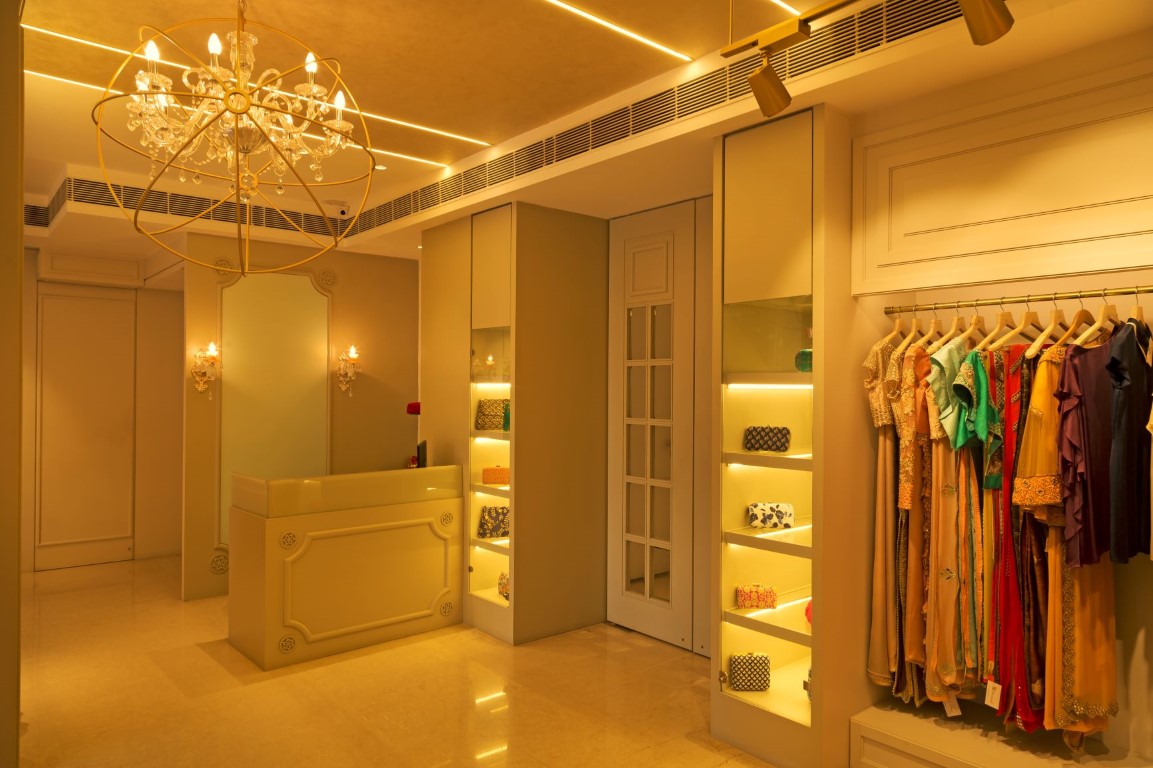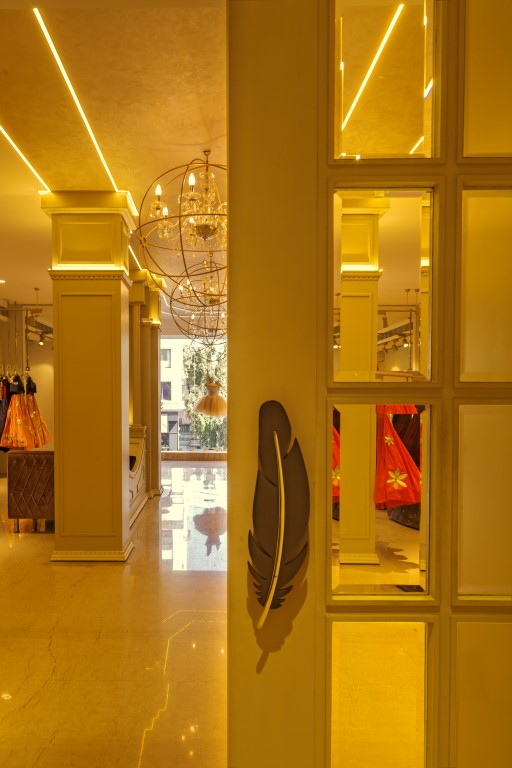 FACT FILE: 
Project name :Sionnah's Fashion Boutique
Design Firm: Saniya Kantawala Design
Location :Khar,Mumbai
Saniya Kantawala

&nbsp