&nbsp
Mid-Century Modern Office Interiors | The Design Collective
Context :
The office has a mid-century modern approach to Office interior design.
The site is a recently acquired residential bungalow which was converted into an office. Being and economical project a strict budget had to be followed.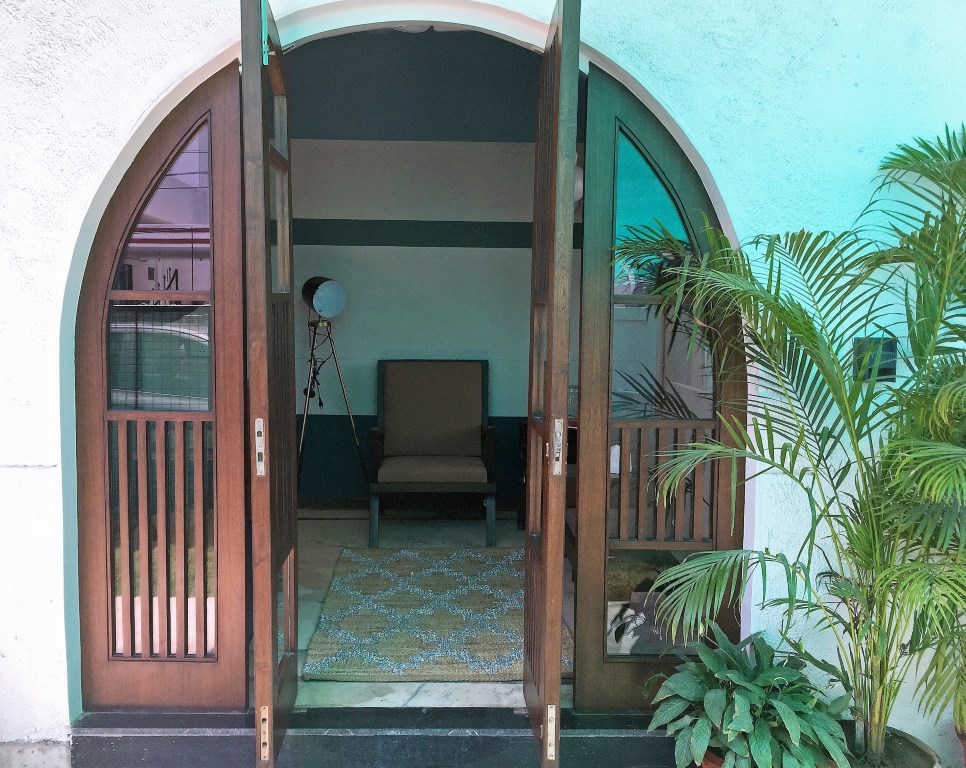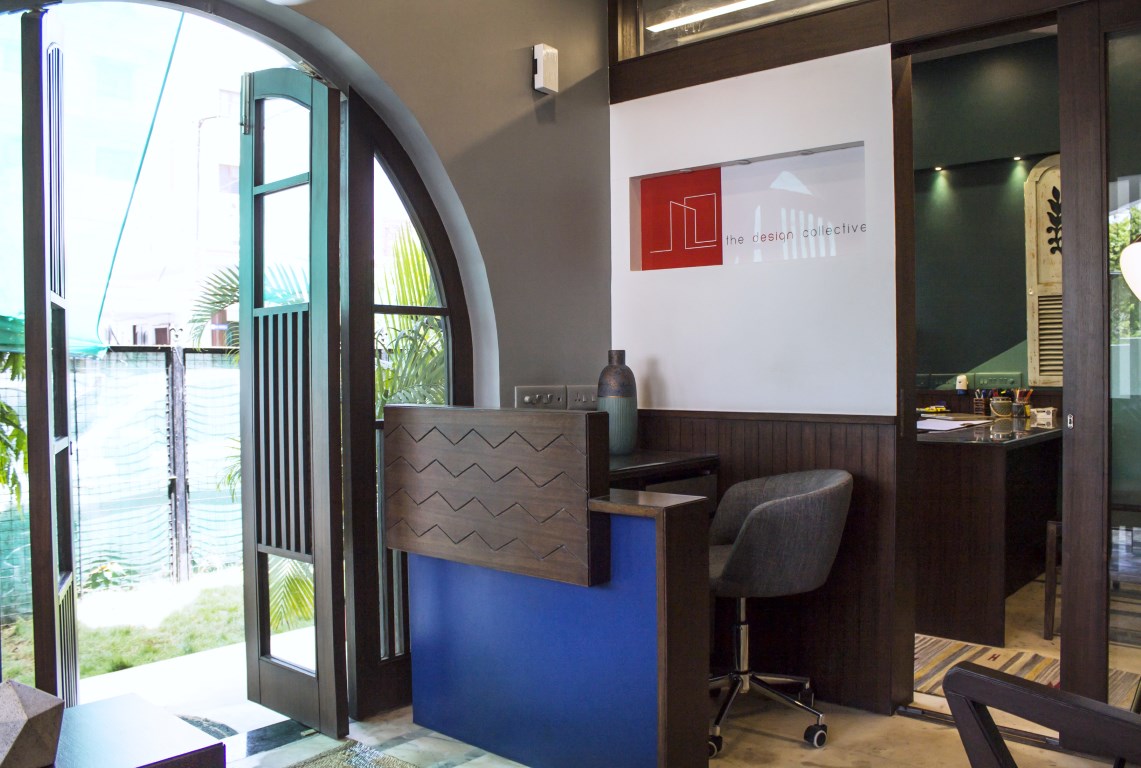 Project Details :
One of the most important aspirations in realizing this project was to create a working environment that is and extension of the people working in it. The office connects seamlessly the inner and outer spaces through revolving doors in an effort to amalgamate the two at the same time make the spaces seem bigger than they actually are. Although small, the office takes inspiration from mid-century modern office interiors and is a reflection of the work the studio indulges in.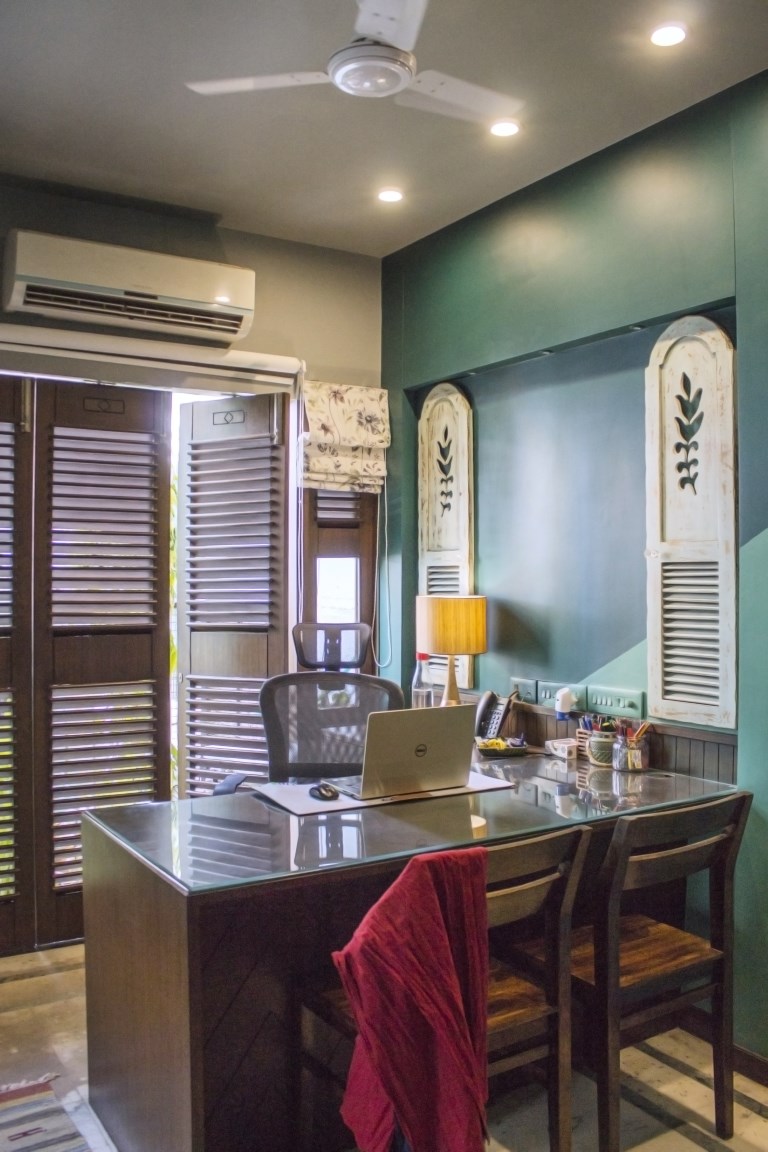 Details such as wall patterns made out of paint, intricate patterns highlighting clean and simple lines and minimal use of furniture give the office its own identity. The mid-century desk made of wood pairs perfectly with the modern chairs highlighting the bohemian pattern towards the front. The metallic table lamp adds much-needed finesse for this kind of interiors and the side wall showcases decorative paneled louvers.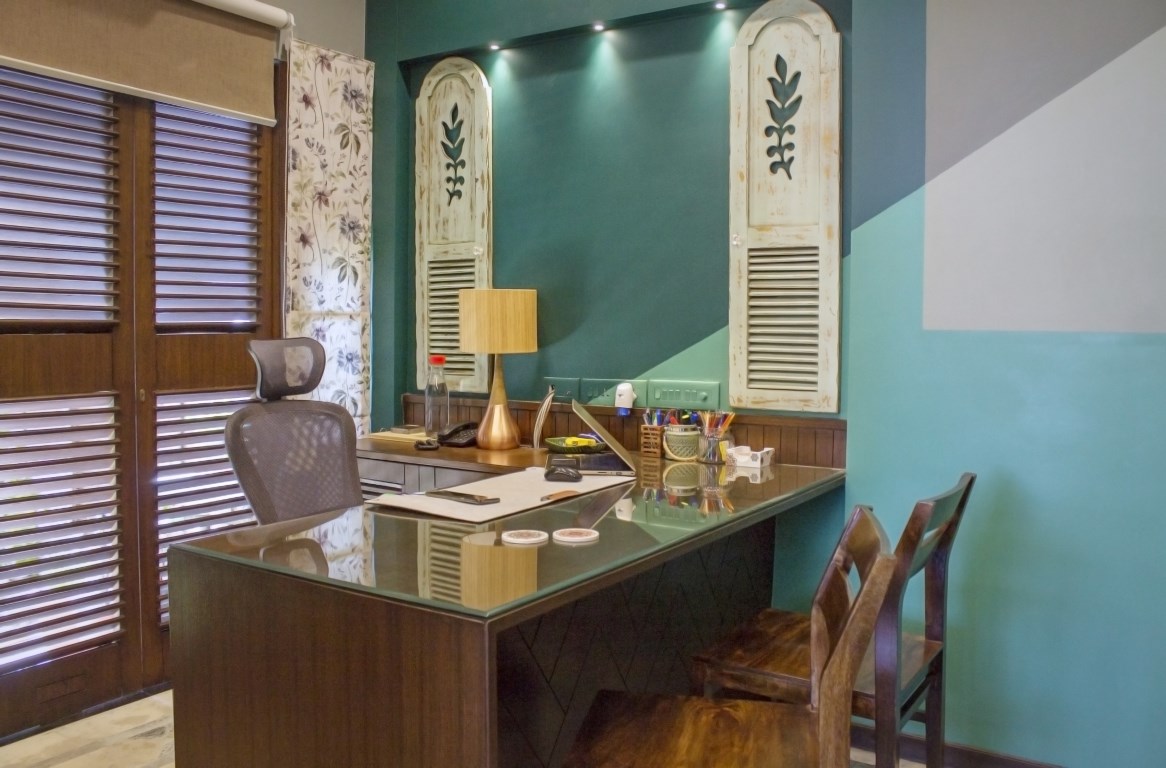 Inside, the color palette reflects the natural tones outside. Wood and light tones fill the interior accented by darker lines and, in some cases, furniture. The mid-century modern office creates a style as well as fluidity through a small but spacious plan and expansive doors & windows, ensuring natural light pours in from all angles. The treatment of openings with a mixture of glass and wooden frills as patterns that continue on to the overall characteristics of the space gives a definition to the culture it tries to reflect.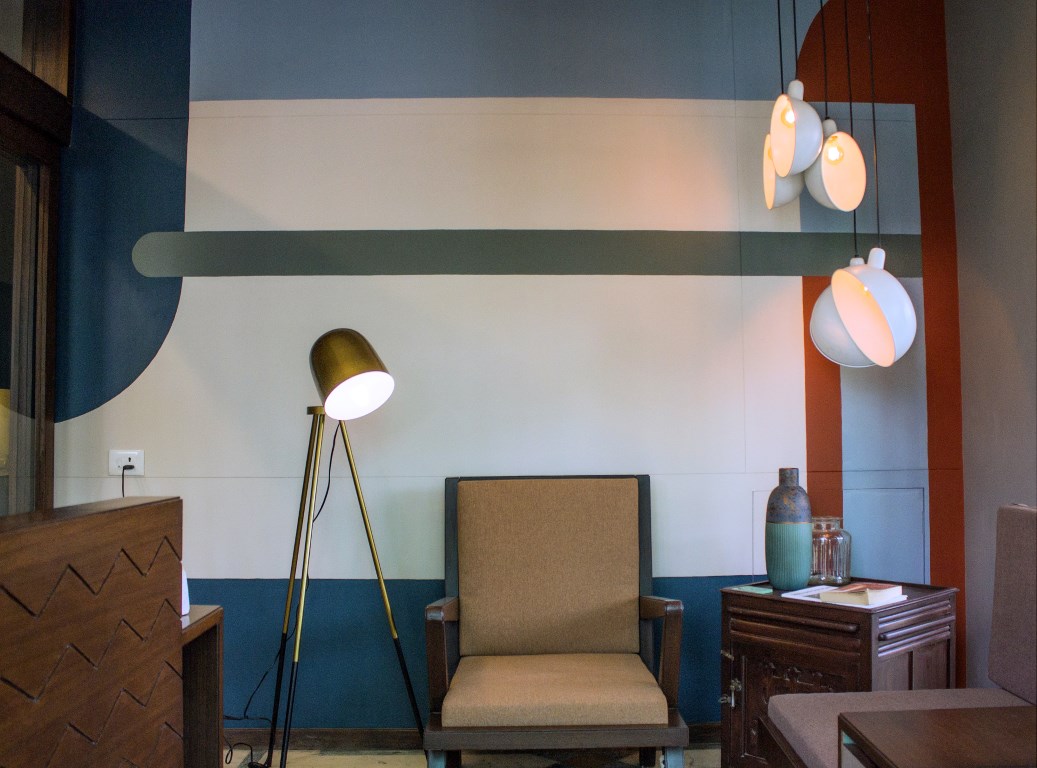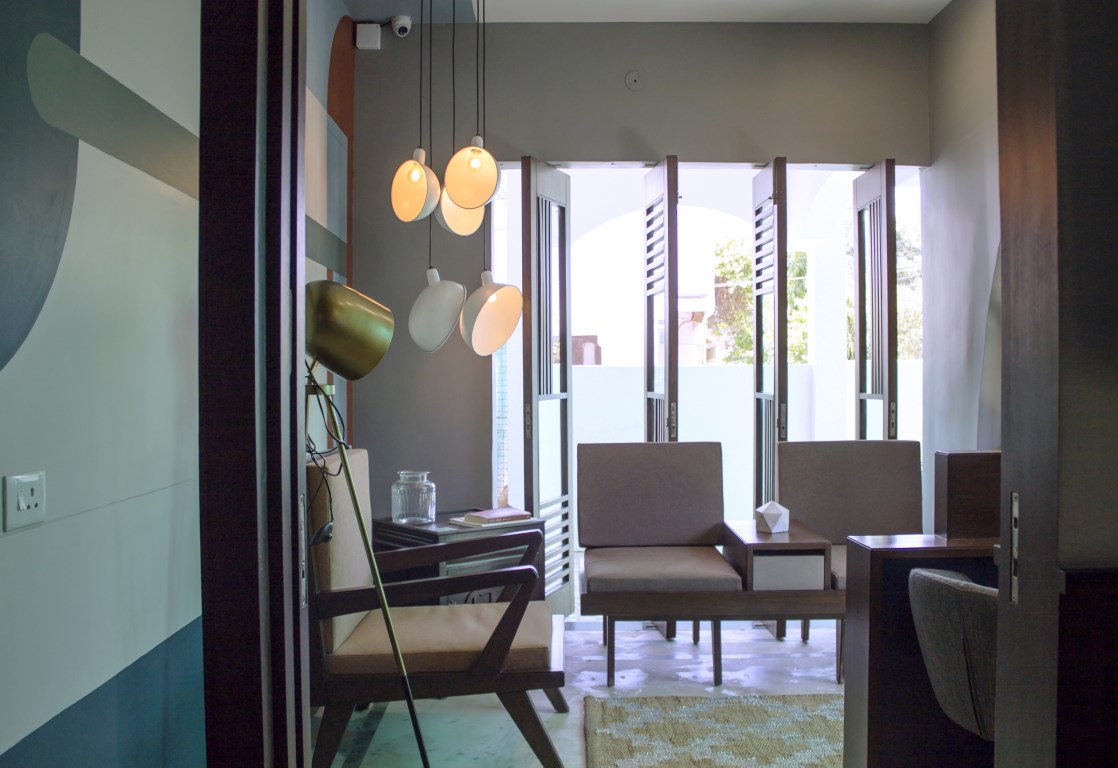 The arched entryway is emphasized by the Soho inspired suspended light. A perfect amalgamation of chic and industrial, this suspended lights adds that extra oomph to the waiting space. Directing light in all directions, the low-hanging and adjustable pendant brings exuberant light and create a euphoric environment. The style of openings as an element of the design is taken on strongly as they become the first feature a visitor experience right from the arched entry to the slender pivoted window.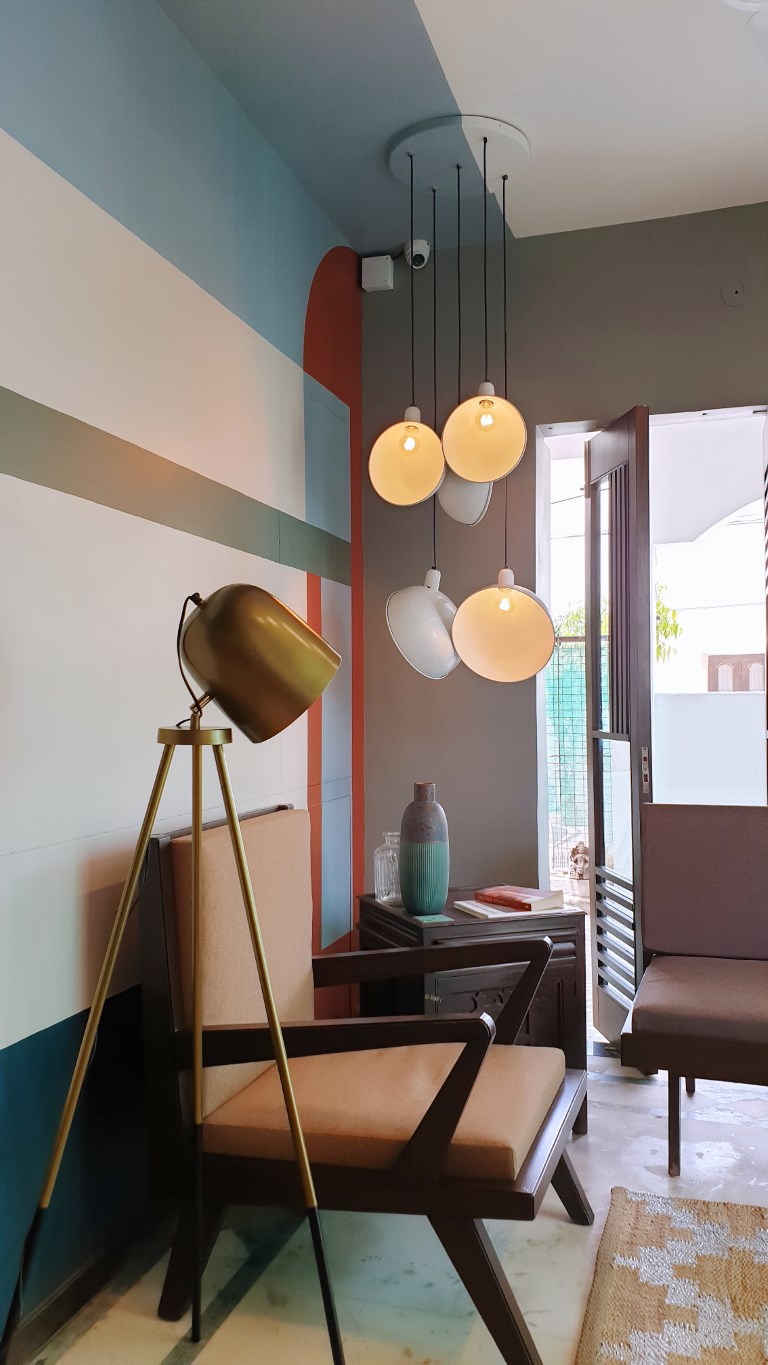 Material Used  :
Flooring: Using existing Indian marble flooring creating a rustic effect
Furniture: ply and veneer, wood for intricate details, glass, shades of polish
Walls: Wall paint for patterns of different colors, ply and veneer panels
FACT FILE:
Project: Architecture & Interior Design Studio
Principal Architect : Ar. Dev Tyagi
Firm : The Design Collective ,Indore
Completed : January 2019
Location : Indore , Madhya Pradesh
Photography : Roshni Makwana
Firm Details :
Ar. Dev Tyagi started practice back in 2017 from a small in house room. He completed his architecture from Priyadarshini Insitute of Architecture & Design Studies, Nagpur and then worked for esteemed and reputed firms like Smita & Habeeb Khan Architects, Nagpur and Hasmukh C. Patel Interior Architecture, Ahmedabad and dealt with a variety micro and macro scale projects.
His firm " The Design Collective "  was founded in 2018 and takes heavy inspiration from the mid-century modern design movement. This style emphasized creating structures with ample windows and open floor plans, with the intention of opening up interior spaces and bringing the outdoors in. Use of clean and simple lines, subtle but elegant use of colors, textures, and patterns are some of its philosophies. He is a firm believer that architecture and interior design in a definition is contextual and is true only when it acts as an extension of the people using it. Since its inception, the firm has primarily dealt in residential and commercial interior design projects providing complete design solutions.