While designing the layout of the office, we had to merge two offices into one. The heart of the office is its centralized work-station area. Designed in the combination of black and grey, with focused lighting for employees and enhanced by plantations on the sides, this area steals the show of the entire office.  For the director's cabin and the meeting room, natural light was thought to be important since the nature of the work is stressful and so it helps bring positivity. Decreasing dependency on artificial lights and focusing more on natural lights thus enhancing the office interiors. Glass partitions have been used to render a spacious look to the space.
Focusing More On Natural Lights Thus Enhancing The Office Interiors | A-SPACE
visit : A-SPACE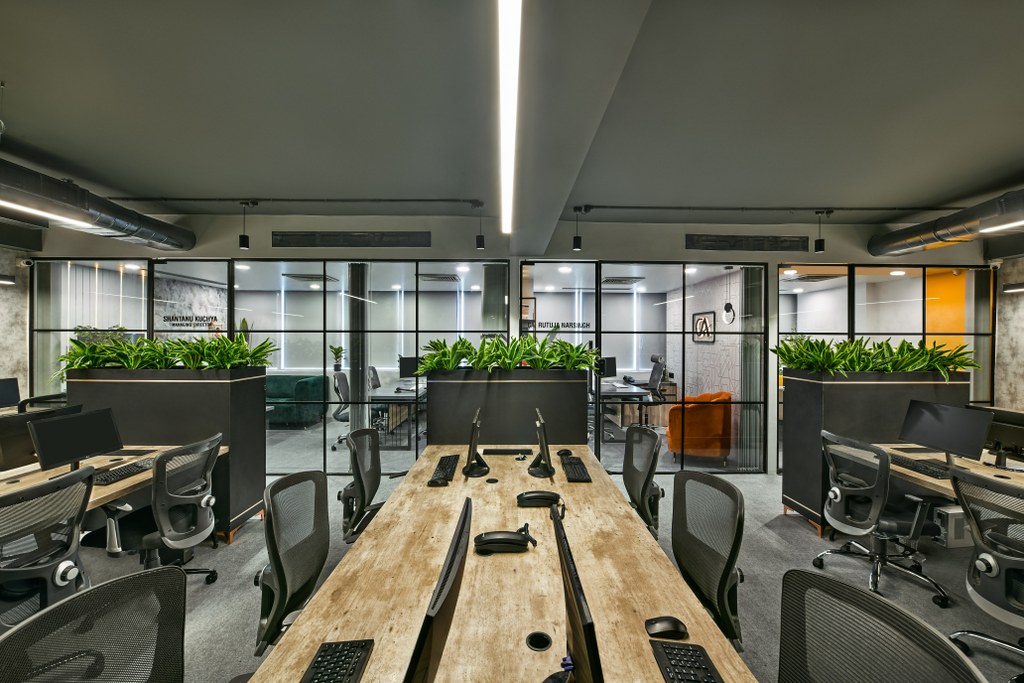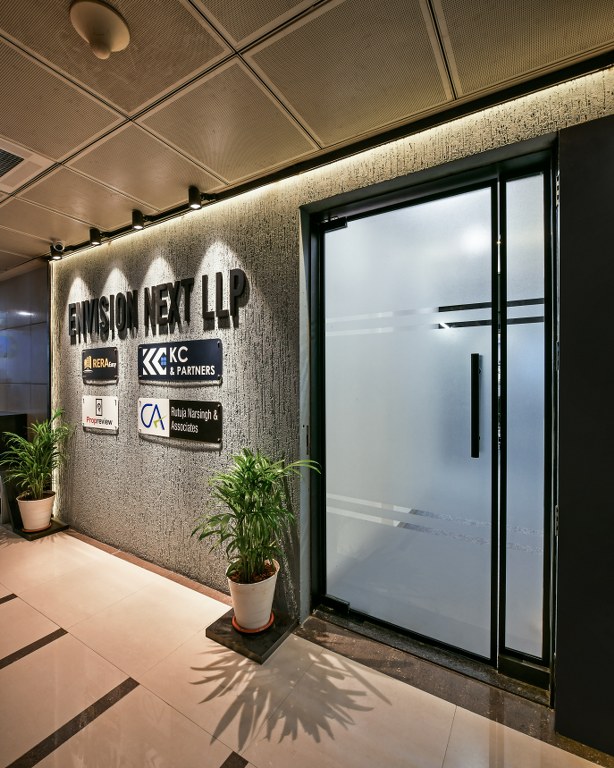 One of the most amazing areas of the office is the meeting room. Contradicting to the entire office, this area has very bright colors showcasing lots of energy. At each stage during the design process and execution, the entire team had to work one-to-one with the client in order to personalize each space.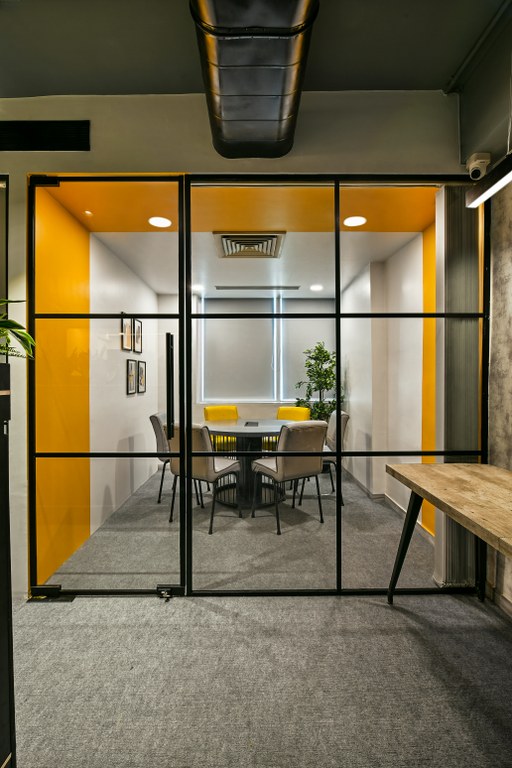 The 3 major cabins – directors cabins and the meeting room are all roadside facing, aligned together at the end of the office and separated by glass partition. Glass partitions have been used for the purpose of transparency but in case of privacy, roller blinds have also been provided.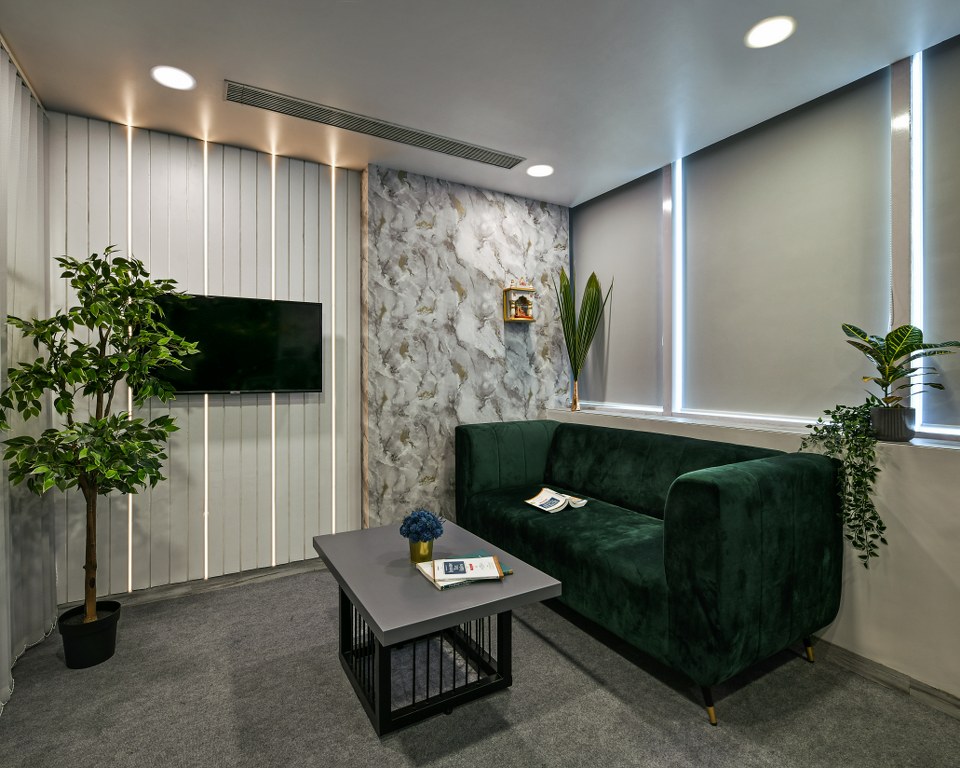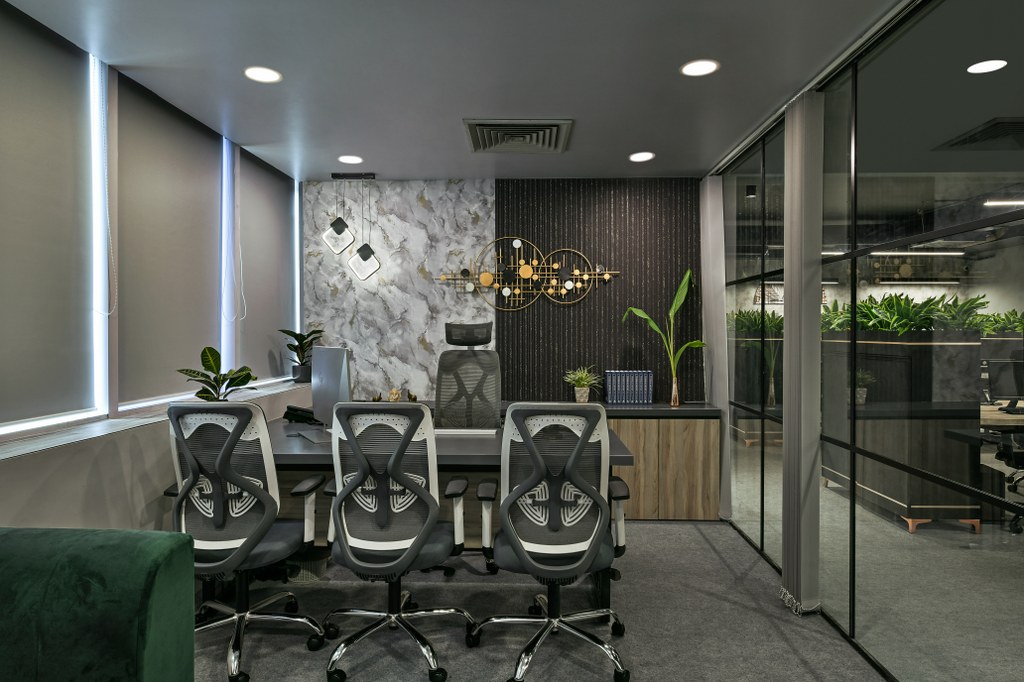 The main office table for all the directors cabin, has been crafted in plywood in combination with grey corian table top and MS fabrication. Whereas to display a very rustic feel, the workstation desk for the employees are all grey laminated table tops and black low-heighted storages with plantations on the top.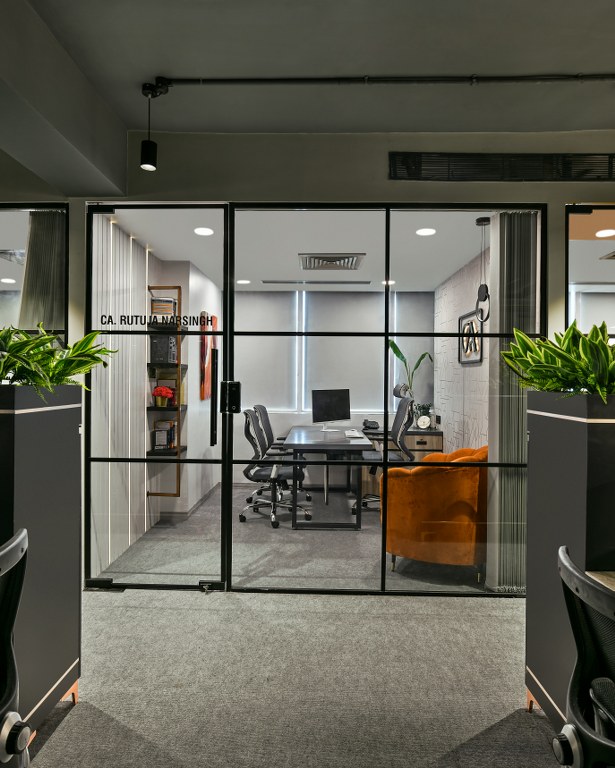 The main workstation area walls have been designed to look exactly the same. Grey wallpaper with semi-circular digital art wall-paintings have been used to decorate the wall. Very subtle colors in the entire office have been used as per the client's taste. Thick grey carpet throughout the entire office area renders the feel of oneness.
Except for the workstation area, all the other cabins have false ceiling. The workstation area has open, raw ceiling. Time was a major constraint – planning the layout, designing the interiors, the material selections and the execution, all had to be carried out at the same time. Every single agency working either on site or off site had a deadline every single day. But the major time frame was to finish in 90 days! We had the designers working round the clock in office and the workers working all day and night at the site. And yes, all was accomplished in the given time!
FACT FILE :
Designed by : A-SPACE
Project Type : Office Interiors
Project Name : ENVISION NEXT
Location : Kharghar, Navi Mumbai
Year Built : 2022
Duration of project : 3 months
Project Size : 1230 sq .ft
Project Cost : 25 lacs
Principal Architect : Ar. Devanshi Mehta
Team Design Credits : Kajal Choudhary, Pranali Mhaske & Preeti Bapna
Photograph Courtesy : Studio S P Photography
Products / Materials / Vendors : Finishes – Century /Marino Laminates/ Lighting – Syska & RM Lights Doors and Partitions – ZAM Enterprises / Furniture – On site custom designed carpentary /Flooring – Carpets by Sheetal Furnishing /Paint – Asian Royal Touch /Artefacts – IKEA and customized artifacts Wallpaper – Sheetal Furnishing /Hardware – Hettick, Hafele and Olive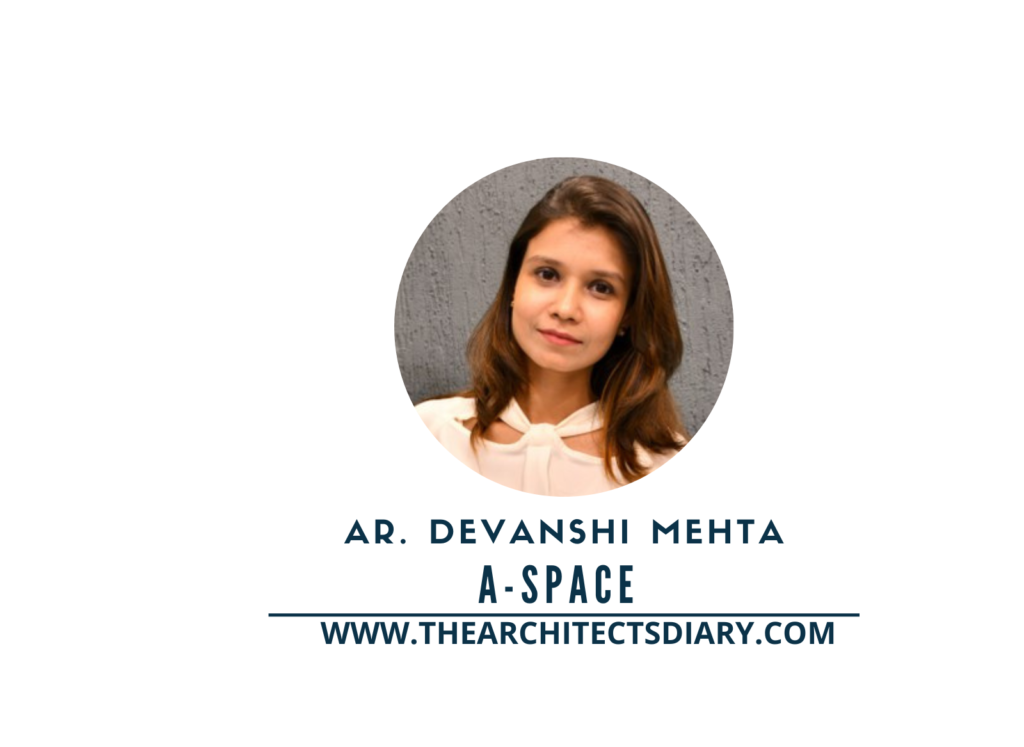 Firm's Instagram Link : A-SPACE
For Similar Project>>> OFFICE INTERIORS FOR A YOUNG DIGITAL MEDIA COMPANY GIMBAL MEDIA