&nbsp
Magnet Cowork is designed to create an interactive working and communal space for its users within a compact envelope. An industrial design space enables a collaborative learning atmosphere which further gives the Architect more scope for designing social interaction zones, here these zones are created with the help of a mezzanine and volumetric play of height.
Magnet Co-work: Dynamic Color Palette with an Industrial Design Aesthetic | Architect Suri and Associates
Visit: Architect Suri and Associates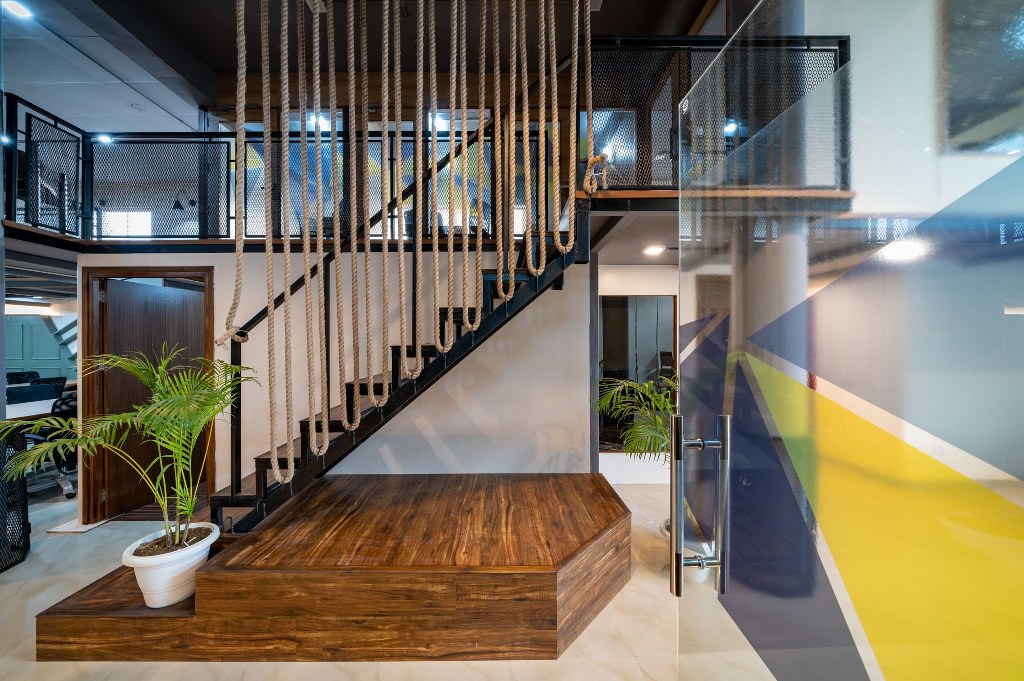 The design brief was to create a coworking space that optimizes its spacial use to maximize the retail yield and this was achieved by the blend of uniquely designed zones that cater to different occupational typologies. The concept of a magnet within a beehive which creates collaborative/ informal working areas act as social magnets that act as catalysts in productive interactions, hence the name magnet.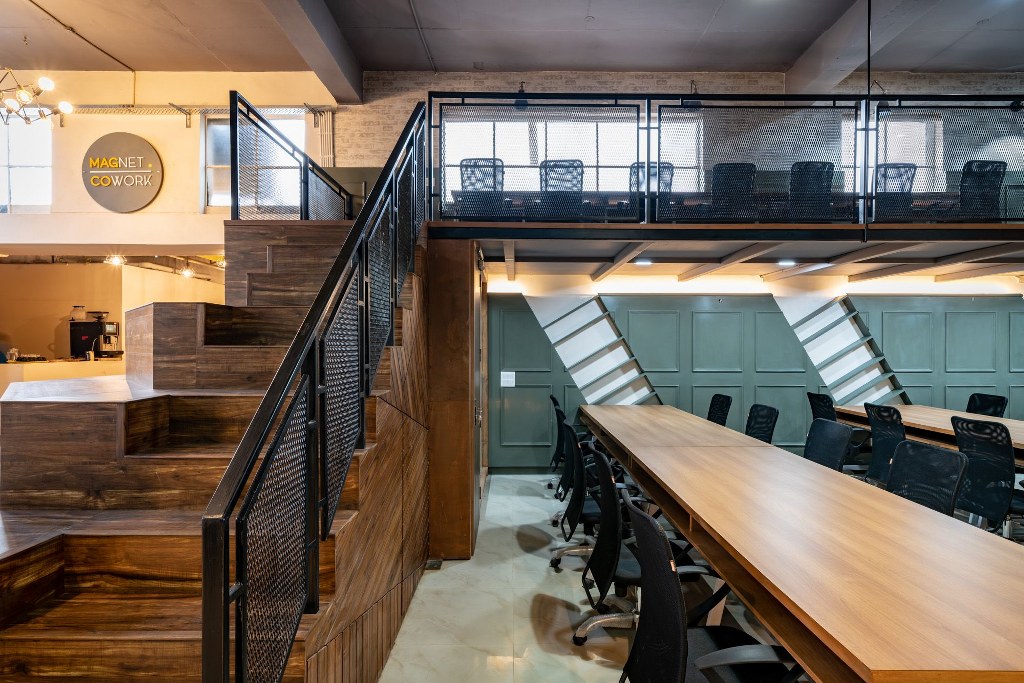 Coworking spaces like honeycombs, shall not have wasted space in or between their unit cells. The inferences can be seen in both internal aesthetic and spatial planning. The space had a seating capacity of 100 pax which was divided into 6 pax cabins, 3 pax cabins, an open workstation, social zones, and a cafe.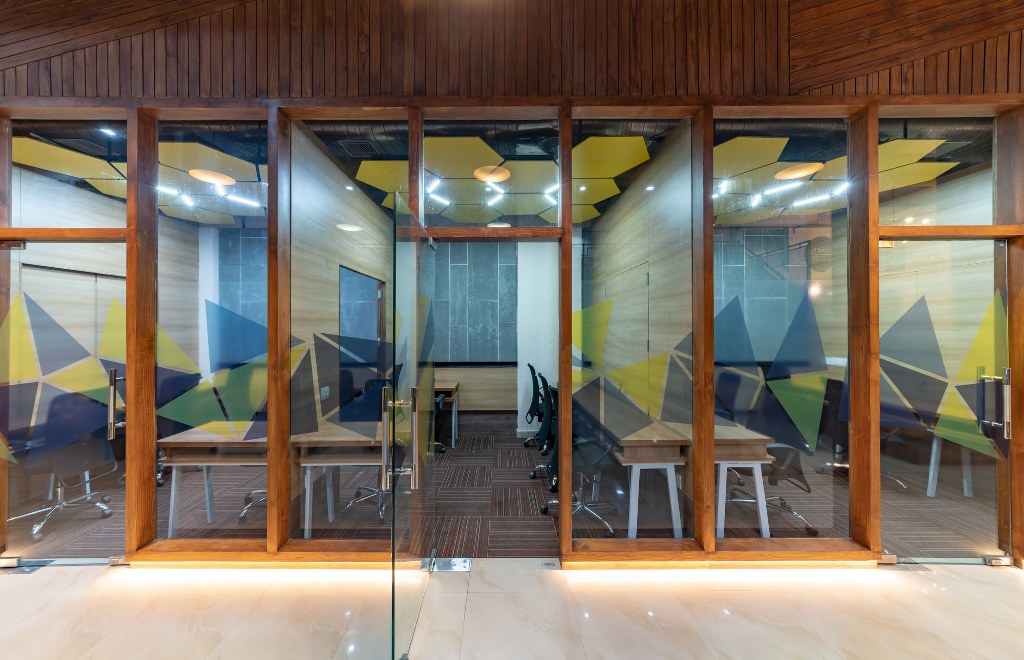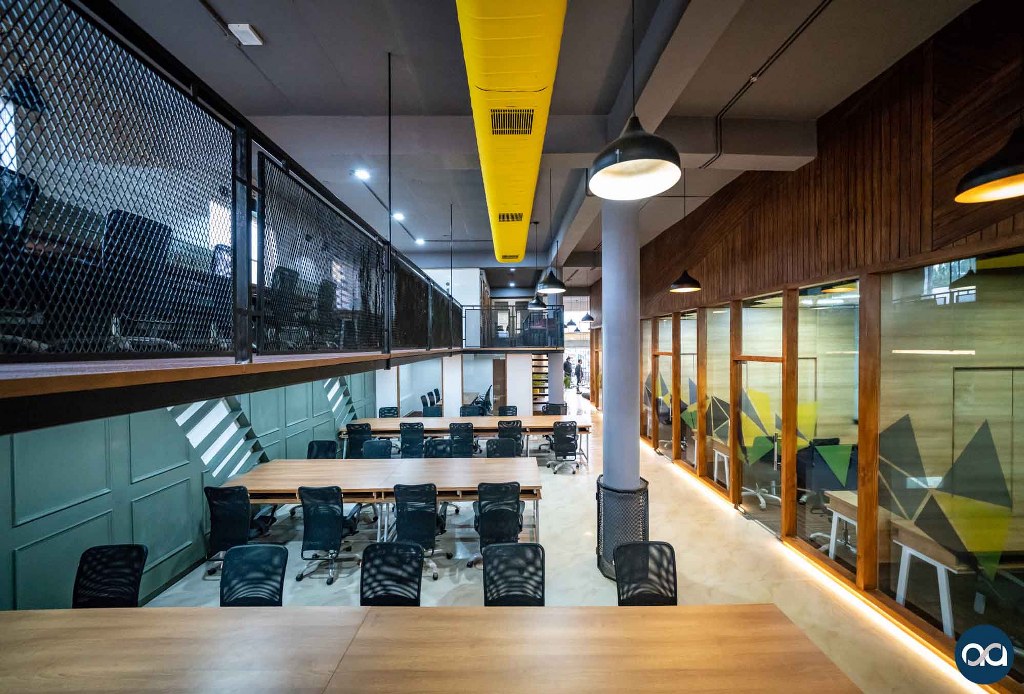 The design was focused on three parameters: color palette, material palette, and shape dynamically. The use of subtle colors, with accent splashes of colors in some zones, creates an energy within the envelope. The powerful industrial material palette of metal, wood, and glass together creates a sense of harmonious and raw aesthetic.
The shape dynamic is established by introducing a clean interior outlook, the planning has been done using rectangular volumes of varying heights together with dynamic angles that are used as interior elements.
The Floor plate has been designed to promote a collaborative aura by tantalizing zones of dynamic elements and varied volumes, with cabins, open seats, floating seats, an idea room, social steps, a play lounge, and a cafe. Cabins are formal private offices having dynamic walls and ceilings featured with a splash of colors, innovative flexible furniture solutions, and removable partition walls.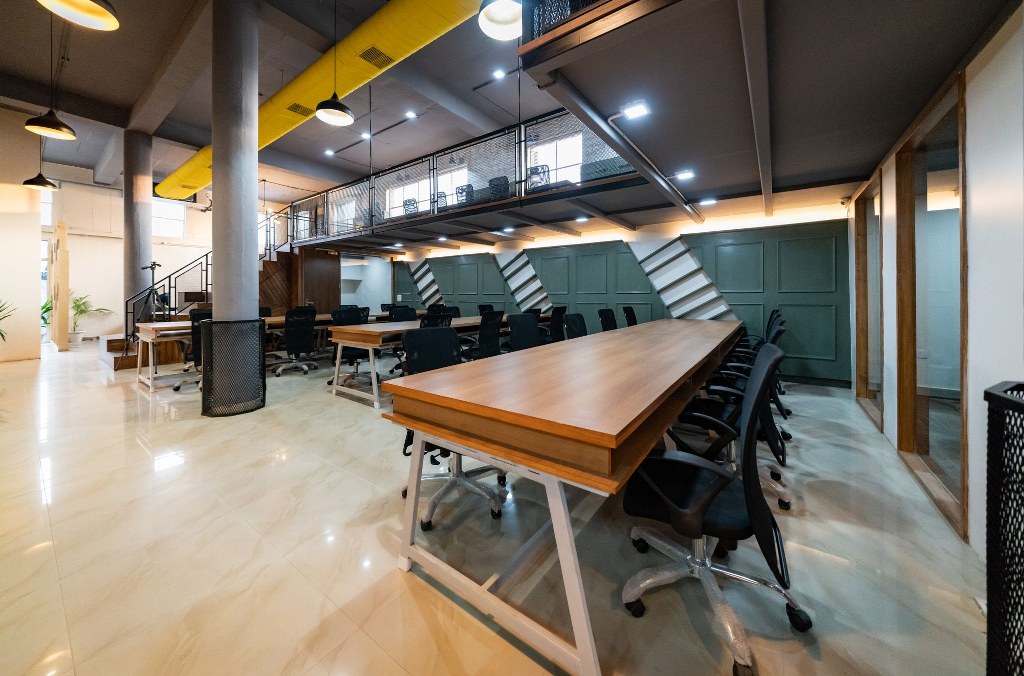 The open seats are collaborative formal working stations having industrial ceilings with exposed AC ducts and wall panels with dynamic bookshelves. The floating seats consist of cooperative informal working stations in recreational zones in-between the dedicated zone, consisting of a staircase leading to the industrial mezzanine floor. The staircase is featured as an element of sculpture with full-height jute ropes incorporated in railing design to enhance the overall aura of the coworking space.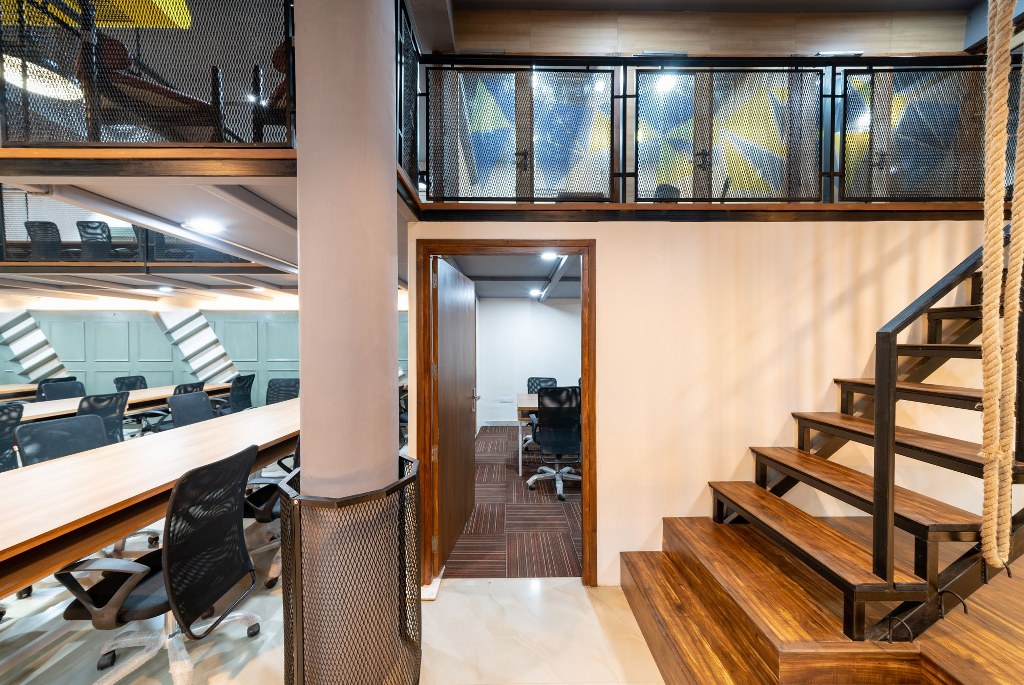 The idea room is a joint meeting room facility, with social steps which is an informal stepped seating intended to be used for discussion sessions that further establish social interaction, this is a semi-formal zone for recreational and productivity.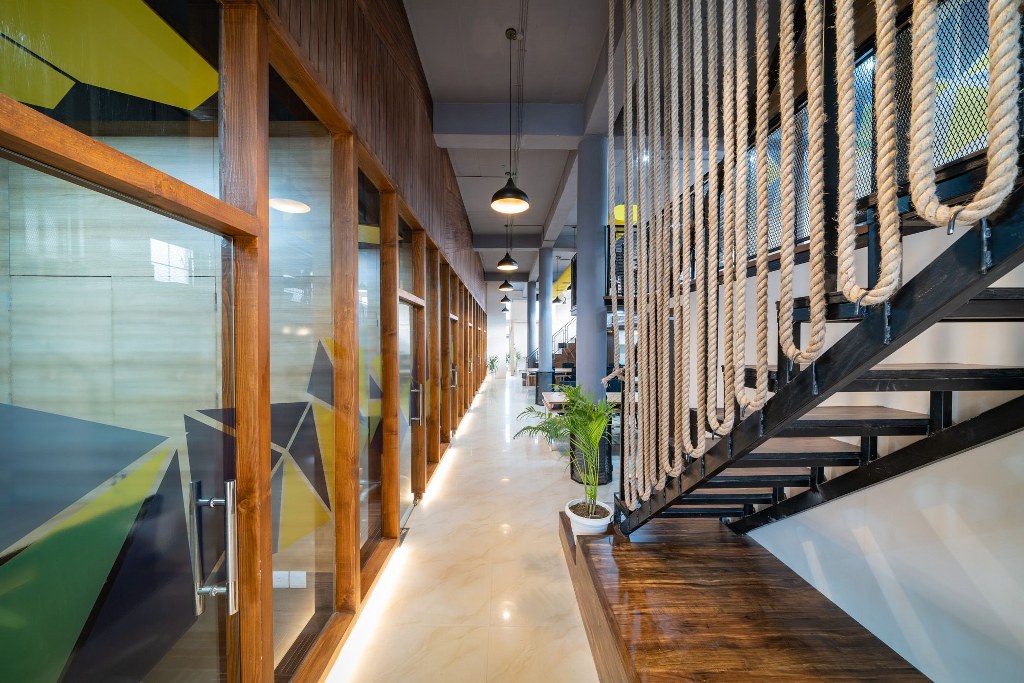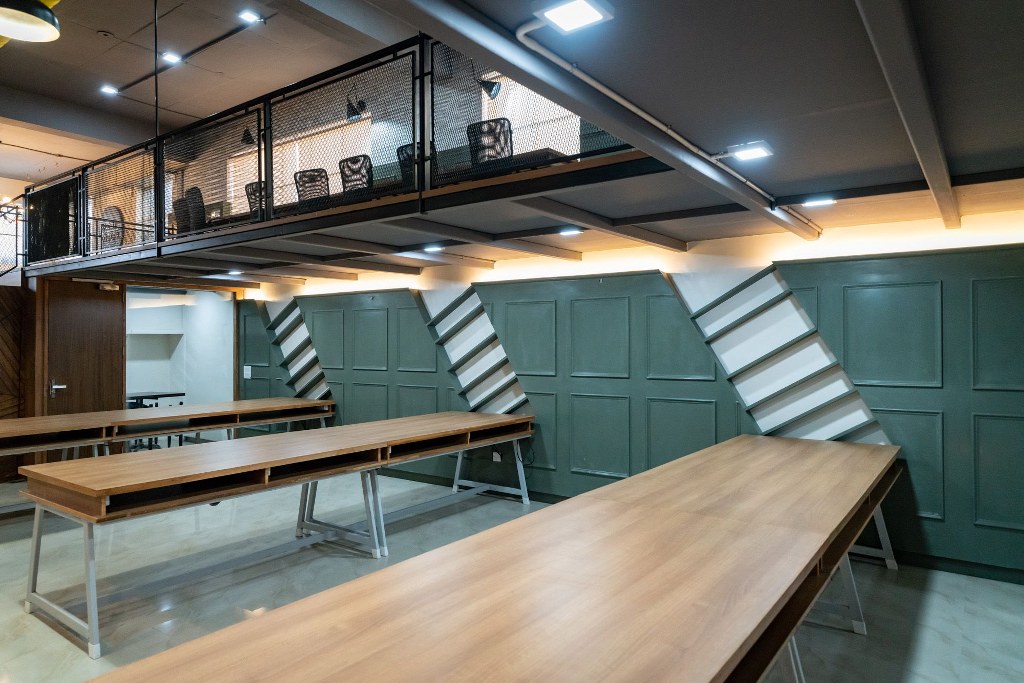 The industrial design play area has multiple features like indoor gaming facilities, innovative swing seating and a grass carpet and subtle wall paints to mimic the outdoor experience. The cafe which is a recreational or informal socializing space within the envelope has multiple features like the salvaged roof used to achieve the rust theme, wall-hung tables with electrical provision for formal discussions over coffee or tea, and unlike all other parts of the coworking facility, this space has been kept within a warm autumn palette to increase the intimate, cozy associated with dedicated recreational areas. This Magnet Cowork is a perfect example of a space where people from different professions and creative backgrounds, could collaborate to bring a change in the world we seek.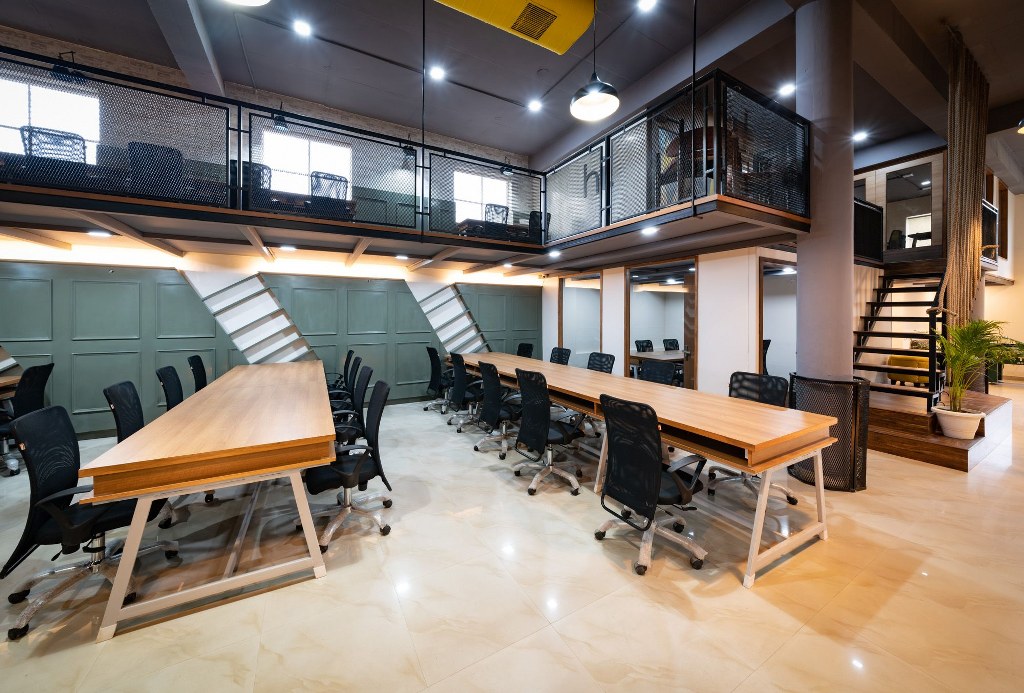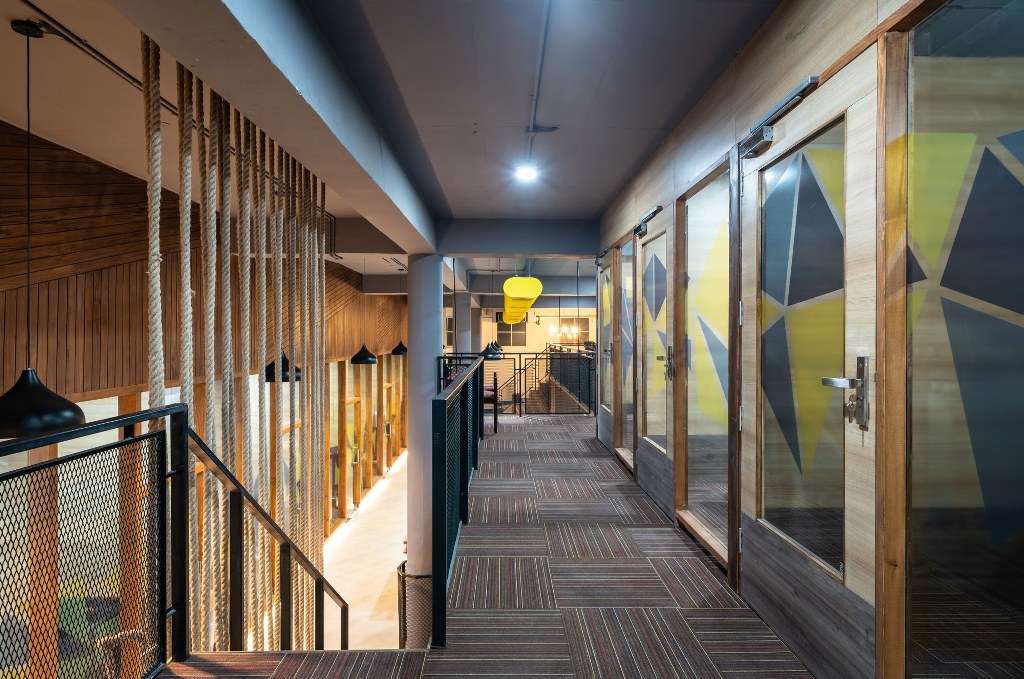 Fact File
Designed by: Architect Suri and Associates
Project Type: Office Interior Design
Project Name: Magnet Cowork
Year Built: 2019
Duration of project: 1 year
Location: Chandigarh
Project Size: 4035 Sq.ft
Project Cost Appx: 45 Lac
Principal Architect: Himanshu Suri
Team Design Credits: Priya Gupta
Photograph Courtesy: Nakul Jain
Products & Materials: Wallcovering / Cladding: cement particle board, bison board, green laminates | Construction Materials: Timber, green laminates, paint, mirage glass doors, Somani tiles | Lighting: my décor kart | Doors and Partitions: mirage glasses | Sanitaryware: jaquar | Furniture: geeken furniture | Flooring: Somani tiles | Paint: Asian paints | Hardware: Hettich
Firm's Website Link: Architect Suri and Associates
Firm's Instagram Link: Architect Suri and Associates
Firm's Facebook Link: Architect Suri and Associates
For Similar Project>>>The Luxury Canvas: Soaked in Nodes of Calm & Luxury