Landscape Design – Solar Powered Spotlights for Your Landscape
Spotlights are some of the most useful fixtures in landscape lighting. Depending on the strength of the light, they can be used for accent lighting, security lighting, or even functional lighting. With a solar spotlight you can get all the benefits of a spotlight, but with minimal frustration when you try to install it and even no cost to light it. They make a great addition to nearly any property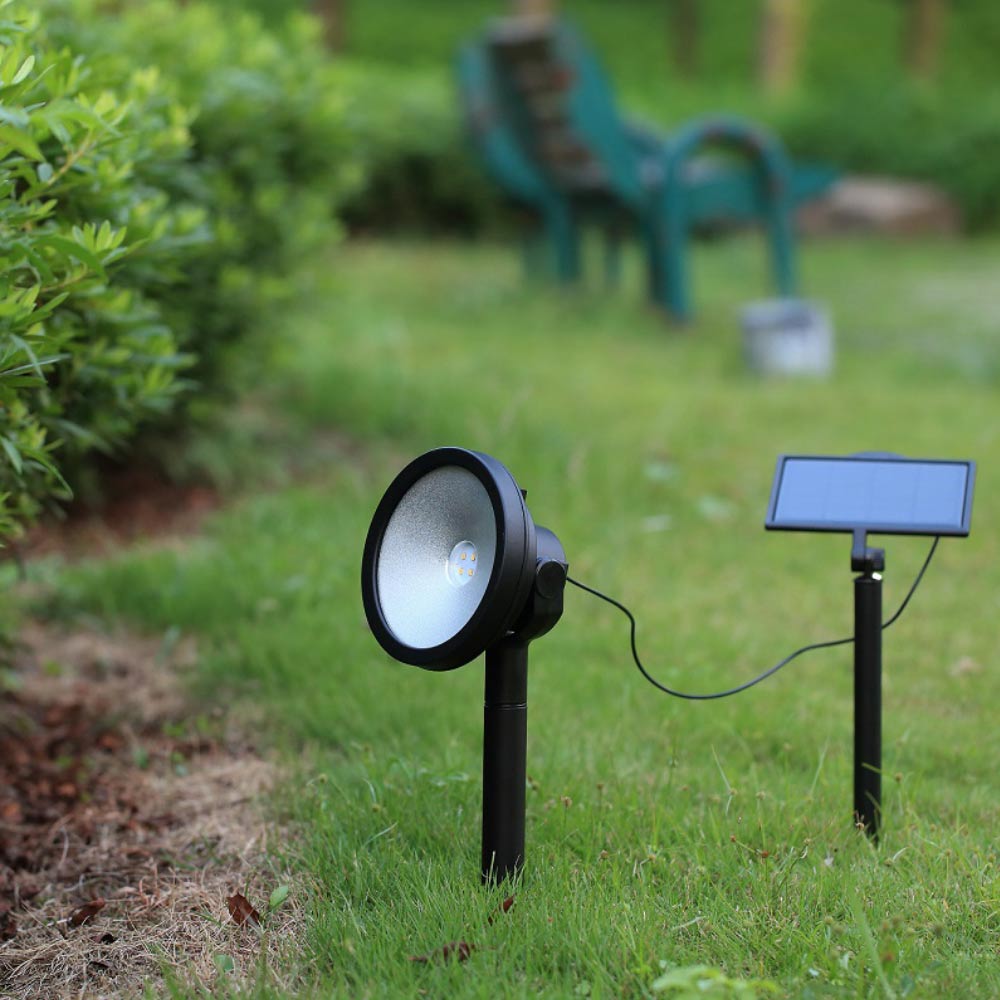 What is a Solar Spotlight?
In general, spotlights are light fixtures that cast a direct beam of light in a specific area. They can be of various strengths, so you can find them for use with tasks that need a lot of light or just for use as outdoor accent lighting. They are essentially the opposite of outdoor flood lighting, which cast a diffuse glow of light over a large area.

&nbsp
Solar powered spotlights are simply spotlights that use solar power. Each unit comes attached to a solar panel and then contains a battery inside that stores the power during the day and releases it at night. Since there are no wires, plugs, or transformers to deal with, these lights are a snap to install and don't draw any power from your home. All that they need is access to direct sunlight and they will shine for you all night long.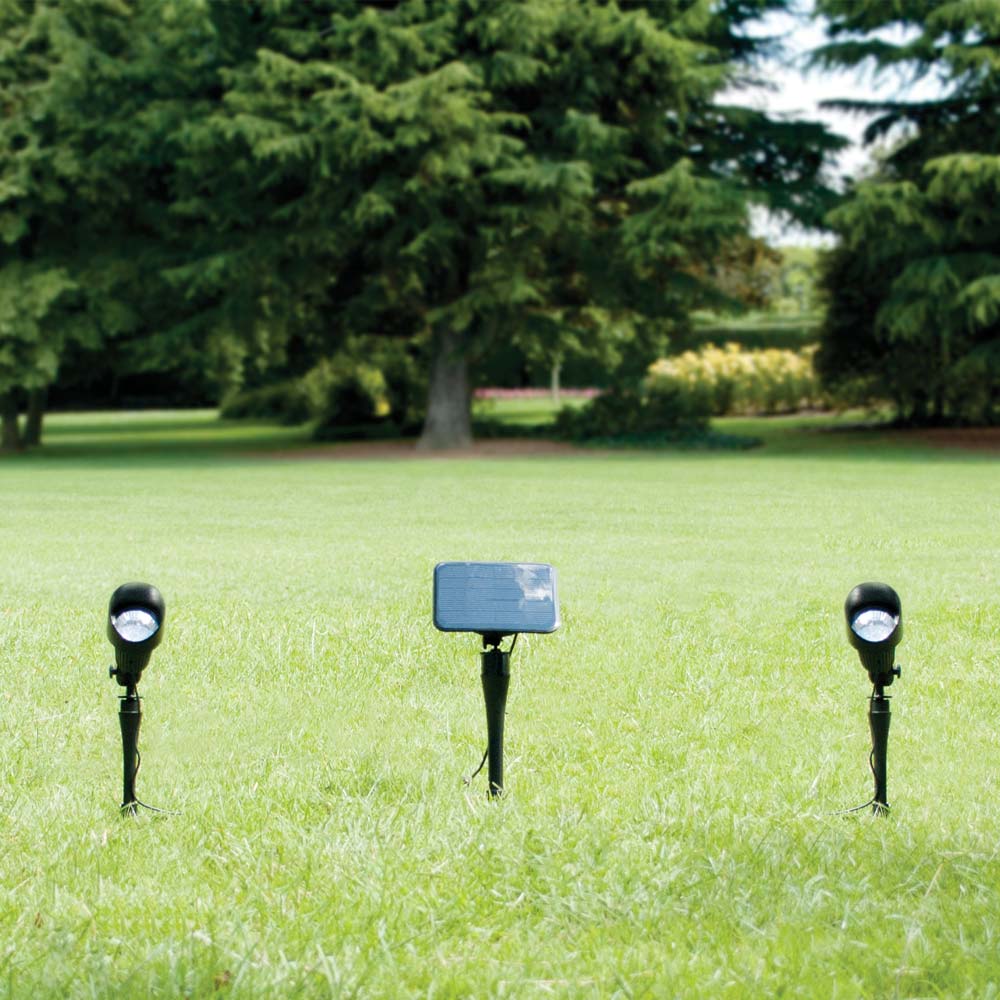 Picking Out a Solar Powered Spotlight
There are a few things that you should look for when you're shopping for solar spotlights. The first number that you need to look at is the number of LEDs that the light has.  The more LEDs, the brighter the light will be. Usually, about 18 LEDs is good for security lighting and as you get less and less the spotlights will be used for accent lighting. The rating for the light in terms of lux or lumens can also help to guide you to choose a light of the right brightness. If your spotlights come with a motion sensor you can also use them as part of your security lighting or motion sensor outdoor lighting.
The major downside of using solar-powered lights as spotlights is that unless you buy a quality light, such as those offered from Hampton Bay Outdoor Lighting, the lights will be dim compared to similar low voltage light. This is fine if you are planning on using your light for accent lighting, but for other uses you will want a more quality light. One of the biggest factors in this is the quality of the battery.  Low-quality batteries won't hold as much electricity and won't be able to provide the power that you need.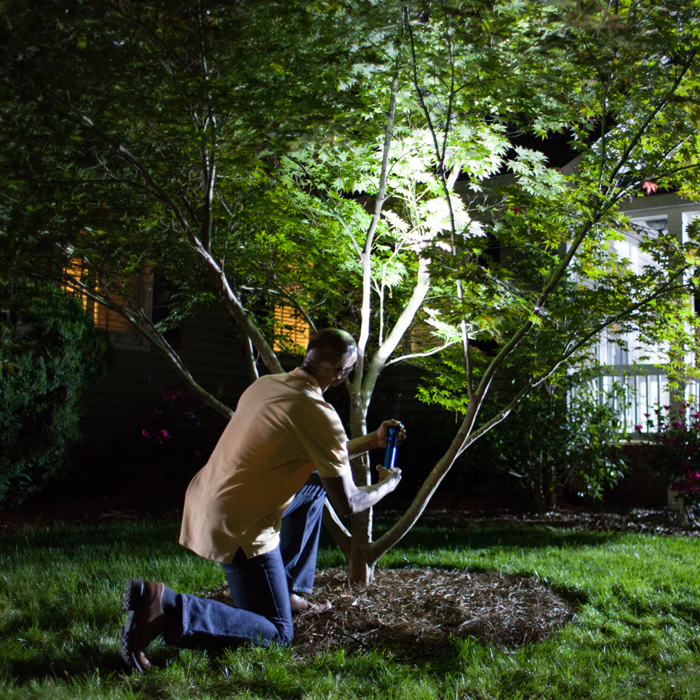 Installing Solar Spotlights
Installing solar powered lights is a snap. The hardest part is actually deciding where you want to place the light! IF you are going to be using the light for accent lighting, it should highlight an interesting area on your landscape, like a tall tree, pond, fountain, or flowerbed. Make sure you choose a spot for the light that allows it to shine a beam direction on the feature you want to target and nowhere else. If you plan on using the light for security lighting, place them near the entryways to your home.
Once you've picked a spot, you have to make sure that it is the right spot for your light.  Ask yourself the following questions:
Is the light fixture out of the way of everything? This includes paths where people walk and areas you need to mow.
Is the light going to get several hours of direct sunlight each day?
Does the light detract from the rest of its surrounding?
If the answer to any of these questions is no, you need to reevaluate where you are going to place your light.
Once you've found the perfect spot for your light, the hard part is over. Now you just have to stake the light into the ground or mount it on the wall, wait a day for the batteries to charge and presto!  You've just installed your first outdoor solar spotlight.
Spotlights are incredibly versatile and are a great addition to your existing outdoor garden lights. You can put them to use as accent lights, security lights, and even functional lights. Now with solar powered lights you won't have to even spend any time installing these amazing lights.

&nbsp