&nbsp
Kake di Hatti-Dhaba Style Restaurant Interior | Amogh Archidesign
Kake di Hatti is an authentic Punjabi fine-dine restaurant. Being first outlet as fine –dine and holding legacy of decades, for us it was like painting blank canvas with its rich history. Word "Punjabi" instantly reminds us of dhaba style or a flamboyance visuals. But we decided to defy stereotype image of Punjabi fine- dine. Instead we chose to have an approach which is more intangible and make space speak for itself.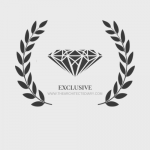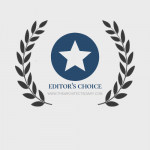 As you enter, you are welcomed by the elegant arch portals which takes you to a completely different place, where you are about to experience the taste –you never had before. Composition and texture of the place dates back you to the olden times of Chandni Chowk where over all ambience maintains balance between past and present.
Design is a constant process of evolution. Each project is unique in itself and requires a holistic approach as it reflects the character of its occupants and functions held there. KDH -Ahmedabad is spread across 2300 sq ft. area which can accommodate up to 75 guests at a time. We had a time frame of 8 weeks to design and execute the project, which made it even more exciting and challenging.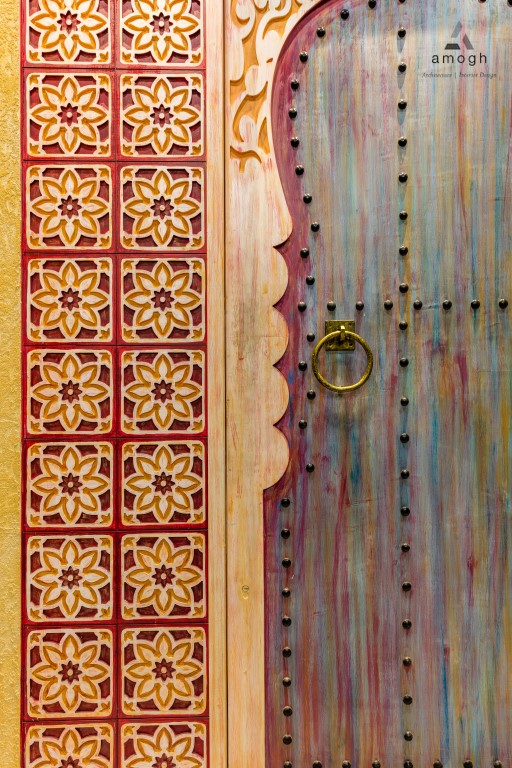 A vibrant colour door with geometric outline stands still to take you for a journey. As you step inside, an alley of round arches welcomes you. Vintage wooden frames hanged on Wall of Fame on right side of entry, displays the legacy of restaurant.
As wall screens the dine area, it builds a sense of curiosity in customer's eyes making him urge to peek inside. Natural wooden floating ceiling complementing arch structure in the alley guides you to Reception desk. Multiple rustic colour arches on the reception wall gives 4th dimension to the waiting area. Copper chandelier made in house is eye catching.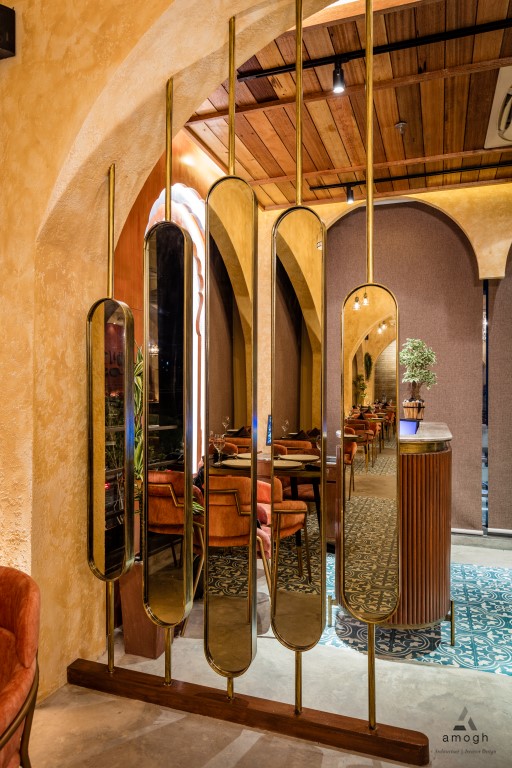 As we move further along with the scale, character of space also changes. Series of brass frame mirrors used in bifurcation of space magnifies the elegance. A brush of handmade tile in between seamless concrete flooring breaks the monotonous character of space just like the pinch of spice in food.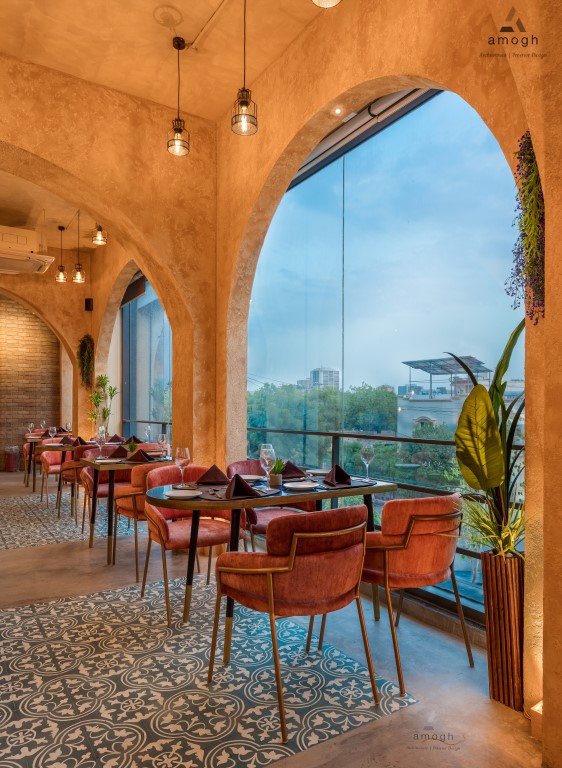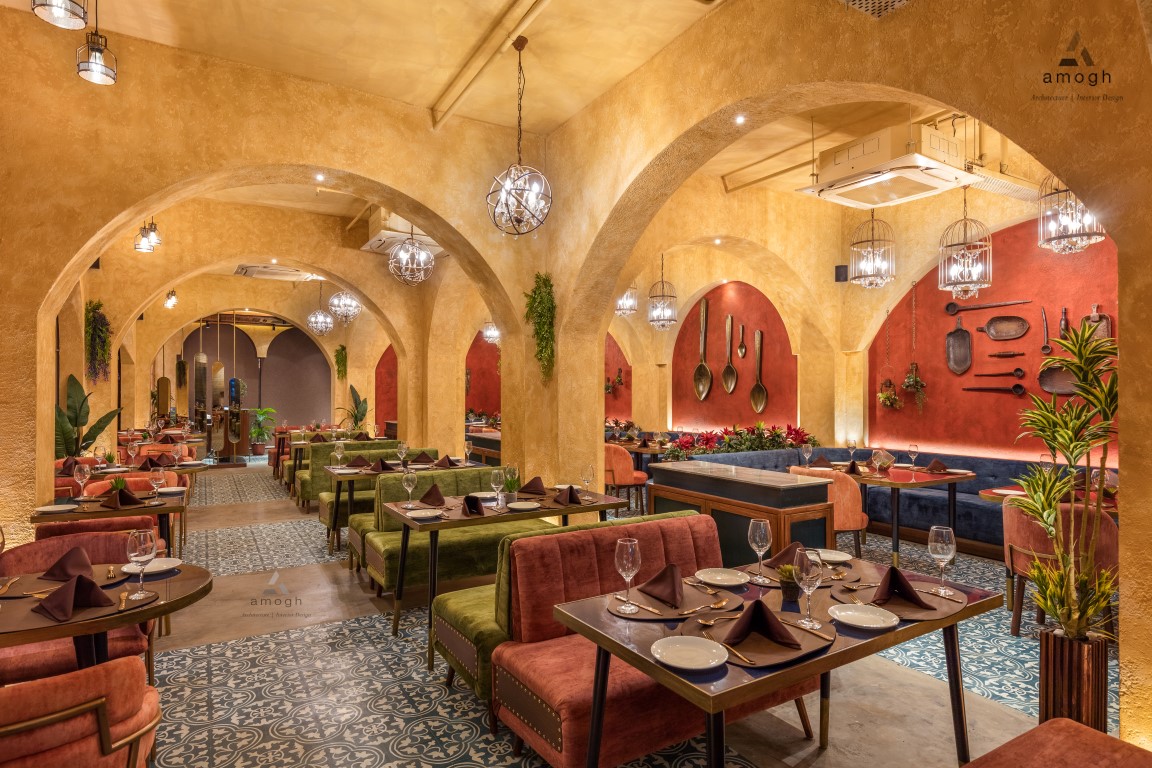 A cosy fine dine area with back drop of rustic tone arch, elegant Pinjara chandelier with soft light and salmon couch creates a perfect ambience for diners to enjoy their food. Centre arch wall is accentuated with an unusual brass mural of spoons varying in scale. Rustic brick wall framing live tandoor area is adding life to the space.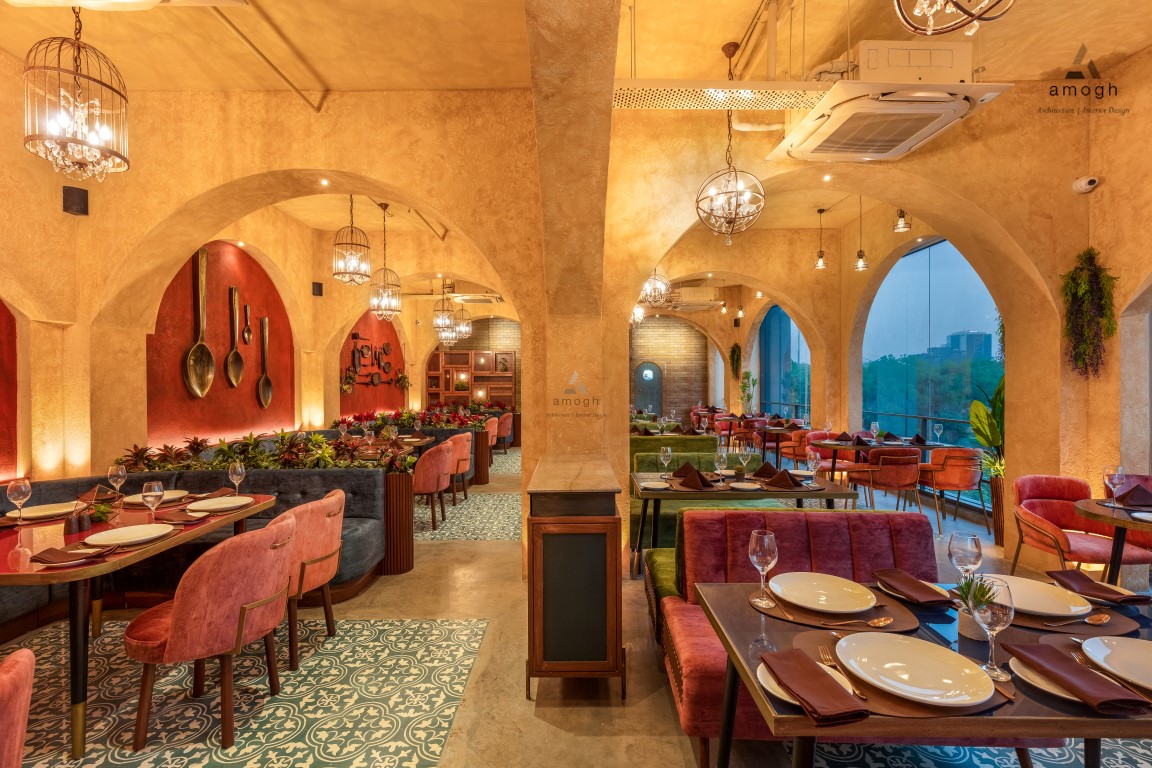 Wooden jaalil frame like partition is not only designed to serve the purpose but also acts as an element. Rustic table pieces are specially designed to demarcate a line between arches as well as for storage. Overall dining layout is divided by round arches breeding seclusion to the diners.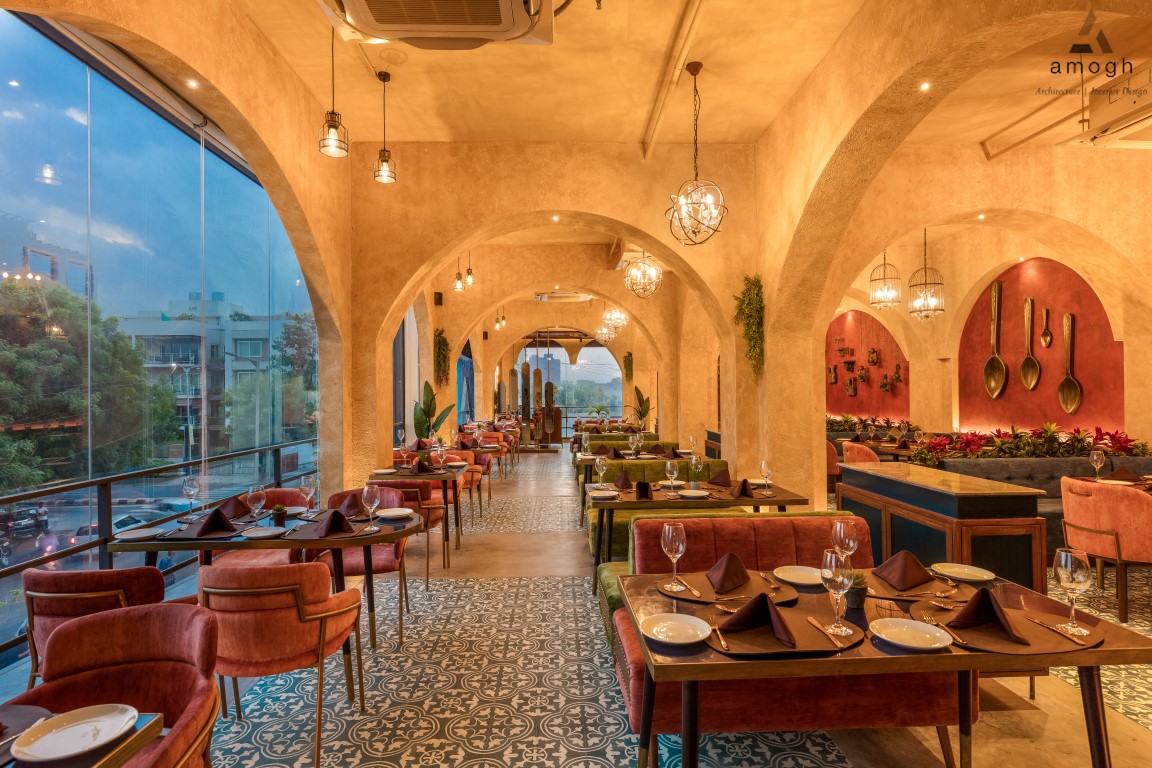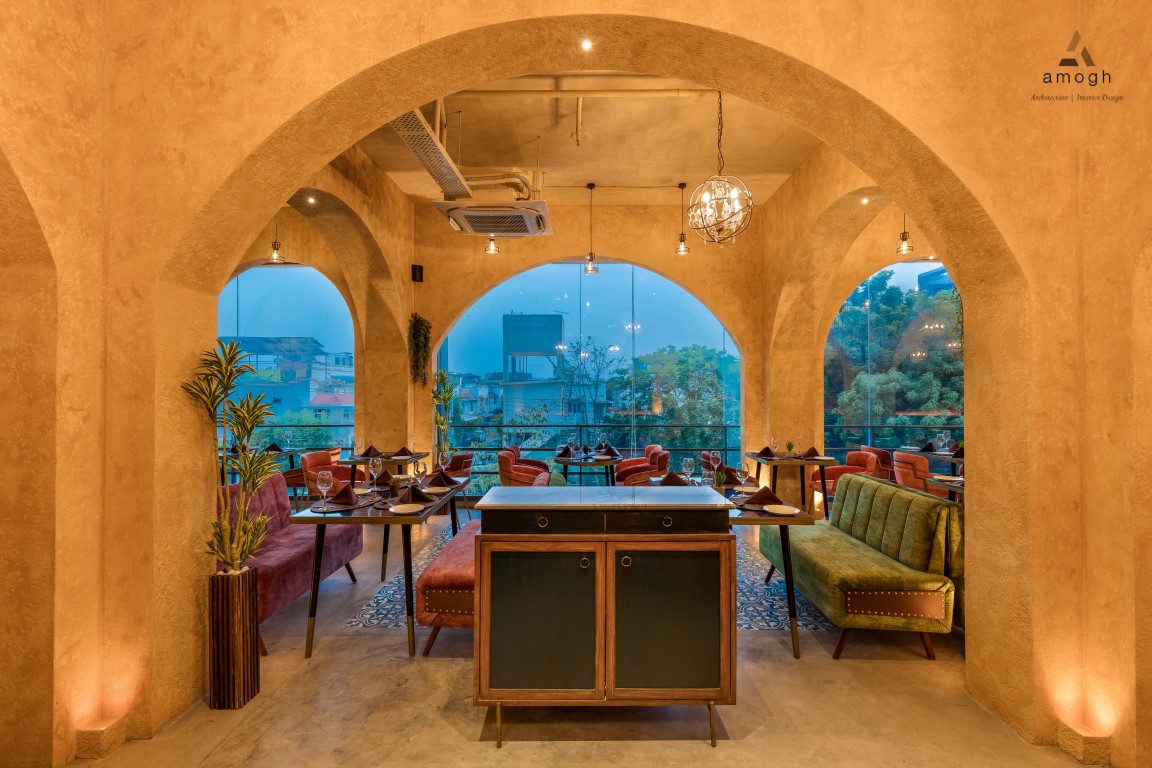 Most difficult task for us while designing was not to create unessential banalism in design process. Most of the murals, chandelier and texture are customized as per the demand of design. The 8 weeks' timeline quantifies the magnitude of brainstorming and workforce. But as said 'ALL THAT'S WELL ENDS WELL' as it turned out, was an iconic space created in the heart of the food city Ahmedabad.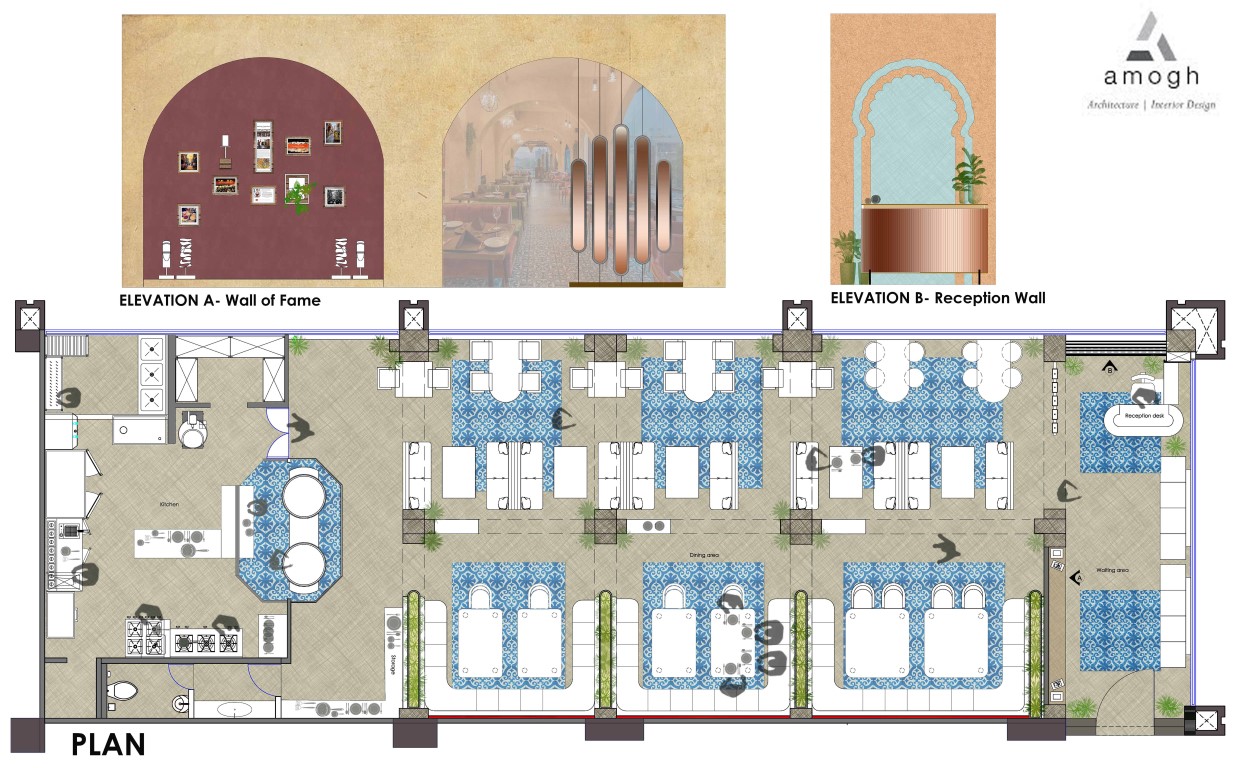 FACT FILE:
Location: Ahmedabad, Gujarat
Completion: 10-June-2019
Type of project – Restaurant Interior
Area – 2300Sqft
Studio – Amogh Archidesign
Photographer – Inclined Studio