&nbsp
Nestled in a bucolic setting with bespoke plantations, this residence ceases your heart at the sight of the waterbody, enabling you to disconnect from the worldly complexities while you engage with your inner self, lounging on the poly bench lighting itself from within. True to its inspiration of Origami, a form of Japanese design the waterbody makes for a state of Zen while you saunter along the walking trail adjacent to it. This idyllic mélange of greenscape, waterbody and skylight is certain to keep you in landscape mode. ~Yamini Vaswani
Japanese Design Sensibilities Unifies with Indian Sensitivities in this Origami Inspired Residential Landscape | Kiasma Landscapes
Visit: Kiasma Landscapes
"Every plant has its fitness and must be placed in its proper surroundings so as to bring out its full beauty. Therein lies the art of landscaping" – Jens Jensen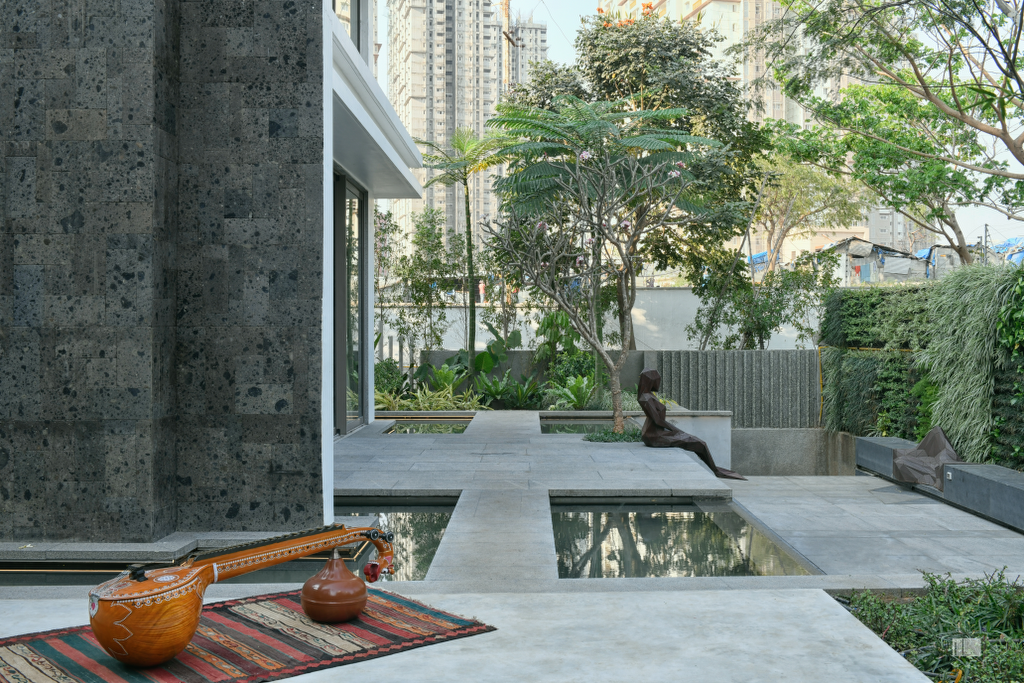 Built for a chic couple, the Origami House is the epitome of living space for those with an active lifestyle. Obviously bespoke in its architecture, the landscape design also communicates the concept of origami beautifully to the onlooker.
With customized metal seating areas and bar counters amidst the plantations, this contemporary landscape emanates with a water body that besieges the space allowing the owners to disengage from the mayhem around.
The metal benches and built-in coasters that light up for the perfect ambiance are elements through which we aspired to amplify the functionality of the space. A tropical planting palette has been used all over the house to create a viridescent environment.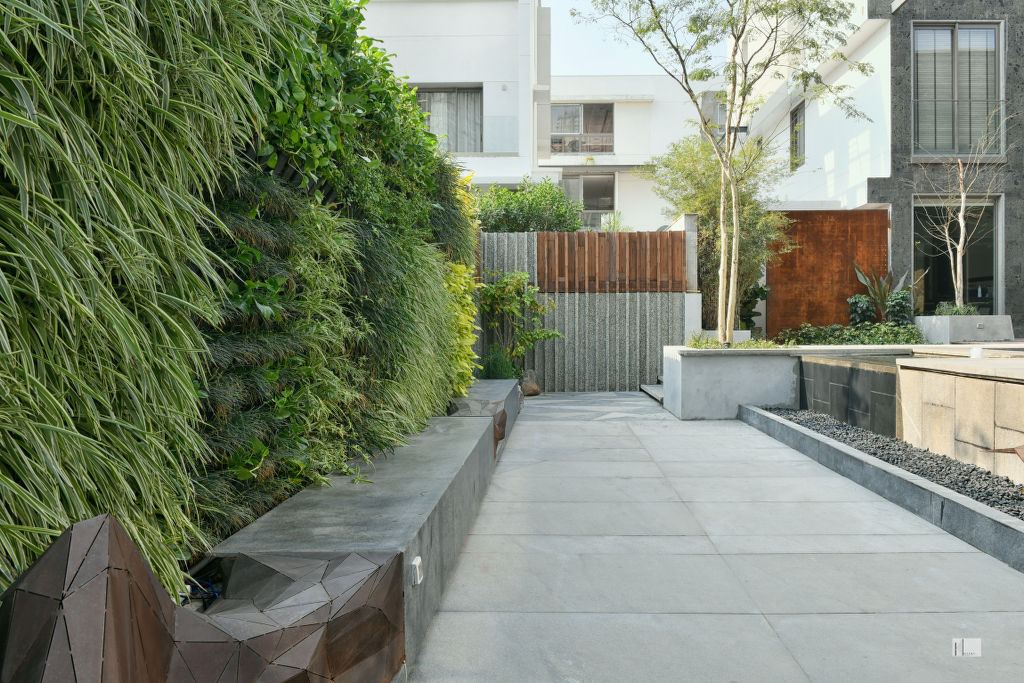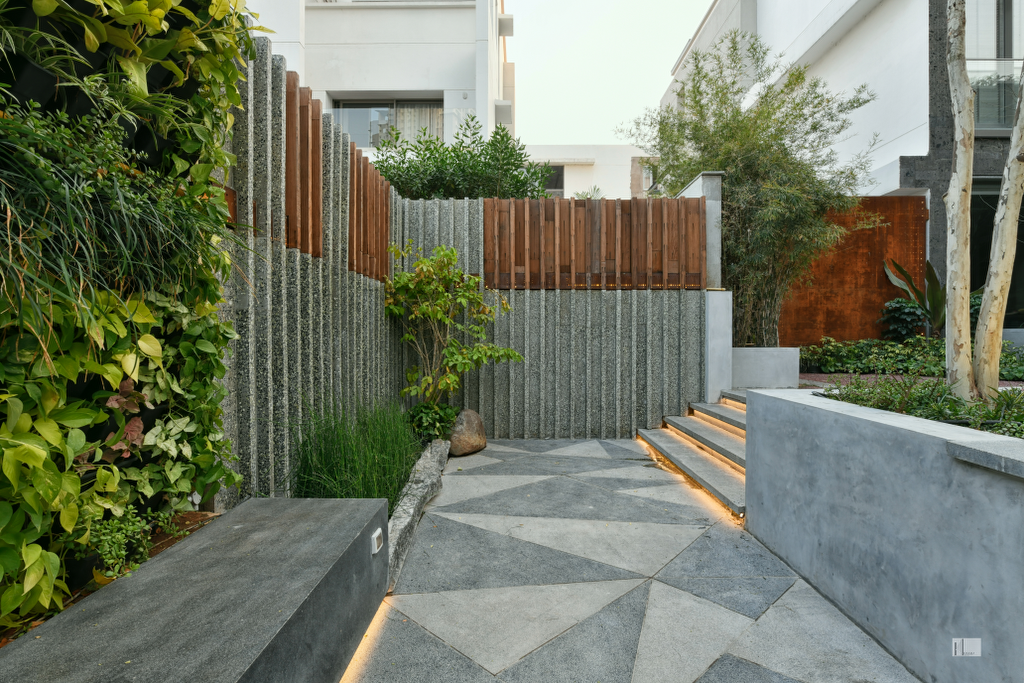 THE COURTYARD
Adding real vintage and calming quality to the space, warm wooden flooring pattern with the concrete planters highlight to form coherent and stylish open space. This weaves seamless communication between the various programmatic spaces of the built environment with its materials and artifacts where nature and time will mark their story upon.
The touch of a traditional edge to a modern courtyard makes space much more compelling. The courtyard sets the stage for a hint of elegant drama with our custom-crafted functional concrete planter along with installations of low poly human sculptures, infusing humor and zest into the landscape. Nevertheless, the wall cladding with Bulgari stone adds the perfect backdrop for the low poly sculpture.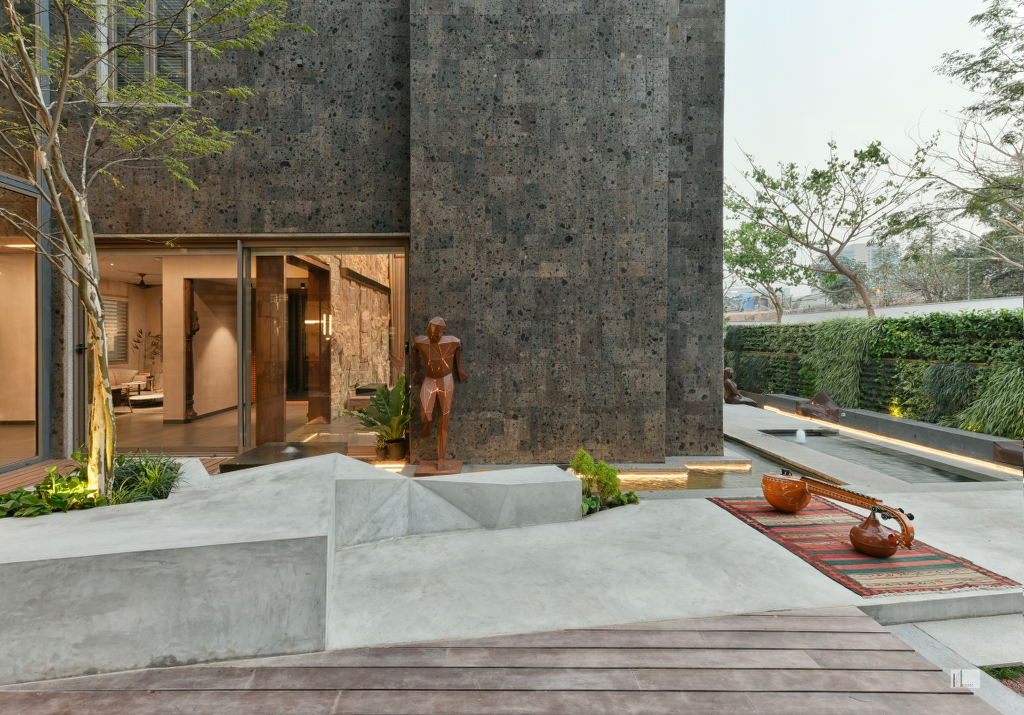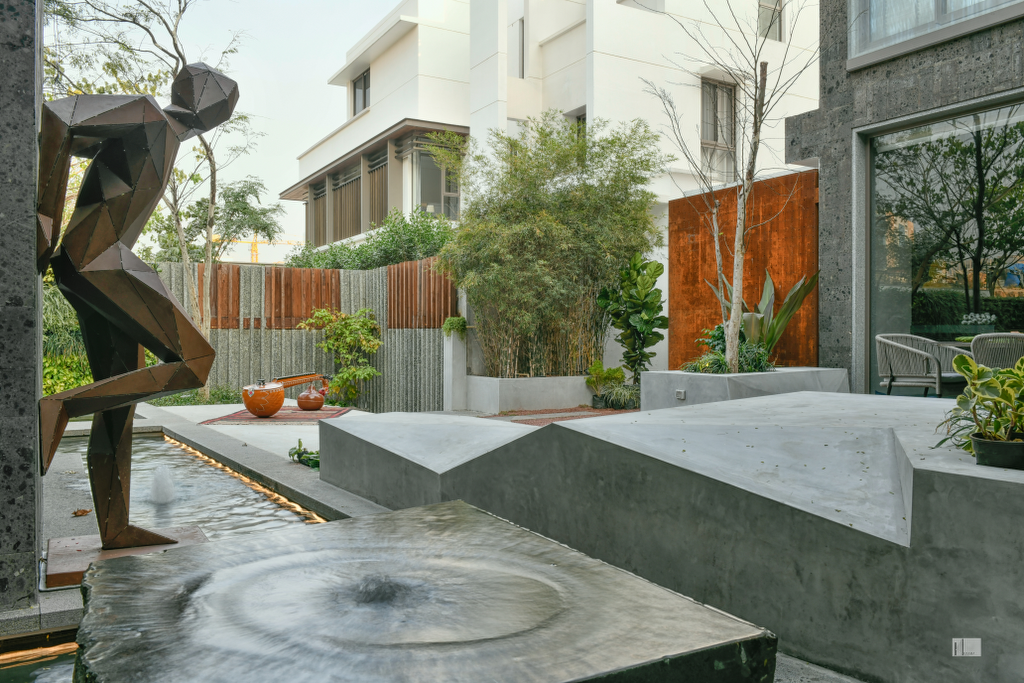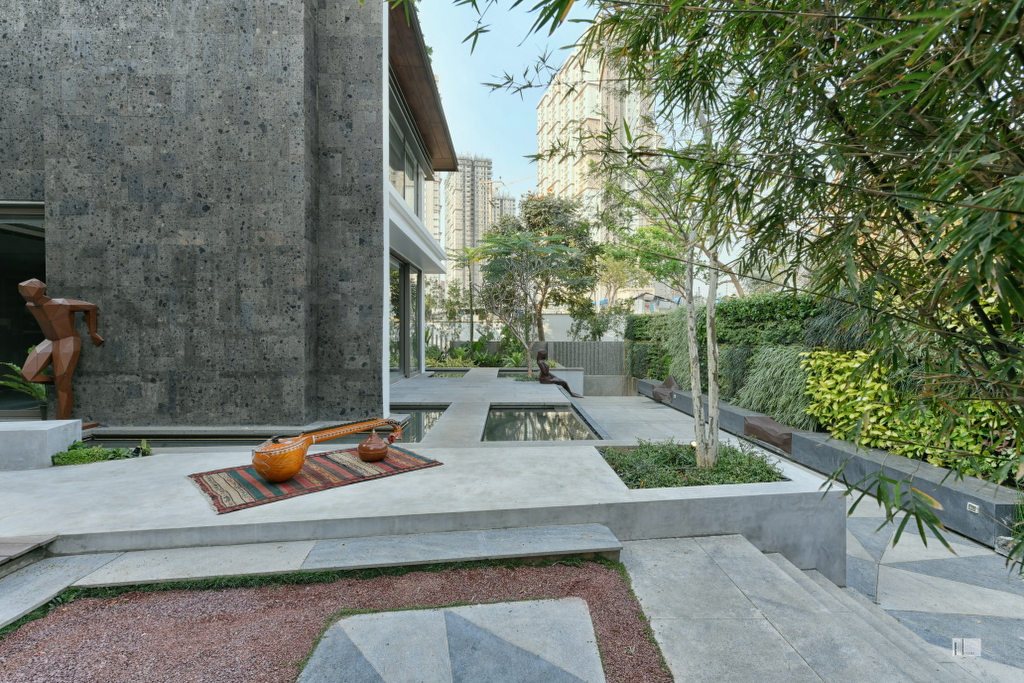 ROCK WATER FEATURE
Skylit space with entry from the living brings forth a transition from the built into the open space.
Unceasing stone seating along the green wall is assorted with the poly metal bench and natural stone flooring.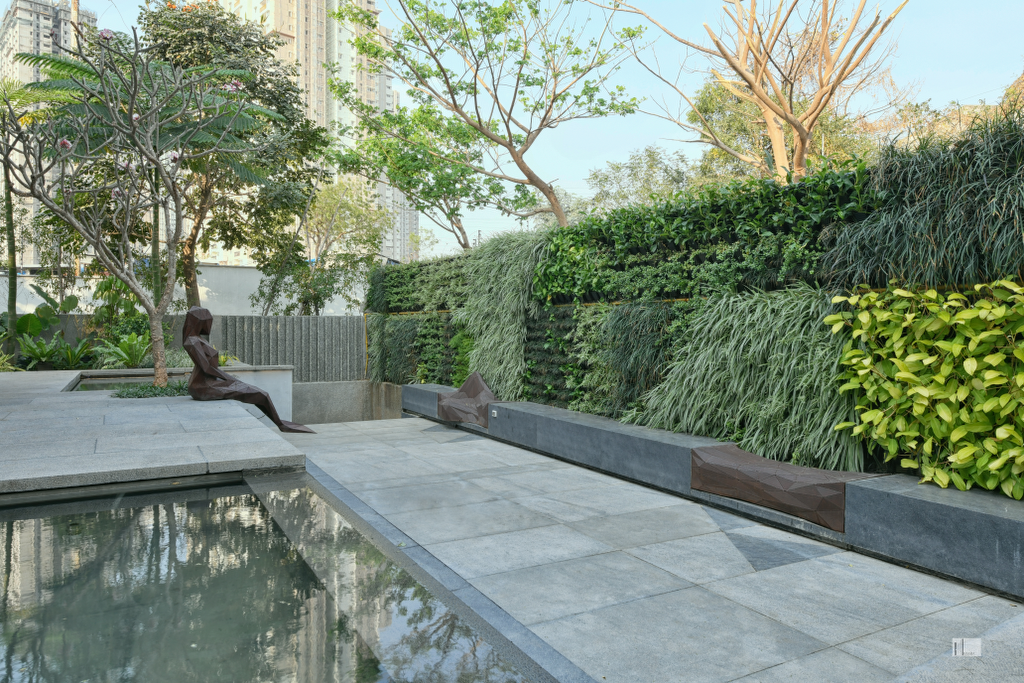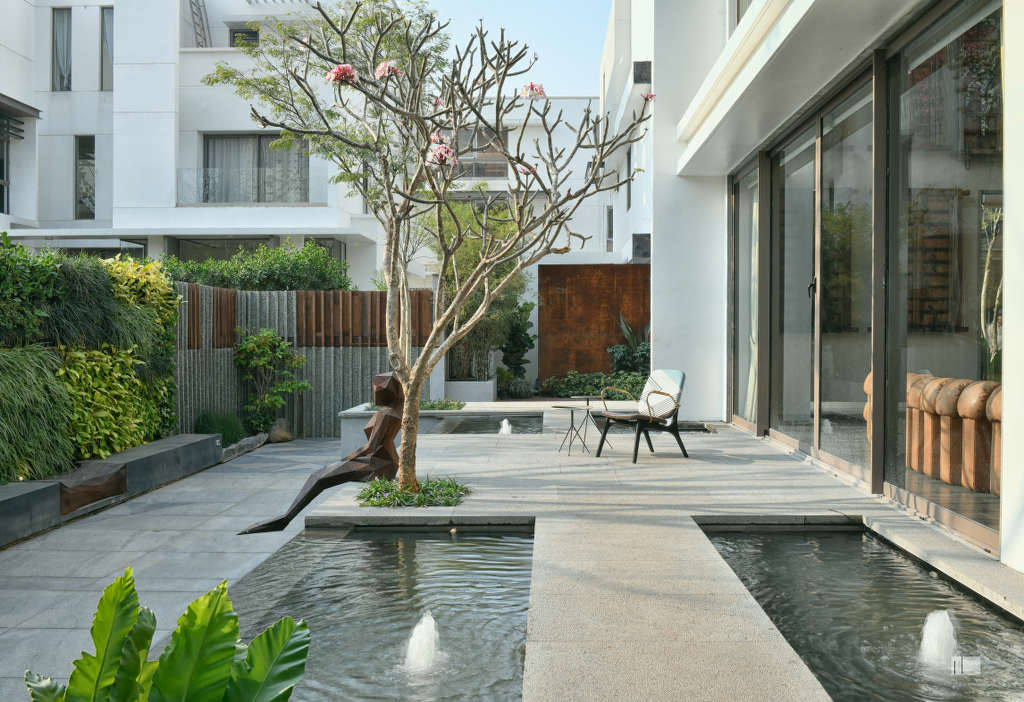 WATER FEATURE
Winding down from the living room amidst stone flooring and the hefty landscape around.
Placement of the water body and the walking trail adjuncts each other, providing a pacifying environment as one strolls through the space taking cues from Japanese design.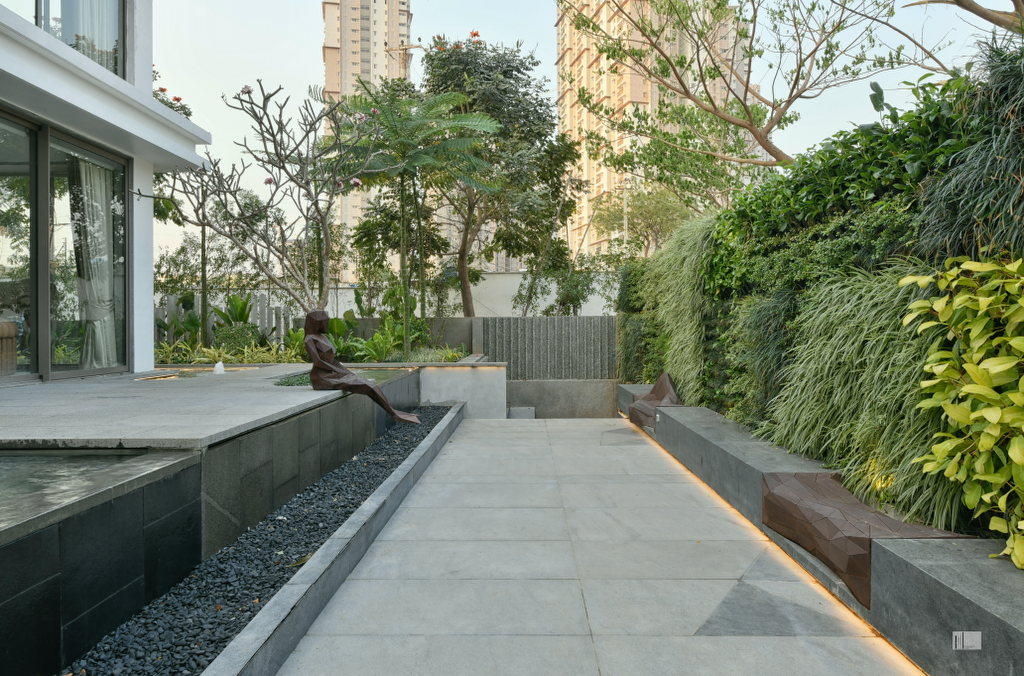 POLY METAL BENCH
An enticing poly metal bench that amalgamates along with the stone seating is set against the green wall backdrop of the home's tropical landscape, portraying a cozy space at the crack of dawn and a haven of peace in the dusk. Metal bench being a show stopper with inbuilt light shearing through its slits, procures life of its own in the twilight.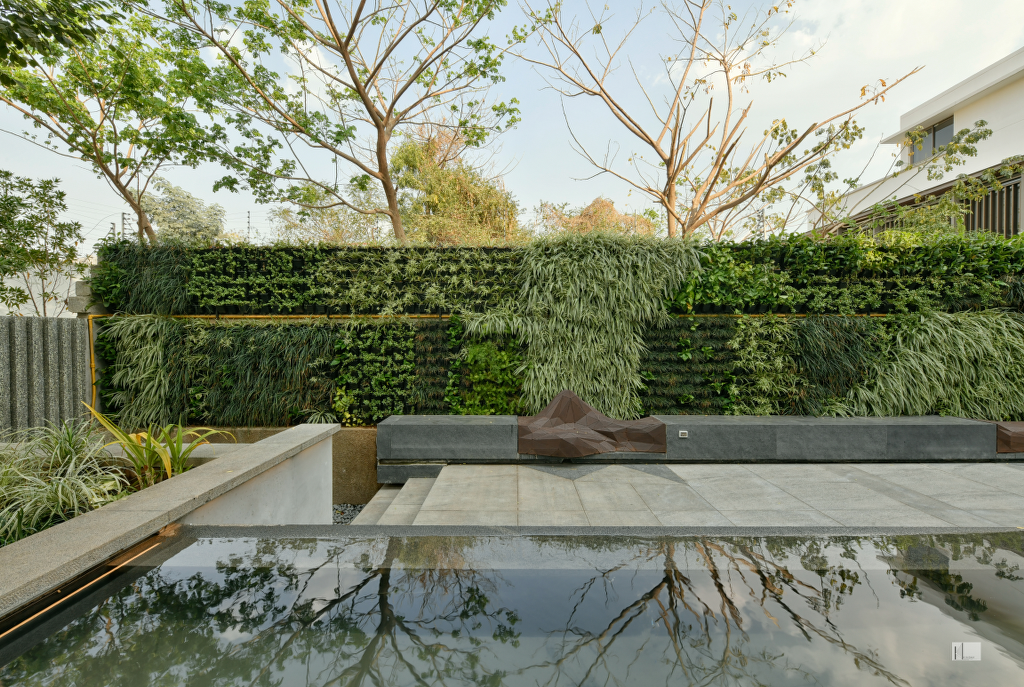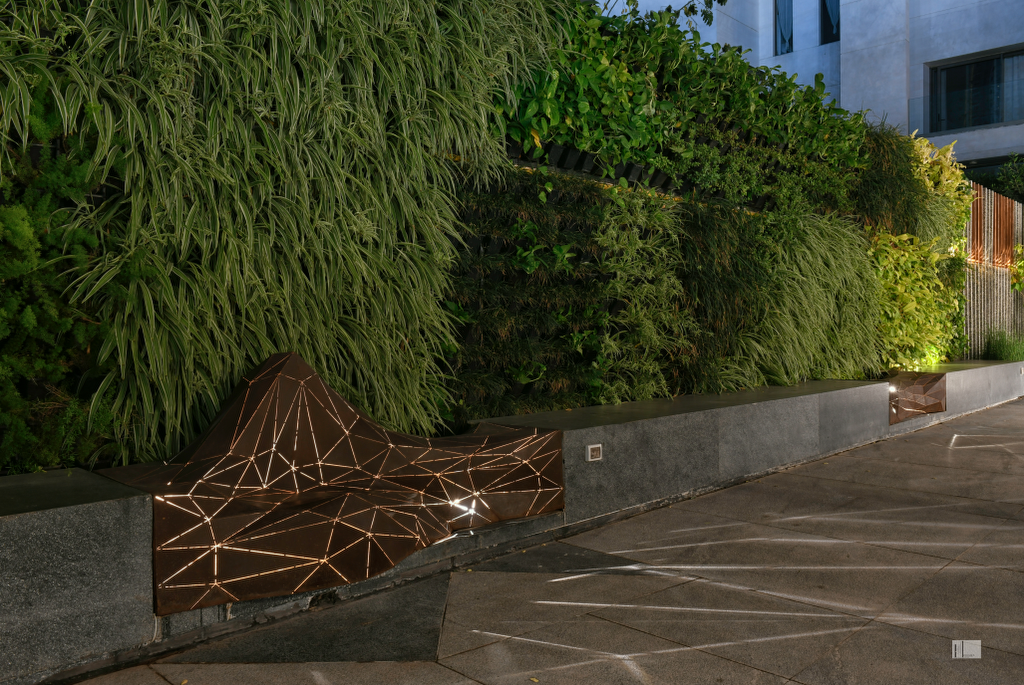 SUNKEN SEATING- TERRACE
Transposing the perspective, the sunken seating provides a more dynamic space with privacy on the terrace.
Exotic granite backdrop with cast-in-situ boomerang concrete bench coalesces with the printed flooring pattern and foliage bring in harmony and built-in coasters add a utile yet steezy touch to them.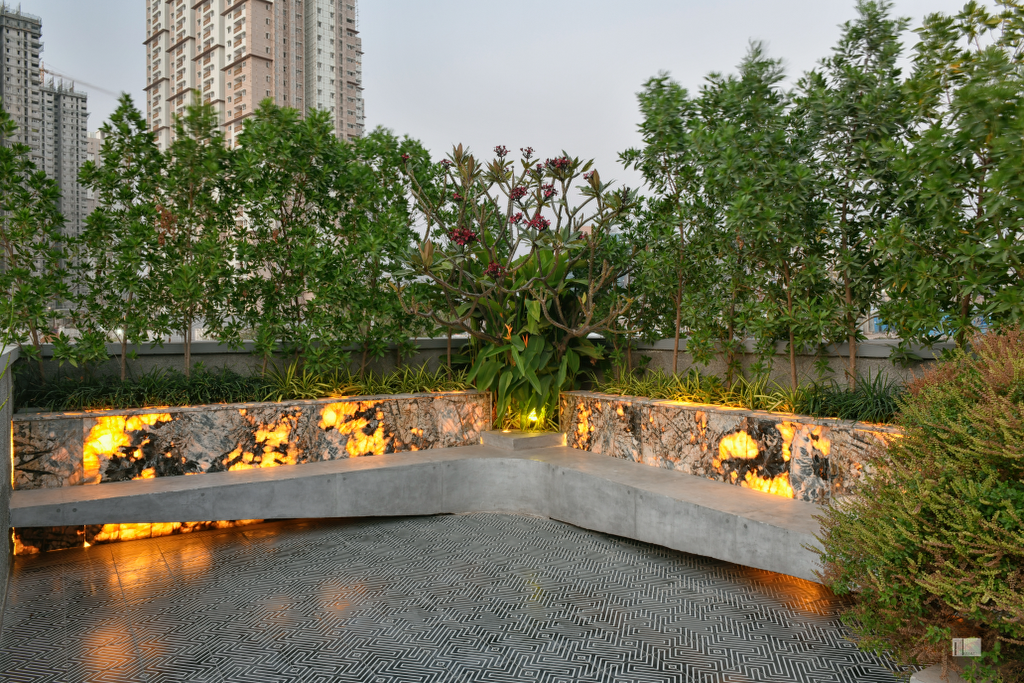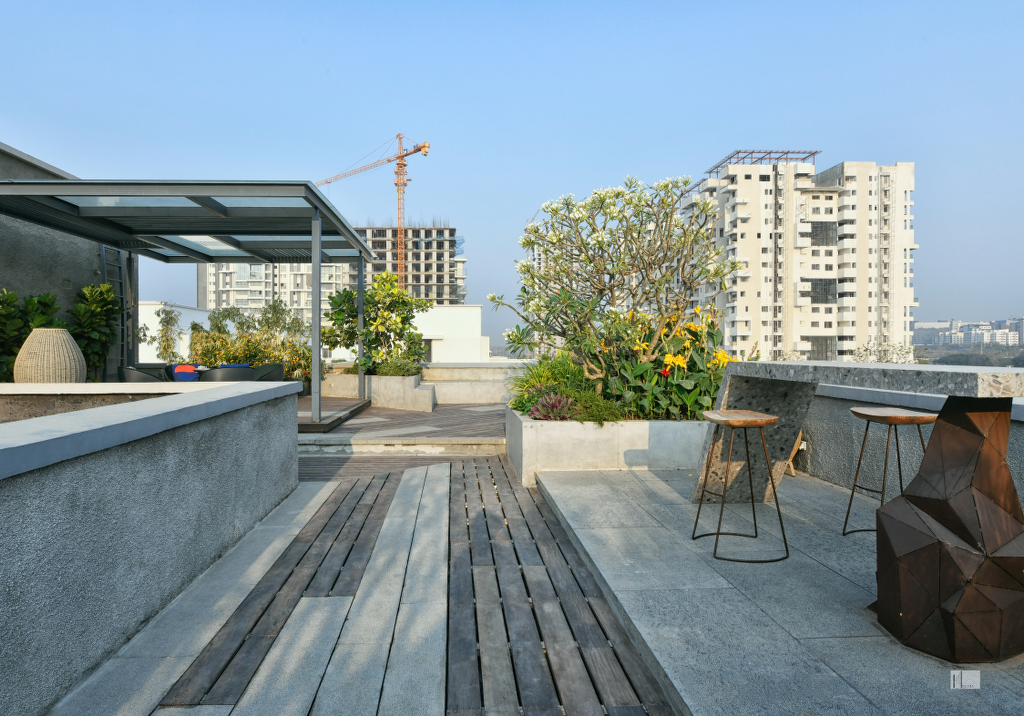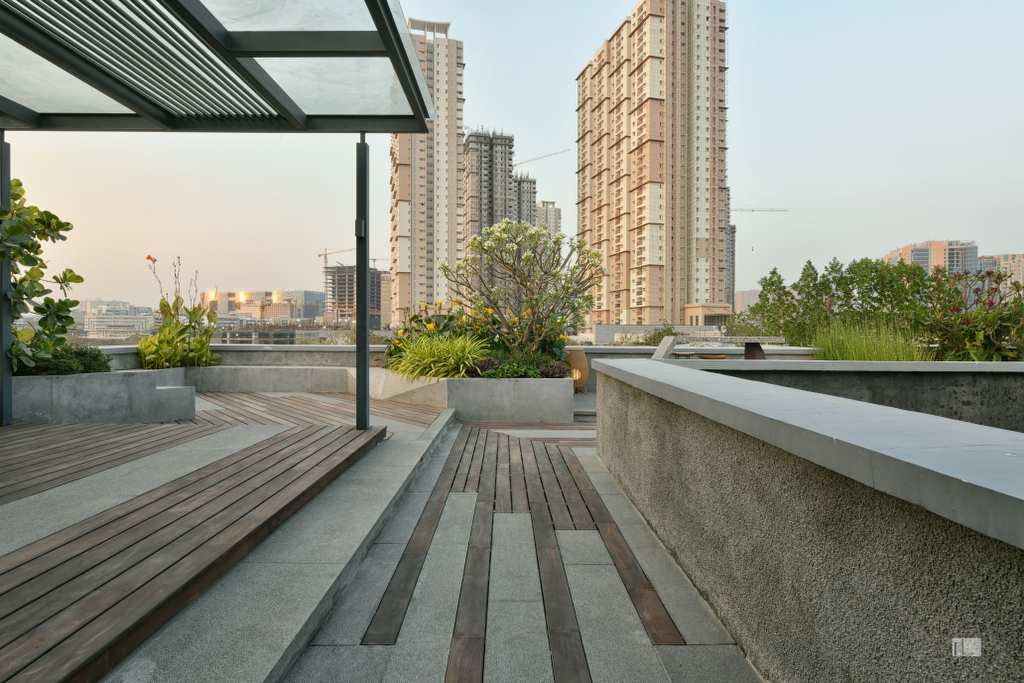 Material Palette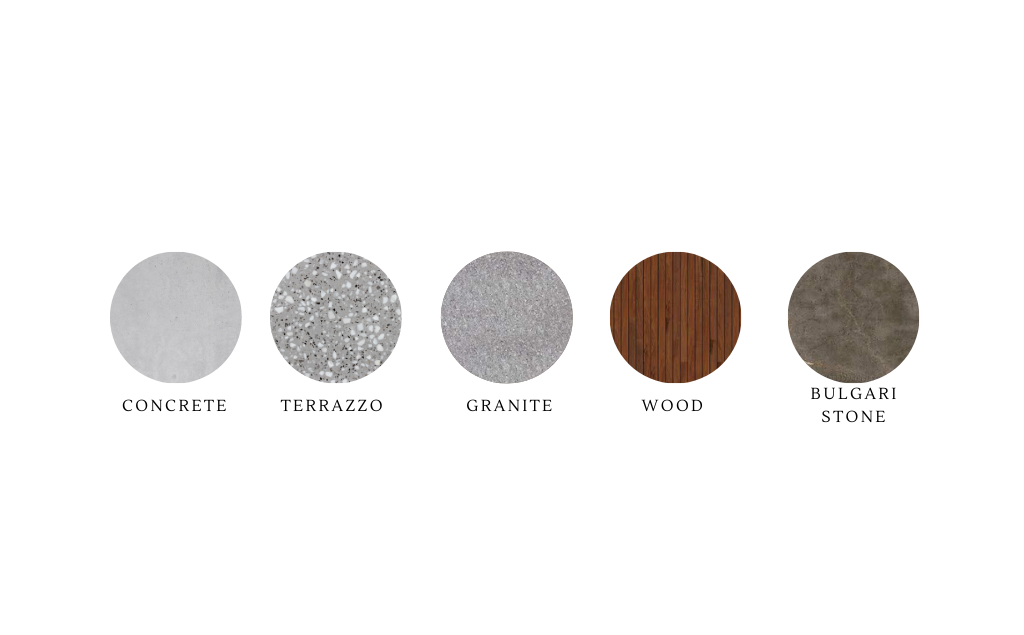 Designed by: Kiasma Landscapes
Project Type: Landscape Architecture
Project Name: Origami House
Location: Hyderabad ,Telengana
Year Built: 2021
Duration of project: 1.5 years
Built up: 12,600 sq.ft
Project Cost Appx: 65 Lac
Principal Architect: Sowmya Lakhamraju
Contractor: Babu Sri Associates
Team Design Credits: Guttula Satyaprasad
Photograph Courtesy: Monika Sathe
Products and Materials: Lighting design: Thea Light Works (Love of Light) | Horticulture: Gamla | Wooden decking: Natural Elements | Stone: Stone Life Super Studio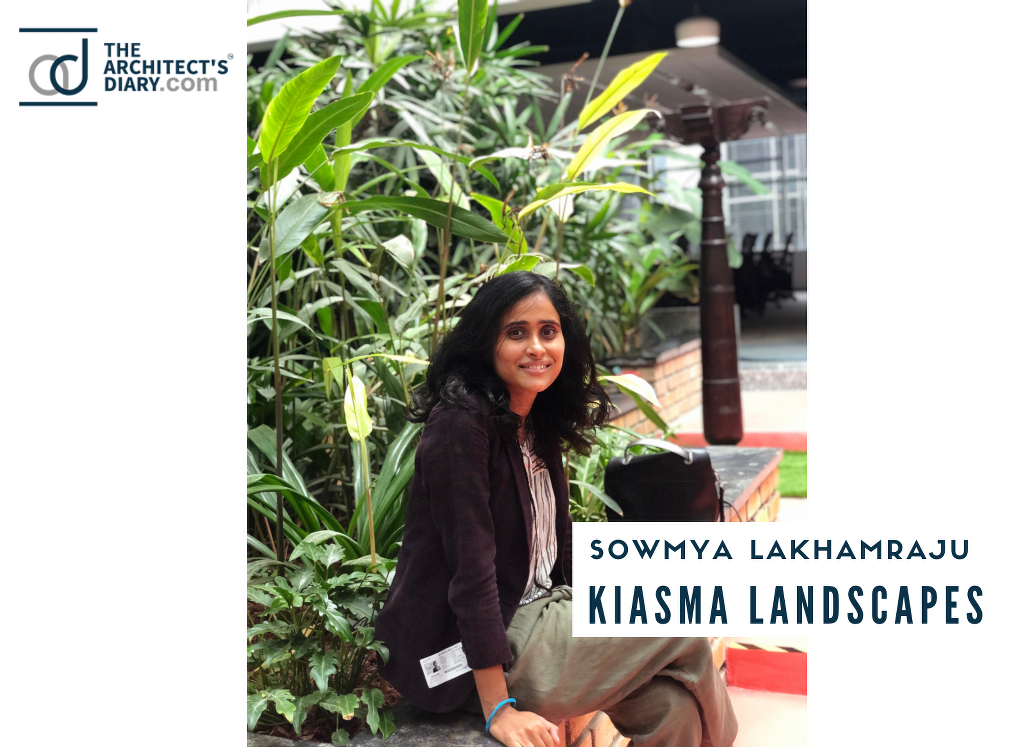 Firm's Webiste Link: Kiasma Landscapes
Firm's Facebook Link: Kiasma Landscapes
Firm's Insatgram Link: Kiasma Landscapes
For Similar Projects >> Inspired by Japanese Interior Style, This Apartment Interior Oozes Serene and Calm Ambience