Infusing A Home With A Distinctly Traditional Flavour | Usine Studio
Prapti Mehta, a classical folk singer, a Sitar player and an ethnic wear designer by passion – was looking for an extension and to revamp her house.
She wanted a complete overhaul of the existing internal spaces, with a specific requirement for ample gathering/socializing spaces, which can accommodate a large group of people. It was amply clear that existing scheme did call for small interventions like re-proportioning spaces and reclaiming balconies, entertainment zones-become significant gesture in this endeavour.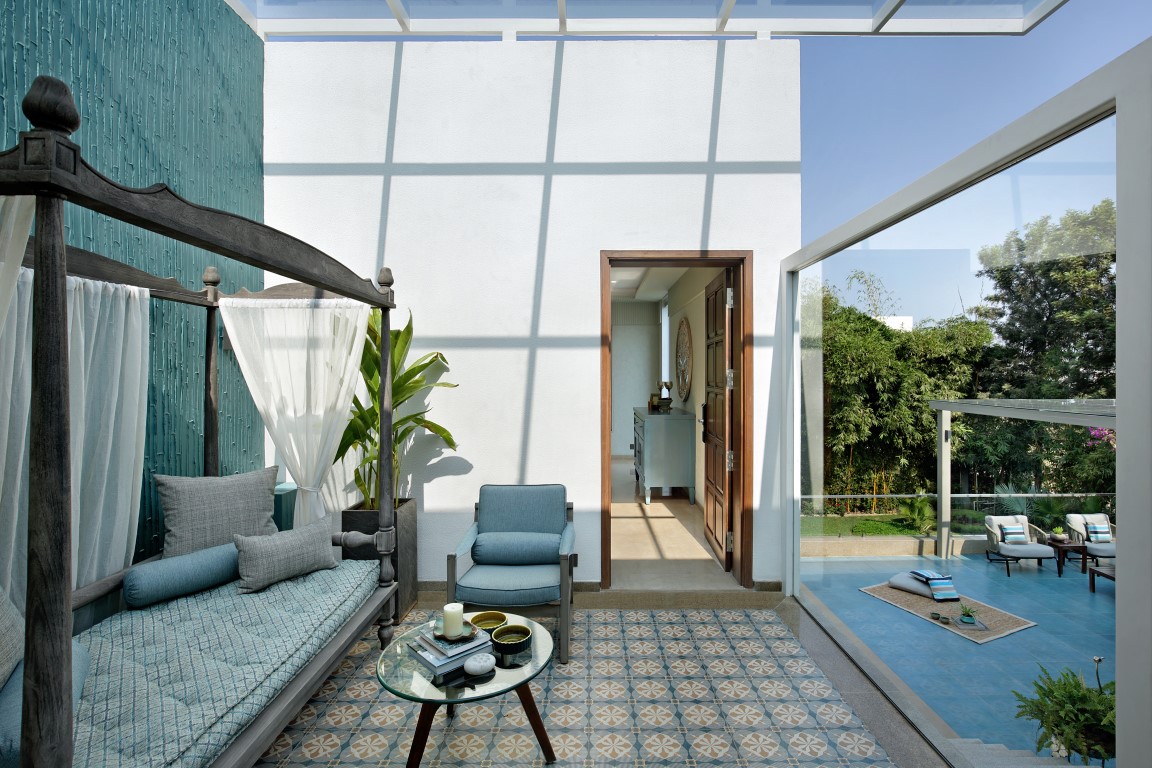 Her personality and liking….
The structure was an existing building, that fell into a spread over area of 30,000 sq.ft., located in prime residential area in Anand district of Gujarat.
After studying the house and understanding the personality of client we came to a concept conclusion that has a combination of contemporary and traditional.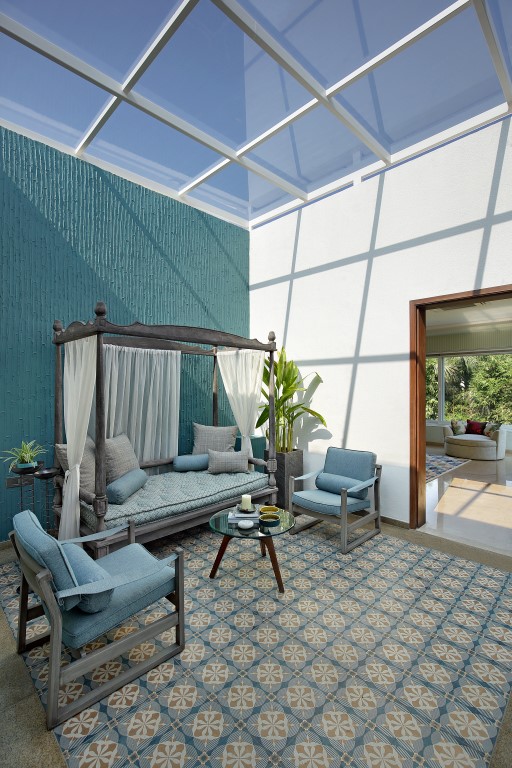 It is not a fusion! It is infusing a home with a distinctly traditional flavour while still keeping it in the contemporary space.
The built form is divided into different levels horizontally. The private and functional areas including the kitchen, living, master bedroom, personal terrace and circulation are positioned on upper level and lower level had client's boutique and work area.
The entrance is elevated from the road, leading to the main door. One is welcomed into the house through a grand full-heighted door integrated with geometric pattern grooves on it.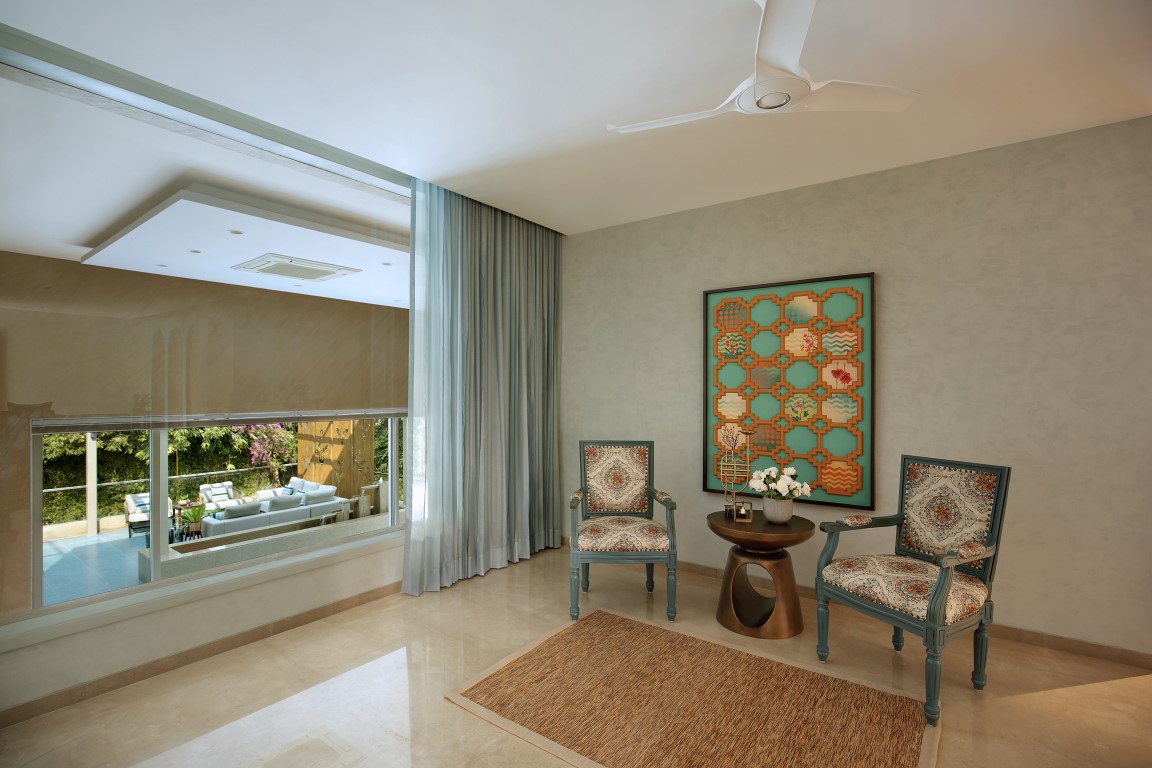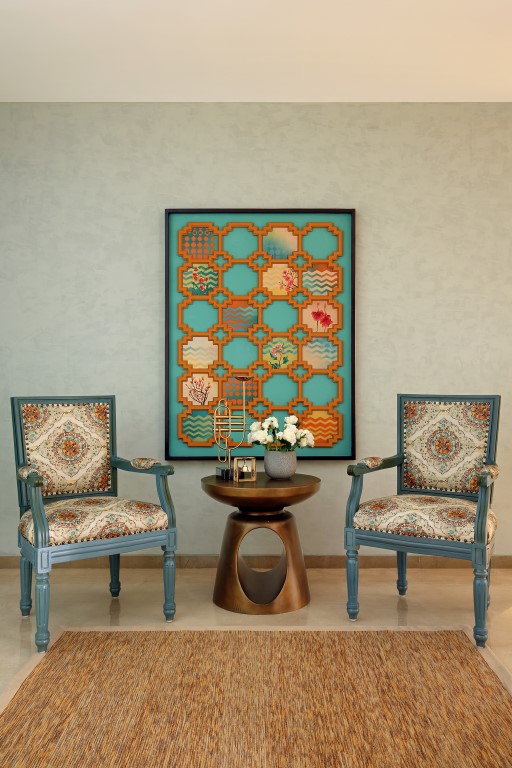 Ornate doorway and arches give foyer a traditional touch. The main door leads to a living room on the left and further branches out in kitchen, dining and other areas on this level.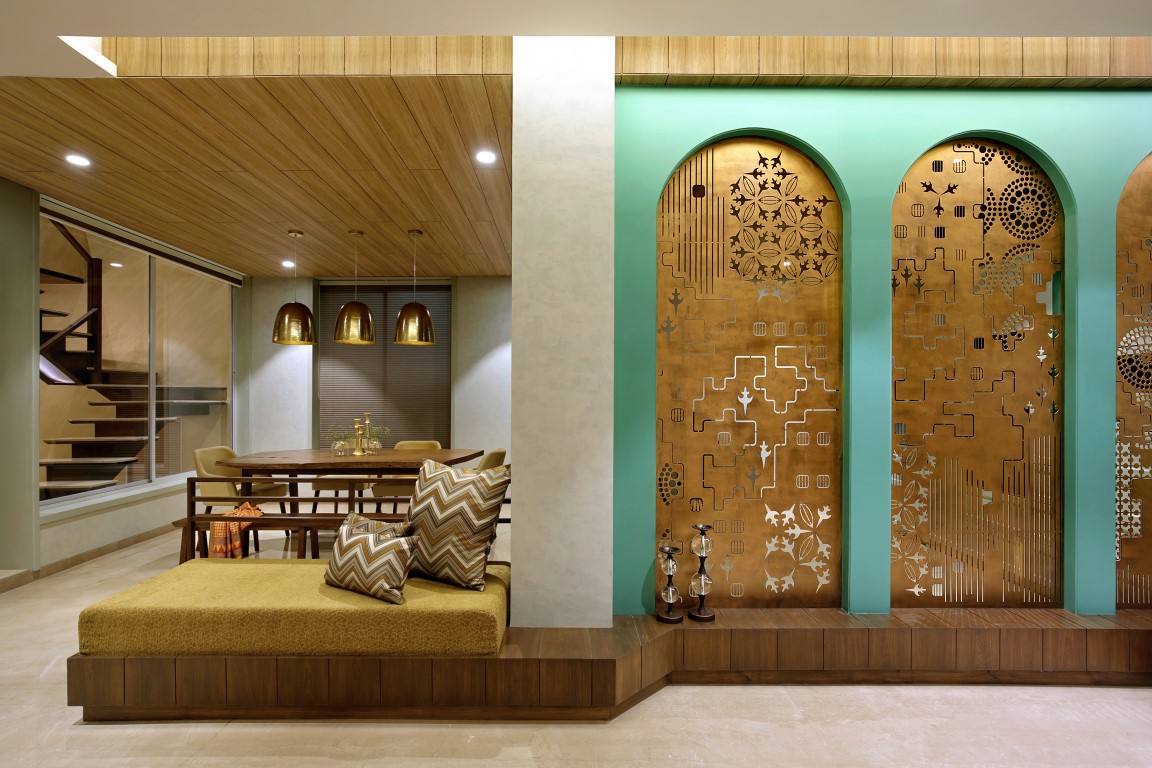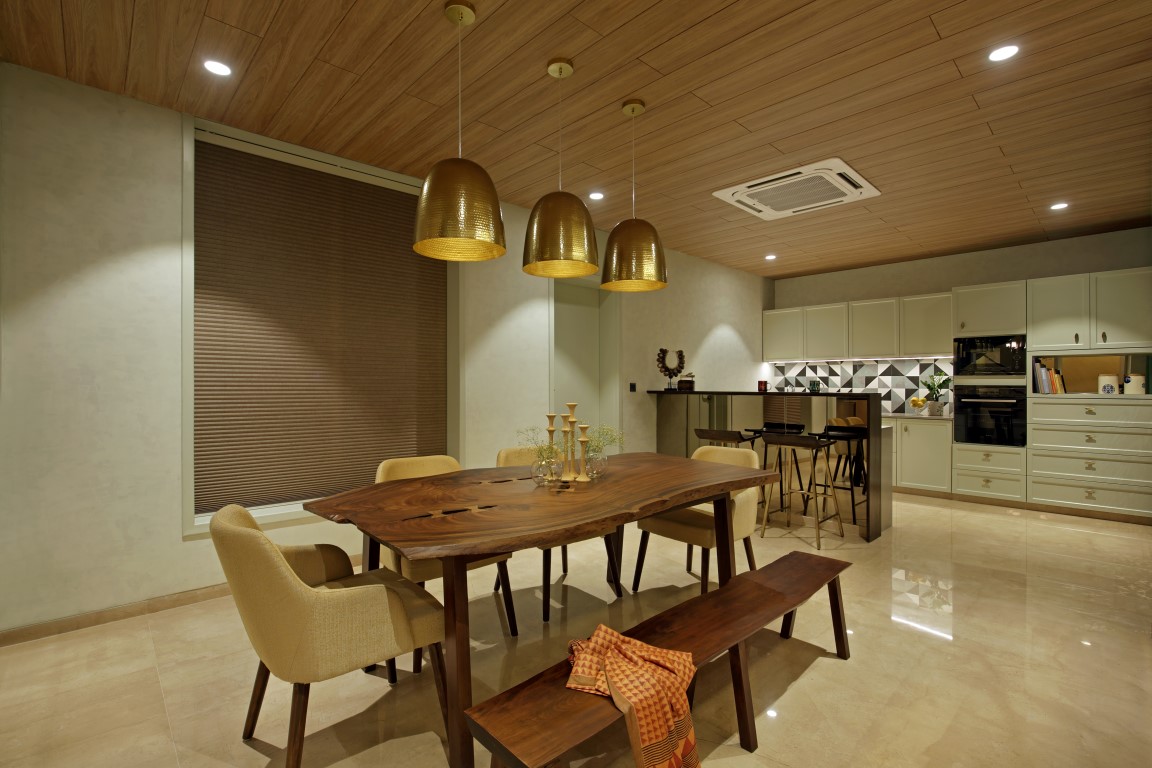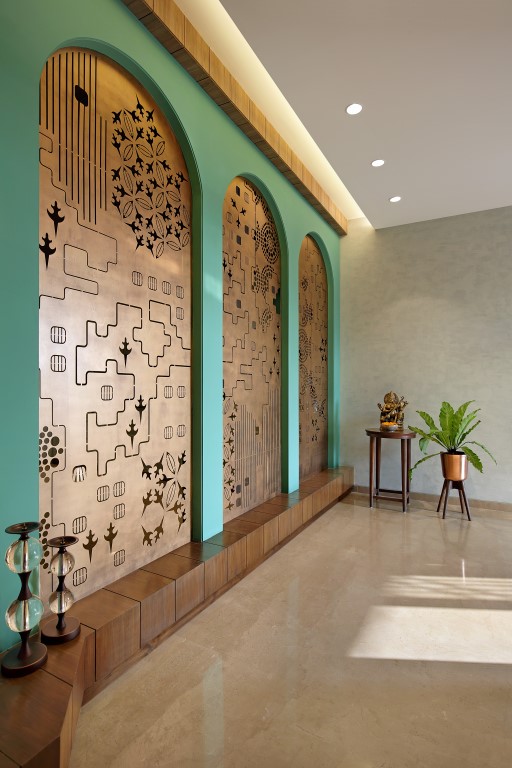 Stucco lustre walls and finishes are the base shades used throughout the living space, broken only at the light day emerald green MDF vaulted partition having metal jail within its threshold. While the furniture is a mix of customised and painstakingly curated mid-Indian century pieces made of wood and cane, with furnishings of regional prints are another sure shot way to accent modern space with the ethnic aesthetic. The art work above is commissioned and rendered which complements the scheme of the living room.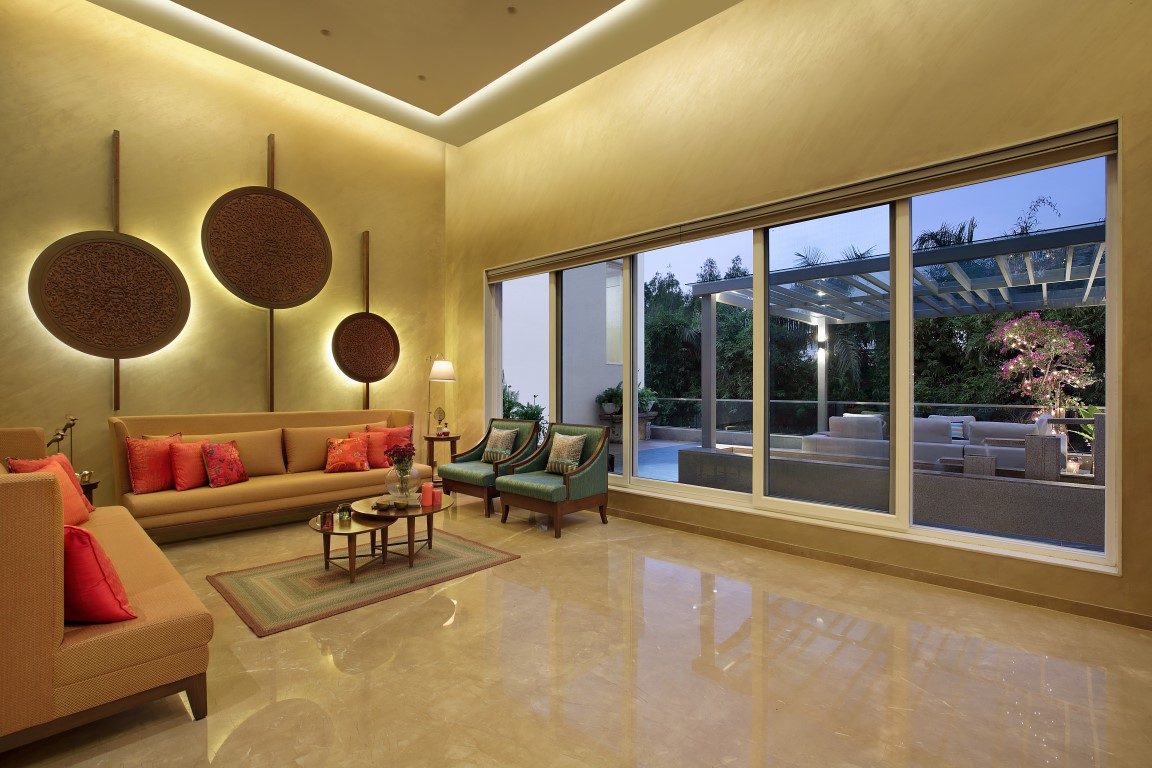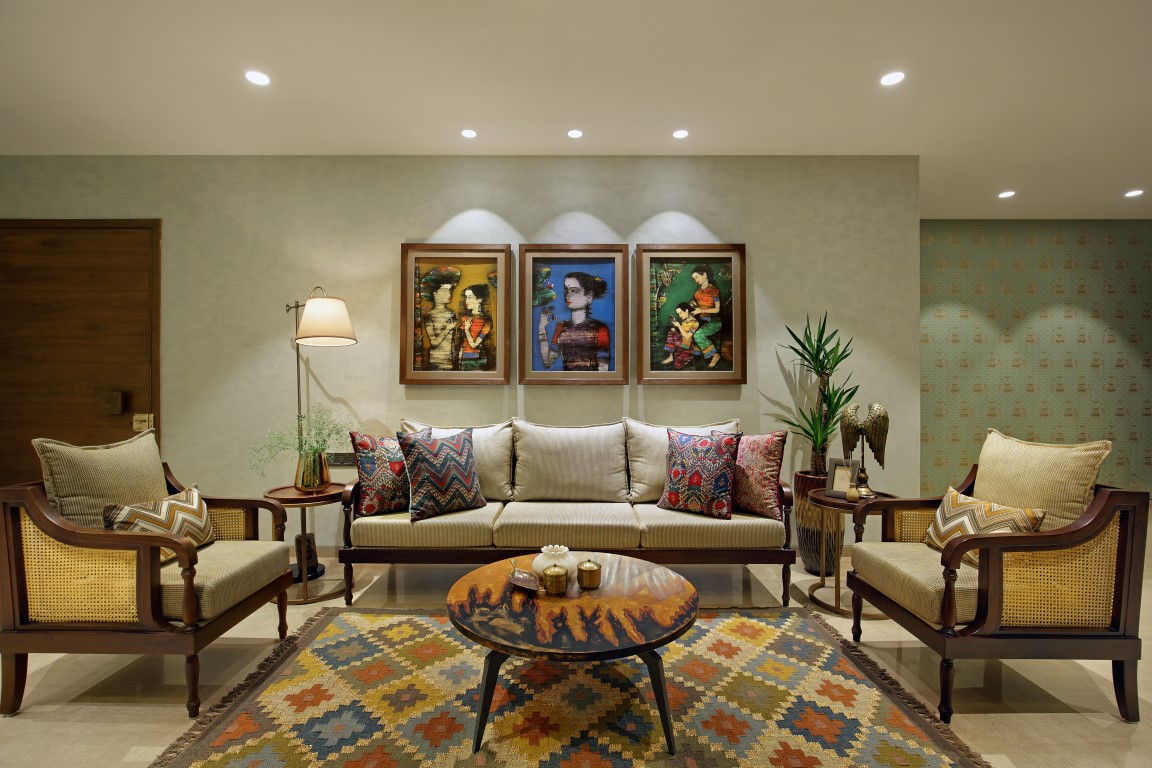 The living and dining is divided by ceiling covered in wooden finish which discreetly flaunts its effervescent existence. On the inside, a sense of expansiveness is established by the seemingly seamless beige speckled Italian marble flooring all over the indoor spaces.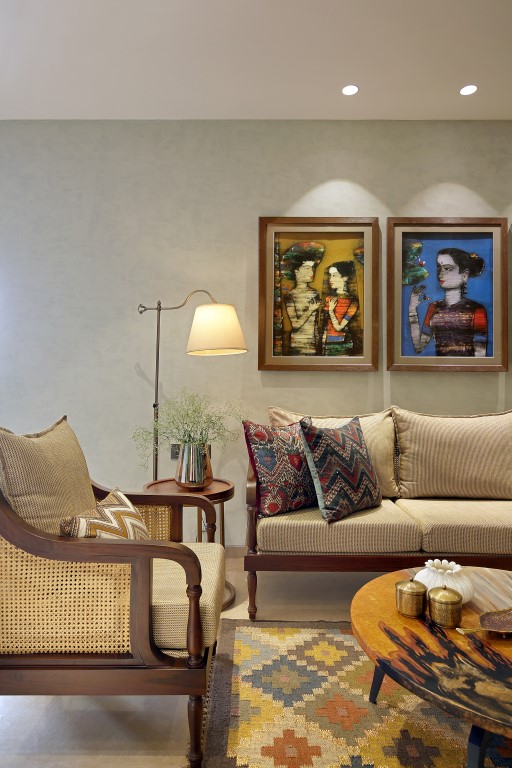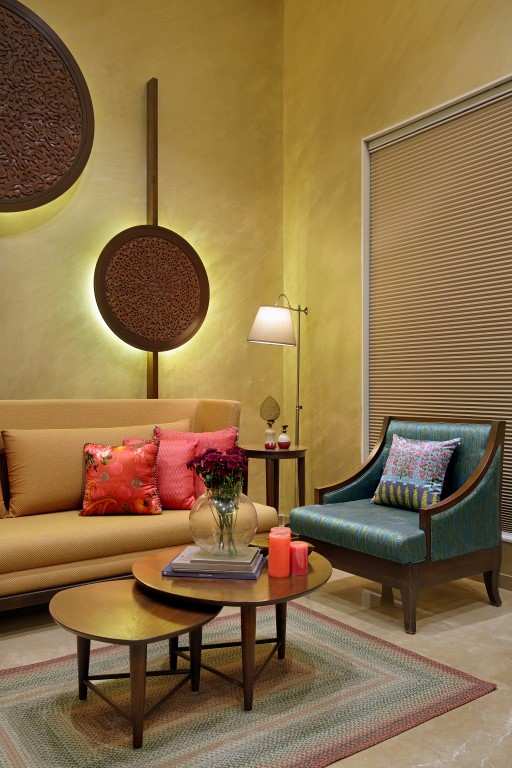 A transitional area connecting private spaces houses a seating adding to the number of seating for/in living room has colourful furnishing, accent lights and sourced art and textiles add an eclectic flavour to this minimal scheme, overlooking the double heighted home theatre below.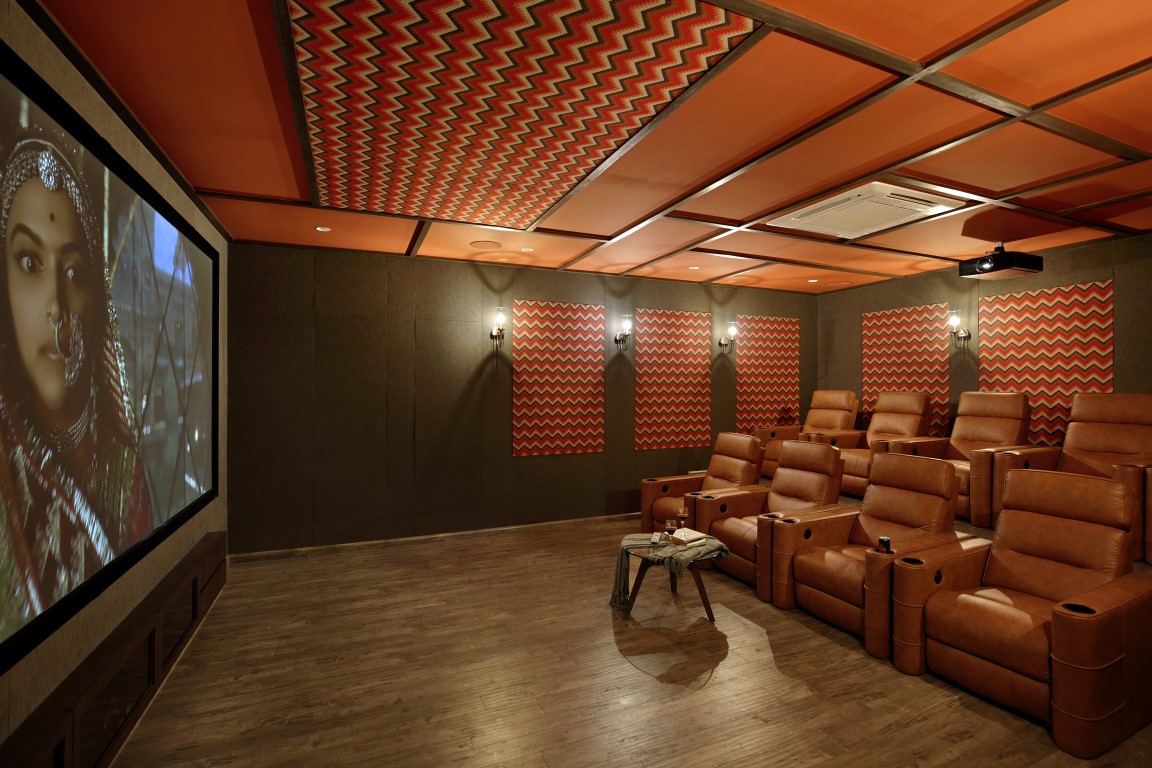 The double heighted space introduces a sense of drama to the interior, on one of its large 15'x25' wall has been turned into a canvas for a circular wooden silhouette of traditional patterns.
This along with the terrace has a lounge/gazebo like breakout space that basks in the nature and greenery, having a strong counter point creating taut balance between the animate and inanimate. Here corten steel jail works as a screen that visually erases the unsightly neighbouring structures.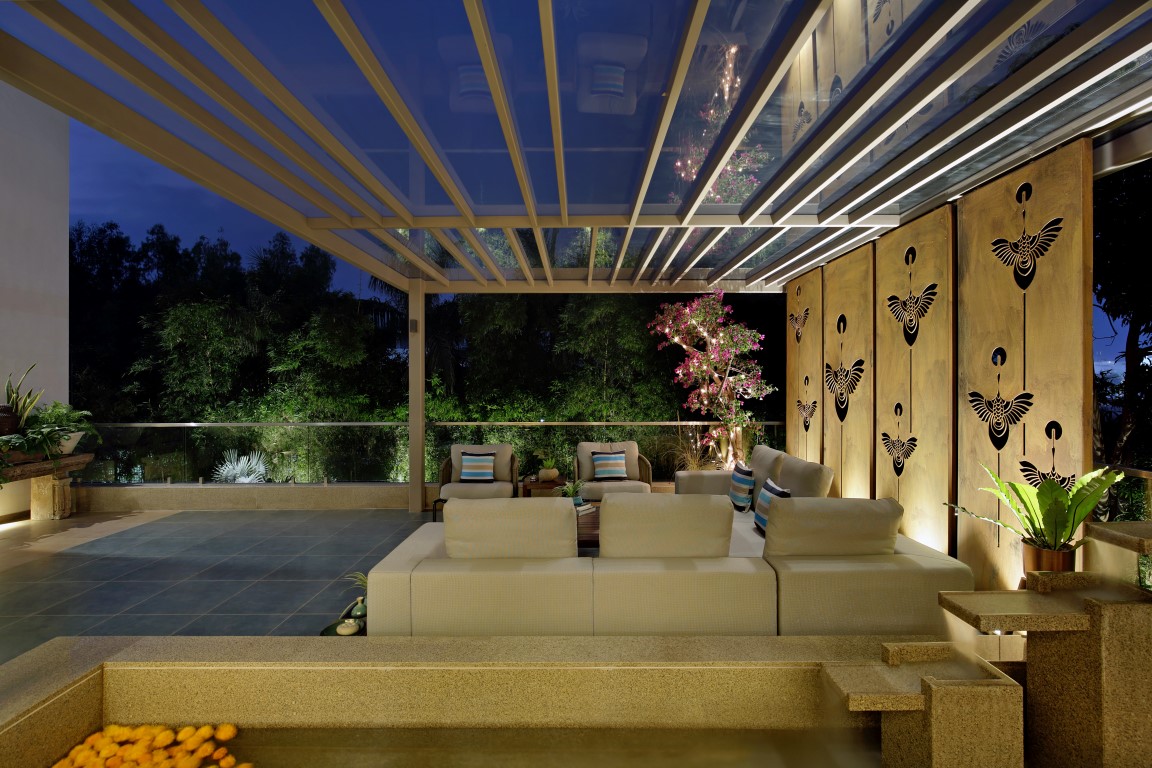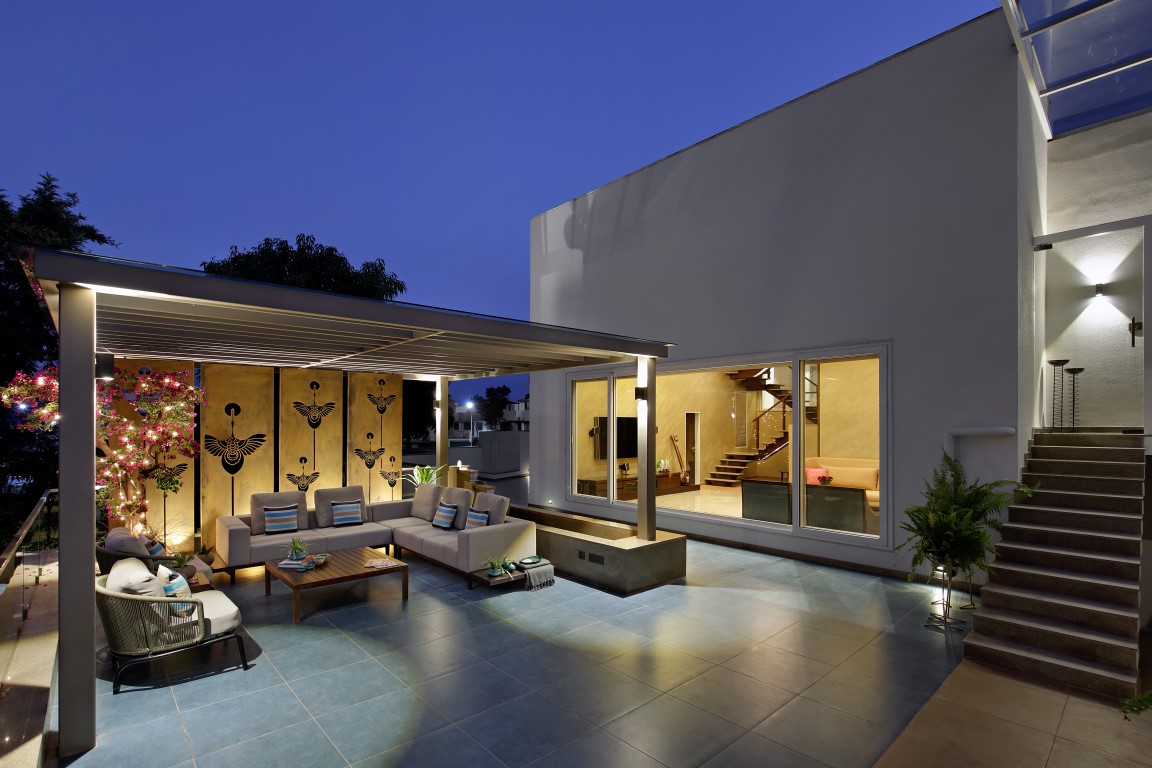 An unsheltered large landing connecting the master bedroom and gazebo space, creates an additional lounge area that acts as a personal terrace creating dramatic ambience with its mid-century retro porcelain flooring, statement furniture pieces, and bamboo texture all in hues of bluish grey.
The master bedroom, exudes a rich, elegant aura, achieved through the use of blue colour palette along with the walls painted in exotic light English mint green with periodic furniture as an apt offset, this room is subtlety at its finest.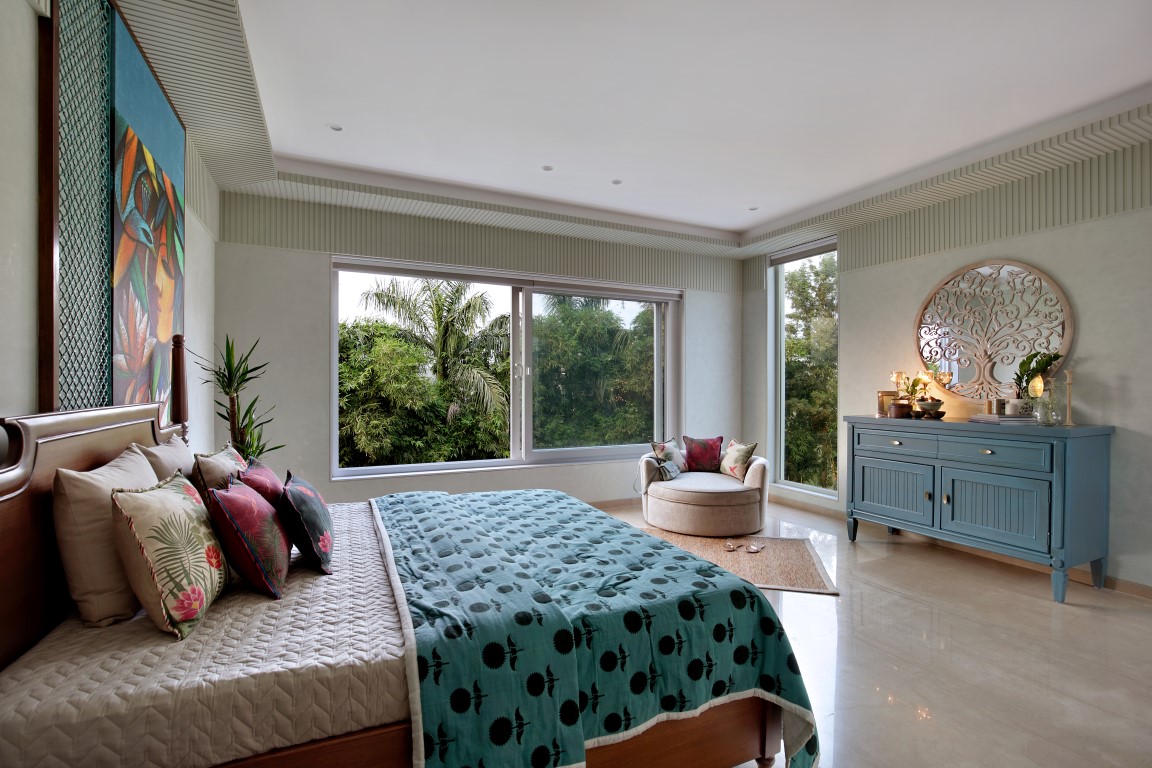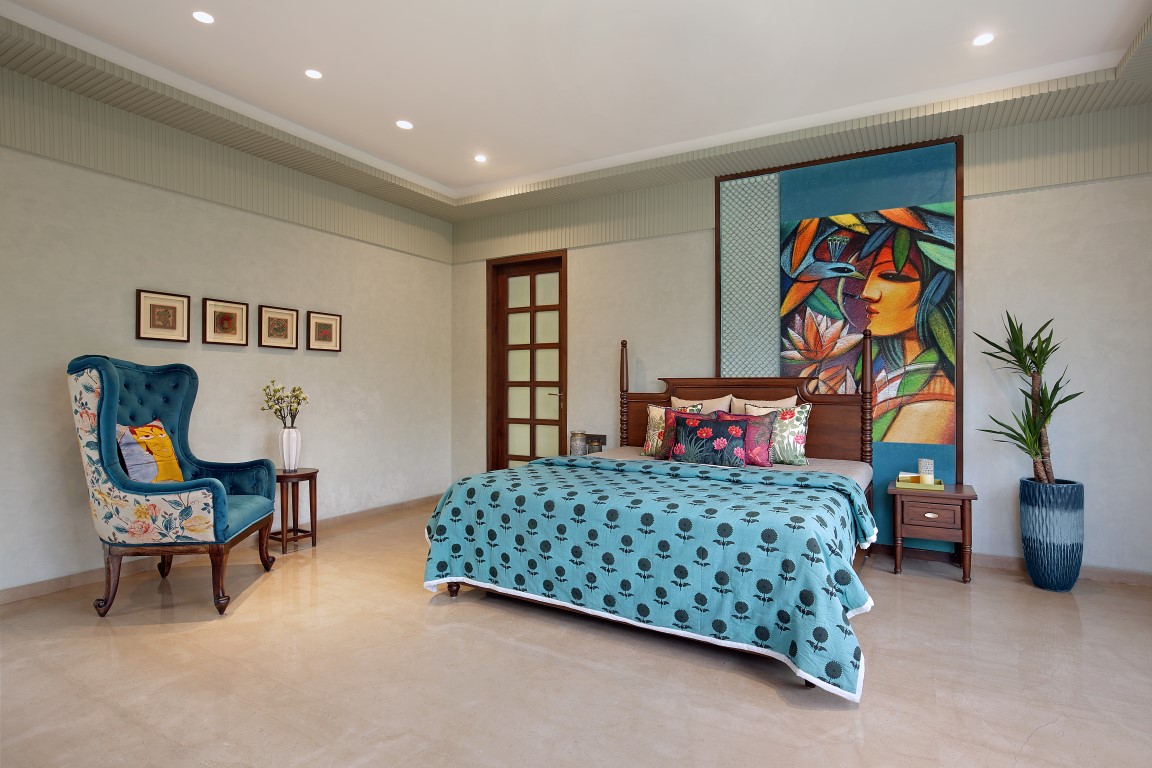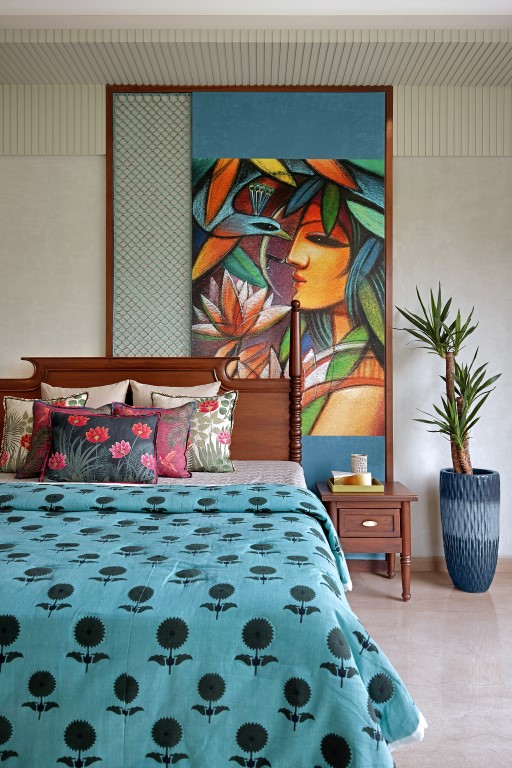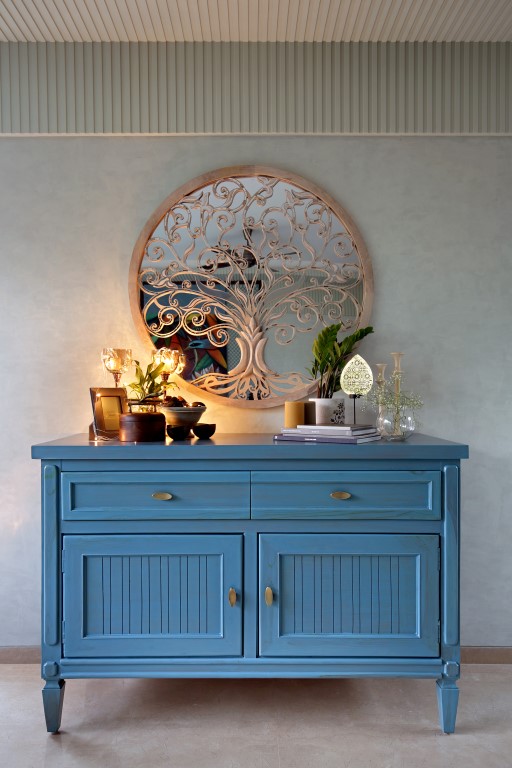 The spaces are fluid not exactly literally, but because of the presence of the same elements throughout, albeit with some minor alteration where necessary.
The client leads a simple life, and the aesthetic, such as the warmth of the wood furniture pieces combined with the English undertones matches her personality "perfectly".
FACT FILE:
Architectural Studio: Usine Studio
Designing team: SMIT PATEL.
Text Credits: HOTHAL SIDHPURA