Iconic Mosque In Dubai – Reinventing Elements Of Islamic Architecture | Design Plus Architects & rat[LAB] Studio
Blending Mathematics, Religious Principles, and Technology to create a new interpretation of an Iconic Mosque in Dubai, reinventing elements of Islamic architecture – A collaborative proposition by Design Plus Architects & rat[LAB] Studio.
Architects: Design Plus Architects & rat[LAB] Studio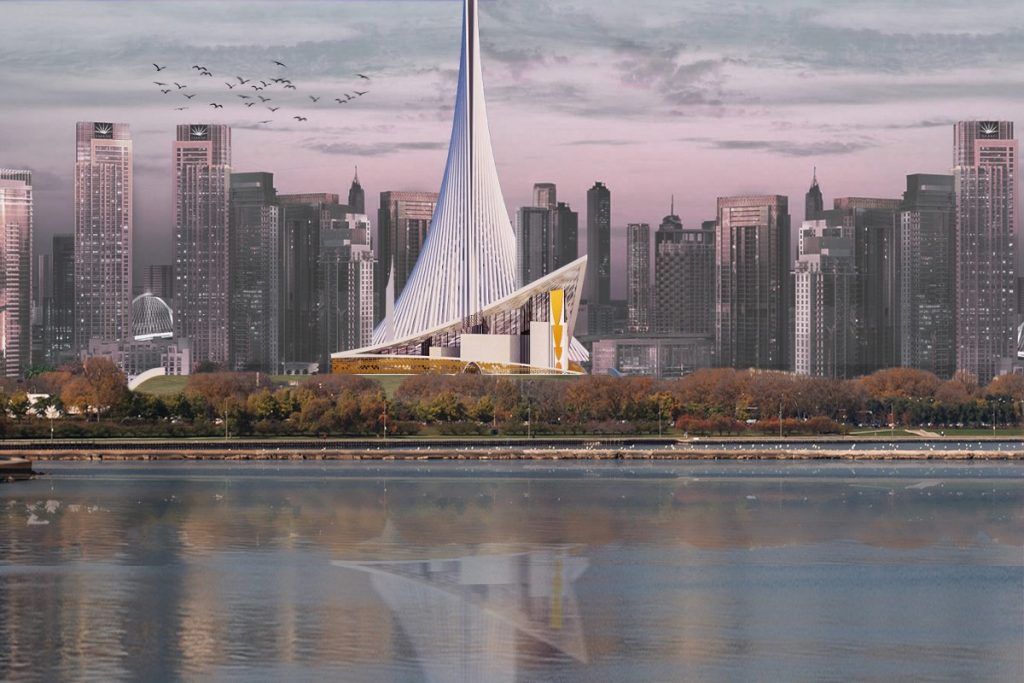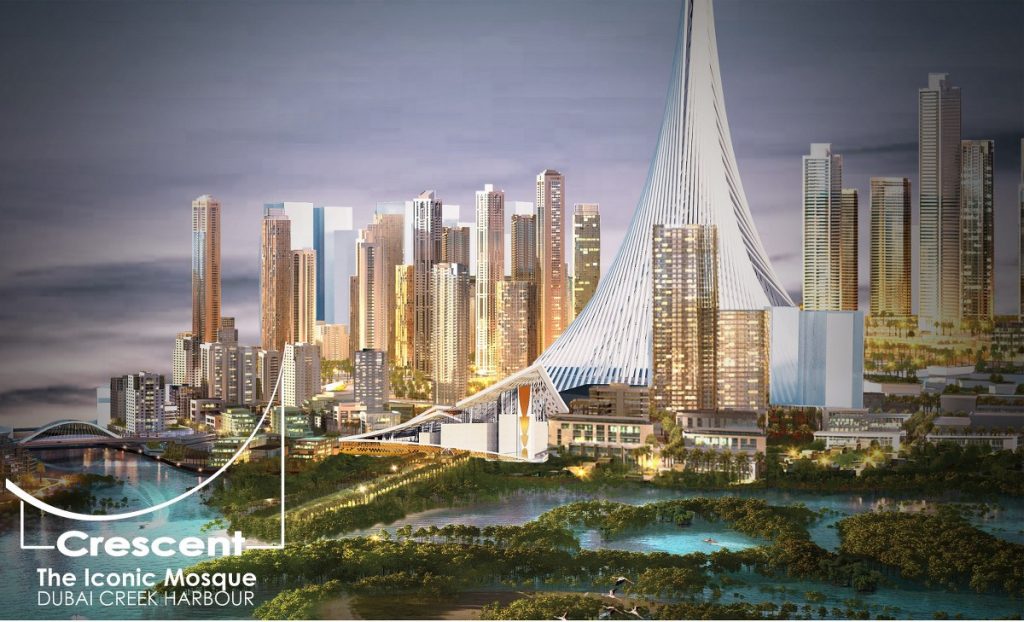 CONCEPT
The Crescent is a symbol of humility; it's an acknowledgment of religion; a celebration of culture; a re-discovery of ancient knowledge. The mosque borrows its design from clues that are hidden at various scales. At the largest scale, the inclination towards Mecca is the obvious driver for internal circulation & orientations. This is complemented by an extremely strong Urban context, at the helm of which is the iconic tower designed by Santiago Calatrava. The next set of clues are borrowed from the religious belief system, which operates closely with design intentions and metaphors. The Grand Roof, for example, indexes towards the infinite and hence the
heavens. These are essential to bind the past, present, and eternity.
The structure system is developed based on the numerically dominant number 19. There are 114 columns [19×6], equivalent to as many Surahs within the holy Quran. At the Architectural Scale, we admire and critique components of Islamic Architecture like the Dome, Arch, Column and present our interpretations for the same. The tranquillity of the ambient environment is enhanced by the geometric Jaali patterns, filtering diffused light within the indoors. The principles of mathematics bind the design together, calculating patterns, proportions, geometry, and even experience.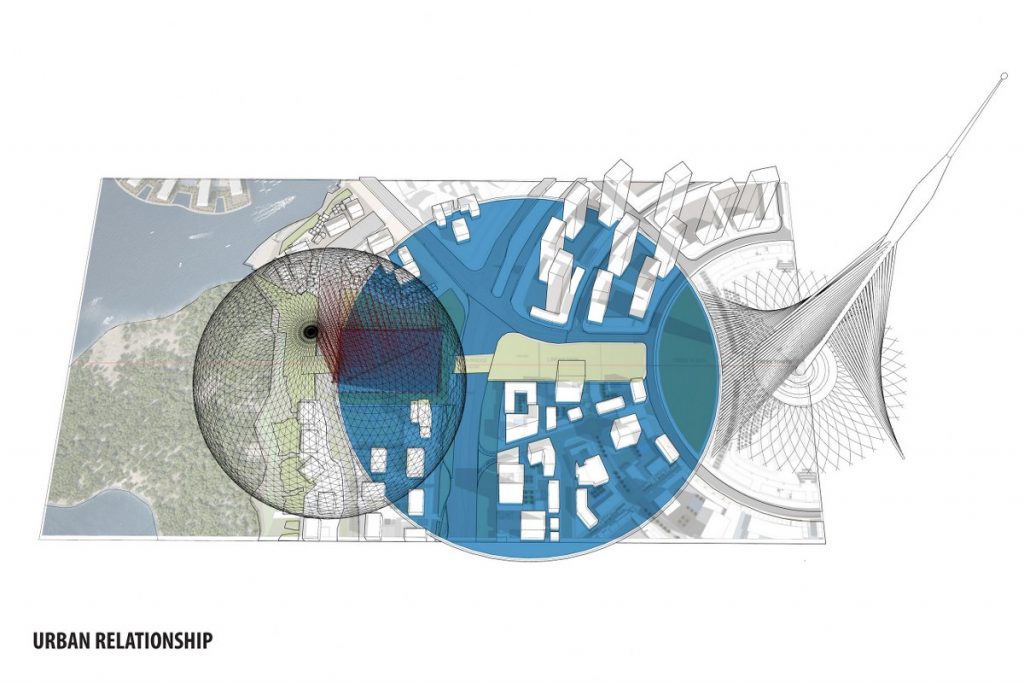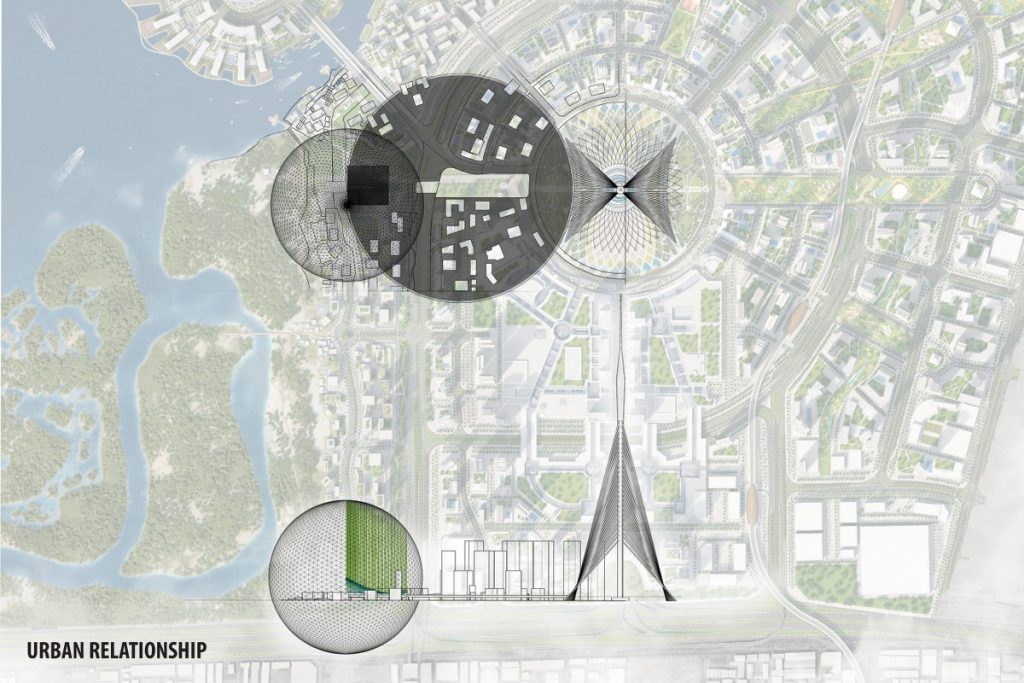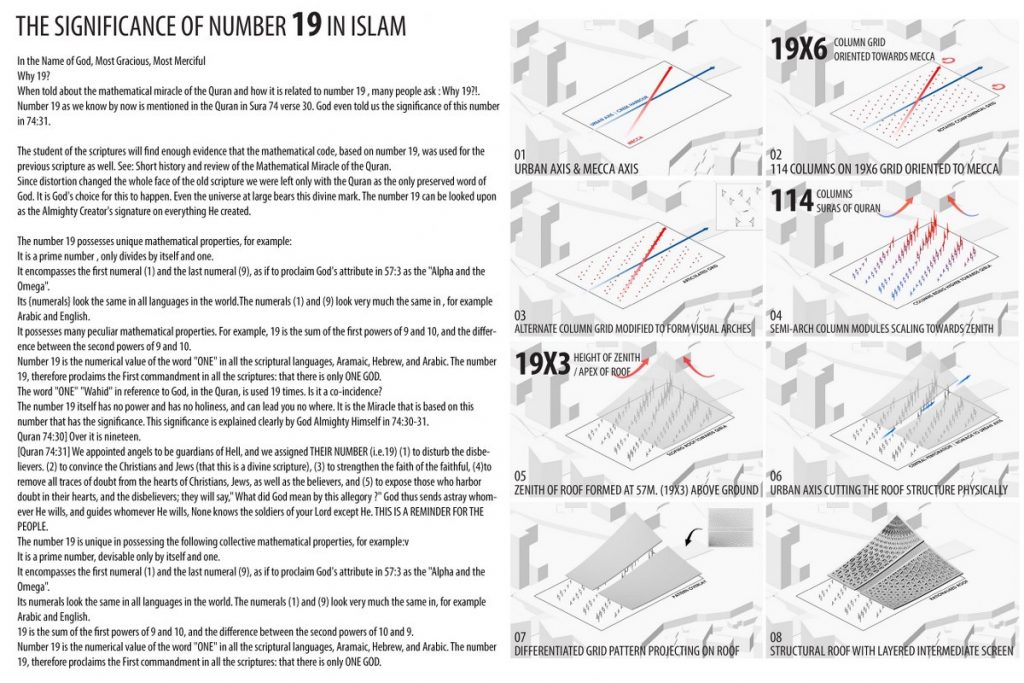 ELEMENTS OF MOSQUE – RE-INTERPRETED
URBAN AXIS
The prominent urban axis originating from Dubai Creek Tower has a visual strength that is retained within The Iconic Mosque by creating a physical and visual articulation by aligning of Main Entrance into the Front Courtyard and puncturing of the roof through a thin screen made of geometric Islamic pattern. A thoroughfare pedestrian access through the Mosque is provided to retain pedestrian circulation on the Urban Axis and also to accentuate views within the mosque towards Dubai Creek Tower.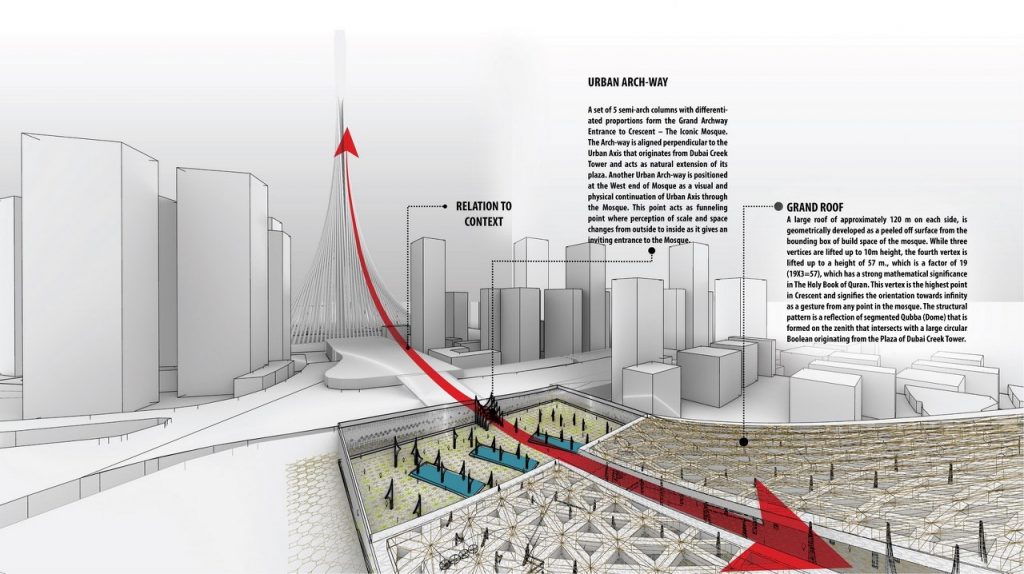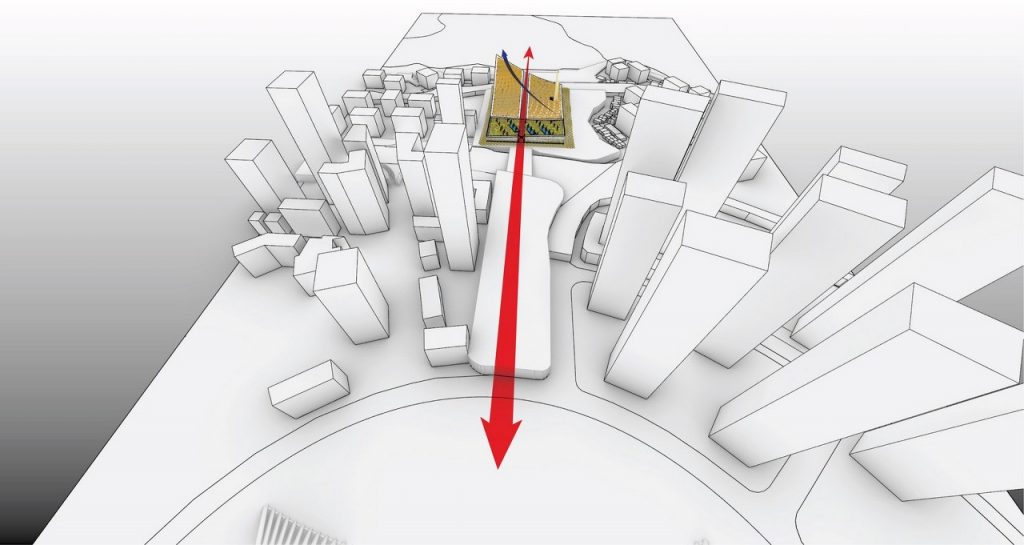 MINARET
The minaret rises up from the roof structure pattern made by cross-beams creating triangular cells, two of which rise up to form vertical circulation elements. One triangular profile rises up to form a minaret that shares the highest point in Crescent with the Zenith towards Mecca. The Minaret rises to a height of 57m., which is a factor of 19 (19X3=57), which is considered to be a magical number in Quran.
ZENITH
The zenith of the roof indicates a visual orientation for the thousands of worshipers to look towards Mecca as a heavenly direction towards infinity. The roof rises as peeled off surface geometry to have the highest point in the direction of Mecca at 57m., which is a factor of 19 (19X3=57), which has a strong mathematical significance in The Holy Book of Quran.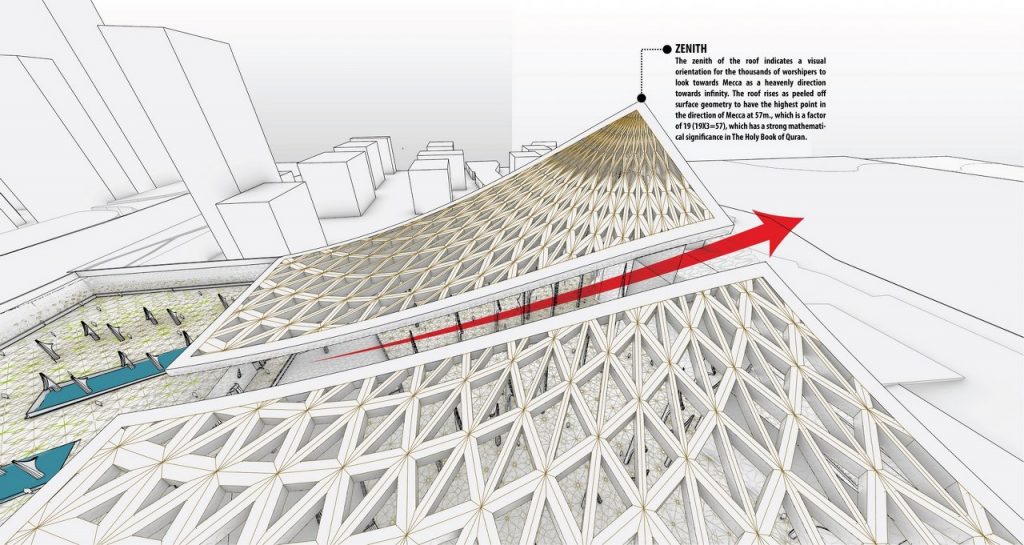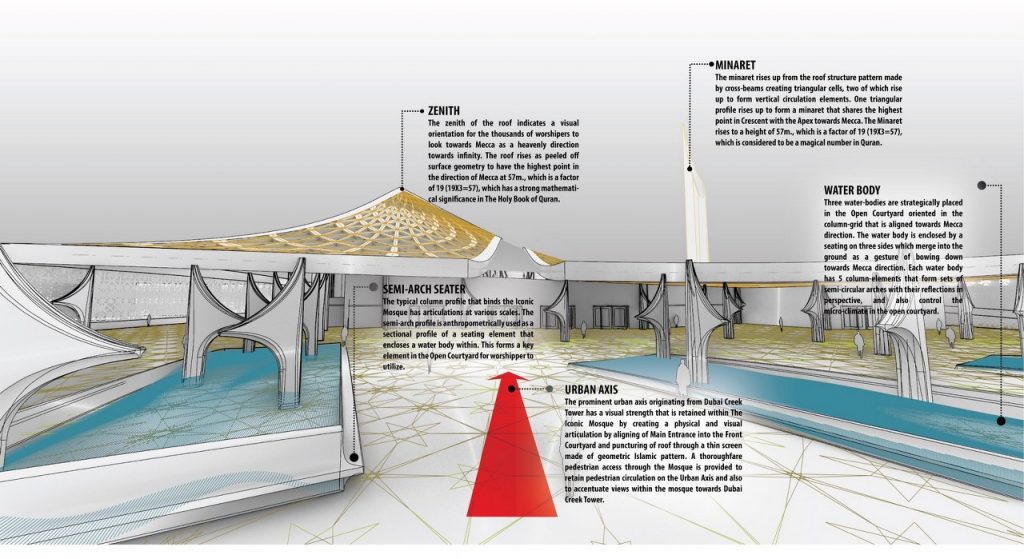 WATER BODY
Three water-bodies are strategically placed in the Open Courtyard oriented in the column-grid that is aligned towards Mecca direction. The water body is enclosed by a seating on three sides which merge into the ground as a gesture of bowing down towards Mecca direction. Each water body has 5 column-elements that form sets of semi-circular arches with their reflections in perspective, and also control the micro-climate in the open courtyard.
SEMI-ARCH SEATER
The typical column profile that binds the Iconic Mosque has articulations at various scales. The semi-arch profile is anthropometrically used as a sectional profile of a seating element that encloses a water body within. This forms a key element in the Open Courtyard for worshipper to utilize.
FLOORING
White marble flooring with an inlay of Gold forms the ground texture of the entire Iconic Mosque as a continuous pattern to keep a monotone spiritual quality. The gold inlay represents the richness of material and is articulated as an intricate geometric pattern that is a derivative of a typical Islamic pattern controlled by a mathematical scaling down towards the column-elements.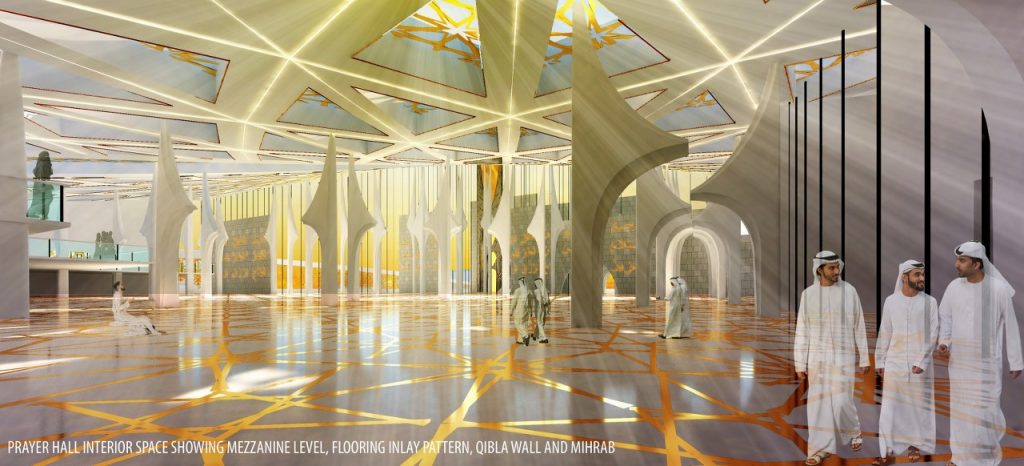 COURTYARD
The main entry of Crescent – The Iconic Mosque is through a 5-arch gateway that acts as a visual funnel oriented along the Urban Axis and acts as a zone where outside blends with inside where visitors will be visually re-oriented towards Mecca by finding the arch-way formed by columns placed in an alternative grid. The courtyard is embraced with a gold-inlay geometric pattern throughout with 3 water-bodies enclosed by seating elements.
SEMI-ARCH COLUMN
114 Semi-Arch columns are strategically placed in an alternate grid that is aligned towards Mecca. There are 114 Suras in Quran (19 X 6 = 114), which are articulated as 114 column elements that are aligned to form arch-ways in an infinity perspective. A grid of 19 X 6 is designed to form structural and visual components arrayed throughout the mosque and parametrically differentiated in scale and proportions to shape the grand roof towards Zenith, located at 57m. height towards Mecca. The profile of semi-arch columns consists of a Semi-Circular Arch and an inverted Parabolic Arch that form a variation of Round and Pointed Arches.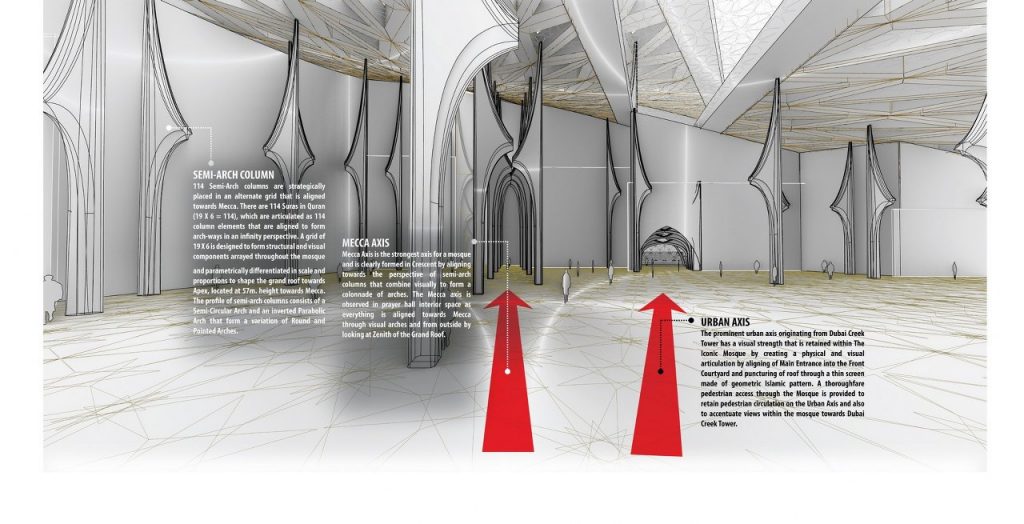 GRAND ROOF
A large roof of approximately 120 m on each side, is geometrically developed as a peeled off surface from the bounding box of build space of the mosque. While three vertices are lifted up to 10m height, the fourth vertex is lifted up to a height of 57 m., which is a factor of 19 (19X3=57), which has a strong mathematical significance in The Holy Book of Quran. This vertex is the highest point in Crescent and signifies the orientation towards infinity as a gesture from any point in the mosque.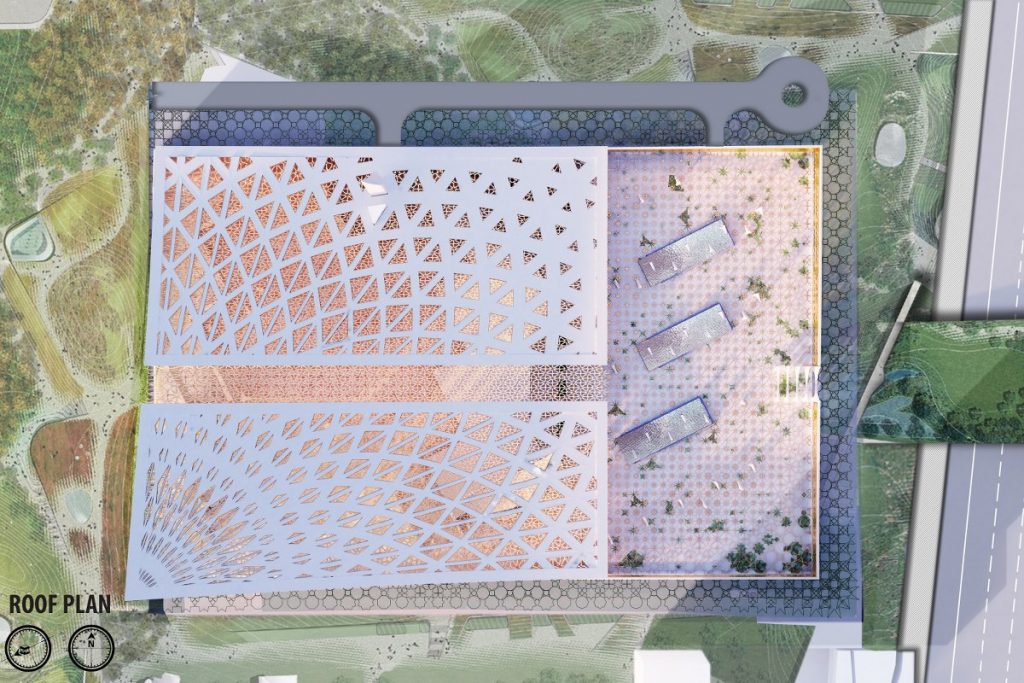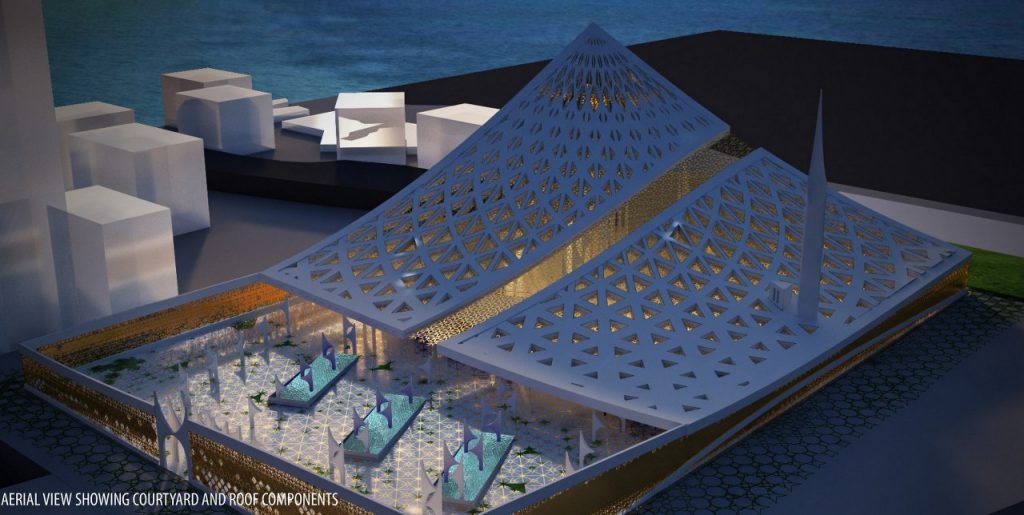 The structural pattern is a reflection of segmented Qubba (Dome) that is formed on the zenith that intersects with a large circular Boolean originating from the Plaza of Dubai Creek Tower. The Qubba is radially sub-divided into triangular facets that are projected onto the stretched roof surface and structural cross-beams emerge to form walk-able pathways. The roof rises up with a logarithmic raise to ensure a walk-able gentle slope on 50% of a roof surface, while the other 50% steeply rises to give a drastic effect of a Crescent.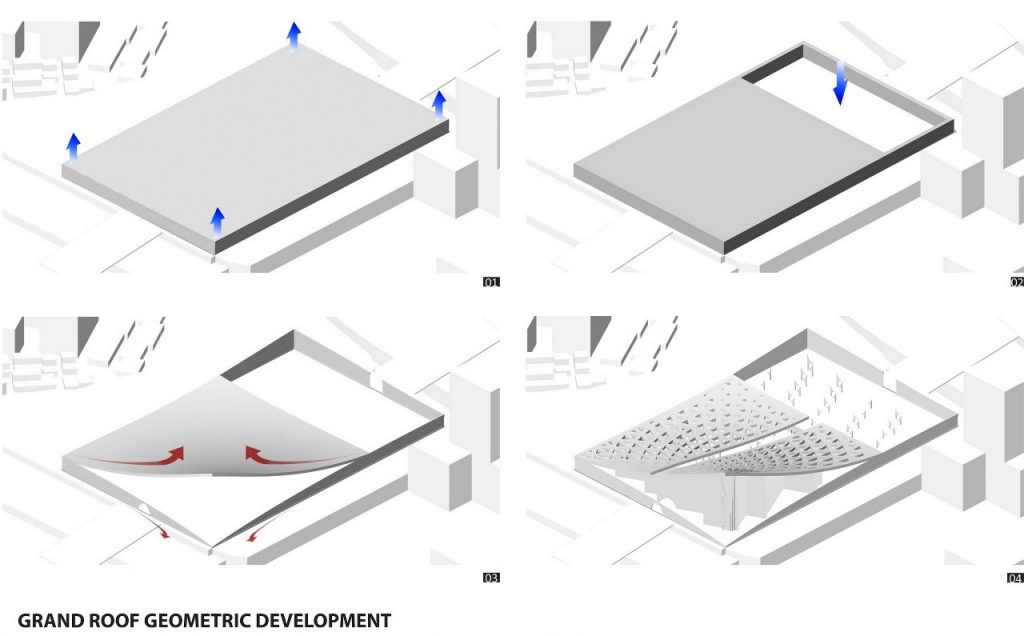 PERIPHERAL JAALI
A large peripheral screen bounds The Iconic Mosque on all four sides with an intricate Islamic pattern Jaali that changes in porosity to control the visual connect and light filtering. The 10 m. high boundary wall comprises of 7 m. high metal Jaali that visually blocks any views at human eye level by concentration of geometry vertically. The pattern is mathematically configured to allow visibility and porosity with 30% open and 70% closed to give a visually free boundary around The Iconic Mosque.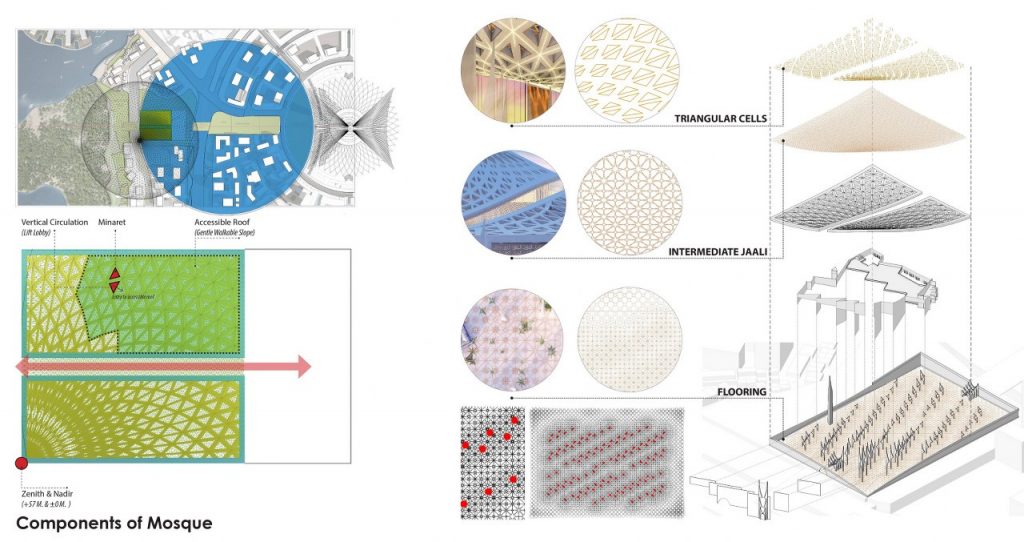 NADIR
A lower-most yet prominent point in site which is directly below zenith acts as a focal point of Crescent – The Iconic Mosque when seen from West direction – Creek. Peripheral Jaali of South and West boundary walls meet at this point at Ground Zero to accentuate the peeled off roof surface that rises up till 57m.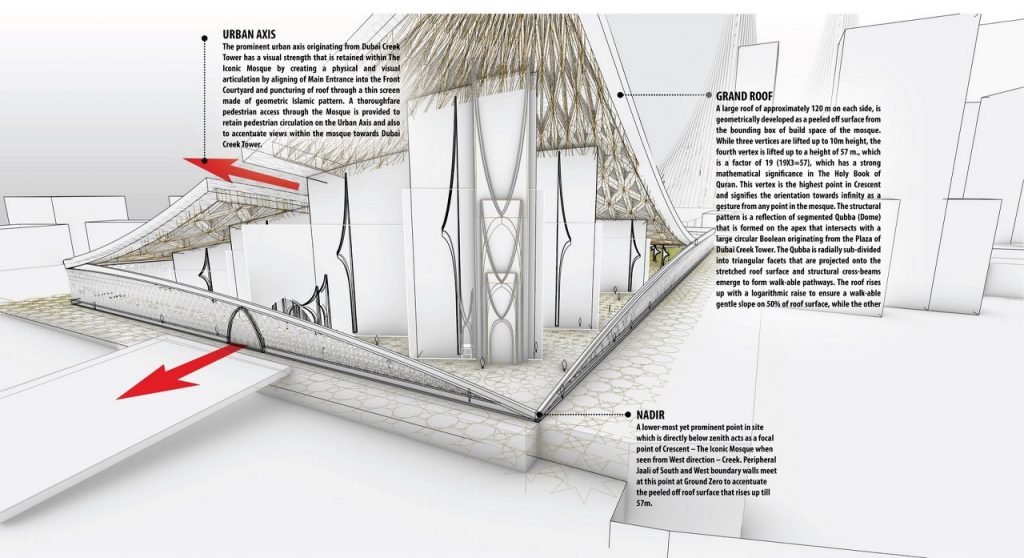 URBAN ARCH-WAY
A set of 5 semi-arch columns with differentiated proportions form the Grand Archway Entrance to Crescent – The Iconic Mosque. The Arch-way is aligned perpendicular to the Urban Axis that originates from Dubai Creek Tower and acts as natural extension of its plaza. Another Urban Arch-way is positioned at the West end of Mosque as a visual and physical continuation of Urban Axis through the Mosque. This point acts as funneling point where perception of scale and space changes from outside to inside as it gives an inviting entrance to the Mosque.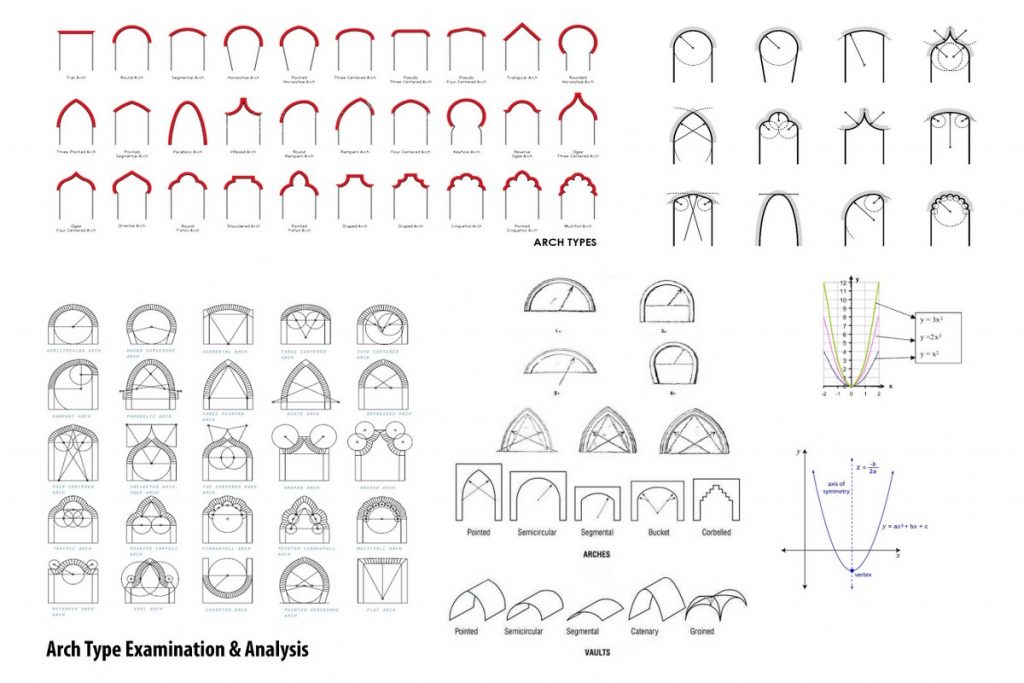 MINBAR
Minbar of The Qibla Wall set as a platform for the preacher of the Mosque for proceedings, is located in the central colonnade axis for a maximized visibility for workshipers.
MIHRAB
The Mihrab of Crescent is designed as an element of grandeur in the interior space made by joining of two semi-arch columns to form a set of pointed arches that repeat as linear forces to demonstrate grandeur and a symbol of heavenly abode. A niche is created within Mihrab that is clad with a rich Gold finish to symbolize prosperity.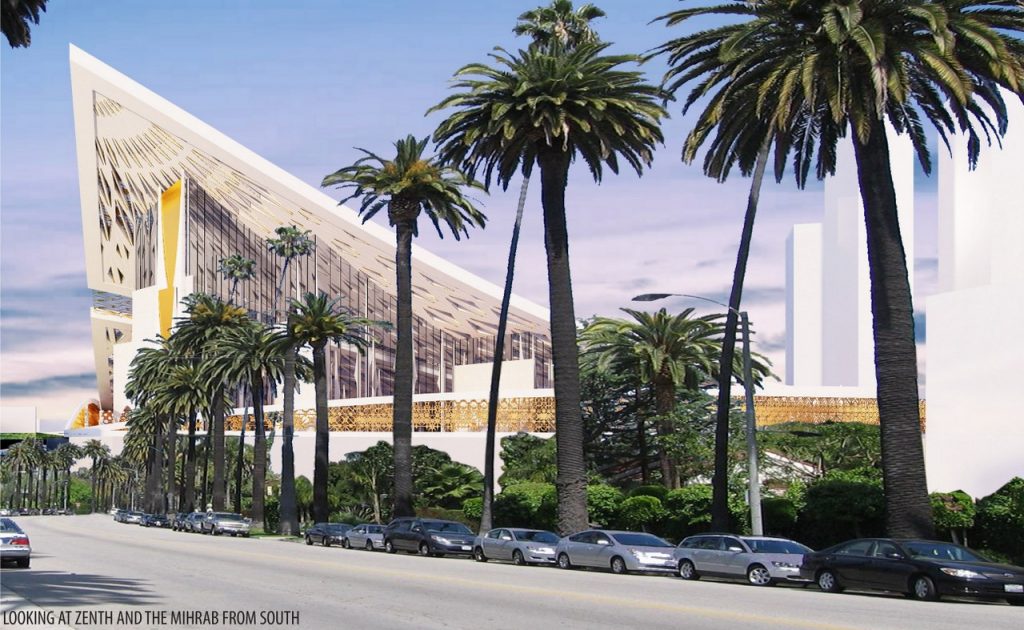 MECCA AXIS
Mecca Axis is the strongest axis for a mosque and is clearly formed in Crescent by aligning towards the perspective of semi-arch columns that combine visually to form a colonnade of arches. The Mecca axis is observed in prayer hall interior space as everything is aligned towards Mecca through visual arches and from outside by looking at the Zenith of the Grand Roof.
FACT FILE:
Architects: Design Plus Architects & rat[LAB] Studio
Project Name: Crescent – The Iconic Mosque, Dubai
Location: Dubai Creek Harbour, Dubai, United Arab Emirates
Design Team:
Design Plus Architects – Abhishek Bij, Arun Kumar Bij, Anil Malik, Deepankar Sharma
rat[LAB] Studio – Sushant Verma, Shivam Anand
Clients: Emaar Dubai
Project Type: Religious Space (Mosque) [International Competition]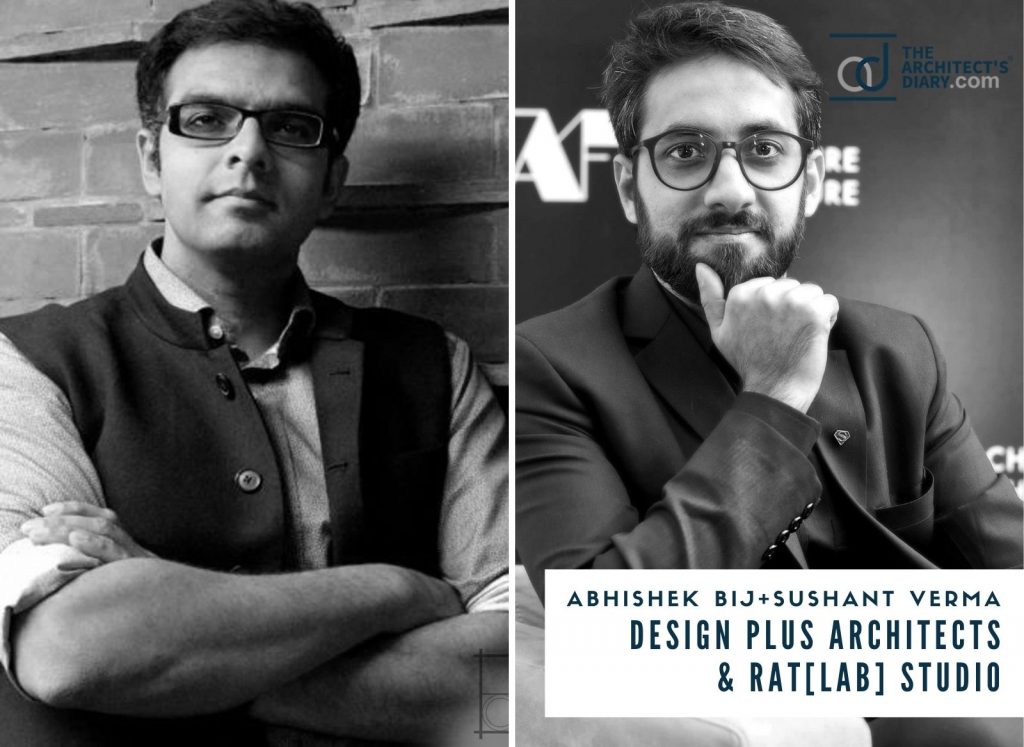 Websites: www.designplusarchitects.in / www.rat-lab.org
Instagram:
https://www.instagram.com/designplusbuilds/ & https://www.instagram.com/ratlabarch/
Facebook:
https://www.facebook.com/architectsDesignPlus & https://www.facebook.com/ratlabarchitecture/