When the weather is excellent, there is no better place to party and chill than in your backyard. With a few simple improvements, you can transform your outside space into a welcoming and pleasant space. Converting a yard, patio, porch, or other outdoor space into a usable living area may be a satisfying undertaking that expands your living space outside. Here are some suggestions for enhancing the appearance of your outdoor space.

Decide On A Theme
Your outdoor living space should be a reflection of your style. Select a theme and adhere to it to limit your design options. Perhaps a Japanese garden would inspire you, complete with a bamboo fence around the space and a relaxing palette of evergreens and mosses; a stone walkway and a trickling fountain complete the design. Concrete contractors can help create the structure and pathways you want for your outdoor living space that follows your design ideas.
To mimic summers spent in the English countryside, create a cottage garden filled with wildflowers, complete with a cobblestone fire pit and weathered wood chairs. These motifs may also function on a small balcony if the vegetation and furnishings are appropriately scaled for the space.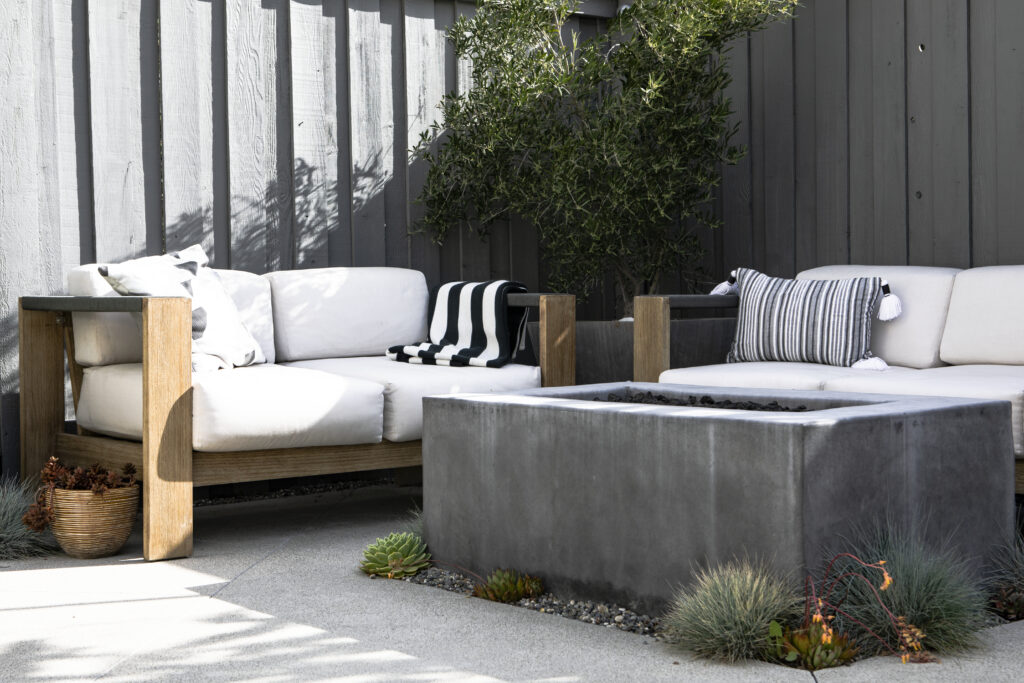 Zone Your Spaces
Whether indoor or outdoor, clearly defined zones are critical to the success of any design. Furniture is the most acceptable method to distinguish your outdoor living space. Benches are utilized to denote the seating area's position and differentiate it from other yard areas. Additionally, you can use long planters, pergolas, and area rugs to divide spaces.
Ascertain that adequate space is available for paths. Make a mental note of the most crowded places and station runners. This organizational strategy will enhance your outside settings.

Value Nature
Bear in mind the predominant wind direction and time of day. Certain regions may be peaceful in the morning but have a constant breeze in the evening. The last things you want to do are create a fire pit area with seating facing away from the wind or design an outdoor dining area inside a wind tunnel.
If your outside location receives significant afternoon or early evening sun, you'll want to provide shade to keep your guests comfortable. On a hot summer day, umbrellas, pergolas, covered patios, or trees can give shade and protection from passing summer storms.

Decide On A Color Palette
By selecting a unique color palette for your outdoor space, you may create the illusion that it is a room and a seamless extension of your home rather than a separate location. Include some dazzling whites or neutral sand tones to add to the overall calm effect. Epoxy floors can easily match with different color palettes for your space. Select a color scheme that most accurately expresses your personality.
Even neutral wall colors can be countered with a pastel ceiling color, adding movement to your outdoor seating area and allowing you to create an inviting ambiance. It will revitalize your surroundings. Additionally, you can coordinate the color scheme of your patio with the surrounding landscape. As a result, nature will inspire the design concepts for your outdoor living space. Flowers and wall/ceiling color combinations can be used to create an aesthetically pleasing and comfortable outdoor living space.

Raise The Temperature
By adding a heating element, such as a bespoke fire pit or grill, you can extend the time your guests can enjoy your outdoor living space. There are numerous inventive and cost-effective outdoor heating choices available, and your guests will undoubtedly appreciate the atmosphere and warmth provided by these cutting-edge outdoor heating solutions.
These devices are tall and provide a lot of heat in a short space, making them excellent for entertaining family and friends at a dinner party. A hot tub is another option for heating your patio. Regardless of the season, anyone is welcome to enter this glistening unit for a quick burst of warmth. While doing so, you may unwind, ease tired muscles, and make the most of your outdoor space design.

Construct An Enclosure
It can be beneficial to develop a sense of enclosure—beginning and end—to create a functional outdoor space. It indicates to the public that specific components are ready for use, while others are just decorative. For instance, a dining area in your backyard can be given its own floor to differentiate it from the grass on the lawn. By using a brick or gravel pattern as a foundation, you can effectively separate the living area from the rest of the outside space.
Low walls surrounding the area can help create the illusion of enclosure without providing the illusion of being in another room. Pergolas are another popular option for outdoor living rooms since they make an enclosed space while remaining light and airy. Many individuals choose to put vines and other plants around posts and lattices to give the area a more natural, outside feel.

Mind Your Furniture
Concentrate on your deck or patio furniture to create the most inviting outside space possible. Choose overstuffed pillows for maximum warmth, letting your visitors relax and lounge while they enjoy our outdoor living space. Utilize chairs with flat seats and straight backs to surround your patio dining table.
It will ensure the comfort of your guests throughout the meal. Add flair and distinct comfort to your outdoor living space with a swing, and egg-shaped swings are among the most popular outdoor living area ideas. They are designed to seat one person comfortably. A wooden porch swing is usually a terrific choice for a more traditional vibe. Utilize several pillows and plush couches to create a welcoming ambiance.

Incorporate Ambient Lighting
Lighting is included in several of the most frequently overlooked backyard living options. Lighting is critical while entertaining at night to ensure that you and your guests continue conversing long after the sun has set. Recessed lighting in the ceiling and deck posts is an easy installation that will add the perfect "glow" to your patio area. Many lighting options contribute to the aesthetics of your outdoor living space while also boosting its utility for guests.
String lights are an extremely cost-effective method to adorn your outdoor living space, particularly if you're hosting a party. String lights come in a range of hues and elicit positive emotions.

Choose Seasonally Appropriate Accessories
Your outside space doesn't need to be this way all of the time. Each season, you can alter up your yard to keep it fresh and fascinating. Consider replacing minor pieces rather than purchasing new furniture to save money. For instance, replace yellow cushions with white ones in the winter and a knitted blanket with a lightweight blanket in the summer. However, you should invest in adaptable outdoor furniture that can be replaced easily as the seasons change.
Takeaway
The most critical factor to keep in mind while designing outdoor living areas is to have fun. Your outside surroundings should be a source of joy in and of itself. Utilize these design strategies to create a comfortable and appealing outdoor space that you and your loved ones can enjoy.