&nbsp
House at a Glance | Ignitus Architectural Studio
Who lives here?: It's a Show flat for Saheli Sanidhya apartment scheme by Moksha Developers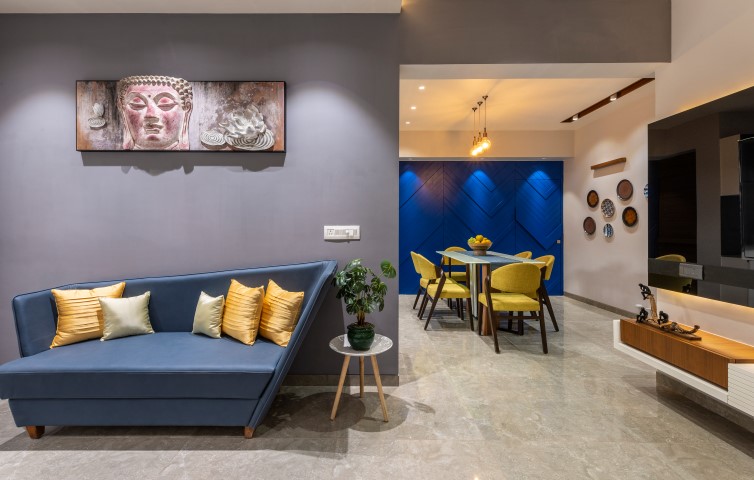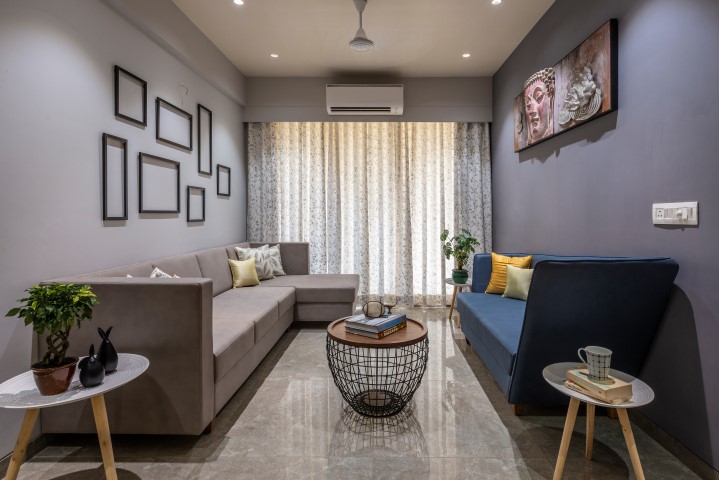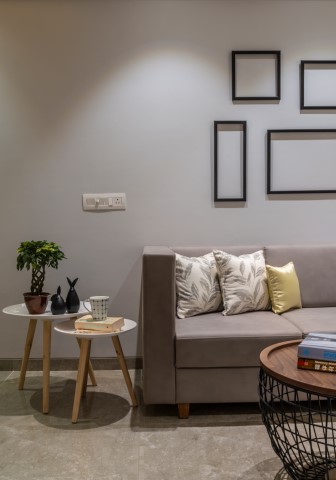 Location: Paldi, Ahmedabad 380007, Gujarat
Year/decade built: 2018/2019
Size: 86 m2
Number of bedrooms and bathrooms: 3 bedrooms and 3 bathrooms
Photograph courtesy for the images : ©Photographix | Ira Gosalia
VISIT THE ARCHITECTS HERE.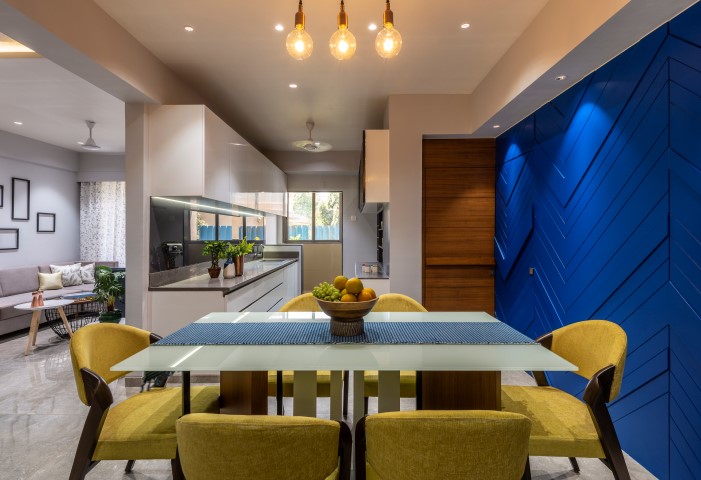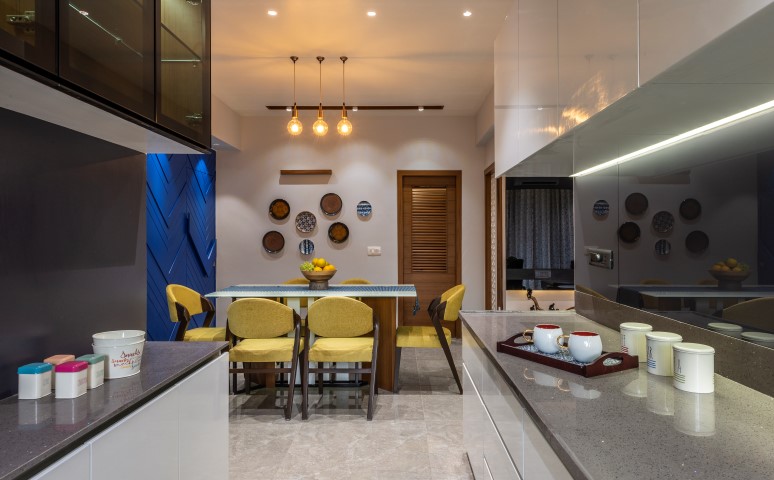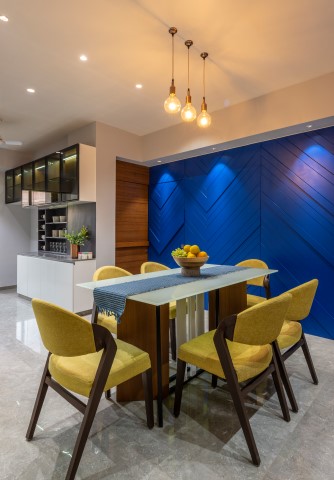 What was the brief from the client? What kind of a space did they need?
It is a show flat; therefore the brief does not come from one person and thus targets interest of prospect buyers in general. It targets to sell flats with furniture which encounters luxury of spaces. To create space which provides an encasing experience of a basic lifestyle and weaving it with prospect buyer's dream house.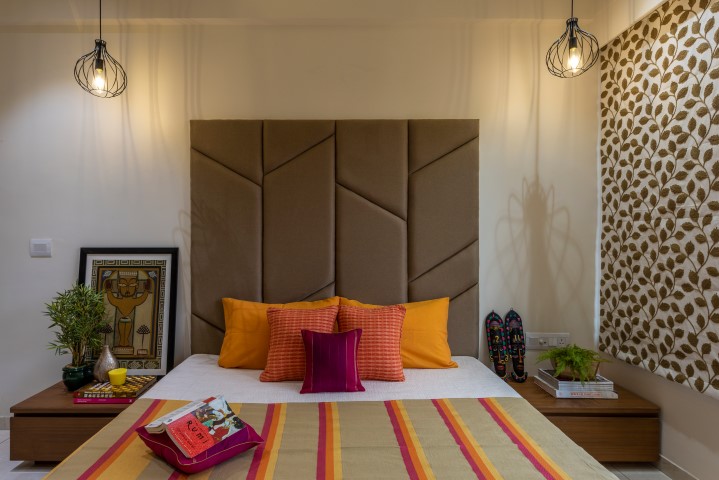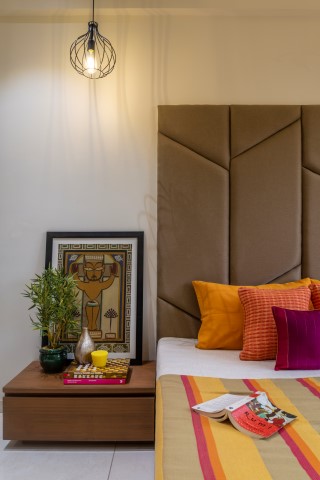 What are you most proud of about the home?
The colour favours human psychology. It is playing a major role in creating aura of the spaces. Like the bedrooms have simplicity depicted by tints of blue and brown, living room and kitchen have different shades of grey and dinning space has vibrancy of cobalt blue with contrast of chrome yellow. Also the entire furnishings has minimal use of handles and knobs, all the products have inbuilt groove in them which merge with the design.
Materials
What were the main materials you used in the house– for flooring, walls, and textures? Anything you want us to know about the build.
Flooring – vitrified tiles
Walls – paint
Kitchen platform – Quartz
Most of the furniture is finished with veneer and melamine polish on it. Some of the furniture is finished with PU, few kitchen cabinets and one of the bedroom wardrobes are made of glass profile.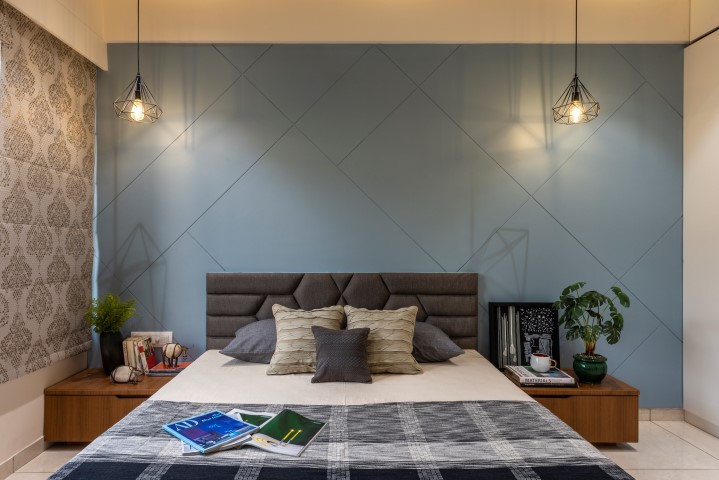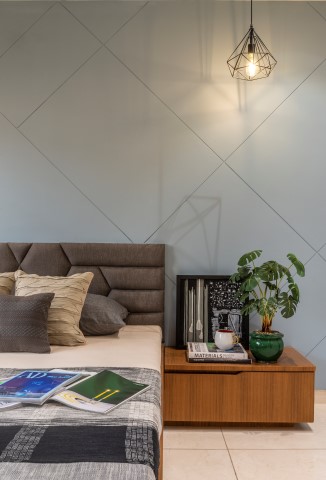 Interior Design – please give us a short description (about 2-3 lines) about the following rooms

Living room: Sitting is oriented such that a person has a controlled visual connection from main door to dinning space.
Dining room: The juxtaposition with incredible blue backdrop and chairs with yellow tapestry gives the space personality and style
Kitchen: This space combines different looks to create a style that is all its own. It is a design with a perfect blend of a contemporary touch. Space balances walls with shades of grey.
Master bedroom (with blue wall): The master bedroom has a pastel blue backdrop which gives a sense of calmness and relaxation. Shades of grey also provide colorful play to the room.
Bedroom with low backrest (who does this belong to ?): The room is design for children with age group of 6-15yrs. Low height furniture responds to the anthropometry of a child. Study table is connected to the closet not making it a separate entity but as a whole.
Bedroom with brown backrest (who does this belong to?): The guest room has a warm and welcoming feel with the vibrant colors and grand backrest.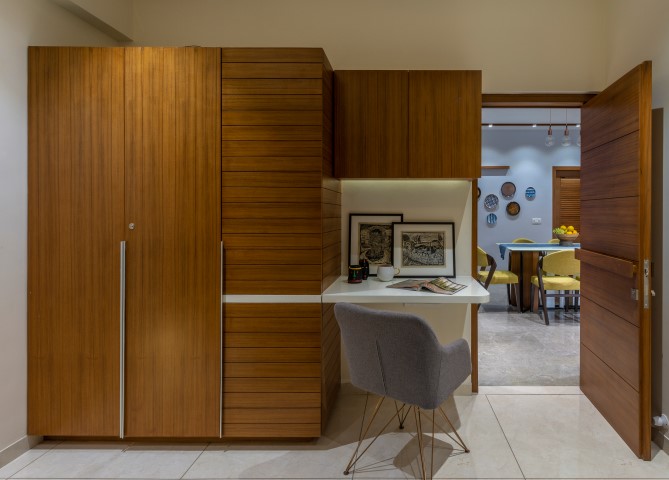 Who chose the furniture and furnishings and why? Where did the pieces come from? Did the owners request these color furniture's/styles etc?
The entire set was custom made and designed. All the Color combinations and selections are done by us.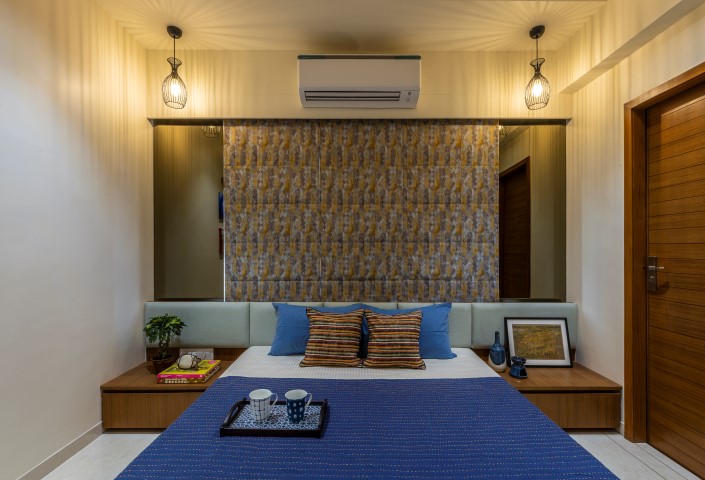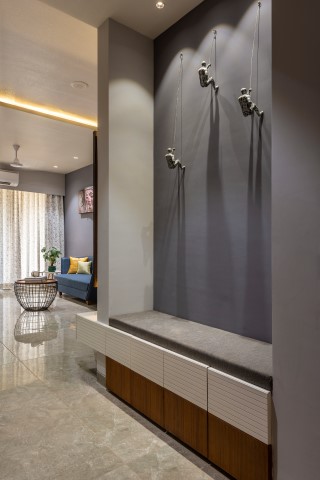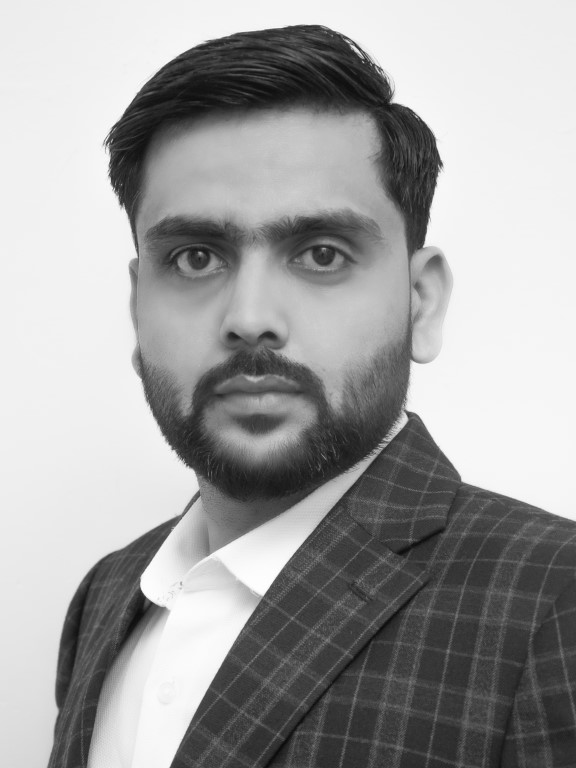 Could you tell us the brand name for the accessories and finishes:
Living room Sofas: Custom made (Tapestry- Sarom Ryan)
Dining Table: Custom made
Dining chairs: Custom made (Tapestry- Sarom Ryan)
Furnishings in the bedroom: Bedsheets- Fab India, Bedrest Tapestry- D Decor
Paint: Asian paints
Which is the most interesting room in this house and why?
In our perception the most interesting space rather than a room is a dinning space, since it is a junction point between all the rooms and also being the space where family comes together, it had to stand out among all other spaces. Since we are playing with color, special attention was paid for the backdrop which had to b eye-catching and furniture in contrast to it. The space was finished with hanging lights on the top to enhance style and personality.
NOTE: ALL THE DESIGNS OF BATHROOMS AND BALCONIES WERE NOT IN OUR SCOPE.