Foodaholic Restaurant Design – buddy of foodie | Establish Designs Architects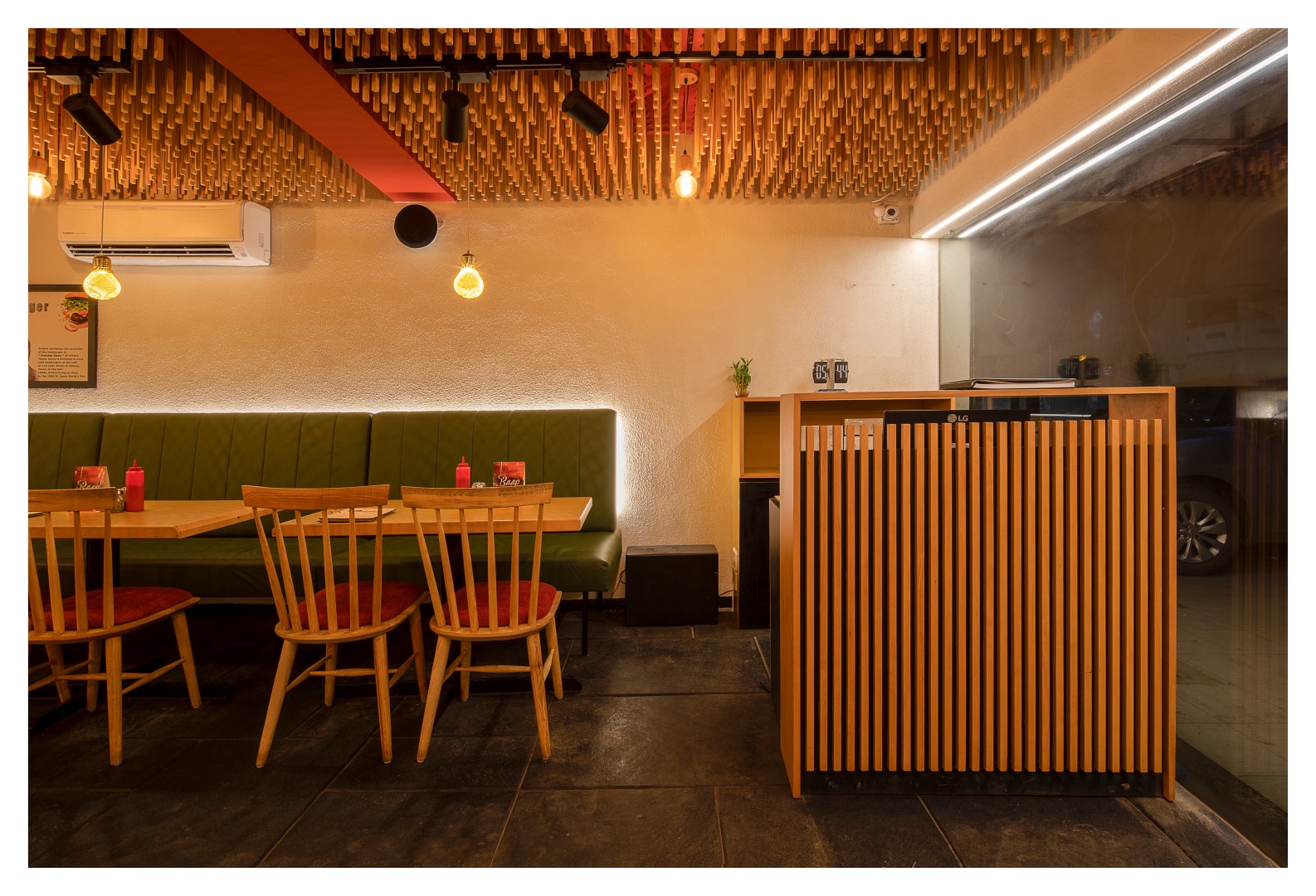 DESIGN STORY BY THE ARCHITECTS -Foodaholic as described by ED Architects, is an independent dining venture, bringing with it, its own set of challenges and opportunities, yet being a fun project. The Restaurant Design project revolved around the area and the requirement of making it stylish, where ED Architects stepped in, primed with their knack for creating dramatic, contemporary, 'one of a kind' space. When the client met with ED team, they discussed their view points and settled on a design that is informal, dramatic and modern with a stylish charm.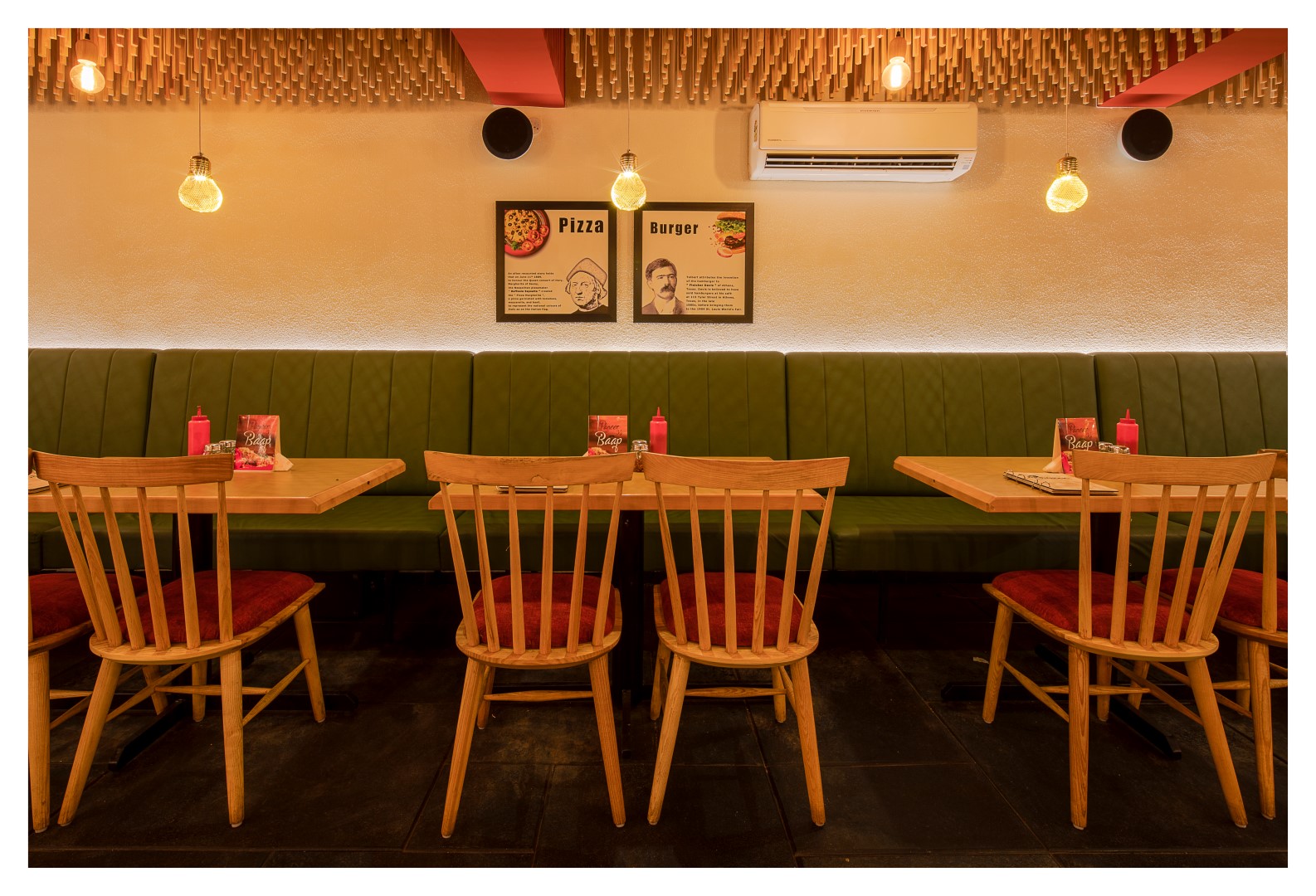 "It's great to work with someone who has a very playful brief and is open to the designer interpreting it in a creative way. Hardikbhai was looking for a fancy grandeur; something to match his modern menu." reveals Ar. Vishal of ED. Considering Hardikbhai's input, the design impacted everything from the layout to the lighting and material and called for the inclusion of elements of subtle drama. "Of course its a space being created for people luring from late mornings to late evenings and snacking around. We distinctly went the informal way and brought in colour, to contrast the ambience with elements," explains Ar. Vishal.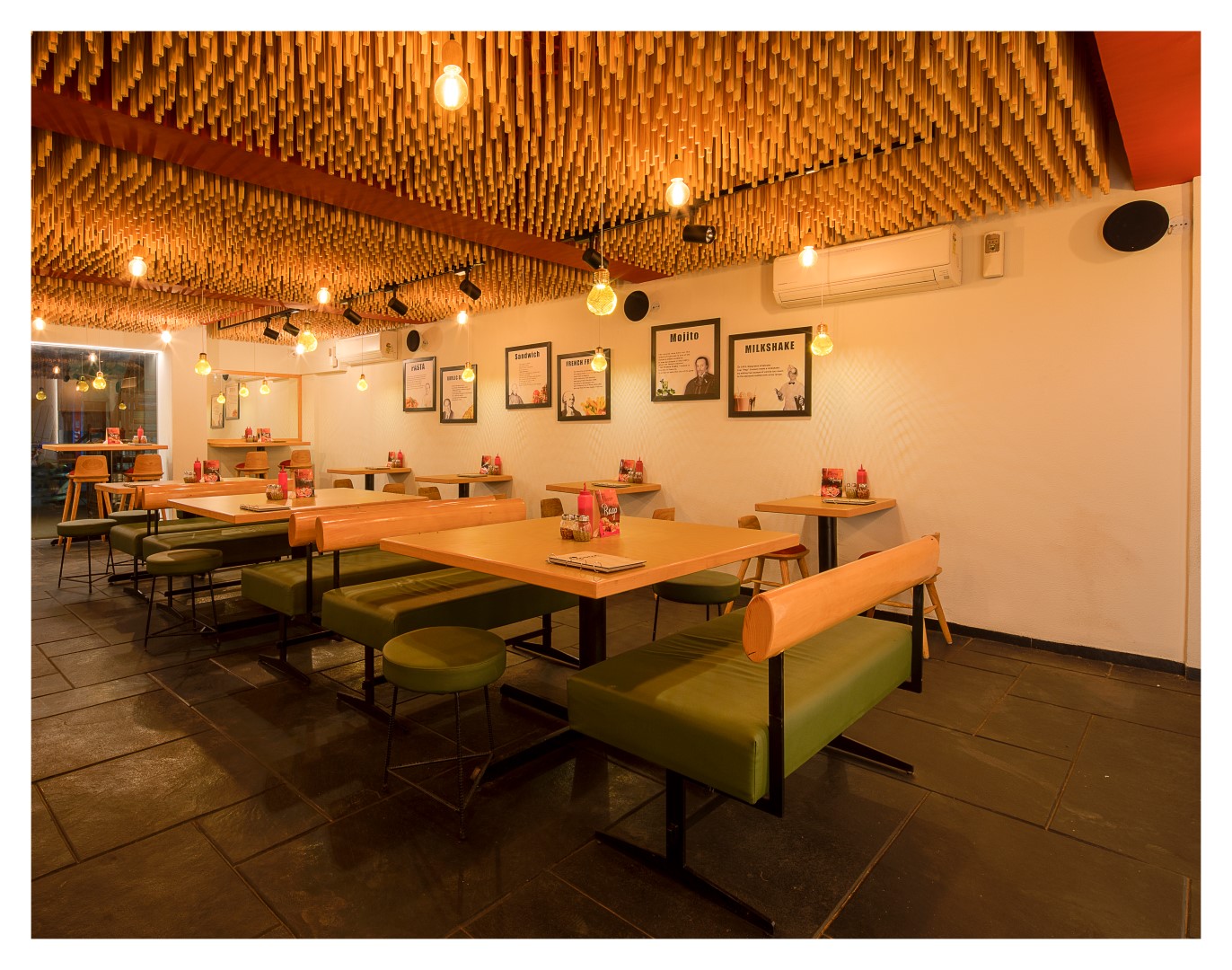 From ambience to food, the restaurant is known as a buddy of foodie, as this restaurant is another staple at dinner table in the city. Its an entire experience in itself.The space is divided into two – the hyper active kitchen area and the lively restaurant. The kitchen is a private space, to prepare the delicious food. The restaurant, on the other hand is an informal area with a low red shade ceiling, with a canopy of wooden sticks, uneven flooring pattern of black Kadappa Stone. Use of architectural lighting to create a soft glow on the dense canopy and informative frame on white walls.Floor height of space was lower than usual, due to which the idea was to make ceiling and floor happening and leaving the walls blank so that the space becomes visually vast.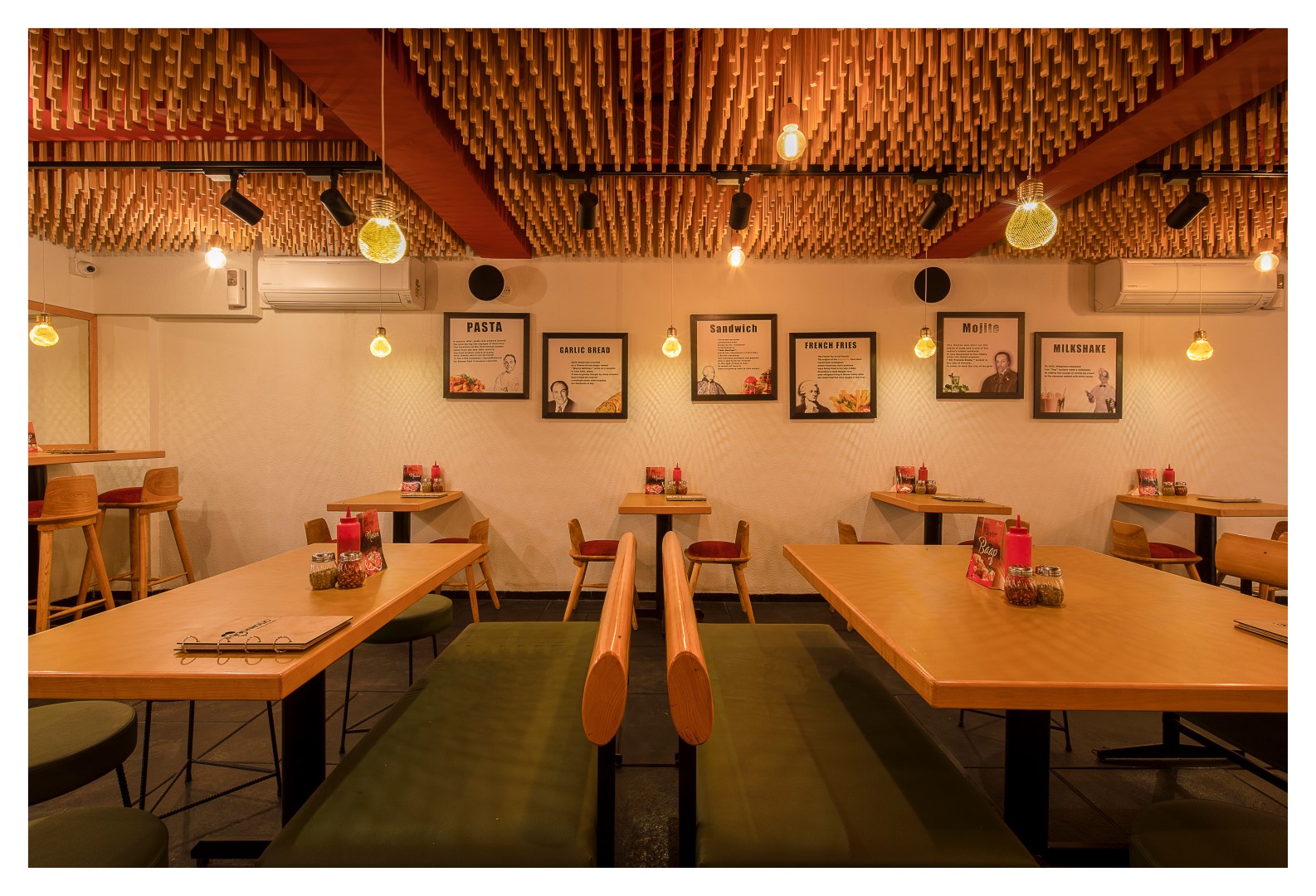 As the restaurant is an allure of pizza and pasta we went into the story of pizza history to search for a color concept to work on.The choice of colours is such that it allows a space look bigger in comparison to its actual size.Olive green and plum red seating add the element of colour to theaestheticsof the space.This is a restaurant to settle down for early brunches till late night cravings. It is a combination of fast food with a twist and beverages to lose your mind for.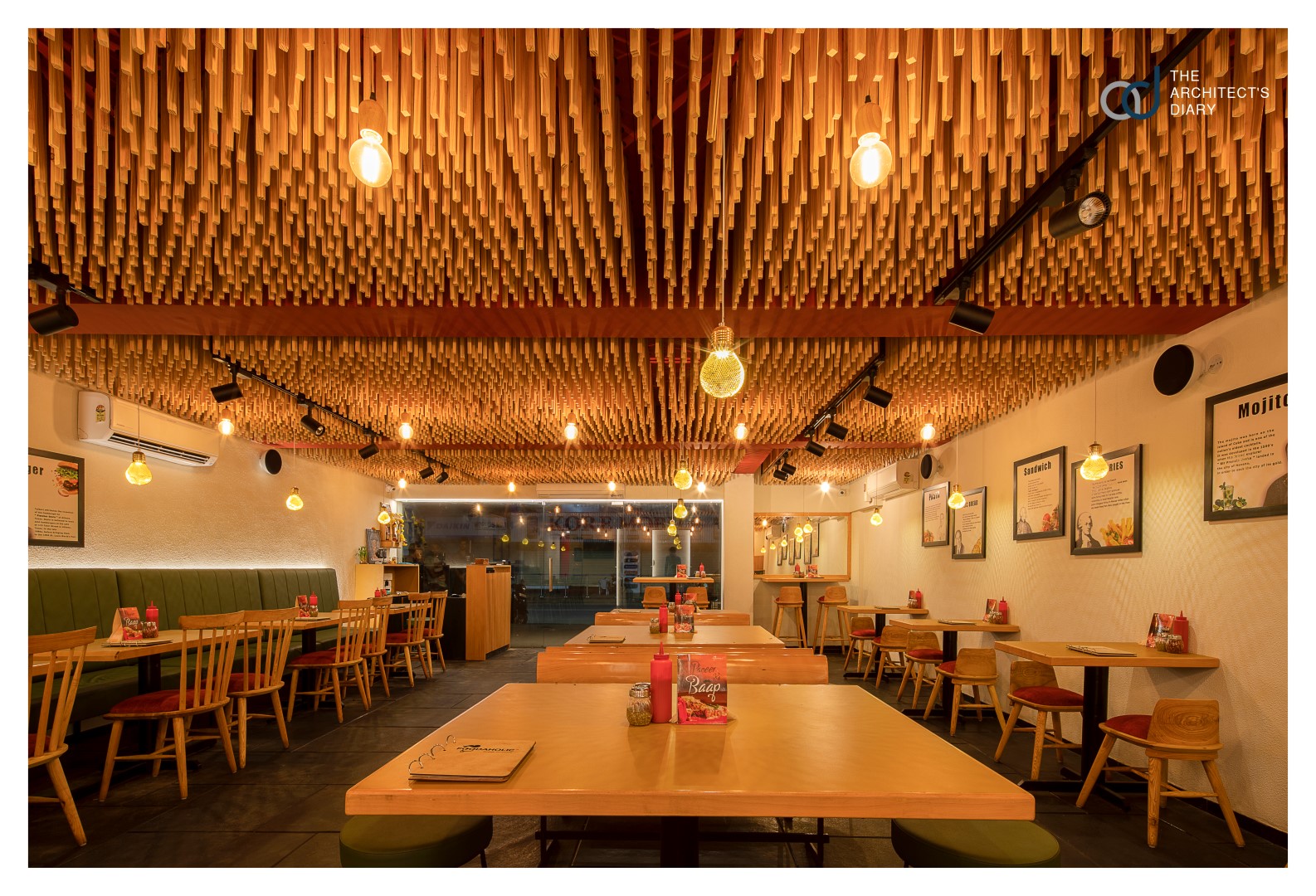 From Planning to implementation, the restaurant saw its share of ups and downs, from wall frame to lights being brought in at the last minute. When the doors finally opened, the set-up was everything we had expected and more.
Architectural Firm: Establish Designs
City: Rajkot
Client: Shree Hardikbhai Dobariya
Area : 1,017 sq.ft.
Status: Completed in 2018
Photographs by Umang Shah
Text : Vibhuti Sorathia