Amidst the hustles of Mumbai's most crowded spaces with a lot of concrete jungle, Mr. Vanssh Jallan embarked his journey of establishing his ready mix concrete business in full force during which emerged his desire of having a workspace design working environment. For which he granted us the designers freedom to follow our vision and gain desired look.
Firm Neutrality and Welcoming Muteness of Greys for this Workspace Design | AVVO
Visit: AVVO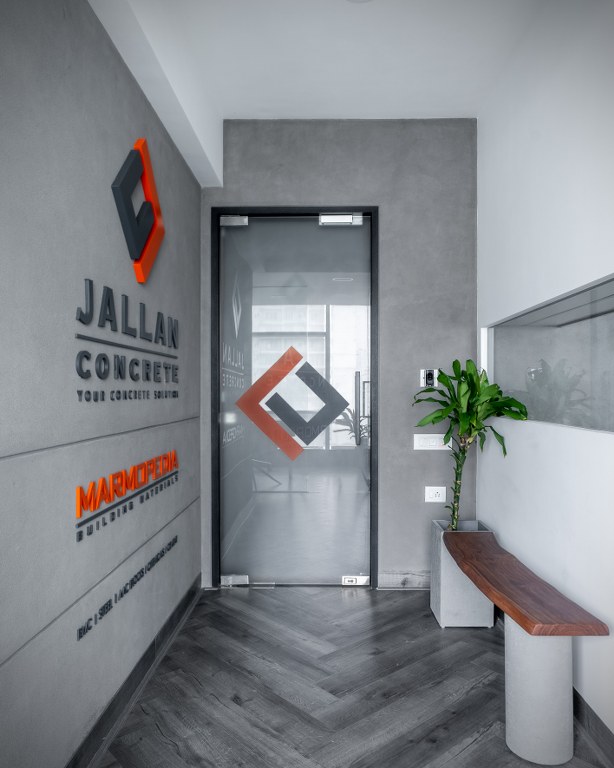 Entrance foyer
Natural wood stands on two blocks of concrete for visitor seating. Eyeing company logos perched on rugged concrete wall that function together in the leading spaces depicts a strong selling point.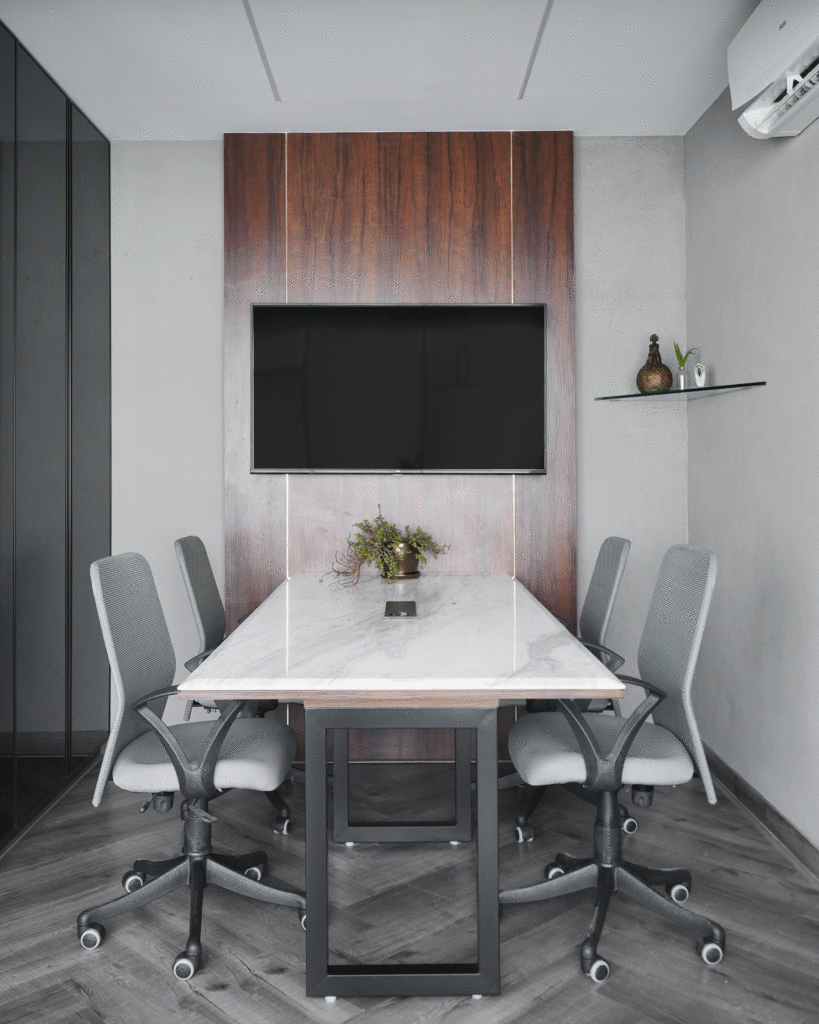 Our understanding was that a relatively smaller space requires teamwork intertwined with multi-tasking for every hierarchy of workload which requires transparency in communication which was taken care of through clear glass partitions which help erase boundaries and increase outreach within each other.
Discussion area and Directors cabin
AVVO designed director's table personally eradicating conventional table stand replacing it with concrete stand. On which sits sandwiched wooden fluted drawer with white carrara Italian marble top provided by India's leading marble importer Flora Marble.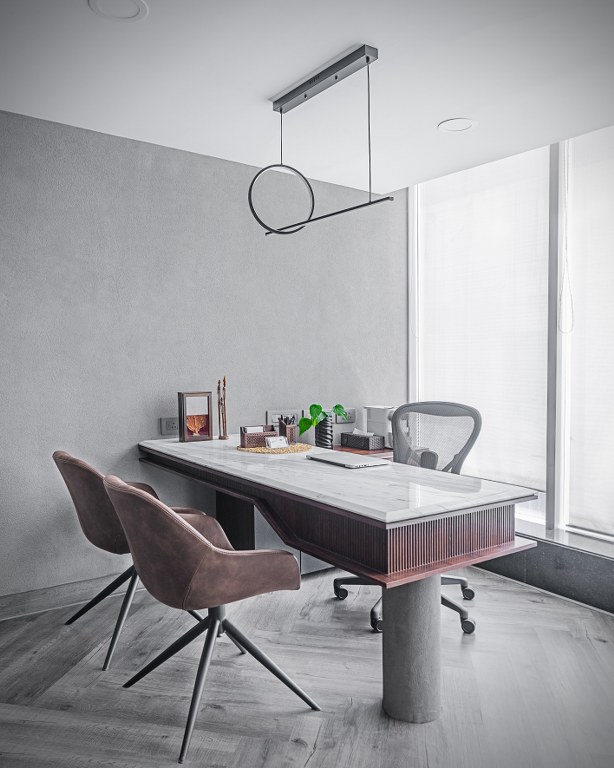 Without compromising on style and comfort, we have selected the Aeron Ergonomic chair provided by Herman Miller as the director's chair complimented by a leather – wood finished credenza and chic loose furniture around.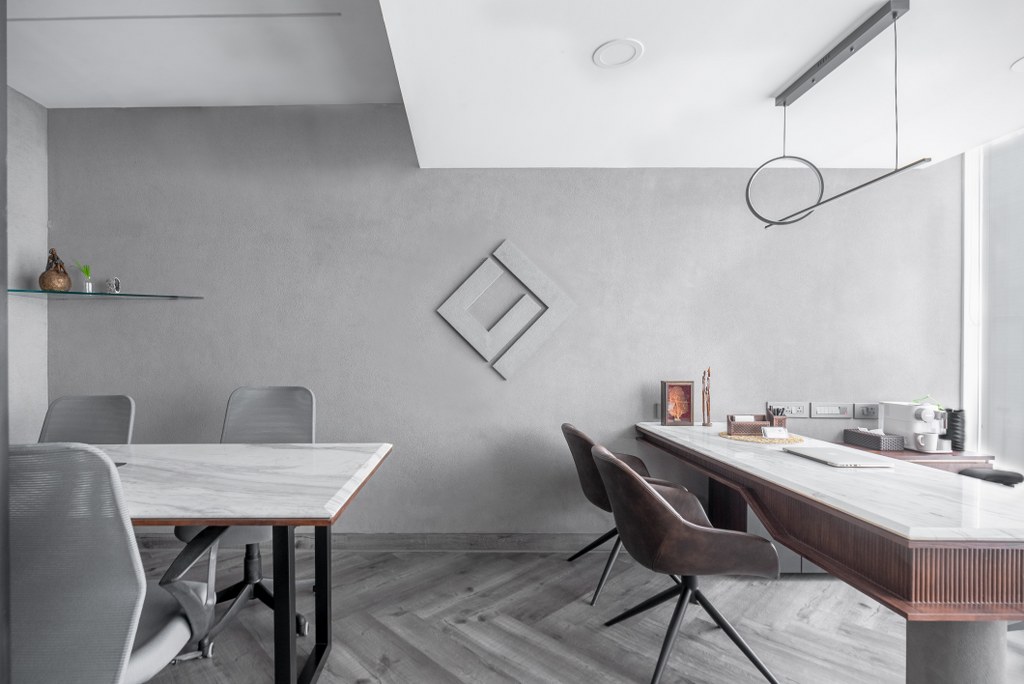 Breakout space
This is the most colourful space for free flowing creativity. White house furniture sofa for relaxing reading session adds a pop of brightness with its blue hue. Pistyle studio helped beautify the office pleasantly.
Our visions as designers stand the ground of high proficiency and productivity of both employer and employee whilst maintaining calm and safe conditions to make informed decisions. The design brewed all through the process to bring out clean endearing aesthetic. Our aim was formulating ideas customised to the clients benefit with crisp detailing and contemporary touch.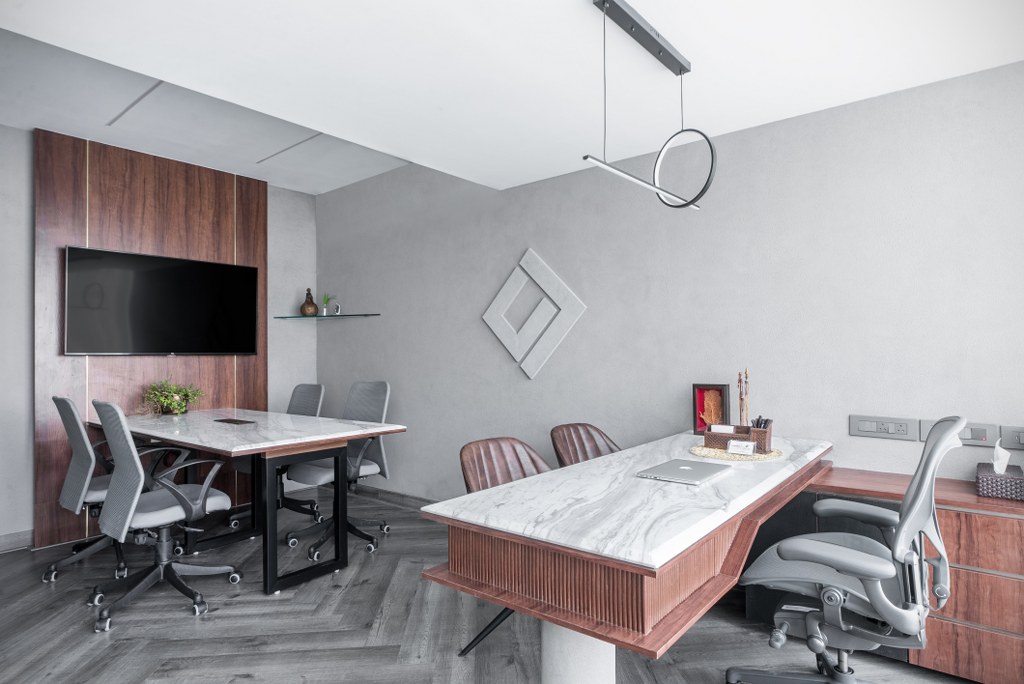 Workspace
Tones of grey, helps people soothe down to concentrate on task at hand. A few splashes of wood and metal add character to the space.
Fact File
Designed By: AVVO
Project Name: Jallan Concrete
Project Type: Office Interior Design
Client Name: Vanssh Jallan
Location: Mumbai, Maharashtra
Project size: 600 Sq.ft.
Year built: 2021
Duration: 2 Months
Principal Architect: Raj Kothari
Team Design Credits: Vridhi Kasliwal and Jerome Khodaiji
Consultants for project
Styled by: Pistyle.in
Products & Materials: Marble: Flora Marble | Furniture: Herman Miller, Mauble | Wooden Flooring: Nileya Wall and Décor | Paint: Colour Coats | Signage by: The Signage
Photography Courtesy: 21 Frames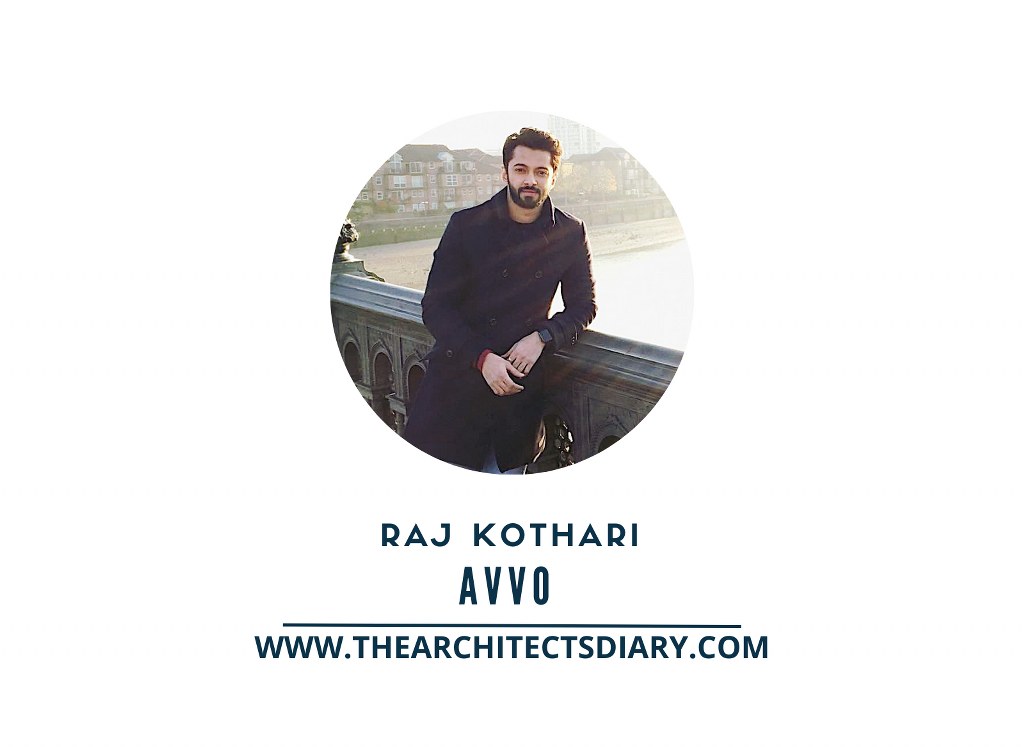 Firm's Instagram Link: AVVO
For Similar Project>>Workspace Design That Blends Industrial-Pop With Sophistication Of Neutrals